Best Manual Bud Trimmers: Comparison Table
Best Automatic Bud Trimmer- Comparison Table
Best Commercial & Industrial Bud Trimmers- Comparison Table
Introduction
After the huge waiting, finally your crop, your marijuana is ready with, it's strong smell. As far as I can guess now you are pleased but also quite nervous about trimming, right? Well, trimming is an essential step for your harvest. That's why today I will help you to know about bud trimmers for your marijuana. I hope my bud trimmer buying guide and reviews will help you to choose the best bud trimmer for your crops.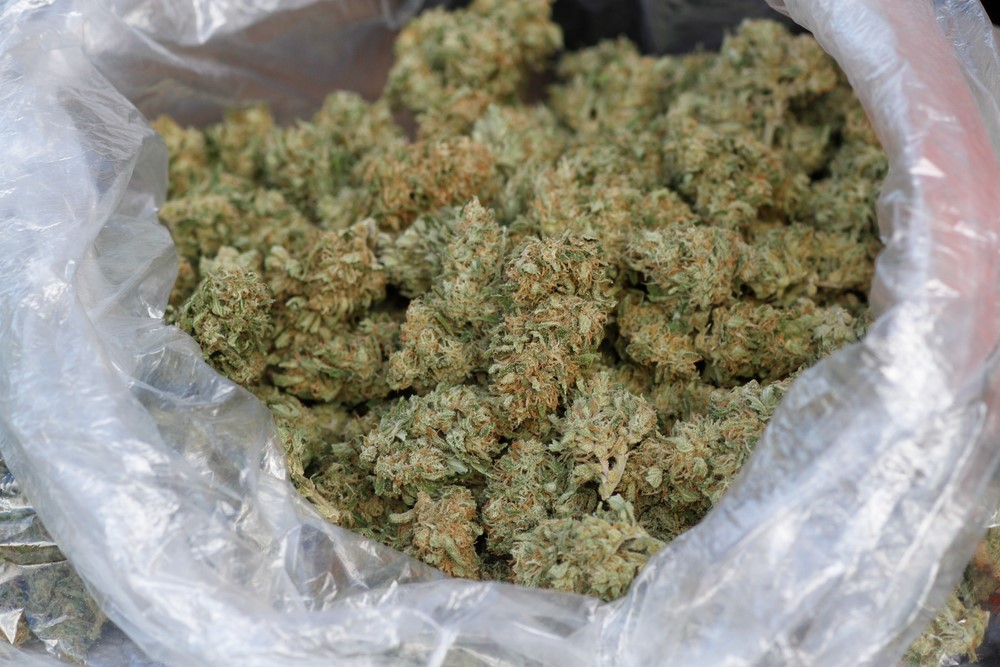 Necessary Things you should know about a Bud Trimmer
Before starting our picks, you should know about bud trimmer. It's essential to know about a product before picking. Here I am sharing a very informative guide for you. Do you already know about these things? Don't worries, read below you will something new!  
What is A Bud Trimmer?
The simple answer is, it's a leaf cutter (trimmer). Nowadays each people want to save their time and money, and It is the only reason behind technologies improvement. However, I have a question for you! Do you know about the traditional method of trimming? If you know that then you should go ahead but if you didn't then go and read the traditional method!
Now you know the traditional method, the handy method! Honestly speaking, it isn't easy, so you have to hire a professional team who knows about hand trimming. It's true, if you hire a team then you will get the quite better result but it is going to be expensive, and also it will take lots of time.
That's why these days' people are crazily heading for a bud trimmer. So, are you clear about bud trimmer now? If you are, then you are 100% ready for moving forward.
Kind of Bud Trimmers
It's a silly question. There so many brands and types of trimmers are available. However, there are so many trimmers, and brands are available. That's why it's tough to judge which one is the best! You don't have to worry yet because here we are reviewing three kinds of trimmers. Which are Automatic, Manual and handy and industrial. Do you want to know more about this type of trimmers? Then scroll down!
Manual Trimmers
As the title sounds like it isn't an automatic gadget. It's a simple manual trimmer. In our manual trimmers sections, we have reviewed some best manual bud trimmers. If you want to know more about it, then click here.
Automatic Trimmers
As the title says, it's an electronic gadget. It isn't that tough to use. The most significant advantage of this kind of trimmers is, you can save your time and effort. Want to see our picks of automatic trimmers? Then click here!
Industrial Trimmers
As the heading says, it is for industrial uses. These are hundred times powerful than the manual/automatic trimmer. As it is for heavy uses and effortless, the price is quite high. For our picks of industrial trimmers click here! 
Now let me know you about trimming. Do you know why you should trim? If you don't know why should you trim your marijuana then read below!
Why should you trim?
When its end of the harvest time, you may think (if you are a beginner) about the importance of trimming! Some of you may think, it isn't vital to trim but believe or not, trimming is one of the most important things for your cannabis. Why?  See below; I described it there!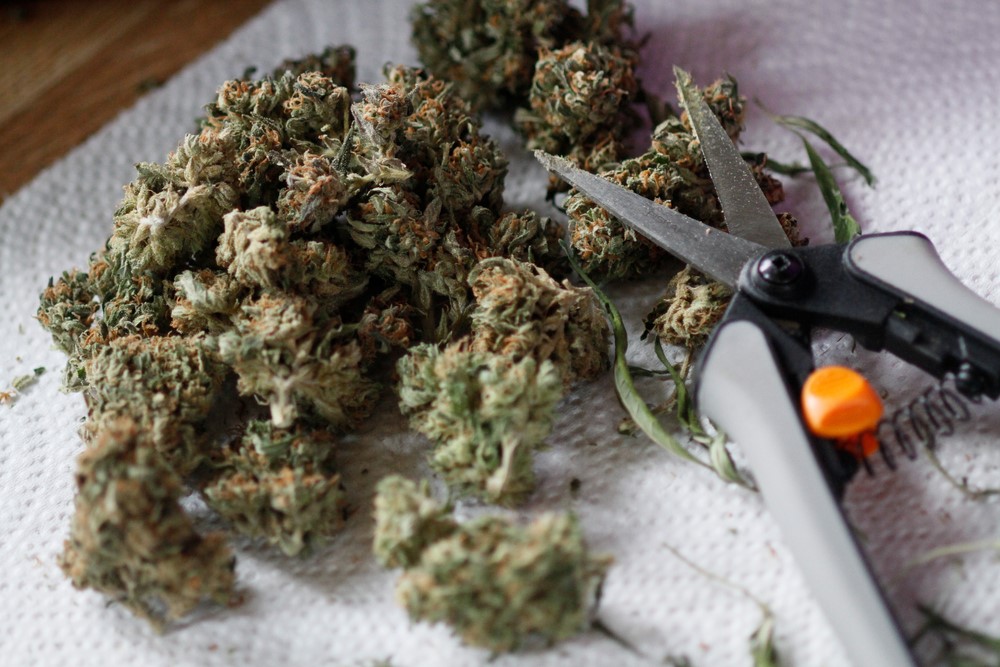 Lack of Smoothness
Unsmooth leaves aren't attractive. When you smoke weed, you may feel more strict or harsh on your throat which is harmful to your lungs., It happens because leaves are more stringent than buds. That's why you should trim your weeds because it will improve the smoothness of the weed. So, Trimming will increase your harvests quality.
THC Concentration
If you look very carefully, then you can notice lower amount THC levels on the sugar leaves of the plant. Many farmers don't want to waste the THC at any cost that's why they trim to excerpt leaves distinctly. For the overall THC gram-on-gram, trimmed harvests are best.
Appearance        
We saw many photos of weed online or in the magazine. Did you ever think why those harvests are so clear and good looking? Because that marijuana is well- trimmed or somehow trimmed! Untrimmed weeds aren't attractive where trimmed, or well-trimmed cannabis is attractive and popular too. So, trimming will increase your produces value.
Now you have three major reasons for trimming. If you don't take trimming seriously, then it will be harmful to you. The untrimmed cannabis isn't attractive and famous. So, don't avoid trimming. Remember one thing, investing a little-bit effort, time and money behind your harvest can give you the incredible result.
Kind of Trimming
Now we are going to discuss a most significant controversial topic which is trimming. Usually, there are two kinds of trimmings are available which are Wet Trim and Dry Trim.
Wet Trimming
It is the most famous and easiest method of trimming. Usually, it will give a better look to the harvest. Did you ever think why it is the most popular method? The answer is, Wet trimming will provide your yield the clean and manicured look.
Dry Trimming
Do you want to finish your trimming after fully drying your marijuana? If you follow this method then first you have to remove all the larger fan leaves with your fingers.
The process is perfect for those who live in somewhere where moistures aren't too much, and you have lots of time for trimming. Yes, it's a very slow drying process.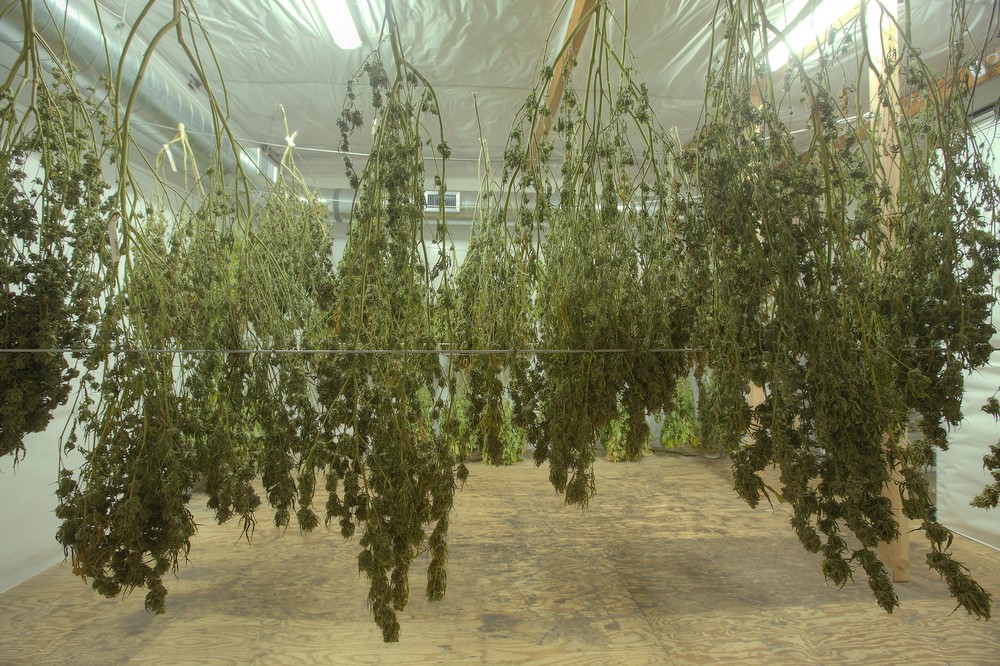 Feeling confused? Are you ready for the final discussion about the topic?
Dry Vs Wet Trimming
Well, wet trimming and dry trimming is very simple to identify! When you trim before drying, it is wet trim and when you trim after trimming it is dry trim.
Wet trimming is the easiest method, and it is also trendy. Without too much effort and time, it is the most popular method.
On the other hand, Dry trimming is an unconventional method. It is one of the slow and long-time processes, but it is for the low-humidity environment.
If you want to do something easy and fast and also want to get a manicured look, then go for Wet Trim. After harvesting, if time isn't a problem also you live in low moisture atmosphere then you can go for this method. However, if you follow the Dry trimming then at first you have to remove all the fan leaves.
Now, Choice is yours!
Traditional Method: How to trim marijuana with hand
Nowadays it's the era of ultra-technologies. Where everything is changing but some people aren't changed. They still trim with their hand, the traditional method. Research says hand trimming is much better than other trimming methods. Here I am sharing the manual method.
At first, start cutting stem from the stalks also take the colas from the stalks.
Hang it for drying. For this task, you can use a net stand. However, drying on the stem with the delicate marijuana bud is good. Because it will help you to hold the branches without any sticky trichomes.
Once the branches are ready, you can start your drying and curing
Cut as many fans leave you can and put them separately.
Trim as small as you can but don't cut short hairs of the bud
 Cut all the other things of the plant in small sizes and put it in a double-bag.
It was the manual method. Well, it's a dry trimming method. It's a long-time process. If you have 2-3 plants, then it's a perfect method for you, but for commercial and industrial uses a bud trimmer is an essential thing. Because it isn't possible to trim lots of harvest with hand.
Other equipment for trimming
If you think for trimming a great or a beast bud trimmer is enough, then mate you are wrong. No matter which trimming machine you are using you still needs some important things. If you want to know about those things, then read below.
Gloves: No matter which bud trimmer you are using, you have to use gloves. A pair of gloves can protect your skin from gum (resin), and it will also protect your buds.
Cookie Sheet: For drying you need a place to lay your marijuana out. That's why so many people are using Cookie Sheet. It will help your cannabis for drying.
Mesh Rack: Some people like to hang their harvest up for drying. For them, Mesh Rack is a good choice.
Trimming Scissor:  For hand trimming, scissor is a very important tool. If you want to trim a low-amount of marijuana, then you need it badly.
Trimming Clippers: For hand trimming, clipper has the same importance as trimming scissor has. It's a very important tool indeed. It's a beneficial tool for trimming and shaping a plant.
Do you want to know more about these things? Then you should read "Buying Guide: Best equipment for Trimming- A guide you shouldn't miss."
What kind of trimmer should you pick?
If you ask me this question then my reply is, I don't know! Only you know which kind of machine is perfect for you.
Are you still confused? Okay, I can help you with some clues then you have to find the best trimmer for you.
Mr. Jack has six plants. He grows marijuana for fun. After getting some knowledge about trimming and trimmers, he decided to get a best manual trimmer then he bought one. After four years, now Mr. Jack has twenty plants now he isn't satisfied with the manual one that's why he decided to change his trimmer and then he bought a best automatic trimmer for trimming. After seven years now Mr. Jack decided to grow marijuana for commercial purposes, and he also knows that a manual or automatic grinder can't give him his desired performance. That's why he bought a best industrial bud trimmer for commercial uses.
Did you get an idea from Mr. Jack's story? Now scroll down to find the best bud trimmer for you from our picks!
Things you should consider before picking a bud trimmer
Once you decided to pick a machine for you, it isn't that easy to find the best trimmer. However, for selecting a good trimmer, you have to consider some things. Which is-
Budget: When it comes to the budget, you have to fix a decent budget. Such as, if you want a bud trimmer for commercial uses, then you have to arrange at least five figures. So, before picking a bud trimmer to decide your budget and don't hesitate to invest because a little bit more investment can give you the surprising result.
Quality: Never compromise with quality. Before picking a product, you should read experts and users review about your desired product. Don't choose an underrated product because it is entirely waste of money.
Appearances: Before picking a trimmer to consider its outlook. However, you can choose an unattractive trimmer if the quality is high, but I always prefer a smart-looking one.
Before picking a machine, you should also think about why do you need this? Because, if you don't choose a right kind of machine then it'll be a loss for you. Example: For industrial uses, a manual bud trimmer is the worst decision.
Best Bud Trimmer Machine 2018 Reviews
Our Picks: Best manual Bud Trimmers Reviews
As the header sounds like, you will get reviews of the best manual machines here. Scroll down to know about our best picks on manual grinders.
Bud Trimmer Review: iPower GLTRIMBOWL16M 16-Inch Bowl Trimmer
if you have enough knowledge about bowl trimmer, then iPower is a known brand for you. iPower is well known for their high-quality growing lights and bud trimmers. Here we are reviewing iPower's GLTRIMBOWL16M which is a popular bowl leaf trimmer. Do you why it is our first choice? Because this transparent lid trimmer is the best low-budget but high-quality bowl leaf trimmer I have ever seen.
Now let's talk about its appearances. Well, it is covered with a transparent lid so you can easily see how the sharp blades are cutting your cannabis. The blades of the trimmers are sharp enough to cut. The trimmer has the power of 30 sets of scissors, and it is 10% user-friendly too.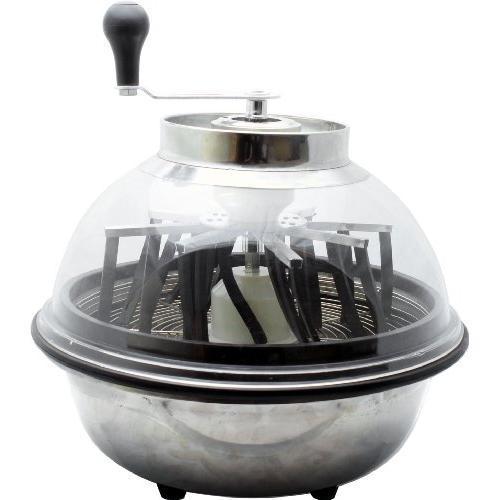 Still not convinced? Here are the pros and cons it.
Pros.
It's a low-budget and affordable bud trimmer.
iPower's GLTRIMBOWL16M is very easy to clean.
When it comes to the weight, it is light-weighted.
Cons
It can't grow the big amount of cannabis at the same time.
You have to use it slowly because if you spin it fast, then it will damage your harvest.
If you are looking for a manual bud trimmer for the small amount of trimming, then it's a perfect choice for you.
Marijuana trimmer: Spin-Pro Manually Operated Trimmer
Don't you like transparent covered trimmers? If you don't then I have a perfect pick for you which is Spin-Pro manual trimmer. It is famous brand SpinPro's product. It's one of the smallest manual bud trimmers of the market. The stainless steel covered body gives it a smart look. You have to spin it for trimming your cannabis. The best part of the product is, you can wash all the vital parts. The price is also reasonable.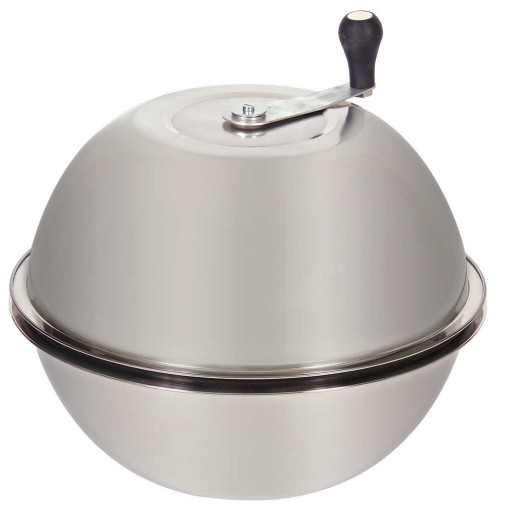 I get a complaint about the product, which is the bowl become separate easily while using.
Pros
It is a light weighting product.
The Spin-Pro trimmer is 100% safe to wash
Less breaking possibilities while using
The price of the product isn't high at all!
Cons
You can't trim lots of marijuana together. The trimmer is perfect for those who have few plants.
It is a 100% manual trimmer, so you have to do all things.
If you are looking for unique looking manual trimmer, then it's a perfect choice for you.
Cannabis Pruner-GreenThumbPro Hydroponic Leaf Trimmer Pruner Shears
Do you want to trim your harvests with your hand? If you have five-seven plants and if you're going to trim it with your hands then it's a perfect pick for you.
Let's talk about the pick, its GreenThumbPro's Pruner Shears which has straight and curved blades. The straight blades are perfect for cutting, and the curved blades will make your cutting experience easy. Want to know the pros and cons of the pick? Scroll down to know about it!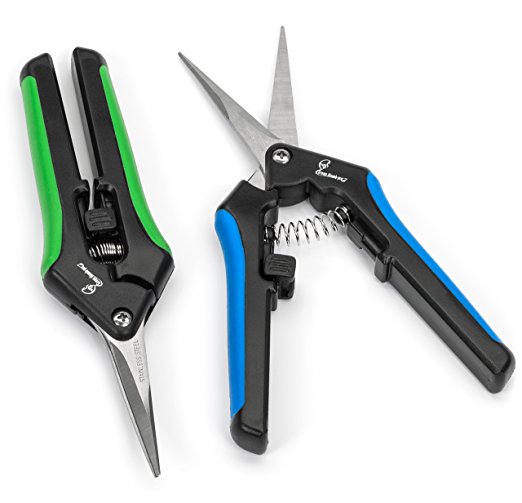 Pros
The weight of the trimmer is light.
Small in size and portable. You can carry it in your pocket.
 The manufacturer used ergonomic soft handle which will decrease your hand pain while trimming.
The price of the product is affordable.
Cons
It isn't for industrial use
Too much trimming with it may feel you bored.
For trimming shear is an essential thing, so it's a highly recommendable product. If you aren't satisfied with the products quality, then they will give you the money back.
Cannabis Trimming Machine-Growtent Garden 19-inch Bowl Leaf Trimmer
Do you want a medium-sized bowl trimmer? If you are looking for one, then Growtent Garden's 19-inches bowl leaf trimmer. It is a 19-inch bowl trimmer which is covered with the transparent lid. The exclusivity of the pick is, the blades of the trimmers are adjustable. The product is available with a razor blade, two wire blades, a serrated blade and one scissor. They will also provide an instruction manual with the product which will help you to understand the technical things.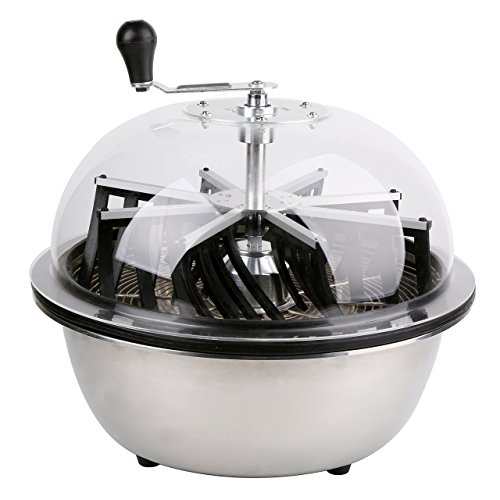 Now let's move to the pros and cons.
Pros
It is offering you adjustable blades. So now you can trim with your desired one.
Long-Lasting stainless-steel body.
Cheap in price
The pick is available with different kind of blades and scissor.
Cons
End of the day, it is a manual trimmer, so you have to twist it for trimming.
As it is a small trimmer, it can't trim a large number of crops at a time.
If you are looking for a manual bud bowl leaf trimmer with extra facilities, then it's a perfect choice for yo
Our Picks: Best Automatic Bud Trimmers Reviews
If you want to release yourself from spinning or cutting, then an automatic bud trimmer is a perfect solution for you.  If you are interested in automatic trimming machines, then Scroll down to read about our automatic trimmers review.
Weed Trimming Machine: CO-Z Professional Automatic Bud Trimmer
The CO-Z professional automatic bud trimmer our first pick of the section. It is one of the finest automatic bud trimmers I have ever seen. The trimmer is available with a slope table. The angled table helps to clean the machine. The machine is available with three blade settings so you can cut safely with your desired setting.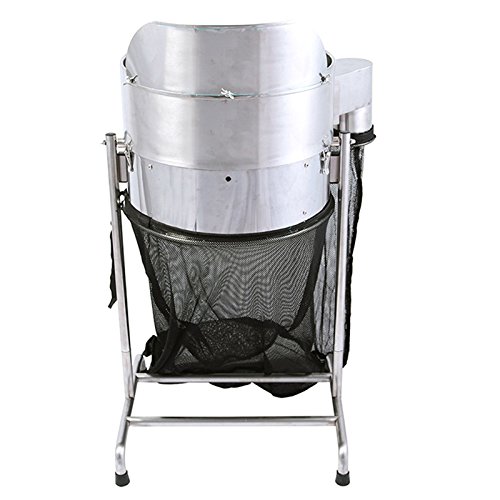 These are the pros and cons of the pick:
Pros
It has many trimming feature which can take full advantage of trimming time.
The motor of the trimmer is 100% care-free motor.
 It is effortless to clean the trimmer.
Cons
It is not perfect for commercial or industrial uses.
You have to clean it manually because it has no self-cleaning feature.
If you are tired of manual trimmers and you also have quite a good number of cannabis for trimming, then it is perfect for you.
Budget Automatic Trimmer: Trimpro Rotor Leaf Trimmer
When it comes to an automatic trimmer one of the trustable brand is TrimPro. Here we are reviewing a product of TrimPro which is Rotor Leaf Trimmer.
It is created with leather limbs which circulate the harvests on a nonstick grill. The machine trims leave with a sharp blade. One of the greatest things is, you can adjust the blades height, it will help you to trim well.
Biggest Advantage: The biggest advantages of owning it is, you can quickly open the door of the trimmer which is attached to a fluctuation handle.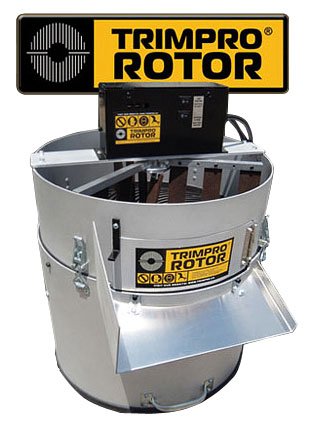 Now it's time for the pros and cons.
Pros
To be honest, it can trim large amount of yields
You can easily adjust the blades height for better trimming experience.
 It's very easy to drain from the trimmer because it has easy-emptying feature.
Cons
The trimmer is perfect for the big amount of trimming.
The price of the trimmer is quite high.
It is quite big.
If you are looking for a trimmer which can trim a large number of weeds for you, then it's a perfect choice for you.
Best Unique Trimmer- The Magic Trimmer – Electric Automatic HandHeld Bud Herb Precision Trimmer
If you are looking for something which can help you from cranking, then you can check it out.
It is The Magic Trimmer's automatic handheld trimmer. It's effortless to use, just hold in your hand and trim your marijuana. The trimmer is available with three blades. It can only evaluate 1-2 pounds at a time.
I found a negative side of it too. The trimmer doesn't have any wreckage-catcher. While using it will make the mess around.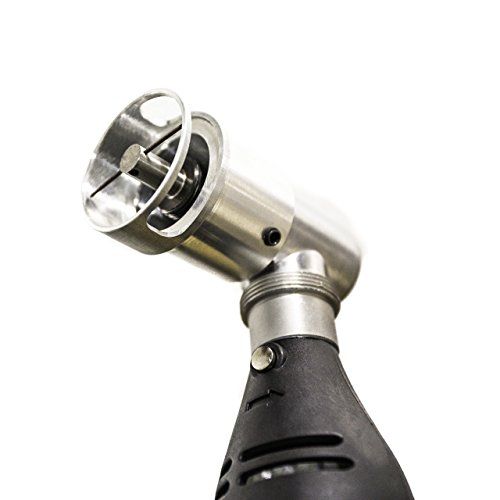 See below for pros and cons!
Pros
You can use it through your hands.
It is good for an average number of crops.
It is affordable
Cons
You have to hold the trimmer, and also you have to do other works
It isn't for commercial uses
It can be mass while trimming
If you think, you need something for saving yourself from chunking then go for it.
Our Picks: Best Commercial & Industrial Trimmers Reviews
Best Wet Trimmer: Triminator Wet Industrial System
If you are going to grow marijuana commercially then obviously you need a heavy beast trimmer. Here I am reviewing a world's best beast trimmer for you.
It is Terminator's wet industrial system. This machine is very known as the best-wet trimmer. It is indeed a beast; the machine can trim 200-pound marijuana's a day.  The blade of the trimmer is so sharp, and it can trim weed very well. The machine can do everything of trimming so you don't have to waste your precious time. The USA made trimmer is very famous for its drum. The trimmer also has two years warranty.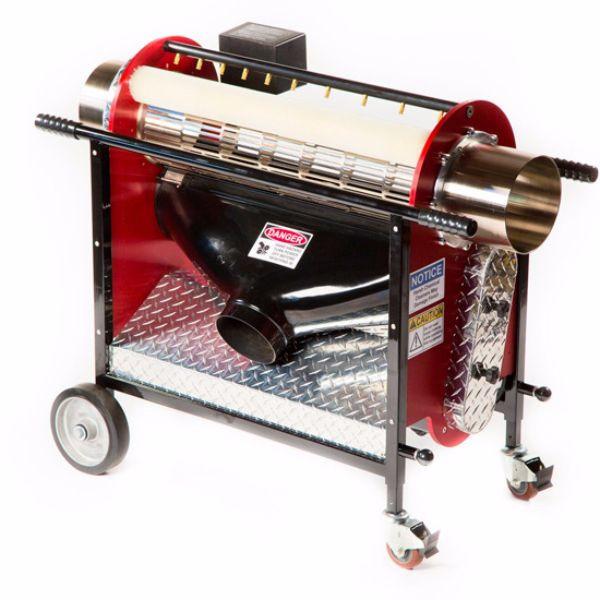 Now it's the perfect time for the pros and cons of the pick.
Pros
It is best for industrial uses
It can give the best trimming result within the short time
It has the world's largest monster drum.
Strange but true it owns a quiet motor.
Cons
The price is very high.
Only for big commercial grower
If you want to use a trimmer for commercial uses then trust me, it's the best one. The trimmer can give you the best performance.
Best Dry Trimmer: The Triminator Dry Trimming Machine
Our first industrial pick is also from the Triminator. To be honest, Trimnator is one of the world's leading brands for commercial and industrial bud trimmers. That's why once again you are reviewing a bud trimmer of Triminator.
Well, it is Triminator's Dry trimming machine. Is the product name sounds like it's best for try trimming and it is much known for Flora Hydroponics.  The best thing about the product is it can frequently perform like a workaholic, so it's perfect for a commercial grower. It has the automatic timer, so you don't have to wait beside the machine for monitoring. When its come to cleaning, it is effortless to clean with the machine, but it has no self-cleaning feature.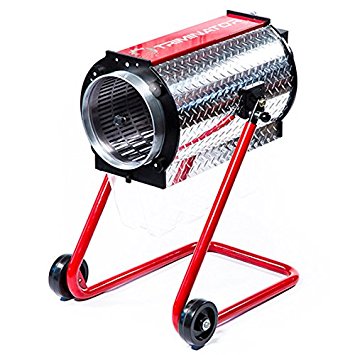 It allows all year round dry trimming.
The machine helps to create a great natural color.
It helps to improve the strong aroma of the product
If you have lots of cannabis for trimming for commercial uses, then it's a perfect pick for you.
Best Commercial Trimmer: CenturionPro Mini
Once you started growing marijuana for commercial purpose, a commercial trimmer is an essential thing. For a huge number of crops, a beast trimmer is a must. Now we will review a small but monster trimmer.
It is CenturionPro Mini bud trimmer. The trimmer is perfect for those who love to trim on dry and wet both methods. It can trim 6-8 pounds of marijuana within an hour. It has well-organized collecting system and dust collecting tray. The best thing about the CenturionPro Mini is, it has five years warranty.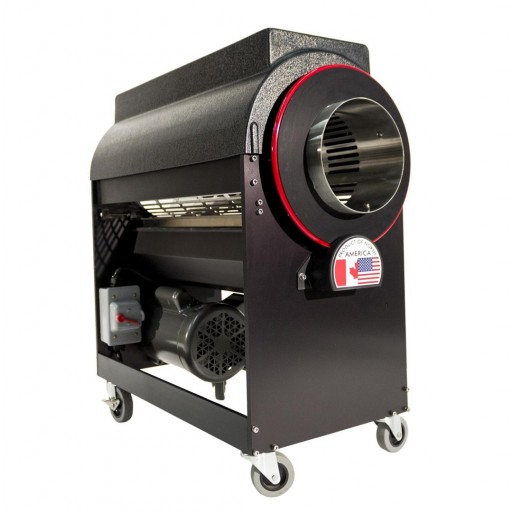 It can trim the huge amount of harvests.
It is easy to clean
The product has the five-year warranty.
It's perfect for dry and wet trimming both.
If you are looking for a best commercial bud trimmer which can give you Wet and dry both trimming experience, then it is perfect for you.
Why should you trust us?
Some of you may think, the reviews aren't trustworthy! All are fake! Its normal to think. That's why we decided to write behind the scenes story. We started to research about the bud trimmers almost three years ago. As we are also commercial growers, that's why we have to research on it intensely. Besides our researchers, others users of the products helped use a lot. After our personal uses and others review, we selected our pick.
Do you still have doubts? Then you should read how we tested!
How we tested
As I said before in why should you trust our section, we are commercial growers that's why we have tested lots of trimmers, and so many growers helped us with their knowledge. Now let me you know you how did we test each product.
To be honest, within the top ten picks we have personally and commercially used each product. That's why, we can strongly say, our picks are best of the market. Still, without our satisfaction, we also contacted with other users and asked them about their experience then we selected products for our picks. We also researched a lot on the internet.
So, it, was the story of us, the story of the background of the article. We are trustworthy and our reviews too!
FAQ
F:Which Bud Trimmer is perfect for me?
A: Read "What kind of Trimmer should you pick" again! You will get your answer!
F: What should be my budget?
A: Well, for a manual bud trimmer three figures is perfect. For an automatic bud trimmer, four-figure is good. For a best industrial bud trimmer, five figures are must. I hope you got your answer.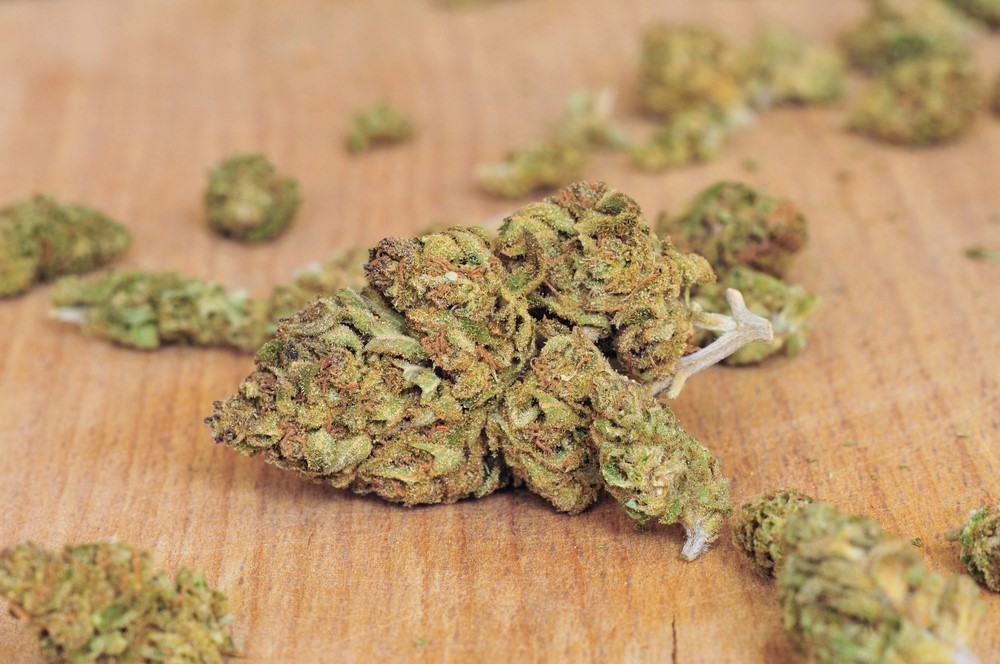 Conclusion!!
Some growers aren't concern about trimming, they don't understand the importance of trimming. Maybe now understand the importance of trimming your weeds and also the importance of a best bud trimmer. We hope our article helped you a lot and you also picked a best trimmer for your harvests. Keep growing weeds!
Read more: