When you make up your mind to start growing cannabis, you will need patience, a growing functional space, and efficient growing tools. One of the must-have tools for indoor growing is a grow light with LED lights being the most popular.
Investing in a good grow light is not a small feat considering that the market has a variety of them. The good thing is that LED grow lights keep revolving, and today you can find those that come with the latest technology and better qualities. One such LED grow light is the VIPARSPECTRA 2020 New Pro Series P2500 LED Grow Light.
VIPARSPECTRA is not new to growers as it manufactures some of the best products that come at affordable prices for indoor cannabis growers. It boasts of over a million growers that use their products, and it is one of the highest-selling LED grow lights brands in amazon.
The new quantum style P2500 pro series is what we review today as we look at what makes it stand up from many other LED grow lights in the market. Read on to find out why.
See also:
Summary of key features
Provides an optimal full light spectrum
Sturdy, durable, and outstanding design
Upgraded high-intensity SMD LEDs
Dimmable function
100, 000 hours lifespan
Vegetative stage coverage at 20 inches fo 4 by 3.5 feet of growing space
Flowering stage coverage at 16 inches of 3.5 by 3 feet growing area
Similar power with a 600 w HPS/MH grow light
Measures 23.6 by 11 by 2.6 inches
Weighs 9 lbs
Overview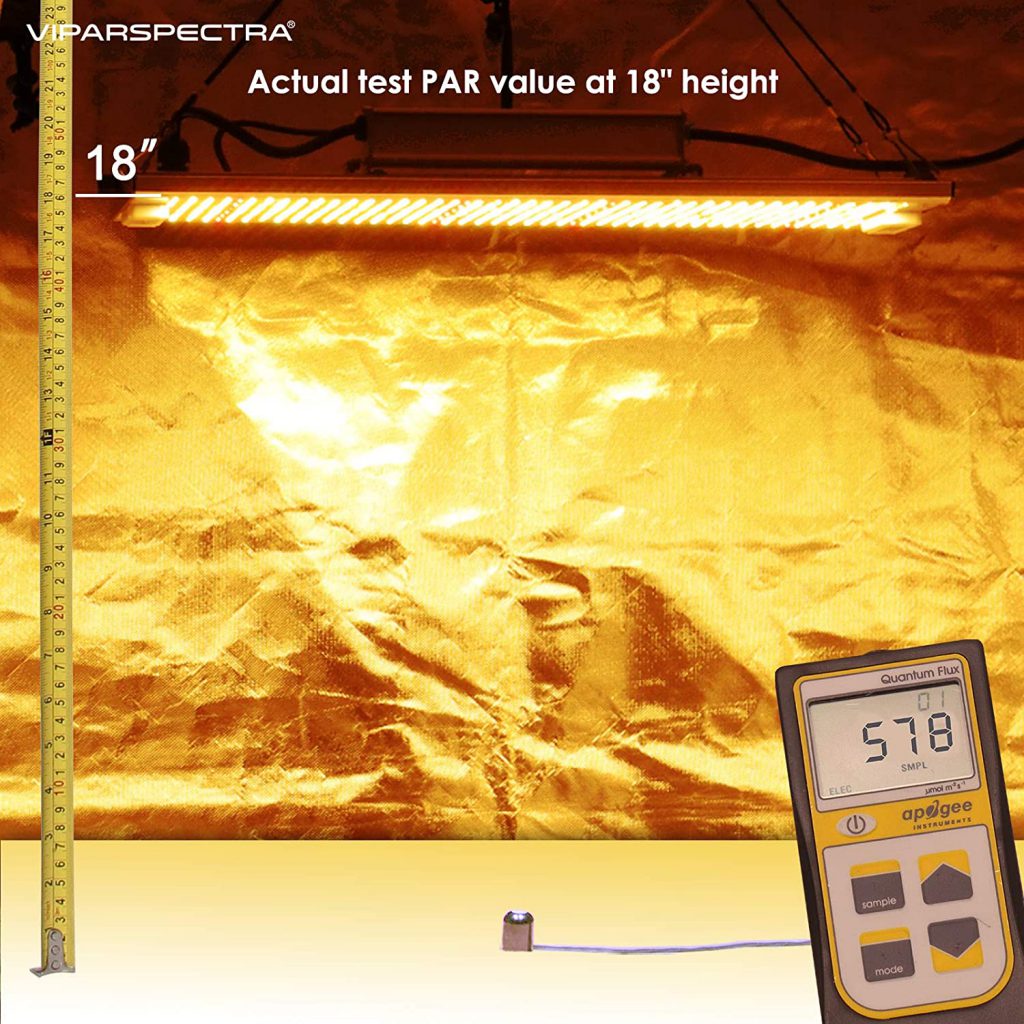 If you are looking for a quality LED grow light that comes at an affordable price, you will go wrong with VIPARSPECTRA 2020 New Pro Series P2500 LED Grow Light. The grow light system uses the latest technology SMD LEDs that come with more efficiency and a longer lifespan.
Unlike the older models, the new series has a better light penetration that covers a larger growing space. It has a sunlight spectrum of the white and light range, which provides efficient brightness through all stages of growth. The red lights provide 640-660nm, while the white lights provide 3000 to 3500K, and 6500 to 7500K of the spectrum.
The light consumption is 250W, which is equivalent to the 250W HPS/MH lamp. The grow light also comes with dimmable features that help you to manipulate how much brightness you need for different stages of cannabis growth. A dimmer knob that controls light from zero to 100% makes the option more comfortable to manage.
You also get to enjoy noiseless gardening, as the system is fan-less with zero noise. The system also provides excellent heat dissipation provided by in-built aluminum heat sinks. The lighting system is ideal for coverage of 4 by 4 feet during the vegetative stage of growth and 3.5 by 3.5 feet for the flowering stage. The best height for the light during the vegetative stage is 20 inches above the crops, while during the vegetative stage, the best distance is 16 inches.
The product comes with a hassle-free three-year warranty and 30-day money-back guarantee. The customer service is also always at hand to answer any questions regarding the LED grow light. For first time users, the LED grow light system comes with easy installation with a user manual to guide you through all the steps.
The grow light is also one of the few that come with the most extended lifespans. With this light, you can enjoy 100,000 hours of constant brightness for your crops through all their stages of growth. You can also depend on the effectiveness of the light to provide you with much higher yields as compared to what you would harvest from other grow lights and lamps.
The whole package includes the P2500 LED grow light, a user's annual, and a six-foot power cord and a hanging kit.
Pros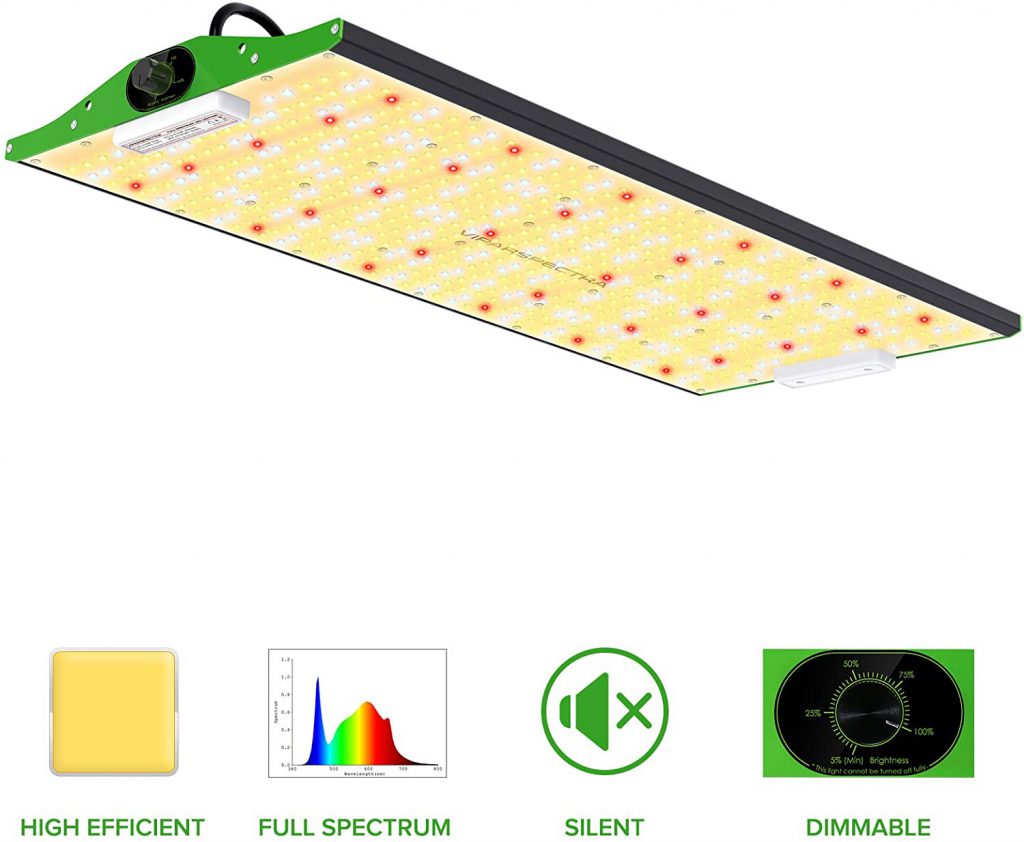 Uses newest SMD LEDs in the market
Efficient full spectrum coverage
Dimmable options that come with a dimmer knob for easy manipulation
Excellent heat dissipation from in-built aluminum heat sinks
Noiseless no fan system
Ideal for all stages of growth
It comes with easy installation and a user's manual
Long lifespan of 100,000 hours
Power saving efficiency
Powerful light penetration
It comes with a three-year manufacturer's warranty
Comes with a 30-day money-back policy
Great customer service
Comes with a hanging kit and a long power cord
Helps to promote a harvest of more yields
Cons
The light is very bright which means you have to wear eye protective gear
If placed too close to the plants, it can burn them which means you have to adhere to the distance between crops and light specifications
Customer's reviews
The VIPARSPECTRA 2020 New Pro Series P2500 LED Grow Light Being new in the market is yet to receive user's reviews as many of the farmers are still getting to learn about its amazing features. The only review on amazon is from a customer that praised the LED grow light for its excellent coverage, light spectrum, noiseless feature, and the fantastic dimmable function.
The only complaints from the user who gave the grow light a star rating of 4.0 include the lack of infrared wavelength and superior Meanwell driver. Overall, the customer says the grow light is a good buy that could get better with IR LEDs and a Meanwell driver.
Wrapping it up
When it comes to LED grow lights, you have to choose carefully if you want to give your crops the best light that mimics that of the natural sunlight. For new growers, it may seem harder for them to choose what is right. VIPARSPECTRA is a good starting point for novice growers as well as the experts.
The VIPARSPECTRA 2020 New Pro Series P2500 LED Grow Light comes with amazing features that embrace the newest trends in the market. Some of the features that include the latest SMD LEDs and dimmable options, make gardening both fun and easy. You can trust the new lighting system model to provide you with more yields and full coverage lighting with the least hassles.