Are you growing marijuana at home, but you cannot tell the sex of your plants? Worry no more because, in this article, you will learn how to differentiate male and female marijuana plants. We know it is a bit more difficult to sex marijuana plants in their pre-flowering stages, although possible.
With this article, you will learn how to tell the sex of your marijuana plants when they are still young. You will also get to know the importance of sexing marijuana plants, how to treat them until you know their sex. Understanding cannabis gender and reproduction is vital for a good harvest.
Cannabis Plant Reproduction
Just like human beings, marijuana plants are dioecious. They have male and female plants, which contain both X and Y-chromosomes. Male plants contain the XY chromosomes combination, and the female plants contain the XX chromosomes. The males and females give a natural 50/50 split when they are reproducing.
Marijuana plants can also be hermaphroditic, where a single plant has both male and female genitalia, a pistil and stamen on one plant. The sex is not only determined by their genetic combination but also by environmental factors. This is why it is vital to know the distinguishing traits between male and female plants, which are unique characteristics to each farm.
Identifying Males And Females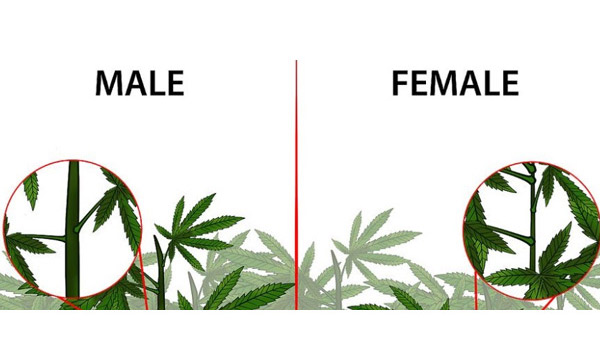 You must know how distinguish the gender of your plants. It is usually difficult since marijuana plants do not reveal their gender in early stages.
So, why is it important to know? Well, the females produce THC, while males disrupt them from it. Therefore, it is essential to know the sex as soon as possible so that you prevent the males from fertilizing the females. Sinsemilla, females without seeds, give higher levels of THC, while males have minimal THC. Therefore, stopping pollination from taking place is the surest way to get high quality buds.
What should you look for?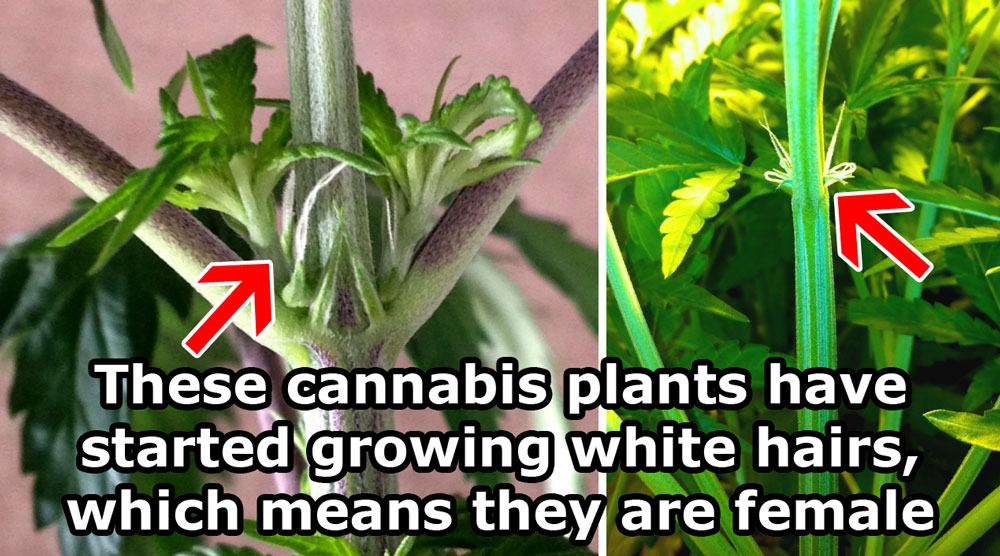 When it comes to general differentiation between the two, males usually have flowers, and females have pistils. The males are taller. All cannabis plants have flowers at some stage in their life. Sometimes it is hard to tell the difference between the sexes by just looking at the plants' height. Learn to check the flowers and pistils.
It may look simple, but telling the gender of a marijuana plant is a bit hard. This is difficult because cannabis plants do not show their sex until their maturity stages. Sometimes you cannot even tell the gender until the plants are mature enough for pollination. Waiting for them to mature so that you can identify the sex of your cannabis plants will be too late for you to get sensimilla buds.
Female plants 
The female cannabis plants are easy to identify. Although all marijuana plants grow flowers, once found on the female plants bloom late compared to the males. The female flowers usually look like sacs growing stigmas out of them. Here are the feminine features:
They bloom, forming little white, yellow, or cream flowers.
The pistils are whitish and hairy to trap pollen grains produced by males.
The stigma is found on the node region of the central stalk where a branch grows from the main stem or where a branch grows from another different branch.
Male plants
The male plants are easy to identify because of their rapid maturity. The males grow faster than the female counterparts. They grow faster and get taller like two weeks earlier than the female plants. This is to make it easier for them to drop pollen grains on their female counterparts. Their flowering phase begins as soon as a month before the females, allowing time to differentiate them. Here are some male features:
They grow straight and have fewer flowers than females
The flowers are at the top of the plant.
The flowers are tight green clusters, unlike the female flowers, which are brightly colored.
To someone who may be seeing the flower for the first time or does not know about marijuana plants, they look like a tiny banana bunch. The flowers are also known as false buds because they are pollen sacs. The clusters start opening with time to let out the stamen for the pollination of the females.
Pre-flowers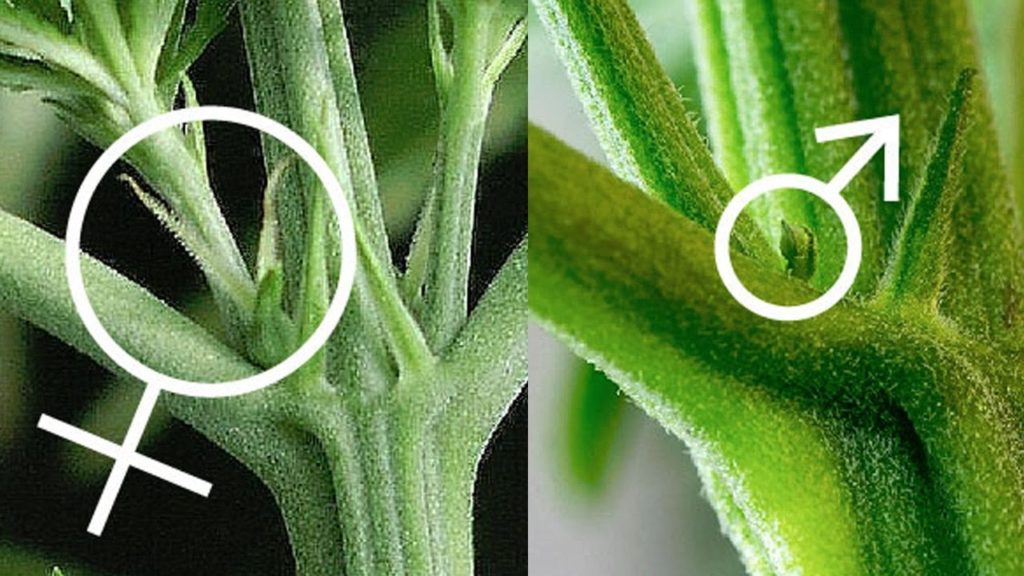 It is difficult to tell the sex of a marijuana plant by the flowers. This is because of the short timing between when the flowers appear and the fertilization. Expert growers focus on finding the pre-flowers that grow on the main stem and the branches' tips.
How to identify the pre-flowers:
When you see a high calyx the plant is most probably a male. If the calyx is not raised, the plant is most likely to be a female. At first, it might be hard to tell the difference, but with time it becomes simple, and every farmer becomes better.
Other Ways Of Identifying The Sex Of Your Plants
At times you may need to know the gender sooner, or maybe you want to use several methods just to be sure. Here are other ways:
Check the growth patterns
At the vegetative stage, every plant starts to flourish regardless of the sex. However, as the plants continue aging, subtle differences in their sizes become noticeable. Female plants develop a lot of branches as they transition from being seedlings towards the vegetative phase. In contrast, male plants are generally taller and less filled out.
This criterion of identification is not as accurate; therefore, do not use it to decide to throw away a plant. It is not advisable to start pulling out plants at such an early stage. This method's main importance is to give you an idea of which plants to watch and check out later on carefully. The method is effective for plants grown outdoors since those grown indoors using artificial lighting do not show these characters.
Find out where the plant sprouted during germination
Some cannabis growers have come up with a way of identifying the sex of plants after they have germinated. If the sprout develops from the top or bottom of the seed, the plant is female, and if the sprouts develops from the sides of the seeds, the plant is most likely a male.
This is not scientifically proven; therefore, do not use it as an absolute fact. Allow your plants to grow and try to look for the distinctive male or female features. The method helps you keep track of the plants, but do not throw away your plants because they developed sprouts from the sides.
Clone your marijuana plants
This a foolproof method of determining the sex of the plants before they are mature. The process is easy because you just need to take a cut from one of your plants.
Steps of cloning:
Cut a tiny piece from a host plant
Plant the piece in potting soil and allow it to grow
Force the cutting to flower using the 12 hours of light and darkness rule for some days.
To tell the sex of the clones, keep them away from the mother plants. The method is said to be foolproof because if the clone has similar DNA with the mother plant, it means they will be of the same gender.  When the clones develop and reach the flowering phase, it becomes easy to tell their gender which is same as the mother plant. Ensure that you are sure of the mother plants where the clones were cut from to avoid mixing them.
You can also force a regular plant to flower then take it back into the vegetative stage after proving that it is female. The method can be useful for the reveal process, but it can cause unnecessary stress on the developing plant leading to more trouble than it is worth it.
Some Best Led Grow Lights For Cannabis:
Bestseller No. 1
LEOTER Grow Light for Indoor Plants - Upgraded Version 80 LED Lamps with Full Spectrum & Red Blue Spectrum, 3/9/12H Timer, 10 Dimmable Level, Adjustable Gooseneck,3 Switch Modes
Efficient LED Combination: This LED lamp has grow lights made up of 80 efficient growing LEDs (36 red, 16 blue and 28 full spectrum). It meets the conditions of plant growth without sunlight. 1--Full Spectrum(380nm-800nm): Suitable for all plants to root and sprout. 2--Red(660nm)+BLUE(460nm) Spectrum: for blooming and fruits. 3--Red+Blue+Full Spectrum: A mix of Red+Blue+Warm White is best to fuel the growth of your plants.
Upgraded Auto ON/OFF Timer: Plant grow lights come with the circular memory timer function allows to automatically turn on/off every day according to your settings: 3H(Blue)/9H(Green)/12H(Red). Which requires no manual operation and takes good care of your plants when you on work or vacation.(Please note: The timer needs to be reset if the grow light is powered off.)
10 DimmableModes: Our grow lamps provides 10 dimmable modes to suit varied stages of plant growth. It has 10 levels of light intensity and has 3 spectral modes to meet different stages of plant-growing needs.
Visible Quality and Adjustable: The LED grow lights have a USB connector which makes it convenient to connect in your office or home to USB or AC power plug (includes adapter). The 4-head light has a 360-degree flexible gooseneck made from quality tubing to keep a fixed position. The metal clamp allows the lamp to be placed anywhere in your home or office.
Scientific Heat Dissipation Design: Indoor LED grow light is backed by an aviation-grade heat sink powered by a temperature control unit. This improved heat sink efficiently dissipates the heat generated by the lamp to the atmosphere.
Bestseller No. 2
GooingTop Grow Light Single Gooseneck Lamp,6500K Full Spectrum 72 LED Plant Lamp Clip-on Desk for Indoor Plants Growing,Lighting Brightness Changeable,Upgraded Timer 4 8 12 18H
6500K Full Spectrum White Light - equipped with 12 Red + 60 White LEDs, this growing Lamp is similar to the full-spectrum sunlight at noon,that is professionally designed for indoor garden plants.Moreover, its color rendering index is as high as 90, the light is soft and flicker-free,perfect for indoor plants growing
High Efficiency LED Lamp - as for LED power draw this clamp grow lamp only consume about 6 watts but is equivalent to a 30-40W Halogen Bulb. Monthly cost roughly $1 in electricity (18 hours a day). It is a great gift if you growing some potted plants.
Upgraded Timer 4/8/12/18Hrs - this growing lamp offer the timer function with 4 options that is 4H or 8H or 12H or 18Hrs , it is based on a 24 hour cycle from the time you set the timer.For example,when keeping power ON, if you select 18 Hrs,it will turns ON for 18 hours per 24 hours.The other three timer settings are the same.
Easy to Install - with flexible Goose Neck & strong clamp,it allows you to place the growth light in any direction to provide the best lighting angle for your plants,meet the cover around the plant.
A Best Gift for Your Cute Plants - the led lamp weight is about 13 ounces, very compact and flexible, it could emit a soft and efficient aperture. And its neck is very stable and supports 360-degree adjustable, which is very flexible and useful, especially for tabletop plants
-$3.54 SALE OFF
Bestseller No. 3
iPower LED Grow Light with Full Spectrum for Indoor Plants, Adjustable Gooseneck, 2/3 Light Modes&5/10 Dimmable Levels, 3 Auto Timing Modes, 2 Tubes, Red&Blue
The red and blue spectrum adjustable gooseneck lamp provides the optimal wavelengths for chlorophyll absorption and photosynthesis, promoting healthy plant growth and increasing yields.
The auto ON/OFF function with timing options ensures that your plants receive the appropriate amount of light each day, without the need for manual intervention.
The 11 dimmable levels allow you to create a customized lighting schedule for your plants, ensuring that they receive the ideal amount of light at each stage of their growth cycle.
The dual head LED grow light has a compact and lightweight design, making it easy to install and move around as needed.
The grow light is suitable for a variety of indoor growing setups, including hydroponics, aeroponics, and soil-based systems, making it a versatile and adaptable choice for indoor gardening enthusiasts.
-$11.00 SALE OFF
Bestseller No. 4
Barrina Grow Lights for Indoor Plants, 5000K White Full Spectrum Led Grow Light, 1ft Plant Grow Light, LED Grow Light Bulbs, T5 Grow Light Strip, Plug and Play, 8-Pack
【5000K White Full Spectrum Light】Barrina T5 grow lights 1ft provide indoor plants with full-spectrum sunlight replacement. We provide the most reasonable grow light wave based on the ratio of the absorption of the plant.
【Super Bright and High PPFD】Consuming only 40W with 192 LEDs totally, replace 250W general plant lights. Over 95% light energy can be absorbed by plants. This t5 growing lamp 1ft is a great option for plants that in seedling, vegetative and flowering cycle.
【Separately Controllable】Each t5 grow lights fixtures have on off switch on the surface of housing, controlling the lights separately or together according PPFD that plants need.
【Easy Install】With included double-sided tapes, clips and cable ties, you could install the lights by yourself in minutes. Plug and play, and you could link up to 16 lights in a series, saving your installation cost and time.
【What You Get】2 years warranty. 8 x Barrina T5 Grow Lights, 4 x Power Cords with ON/OFF Switch, 7 x Connecting Cords(20''), 8 x Small Connectors, 16 x Installation Clips, 24 x Double-sided Tapes, 24 x Cable Ties.
Bestseller No. 5
SANSI LED Grow Lights for Indoor Plants, 450W Full Spectrum Clip-on Gooseneck Grow Light with Ceramic Tech.,30W Power Plant Light with Optical Lens for High PPFD, Lifetime Free Bulbs Replacement White
THE SECONDARY OPTICAL DESIGN: SANSI Grow lights offer high growing power of PPFD: 603 μmol/s/㎡@1ft, around 18 times higher than other brand. Through the lens for secondary scientific light distribution, improves light utilization, giving plants more supplementary light. Using only 30 watts of power, equivalent to 450W incandescent bulbs. Based on 18 hours per day usage, annual estimated cost 19.71.
360 DEGREES GOOSENECK AND FULL SPECTRUM: Making every plant covered by 360 degrees surrounding light, actualize a more ideal full life cycle full spectrum supplementary light program, covering the entire visible spectrum of 400nm-780nm, suitable for every cycle of plant growth, effectively promote plant growth, and improves crop yield and quality. Providing 4000K daylight, color rendering index Ra is close to 100, infinitely close to natural light.
REPLACEABLE BULBS: Different from similar products on the market, the bulbs of this product can be replaced, which not only facilitates customers to replace broken bulbs at any time but also avoids wasting money to repurchase the whole grow light. Saving money and protecting the environment. Additionally, whole-life warranty for the bulb.
PATENTED CERAMIC TECHNOLOGY: Chip on Ceramic, SANSI's patented technology replaces the traditional Mcpcb aluminum substrate with a non-conductive ceramic heat sink, and directly solder the LED chip on the ceramic heat sink, effectively reducing the systematic thermal resistance between the LED PN junction and the surface of the heat sink, resulting in faster heat conduction and higher product reliability, producing a SANSI bulb with higher light efficiency.
GUARANTEES: ETL listed certification, quality and safety verified, 25,000 hours lifespan and whole-life warranty for the bulb. Attention Please: The maximum safety wattage rating is 10 watts for each head.
Sexing Marijuana Plants
Once your cannabis plants have developed their sex, they are ready for reproduction, and here is what happens:
Female flower formation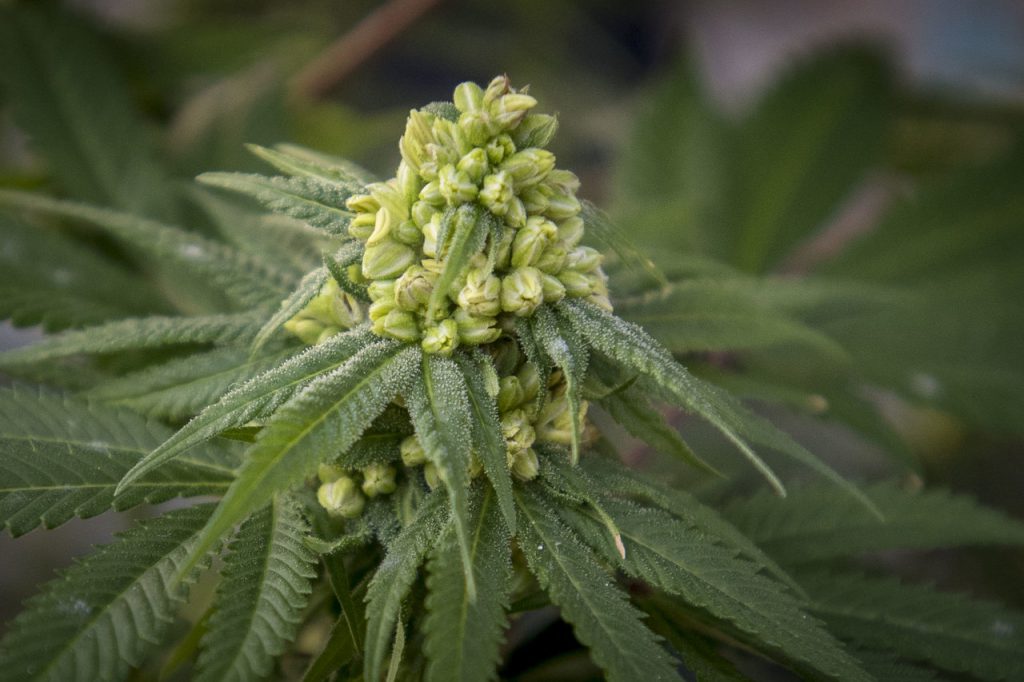 A cluster of buds called the cola appears on female cannabis plants. They consist of various subunits of buds, and several pistils control the process of reproduction. Each pistil has a stigma for interactions with pollen grains.
During the flowering phase, a cola gets ready for reproduction as the plant stretches to develop bud sites which house female marijuana flowers awaiting fertilization. New flowers grow on the top of the subunits as small stigmas form on the pistils.  The thin structures are visible because of their white hairs, although pollination can still happen even when they are not white.
Sometimes the stigmas die due to heavy winds or rains. They become dry and turn from brown to red. The stigmas can still receive pollen, and fertilization will take place.
The female flowers have hairs called glandular trichomes, which produce resin on flowers and neighboring leaves. On a close look, the resin resembles balls attached on a small neck. The shape shows how delicate they are, such that if you handle them roughly, the trichomes might break off the buds.
Below the pistil, a smaller leaf is known as the stipule, which is seen more quickly before the flowering phase begins.
Fertilization stage
Once the male cannabis plant is mature enough, it produces pollen grains. The pollen grains fertilize the eggs found inside the pistil to form a seed. If the process fails to take place, the female flower starts changing.
Pollen grains can remain viable for a few days as they try to get to the female plant. This increases the survival rate of marijuana plants. The pollen can stay alive for some days, and it can be kept for fertilization at a later date.
The female plants also strive to get fertilized since the pistils grow bigger when they are not fertilized to increase their chances of locating pollen.  This change does not last for long since the stigma dies after the pistil is fully mature.
The Female Marijuana Plant

Female marijuana plants take a little more time than males to attain sexual maturity, although it is easy to tell them apart once they are mature. At the pre-flowering phase, the plant develops a few white hairs at the place where buds grow. This indicates that the plant can start budding anytime. The hairs are seen on the main stem joining the nodes or branches. The hairs are a tremendous distinguishing factor for female plants.
Ensuring A Female Plant
Female plants begin to show hair before getting to the flowering phase. As a grower, it is best to have an all-female garden because they can be fertilized by one male plant, and you will not have to deal with the struggle of getting rid of plants, which turn out to be male. This can be easy to achieve when you use feminized seeds.
Feminized cannabis seeds produce female cannabis plants. Although, under some conditions, the feminized seeds become hermaphrodites which self-fertilize.
The Male Marijuana Plant
The male cannabis plants lack buds, although they produce flowers that contain pollen. At the flowering phase, the plant develops grape-like balls on the stalks. The balls look like clusters known as pollen sacs, which hold the powder-like pollen grains. The marijuana plant attains maturity after a week or two, and the pollen sacs burst open, spreading the pollen grains all over for pollination.
The male cannabis plants may be difficult to tell apart from the female counterparts, but it is good to be keen and look out for them using the methods we have discussed above.
How can you use the male plants?
Once your plants reveal their gender, you might discover young males among your female plants, and you may find it useless and toss it away since they do not make the delicious smokable buds you want. Do not rush to throw away the plant because you can use them to:
Both male and female cannabis can be used for hemp fiber, although hemp fiber made using male plants is softer and best for producing table cloths, blankets, and clothing. Female marijuana plants make coarser hemp fiber suitable for ropes and other similar products.
Male marijuana plants are essential for breeding, but you can still do cloning. It is okay to clone host plants, and you will get good results, although it can become boring. Breeding is fun because you do not know what to expect.
Males are pretty good fathers, especially if they have good genes to give to their products. The plants are also essential for the production of seeds, which are crucial to breeding.
Male marijuana plants have psychoactive properties, and they have THC, although not as much as the females, which can be used to make hash or other concentrates.
You can use male cannabis plants to protect your cannabis crops or the regular kitchen garden because they contain terpenes useful for disease prevention and pest control. You can use the plant to produce terpene oil, which is dank pest control.
Hermaphrodite Marijuana Plant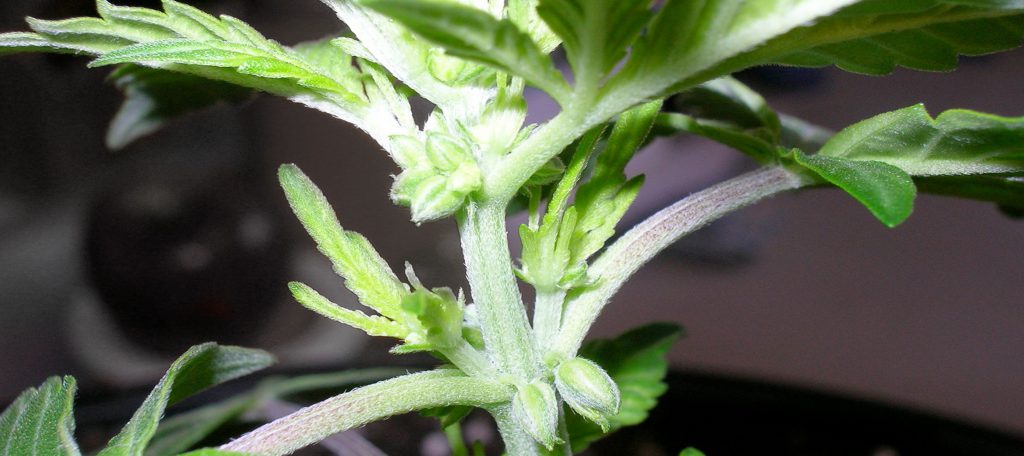 Marijuana plants strife for reproduction to take place. They sometimes change their gender in a bid to reproduce. This intersexual capability protects cannabis species.
What is hermaphrodite?
The hermaphrodite is a plant that has male and female genitalia. Cannabis plants quickly change to hermaphrodites as they respond to environmental conditions that are not favorable for reproduction.
Unfavorable conditions could mean that the plant is less likely to reproduce or survive the entire season. The plants change into hermies as they respond to the lack of an opposite-sex plant to fertilize them. Hermies can be annoying, but it is a sure way for cannabis species to survive. This is a composition of their genome; hence, every cannabis plant can produce hermie, but some are more likely to hermie than others.
Conditions likely to cause marijuana plants to change their gender
Too bright lighting
Issues with the light and darkness schedule
Too hot temperatures
Lack of water
Lack of nutrients
Poor genetics
pH problems
Types Of Hermaphrodites
There are two types of hermaphrodites, although plants vary in levels of hermaphroditism.
True hermaphrodites- These have both male and female reproductive features on different parts of one plant.
Female hermaphrodites- these are female plants that develop small growths in the flowering phase. The extensions are banana-like, but after a while, they turn into hermaphrodites.
Level Of Cannabis Plants Hermaphroditism
The level of marijuana plant hermaphroditism is classified according to the number of opposite sex flowers found on a plant:
Mostly female flowers- these plants can change into female cannabis plants by removing the male flowers.
Mostly male– the plants play the role of males.
An equal number of male and female features- these plants mostly self-fertilize.
How To Sex Seeds
When you have a handful of seeds, it is not easy to tell their gender by just looking at them. The only way to tell the gender of the seeds is to plant some and wait for them to grow. After some time, they grow and start to pre-flower, or grow small buds on the base of a branch. The first sign of female plants is the growth of white and wispy pistils.
If you want more precise, science-based methods to find the gender of your seeds, various labs can sex your cannabis plant after germination.
Conclusion 
Marijuana plants reproduction and sex can be a little complicated and hard to understand, most notably when they are hermaphrodite due to various conditions and self-fertilization. As a cannabis grower, be keen and vigilant enough to know how to sex your marijuana plants and learn to observe the changes before reproduction occurs.
Happy growing!!!