Throughout the cannabis life cycle, growers will, at one time or another, notice some deficiencies in their plants that are an indication of poor development. Some cannabis leaf symptoms are easily noticeable, while some growers find it hard to identify others.
When this happens, some growers, especially new cannabis growers, panic because they do not know what to do or what the deficiencies mean. Therefore, it is important to learn the crops and know what to expect during their development phases.
Luckily, for many cannabis growers, the plant is resilient, and it has the ability to stand harsh conditions and invaders. The resilience of the cannabis plants provides you with time to figure out the deficiencies and work out rectifying situations.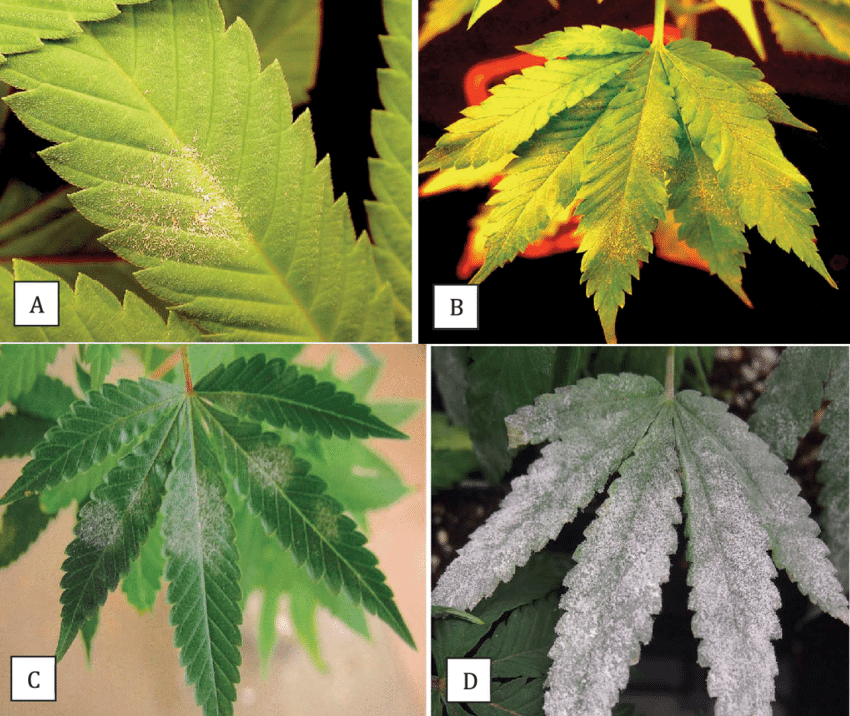 Deprivation of essential nutrients or light negatively affects the plant's growth. Failure for the grower to correct the cannabis deficiencies in time leads to the crops ceasing to grow, poor development of buds, or dying. If they grow to the last stage, you may end up with poor quality yields.
One part of the cannabis plant that shows the first signs of deprivation or deficiency is the leaf. Others are the branches and stems. Cannabis plants are extremely resilient and can withstand different harsh environments or crop invaders for some time.
However, this is not a green light for any grower to allow the plants to grow without regular monitoring. The resilience of the crops is a positive thing because it provides you with enough time to learn and figure out any issues that look different and treat them before the plant goes into complete ruin.  In this article, we list the most common cannabis leaf symptoms.

Common Cannabis Leaf Symptoms
Overwatering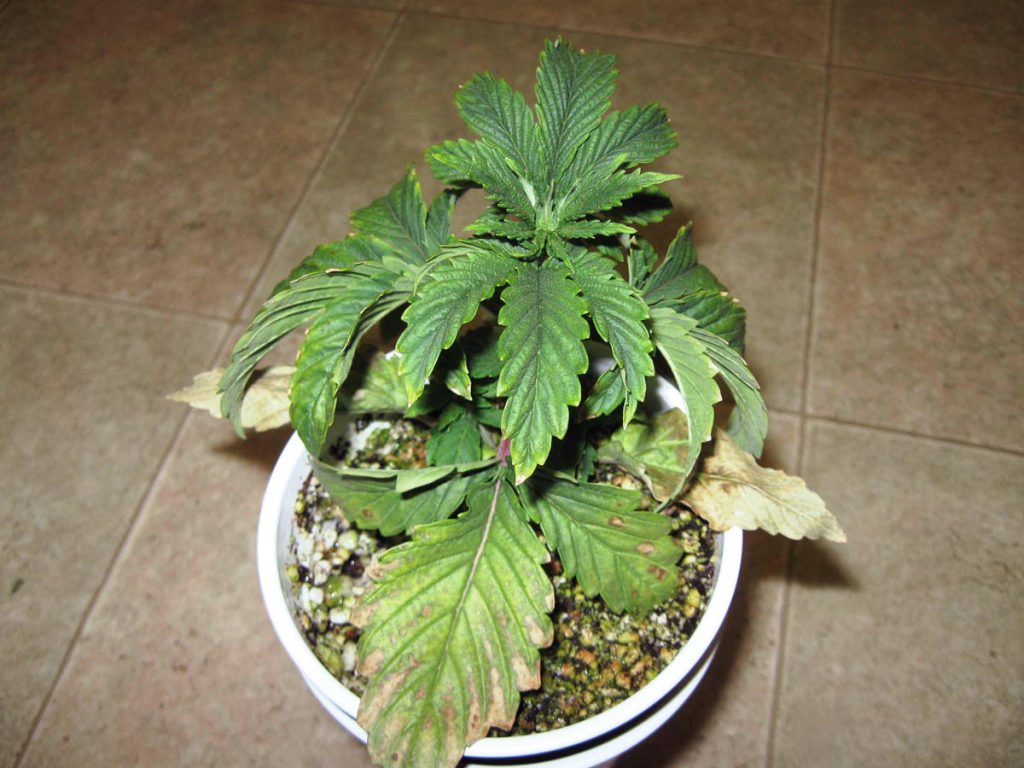 Overwatering is one of the most common cannabis problems. Even though the problem causes the plants to change and slow down growth, it is easy to rectify. Overwatering leaf symptoms include drooping, curling, yellowing, and root rot.
The leaves also become tight and rigid because of holding too much water. Lack of oxygen is also another issue when it comes to overwatered plants.
Underwatering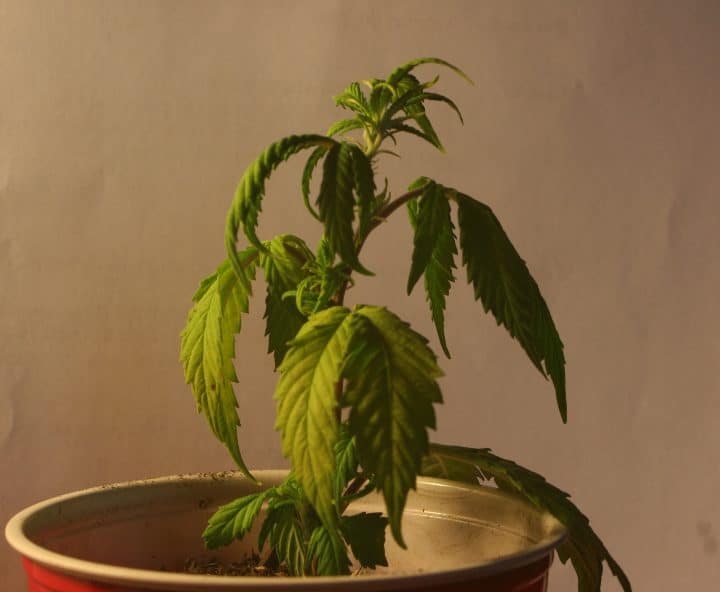 Underwatering is another common problem that several growers deal with when growing cannabis. Under-watered cannabis plants' symptoms are drooping of the leaves, thin or papery look, wilting or lifeless looking leaves, yellowing, and nutrient deficiency. Extended underwatering of the plant also leads to curling and bunt tip leaves.
Nutrient Burn
Feeding your plants with strong nutrient mixes, the wrong nutrients, or feeding them more times than you should, leads to nutrient burn. Some of the most common symptoms of a nutrient burn are brown leaf edges, crispy or burnt look, and yellow tips and edges.
Some of the most common causes of nutrient burns or nutrient toxicity include deficiencies of potassium, nitrogen, calcium, magnesium, and copper.
-$10.10 SALE OFF
Bestseller No. 1
FoxFarm Liquid Nutrient Trio Soil Formula: Big Bloom, Grow Big, Tiger Bloom (Pack of 3-16 oz Bottles) + Twin Canaries Chart
Get your garden going with FoxFarm Grow Big, our liquid concentrate fertilizer that supports lush vegetative growth.
FoxFarm Big Bloom Liquid Plant Food is formulated for use on all plants and can be used every time you water. OMRI Listed and Registered CDFA Organic Input Material.
FoxFarm Tiger Bloom is a phosphorus fertilizer that contains nitrogen to support vigorous growth. FoxFarm Tiger Bloom is designed to encourage abundant fruit, flower and multiple bud development.
FoxFarm Big Bloom, FoxFarm Grow Big, and FoxFarm Tiger Bloom, together at last. Designed to work together to support vigorous growth, multiple bud development and abundant fruit.
Twin Canaries Conversion Chart included with every order.
-$24.00 SALE OFF
Bestseller No. 2
Growth Science Nutrients - Starter Pack
This starter pack is intended to get you off the ground with your garden. It contains four of our tried-and-true fertilizer products that successful growers, on all scales, have come to depend on.
Made from the highest quality ingredients, specifically formulated to save you time and money. For use in soil, coco and all hydroponic mediums.
It's essential to provide the right nutrients at the right stages of growth. Growth Science will walk you through those steps with this, cost-effective starter pack.
Each pack contains 5 bottles. 1 pint of Base A, 2 pints of Base B, 1 pint of Solid start, and 1 pint of rock solid
Base A and B form the foundation of the Growth Science system. Together they provide your plants with essential macro and micro nutrients essential for growth.
Bestseller No. 3
Bestseller No. 4
Bestseller No. 5
Potassium Deficiency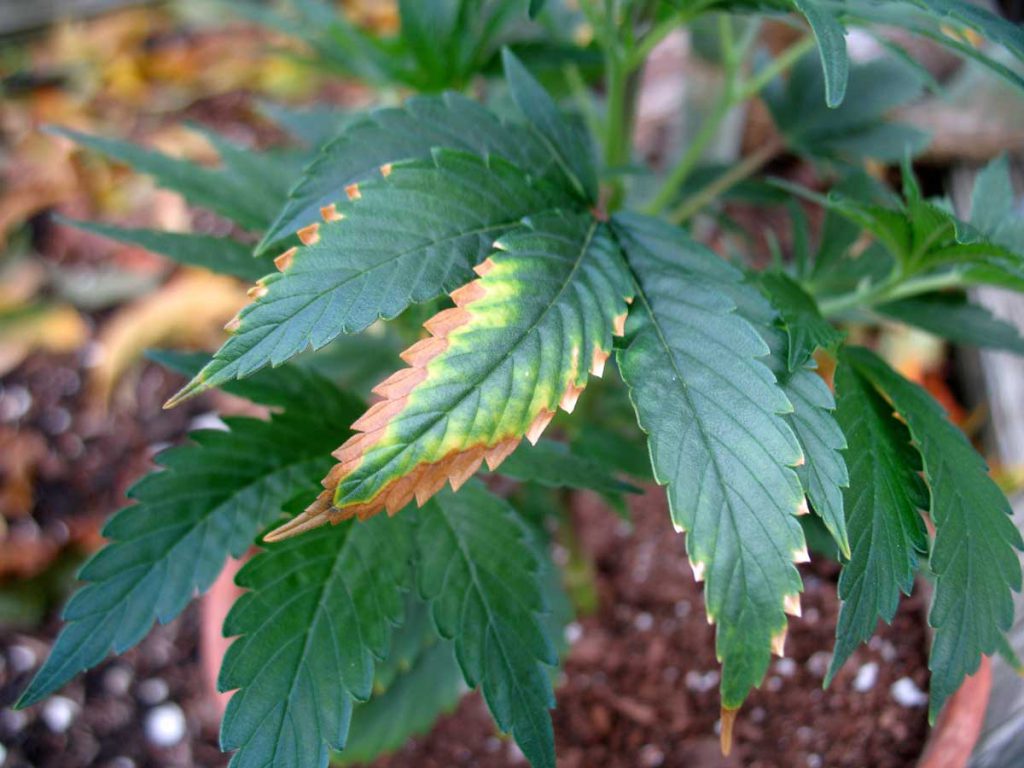 Plants with potassium deficiency exhibit yellow leaves that begin at the tips before advancing to the base. A burn on the edges of the leaves is also another potassium deficiency symptom. In extreme deficiency cases, the leaf exhibits dead tissue spots. Eventually, the leaf dies after a series of wrinkles.
Magnesium Deficiency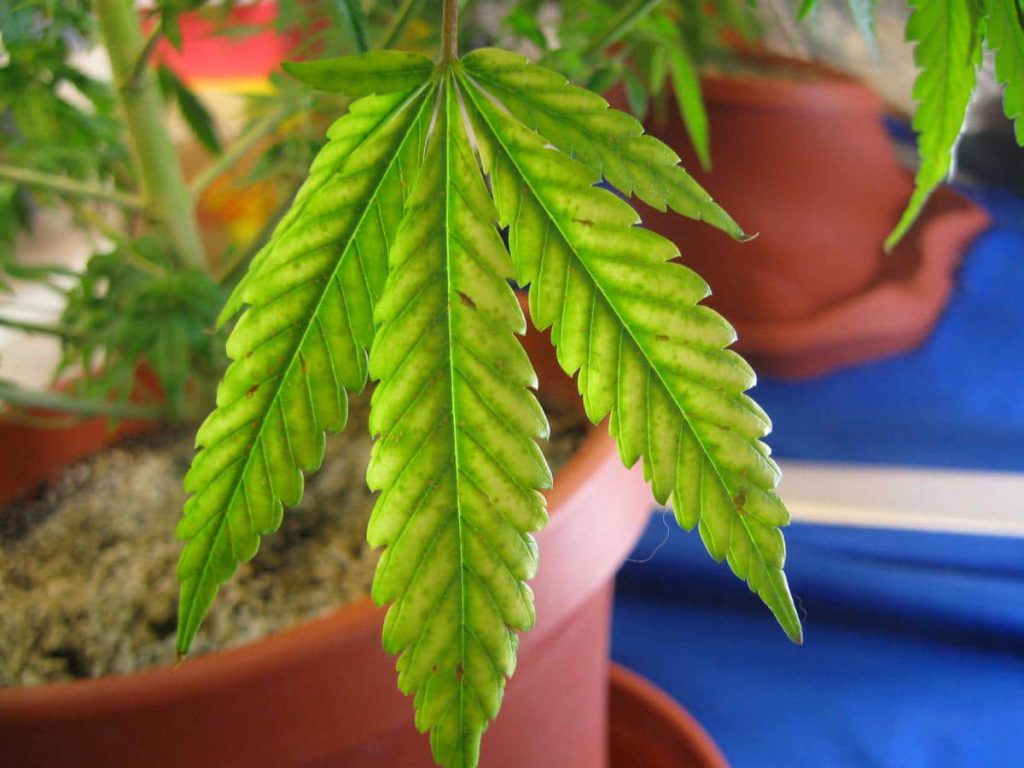 You can tell when a plant has magnesium deficiency if the leaf has yellow spots on the edges. Older leaves with magnesium deficiency exhibit yellow spots between the veins. Other symptoms include brown spots and leaves folding up before dying.
Copper Deficiency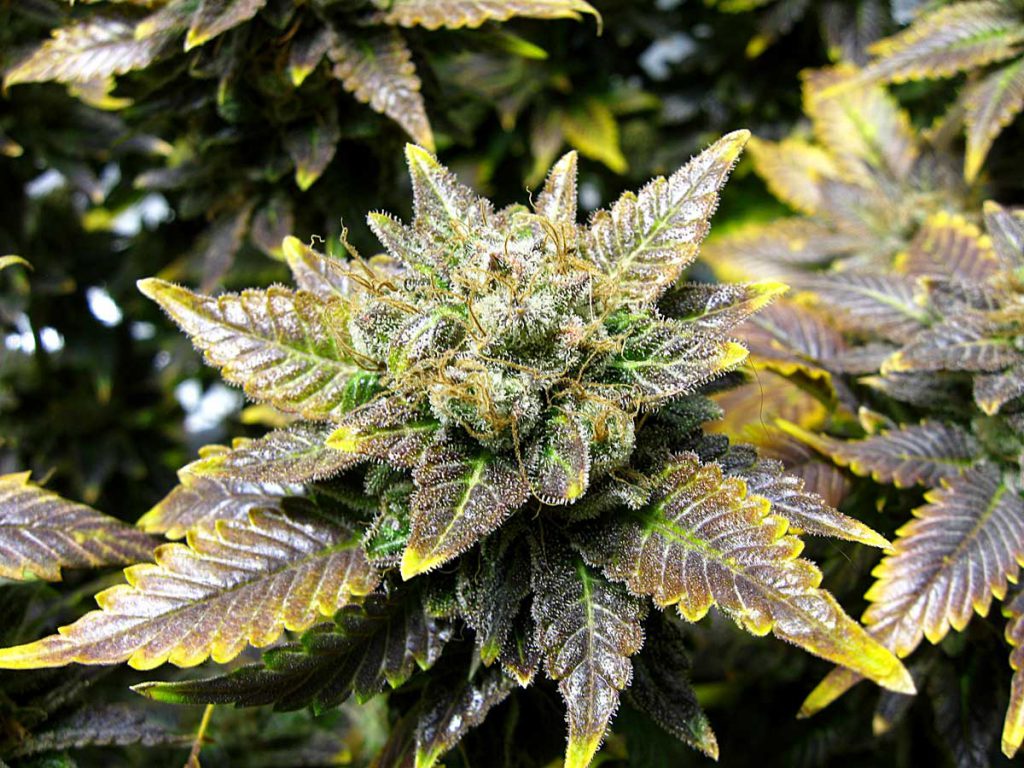 Symptoms of copper deficiency in cannabis plants are dark leaves with purple or blue undertones, yellow or white tips and edges, and metallic or shiny sheen on the leaves. The deficiency mostly affects leaves that are directly under the grow light. The other symptom worth noting is cannabis buds not ripening or growing fast enough.
Nitrogen Toxicity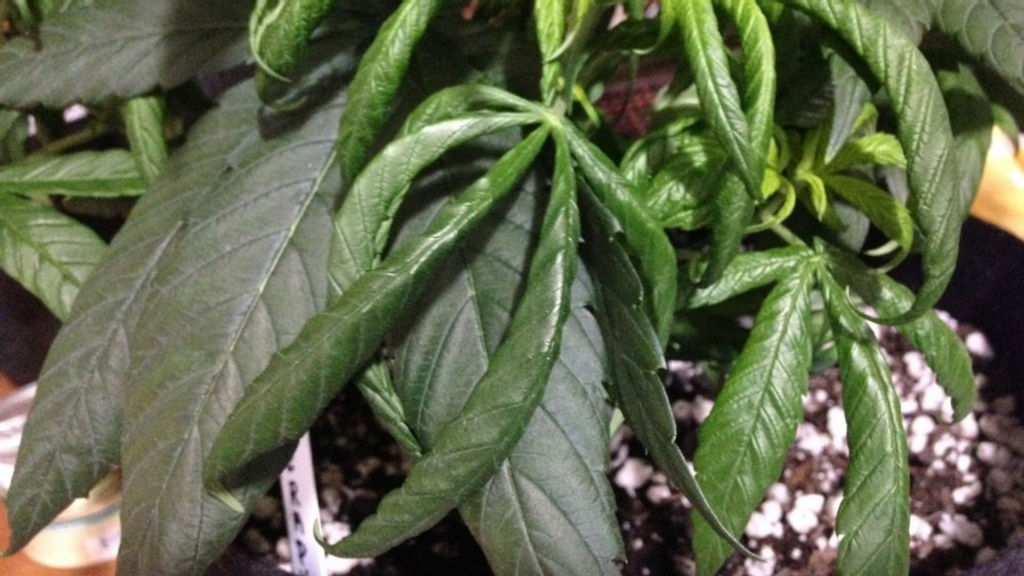 Nitrogen toxicity starts with the tip of the leaf losing its color. The loss leaves the leaf pale. Afterward, the leaf turns brown and wrinkles before finally falling off the cannabis plant.
Calcium Deficiency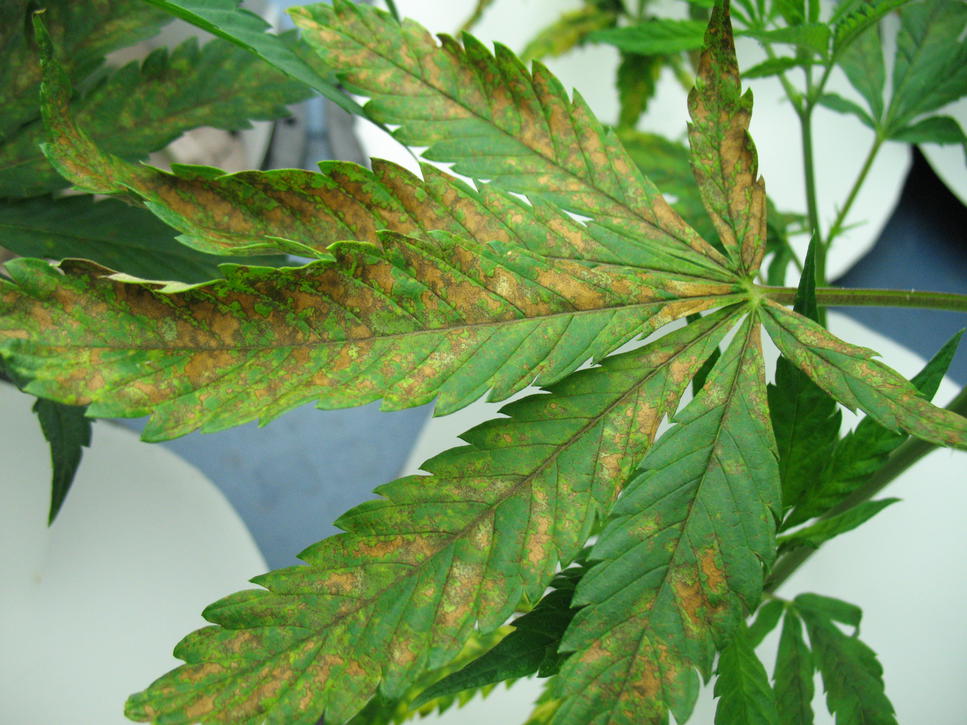 The main indication that your cannabis plant has calcium deficiency is the appearance of bronze or brown splotches on the leaf. The deficiency is not easy to diagnose because it appears alongside other deficiencies such as iron and magnesium. The symptoms mostly show on the upper leaves and leaves exposed to the light.
Iron Deficiency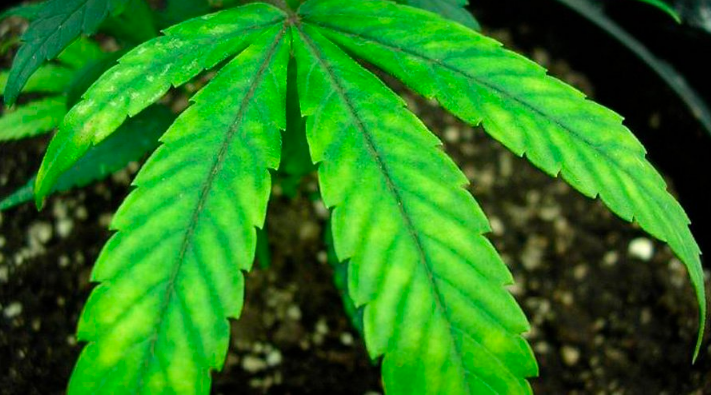 One of the trickiest symptoms to identify in cannabis plants is iron deficiency. It bears the same symptoms as magnesium and zinc deficiencies, which is the reason it is tricky. The unique symptoms include yellowing of the cannabis new leaf shoots. The yellowing proceeds to a white color before the leaves die due to chlorophyll deficiency.
Phosphorous Deficiency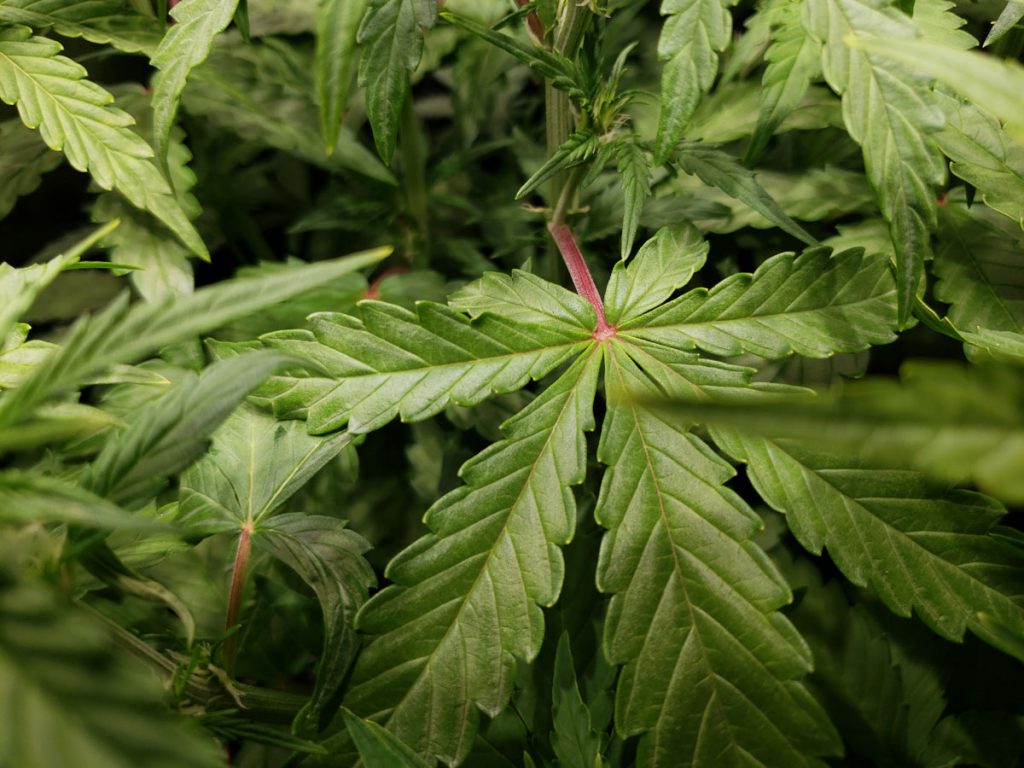 Phosphorous is one of the most important nutrients that cannabis plants need for proper and healthy development. In the case of a phosphorous deficiency, the symptoms appear first on the cannabis plant older leaves. The leaves of the cannabis plant turn yellow or dark green in the majority of the cases. Other symptoms include bluish and brownish spots on the leaves.
Sulphur Deficiency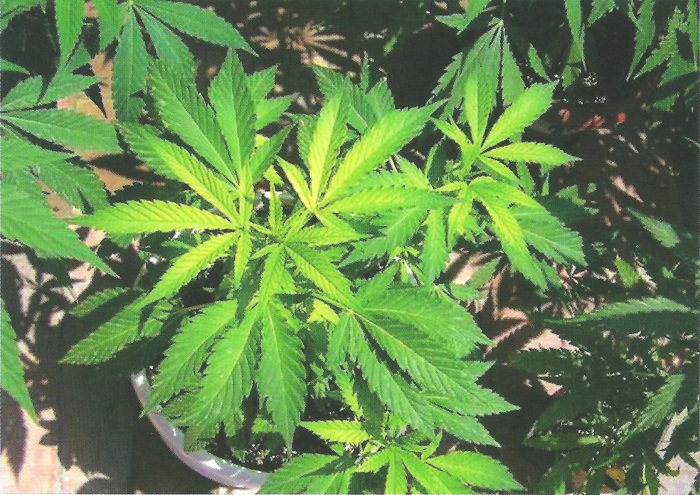 Sulfur is another crucial nutrient that plants need for proper growth. Sulfur deficiency exhibits the same symptoms as those of nitrogen deficiency. However, unlike nitrogen deficiency, sulfur deficiency first affects the newer leaves before moving to the older ones. The deficiency also attacks the leaf first before moving to the tip. The signs are brown and dry leaf edges that progress to whitish-yellow before the leaves start to drop off the plants.
Manganese Deficiency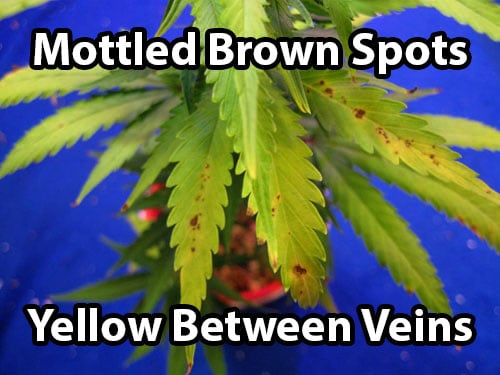 Manganese deficiency is rare among cannabis plants even though it shares the same characteristics as a sulfur deficiency. During the early stages of the deficiency, leaves turn yellow with much darker veins than normal. The yellowing of the leaves starts at the base before progressing to the tip. After further progress of the deficiency, necrotic, brown spots appear throughout the surface of the leaf. If not corrected, the spots spread, affecting the whole plant.
Heat Stress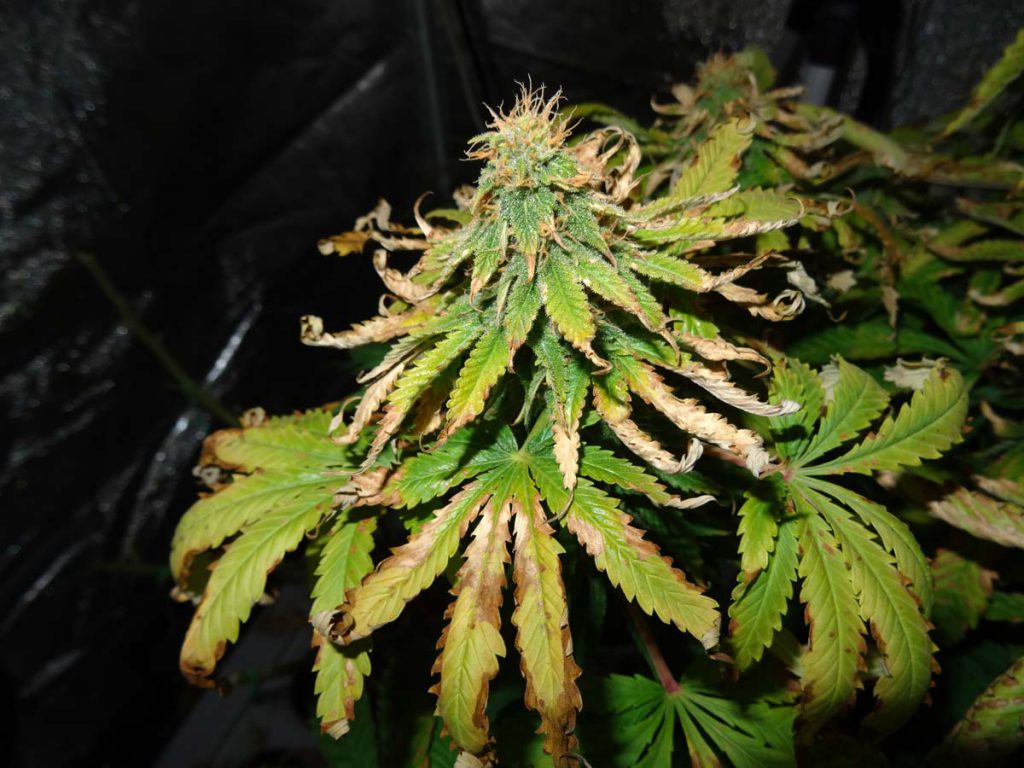 Heat stress happens when the distance between the led grow lights and the crops are not good enough. It also occurs if the grow tent temperatures are much higher than required. Though marijuana plants are resilient and can handle a few days of high temperatures, too much of it eventually affects their development. Heat stress symptoms are yellow and burnt leaf edges.
Bestseller No. 1
Barrina Plant Grow Light, 252W(6 x 42W, 1400W Equivalent), Full Spectrum, LED Grow Light Strips, T8 Integrated Growing Lamp Fixture, Grow Shop Light, with ON/Off Switch, 6-Pack
Full Spectrum: Barrina LED grow lights 4ft provide indoor plants with full-spectrum sunlight replacement. It provides the most reasonable grow light wave based on the ratio of the absorption of the plants
Super Bright and High PPFD: Consuming only 252W with 1152 LEDS totally, replace 1400w general plant lights. Over 95% light energy can be absorbed by plants. The light efficiency can be increased by 17~20% with reflector. The shell of our light was made of 100% aluminum which provides the high-efficiency heat dissipation. Ensuring the longer service life of the led chips
Easy Installation: With included tape, clips and cable ties, you could install the lights by yourself in minutes. You could link up to 6 led grow light strips in a series, saving your installation cost and time
Eyes protection: These grow lights are suitable for planting plants in any indoor application. Color of light makes your eyes feel comfortable. It works extremely well for your plant grow tents, plant grow shelves, seedling cultivation, hydroponic rooms, greenhouses, etc
What You Get: 2 years warranty. 6 x Barrina LED Grow lights, 3 x Power cords with ON/OFF switch, 5 x Connecting Cords(48''), 6 x Small Connectors, 24x Installation Clips, 12 x Tapes, 24 x cable ties
-$8.00 SALE OFF
Bestseller No. 2
GooingTop LED Grow Light,6000K Full Spectrum Clip Plant Growing Lamp with White Red LEDs for Indoor Plants,5-Level Dimmable,Auto On Off Timing 4 8 12Hrs
6000K White Light - equipped with 10 Red + 74 White LEDs, this growing Lamp is similar to the full-spectrum sunlight at noon,that is professionally designed for indoor garden plants.Moreover, its color rendering index is as high as 95, the light is soft and flicker-free, which is very suitable for reading lamp
Timer Function & Multiple Settings - this growing light offer the circular memory timer function with 3 options-4h/8h/12h. When keeping power, it can automatically turn ON/OFF in a 24-hour period according your settings, no more manual operation for you.
Easy to Install - with flexible Gooseneck & strong clamp,it allows you to place the growth light in any direction to provide the best lighting angle for your plants,meet the cover around the plant.Powered by USB or AC Power Plug
High Efficiency LED Lamp - as for LED power draw this seedling lights just comsume about 10watt and is equavalent to a 50W Halogen Bulb.Estimately monthly cost roughly $2 in electricity (12 hours a day). It is a great gift if you growing some small house plants.
【365 Days Worry-free Warranty】GooingTop service team offer 365 days warranty and 24h friendly customer service. If there are ever any issues about the product, please feel free to contact us and we will send you a new replacement or full refund.
Bestseller No. 3
DYMOND BoostGro LED Grow Light Full Spectrum Linkable 5000K Daylight + 660nm Red Indoor Plant Lighting Fixture (2 FT, Black)
【 HIGH PERFORMANCE 】 This full spectrum LED grow light is designed to provide the benefits of natural sunlight your plant needs at different stages of growth. It is enhanced with 12 additional advanced red lamp beads (660 nm) which encourage seed growth, photosynthesis, and flowering or fruit production. It is also cost-effective and generates LOW HEAT!
【 EASY INSTALLATION 】 Our grow light is plug-and-play and able to be LINKED UP to 4 units together (using the 5FT power cord provided) for additional boost. The fixture can be flush mounted or hung with 2FT hanging cables (included in the package). You can use these lights in most indoor areas, such as shelving units, kitchen cabinets, grow tents, garages, basements!
【 DURABLE DESIGN 】 This professional Grow Light is FCC-certified and comes with a 1-year limited warranty. It is damp rated for use indoors in humid conditions. The modern design is in a light-weight enclosed housing, which prevents build-up of dust. Rated with a 30,000-hour lifespan. 100% satisfaction guaranteed!
【 HEALTHY LIVING 】 Building an indoor garden has never been easier! Grow your own organic lettuce, tomatoes, strawberries, herbs, thyme, rosemary, basil, mint, sage, peppers, perennials, garlic, and much more!
Bestseller No. 4
Grow Lights for Indoor Plants, DICCEAO 150W LEDs Grow Light for Seed Starting with Full Spectrum, 3/9/12H Timer, 10 Dimmable Levels, 3 Switch Modes
5 Head 150 LEDs Plant Light for Indoor Plants: This plant growing lamp consists of 150 effective growing LEDs, divided into 120 white LEDs and 30 red LEDs. The 5 heads grow light for indoor plants supplies a broader lighting range than the traditional 2, 3, and 4 heads indoor plants lights, and increases the intensity of the light by up to 50%, allowing your plants to receive better and extra light energy.
3 Spectrum Modes & 10 Brightness Levels: The full spectrum led grow light has 3 spectrum modes, which are Red, Full, and Mixed Spectrum. It has ten brightness settings, starting from 10% to 100%, that can be switched as per your requirements, so you are able to choose the more proper spectrum and brightness for your plant to grow in the best way. The indoor plant lights make your plants develop a rapid response to grow, five times faster than plants with natural light only.
Auto Timer Function & On/Off Cycle: Designed with a function for autocycle memory timing, there are different three timer settings for you to choose from, between 3H, 9H, and 12H of lighting time. Following your setting, the plant grow light will switch on/off automatically every day. Even when you are away from home, these grow light lamps will take good care of your plants every day.
Flexible Gooseneck Neck & Strong Clip: You can place and clamp the 5 head grow light anywhere as it has a strong clip and bracket support for it to be stable. The indoor grow lights have a 360 rotation design that can be independently adjustable, so each can be rotated to any angle to adapt to your requirements, which supplies a wider and more flexible range of light, and different growing directions.
Designed for Indoor Plants to Growth: These plant lights for indoor growing is perfect for the different sunlight needs of your plants depending on their growing stage, from seeds to every growing phase. The lamps have an excellent performance of fast heat dissipation, which ensures that these lamps provide you with a long-lasting and durable service life of up to 80,000 hours.
Bestseller No. 5
yoyomax LED Grow Light, Full Spectrum Clip Plant Growing Lamp with Red Blue LEDs for Indoor Plants, 6-Level Dimmable, Auto On Off Timing 3 6 12Hrs
【Efficient Red & Blue Blubs Combination】39 red LEDs combined with 21 blue ones provide the most common spectrum of light to fuel indoor plants' growth. Whether in the indoor garden or commercial greenhouse, yoyomax grow lights keep plants healthy and thriving.
【Timer Function & Multiple Settings】The indoor plant light offers the circular memory timer function with 3 options-3h/6h/12h. When keeping power, it can automatically turn on and off every day according to your settings, so no more manual operation for you. Also, Supports 3 Switch Modes and 6 Levels of Dimming.
【Easy to Install】With flexible Gooseneck & strong clamp that allows you to place the LED plant lighting fixture in any direction to provide the best lighting angle for the best coverage around the plants. Plus, this succulent light is powered by USB or AC Power Plug (adapter included)
【High-Efficiency LED Lamp】As for LED power draw this indoor seedling light just consume about 20watt and is equivalent to two 50w bulbs. The estimated monthly cost is roughly $4 in electricity (12 hours a day). It is a great gift if you are a house plant enthusiast.
【24 Hrs Online】We take pride in delivering top-quality products and offering our friendly lifetime support. You can contact our 24 hours customer service by clicking "Sold by" on the product detail page or your Amazon order page and you will be directed to "Ask a question" to send us a message.
Wrong pH Range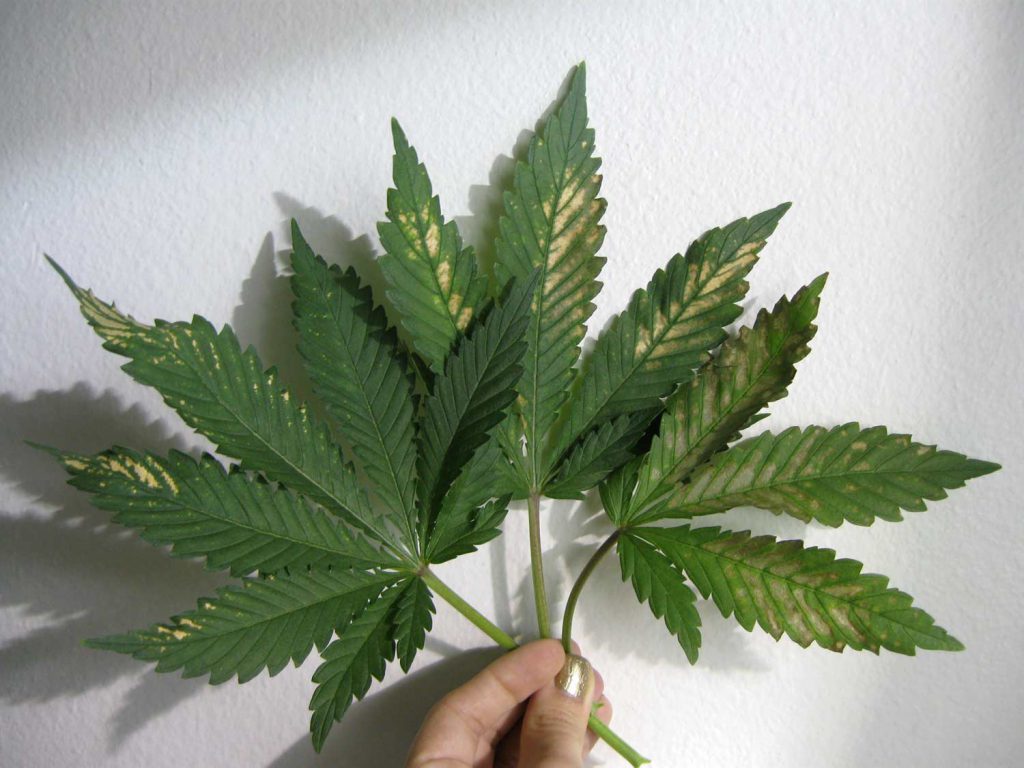 Growing cannabis at the wrong pH range is another issue that many growers experience with their crops. When you mix water and nutrients at the wrong pH, the issue occurs, causing poor absorption of bathwater and the nutrients. Wrong pH symptoms include leaves turning yellow with burn on the edges.
Bud Rot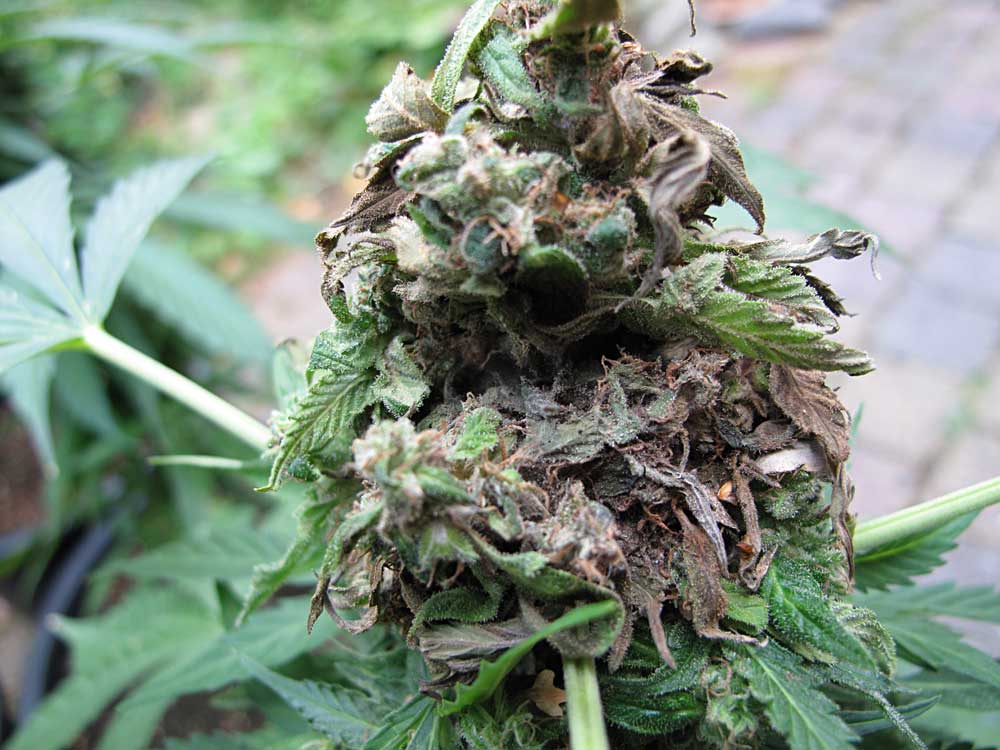 Bud rot appears because of an attack by fungi by the name Botrytis Cinerea. The fungi attack the buds from the inside, leading to rot with a moldy brown or gray inside. The symptoms of bud rot are discolored leaves that turn yellow and web-like mold on the buds. The buds also turn dark after the attack.
Spider Mites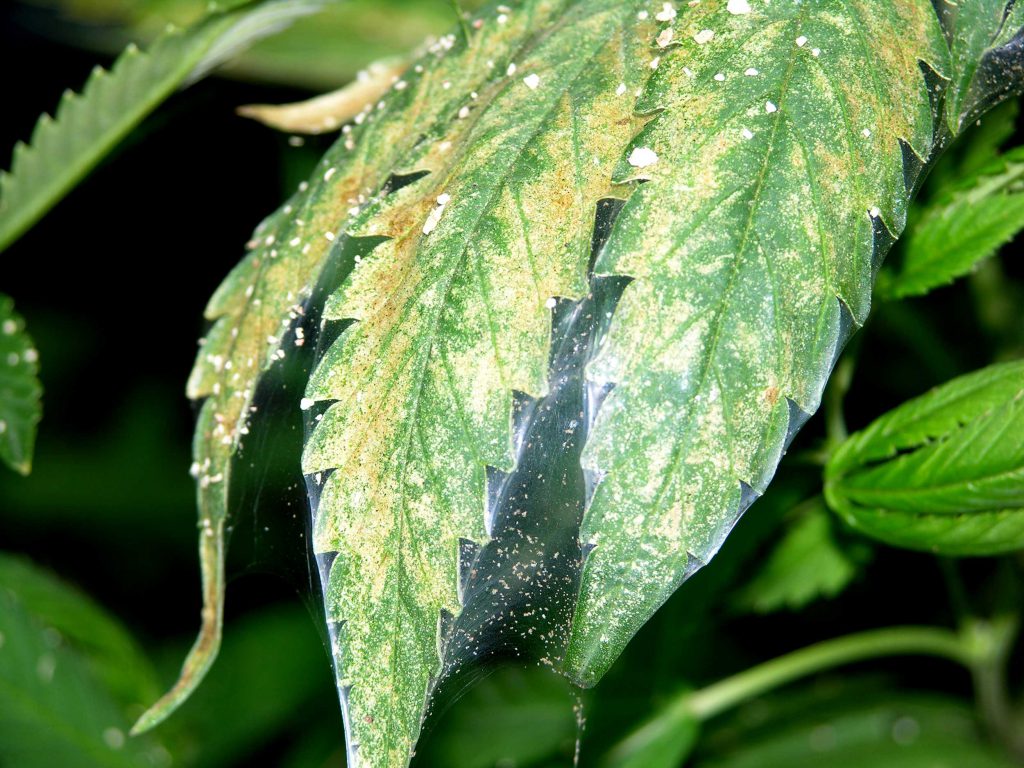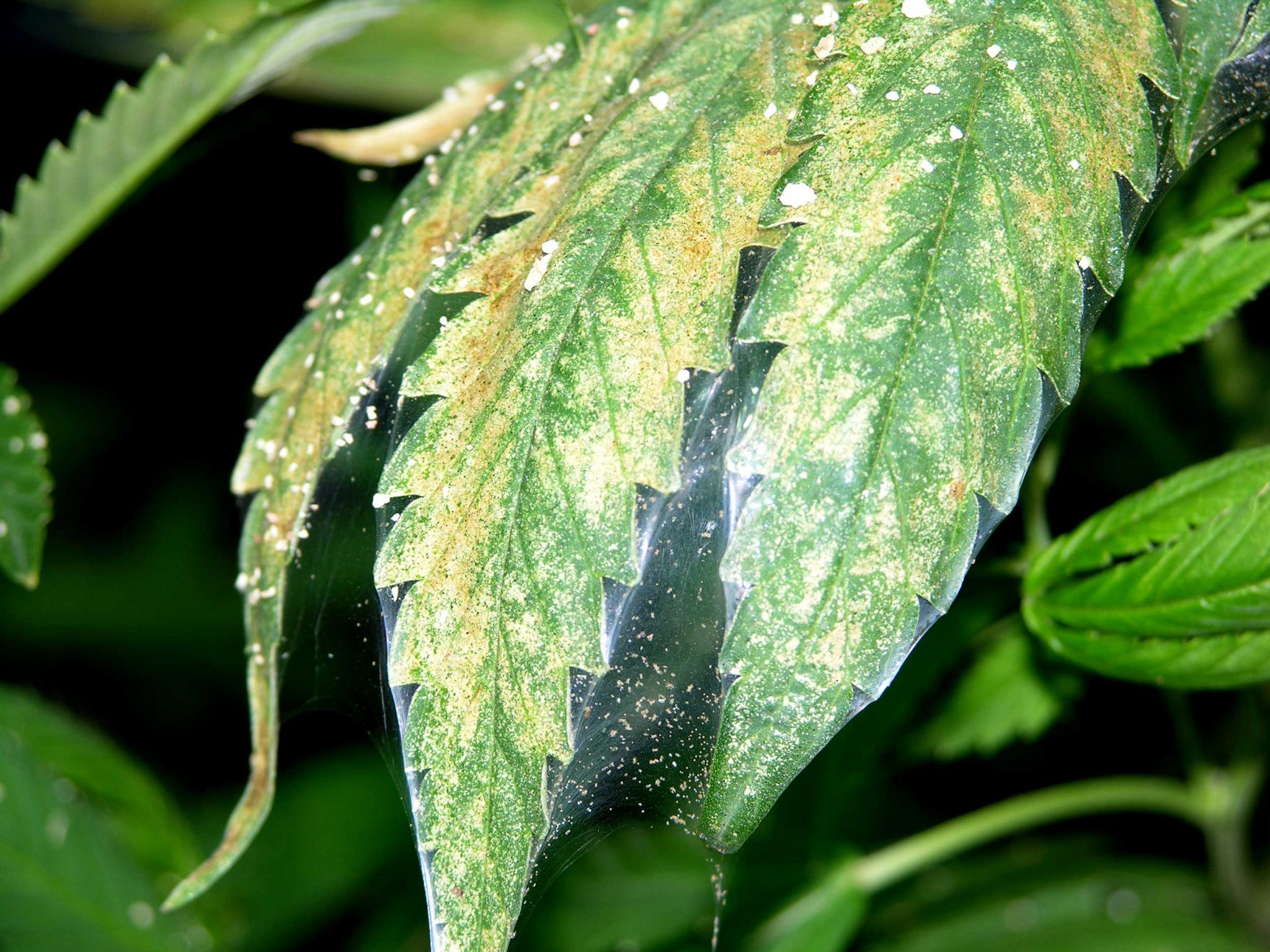 Cannabis pests such as spider mites are a common menace. The pests are similar to ticks, spiders, and other different bugs that belong in the same family. Once they attack the plants, spider mites are hard to get rid of.
The signs that your plants have spider mites are striplings or tiny spots on the leaves. The leaves also change their color, curl, and eventually fall off the cannabis plant. The other signs are webs along the stems and under the leaves with spider mites moving around.
Bestseller No. 1
Grower's Ally Spider Mite Control Spray | Natural Spider Mite & Insect Killer with Rosemary Oil - Trusted by Cultivators for Indoor and Outdoor Use - 24oz Ready-to-Use, OMRI Listed
MAXIMIZE YIELDS – Grow healthier plants with Grower's Ally Spider Mite Control. Our natural insecticide and miticide for plants kills and repels common soft-bodied insects, including adult and nymph spider mites.
ZERO POLLUTANTS – Formulated with an effective blend of rosemary, clove and peppermint oils, our formula is FIFRA 25(b) exempt and OMRI Listed for use in organic gardening. Grower's Ally tests clean and contains no residual solvents, no synthetic pesticides and no heavy metals.
KILLS AND REPELS MITES – Our botanical oil formulation overstimulates the pest's nervous system, leading to paralysis and suffocation on contact. When this safe miticide is used as a preventative treatment, the rosemary oil works synergistically with the plant to ward off insects like spider mites and russet mites.
HARVEST SAME DAY – Grower's Ally spider mite killer can be safely applied through all stages of plant growth, from clones through the flowering cycle when many problems occur.
RECOMMENDED BY CULTIVATORS – Our foliar spray is trusted by large scale growers and suitable for use in all grow environments and cultivation facilities: indoor, outdoor, greenhouse, hydroponic.
Bestseller No. 2
Mite Control Biopesticide and Plant Safe Insecticide by Mitexstream - Natural Garden Fungicide for Plants - Vegetable Garden Pest Control, Cannabis Bugs, Spider Mites - 1 Gallon
🌻 MAXIMUM STRENGTH READY TO USE - Perfect for control of mites, mold, and mildew on agricultural crops and ornamental plants! MiteXstream is a plant safe garden pesticide, fungicide and insecticide.
🌻 BEAT MITES, MILDEW, AND MOLD - MiteXstream is the natural growers' choice to help protect and cure Powdery Mildew, Spider Mites, Russet Mites, Broad Mites, Botrytis, Grey Mold, Aphids, fungal and parasitic species on plants.
🌻 100% PLANT BASED BOTANICAL INSECTICIDE - Organic Pesticide for most crops including fruits, vegetables, herbs, spices, roses, flowers, trees, shrubs, houseplants, succulents, ornamentals and more. The quick and easy solution to mites, mildew, mold, and fungus!
🌻 IT WORKS! - We are confident that MiteXstream will work for you, as it has for thousands of other growers or various crops including: grapes, hops, coffee, strawberries, cannabis, and many other agricultural crops.
Bestseller No. 3
IMK 32 Ounce Ready-to-Use Spray with patented 360° nozzleIMK Super Concentrate All-in-One Organic Pesticide, Fungicide, Miticide, Insecticide, ELIMINATE Spider Mites, Powdery Mildew, Russet Mites, Botrytis, Mold, and More!
KILLS SPIDER MITES AND THEIR EGGS ON CONTACT - DESTROY POWDERY MILDEW, RUSSET MITES, BROAD MITES, APHIDS, GNATS, AND MANY MORE
BUGS CAN'T BECOME IMMUNE - Instant Mite Killer Professional Concentrate is formulated to attack and kill bugs in THREE different ways to ensure you never have bug problems again.
NO MIXING Ready-to-Use ALL-NATURAL FORMULA - Instant Mite Killer formula was developed by Washington State's top cultivators in the medical and recreational cannabis industry. Designed specifically to meet the restrictive demands of state testing requirements, you can be sure your plants will never fail a pesticide test because of Instant Mite Killer.
USE DURING ALL STAGES OF GROW CYCLE - Instant Mite Killer can be applied to cuttings, Veg and Flowering plants.
100% MONEY BACK GUARANTEE - Instant Mite Killer is the leader in commercial cannabis pest control across the United States and we stand behind our products with a satisfaction guarantee. Instant Mite Killer works the first time, so you can get back to the important part of running your grow.
Bestseller No. 4
Bestseller No. 5
Grower's Ally Crop Defender 3 | Natural, Safe & Organic Insecticide & Fungicide Control for Plants - Powdery Mildew, Spider Mites & Russet Mite Killer – 32 oz Concentrate Makes 100 Gallons
MAXIMIZE YIELDS – Grower's Ally Crop Defender 3 is a highly effective triple-action crop protection formula intended for weekly use to kill powdery mildew, spider mites, russet mites, thrips, aphids and other soft-bodied insects as well as their eggs on contact.
TRIPLE-ACTION FORMULA – Formulated with a synergistic blend of botanical oils and a surfactant built in, Crop Defender 3 is a miticide, insecticide and fungicide for weekly use to prevent common pests.
ZERO POLLUTANTS –Grower's Ally is FIFRA 25(b) exempt and OMRI Listed for use in organic gardening. Crop Defender 3 tests clean and contains no residual solvents, no synthetic pesticides and no heavy metals.
HARVEST SAME DAY – Grower's Ally can be safely applied through all stages of plant growth, from clones through the flowering cycle when many problems occur.
RECOMMENDED BY CULTIVATORS – Our foliar spray is trusted by large scale growers and suitable for use in all grow environments and cultivation facilities: indoor, outdoor, greenhouse, hydroponic.
Thrips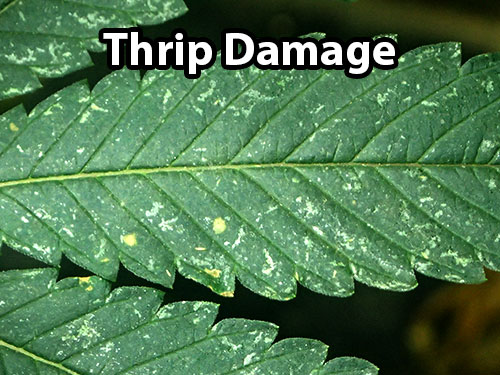 Thrips come in different forms ranging from golden or dark-winged insects to wormy nymphs. They attack the cannabis plants by piercing the leaves and sucking out whatever they can. The insects leave behind slimy, shiny, bronze, or silver spots on the places they bite. As the leaves continue growing, the pots become bigger and eventually die if the attacks go on long.
Understanding Cannabis Leaves
You can tell a lot about the structure and genetics of the cannabis plants by just cooking at the leaves. Some countries, especially in the USA, have less pure Sativa and Indica strains but more hybrids, which are mostly a cross between the two main strains.
However, the hybrid leaves' appearance can still give you a clue as to which genetic structure the strain leans more towards Indica and Sativa. Besides the leaves playing a huge role in identifying the genetics of the cannabis strains, they also help support the growth and overall health of the marijuana plant.
The leaves also have tiny holes that release oxygen and water while taking in carbon dioxide. They play the largest role in photosynthesis and nutrient absorption.
Wrapping It Up
Looking at the shape, structure, and color of the cannabis plant leaf tells you a lot about the plant's health. The signs on the leaves showing that the plant has one deficiency or another are a guide as to what the grower is doing wrong with growing the plants.
It is crucial to learn to examine the leaves closely and carefully each time the grower tends to the plants. Identifying the abnormalities early makes it easier to address them early before they go out of hand to stunt growth or tamper with development and the yields.
Bestseller No. 1
IPOW Grow Tent Kit Complete 3.3x3.3ft LED Grow Light Dimmable Full Spectrum Indoor Grow Tent Kit 24"x24"x55" Hydroponics Grow Tent with 4 Inch Ventilation Kit
Package Include: 24" x 24" x 55" grow tent, LED grow light, and 4" ventilation kit includes 4" inline duct fan, carbon filter, flex ducting, 3pcs duct clamps, thermometer and hygrometer, timer, 4pcs 5 gallon grow bags, 2pcs adjustable rope hangers.
Full Spectrum Grow Light: Dimmable full spectrum LED grow light consumes only 100W with 240 pcs LEDs. IP65 waterproof helps extend the lifespan. High efficiency that saves 50% on energy bills than HPS grow lights and delivers powerful light output to maximize the yields, idea for all growth stages.
Durable & Sturdy Grow Tent: Well-constructed with strong and sturdy steel frame. Reflective mylar interior gathers more grow lights. Heavy duty 600D oxford cloth exterior increases the durability. Reliable zippers provide smoother shut and open. Double stitching perfectly lock light inside. Waterproof tray makes your floor away from water leakage.
Effective Ventilation System: Noise-free 4" inline duct fan, Australian charcoal carbon filter and flex aluminum ducting offer a effective ventilation system. Strong and powerful airflow helps eliminate all unwanted smell, also ideal for humidity control.
Save Your Time And Money: Forget about choosing the individual item one by one. Our complete grow tent kit not only saves your time but also saves your money. Super easy to assemble and operate, even for beginner growers. Please feel free to contact us if you have any questions. We are always here to provide excellent customer service support before and after buying.
-$70.00 SALE OFF
Bestseller No. 2
VIVOSUN GIY 4x4 Grow Tent Complete System, 4x4 Ft. Grow Tent Kit Complete with VS1000 Led Grow Light 6 Inch 440CFM Inline Fan Carbon Filter and 8ft Ducting Combo, 48"x48"x80"
Complete Kit Included: 48x48x80-Inch grow tent, 6 Inch 440 CFM Inline Fan, carbon filter, 8 feet of ducting, 2 stainless clamps, VS1000 LED grow light, grow room glasses, rope hangers, 3x3-ft. elastic trellis netting, 5pcs 5 gallon grow bags, temperature humidity monitor, pruning shear, and digital timer
Promote Plant Growth: VIVOSUN grow tent is equipped with a lined zipper double stitched to avoid light leaks; is made up of 100% reflective Mylar, ensuring the plants absorb the nutrients through the internal lights
Lower Costs & High Efficiency Light: VS1000 LED grow lights use the latest LED plant light technology, including Samsung LM301 Diodes, high-energy efficiency with 2.75 μmol/J; Extremely high output but consumes only 100W of electricity, making it more efficient than traditional HID lamps and other plant lamps on the market
Strong Support for Plants: Elastic trellis netting provides a sturdy support structure; The grow bags provide excellent air circulation and drainage; The design of pruning snips is perfect to use whether you are right- or left-handed with ease; The digital timer, thermometer, and hygrometer make it extremely easy to control the environment in your grow room
Advanced Grow Made Easy: The tent is supported by strong metal poles that are specially finished for smooth installation; Don't waste time buying and returning parts that may or may not be compatible or safe to use together! This VIVOSUN complete system includes every part you need to get set up for advanced grow
-$60.04 SALE OFF
Bestseller No. 3
TheBudGrower - Complete Solution - 150W HPS Grow Light - 24"x24"x60" Hydroponic 1680D Canvas Tent Mylar Interior - Nutrient Enriched Cali Super Soil - All-in-One Indoor Grow Kit - Premium Ventilation
PREMIUM HPS GROW LIGHT - Our TBG 150-Watt Light with 18,200 Lumens is ideal for ALL STAGES of growth; Low energy consumption along with a high reflective hood means your plants receive the optimal spectrum of light. Silent fan functions to quite production in your home. 150w output incentivizes low cost for the home. Perfect for first-time growers!
The Industry's MOST DURABLE GROW TENT – Heavy duty1680D Oxford cloth exterior makes this tent extremely durable; stitching for strength and light protection works to keep in 99% of all light and reduces smell. Our sturdy steel frame can hold up to a whopping 250 lbs! Plenty of openings for fans/ vents/ electrical cords; removable viewing mesh screen for viewing & removing humidity; bottom tray prevents water leakage on the floor and keep tent stay clean.
MONEY & ENERGY SAVING COMPLETE HOME GROW TENT KIT – Our all-in-one home grow kit provides more than what the competitors offer as well as save you time and money. The results come from years of research and development that is always expanding to be able to help first time and beginner growers through the growers' journey.
SUPERIOR CARBON FILTRATION SYSTEM – Eliminates 98.5% of all unwanted odors. Powerful fan moves air speeds up to 2550 RPM. Australian Virgin Charcoal for odorless indoor cultivation.
LIVING SOIL TECHNOLOGY! Our concentrate is fermented, allowing microbes to begin breaking down amendments into forms that can be absorbed by your plants. Multiple scientific studies have shown these microbes increase plant uptake of vital nutrients, such as phosphorus, and improve soil aggregation. This regulation also helps prevent any potential nutrient burn to your plant!
-$24.96 SALE OFF
Bestseller No. 4
VIVOSUN 4' x 2' Complete Grow Tent Kit - 4 Inch 203 CFM Air Filtration Kit, 4' x 2' Grow Tent, 5-Pack 5 Gallon Grow Bags, 5' x 15' Trellis Netting and Hygrometer
Keeps All Light In: VIVOSUN Hydroponic Mylar Grow Tent blocks all light from escaping and is lined with 100%-reflective mylar to boost the output efficiency of your setup; No need for additional flaps or tape, just zipper the black lining to create a lightproof seal
Powerful Inline Fan: Power: 68W; Current: 0.62A; Noise Level: 49 dB; Fan speed: 2500 RPM; 110V/60HZ; ETL recognized components
Reusable, Versatile Nets: Soft, yet heavy-duty, this netting helps plants climb to a smooth surface and will last for a couple of years
Sturdy Fabric Material: Made of 300g of thickened nonwoven fabric, these pots are moderately permeable, and BPA-free
Precise Data: The VIVOSUN Indoor Outdoor Thermometer provides accurate humidity and temperature readings simultaneously for both inside and outside; Temp Accuracy: ± 1.5°F/± 1°C; Humidity Accuracy:±5%
-$140.00 SALE OFF
Bestseller No. 5
MARS HYDRO 4x4 Grow Tent Kit Complete System TSW2000 Dimmable Light 48"x48"x80" 1680D Hydroponics Growing Tent Indoor Grow Tent Kit with Upgraded 6" Ventilation Kit 684pcs LED
【MARS HYDRO AMAZON SERVICE】Quickest FBA Shipment Speed +100% Satisfactory Seller Solution+30 Days Hassle-free Return + 5 Years Warranty of Grow Light =Happy Purchase, any problems will be responded within 8 hours!
【Grow Tent Kit Complete System Includes】MARS HYDRO 4x4ft TSW2000W grow light, 48"x48"x80" grow tent, 6"inline fan with speed controller, 6"carbon filter, 33ft length flex ducting, duct clamps, timer, humidity thermometer, 6pcs 5 Gallon grow bags, adjustable rope hangers.
【High efficiency Energy Saving Plant Grow light】It consuming only 300 Watts output with 684pcs LEDs, highest PAR/LUMEN(1122μ[email protected]", with unique reflective hood,is higher efficiency that saves 50% on energy bills than HPS grow lamps,ideal for all cycle grow & denser harvest. Perfect for 4x4ft veg footprint, 3x3ft bloom footprint. full spectrum grow light, idea for all growth stages. TSW2000W carries a dimmer to adjust the brightness according to individual needs.
【Premium Durable Grow Tent】Constructed with high quality 1680D canvas (ALL OTHERS brands 4x4FT hydroponic grow tent ONLY 601D canvas), which is tear proof & lock light perfectly, Mars Hydro Grow tent has 13% denser zipper teeth helping zippers work smoother & more durable; 33% better safer support capacity metal frame(thickness is 0.8mm, OTHERS only 0.6), ensuring security and stability, supports up to 154lb/70kg.
【Efficient 6"Ventilation Kit: Fan Speed】28000RPM, Airflow: 402CFM, Noise: 32 dBA. Upgraded Inline Fan with EC motor & metal base & 3 settings speed controller, more durable & safer to use! 6" Fan Carbon Filter; 1050+ RC 48 Australian Virgin Charcoal with 33ft length flex ducting, moves air quickly & efficiently for optimal ventilation.