Cannabis plants need nutrients for their proper development and high quality yields. The three main nutrients plants need most are nitrogen, potassium, and phosphorous. Besides these three micronutrients, marijuana plants need other nutrients that help them to thrive. The other nutrients include magnesium, calcium, copper, iron, manganese, boron, silicon, zinc, sulfur, and boron.
Among the secondary nutrients, the most crucial for the plant's development and growth after the three primary nutrients is magnesium. Without magnesium, plants may not thrive well, as they can wither before eventually dying. How do you spot magnesium deficiency in cannabis plants, and how do you treat it? Read on for more information on the topic.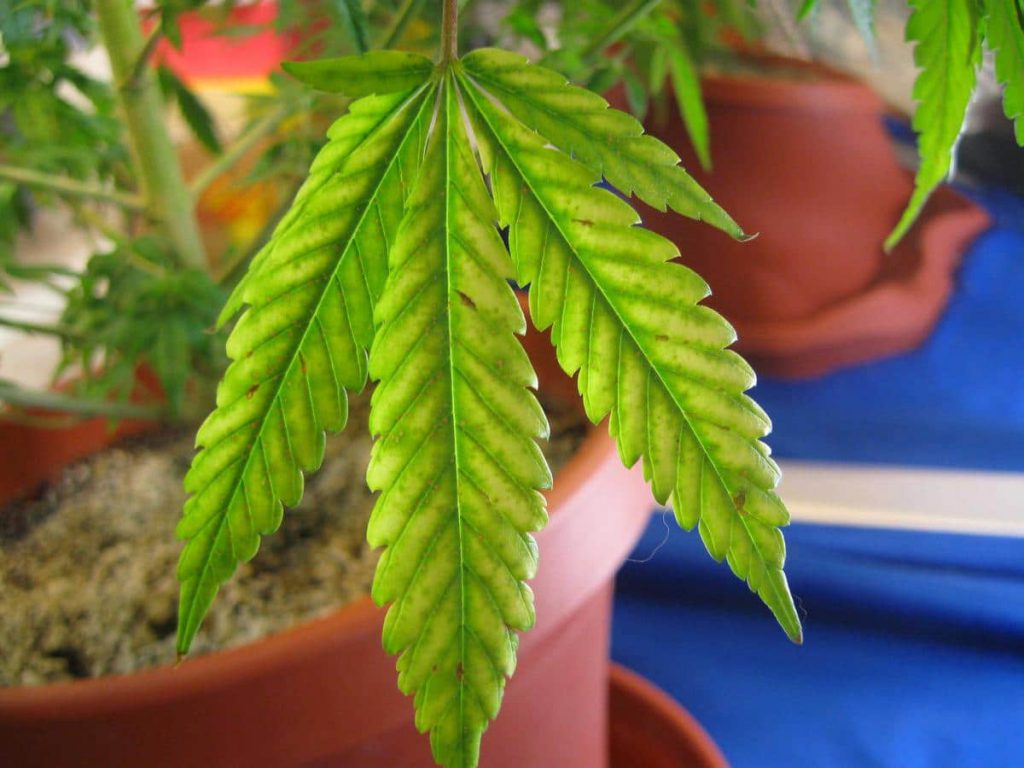 Read next: Cannabis Light Burn – How To Detect And Treat
Why Cannabis Plants Need Magnesium
Magnesium is essential for cannabis and every other plant to grow strong and healthy stimulus and veins on the development of cannabis leaves. The nutrient also plays a huge role in breaking down enzymes, producing chlorophyll, and photosynthesis. Magnesium deficiency mostly affects indoor plants more than it does outdoor plants.
The plants mostly affected are those growing in hydroponic systems and other indoor growing mediums. Failure to deal with magnesium deficiency fast enough leads to losing the lower older cannabis plant leaves that first die before falling off. Once magnesium deficiency hits the plants, even providing enough light does not restore them to normal growth.
Bestseller No. 1
Bestseller No. 2
-$10.10 SALE OFF
Bestseller No. 3
FoxFarm Liquid Nutrient Trio Soil Formula: Big Bloom, Grow Big, Tiger Bloom (Pack of 3-16 oz Bottles) + Twin Canaries Chart
Get your garden going with FoxFarm Grow Big, our liquid concentrate fertilizer that supports lush vegetative growth.
FoxFarm Big Bloom Liquid Plant Food is formulated for use on all plants and can be used every time you water. OMRI Listed and Registered CDFA Organic Input Material.
FoxFarm Tiger Bloom is a phosphorus fertilizer that contains nitrogen to support vigorous growth. FoxFarm Tiger Bloom is designed to encourage abundant fruit, flower and multiple bud development.
FoxFarm Big Bloom, FoxFarm Grow Big, and FoxFarm Tiger Bloom, together at last. Designed to work together to support vigorous growth, multiple bud development and abundant fruit.
Twin Canaries Conversion Chart included with every order.
Bestseller No. 4
Bestseller No. 5
Cannabis To Save My Life
Amazon Prime Video (Video on Demand)
Patricia Crone (Actor)
Diana C. Frank (Director)
English (Playback Language)
English (Subtitle)
How to Spot Magnesium Deficiency in Cannabis Plants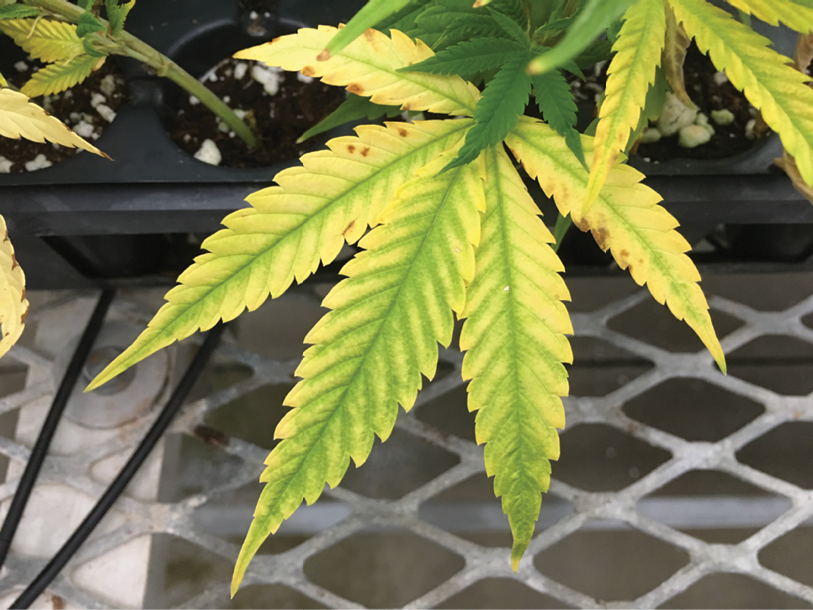 In summary, the following are the signs of magnesium deficiency in cannabis plants.
Yellowing of the lower leaves that starts at the outer edges and moves inwards, forming a tie-dye appearance,
Full leaves start turning yellow if not checked in time with green color along the leaf veins.
Edges turn yellow while leaves turn brown before dying.
Stems change their color to red
Magnesium is the plant's chlorophyll building block, which provides crops with a green color. Therefore, it is not surprising that the first signs of magnesium deficiency are chlorosis and yellowing of the leaves. Besides the color changes and chlorosis, the outline of the leaves become brittle and dry.
The symptoms show up first between the leaves' veins and edges before moving to the middle and upper parts of the leaves. Besides the leaves, the stem also turns purple and sometimes red. As the essential "building block" of chlorophyll, magnesium provides the cannabis plant a solid, brilliant green color.
The first and least demanding way to distinguish the deficit of magnesium in cannabis plants is the leaves demonstrating a stressing blur of green to light green to yellow. In more extreme cases, the leaves also exhibit brown spotting, which is also a sign of another deficiency affecting the plant alongside magnesium deficiency.
The deficiency attacks leave closest to the bottom of the cannabis plant and older leaves first before moving to the newer leaves before moving to the newer ones. Affecting the older leaves first is the plant's way of saving the newer leaves by withdrawing magnesium from the older ones.
Magnesium Deficiency in Cannabis Plants Dangers
Besides being an essential component for photosynthesis and the formation of chlorophyll in cannabis plants, magnesium is also crucial for the proper absorption of two micronutrients, phosphorous and nitrogen.
Lack of magnesium deficiency also causes poor development of flowers and the plant's root system, which greatly affects the harvest. Many plants with magnesium deficiency rarely make it to the flowering phase because of the nutrient depletion, leaves turning color, falling, and eventually dying.
Causes of Magnesium Deficiency in Cannabis Plants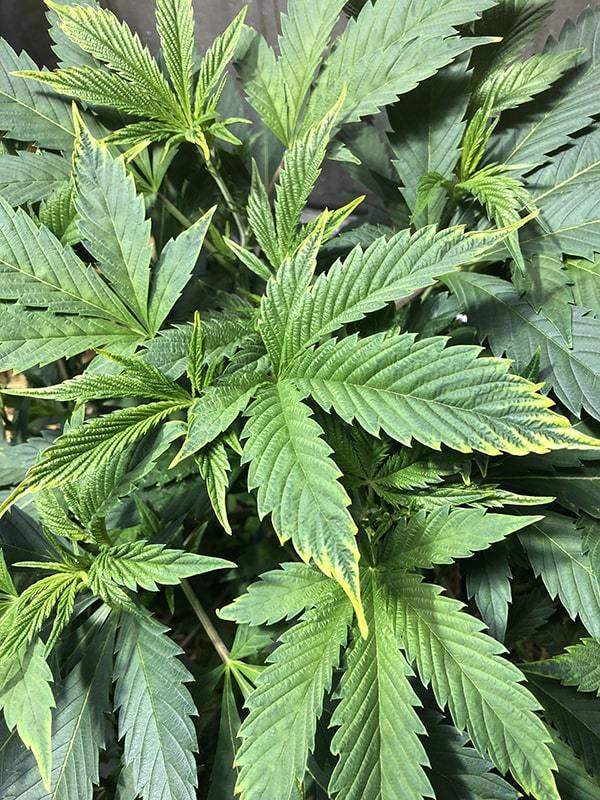 The first cause of magnesium deficiency in cannabis plants is the lack of it in the soil. Overwatering or flushing depletes magnesium from the soil, causing a deficiency. However, tap water comes in handy in some areas as it contains ample amounts of magnesium.
In some situations, the soil may contain sufficient magnesium levels, but plants fail to use the nutrients adequately. The reason for this is the low and acidic pH in the soil that prevents cannabis plant roots from proper absorption of magnesium irrespective of the levels.
Some growers make the mistake of adding more magnesium nutrients to an already overburdened substrate making the situation worse than it was. The excess magnesium locks out other essential nutrients leading to more than one nutrient deficiency to deal with.
How to Correct Magnesium Deficiency
It is not easy to test magnesium levels without using lab analysis. Unfortunately, very few cannabis growers have access to laboratory testing facilities for nutrient deficiency. Even without the laboratory analysis, there are several other ways growers use to correct magnesium deficiency.
Flushing is the most way of correcting magnesium deficiency. The method involves flushing the nutrient build-up in a hydroponic or non-soil substrate with water containing the right pH balance. The water should also contain essential nutrients, including magnesium. Flushing helps to remove damaging nutrient salts that prevent the absorption of magnesium.
For the proper magnesium intake in hydroponic systems, the pH levels should be between 6.0 and 6.5. the nutrient ratio that the pH balanced water should contain depends on the stage of growth-vegetative or flowering in the case of the cannabis plant. When considering the nutrients to include in the mix, calcium should be present as its deficiency goes hand in hand with magnesium deficiency.
Magnesium deficiency is less severe in open ground soil than it is in pots. However, this does not mean that growing the plants in soil guarantees complete immunity from the deficiency. The pH of soil is best at between 6.0 and 7.0. using the same flushing method and adding calcium and magnesium supplements also work well in soil situations with the hydroponic systems.
Bestseller No. 1
Soil Moisture Meter,4-in-1 Soil Ph Meter, Soil Tester for Moisture, Light,Nutrients, pH,Plant Care Tools, Great for Garden, Lawn, Farm, Indoor & Outdoor Use (No Battery Required)
🌳4-in-1 Multi-Function: This hygrometer can meet your needs to measure soil moisture, Ph, nutrients, and light conditions at the same time. Cost-effective, compared with the traditional single-function soil tester, you only need to buy one, and you can enjoy four services. It can help you gain a complete understanding of your plants.
🌺Patented Design: The patented design of the 90°C rotating head allows you to read the dial without bending down and looking down. You can bend the head 1°-90° at will. Adjust to the angle that best suits your reading.
🌻Fast Response: You only need to insert the probe deeper than 2.5 inches into the soil and get test results in seconds. (must be greater than 2.5 inches deep)
🌱Single-probe Design: The single-probe with upgraded material is more durable. Compared to traditional dual probes, a single probe can reduce damage to plant roots when inserted into the soil and is a reliable Plant Care Tool.
🍑No Batteries Required: easy to store. Great for Garden, Lawn, Farm, Indoor & Outdoor Use
-$20.00 SALE OFF
Bestseller No. 2
SONKIR Soil pH Meter, MS02 3-in-1 Soil Moisture/Light/pH Tester Gardening Tool Kits for Plant Care, Great for Garden, Lawn, Farm, Indoor & Outdoor Use (Green)
Kindly NOTE: This soil tester can not be applied to test pH value of any other liquid. If the soil is too dry the indicator will not move, and water it before testing.
3 METERS IN ONE: Soil moisture level, Soil pH value and Sunlight level could be tested easily according to your need by switching the function button of this soil meter.
NO BATTERY NEEDED: Simply insert the meter into soil, wait few minutes, accurate test results will be displayed on the readout panel. No battery is needed.
STURDY AND SCIENTIFIC DESIGN: Reliable materials and upgraded technology used for this soil meter make it advanced and high-quality for long-term use.
MULTIPURPOSE SOIL TEST KIT: Portable and compact design enables you to use this soil meter for house garden, farm, lawn and any other soil & plant analysis. Ideal for indoor and outdoor use.
-$6.42 SALE OFF
Bestseller No. 3
Kensizer Soil Tester, Soil Moisture/pH Meter, Gardening Farm Lawn Test Kit Tool, Digital Plant Probe, Water Hydrometer for Indoor Outdoor, No Battery Required
Moisture/pH Testers in One Set - Clear reading dashboard with arrow pointer, wide scale interval and large number. Lightweight and portable, making it convenient for on-the-go testing.
No Battery Required -- Save you from changing the battery, simply plug and play. Kindly note that DO NOT leave the meter in the soil for a long time, prevent it from corroding.
Single Probe Detection -- Make it easier to insert into the soil and lessen damage to the probe and get you more accurate data quickly.
Regarding pH Value -- To get the relative pH value close to the absolute value, soil moisture should be between 4 and 7. the margin of error between relative and absolute PH value is around 1-2.
Quality Assurance -- Any quality issues, please feel free to contact us. NOTE: DO NOT use it to test liquids.
Bestseller No. 4
[Upgraded] Soil Moisture Meter, 4-in-1 Soil pH Tester, Soil Moisture/Light/Nutrients/pH Meter for Gardening, Lawn, Farming, Indoor & Outdoor Plants Use, No Batteries Required
Comprehensive and Professional: 4-in-1 Soil Tester, better sense the Moisture/Light/Nutrient/pH of the soil, and take better care of our plants. The soil meter helps to diagnose the soil conditions, so you can apply proper water, fertilizer, and light to your plants, and enjoy the joy of harvest and lushness faster.
Process patent design: 90° Rotation head lets you bend the meter at different angles to get a comfortable reading position. You won't need to bend down to read the scale.
Accessible to Use: Simply switch to the value you want to test, then insert the probe into the soil 2.5 inches at least. You will get the test results in seconds. Clean the probe every time you finish the test.
Higher quality: The single probe less hurts the roots. The probe is upgraded and durable, which can withstand complex soil conditions and let you insert it anywhere you want.
No Batteries Required: No burden of finding a power source, Easy to store and carry. Suitable for indoor potted plants, Lawn, Farming, and Greenhouse usage.
-$2.00 SALE OFF
Bestseller No. 5
Garden Tutor Soil pH Test Kit (3.5-9 Range) | 100 Soil pH Test Strips
Calibrated specifically for soil pH testing with fast and accurate soil test results in 60 seconds at home
2nd Generation simplified 3 pad design for improved accuracy to easily optimize soil pH.
Enough soil test strips for 100 soil pH tests - Since soil pH can vary in different areas it is important to take multiple soil pH tests around your property. Essential for lawn soil pH testing and adjustments.
Optimize soil pH to plants specific needs to increase nutrient availability. Proper soil pH is an essential key needed to unlock nutrients in your soil and make them available to plants. Great for indoor and outdoor applications. Houseplants, flowers, herbs, potted plants, annuals, perennials, trees, shrubs, fruits, and vegetables benefit from proper pH levels.
Includes detailed full color pH testing handbook with lime and sulfur application charts
Using Epsom salts is also another way of fixing the magnesium deficiency in cannabis plants. The remedy involves mixing the salt with water and magnesium sulfate and spraying on the plants every three days.
Clean water spray is also part of the treatment plan. The water helps to eliminate the build-up of residue on the cannabis plants. besides Epsom salts and magnesium sulfate, other products you can use to enhance the quality of your cannabis yields and provide the plants with a proper nutrient balance are-

How Long It Takes the Plants to Look Better
It is not a guarantee that after taking care of the magnesium deficiency, the cannabis plants will bounce back to being 100% healthy. Some of the leaves will regain their normal green color while others will not recover at all.
The most important change that you will notice is the withering and discoloration will stop spreading. One or two leaves at the bottom may still exhibit signs of magnesium deficiency, but the rest of the cannabis plant will look healthy.
Read next: Cannabis Seedling Problems
How to Prevent Magnesium Deficiency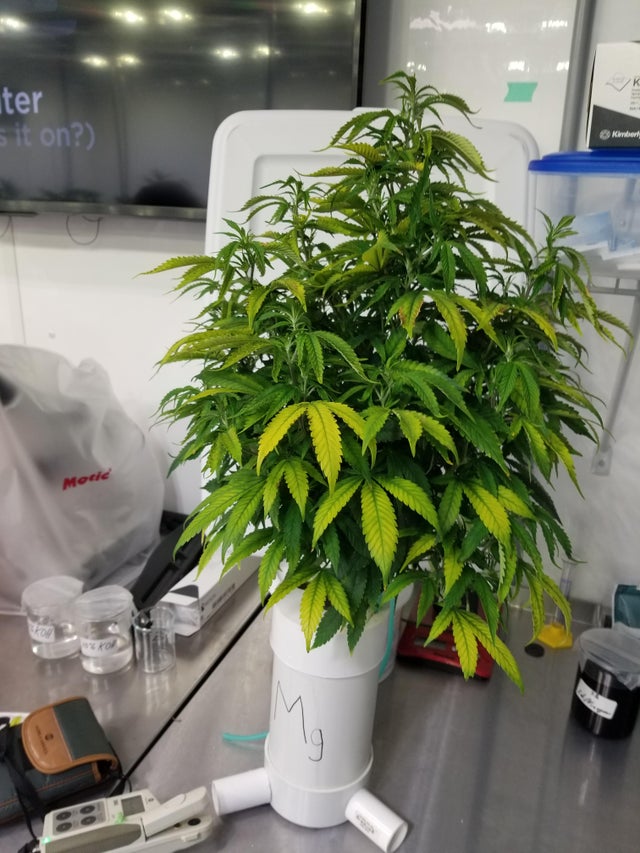 Preventing magnesium deficiency in your cannabis plants is possible. One thing to do is to pay close attention to cannabis plant growth and development. Monitoring each step of the growth process and any changes is also of paramount importance. When monitoring, ensure that you inspect the stems, stalks, and leaves of the plants at least once each day.
If you notice anything that is out of the ordinary, carry out some research or ask a cannabis grower who knows their way around the plants more for advice on fixing the problem before it gets out of hand. You can also prevent magnesium deficiency by growing your weed in a growing medium that comes with quality and ease of maintenance.
It would be best if you also buy strains that are healthy and have good genes. The best places to find the best strains are online seed banks or reliable breeders. You can find good planting medium and seeds from your local cannabis dispensary budtenders.

Cal-Mag (Calcium-Magnesium Deficiency)
Many cannabis growers believe that both magnesium and calcium deficiencies go hand in hand, leading to the treatment of both at the same time. The deficiencies also go by the name cal-mag deficiency, and the treatment is Cal-Mag.
However, the method of treating both deficiencies at the same time does not happen with all the growers as controversy surrounds the belief and use of Cal-Mag. The difference between the two is that magnesium deficiency affects the leaves on the lower part of the plant, which also happens to be the oldest.
On the other hand, calcium deficiency attacks the newer leaves on the higher part of the cannabis plant. Growers should keep close tabs on the plants to distinguish between the two deficiencies and come up with the best ways to treat them.
Wrapping It Up
Without the necessary nutrients, the cannabis plant would not thrive or have proper development. Magnesium is a vital nutrient for the crops as it helps with the crops' photosynthesis and chlorophyll formation that gives the plants the green color.
A deficiency of the same leads to the leaves, stems, and stalks changing their appearances and color. Detected early, it is possible to fix magnesium deficiency and have the crops back to their initial appearance before the attack. We hope that the above guide helps you in keeping magnesium deficiency at bay or fixing the problem if the attack happens.
Bestseller No. 1
IPOW Grow Tent Kit Complete 3.3x3.3ft LED Grow Light Dimmable Full Spectrum Indoor Grow Tent Kit 24"x24"x55" Hydroponics Grow Tent with 4 Inch Ventilation Kit
Package Include: 24" x 24" x 55" grow tent, LED grow light, and 4" ventilation kit includes 4" inline duct fan, carbon filter, flex ducting, 3pcs duct clamps, thermometer and hygrometer, timer, 4pcs 5 gallon grow bags, 2pcs adjustable rope hangers.
Full Spectrum Grow Light: Dimmable full spectrum LED grow light consumes only 100W with 240 pcs LEDs. IP65 waterproof helps extend the lifespan. High efficiency that saves 50% on energy bills than HPS grow lights and delivers powerful light output to maximize the yields, idea for all growth stages.
Durable & Sturdy Grow Tent: Well-constructed with strong and sturdy steel frame. Reflective mylar interior gathers more grow lights. Heavy duty 600D oxford cloth exterior increases the durability. Reliable zippers provide smoother shut and open. Double stitching perfectly lock light inside. Waterproof tray makes your floor away from water leakage.
Effective Ventilation System: Noise-free 4" inline duct fan, Australian charcoal carbon filter and flex aluminum ducting offer a effective ventilation system. Strong and powerful airflow helps eliminate all unwanted smell, also ideal for humidity control.
Save Your Time And Money: Forget about choosing the individual item one by one. Our complete grow tent kit not only saves your time but also saves your money. Super easy to assemble and operate, even for beginner growers. Please feel free to contact us if you have any questions. We are always here to provide excellent customer service support before and after buying.
Bestseller No. 2
AC Infinity Advance Grow System 2x4, Integrated Grow Tent Kit, Smart Climate Controls to Automate Airflow, Schedule Full Spectrum LED Grow Light with Samsung LM301B Diodes, 2000D Mylar Tent
An advance grow tent kit with smart controls and integrated components to start an indoor growing system.
Controller automates each fan and light with individual programs to dynamically adjust speed and brightness.
Set climate triggers, schedules, and grow cycles. Access data graphs, alerts, and programs via Bluetooth App.
Next-gen EC inline fan 4", EC circulator clip fan 6" and 200W full-spectrum grow light with Samsung LM301B LEDs.
Premium 2000D Mylar tent 48"x24"x72", Australian carbon filter, ducting, fabric pots, pruning snips, and more.
Bestseller No. 3
Spider Farmer Grow Tent Kit Complete 3x3x5 SF-1000 Dimmable Samsung Diodes & Meanwell Driver, Grow Tent Complete System 2.3x2.3ft Growing Tent Kit Set 27"x27"x62" with 4 Inch Inline Fan Carbon Filter
【TOP NOTCH QUALITY LED GROW LIGHT】: Use Samsung LM301B diodes; full spectrum light ideal for all stages of growth; adjustable light intensity with dimmer switch; protective coating on LEDs helps extend the lifespan; no fan, zero noise. Only consumes 100w, running 50% less power than other Blurple lamps or HPS. This light delivers a powerful light output and uniform canopy penetration resulting in maximum yields.
【DURABLE & STURDY GROW TENT】: 100% Reflective Mylar interior maximizes the efforts of grow lights; heavy-duty 1680D Oxford cloth exterior adds durability; reliable SBS zipper shut and open smoothly; double stitching for strength and light protection; well-constructed with strong and sturdy steel frame; plenty of openings for fans/ vents/ electrical cords; removable viewing mesh screen for viewing & removing humidity; bottom tray prevent water leakage on the floor and keep tent stay clean.
【POWERFUL VENTILATION SYSTEM】: Quiet and powerful 4" Inline fan and RC412 Australian carbon filter and flex aluminum ducting combo; very easy to install and use; gives strong airflow and proper air circulation.
【MONEY & ENERGY SAVING COMPLETE GROW TENT KIT】: Compare the cost of individual items and the cost of our complete grow tent package, our kit saves $$ and a lot of time vs buying each item separately. Designed to be user-friendly; comes with easy-to-follow installation instructions; is easy to assemble and is very simple to operate, even for beginner growers. All parts are compatible and properly matched; everything comes in 1 box with discreet packaging.
【VALUE FOR THE MONEY】: Getting a high-quality grow tent kit means that you'll get more value for a longer period of time. We provides 5 year warranty and has maintenance center in the USA. Spider Farmer has been insisting on creating more efficient, more suitable and better quality home grow equipment. For any questions, feel free to e-mail us and we will help you resolve it. Quality backed by our ironclad!!!
Bestseller No. 4
iPower Grow Tent Kit Complete Full Spectrum LED Plant Light Lamp Indoor Hydroponics 24"x24"x55" Combo with 4 Inch Fan Filter Ventilation System Setup Package, 24" x 24" x 55"
Full spectrum LED grow light: Designed for indoor growers to seek higher yields and top-shelf quality, high efficient, better PAR values than traditional HID lamps, consuming only 90 Watts. Perfect for 2.5' x 2.5' veg stage, 2' x 2' bloom stage
Effective ventilation system: Quiet and powerful 4" 95 CFM inline duct ventilation fan and filter, flex aluminum ducting combo gives strong air flow to keep proper air circulation, eliminates all unwanted odors. Easy to install and use
Durable indoor grow tent: Constructed with high quality oxford canvas, tear proof. Heavy duty zippers and double stitched block all light from escaping. Metal poles and connectors add the durability. Comes with tool bag and removable floor tray
Money & energy saving: All parts are properly matched. Don't waste money and time buying and returning parts that may or may not be compatible or safe to use together. iPower grow tent kit complete includes every part you need to get set up
Package includes: LED grow light, 24"x24"x55" grow tent, 4" inline fan, 4" carbon filter, 4" 8' ducting, 5 gallon plant bag * 5, hygrometer thermometer, mechanical timer, 3' x3' elastic trellis netting, grow room glasses
Bestseller No. 5
MARS HYDRO Grow Tent Kit Complete 2x2x5ft TS600 LED Grow Light Full Spectrum Indoor Grow Tent Kit 24"x24"x55" Hydroponics Grow Tent 1680D Canvas with 4" Ventilation Kit for Grow Tent Complete System
【MARS HYDRO AMAZON SERVICE】Quickest FBA Shipment Speed +100% Satisfactory Seller Solution+30 Days Hassle-free Return + 5 Years Warranty of Grow Light =Happy Purchase, any problems will be responded within 8 hours!
【Grow Tent Kit Complete System Includes】Mars Hydro 2x2FT TS600W grow light, 24"x24"x55" grow tent, 4"inline fan with speed controller, 4"carbon filter, 33ft length flex ducting, duct clamps, timer, humidity thermometer, 3pcs 5 Gallon grow bags, adjustable rope hangers.
【HIGH EFFICIENCY ENERGY SAVING PLANT GROW LIGHT】It Consuming only 100 Watts output with 225pcs LEDs, more scientifically and energy-efficient! Max 2.0g yield, highest PAR/LUMEN output(430μmol/m².s), perfect suit 2' x 2' veg stage, 1.5' x 1.5' bloom stage. Full-spectrum led grow lamp, ideal for all growth stages. TS600W without dimmer.
【HIGHER QUALITY GROW TENT】It's made of thicker1680D canvas grow tent material(ALL OTHERS brands grow tent are 601D canvas), which is tear proof & perfect light locking; 13% denser zipper teeth helping zippers work smoother & more durable; 33% better support capacity metal frame(thickness is 0.8mm, OTHERS only 0.6), ensuring security and stability, supports up to 88lb/40kg.
【EFFICIENT 4"INLINE FAN KIT: Fan Speed】2550RPM , Airflow: 200 CFM , Noise: 28 dBA. Upgraded Inline Fan with EC motor & metal case & 3 settings speed controller, more durable & safer to use! 4" Fan Carbon Filter; 1050+ RC 48 Australian Virgin Charcoal with 33ft length flex ducting, moves air quickly & efficiently for optimal ventilation.