Light burn or light stress is a common issue when using grow lights to grow your cannabis. Even with the fear of light burn, you cannot grow the crops without light because they use light for food, energy, and development.
However, if you go overboard with the lighting systems, your crops will suffer the consequences of light burn or light stress. The problem mostly occurs when the light proximity to the plants is short or not large enough. How do you detect cannabis light burn, and how do you treat it? Read on to find out.
What Is Cannabis Light Burn?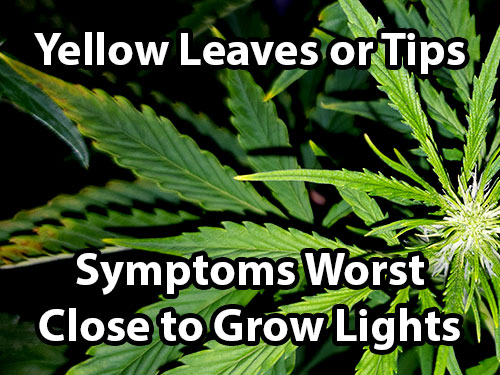 Light burn or light bleaching occurs when the plant canopies get too close to the grow lights. The leaves take a bleached or white look instead of the usual green color. Light burn mostly occurs to plants growing indoors than they do to those growing outdoors. The sun is too far away from outdoor cannabis plants to cause light.
Cannabis is also a resilient plant that has, in the years, learned to adjust to the natural sunlight, preventing light stress. When you hang grow lights too close to the plants indoors, the plants become overwhelmed and lack the strength to fight the power from the lights.
Too much light destroys the buds, making the resin containing cannabinoids useless for recreational and medicinal purposes. Everything about the buds, including taste and fragrance, also deteriorates due to light stress.
Read also: The Common Causes of the Yellowing of Marijuana Leaves

Cannabis Light Burn Symptoms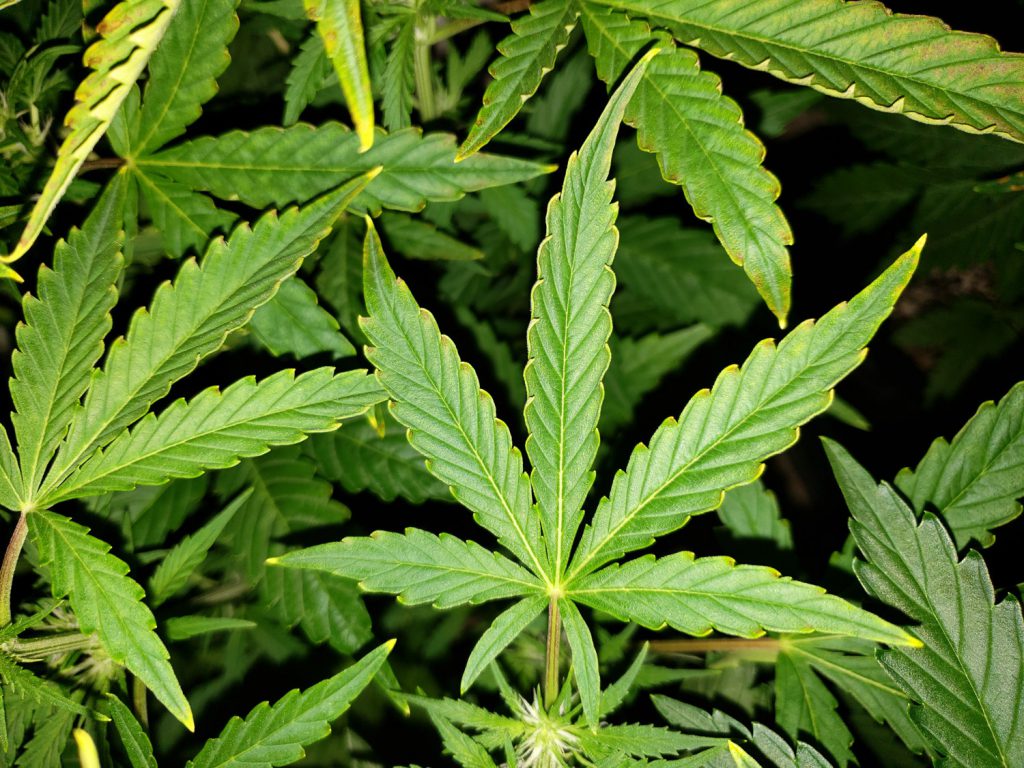 One of the most noticeable signs of light burn on cannabis plants is the yellowing of the leaves. Some people confuse light burn with nitrogen toxicity because they display the same kind of symptoms.
However, plats suffering from nitrogen deficiency have their leaves start the yellowing process from the bottom to the top, while the opposite happens for leaves exposed to too much light. Nitrogen deficiency also leads to leaves falling off the plant with little effort.
On the other hand, light burn leaves are hard to pluck off the plant and feel crispy to the touch. Besides the crispiness and the yellowing, leaves also turn brown, which indicates too much light and heat exposure.
How To Prevent Light Burn On Cannabis Plants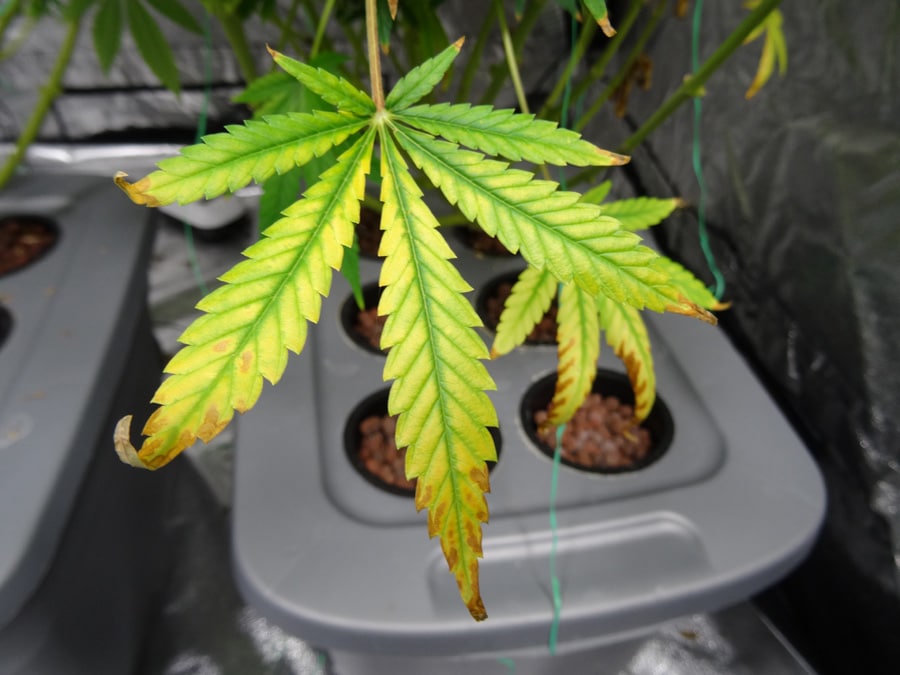 Preventing light burns on cannabis plants is much easier than curing the problem. The main causes of light burn are the short distance between the plants and the lighting system and the grow light intensity. The light density also depends on the grow light you use in the grow room.
If you are using CFLs and T5s that are 10 inches away from the plant canopy, you should not expect any light stress because they do not emit lots of heat. However, if you position LED grow lights or HID lights 10 inches away from the plant canopy, you can expect light burn to affect the plants.
If you cannot move the lights much higher away from your cannabis plants, the only other option would be to increase the distance by bending the plants. Another option is to cut the crop tops to reduce their growth, which you can only do when the cannabis plants are still in their vegetative stage.
One of the reasons why many cannabis growers prefer to use LED grow lights is that many of them come with control options that allow you to dim the lights to prevent overheating. The lights also come with options that turn the lights on at intervals. Even when using LED grow lights, you should determine the wattage you need for the plants.
If you choose to use a 50-watt LED grow light, the light intensity will not harm your plants much. However, using a 1000-watt LED grow light may lead to harmful consequences if the light is too near to the plant canopies. When using HID lights, you need to be extra careful because they are still too powerful even when they come with low wattage.
Besides the light intensity, HID lights also emit too much heat that plants cannot bear. Even with this knowledge, you still need to hang your grow lights at distances to provide enough light for the crops to make energy and get enough food for proper development.
The following LED grow light grow chart may help in determining the correct balance between light and plant.
Some of best 1000w led grow lights you can buy:
Bestseller No. 1
Aidyu 1000W LED Grow Light, Full Spectrum Growing Lamps for Indoor Hydroponic Greenhouse Plants with Veg and Bloom Switch, Daisy Chain Function, UV & IR, Adjustable Rope Hanger
HIGHEST PAR OUTPUT & ENERGY EFFICIENT-- Constructed with100 pcs LEDs which is much brighter and more efficient than traditional 3W and 5W LEDs, scientifically engineered to keep the balance of the PAR/Lumen Output and Coverage. And the LED grow light is scientifically designed to keep the balance of the PAR/Lumen Output and Coverage, But consuming only 110-130 watts.
ADVANCED Full Spectrum LED Grow Light -- A lots of experimentation to ensure that this full spectrum design promotes plant growth. This LED grow light provides sun-like red, blue, white, IR and UV, bring the best wavelength, perfect for all kind of the indoor plants veg and flower at the growth stages.
DOUBLE POWERFUL COOLING FAN -- Two cooling fans and heat sink constitute a powerful cooling system, keep the environment cool and quiet. And every LED has a resistance to keep them work separately, extend the lifespan of the light.
VEG/ BLOOM SWITCH -- Veg and Bloom button have different function, Veg/Bloom double switches offers 3 light modes to control for full spectrum which provides veg and flower all stages everything they desire in the natural sunlight.
CUSTOMER SERVICE with 100% SATISFACTION -- We are a professional LED light manufacturer with strong R&D team and many light tester, High Quality With A Better Service Team, Worry-free after-sales, two Year Warranty 30 days satisfaction or return guaranteed, Added 7*24 Hours Service Team always Here Serving for you.
Bestseller No. 3
Bestseller No. 4
Giixer 1000W LED Grow Light, Dual Switch & Dual Chips Full Spectrum LED Grow Light Hydroponic Indoor Plants Veg and Flower-1000 watt ( 10W LEDs 100Pcs)
New Upgrades: Compare with the traditional 1000 watt grow lamps, this new Dual-Chips 10w led lights is bigger, brighter and efficient, but consuming only 110 watts.
Perfectly help you to save the energy and improve the environment of plant growing. DOUBLE SWITCH- Veg and Bloom button have different function. Veg switch: It's blue led and white led. For seeding or young vegetative growth,you can use Veg switch only. Bloom switch: It's red led and white led.for flowering/blooming,you can use both Veg and Bloom switches.
Most LED lights are rated at somewhere 50000 hours of use. For comparison, many other grow lights tend to last for around 20,000 hours before needing to be replaced.Protecting diodes are added to make sure one chip out, others still work.
Full spectrum: the light include red,blue,yellow,white,and so on etc. which is similar to the sunshine,ideal for all kinds of indoor plants veg and flower at all growth stages.
【Warranty and Customer Service】24 monthes quality guarantee and 30 days refund
Bestseller No. 5
LUYIMIN 1000W LED Grow Light, 261PCS LEDs Dual Switch Full Spectrum Plant Light, Grow Lights for Indoor Hydroponic Plants Veg Flower Greenhouse Growing Lamps, Double Chips
LOW-PRICED & UPGRADE LED CHIPS: It is the perfect grow light for beginners since it is simple to use and affordable. With its newer technology, the new 216 Leds provides much brighter and improved efficiency. In fact, It is more efficient than the outdated 1000 watt grow lamps. As well, it offers the highest PAR/Lumen output per watt.
TOP FULL SPECTRUM GROW LIGHTS: The proportion of the spectrum has been adjusted in order to provide more matching spectrum for plant growth.The light include red,blue,white,IR which can replace natural sunlight,IR chips can promote plant growth and defend insects and disease,ideal for all kinds of indoor plants veg and flower at all growth stages.
VEG & BLOOM SWITCHES: Different bands of LEDs make up our true full spectrum light, which helps plants, vegetables and flower indoor growing at all stages.VEG for growing, BLOOM for seedling / flowering.
OUTSTANDING COVERAGE: Twice effective coverage area than any Reflector Series lights, perfect for a 7.9' x 7.6' growing area at 25" height. LUYIMIN LED grow lights provides full spectrum lighting from 380 nm to 780 nm (including UV + IR) of natural light for plants needed of all growing stages from vegetables to flowers.
5 YEARS WARRANTY: Plus 90 days satisfaction or return guarantee. We are so confident in our products' quality control, if any question pls contact us, we will offer you professional guidance to help your plants grow better,Lifespan: 100,000 hours.
| | | |
| --- | --- | --- |
| LED lights (Wattage) | Closest in inches | Farthest in inches |
| 150 | 15 | 25 |
| 300 | 16 | 27 |
| 600 | 18 | 29 |
| 1200 | 22 | 31 |
| 2000 | 26 | 33 |
If you are not sure of the distance to maintain between the plant canopies and the light, you should read the manufacturer's instructions that come with the LED grow light. Today LED grow lights also come in the form of much stronger COB LEDs. During the vegetative phase, you should place the plants further away if you are using COB LEDs.
If you notice your cannabis plants struggling and showing signs of stress, you should take that as a sign to push the lights further away. However, if the plants start going limp and stretching to find light, you should bring the lights closer to the plants. Again, COB LEDs come with the manufacturer's instructions, so it is wise to be keen before installing them.
If you try everything and the plants still show no signs of recuperating, remove some lights. It would be best to keep in mind that using LED grow lights with the wattage of 40 to 70/Sq. Ft is enough to provide the plants with ample light. Anything higher than 70 watts may be too much for the plants. If your grow room does not have enough light adjustment space, train the plants using Low-Stress Training.
Low-Stress Training requires bending the stems of the cannabis plant to the side of the growing container to penetrate light into the plant canopies. Bending the stems helps reduce the plants' height, thus bringing down the distance between the plant canopy and the light. However, plants may try to defy the bending and try to rise up to get as much light as they can.
In this case, you will need to hold the stems down with strong wires cable tires, taking care not to hurt the plants. Low Stress Training also works well during the auto flowering phase, but to be cautious, use it only during the vegetative state. The reason to use LST during the vegetative stage is to prevent causing stress to the plants during the flowering phase, which is the most critical stage in the cannabis life cycle.
Bestseller No. 1
Kolem COB LED Grow Light 150w Grow Lights for Indoor Plants Full Spectrum Plant Lights, Waterproof Grow Panel Light, Veg, Seedling for Plants Tent, Greenhouse, Garden, Hydroponic
►【Full Spectrum Plant Grow Light】 150W LED grow light adopt with advanced COB chip and curved lampshade design that offers more highly-uniform and concentrated full spectrum(380-800nm) to plants any time, any where. Experimentals proof that our grow light can increase 45%-63% plant's yield and save 40% energy consumption. Working power 50+-5%W, 200W HPS/MH replacement while consuming only 50W with COB plants grow light.
►【Waterproof Outdoor Grow Lights】 IP67 waterproof plant light is suitable for both outdoor and indoor plants. We did lots of experimentation on its waterproof especially when the plants needs extra light in raining and snowing days. Don't worry about damage caused by water entering the led plant grow light. Perfect for gardens and farms.
►【Safer Grow Light for Indoor Plants】 Waterproof plant light adopt with heat dissipation IC, integral radiating space aluminum case, heat-dissipation coating design and overcurrent, overvoltage protection, ensure the COB plant light's working temperature less than 140℉. No fan no noise, but safer than the light fixture with fan. Suitable for indoor quiet environment. ON/OFF switch made the waterproof cob led grow light safer when in used.
►【Widely Used & Adjustable Plant Light】 This waterproof grow light designs with adjustable bracket and comes with hook. This led plant growing lamp can be hung in the air, fixed to the wall/plant stand and directly put on the floor/desk. Without taking off the grow lights and easily to adjust the angle to match your plants needs.
►【Quality Assurance & Service】 Plants growing light has passed CE, FCC and RoHS certification. Premium quality and safty waterproof led grow light that suitable for indoor/outdoor plants.
Bestseller No. 2
AGLEX COB LED Grow Light 3000W - Upgraded Spectrum High Yielding Plant Grow Lamp for Indoor Greenhouse Growing Veg Flower Lighting
【 UPGRADE SPECTRUM LED GROW LIGHT 】 - This cob led grow light 3000w adds 3pcs developed 3400K COBs. which is verified playing an important role in plants growth, will bring much better results
【 OPTIMAL FULL SPECTRUM from 380nm to 780nm 】 - Different with other common led grow lights with red and blue leds and regular cobs, we have added additional light beads in various bands to ensure the full spectrum of science. This 3000w grow light cob contains 3pcs 3400K COB, 3pcs 6500K COB, 20pcs 650-660nm, 85pcs 620-630nm, 5pcs 460nm,30pcs 3000K, 4pcs UV, 4pcs IR. At the same time, the COB LED itself is a full spectrum lamp integrated design bead
【 EXTREMELY HIGH PPFD 】 - PPFD, Photosynthetic Photon Flux Density,Hanging at 24", the PPFD is 1855 umol/㎡s. The bigger the density, the higher the value, the better the plant. COB LED has highest PPFD output. COB LED is much brighter and more efficient than traditional LEDs. This 3000w cob grow light will bring better results
【 MAXIMUM ENERGY SAVING 】- The cob 3000w grow lamp actual power is 600watt. It consumes less but brighter and more powerful than HPS HID and MH.It is more scientifically and energy-efficient. Best hang height at 24",Core Coverage area at 55"*60"(4.6*5ft). It also serves both herb/veg/bloom and is convinient for you
【 BEST SERVICE 】- We are a professional LED light manufacturer with strong R&D team and many test devices, all our grow lights must pass a series of strictly tests before leaving factory. All AGLEX grow lights are with 3 years warranty plus 30 days money back guarantee. If you have any problems, please do not hesitate to contact us, we will get back to you with completely satisfing reply in 24 hours
Bestseller No. 3
WY CN Grow Plants Light LED 300W, Waterproof COB Premium Small, Full Spectrum Lights for Indoor & Outdoor Flowers, Vegetables, Succulent Seedings, Color Purple
Best cob grow light for indoor/outdoor plants: Adopt 60°optical lens for offering more uniform light than other small grow lights, good performance for indoor and outdoor plants growing.
Durable cob grow light: A high-speed mute fan+upgrade rediator constructed powerful cooling system for ensuring grow lamp works at 50°F-60°F,in a low temperature, can prolong the lighting time lifetime, you can save mush cost for changing light and your loved plants also will be happier.
Energy-effecient full spectrum led cob grow light: It can be replaced traditional 300W HPS/MH grow light, only consuming 50W, help you save much money on electricity bill , bang for your buck. Suitable as a gift for Christmas, Thanksgiving, Mother's Day.!.
Widely usage small led cob grow light: This sunlike grow light can be used for both hydroponics and indoor plants in soil, mainly used for small plants,mirco-greens, greenhouse, plants shelvies.omdppr gardem. grow tent.
Professional costomer service: We are fully confidence in our grow lights, we provide a 90-day money-back guarantee and a 2-year warranty. If you have any questions, you are welcome to contact us at any time. We will provide you professional service within 24 hours!
-$10.00 SALE OFF
Bestseller No. 4
TMLAPY COB LED Plant Grow Light Full Spectrum Reflector Series LED Grow Light with Single Switch for Hydroponic Greenhouse Indoor Plants Veg and Flower (F1500)
💞 【COB TECHNOLOGY LEDS】 - COB with higher brightness, smaller thermal resistance, less light attenuation and longer life. Our COB itself is a full spectrum design with high PPFD value which can promote faster and better plant growth.
💞 【FULL SPECTRUM】 - The COB LED itself is a full spectrum lamp integrated design bead. We did lots of experimentation to ensure that this full spectrum design promotes plant growth. It includes universal Blue Red IR and white light provide everything plant desire in the natural sunlight.
💞【DAISY CHAIN AVAILABLE】 - The led grow lamp with daisy chain design allows multiple lights to connect in parallel at the same time. If using the typical 110V AC supply, each light draws 1.64A. To ensure safety, not more than 6 lights together per chain.
💞【SAVE 82% ELECTRICITY BILL】 - The actual power is 190 watts! The best hanging height at 20"-28", The core coverage area is 4.2*4ft at height around 22". It is more scientifically designed to be more energy-efficient than HPS and MH.
💞 【LIFETIME AFTER SALE SERVICE】- We offer 36 Months Warranty and 30 days money back guarantee. We provide lifetime after sale service for the products.
-$70.00 SALE OFF
Bestseller No. 5
Spider Farmer SF2000 LED Grow Light with Samsung LM301B Diodes & Dimmable Lighting Full Spectrum Grow Light for Indoor Plants Veg Bloom Growing Lamps for 3x3/3x4/2x4 Grow Tent 2.7 umol/J
LOWER RUNNING COSTS & HIGHER-QUALITY YIELDS: SPIDER FARMER LED Grow Lights utilize the latest in high yielding LEDs technology today-Samsung LM301B diodes, high Energy Efficiency with 2.7 umol/J, create the better canopy light penetration. Veg coverage 3 x 4 ft, Flower 2 x 4 ft. Extremely high output but consumes only 200W of electricity, making it more efficient than traditional HID lamps and other plant lamps on the market.
NEW DIODE LAYOUT & DIMMING DESIGN: Upgraded SF2000 growing lights. More light beads at the edges, fewer in the middle. Helping get more uniform PPFD. and the dimming knob is adjusted to the light intensity at liberty. Multi-light Connection with unified dimming is especially beneficial for large indoor growing and commercial planting areas.
IDEAL FOR ALL GROWTH STAGES: Excellent full spectrum- white, blue, red and IR (3000K, 5000K, 660nm and IR 760nm). 3000K diodes provide more reddish light and the 5000K provides more blueish. The 660nm red and IR light is especially useful during bloom when it speeds up flowering time and boosts yields. Turn your seeds into your own supply. And the light looks fairly natural, so it's good for accurately monitoring plant health.
WELL MADE & SOLID CONSTRUCTION: No Fan Noise. High Efficient, reliable and detachable brand Driver have great dissipate heat. The aluminum heat sink is thick and sturdy, has protective covers for cables; User-Friendly Packaging. Quality components mean the light lasts longer, SF Light takes good care of you with a more considerate design, and you can easily save money without purchasing lights frequently.
VALUE FOR THE MONEY: SPIDER FARMER LED Plant Lights are often copied but will never have our quality or commitment, we provide 5 years of after-service at a local maintenance center(US/CA/UK/EU/AU). Make sure you purchase authentic Spider Farmer grow lights, really can give you high-quality grow lights – at a price that is affordable. For any questions, feel free to e-mail us, and we will help you resolve them. Quality backed by our ironclad!!!
If you are using MH and HPS grow lights, follow the distance levels on the chart below to help you determine the proper distance to maintain.
| | | |
| --- | --- | --- |
| HPS and MH Lights (Wattage) | Closest in inches | Farthest in inches |
| 150 | 8 | 12 |
| 250 | 10 | 14 |
| 400 | 12 | 19 |
| 600 | 14 | 25 |
| 1000 | 16 | 31 |
| 1200 | 18 | 33 |
Another way of preventing light burn is by maintaining the ideal temperature in the grow room. You can do this by using cooling fans to balance the heat effects emitted by the grow lights.
Ensure that temperature reduction is gradual in the grow room to allow the plants with stress-free adjustment to the new temperature conditions. Once you have the right temperature, try to keep it consistent by regular monitoring.
Can You Cure Light Burn?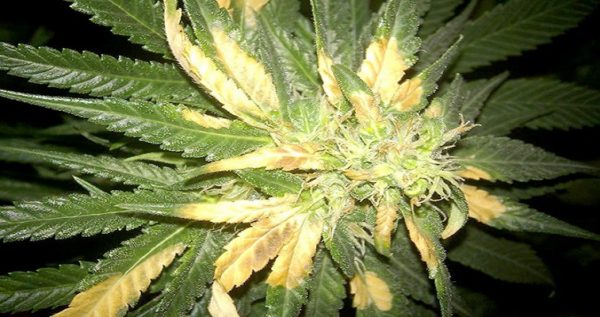 Curing cannabis light burn is not as easy as preventing the menace, especially if the leaves turn a complete white. If the leaves and buds have extreme burns, it may be almost impossible to save them.
If the leaves and buds crumple from being too crispy, it is also hard to save your cannabis. However, if you notice the white early enough, you can save the situation by increasing the distance between plants and lights.
You can also water the cannabis plants to restore moisture lost. Installing cooling fans is also another way of trying to cure the situation caused by the light burn. If the bleaching on the buds is not too intense, you can wait until the harvest.
You can also pluck off the leaves turning white from the plant to prevent them from further stressing the plant. When the plants are still young during the vegetative phase, you can cut off their tops once you start noticing any signs of light stress.
The top trimming method, known as topping and firming, reduces light and plant distance considerably. You also need to bear in mind that the tops do not stay down for long, and they grow back. In this case, you will need to combine topping, firming, and Low-Stress Training that ensures the plants are not close to the grow lights.
Light Stress Vs. Heat Stress
New cannabis growers find it hard to differentiate between light burn and heat stress. The reason for this is that light burn, in most cases, appears alongside heat stress. Besides producing light, grow lights also give off heat, which may cause harm to the plants.
Plants that are too close to the light source also incur as much light exposure as they do heat stress. What this means is that the plants have a mixture of both heat stress and light stress conditions. The symptoms for both heat and light stress show discolored leaves, wilting leaves, and eventual dying of the leaves.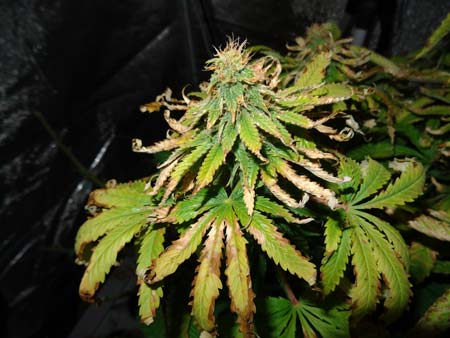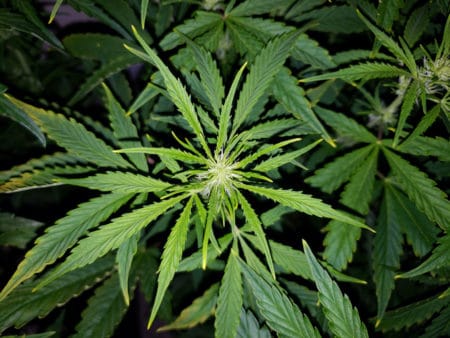 Indoor cannabis growers that use grow lights to grow crops can use a trick to check how much heat is too much for the plants under a grow light. The best testing method is to place a hand under the grow light, ensuring that the height is the same as that of the crops. If the warmth from the heat emitted by the grow light feels comfortable on the hand, it means that your plants are safe from the heat.
Preventing Heat Burn on Your Outdoor Cannabis Plants
Even though cannabis growing outdoors is less likely to suffer from the light burn, even under the most intense and direct sunlight, there are some exceptions. One such exception is transferring cannabis plants from indoors to outdoors.
It takes time for indoor crops to adjust to the outdoors environment. If you want to avoid light burn, do not move your indoor crops directly below intense sunlight. Instead, it would be best to place them in shaded locations outdoors until they adjust to the bright new environment. After a while, you can place the plants in a place with more sunshine.
Read also: The Causes of Cannabis Leaves Curling Down
Wrapping It Up
Even as you try to maintain the correct light distances between the grow lights and the plants, you should also consider the watering and nutrient requirements of your cannabis. The more light you use in the grow room, the more the crops grow and the more nutrients and water they need.
Feeding the crops with the right amounts of water and nutrient will reduce light burn. Do not forget to check the temperature levels, too, because high temperatures play a huge role contributing to light burn.