Marijuana crops need water, nutrients and light for a healthy proper growth. Outdoor weed farmers have luck on their side because they rely on the natural powers of the sun for the growth of their crops. Indoor growers on the other hand have to find other solutions in order to have their crops receive the same lighting as they would of growing outdoors.
Using LED grow light is the best option for many of the growers. This is because LED grow lights can mimic the sun's rays and crops grown under LED grow lights tend to grow faster than the outdoor corps. While majority of indoor farmers know about the popular LED grow lights, few of them know about COB or Chip-On-Board grow lights.
In this article, we feature Yueme LED grow light, which is one of the best COB LED grow light in the market. Before we go the full review, we first understand the definition of COB LED grow lights and look at the features that make Yueme LED grow light stand out.
COB LED Grow Lights
COB stands for Chain-On-Board. LED grow chips are mounted together on a single board to create a series of LED lights in these products. Doing this helps to reduce the number of components otherwise needed to put the LED chips together as a single source. It also allows for the installation of more LED lights on one substrate.
COB lights compared to the ordinary LED grow lights are more long lasting and cheaper. Just like the other lights, they offer uniform lighting but some of them have higher lighting intensities. Unlike other led grow lights, majority of the COB lights in the market generate white light making your GROW TENT look bright always. However, there are other COB LED grow lights that have, blue, yellow red, UV and IR lights
Pros
Large lighting area
The LED light unlike many of the other LED grow lights has a larger lighting area. This means that you can use it for a larger space for your crops and rest assured that all your crops receive an equal share of light.
Extreme energy efficiency
Even though the LED light has a 1500 watt output, its energy consumption is low, as it requires only 300 watts.
Effective ventilation
To help with energy saving and ventilation in the grow room, the LED grow light has two fans and a few hole vents that keep the air flow, heating and cooling at allowed levels at all times
Affordable
It is one of the most affordable LED grow lights in the market and its efficiency is worth every penny
Achieves high end spectrum
The LED grow light has the ability to achieve high-end spectrum for all the crops. The ranges of its light spectrum are 380 to 800 nm.
Long lasting
The product is durable and will give you service for a long time.
Cons
Not waterproof
You have to keep the lights protected from water and moisture at all times because the LED light panel is not waterproof
Not ideal for weak crops
Because of the intensity of light, the LED grow light may not be the ideal choice for weaker crops that may die off because of the high light intensity.
Yueme 1500W LED grow light full review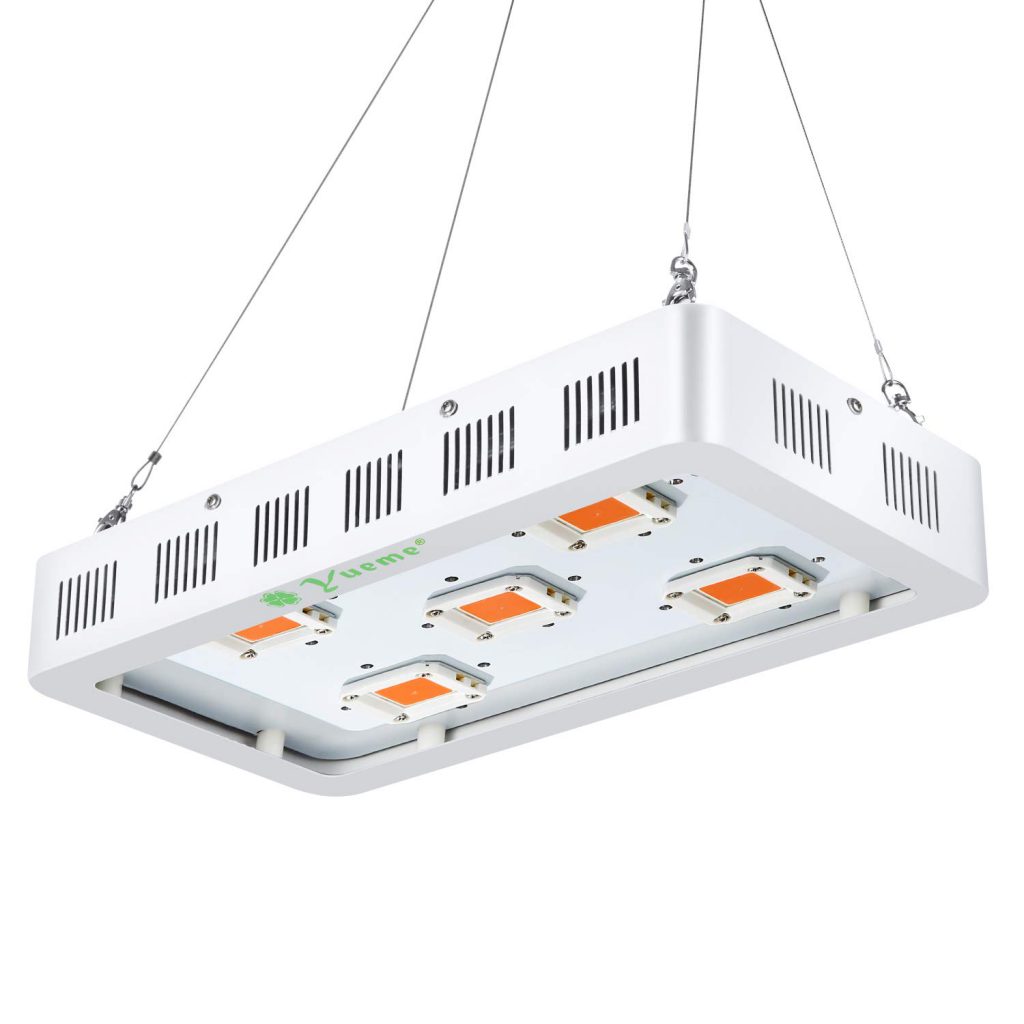 If you are a new marijuana farmer and looking for the most affordable way to grow your crops, you will not go wrong with Yueme 1500 watt LED grow light. The effective COB LED grow light is suitable for all the growth phases of your cannabis plant and it allows the crops to achieve high-end spectrum during all the stages. The spectrum range is 380 to 600 nm that is essentially large enough for a medium grow space.
The full spectrum of the lights include blue, red, and white lights just as those of any other LED grow light and the product comes with an on-off switch to give you better monitoring options.  It also has UV and IR for the protection of the crops. The 1500 watt led grow light requires only 300 watts of energy, which makes it one of the most energy efficient lights in the market.
The heat dissipation from the LED grow light is stable and more durable compared to that of many other grow lights in the market. Yueme LED grow lights full package list contains one 1500 grow light, 1 plug cord, a hanging kit and instructions manual.
Wrapping it up
You can definitely never go wrong with this amazing new technology as it not only saves you energy costs but it has a lighting system that is incomparable to many other same watt LED grow lights in the market. It is especially great for those starting out and have a tight budget to buy all the essential equipment and tools they need for their marijuana gardening.
The light is affordable, ideal for all the growth stages, long lasting, has great light coverage, wider spectrum and mimics the natural suns effectively. What more would you ask for? This and many other LED grow lights in the market such as iPlantop LED Grow Light are all great for the proper growth of your crops.