When growing marijuana plants, there are high chances that you will run into a few problems in the process. However, you need to stay positive because most problems can be fixed. Being knowledgeable about cannabis plants and their needs will help to keep the plants thriving and healthy.
One of the common marijuana deficiencies that growers experience is potassium deficiency. Symptoms mainly appear when cannabis plants enter the flowering stage because of the increased demand for potassium.  If you notice one or two leaves turning yellow, this should not be a cause for alarm, however, if the problem progresses, you need to act quickly to remedy the problem.
Growers need to make the correct diagnosis because the signs of potassium deficiency are similar to those of light burn and nutrient burn. Additionally, you need to understand the importance of potassium to your cannabis plants and how it helps its growth and development.  This article will help you to correctly identify this problem and provide the best treatment regimens to help your cannabis plants recover.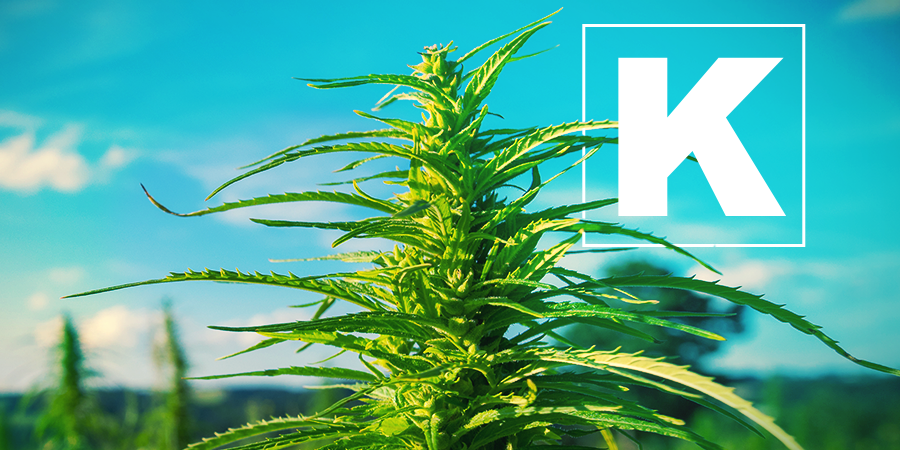 How to Identify Potassium Deficiency in Cannabis Plants
Identifying potassium deficiency right away is a challenge because it shows similar symptoms like light burn and nutrient burn. Therefore, you must first ensure that your plants are not overfeeding and the grow lights are not close to the cannabis plants. Check the leaves of the marijuana plant carefully because changes initially appear on the leaves. Some of the signs include the lead edges, margins, or tips turning yellow or rusty and tips start curling.
You can also notice brown necrotic spotting on leaves and leaves eventually become yellow, brown, or white. If the problem is not addressed, the leaves will then die and fall off. The veins of leaves usually remain green and this is a confirmation that the plants suffer from a potassium deficiency.
Observe the steps of cannabis plants. Brittle and weak stems are signs of a potassium deficiency. There will also be abnormal growth in the plants, which results to weed growing taller than normal. You may also notice longer intermodal spacing on the branches. Although plants may look taller, potassium deficiency stunts plant growth, and the leaves will grow smaller, while the buds will be less dense.

The signs of a potassium deficiency include:
Stunted Growth
White or Yellow spots on the leaves
Older, bottom leaves start turning yellow from the tips inwards
Yellowing, blackening, or browning of the leaf tips
Leaves will curl under
Stems become brittle and weak
The petioles of cannabis leaves weaken and stop being erected
The space between plant branches may increase
Plants become more susceptible to pests and diseases
Development rates slow down and affect the final production or yield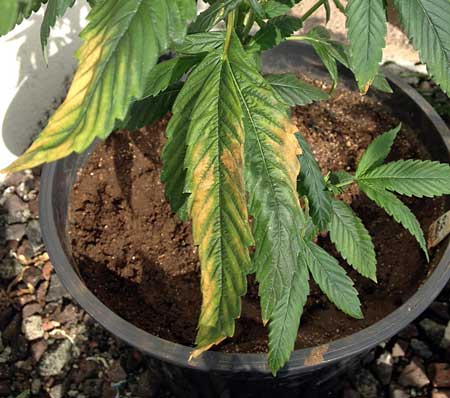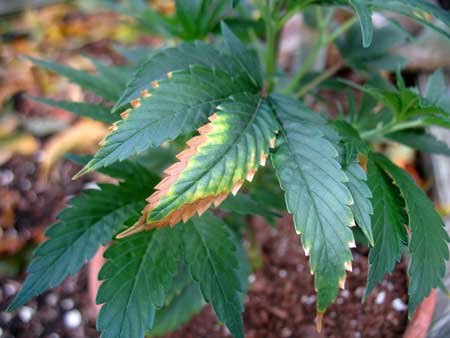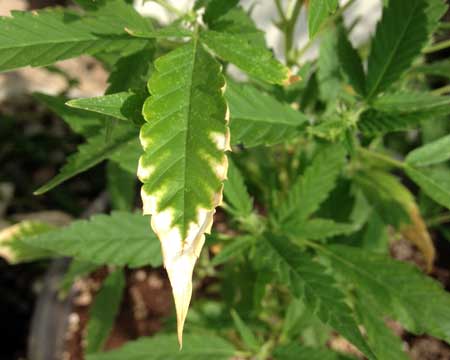 The Role of Potassium in Weed Plants
Potassium is one of the major compounds that make marijuana plants thrive, particularly during the flowering stage. Potassium aids in the movement of nutrients, carbohydrates, and water in plant tissues. It also helps in the production of starch, proteins, and adenosine triphosphate or ATP that regulates photosynthesis. Potassium is crucial for plant health and development. Potassium also improves the resistance of plants during drought or dry periods. Potassium works with phosphorus to increase the strength and resistance of plant tissues and the root system. This nutrient also protects plants from the harsh cold weather.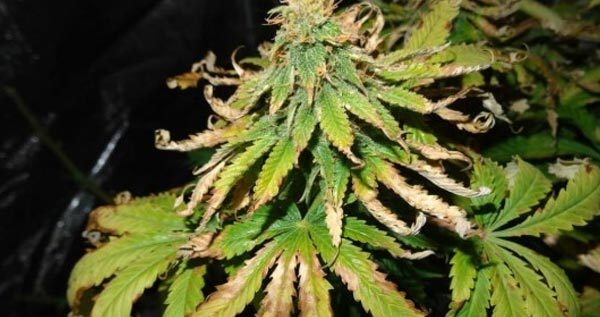 During the flowering stage, cannabis plants will require an increase in phosphorus and potassium levels. Most blooming fertilizers will increase these levels automatically and you just have to change to the flowering stage in your plants' nutrient schedule. Potassium is crucial for the flowering stages because it aids in the production of terpene. If potassium is deficient during the flowering stage, your buds will lack smell and flavor. Potassium helps to increase the density, volume, and weight of your cannabis buds. Therefore, a deficiency in potassium can cause lots of problems like slow growth, skinny buds, and low production of buds. You are likely to face potassium deficiency issues during the flowering phase. This is why every cannabis grower should recognize and quickly fix this deficiency.
Bestseller No. 1
Bestseller No. 2
Bestseller No. 3
-$8.02 SALE OFF
Bestseller No. 4
Flower Fuel 1-34-32 - Bloom Booster by Element Nutrients (250g)
Flower Fuel is a 100% hydroponic-grade, soluble bloom fertilizer. It works great with any base nutrient (including all popular 2 and 3-part nutrients), and in any soil, coco, hydroponic or aeroponic system.
Formulated to achieve larger, denser and heavier harvests. That means better looking, more valuable crops for you.
Over 40 proprietary ingredients go into every jar of Flower Fuel. Among these are powerful nutrients, organic components, and every single trace element you need to grow healthy plants.
TREATS 200 GALLONS OF WATER! At 10 cents per gallon treated, Flower Fuel is an unbelievable value.
Bestseller No. 5
Humboldts Secret Sweet & Sticky – Carbohydrate and Saccharide Energy Source – Enhance Aroma and Flavor of Plants – Potting Soil for Indoor Plants – Energy for Plants – 1 Gallon
CARBOHYDRATE/SACCHARIDE ENERGY SOURCE: Our Sweet & Sticky formula contains a rich source of carbohydrates and energy that is suitable for organic soil and all indoor or outdoor plants and is effective in all mediums.
SUPPORTS A THRIVING ROOT ZONE: A thriving root zone directly impacts your plants' most profitable features. Ensure your plants have all the energy they need by feeding them Sweet & Sticky.
FLAVOR, AROMA, AND ESSENTIAL OILS: Sweet & Sticky supports a thriving root zone which in turn will aid in your plants natural ability to enhance natural flavor, aroma, and essential oils in all sorts of indoor and outdoor plants thanks to its abundant source of carbohydrates, saccharide energy, and microbe food.
SUITABLE FOR HYDROPONIC, COCO, AND SOIL CULTIVATION: Sweet & Sticky is perfectly suited for multiple growing mediums, such as hydroponics and aquaponic systems, coco mixes, organic soil, and potting soil for indoor plants.
BETTER CROP YIELD: A high concentration of carbohydrates improves nutrient conditions for better crop yield and size. Our powerful formula also aids in the plant's natural ability to increase resin production during the flowering phase.
Causes of Potassium Deficiency in Cannabis Plants
The main cause of a deficiency in potassium is a lack of the nutrient in the growing medium. If you notice signs of this deficiency, it means that your plants are likely asking for more food, especially if they are in the flowering stage.  However, if you have supplied enough potassium then there are other reasons why the plant is not taking up potassium.  Potassium deficiency can be caused by the following;
Excess Salts–An accumulation of salts in cannabis roots in the growing medium can also inhibit the absorption of potassium. This can be solved by flushing the root system using the cleanest water.
Variations in PH –Deficiency can also be caused by pH variations in your substrate or irrigation water. If the substrate's pH is outside the recommended range, the cannabis roots will not absorb potassium even if it is available in plenty of supply. In soil, the pH should be between 6.0 and 7.0 and for hydro or soil-less systems the pH should be 5.5 to 6.5.
Stress.-Potassium deficiency can be caused by excessive heat, transplanting, or poorly done pruning. In case a deficiency is caused by stress, the plant will be back to their normal self after a few days. You should continue taking care of your plants without overdoing anything.
Light Burn.-Light burn usually causes spots that look like those caused by potassium deficiency. This mainly affects indoor grow rooms because it is possible for the light to have excess power or is too close. There is a limit to the amount of light or heat that cannabis plants can withstand.
Bestseller No. 1
IPOW Grow Tent Kit Complete 3.3x3.3ft LED Grow Light Dimmable Full Spectrum Indoor Grow Tent Kit 24"x24"x55" Hydroponics Grow Tent with 4 Inch Ventilation Kit
Package Include: 24" x 24" x 55" grow tent, LED grow light, and 4" ventilation kit includes 4" inline duct fan, carbon filter, flex ducting, 3pcs duct clamps, thermometer and hygrometer, timer, 4pcs 5 gallon grow bags, 2pcs adjustable rope hangers.
Full Spectrum Grow Light: Dimmable full spectrum LED grow light consumes only 100W with 240 pcs LEDs. IP65 waterproof helps extend the lifespan. High efficiency that saves 50% on energy bills than HPS grow lights and delivers powerful light output to maximize the yields, idea for all growth stages.
Durable & Sturdy Grow Tent: Well-constructed with strong and sturdy steel frame. Reflective mylar interior gathers more grow lights. Heavy duty 600D oxford cloth exterior increases the durability. Reliable zippers provide smoother shut and open. Double stitching perfectly lock light inside. Waterproof tray makes your floor away from water leakage.
Effective Ventilation System: Noise-free 4" inline duct fan, Australian charcoal carbon filter and flex aluminum ducting offer a effective ventilation system. Strong and powerful airflow helps eliminate all unwanted smell, also ideal for humidity control.
Save Your Time And Money: Forget about choosing the individual item one by one. Our complete grow tent kit not only saves your time but also saves your money. Super easy to assemble and operate, even for beginner growers. Please feel free to contact us if you have any questions. We are always here to provide excellent customer service support before and after buying.
Bestseller No. 2
MARS HYDRO Grow Tent Kit Complete 2x2x5ft TS 600W LED Grow Light Full Spectrum Indoor Grow Tent Kit 24"x24"x55" Hydroponics Grow Tent 1680D Canvas with 4" Ventilation Kit for Grow Tent Complete System
【MARS HYDRO AMAZON SERVICE】Quickest FBA Shipment Speed +100% Satisfactory Seller Solution+30 Days Hassle-free Return + 5 Years Warranty of Grow Light =Happy Purchase, any problems will be responded within 8 hours!
【Grow Tent Kit Complete System Includes】Mars Hydro 2x2FT TS600W grow light, 24"x24"x55" grow tent, 4"inline fan with speed controller, 4"carbon filter, 33ft length flex ducting, duct clamps, timer, humidity thermometer, 3pcs 5 Gallon grow bags, adjustable rope hangers.
【HIGH EFFICIENCY ENERGY SAVING PLANT GROW LIGHT】It Consuming only 100 Watts output with 225pcs LEDs, more scientifically and energy-efficient! Max 2.0g yield, highest PAR/LUMEN output(430μmol/m².s), perfect suit 2' x 2' veg stage, 1.5' x 1.5' bloom stage. Full-spectrum led grow lamp, ideal for all growth stages. TS600W without dimmer.
【HIGHER QUALITY GROW TENT】It's made of thicker1680D canvas grow tent material(ALL OTHERS brands grow tent are 601D canvas), which is tear proof & perfect light locking; 13% denser zipper teeth helping zippers work smoother & more durable; 33% better support capacity metal frame(thickness is 0.8mm, OTHERS only 0.6), ensuring security and stability, supports up to 88lb/40kg.
【EFFICIENT 4"INLINE FAN KIT: Fan Speed】2550RPM , Airflow: 200 CFM , Noise: 28 dBA. Upgraded Inline Fan with EC motor & metal case & 3 settings speed controller, more durable & safer to use! 4" Fan Carbon Filter; 1050+ RC 48 Australian Virgin Charcoal with 33ft length flex ducting, moves air quickly & efficiently for optimal ventilation.
-$70.00 SALE OFF
Bestseller No. 3
VIVOSUN Grow Tent Complete System, 4x4 Ft. Grow Tent Kit Complete with VS1000 Led Grow Light 6 Inch 440CFM Inline Fan Carbon Filter and 8ft Ducting Combo, 48"x48"x80"
Complete Kit Included: 48x48x80-Inch grow tent, 6 Inch 440 CFM Inline Fan, carbon filter, 8 feet of ducting, 2 stainless clamps, VS1000 LED grow light, grow room glasses, rope hangers, 3x3-ft. elastic trellis netting, 5pcs 5 gallon grow bags, temperature humidity monitor, pruning shear, and digital timer
Promote Plant Growth: VIVOSUN grow tent is equipped with a lined zipper double stitched to avoid light leaks; is made up of 100% reflective Mylar, ensuring the plants absorb the nutrients through the internal lights
Lower Costs & High Efficiency Light: VS1000 LED grow lights use the latest LED plant light technology, including Samsung LM301 Diodes, high-energy efficiency with 2.75 μmol/J; Extremely high output but consumes only 100W of electricity, making it more efficient than traditional HID lamps and other plant lamps on the market
Strong Support for Plants: Elastic trellis netting provides a sturdy support structure; The grow bags provide excellent air circulation and drainage; The design of pruning snips is perfect to use whether you are right- or left-handed with ease; The digital timer, thermometer, and hygrometer make it extremely easy to control the environment in your grow room
Advanced Grow Made Easy: The tent is supported by strong metal poles that are specially finished for smooth installation; Don't waste time buying and returning parts that may or may not be compatible or safe to use together! This VIVOSUN complete system includes every part you need to get set up for advanced grow
Bestseller No. 4
Spider Farmer Grow Tent Kit Complete 3x3x5 SF-1000 Dimmable Samsung Diodes & Meanwell Driver, Grow Tent Complete System 2.3x2.3ft Growing Tent Kit Set 27"x27"x62" with 4 Inch Inline Fan Carbon Filter
TOP NOTCH QUALITY LED GROW LIGHT: Use Samsung LM301B diodes and MEAN WELL driver; full spectrum light ideal for all stages of growth; adjustable light intensity with dimmer switch; protective coating on LEDs helps extend the lifespan; no fan, zero noise. Only consumes 100w, running 50% less power than other Blurple lamps or HPS. This light delivers a powerful light output and uniform canopy penetration resulting in maximum yields.
DURABLE & STURDY GROW TENT: 100% Reflective Mylar interior maximizes the efforts of grow lights; heavy-duty 1680D Oxford cloth exterior adds durability; reliable SBS zipper shut and open smoothly; double stitching for strength and light protection; well-constructed with strong and sturdy steel frame; plenty of openings for fans/ vents/ electrical cords; removable viewing mesh screen for viewing & removing humidity; bottom tray prevent water leakage on the floor and keep tent stay clean.
POWERFUL VENTILATION SYSTEM: Quiet and powerful 4" Inline fan and RC412 Australian carbon filter and flex aluminum ducting combo; very easy to install and use; gives strong airflow and proper air circulation.
MONEY & ENERGY SAVING COMPLETE GROW TENT KIT: Compare the cost of individual items and the cost of our complete grow tent package, our kit saves $$ and a lot of time vs buying each item separately. Designed to be user-friendly; comes with easy-to-follow installation instructions; is easy to assemble and is very simple to operate, even for beginner growers. All parts are compatible and properly matched; everything comes in 1 box with discreet packaging.
VALUE FOR THE MONEY: Getting a high-quality grow tent kit means that you'll get more value for a longer period of time. All parts are backed up by local maintenance centers in the USA. As a manufacturer specializing in the production of Led grow lights for more than 10 years, Spider Farmer has been insisting on creating more efficient, more suitable and better quality home grow equipment, being a trusted partner for every grower!
Bestseller No. 5
Indoor Grow Tent+ 1000 LED Full Spectrum Grow Light Grow Tent Complete Kit for Indoor Plants 4 Inch Fan and Filter Ventilation System Inlcuded (4" Fan Filter+1000 LED Light+Grow Tent 32" X32"X60)
Growing Tent Integrated Complete System For Indoor Plant Use Full Spectrum LED Grow Light Extremely High Output But Consumes Only 100W Electricity, Grow Tent Grow Tent with Observation Window And Floor Tray Design , 4 Inch Grow Tent Ventilation Fan And Filter Kits.
1000 Full Spectrum LED Grow Light ( 100 Lights Blue and Red ), Actual Power Consumes 100W ±3%, Save More Power Than Traditional HPS/MH Grow Lights. Inside Cooling Fan And Vent Holes Design Making Less Heat Discharge Working Stable. Suitable Multiple Kinds Of Plants Grow Period From Vegetable Grow To Bloom.
32*32*60 Inch Grow Tent:Tent With Green Observation Window And Floor Tray, Fabric Use 16800D Canvas, Tear Proof And Zipper Double Stitched Design For Perfect Light Blocking, Steel Frame Stronger For Hanging.
Ventilation System: Made Of Exhaust Fan And Carbon Air Filter: Odor Control And Effective Keep The Moist And Temperature Under a Better Growing Air Environment.
OTHER GROWING TOOLS: 2X3 GAL Fabric grow pots ,3 PCS 1/2 GAL Plastic Nursery Pots For Seed Start, 1X PH Tester, 1 Thomometer,1 Cultural Steel Tray,1 Leaf Grinder And 2 Pipe For Hobby User
Read more: How To Identify And Treat Magnesium Deficiency In Weed Plants
How to Solve Potassium Deficiency In Cannabis Plants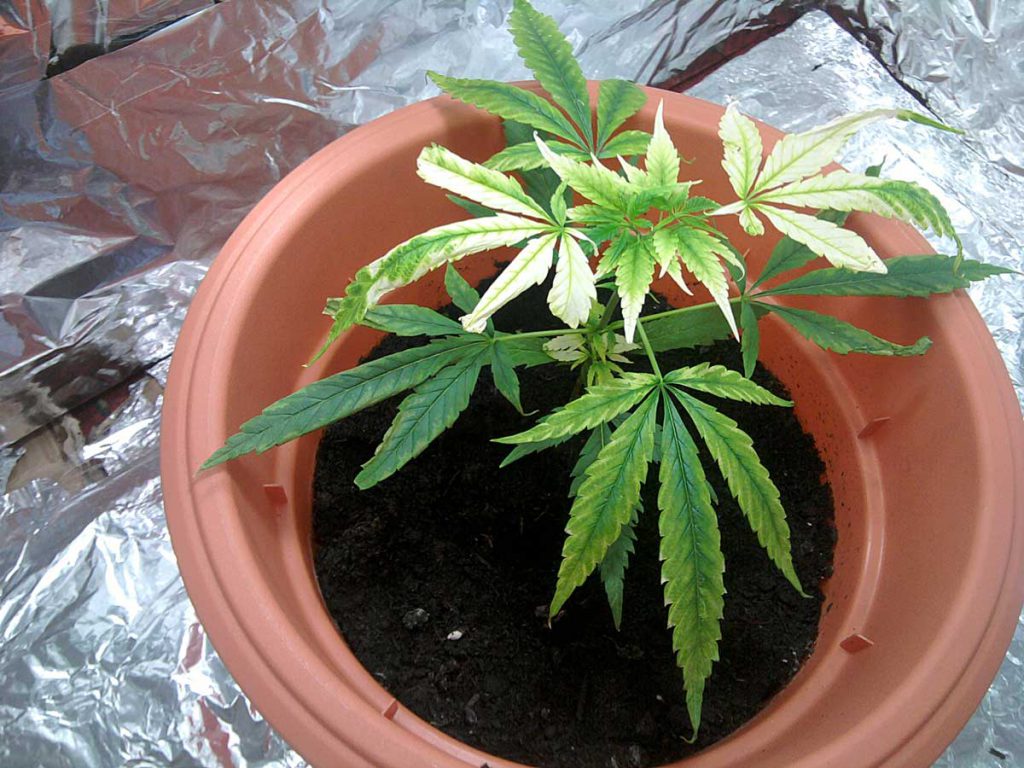 A lack of potassium can be remedied by providing marijuana booster for your weed plants. This will provide your plants with the feeding schedule and fertilization to ensure your plants get proper nutrients based on their growth stage. A bloom fertilizer can also be used to solve potassium deficiency in cannabis plants. This water-soluble fertilizer has lots of potassium and will provide your plants with what they are lacking.
Cannabis growers can also use potassium sulfate, liquefied kelp, potassium silicate, potassium dihydrogen phosphate, or potassium bicarbonateor.  For growers who prefer slow-release potassium source, a greensand and granite dust works best.  Other substances that are packed with potassium include wood ash and bone meal.
Sometimes, cannabis plants may not absorb potassium because of excess nitrogen or calcium. You can check the pH of your water and then flush out the system and use water that has half does of nutrients.
-$10.00 SALE OFF
Bestseller No. 1
Bestseller No. 2
Bestseller No. 3
Bestseller No. 4
Advanced Nutrients Bloom, Micro & Grow, Pack of 3, 1 L Each
Lush, sturdy growth from 3-part nutrients designed specifically for high value
3 Part solution in 1 package: You get advanced nutrients bloom, micro and grow in 1 liter size each
State-of-the-art carrier molecules to ensure their plants get the maximum amount of nutrients
You will never have to worry about your PH again
Bestseller No. 5
Final Thoughts
Potassium is a key nutrient necessary for the growth and development of marijuana plants. Therefore, potassium deficiency is quite a common experience for both novice and veteran growers. Fortunately, recovering from a potassium deficiency is quite easy for cannabis plants. You will notice signs of recovery in a week or so after supplementing with organic fertilizer or PK booster.
If your plant does not recover, you can check out the other causes mentioned above and investigate the growing medium, routines, and levels to help you make a correct diagnosis. Sometimes, potassium deficiency can be solved by flushing the growing medium and plant roots to help you start afresh. This will help you create the right level of nutrients and pH balance that will guarantee healthy growth of your marijuana plants.