One of the major problems that most people experience with marijuana plants is clawing or curling of the leaves. Although the curling down of cannabis leaves is a common phenomenon, it is usually difficult to diagnose, especially for new growers. When you are a knowledgeable grower, you can correctly diagnose the cause of your cannabis leaves curling and rectify the problem.
Growing cannabis may seem quite easy, however, just like other plants, issues may arise that can hinder its growth. As your cannabis plants start growing and developing, they will also have leaves and grow in stature. However, when leaves start curling down or up, then it is a sign that something is wrong with your marijuana plants. Whether you are a beginner or an expert grower, you need to diagnose the problem causing your marijuana leaves to curl and fix the issue.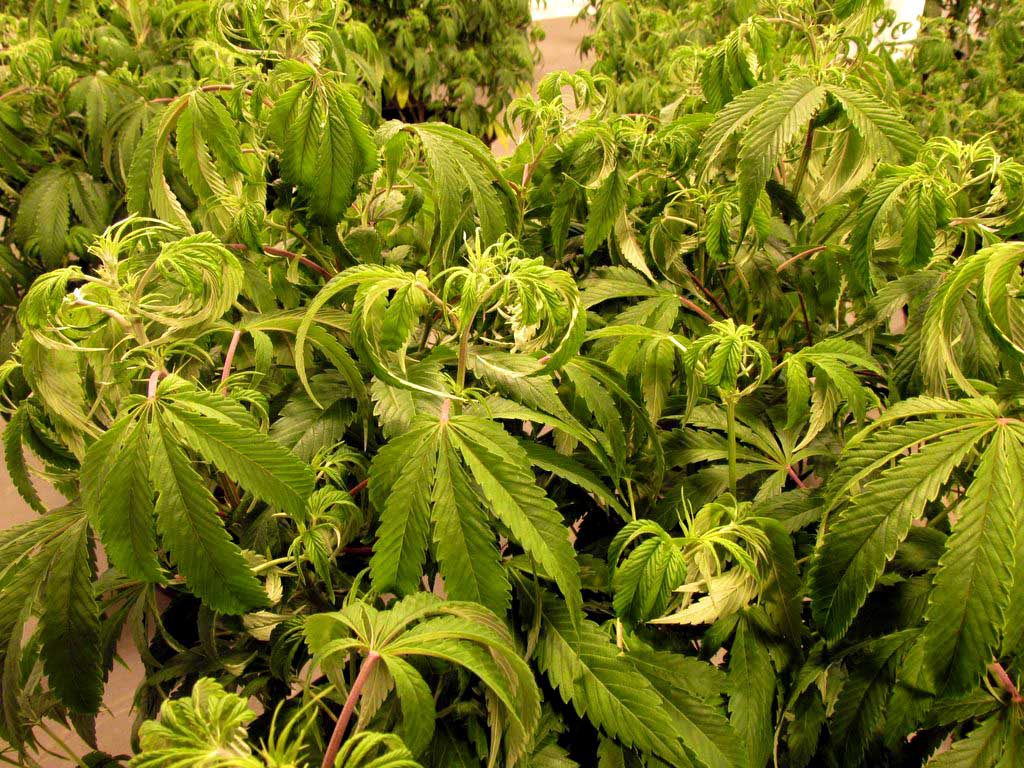 Cannabis plants usually send signals to show you that all is not well. If you notice the leaves curling down or clawing, then there is a problem with your plants. Curling down of cannabis leaves is mainly caused by nitrogen toxicity, overwatering, bad soil, extreme temperatures, genetics, and windburn. In this guide, we will look at these causes and remedies for curly marijuana leaves to ensure your plants grow healthy and produce a high yield.
What is "clawing"?
Clawing simply refers to the curling up and down of cannabis leaves. This occurrence is also known as "the claw". Clawing can be caused by different factors and when it occurs, your marijuana plants require special attention. If the plants are not cured, their growth will be hindered or they may die.
What Are The Causes Of Marijuana Leaves Clawing And How Can This Problem Be Fixed?
Curling is a signal or sign that your marijuana plant is sick and requires treatment. Curling or clawing of marijuana leaves may be an indication of a problem. There are several causes of marijuana leaves curling up and down. However, this should not be a cause for alarm because there are many ways of curing your plants. Some of the causes of curling leaves include the following:
Overfertilization of Cannabis Plants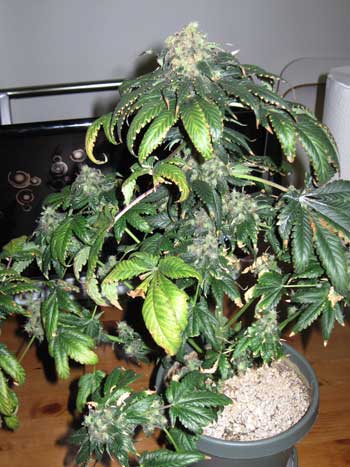 Overfertilization of your cannabis plants is not good. This is because using excess concentration of a nitrogen-rich growth base can cause the curling down of leaves. Overdoing any mineral-rich or vitamin-rich feeding can also cause the plants to curl and the tips of the leaves will also scorch.
To cure excessive fertilization of your plants, you need to regulate whatever you are giving to the plants. Ensure that you keep a feeding chart to keep track of every nutrient or vitamins that your plants are getting. Ensure that you go slow and low when using fertilizers on your cannabis plants and increase the dosage with time.
Always check the cannabis leaves each day to determine how the plants are responding to your feeding process. Growers must also ensure that whatever fertilizer you are feeding your plants has the right nutrient solution and pH. The best pH is approximately 5.8 to 6.0pH.
-$10.00 SALE OFF
Bestseller No. 1
Bestseller No. 2
Bestseller No. 3
Bestseller No. 4
Growth Science Nutrients - Starter Pack
This starter pack is intended to get you off the ground with your garden. It contains four of our tried-and-true fertilizer products that successful growers, on all scales, have come to depend on.
Made from the highest quality ingredients, specifically formulated to save you time and money. For use in soil, coco and all hydroponic mediums.
It's essential to provide the right nutrients at the right stages of growth. Growth Science will walk you through those steps with this, cost-effective starter pack.
Each pack contains 5 bottles. 1 pint of Base A, 2 pints of Base B, 1 pint of Solid start, and 1 pint of rock solid
Base A and B form the foundation of the Growth Science system. Together they provide your plants with essential macro and micro nutrients essential for growth.
Bestseller No. 5
Overwatering Marijuana Plants
Most growers believe that watering their cannabis plants helps to keep them healthy at all times. However, this is not true. Overwatering your plants can be dangerous because it downs the roots of the plant. In addition, it eliminates helpful microbes that your plant needs. Additionally, excessive watering attracts Pythium, which are parasites that cause rotting of the roots. All these will cause your cannabis plants to have curled down leaves, a sign that the plants are waterlogged.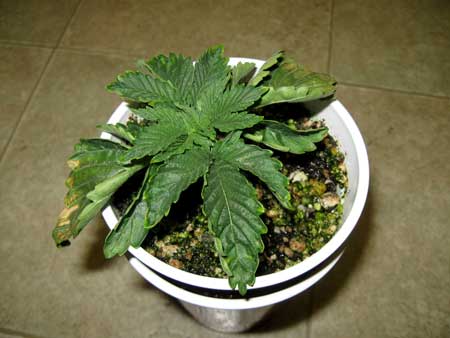 To cure overwatering, you need to reduce the volume of water you give the plants, by maintaining a wet-dry cycle. You can always determine whether your plants need watering or not based on their weight. You can also check whether your marijuana plants need water or not by pressing the soil to determine whether it is too moist or dry. If the soil is too moist, then you can postpone watering until the next day, but if it is dry then give them just the right amount of water.
Extremely Hot Temperatures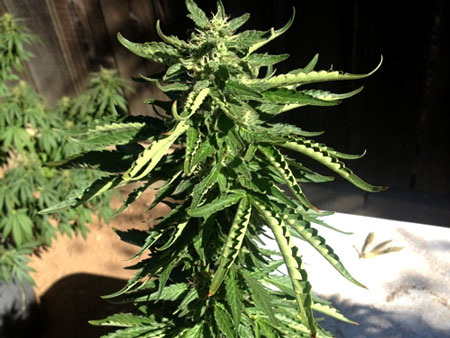 Heat stress is dangerous to your marijuana plants and can occur both in outdoor and indoor cultivation. When temperatures are extremely high, your leaves may curl and have brown tips. These are signs that your plants are suffering from heatstroke and is a distress call that you have to take note of. The best temperature for growing your cannabis plants should not exceed 28 degrees Celsius, because any readings above this will affect your plants and even burn the leaves.
Regulating the grow room temperature can help to cure this problem. Adjusting and lowering the temperatures for indoor growers is quite easy and you can use an air conditioner to lower the temperatures. For outdoor growers, regulating temperature or exposure to heat can be quite a challenge. However, most growers utilize a screen that provides shade and keeps cannabis plants slightly cooler.
Extremely Cold Temperature
Very cold temperatures may also affect your cannabis plants. Cold temperatures also cause the leaves to curl down as well. Exposing your plants to cold temperatures of over 10 degrees for a long time will not only cause curly leaves but can also kill your marijuana plants. The buds will also become moist and can get sick if the problem is not remedied immediately.
To solve this problem, you can increase the temperatures for your indoor cultivation by adding more grow lights. Controlling the temperatures outdoors can be difficult and the best way to deal with this problem is harvesting your buds early. The optimum temperature for the healthy growth of marijuana plants is 20 to 28 degrees Celsius.
Bestseller No. 1
DIGITEN DHTC-1011 Temperature and Humidity Controller Outlet Plug in Thermostat Humidistat Reptile Humidity Controller Greenhouse Thermostat Heating Cooling Humidifier Dehumidifier
🍄【Wide Control Range】Temperature and humidity 2 in 1 sensor; temperature control range is -40℉~248℉, humidity control range is 1%RH~100%RH. It starts cooling or heating, humidifying or dehumidifying according to configured parameters, which helps to keep a desired temperature and humidity anytime.
🌱【Convenient Design】The temperature and humidity controller has a large LCD screen with simple 3-button, and pre-wired design making it easier for use with plug and play.
🍾【Dual Relay Output】Be able to control temperature and humidity equipments at the same time, one is for temperature controlling and another is for humidity controlling.
🧀【Multi-functional Setting】Supporting calibration, compressor delay and saving reset setting values. Centigrade or Fahrenheit degree display, easy to set. High or low temperature and humdity alarms are available. And with temperature calibration and compressor delay for protecting cooling device. It can save the original setting values in case accidentally power-off.
🦎【Multiple Use】Widely used for home brewing (refrigerator), fermentation, greenhouse, terrarium, reptile, planting (mushroom), meat storage and cooking, ventilator fan, crawl space, turtle enclosure, curing chamber, snake cage, tobacco cage, etc.
Bestseller No. 2
Inkbird Temperature and Humidity Controller ITC-608T Pre-Wired Dual Stage Thermostat 120VAC 15A 1800W ETL Listed Mushroom Greenhouse Homebrew
💙💙US ETL Certificate Listed. ITC-608T thermostat temperature and humidity controller is ETL listed, and rigorously tested for quality control and safety.
💙💙Three in one Multifunctional Temperature and Humidity Control Mode with Dual Relay Output. ITC-608T can work as a temperature controller, a humidity controller, a temperature and humidity controller. First, only plug temperature sensor with cooling and heating equipment. Second, only plug humidity sensor with humidifier and dehumidifier equipment. Third, plug both temperature and humidity sensor with cooling/heating and humidifier/dehumidifier equipment.
💙💙Supporting calibration, compressor delay and saving reset setting values. Centigrade or Fahrenheit degree display, easy to set, PV and SV dual display windows. And with compressor delay for protecting cooling device. ITC-608T can save the original setting values in case accidentally power-off.
💙💙More power up to 1800W. Temperature control range is -40-212°F(-40-100℃), humidity display range is 5 -99.0%RH. Max Loading: 120V 15A 1800W. Temperature senor is waterproof while humidity sensor is not.
💙💙Multifunctional usage. Temperature and humidity controller ITC-608T can be used in home brewing (refrigerator), fermenting, Greenhouse, terrarium, reptile, planting (mushroom), meat storage and cooking.
Bestseller No. 3
Inkbird ITC-308 Temperature Controller with IHC-200 Humidity Controller
🙌🙌【Temperature】Temperature controller is ON/OFF model. You can connect heat and cool devices which can work separately.
🙌🙌【Humidity】 Humidity controller is ON/OFF model. You can connect humidifier and dehumidifier which can work simultaneously or separately.
🙌🙌【Calibration】Both of them have the calibration function. You can calibrate what you need.
🙌🙌【Alarm & Delay Function】 They can alarm if the temperature or humidity level is over what you set. Cool and dehumidification delay function can extend your device's life.
🙌🙌【Multiple Use】Widely used for mushroom, mini greenhouse,etc.
Bestseller No. 4
VIGELA STC-3028 AC110~230V All-Purpose Temperature and Humidity Controller with Dual Displays and Dual Relay Outputs(Shipping with 2 Sensors)
Shipping with 2 high-performance integrated sensors(black or grey,the sensor is not waterproof,one more sensor is delivered as a backup), 1.5m(59in)extension cable, ABS flame retardant plastic shell.
Input power supply voltage: AC110~230V (± 10%),and Relay Output:maximum loaded current 11A.Can realize temperature control and humidity control at the same time.Can realize temperature and humidity correction.
Temperature and humidity dual display intelligent version: temperature range: - 40 ℃ ~ + 110 ℃, humidity range: 00% RH ~ + 100% RH, accuracy: ± 0.3℃ & 3% RH.
Widely used: various sensor control boxes, water heaters, refrigerators, fans, etc. can be used in scientific research, planting, aquaculture and other fields.
This is an excellent and convenient multifunctional device, which is used for temperature and humidity control of air environment to help you create the best temperature and humidity environment. Please do not soak in water. Please refer to the manual when using.
Bestseller No. 5
SENSTREE Temperature and Humidity Controller Outlet Plug-in Thermostat Humidistat Reptile Humidity Controller Greenhouse Thermostat Dual Stage Pre-Wired Electronic Temperature and Humidity Controller
🍀【Dual Relay Output】Thermostat and Humidity Controller Be able to control temperature and humidity at the same time.This product has design with the dual stage outlet with Temperature and Humidity Sensor which can sasified you.This temperature and humidity controller be able to display measured temperature and set temperature at the same time.
🍀【Easy to Use】 Our thermostat temperature and humidity controller is simple and convenient designed. Plug and play, dual LED screens enabling more humanized 3 buttons for easy use.
🍀【For Safety】Our temperature and humidity controller with temperature calibration and compressor delay which can protect your cooling equipment. This temperature and humidity controller`s high and low value alarms are available which has benifit for safety.
🍀【Calibration】Supporting calibration, compressor delay and saving reset setting values. Centigrade or Fahrenheit degree display, easy to set.Spend no time worrying about whats happening in the grow room with this temperature and humidity controller.
🍀【Application】Our Pre-Wired Electronic Heating Thermostat Temperature Controller widely used for curing chamber, home brewing (refrigerator), fermentation, greenhouse, seed germination, terrarium, reptile, planting (mushroom), meat storage and cooking, ventilator fan, crawl space, turtle enclosure, snake cage, tobacco cage, etc.
Genetics
If you plan to breed or reproduce your cannabis plants, you must ensure that the parent plants are healthy. Based on genetics, healthy parent plants will produce healthy progenies. Unhealthy parent plants usually pass on diseases to their offspring and this will cause them to also grow up unhealthy. Genetics may also be a reason why your marijuana leaves are clawing or curling down.  To fix this problem, you will have to feed your marijuana plants with the fertilizer or nutrients they need to heal them from any type of sickness.

Other Causes of Cannabis Leaves Curling Down
Bad Soil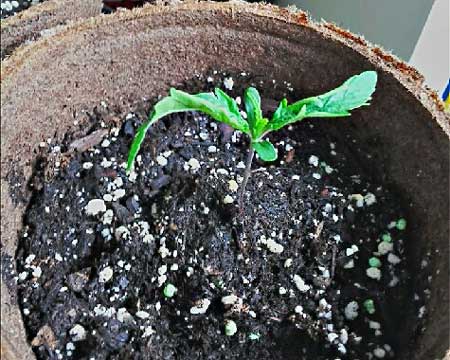 Another major reason that can cause cannabis leaves to curl is bad soil. If the soil you are using is bad or you are growing plants in muddy and thick soil, the leaves will curl and droop regardless of your watering practices. Growers need to use the right type of soil that can support the healthy growth of marijuana plants if they desire a bounty harvest.
Bestseller No. 1
-$2.00 SALE OFF
Bestseller No. 2
Uncle Bud's Coco and Perlite Potting Mix, Soil for Maximum Plant Growth, Perfect for Indoor and Outdoor Container Gardens, 8 QTS, Coconut Coir Peat, Plant Directly no Additional Ingredients Required
PROTECTS FROM OVERWATERING - This mixture is specifically designed to capture and retain nutrients so you can feed the plants heavily without drowning them. Strong aeration and drainage. Gives peace of mind you won't overwater your plants
FOR MAXIMUM PLANT GROWTH - The Coco Coir behaves like little sponges offering nutrients and water as needed by the plants. You'll grow a happy, healthy and bountiful harvest! Perfect for use with indoor greenhouse or grow room
PLANT DIRECTLY IN THIS MIX - Plant directly in this mix with no additional ingredients required. Easy and simple to use for veterans and first time growers alike. Won't compact, allows root aeration and generates strong roots
PH BALANCED - PH Balanced to create an ideal growing environment for many types of potted plants indoor or outdoor. Blended with container gardening in mind. Lower humidity reduces the possibility of root rot, as well as leaving insects less likely to bother your potted plants
DOUBLE WASHED - Our coco coir is doubble washed to ensure mixture is free of outside contaminants that make the coir "muddy" when wet. Don't trust mixes that have not been double washed
-$16.95 SALE OFF
Bestseller No. 3
FoxFarm FX14054 Happy Frog Potting Soil, 12 Quart
Ready to use right out of the bag
This unique mix is alive with beneficial soil microbes and mycorrhizal fungi
Dramatically expands root development enabling plants to feed more aggressively
Not for sale in: FL,GA,HI,IN,MO,SD
-$3.40 SALE OFF
Bestseller No. 4
Bestseller No. 5
Windburn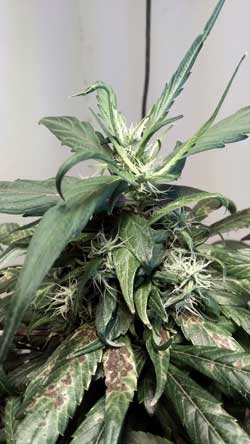 Another problem that can cause marijuana leaves to curl down is windburn and occurs when plants are getting excessive wind. If you are cultivating your marijuana indoors, you will notice that plants that are far from the fan will not have curled leaves. This problem can be remedied by regulating the fan to prevent excessive wind from damaging your plants.
Underwatering
Underwatering your cannabis plants can also cause symptoms that are almost similar to those of overwatering. However, with underwatered plants, the leaves tend to perk up every time they are watered. Cannabis growers can prevent underwatering, by ensuring that their plants get adequate water.
Root Problems
Root problems in cannabis plants usually occur because of overwatering. Once your roots become sick, the symptoms usually persist for some time even after you start watering your cannabis plants properly. Unhealthy roots can trigger different issues including the curling of leaves.
If the roots of your marijuana plants are damaged, the leaves will start curling and will have an outlandish blistery appearance.  This can be caused by root damage, watering, or heat stress. Ultimately, damaged roots will result in the curling of cannabis leaves.
Root Rot
Another common cause of marijuana leaves curling down or up is root rot. This problem mainly affects cannabis hydroponic growers. Rooting of roots can be caused by heat or lack of bubbles in the cannabis roots. There will also be brown patches on the cannabis a symptom of deficiency in the roots.
Light Burn
Another major cause of curled down leaves in marijuana plants is light burn. Your leaves can still experience light burn even when the temperatures are under control. This mainly happens when growing cannabis indoors and the plants are extremely close to the grow lights. Eventually, the cannabis leaves closest to the grow lights will turn yellow.
Conclusion
Growing marijuana plants can be quite enjoyable and easy, however, maintaining good health requires lots of attention. The quality and quantity of your yield largely depend on the health status of the plant. If you notice your plants having curly leaves, then it means that the plants are in distress. Although curled leaves in cannabis plants is not a good sign, every grower should expect and even be prepared for these issues to occur.
As a marijuana grower, you need to act quickly and offer the most appropriate and effective solution for your plants. Although most of these symptoms can be cured, you should never disregard leaves that are curled up or down. You need to do something to fix the problem right away to save your cannabis garden and ensure you reap premium quality and bounty yields. Cannabis growers can completely avoid curly leaves if they know how to keep their plants healthy and strong.
Read next: Why Cannabis Leaves Turning Yellow
PS: Due to the effect  of covid 19, many products on amazon stil not unavailable, so I tried to find some other quality supplies, you can click on the image bellow for more information.
New Product: ( On 2021)
1: Thebudgrower ALL-IN-ONE HOME GROW KITS

2: Super Closet BEST-SELLING GROW CABINET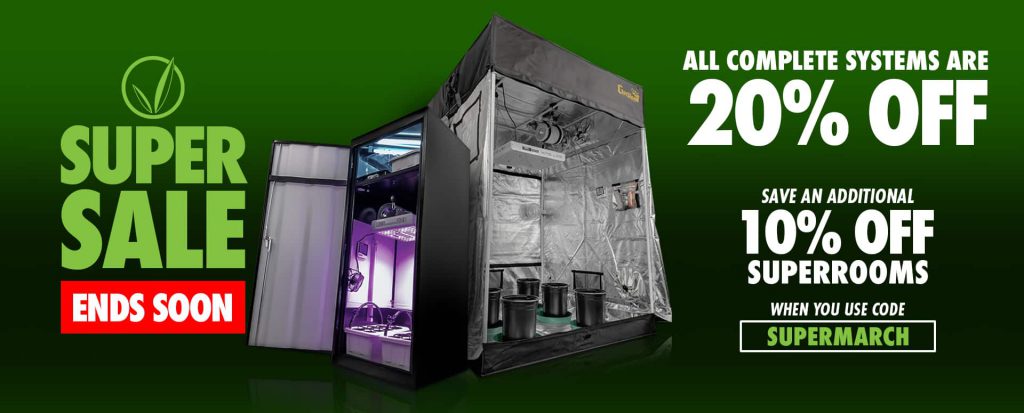 3: Apotforpot COMPLETE KIT TO GROW CANNABIS AT HOME