Temperature is an aspect that can make or break any cannabis grower. Just like most plants, you have to make sure that your growing environment is neither too hot nor too cold. It may be hard to control the temperatures if you are planting your marijuana outdoors. However, an indoor environment is much favorable and more comfortable to monitor. There is an ideal climate, that is, temperature, level of humidity, and amount of carbon dioxide that best suits the growth of cannabis. If you want to get the best results from your marijuana farm, you need to ensure that the temperature in your grow room range between 65 to 85 degrees Fahrenheit. The relative humidity should range between 45% and 85% together with a carbon dioxide level of 1000 ppm to 1200 ppm.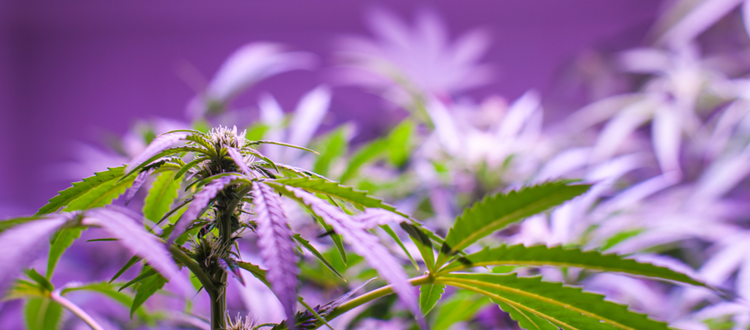 There are numerous conditions, both indoor and outdoor, that may affect the temperature levels in your grow room. During the summer, the temperatures in your grow room may skyrocket exponentially. The winter season as well can make it harder to provide the right amount of heat for your plants to thrive. Outdoor temperatures can also lead to a drop in the internal temperatures within a short period. These changes in temperature can affect how your cannabis plants respond to nutrients, the amount of moisture in the grow room, and to specific points, the viability of your plants. Therefore, you need to always be in control of the temperature in your grow room. But how do you do so? Before knowing how to control the level heat in your grow room, it is essential first to understand what happens when the heat levels in your growing environment are low and high.
What are the effects of high temperatures in a grow tent?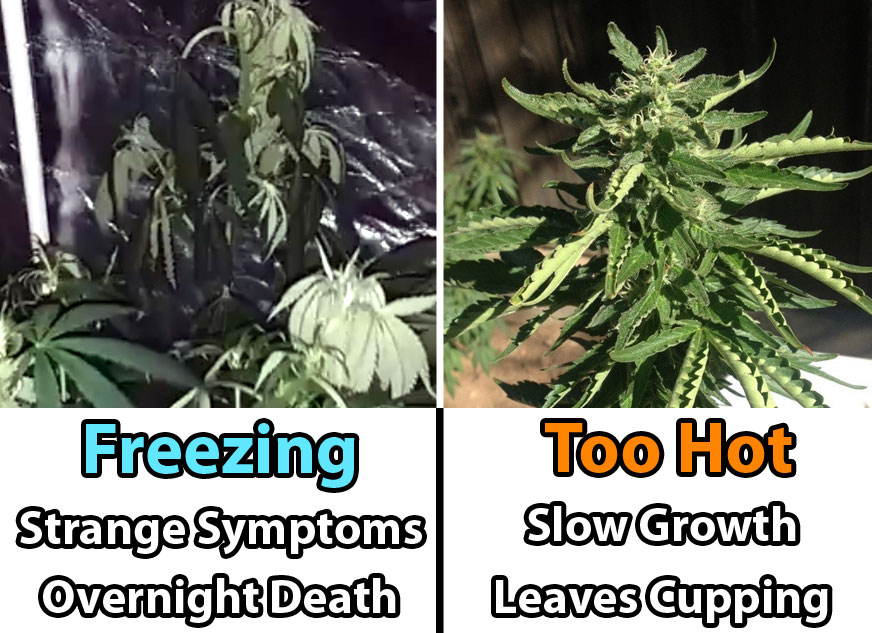 It is quite simple to tell if plants are overheating. You will notice signs such as leaves and stems curling with some burnt patches. One major problem facing plants that are exposed to too much heat is stunted growth. The time it takes your plants to grow increases. If the heat level is high during the vegetative stage, then, your plants may develop longer than regular stems. When the temperatures exceed 75 degrees during the flowering stage, the potency, taste, and smell of your cannabis will be affected for good. If the heat is due to the grow light in use, the buds will get bleached and stressed out since they are closest to the source of light. The leaves of your plants may start to discolor and curl. The effects of heat will be more predominant on the plants that do not receive enough water. Due to an increase in water transpiration, marijuana may experience a nutrient burn. High heat may increase the levels of humidity in the grow room, thereby leading to the development of mildew.
What are the effects of low temperature in a grow tent?
When the temperature in a grow room drops below 55 – 60 degrees Fahrenheit, the growth of your marijuana will slow down, and the plants may eventually die. If the temperatures drop during the flowering stage, your overall harvest will be in jeopardy. If you have an outdoor farm, your marijuana plants can adapt to night temperature that is as low as 50 degrees Fahrenheit. The effects on the plants due to the low temperature will not be long term. However, you still need to be aware of the temperature around your plants. Any temperature decline below 40 degrees Fahrenheit is a danger to your plants.
What is the ideal temperature in a marijuana plant?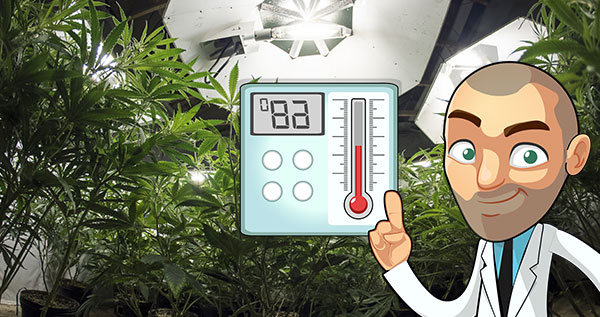 Every stage of growth in a marijuana plant has its ideal temperature. During the seed germination phase, marijuana seedlings and clones require a lot of humidity for them to get water since their roots are not yet developed. During this stage, it is best to use a humidity dome so that you can quickly get the right conditions for plant growth. During this stage, you should maintain your grow room temperature to between 68 – 77 degrees Fahrenheit to as well get the high levels of humidity. The plants can develop the roots with time. The vegetative phase requires a temperature ranging between 70 to 85 degrees while maintaining high humidity. At night, you should keep a low temperature, but not lower than 59 degrees Fahrenheit. However, the more the plant matures, the more it can withstand any change in temperature.
Once your plants get to the flowering stage, they can thrive very well under room temperature. You should ensure that the temperature does not exceed 82 degrees Fahrenheit. When you increase the temperature past 82 degrees, the terpenes will evaporate, reducing the potency of the marijuana. The buds will also experience stunted growth. Keep the temperatures lower than during the vegetative phase, especially during the 6th and 7th week. The production of terpenes is at its max during this period. If you expose the buds to a high temperature then, you risk evaporating them. Terpenes are the elements responsible for the smell and taste of cannabis. To get the best out of the terpenes production, ensure that the temperature alternate between a room temperature daytime and a more chill night time.
The last phase in the growth of cannabis involves harvesting. During harvesting, you have to dry and cure your marijuana. Once you ensure that you have the right temperature and humidity level, you can be sure to grow the best cannabis.
It is never easy to manage the ideal temperature for a grow room when you start working in a new environment. The restricted airflow in a grow tent especially can make the process even harder. Here is a simple guide that can help you maintain the right temperature through all the growing phases of marijuana.
Best Equipment About Climate Control For Grow Cannabis Indoor 08- 2022
Bestseller No. 1
DIGITEN DHTC-1011 Temperature and Humidity Controller Outlet Plug in Thermostat Humidistat Reptile Humidity Controller Greenhouse Thermostat Heating Cooling Humidifier Dehumidifier
🍄【Wide Control Range】Temperature and humidity 2 in 1 sensor; temperature control range is -40℉~248℉, humidity control range is 1%RH~100%RH. It starts cooling or heating, humidifying or dehumidifying according to configured parameters, which helps to keep a desired temperature and humidity anytime.
🌱【Convenient Design】The temperature and humidity controller has a large LCD screen with simple 3-button, and pre-wired design making it easier for use with plug and play.
🍾【Dual Relay Output】Be able to control temperature and humidity equipments at the same time, one is for temperature controlling and another is for humidity controlling.
🧀【Multi-functional Setting】Supporting calibration, compressor delay and saving reset setting values. Centigrade or Fahrenheit degree display, easy to set. High or low temperature and humdity alarms are available. And with temperature calibration and compressor delay for protecting cooling device. It can save the original setting values in case accidentally power-off.
🦎【Multiple Use】Widely used for home brewing (refrigerator), fermentation, greenhouse, terrarium, reptile, planting (mushroom), meat storage and cooking, ventilator fan, crawl space, turtle enclosure, curing chamber, snake cage, tobacco cage, etc.
Bestseller No. 2
Inkbird Temperature and Humidity Controller ITC-608T Pre-Wired Dual Stage Thermostat 120VAC 15A 1800W ETL Listed Mushroom Greenhouse Homebrew
💙💙US ETL Certificate Listed. ITC-608T thermostat temperature and humidity controller is ETL listed, and rigorously tested for quality control and safety.
💙💙Three in one Multifunctional Temperature and Humidity Control Mode with Dual Relay Output. ITC-608T can work as a temperature controller, a humidity controller, a temperature and humidity controller. First, only plug temperature sensor with cooling and heating equipment. Second, only plug humidity sensor with humidifier and dehumidifier equipment. Third, plug both temperature and humidity sensor with cooling/heating and humidifier/dehumidifier equipment.
💙💙Supporting calibration, compressor delay and saving reset setting values. Centigrade or Fahrenheit degree display, easy to set, PV and SV dual display windows. And with compressor delay for protecting cooling device. ITC-608T can save the original setting values in case accidentally power-off.
💙💙More power up to 1800W. Temperature control range is -40-212°F(-40-100℃), humidity display range is 5 -99.0%RH. Max Loading: 120V 15A 1800W. Temperature senor is waterproof while humidity sensor is not.
💙💙Multifunctional usage. Temperature and humidity controller ITC-608T can be used in home brewing (refrigerator), fermenting, Greenhouse, terrarium, reptile, planting (mushroom), meat storage and cooking.
Bestseller No. 3
Inkbird ITC-308 Temperature Controller with IHC-200 Humidity Controller
🙌🙌【Temperature】Temperature controller is ON/OFF model. You can connect heat and cool devices which can work separately.
🙌🙌【Humidity】 Humidity controller is ON/OFF model. You can connect humidifier and dehumidifier which can work simultaneously or separately.
🙌🙌【Calibration】Both of them have the calibration function. You can calibrate what you need.
🙌🙌【Alarm & Delay Function】 They can alarm if the temperature or humidity level is over what you set. Cool and dehumidification delay function can extend your device's life.
🙌🙌【Multiple Use】Widely used for mushroom, mini greenhouse,etc.
Getting to know your lighting system
One of the biggest factors influencing your grow room temperature is the lighting system you are using. Every time you struggle with heat in your grow tent, the type of lighting system you use should be the first thing that you check. Depending on the lighting system you use, each one affects the room temperature uniquely.
High-pressure sodium and Metal Halides
High-pressure Sodium and Metal Halide are known to produce marijuana with the best yield, taste, and look. However, they generate a lot of heat. If you use metal/ sodium halide bulbs, you will need to know of different ways you can use to get rid of the temperature the bulbs emit.
Bestseller No. 1
VIVOSUN Hydroponic 600 Watt HPS Grow Light Air Cooled Reflector Kit - Easy to Set up, High Stability & Compatibility (Enhanced Version)
Buyers must peel off the inner blue protective film before using; 6" Air Cooled Reflector: Over 90% high reflectivity aluminum ensures soonest flourish of your plants
UL Listed 600W Dimmable Ballast: Runs on 120~240V power supply, comes with 8ft 120V power cord
HPS Grow Light Bulbs: High PAR value (Photosynthetically Active Radiation), superior quality & optimized spectrum to promote growth
24 Hour Plug-in Mechanical Timer Switch: Automates your lighting needs; Brings convenience & encourages productive growth with consistency of lighting; 15-minute On/Off, 24 hours settings; 125V, 15A, 60Hz, 1/2HP, 1875W Heavy duty construction; Timer mode can be turned off; ETL listed ensures top security & stability
US Patented 1/8" Rope Hanger (1 Pair): 8-ft long & 150lbs/pair weight capacity, solid braided polypropylene rope & reinforced metal internal gears to ensure top-safety
-$28.36 SALE OFF
Bestseller No. 2
-$20.25 SALE OFF
Bestseller No. 3
Ceramic metal halides
Ceramic Metal Halide bulbs are one of the best bulbs you can use. They give a light output that is 60 to 70 percent the amount of power they consume, thereby producing only a small amount of heat.
LED bulbs
LED grow lights bulbs are a favorite to cannabis farmers due to their ability to reduce the heat in the grow tent by 40 percent compare to an HID bulb that uses the same amount of power. In a grow room, you have to position an LED light slightly from the canopy of the plants to protect the plants from burning. LEDs are known to provide the most light for the least amount of energy.
-$9.96 SALE OFF
Bestseller No. 1
GooingTop LED Grow Light,6000K Full Spectrum Clip Plant Growing Lamp with White Red LEDs for Indoor Plants,5-Level Dimmable,Auto On Off Timing 4 8 12Hrs
【6000K White Light】Equipped with 10 Red + 74 White LEDs, this mini growing light is similar to the full-spectrum sunlight at noon,that is professionally designed for indoor garden plants.Moreover, its color rendering index is as high as 95, the light is soft and flicker-free, which is very suitable for reading lamp
【Timer Function & Multiple Settings】The indoor seedling light offer the circular memory timer function with 3 options-4h/8h/12h. When keeping power, it can automatically turn on and off every day according your settings, no more manual operation for you.【Also You Could Operate One of Them Separately,And Support 5 Levels of Dimming.】
【Easy to Install】with flexible Gooseneck & strong clamp,it allows you to place the LED plant lighting fixture in any direction to provide the best lighting angle for your plants,meet the cover around the plant.Powered by USB or AC Power Plug (adapter included )
【High Efficiency LED Lamp】as for LED power draw this mini succulent lights just comsume about 10watt and is equivalent to a 50w halogen bulb.Estimately monthly cost roughly $2 in electricity (12 hours a day). It is a great gift if you growing some desktop small plants.
【365 Days Worry-free Warranty】We offer 365 days warranty and 24h friendly customer service. If there are ever any issues about the product, please feel free to contact us and we will give you a free replacement or full refund.
-$10.00 SALE OFF
Bestseller No. 2
Grow Lights for Indoor Plants, GroDrow 150 LED Grow Light for Seed Starting with Red Blue Spectrum, 3/9/12H Timer, 10 Dimmable Levels & 3 Switch Modes, Adjustable Gooseneck Suitable for Various Plant
【5 Heads Plant Grow Lights & 150 LEDs】This plant growing lamp consists of 150 efficient grow LEDs (100 red and 50 blue). 5 head plant grow light provide a wider lighting range than traditional 2, 3, and 4 head plant light and increase the intensity of light by up to 50%, allowing your plants to receive more energy.
【3 Spectral Modes & 10 Brightness Levels】Full spectrum led grow light has 3 spectrum modes(Red, Blue & Mixed Spectrum). 10 brightness settings ranging from 10% to 100%, we can be switched at will, free to choose the most suitable brightness and spectrum for our plant growth. Makes plants grow 5 times faster than natural plants.
【Auto Cycle On/Off & Timer Function】Designed with auto circular memory timing function and there are 3/9/12H timer setting options for your choosing. Plant grow light will turn on/off by itself every day as your setting. Even you're on the travel, these grow light strips will still take good care of your plants every day!
【Strong Clip & Flexible Gooseneck】This 5 head grow lights have a strong clip and bracket support that can be stably placed and arbitrarily clamped anywhere. The indoor grow lights have a 360° independently adjustable gooseneck design, which can be rotated to any angle for your requirements, which provides a wider and more flexible range of light.
【Designed for Plants Growth 】This indoor grow lights are perfect for seed starting can meet the different needs of plants for sunlight in different growth stages. The excellent heat dissipation performance ensures the lamps are more durable and the service life is up to 80,000 hours. Widely apply to greenhouses, herb garden, indoor garden, flower bed, succulent seeds, bonsai tree, especially plants, seeds & herb.
Bestseller No. 3
LED Grow Light, Full Spectrum Grow Light for Indoor Plants, Growing Light with Timer 3H/6H/12H and Adjustable Gooseneck, 5 Dimmable Levels and 3 Switch Modes (White) (White)
This LED grow lights made of 42 high-quality LED in each bar (5 red, 37 sunlight white), provides the plants with full spectrum from 380nm to 800nm, suitable for indoor plant growth cycles. 5 dimming levels and 3 switch-mode designs, you can choose the brightness of the plant lights (20%-100%) and the number of light bars.
Auto on/off timer function available, the cycle memory timing function can be set to 3/6/12 hours timer settings, automatically turn on and off the light every day according your time settings.
Equipped with the 360 degree flexible gooseneck arms with strong, sturdy clamps at the base to grab and hold tight to surfaces, which can easily adjust the angle and distance between the grow light and indoor plants as your needs.
Easy to use, powered by USB or AC power plug, It can be connected to the adapter to supply power to the grow lamp, or it can be directly connected to power sources such as laptops and mobile power supplies.
This clip-on grow lights are great for indoor plants that require extra light in the raining, snowing or dark room, suitable for indoor plants, hydroponics, darkroom, greenhouses.
Fluorescent bulbs
Fluorescent bulbs are common to find since they are cheap and easy to use. The bulls are not huge emitters of heat. However, the temperature can accumulate if you use several bulbs together.
In what ways should you control the temperature levels in a grow room?
Adding CO2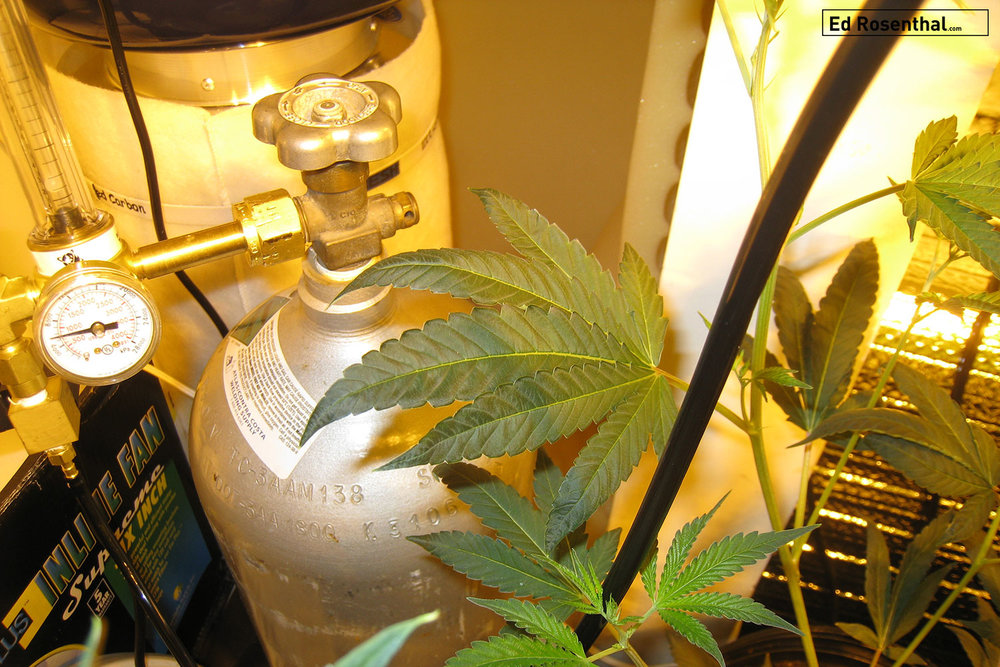 One of the ways you can manage the temperature in a grow room is by adding carbon dioxide to the air. When the air is full of CO2, plants can survive very high temperatures. However, you need an intense grow light that will make the plants grow faster hence increase their ability to stand the heat. Lights such as LEDs and HPS.
Using Fans in a grow tent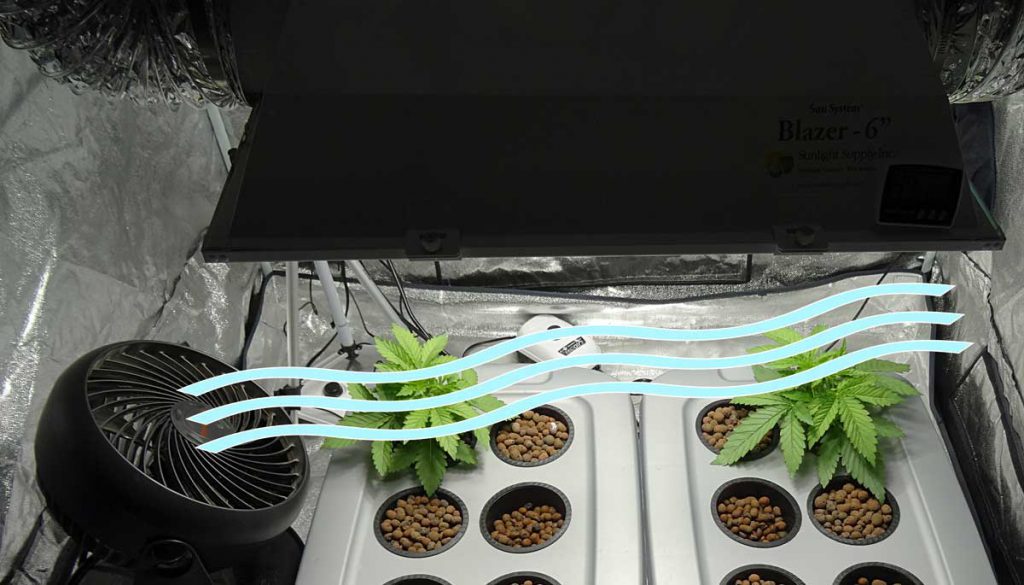 Fans alone do not get rid of the heat in a grow room. They, however, help improve the circulation of air by dispersing the heat the lamps emit and cooling down the plants. By adequately placing your fans around the grow room, you can use only a few fans to maintain the temperatures in an AC effectively.
Setting up an Exhaust Fan
You can set up an exhaust fan in your grow house in the ceiling vent to help reduce the amount of heat. Hot air moves upwards. By having the exhaust fan on the ceiling, it will suck out the warm air from the room and passively suck the cold air from the floor. It, therefore, helps in controlling airflow in your room with little effort.
-$13.99 SALE OFF
Bestseller No. 1
-$9.11 SALE OFF
Bestseller No. 2
KEN BROWN 12 Inch Shutter Exhaust Fan Wall Mounted,Aluminum with 1.65 Meters Power Cord Kit,High Speed 1800CFM,Vent fan for Commercial,Greenhouse,Attic,Shed,Shop
MULTIPURPOSE:KEN BROWN 12 Inch Shutter Exhaust Fan is perfect for removing heat, moisture, dust and unpleasant odors from any residential,commercial, industrial or agricultural space.Ideal for use in home attic, workshops, welding rooms, factories, warehouses, barns, and greenhouses.
CORROSION RESISTANT:This 12 inch exhaust fan is made with high-grade aluminum shutters and blades which can withstand moisture and high temperature and provide longevity to the fan and prevent corrosive rust from forming.
AUTOMATIC ALUMINUM SHUTTERS:This wall mounted exhaust fan includes automatic gravity shutters that open and close with the operation of the fan.
Power Cord Kit Included: This Power Cord Kit is easy to install & includes a 3-foot strain relief clamp wire connectors & installation instructions. Simplify installation of your Ventilation Fan with this easy to use Universal extension cord power kit.
SUPERIOR AIRFLOW TRANSFER:You will enjoy the power and efficiency of KEN BROWN 12 inch shutter exhaust fan which runs 120 volts ,60Hz with 1650 rotations per minute,10.5M/S,cooling and ventilating an area of 1800 cubic feet per minute!This industrial grade shutter fan can solve all of your cooling and ventilation needs.
Bestseller No. 3
iPower HIFANXEXHAUST12CTB 12 Inch Variable Shutter Exhaust Fan with Speed Controller and Power Cord Kit, 1620RPM, 1600 CFM, Silver
APPLICATIONS This 12 inch shutter/exhaust fan with automatic Shutters can help replace your ac unit by cooling your garage attic greenhouse shop or chicken coop Can easily be added to a window opening or opening in the wall along with a Speed Controller to optimize cooling
Shutter Exhaust Fan 120 Volts 63W 0. 52A 1620RPM 940CFM
Fan Speed Controller iPower Fan Speed Controller will correctly and precisely adjust the speed of your Shutter Exhaust Fan Durable 3-Pole Grounded Plug Construction No Extra Wires to Deal With
Multiple Speed One control switch for 3 Variable Speed settings OFF HIGH MED LOW
Power Cord Kit This Power Cord Kit is easy to install & includes a 3-foot strain relief clamp wire connectors & installation instructions Simplify installation of your Ventilation Fan with this easy to use power cord kit Universal extension cord power kit works.
Changing the lighting schedule
During the vegetative phase, many growers tend to expose their plants to light for 24 hours so that they can hasten the growth. However, these actions result in exposing the plants to heat for long hours, which could lead to the plant damage. You can help reduce the temperature dramatically by setting several hours of no light to the plants.
Even with the urge to maximize light exposure to cannabis, too much of it does not guarantee the best growth results.
Using a Heat resistant strain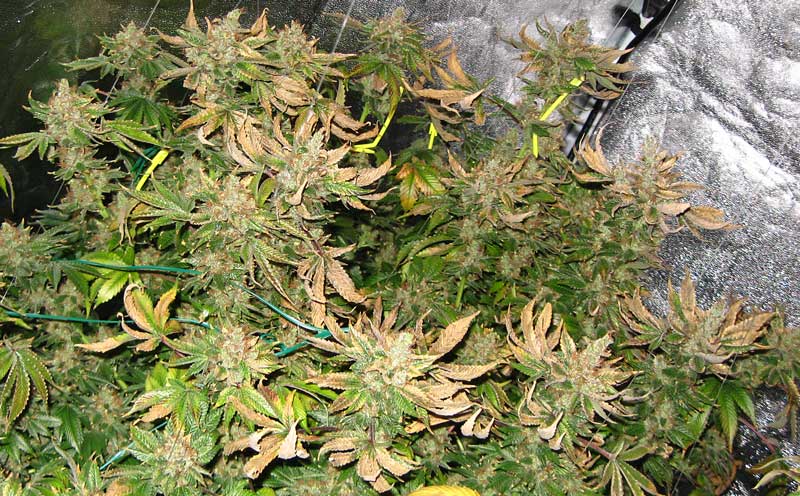 You can quite easily find some cannabis strains that are more tolerant of heat and can survive in a grow tent whose temperature is high. The strains are either Sativa or Haze. They are different from the Indica breed that originates from the cold regions. An example of such heat resistant strain is the Kaya Gold. It is a Sativa-dominant strain that is resistant to pests and east to grow. Choosing to use a heat resistant strain is the last resort you should take if you have not been able to control the temperatures of your grow tent.
Using Supplements against heat stress
Interestingly, several supplements can help your plants deal with heat stress by effectively reducing the negative impact of heat stress. No one supplement is the best at helping in heat resistance. They will all give you the same result. You should use these supplements if you have no other method left to use to clear the high heat in your grow tent.
Using Reservoir chillers
Just as important as it is to maintain the grow room temperature in a hydroponic setting, it is also of importance to maintain the temperature of the reservoir outside the grow tent. When the temperature in the reservoir is way above 70 degrees, dangerous algae may start developing. You should, therefore, get yourself a reservoir chiller.
-$115.60 SALE OFF
Bestseller No. 1
Raising the Lights
Sometimes it takes just changing the position of your lighting in the grow room to make the difference of how heat affects your marijuana plants. If the light produces heat that burns the canopy of your marijuana plants, you can temporarily raise the bulb by 10 inches. You may as well opt to dim the lights.
Using the lights at night
Since the temperatures are always cooler in the evening more than during the day, you may set up your hot grow light at night hence creating a suitable environment for your marijuana plants to grow.
Using Silica supplement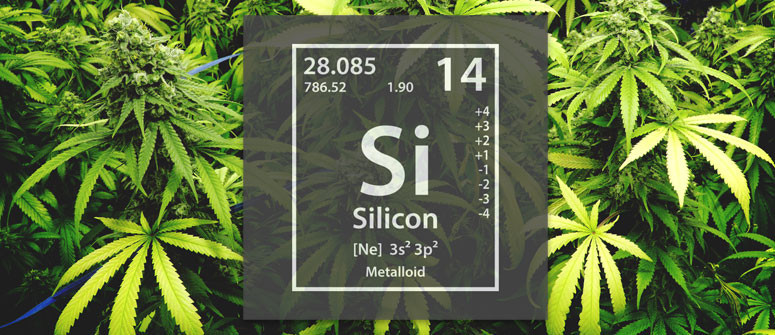 An extra dose of silica to your cannabis plants may do lots of good in making your plants heat and cold resistant. The silicate will provide you with the best results if your cannabis is already experiencing some stress. When the silica gets into the plants, it hardens the cell walls of the plants giving the plants resistance to some diseases, heat, and cold.
Summing up
Looking back at all the ways you can use to control the temperature in your grow room, one common factor that stands out is you need to have a working and effective ventilation system in your grow room. Without it, air will not flow freely; hence controlling temperature becomes a problem. It may eventually lead your cannabis plants to suffer. However, now that you are familiar with some of the different ways you can use to get rid of the excess heat in a grow room, It will become less challenging to handle the heat problem in your cannabis farm.
Bestseller No. 1
MARS HYDRO Grow Tent Kit Complete 2x2x5ft TS 600W LED Grow Light Full Spectrum Indoor Grow Tent Kit 24"x24"x55" Hydroponics Grow Tent 1680D Canvas with 4" Ventilation Kit for Grow Tent Complete System
【MARS HYDRO AMAZON SERVICE】Quickest FBA Shipment Speed +100% Satisfactory Seller Solution+30 Days Hassle-free Return + 5 Years Warranty of Grow Light =Happy Purchase, any problems will be responded within 8 hours!
【Grow Tent Kit Complete System Includes】Mars Hydro 2x2FT TS600W grow light, 24"x24"x55" grow tent, 4"inline fan with speed controller, 4"carbon filter, 33ft length flex ducting, duct clamps, timer, humidity thermometer, 3pcs 5 Gallon grow bags, adjustable rope hangers.
【HIGH EFFICIENCY ENERGY SAVING PLANT GROW LIGHT】It Consuming only 100 Watts output with 225pcs LEDs, more scientifically and energy-efficient! Max 2.0g yield, highest PAR/LUMEN output(430μmol/m².s), perfect suit 2' x 2' veg stage, 1.5' x 1.5' bloom stage. Full-spectrum led grow lamp, ideal for all growth stages. TS600W without dimmer.
【HIGHER QUALITY GROW TENT】It's made of thicker1680D canvas grow tent material(ALL OTHERS brands grow tent are 601D canvas), which is tear proof & perfect light locking; 13% denser zipper teeth helping zippers work smoother & more durable; 33% better support capacity metal frame(thickness is 0.8mm, OTHERS only 0.6), ensuring security and stability, supports up to 88lb/40kg.
【EFFICIENT 4"INLINE FAN KIT: Fan Speed】2550RPM , Airflow: 200 CFM , Noise: 28 dBA. Upgraded Inline Fan with EC motor & metal case & 3 settings speed controller, more durable & safer to use! 4" Fan Carbon Filter; 1050+ RC 48 Australian Virgin Charcoal with 33ft length flex ducting, moves air quickly & efficiently for optimal ventilation.
Bestseller No. 2
IPOW Grow Tent Kit Complete 3.3x3.3ft LED Grow Light Dimmable Full Spectrum Indoor Grow Tent Kit 24"x24"x55" Hydroponics Grow Tent with 4 Inch Ventilation Kit
Package Include: 24" x 24" x 55" grow tent, LED grow light, and 4" ventilation kit includes 4" inline duct fan, carbon filter, flex ducting, 3pcs duct clamps, thermometer and hygrometer, timer, 4pcs 5 gallon grow bags, 2pcs adjustable rope hangers.
Full Spectrum Grow Light: Dimmable full spectrum LED grow light consumes only 100W with 240 pcs LEDs. IP65 waterproof helps extend the lifespan. High efficiency that saves 50% on energy bills than HPS grow lights and delivers powerful light output to maximize the yields, idea for all growth stages.
Durable & Sturdy Grow Tent: Well-constructed with strong and sturdy steel frame. Reflective mylar interior gathers more grow lights. Heavy duty 600D oxford cloth exterior increases the durability. Reliable zippers provide smoother shut and open. Double stitching perfectly lock light inside. Waterproof tray makes your floor away from water leakage.
Effective Ventilation System: Noise-free 4" inline duct fan, Australian charcoal carbon filter and flex aluminum ducting offer a effective ventilation system. Strong and powerful airflow helps eliminate all unwanted smell, also ideal for humidity control.
Save Your Time And Money: Forget about choosing the individual item one by one. Our complete grow tent kit not only saves your time but also saves your money. Super easy to assemble and operate, even for beginner growers. Please feel free to contact us if you have any questions. We are always here to provide excellent customer service support before and after buying.
Bestseller No. 3
Indoor Grow Tent+ 1000 LED Full Spectrum Grow Light Grow Tent Complete Kit for Indoor Plants 4 Inch Fan and Filter Ventilation System Inlcuded (4" Fan Filter+1000 LED Light+Grow Tent 32" X32"X60)
Growing Tent Integrated Complete System For Indoor Plant Use Full Spectrum LED Grow Light Extremely High Output But Consumes Only 100W Electricity, Grow Tent Grow Tent with Observation Window And Floor Tray Design , 4 Inch Grow Tent Ventilation Fan And Filter Kits.
1000 Full Spectrum LED Grow Light ( 100 Lights Blue and Red ), Actual Power Consumes 100W ±3%, Save More Power Than Traditional HPS/MH Grow Lights. Inside Cooling Fan And Vent Holes Design Making Less Heat Discharge Working Stable. Suitable Multiple Kinds Of Plants Grow Period From Vegetable Grow To Bloom.
32*32*60 Inch Grow Tent:Tent With Green Observation Window And Floor Tray, Fabric Use 16800D Canvas, Tear Proof And Zipper Double Stitched Design For Perfect Light Blocking, Steel Frame Stronger For Hanging.
Ventilation System: Made Of Exhaust Fan And Carbon Air Filter: Odor Control And Effective Keep The Moist And Temperature Under a Better Growing Air Environment.
OTHER GROWING TOOLS: 2X3 GAL Fabric grow pots ,3 PCS 1/2 GAL Plastic Nursery Pots For Seed Start, 1X PH Tester, 1 Thomometer,1 Cultural Steel Tray,1 Leaf Grinder And 2 Pipe For Hobby User
-$70.00 SALE OFF
Bestseller No. 4
VIVOSUN Grow Tent Complete System, 4x4 Ft. Grow Tent Kit Complete with VS1000 Led Grow Light 6 Inch 440CFM Inline Fan Carbon Filter and 8ft Ducting Combo, 48"x48"x80"
Complete Kit Included: 48x48x80-Inch grow tent, 6 Inch 440 CFM Inline Fan, carbon filter, 8 feet of ducting, 2 stainless clamps, VS1000 LED grow light, grow room glasses, rope hangers, 3x3-ft. elastic trellis netting, 5pcs 5 gallon grow bags, temperature humidity monitor, pruning shear, and digital timer
Promote Plant Growth: VIVOSUN grow tent is equipped with a lined zipper double stitched to avoid light leaks; is made up of 100% reflective Mylar, ensuring the plants absorb the nutrients through the internal lights
Lower Costs & High Efficiency Light: VS1000 LED grow lights use the latest LED plant light technology, including Samsung LM301 Diodes, high-energy efficiency with 2.75 μmol/J; Extremely high output but consumes only 100W of electricity, making it more efficient than traditional HID lamps and other plant lamps on the market
Strong Support for Plants: Elastic trellis netting provides a sturdy support structure; The grow bags provide excellent air circulation and drainage; The design of pruning snips is perfect to use whether you are right- or left-handed with ease; The digital timer, thermometer, and hygrometer make it extremely easy to control the environment in your grow room
Advanced Grow Made Easy: The tent is supported by strong metal poles that are specially finished for smooth installation; Don't waste time buying and returning parts that may or may not be compatible or safe to use together! This VIVOSUN complete system includes every part you need to get set up for advanced grow
Bestseller No. 5
Spider Farmer Grow Tent Kit Complete 3x3x5 SF-1000 Dimmable Samsung Diodes & Meanwell Driver, Grow Tent Complete System 2.3x2.3ft Growing Tent Kit Set 27"x27"x62" with 4 Inch Inline Fan Carbon Filter
TOP NOTCH QUALITY LED GROW LIGHT: Use Samsung LM301B diodes and MEAN WELL driver; full spectrum light ideal for all stages of growth; adjustable light intensity with dimmer switch; protective coating on LEDs helps extend the lifespan; no fan, zero noise. Only consumes 100w, running 50% less power than other Blurple lamps or HPS. This light delivers a powerful light output and uniform canopy penetration resulting in maximum yields.
DURABLE & STURDY GROW TENT: 100% Reflective Mylar interior maximizes the efforts of grow lights; heavy-duty 1680D Oxford cloth exterior adds durability; reliable SBS zipper shut and open smoothly; double stitching for strength and light protection; well-constructed with strong and sturdy steel frame; plenty of openings for fans/ vents/ electrical cords; removable viewing mesh screen for viewing & removing humidity; bottom tray prevent water leakage on the floor and keep tent stay clean.
POWERFUL VENTILATION SYSTEM: Quiet and powerful 4" Inline fan and RC412 Australian carbon filter and flex aluminum ducting combo; very easy to install and use; gives strong airflow and proper air circulation.
MONEY & ENERGY SAVING COMPLETE GROW TENT KIT: Compare the cost of individual items and the cost of our complete grow tent package, our kit saves $$ and a lot of time vs buying each item separately. Designed to be user-friendly; comes with easy-to-follow installation instructions; is easy to assemble and is very simple to operate, even for beginner growers. All parts are compatible and properly matched; everything comes in 1 box with discreet packaging.
VALUE FOR THE MONEY: Getting a high-quality grow tent kit means that you'll get more value for a longer period of time. All parts are backed up by local maintenance centers in the USA. As a manufacturer specializing in the production of Led grow lights for more than 10 years, Spider Farmer has been insisting on creating more efficient, more suitable and better quality home grow equipment, being a trusted partner for every grower!