You probably know that many grow lights in the market can be quite expensive.
Some can be over $1,000 USD… and it's hard to see their value if you have never done this before. That's why it makes more sense to start with a low-cost grow light, and that's where the Galaxy Hydro 600W LED comes into play.
Let's check why it's an amazing budget-friendly grow light, which is the perfect way for beginners like you to get started. Guaranteed.
A Summary: A Cheap Choice Guaranteed to Satisfy You
I won't lie to you: Most cheap grow lights suck. But this one makes a huge difference, because it brings amazing results despite being below $200 USD. Just check its excellent benefits.
Pros:
Scientifically engineered spectrum. It will make your plants grow very well from beginning till end. Your plants will get their necessary dose of UV and IR.
Highly durable. It offers you a 50,000 hours lifespan, more than enough.
Impressive coverage. It's ideal for a 3×3 tent but can be used even in a 4×4.
Cons:
The spectrum is not customizable.
Conclusion:
If you are looking for a budget-friendly, powerful and easy-to-use grow light, then the Galaxy Hydro 6002 LED is exactly what you are looking for.
Its spectrum is ideal for the vast majority of veggies and flowers. It will make them grow beautiful and healthy all the way.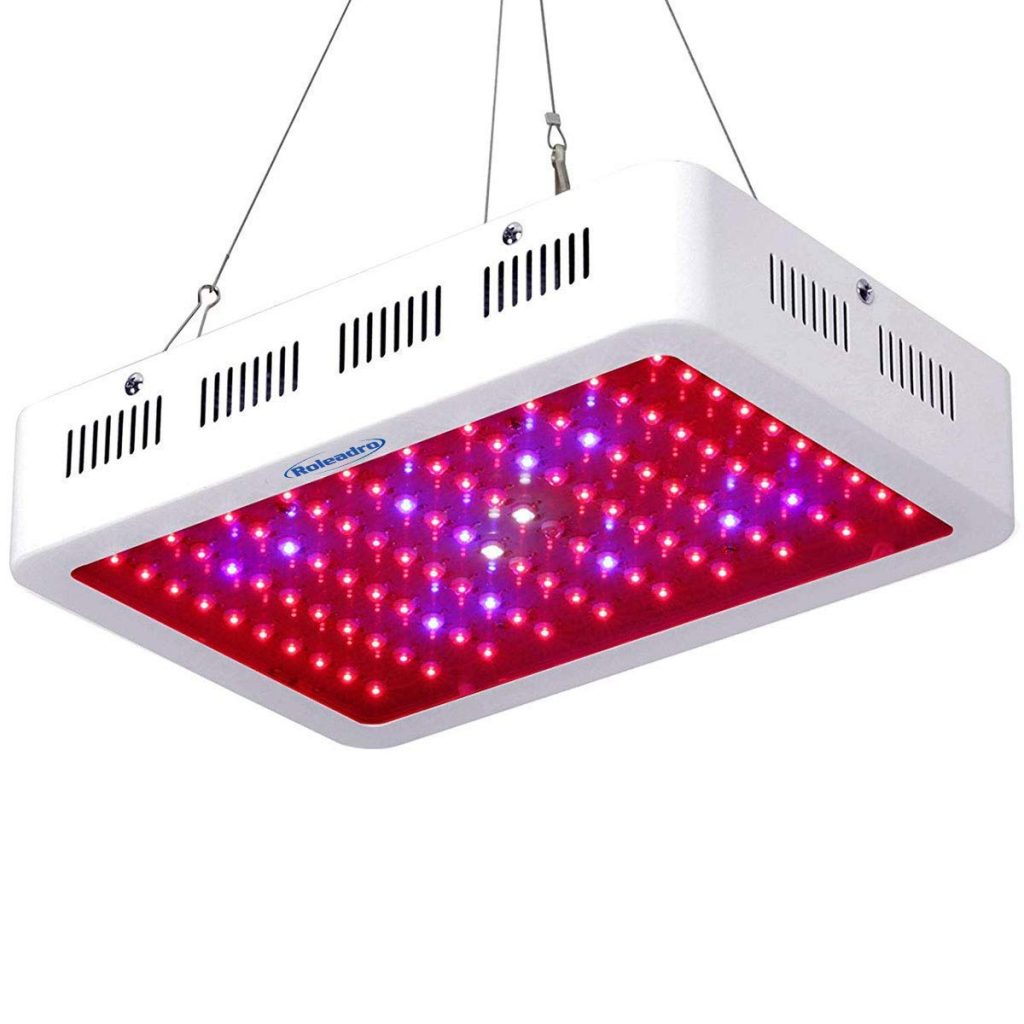 Still unsure? Want to know more about it? Then you are more than welcome to read my full revision on this product where I go in detail to explain you the advantages and disadvantages. Let's go to check it.
Complete Analysis and Revision of Galaxy Hydro 600W LED:
Fortunately it has more advantages than disadvantages, otherwise it'd not have a place here.
Let's check the most important aspects piece by piece, so you can understand what this grow light can offer you. But right before we do that, please read the following warning.
Take This Into Account:
Pretty much like the 300W version, it's better to use this light this way:
Germination: 48-56 inches
Vegetative: 40-48 inches
Flowering: 32-40 inches
You can go as low as 24 inches, but you need to see how your plants react to it. If you are beginner, then you should follow these recommendations just in case.
If your plants react well, then you can try to gradually reduce the height down to 24 inches.
Scientifically Engineered Spectrum Bring You Massive Results:
The manufacturers of this product have been in the market for more than 8 years, and thanks to this vast experience and their research, they have engineered an optimal light spectrum so your plants can enjoy the wonders of UV and IR.
Unlike other cheap options which don't bring your plants a good spectrum of UV and IR, this product brings your plants exactly what they need, so they can grow healthy, develop their colors to their max and grow resistant to diseases.
A Good Punch of Power for the Price:
For less than $200 USD you could expect this light to be weak, but it's all the contrary, because it brings you a good punch of power.
First off, it comes with 200 3-watt EpiLED Chips, and this is pretty good. Why? Because these LED lights are quite good. Although they are not top-of-the-line, they are much better than the LEDs used by other lights at the same price.
The ideal PAR-per-watt ratio for your plants:
It comes with an excellent PAR per watt ratio. Many manufacturers use lumens to measure the power of their products, but that's not good, because it's the same metric used by conventional lighting.
On the other hand the PAR-per-watt ratio is more efficient because it allow us to understand how much light the plants see and how they react to it.
This grow light has an optimal PAR-per-watt ratio which allows your plant to take advantage of the light spectrum, so they can grow healthy and strong all the way from germination to flowering.
Highly Durable and Easy to Use:
And worry not, because this light comes with two excellent large fans so it can remain fresh while making your plants grow strong.
It can be easily chained over your plants so you can give all of them plenty of this amazing light that will assist them in every single stage of their growth.
And if something bad happens with this product, remember that you are protected by a 2-year warranty. If it ever happens, just get in contact. As simple as that.
Get the Galaxy Hydro 600W LED Today:
If you are a beginner, then you must get it. Read guide for beginner here and here!
If you are looking for a powerful low-cost grow light, then you must get it.
If you are looking for a grow light for a 3×3 or 4×4 garden, then it's perfect for you.
Don't hold back and get it today by clicking the button below:
Bestseller No. 1
Grow Light for Indoor Plants - SERWING 200W LED Grow Light Full Spectrum, Plant Growing Lamp for Indoor Cultivation, Greenhouse, Grow Tent, Hydroponics (Sunlight)
SUNLIGHT FULL SPECTRUM GROW LIGHT- SERWING E1 LED grow light, spectrum covers 440 ~ 475nm blue light and 625 ~ 740nm red light most needed for plant growth. Blue light is conducive to plant leaf growth, and red light is conducive to plant flowering and fruiting. SERWING grow light will help you grow brighter and stronger plants.
GROW LIGHT FOR ANY GROWTH STAGE- Includes 60pcs red , 64pcs 5000K&132pcs 3000K LED beads. For plants in the seedling stage, this plant lamp can make them develop faster and will not grow in vain. For mature plants, this plant lamp can make the color of the flowers brighter and the fruit more plentiful.
HIGHLIGHT LED PLANT GROWTH LIGHTS- The Color-rendering index, Ra of this SERWING E2 grow light is greater than 87. The luminous flux reaches about 3735lm, which can give sufficient light intensity to indoor plants. Giving plants enough light intensity and enough light time is exactly what must be done to cultivate excellent plants.
LIGHT AND THIN BUT EFFICIENT PLANT LIGHT- Large area aluminum substrate brings excellent heat dissipation performance and can be turned on for a long time. While releasing super high brightness, the plant lamp only weighs 450g and can save a lot of energy. Equipped with hanging rope, you can hang in the ideal position at will.
CORDIAL CUSTOMER SUPPORT SERVICE- If you have any questions about our E2 sunlight plant growth light, or encounter any problems during use, please remember our kind customer support service. They will answer all your questions patiently with a cordial attitude and will seriously help you solve any trouble you have.
-$4.00 SALE OFF
Bestseller No. 2
LED SERWING 1000W Grow Lights for Indoor Plants, Full Spectrum, for Seed Starting, Vegetable and Flower
🌷PLANT LIGHT WITH SCIENTIFIC LED DIODES RATIO— This professional grade plant grow light can better satisfy the plant's desire for light through the application of different spectral LED. Include 204pcs red light&72pcs blue light&24pcs 6500K white light&4pcs IR&4pcs purple light&4pcs orange light.
🌼WORK FOR THE WHOLE STAGE OF PLANT GROWTH— From now on, you don't have to worry about what type of plant grow light to choose for your plants. This super bright LED grow light has two switches: 'VEG' and 'BLOOM'. You can choose the most appropriate lighting mode according to the stage of plant growth, or turn on both switches.
🌻OUTSTANDING PERFORMANCE&LONG SERVICE LIFE— SERWING B-1000 LED grow light , high brightness new generation 'SMD 2835 LED' as light source lamp beads, no flicker, long life, high color rendering index, color temperature optional wide range. The normal service life of this indoor grow light can reach more than 30000 hours.
🌹AN EXCELLENT COMPANION FOR PLANT GROWTH— This full spectrum plant light is IP65 water-proof and dust-proof. It can prevent water and dust during normal use, but it is not recommended to pour it directly with water. It is recommended to clean it in time when it is splashed with water and accumulated dust.
🍁HIGH EFFICIENCY AND LOW ENERGY CONSUMPTION — The Powerful 'SMD 2835 LED' make the luminous flux per watt to reach 30-40 lumen. This grow light, which is brighter than you think, will consume only one-fifth of the energy of other grow light with the same efficiency. In winter, when the sunlight is not enough, it is very suitable to turn on for more than 10 hours.
Bestseller No. 3
Roleadro Galaxyhydro Dimmable LED Grow Light, 1000W Indoor Plants Grow Lights with UV IR Red Blue Full Spectrum for Veg and Flower
【Daisy-chain connection】 You can connect 2-5 lights together by power cords. Over 5 lights in a line will damage lights. Energy & money & time saving. (Power cord & hanging hook will be shipped with light)
【Dimming Button】Brightness dimmer is on the back of the plant light, you can adjust brightness from 0%~100% to apply for different plants growing stages instead of adjust light hanging height. This is the best choice for you and your plant.
【9 Band】Optimal Spectrum:include430-440nm,450-460nm,610-615nm, 620-630nm, 650-660nm, white, IR(730nm) , UV 380-400nm, 470nm. Our grow lights contain the most useful light without any useless light for plants growth.Blue and red light have the biggest contribution to plants, which can increase the harvest.With the help of our light,your plants will absorb all necessary light source.You will find them grow healthy and crazy.
【3 Cooling Fans】 Better heat dissipation than other 1 cooling fan grow light. Light won't generate any ultra heat even works 18hrs a day, keep light has longer service life. On/Off switch is on the back of the light, don't need to cut off the power while you need to turn off the light.
【Best Service and 2 Years Warranty】 We are a professional M2C led grow light manufacturer with 9 years experience. Our R&D and Sales Department dedicated to provide customers with better products, professional plant experience and customized service. Our products come with 2 years warranty and 30 days hassle-free superior after-sale service.
Bestseller No. 4
Monios-L Grow Lights for Indoor Plants with Timer, Full Spectrum with IR, 4FT 120W(2x60W,300W Equivalent), Hanging Grow Lamp with Reflector for Seedling, Flowering, Fruiting, Plug and Play, 2-Pack
【Higher Yield】Consists of 4 types LEDs! Including blue light 5000k, warm white light 3000k, red light 660nm and IR. By incorporating red light and IR, the Monios-L upgraded grow light is designed with a more optimized full spectrum to provide beneficial wavelengths for various growth stages. Especially can enhance photosynthesis and improve flowering and fruit production.
【Make Planting Easier with Timer】Equipped with a memory timer of 3 modes cycle timing settings, this plant grow light can keep working for 9/12/15 hours,and then off 15/12/9 hours. When staying power, it will automatically turn on and off at the same time the next day according to your setting. A good choice for taking care of your plants while you are at work or on vacation.
【Ceiling or Suspending】Coming with various installation kit, these grow light for indoor plants can be either ceiling mounted or suspended mounted. Perfect combination of indoor greenhouse, plant shelf, stand or glass cabinet,etc.
【Efficient Heat Dissipation& Energy Saving】Designed with U-shaped structure and aluminum housing, speed of heat dissipation can be increased by 20% compared with T5 or T8 grow lights, ensuring a longer service life of led chips. Each 24 inches grow light bar consumes only 35W, and the light efficiency is equivalent to 160W, a good option for high efficiency and energy saving!
【Safe & Easy Installation】Adopt a new design that combines a connector and one end of grow light to fix power input port. No need to worry about safety issues, such as wrong wiring, incorrect contact or overload. Safe and convenient! Plug and Play. Comes with mounting chains and screws to meet different assembly needs. Could connect up to 3 tube lights together. Excellent choice for commercial growers and home gardeners.
Bestseller No. 5
LBW Grow Lights for Indoor Plants, 144 LEDs Full Spectrum Grow Light, Hanging Plant Grow Light with 4H/8H/12H Timer, 6 Dimmable Levels, Grow Lamp for Greenhouse Tents Veg Bloom Seedlings
【Full Spectrum Grow Light】 This upgraded plant grow light includes 144 super bright LEDs (74 Cold White + 46 Warm White + 20 Red + 2 Purple + 2 Dark Red), emitting all the light elements that plants need, significantly helping plants perform photosynthesis better and grow healthier.
【3 Timing Settings & 6 Dimmable Levels】 This grow lamp has a 4/8/12 hours timing function, which can turn on/off the light automatically at the same time every day. Our indoor plant light is also equipped with 6 levels of brightness: 10%-20%-40%-60%-80%-100%, ensuring that the plant grows in the best light environment.
【Highly Efficient & Energy Saving】With the upgraded size of 5.5in x 10.43in, this plant light provides professional care for your plants: 384.06 umolm²·s for 8in, 188.51 umol/m²·s for 12in and so on. Giving bright light, while saving your electricity bills and being more environmentally friendly.
【Easy & Multiple Ways to Install】This full spectrum indoor grow light has one sling and 4 zip ties. Use the sling to hang the light wherever you want or use the zip ties to tie to shelves. You can even place the light on the tabletop or desk directly!
【Widely Used & Best Customer Service】 LBW plant light can be widely used for greenhouses, plant shelves, tents, and outdoor gardens. Being full spectrum, it is also a great choice for seedlings, blooming, fruiting, veg, succulent, and so on. Here we offer the best service for you: 12 months warranty plus 30 days satisfaction or return guarantee, 100% money back. Contact us first if any issues and we will make it OK.