I have been noticing a lot of questions about how often cannabis plants should be watered on forums and other websites. I decided to write this post to clear up the confusion.
How often should I water my cannabis plant ?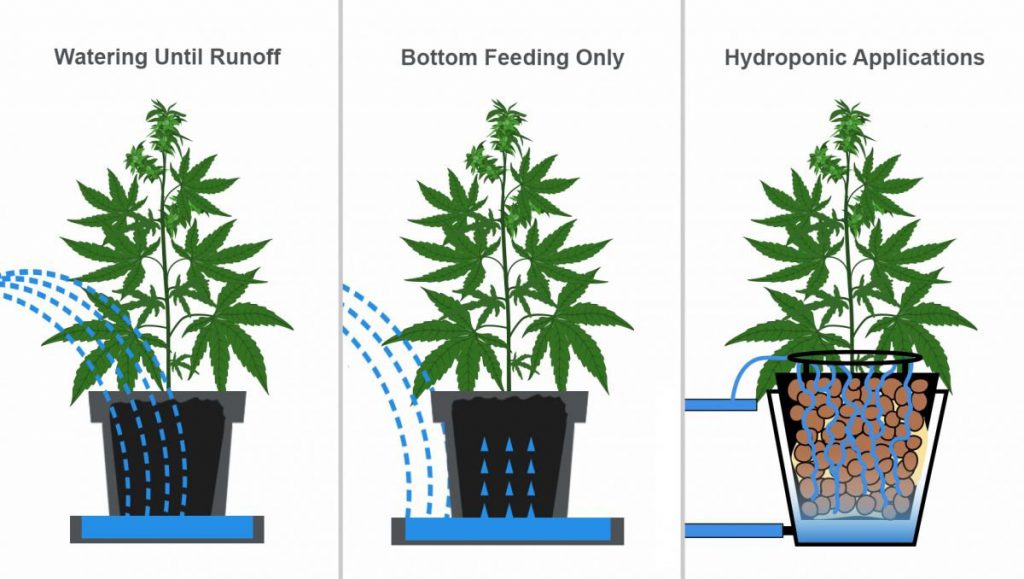 The answer depends on many things. If your growing in soil the answer is different than if you are growing in coco coir or perlite. If you have a humidity dome, or not and so on.
The biggest factor though is how big your plant has gotten and what it's root system looks like (the structure of the roots).
In general, it's a good idea to start watering your plant when the root system is about twice as big as the pot. If you can pull out more than half of the soil from a pot at once without disturbing the rest, that means you no longer need to water daily.
If you measure again and find that there is not enough soil in the pot for you to remove more than half of it, then it's time to water.
This method however won't tell you when to water for sure, there are some exceptions. One of the known ways is to feel the soil with your hand. If it's dry and feels light without any moisture left in it, then it's time to water. However this method is only reliable if you have kept your plants on a regular schedule. If you have let your plants get too big before you start watering then this method won't be reliable, in that case the leaves will show signs of being thirsty long before there is no moisture left in the soil and it's time to water.
The best way to make sure that your plant gets enough water without overwatering it, is to water until the soil is all evenly moist and not soaking wet. If you press your finger in the middle of a pot, it should pop out easily without leaving any marks.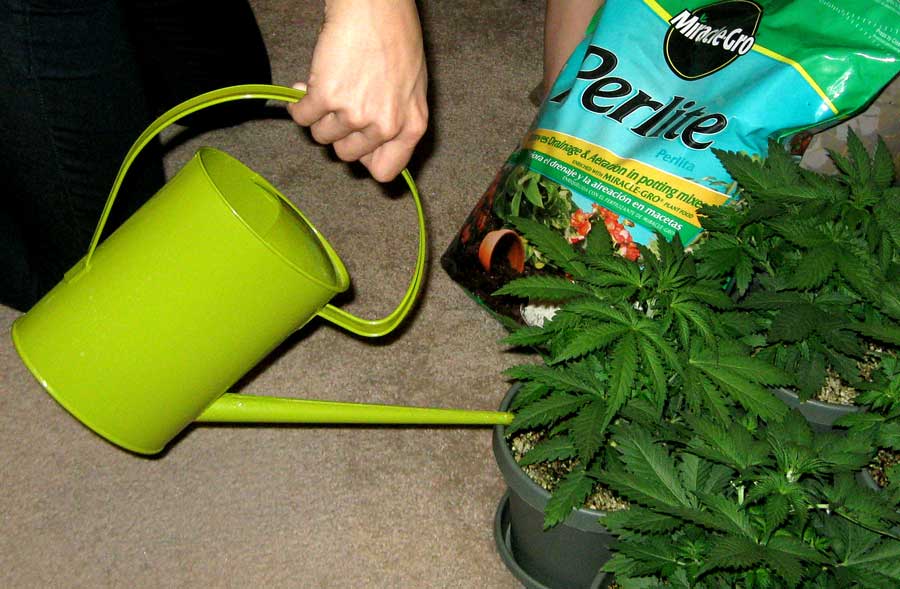 If you are growing in coco coir or perlite I suggest treating this method as more of a guideline than a rule. These two mediums contain much more air than soil and are not water retaining like soil is. This means that you will have to water your plants much more regularly since the medium dries out fast.
If you do not use a humidity dome, it's a good idea to check how dry the plant feels before watering also. Because there is no moisture in the air that can be trapped by the humidity dome, if you check how dry a plant feels and find out that it's slightly damp or even wet, but not completely dry then try to water again in another few hours. However if you feel a big difference between how moist the soil is and how the leaves feel then use the above method of comparing pot size with root system size.
Some best soil for weed:
Bestseller No. 1
Bestseller No. 2
Bestseller No. 3
Purple Cow Organics IndiCanja 1 Cubic Foot Bag, Organic Living Soil, Clean & Natural Plant Based Water Only Super Soil for Professional Indoor & Outdoor Growers
READY-TO-USE! IndiCanja is a water-only super soil containing everything needed to take your plant from seedling to harvest
WHAT THE PROS USE! Purple Cow IndiCanja is used by many professional indoor growers and farmers, but it's easy to use for the hobby growers and home gardeners as well
COMPOST-BASED! Including Purple Cow Organics' plant-based compost, IndiCanja contains essential nutrients and organic matter that may naturally increase water uptake
DEVELOPED BY A GROWER! A Michigan grower worked closely with Purple Cow over several years to fine tune the exact recipe for this product, keeping in mind the needs of the user
CLEAN AND ORGANIC! Choosing to grow in IndiCanja supports the goal of cultivating "cleanly" grown flowers and extracted compounds for human consumption
Bestseller No. 4
Bestseller No. 5
This is how I water my plants:
I check how dry the plant feels against the skin on my forearm, if it's slightly damp or even wet but not completely dry then I wait another few hours and check again. If there is a big difference in moisture between the leaves and soil, I use the pot size method described above to check if it's time to water.
In general I suggest watering your plants until all the root mass that you can move around is evenly moist but not soaking wet. If this means you have to water daily or twice daily in the beginning, then do so. It's better for your plant to be too wet than too dry for any period of time.
The only exception to this method is if your growing in soil, regular potting mix or coco coir and the plants are bigger than 2-3x the size of their pots. In that case you should try to get as much soil out as possible before watering again so not to over water (only do this once a week, for soil, not coco or perlite). This method will work better than the first when it comes to regular potting mix but still not as well as for coco coir.
Having an air humidity dome will help you give your plants the right amount of water without overwatering and can save you a lot of time. If you have a humidity dome, use it to increase the time between each watering. A humidity dome will keep water in the air for a longer period of time and will also limit evaporation from your plants which means that the plant doesn't need to lose as much water before it needs another portion of water.
Read next: How Over Watering Affects Cannabis Plants
Why is it important to give your plants enough water ?
Well-watered plants grow faster, are less prone to fungus and other problems. Also a healthy root system makes sure that your cannabis plant can get nutrients from the soil and not only from fertilizer (that's not good for your buds). It also helps if you want to cut back on the amount of fertilizer you use.
What's the best way to water ?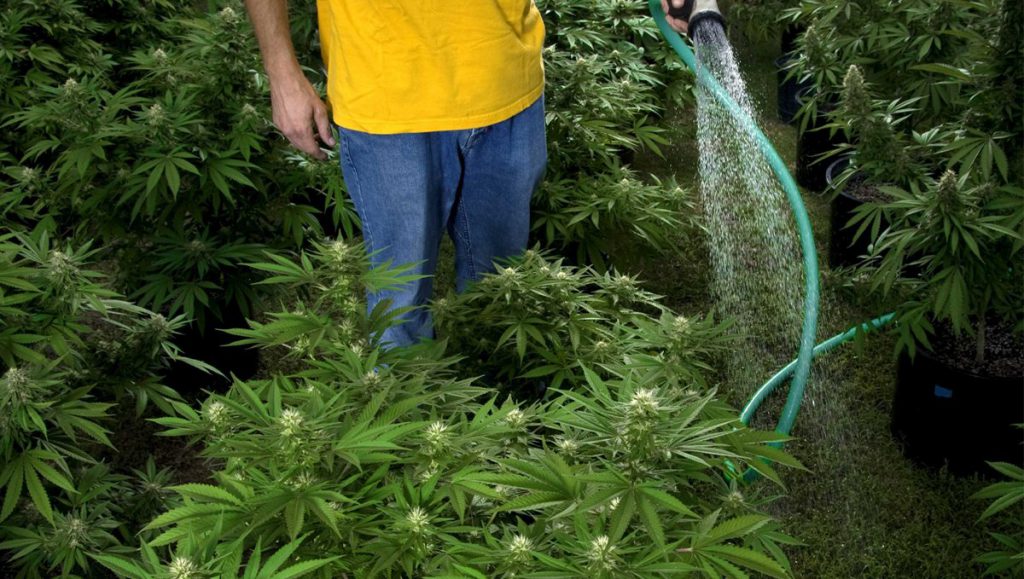 There are several ways, watering from above is one of them. Use a spray nozzle or soaker hose instead of a regular garden hose. This will make sure that your plant gets thoroughly wet without leaving dry spots (roots don't like dry spots). It also helps if you can use water at room temperature instead of cold or hot water.
Also try to avoid getting the leaves wet, it's good for them but you never know which nutrients are on those leaves. You only want to get your roots wet and keep them that way until they have absorbed as much as they can hold. I always wait till some water drops off the leaves before I start watering again.
You should be able to water your plants every other day when they get big enough and have a dense root system without any trouble. If you see that you can't remove more than half of the soil from a pot with one hand, then it's time to water.
How long can a cannabis plant survive without water ?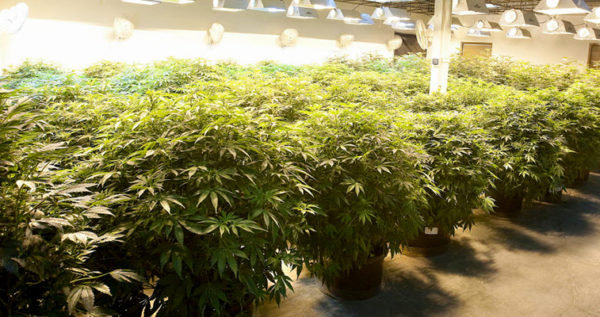 If you use a regular container, you will have to water your plant every day. If the roots start dying they will struggle to bring nutrients and oxygen through the soil. With a dense root system this won't happen though. A thin layer of living roots can keep a plant alive for weeks if it doesn't get any nutrients from anywhere else. It will eventually kill the plant but being able to survive without any food or water for a week seems like an important survival trait.
If you really want to know how long your cannabis plant can survive without water, just hang in there and live with it until it gets hungry enough to drain some of its stored energy reserves…
Do you have any watering tips for me?
Here are some tips for watering cannabis plants. You will need: a bucket, a spray nozzle and water.
1. First make sure the soil in your pot is evenly damp, if it's not time to water yet then it might be time to mix up more soil or use less of whatever you use now (perlite/coco coir/soil)
2. With one hand, move aside all the soil that you can. You should be able to hold the pot in your other hand without having any soil fall from it. If there is still a lot of soil because your plant is just small or has a thin root system, water like this until the amount of soil you can move aside with one hand is half of the total volume of soil in the pot. (you might need to water it twice to reach that point)
3. Gently give your plant a thorough watering from above, try not to get any leaves wet and be careful not to splash water on yourself. Water at room temperature if possible.
4. You can spray some of the water in your mouth to find out if it is still too cold or hot. Also try to avoid getting any water on your hands, because you don't want wet soil all over your house until it's time to mix up more soil for example.
5. After watering, always check how wet the soil is, if it's already dry in the middle, stop watering (it can happen that the top layer gets wet while the bottom part stays dry).
6. After you have watered enough to get half of the soil out of your pot with one hand, you should water less often because a dense root system won't be able to drain water from the soil as quickly.
7. If you use a regular container, water every day until you notice that your plant starts to wilt or goes white and shiny in between its leaves (this is caused by root rot). At this point your plant won't need any more nutrients for a while so you should stop watering it for a few days, until it snaps back. Then you can start watering again, but just a little bit more often than before to keep the soil damp (but not wet).
8. When using a container with drainage holes , water every day until you notice that your plant starts to wilt or go white and shiny in between its leaves. At this point, the roots are probably pretty close to rotting away. Water some more if needed but keep an eye on your plant and stop watering it when you know the soil is already moist in the middle or there are even a few drops of water coming from the bottom of the pot. Take it out before it rots too much.
9. If you are using a hydroponic setup, you can water your plant every day. Don't let the top layer of soil stay wet or dry out because it will get root rot from standing still in water for a long time and plant roots are very sensitive to direct contact with air when they are wet.
10. If you're using an aeroponic setup, water whenever needed, if there is a lot of humidity in the air and your plants aren't close to some kind of water source then it can take a few days for one watering session to be enough. You should use something like drip irrigation or have very good ventilation while using aeroponics.
Bestseller No. 1
VIVOSUN DWC Hydroponics Grow System, 5-Gallon Deep Water Culture, Recirculating Drip Garden System with Multi-Purpose Air Hose, Air Pump, and Air Stone (4 Bucket + Top Drip Kit)
DWC Bucket +Top Drip Kit: Upgraded DWC hydroponic planting system adopts an unique top drip irrigation design; It provides a water circulation to keep the nutrient water fresher and easier to be absorbed
Powerful Air Pump: Air output: 25 L/min; Voltage: 120V/60HZ; Power: 15W; The air pump and air stone provide sufficient air bubbles for each barrel through the air hose, which can promote the growth of plant roots effectively
Grow Faster, Harvest More: The upgraded DWC system enables plants to grow faster and produce higher yields; Compared to RDWC, It has independent planting units, which can flexibly grow different plants
Complete DWC Hydroponic Kit: This hydroponics kit contains 4x 5-gallon PP plant buckets; 4x 8-inch baskets; 4x drip irrigation sets; 1x air pump; 4x air flow regulators; 12m air tubes ; 4x air stones; 1x divider; 4x clay pebbles packs; 4x visual water level indicators; 1x check valve; 4x air valves; 1x instruction booklet
Wide Range of Applications: This complete hydroponic bucket system easily fits in grow tents, open areas in gardens, balconies, or offices, homes; Ideal for planting vegetables, fruits, flowers, and crops
Bestseller No. 2
iDOO Hydroponics Growing System 12Pods, Indoor Garden with LED Grow Light, Plants Germination Kit, Built-in Fan, Automatic Timer, Adjustable Height Up to 11.3" for Home, Office
20% Faster than Soil Planting: The integrated low noise pump of hydroponics growing system aerates the water to stimulate plant growth while the upper fan simulates the outside breeze at timed intervals. Grow your plants 20% faster than the traditional soil planting method.
4.5L Water Tank and Fan: Hydroponics growing system built-in a fan which spreads pollen in florescence, disperses heat in germination. Indepandent 4.5L water tank can support plants to grow for 1-2 weeks in the growth period. A visual window can see how much water in tank.
Easy-Setup Germination Kit: 3 steps in all to set up the hydroponic growing system machine. All the factors needed for plant growth - light, simulated soil are included in the hydroponic growing system.
2 Growing Modes: 22-Watt LED light of hydroponics growing system turns on/off automatically, simulate the sunlight spectrum, promoting plants' photosynthesis in any weather. Vegetables Mode emits blue light, red light, far red light and white light; Flower/Fruit Mode emits red light, far red light and white light.
Growing 12 Plants at Once, Up to 11.02" in Tall: The height of the lighting part of the hydroponics growing system can be adjusted for plants at different growth stages. Grow 12 plants at a time, works up to 11.02 inches.
-$12.00 SALE OFF
Bestseller No. 3
LAPOND Hydroponic Grow Kit, Hydroponics Growing System 3 Layers 108 Plant Sites Food-Grade PVC-U Pipes Hydroponic Planting Equipment with Water Pump, Pump Timer for Leafy Vegetables
This hydroponic outdoor grow system is designed for fast, maximum-convenience vegetable gardening. Perfect for beginners! No experience needed.More nutritious and better-tasting than soil-gardened produce because oxygenated water and nutrients are delivered directly to the roots.
Soilless cultivation with nutrient film can meet the production potential of crops; Compared with traditional soil cultivation, the yield can be doubled with requiring less water and less space.
Adopted food-grade PVC-U pipes,each pvc pipe diameter is 2.48"/63mm,hole size is 1.2"*1.2"/30mm*30mm with ample space for vegetables,flowers and plants.Suitable for lettuce,spinach,pakchoi,cabbage,radishes,strawberry,herbs,rape,beets,garlic seedlings,canola,celery,etc.
The water pump with timer allows you to set the on time at 5/15/30 minutes intervals and off time at 30/60/120 minutes intervals to reach the nutrient film technique,The circulation mode can also be set manually or automatically according to demandmake, make the pump more durable,save nutrient solution and make the vegetables grow better!
Extremely simple to assemble and use,only need nutrient solution(not include), no odor, very clean; It is easy to take care of, no arable land, clear weeds, save time and effort.
-$20.00 SALE OFF
Bestseller No. 4
VIVOSUN Hydroponics Growing System 108 Plant Sites, 3 Layers 12 Food-Grade PVC-U Pipes Hydroponic Gardening System Grow Kit with Water Pump, Pump Timer, Nest Basket and Sponge for Leafy Vegetables
High Yield and Quality: Soilless cultivation with nutrient film can meet the production potential of crops; Compared with traditional soil cultivation, the yield can be doubled with requiring less water and less space
With Timer to Save Effort: This hydroponic growing system kit of PVC has a timed circulation system; The default setting of the timer allows the pump to work for 5 minutes every 30 minutes to reach the nutrient film technique; The circulation mode can also be set manually or automatically according to demand; Not only makes the pump more durable, saves nutrient solution, but also makes vegetables grow better
Easy to Assemble & Use: This hydroponic gardening system is extremely simple to assemble and use; Great for beginners and no experience required; It is easy to save time and energy with no arable land required, which means it's suitable for indoor and outdoor
Durable and Widely Applicable: Each food-grade PVC-U pipe is 4.3 feet(1.3 meters) long and 2.5 inches (6.3cm) in diameter with 108 sites for vegetables, flowers and plants; The hydroponics growing system kit of PVC for indoor and outdoor is especially suitable for leafy vegetables in home and offices, such as lettuce, rape, celery, beets, bell pepper, garlic seedlings, canola and so on
What You Get: The plant germination kit has 3 layers; Comes with 1 set of planting pipes, 1 water pump timer, 1 water pump, 1 tube, 1 power plug, planting basket and sponge, 1 tweezers, 3 instructions (planting instructions, assembly instructions, timer instruction manual) and 1-year warranty
-$18.00 SALE OFF
Bestseller No. 5
VEVOR DWC Hydroponic System, 5 Gallon 8 Buckets, Deep Water Culture Growing Bucket, Hydroponics Grow Kit with Pump, Air Stone and Water Level Device, for Indoor/Outdoor Leafy Vegetables
8PCS PP Buckets: Our DWC hydroponic system is equipped with 8 buckets made of high-quality PP material for long-lasting use. Each plant bucket features a 5" basket and can hold up to 5 gallons, large enough to help you grow multiple plants at a time.
Powerful Air Pump & Air Stone: Air Pump Voltage: AC120V 60HZ. Air Pump Power: 10W. Air Flow: 25 L/min. The air pump and air stone used for the deep water culture provide plenty of oxygen to each bucket via air hoses, helping to build a healthy root system faster.
User-friendly Design: The recirculating deep water culture system is water-saving, labor-saving, and high-yielding. It features tight seals to ensure no leaks and inline check valves to avoid reverse flow. Besides, there is a water level device on the side of the bucket to allow you to observe the water condition at any time.
Complete Hydroponic System: The DWC bucket system is easy to use with complete accessories, including 8 planting buckets, 12 m air hose, 1 set of connectors, 8 water level devices, 8 check valves, 8 air stones, 1 air pump, clay pebbles, and 1 instruction manual.
Wide Application: You can enjoy fresh vegetables and fruits with our DWC system. It is suitable for the grow tent, greenhouse, garden, balcony, office, home, and other indoor or outdoor places without soil.