Growing MARIJUANA crops for commercial purposes requires the use of more and bigger products and slightly larger spaces to accommodate the number of crops. This is so especially for indoor growers with limited spaces as compared to outdoor growers. There are however grow tents in the market that can accommodate larger number of crops. The problem however comes in finding the right LED grow lights to light up larger spaces and give all the crops full spectrum coverage and equal lighting.
LED grow lights as every weed grower knows are the best solutions for natural lighting in a grow space. While there are many products in the market that can offer enough lighting for your commercial weed crops, not all are as effective as the claims. We reviewed one of the most quality LED grow lights in the market by the name HLG 550 V2 for those venturing into higher yields of weed for commercial purposes and it will not disappoint.
HLG 550 V2 enhances proper growth for all your crops. Before we look at the full review of the product, below is a summary of why it is one of the best LED grow lights in the market. You can also compare the same with other notable LED grow lights such as AGLEX 2000 Watt LED Grow Light and iPlantop LED Grow Light.
A summary of the things that make HLG 550 V2 stand out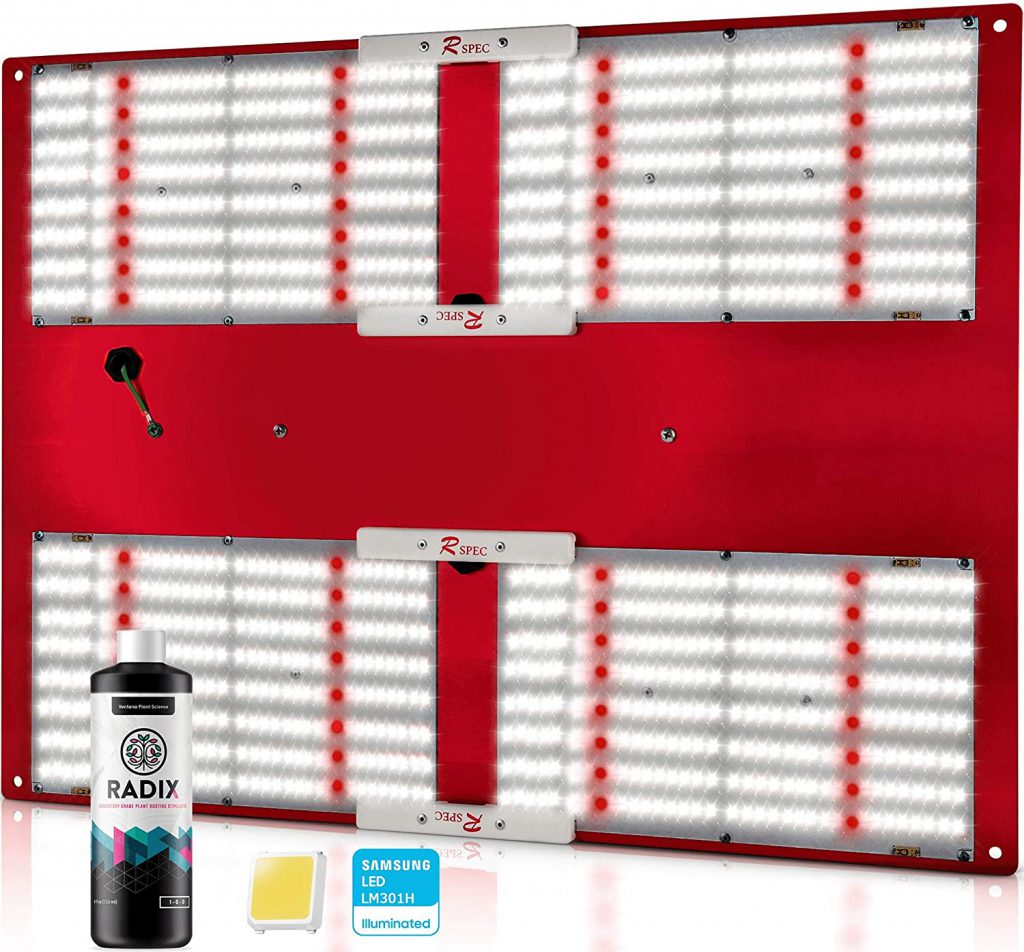 Pros
Advanced light technology
The advanced light technology of the grow light ensures that crops get rapid growth in all their stages
Full spectrum light
Covers all the crops for responsible growth especially during the vegetative and flowering phases
Has a dimmer
The dimmer allows the lights to go to a minimum when the crops do not need too much light
Energy saving
Even though it has a high output, its energy consumption is low
Beautiful design
In spite of its large nature, the light has a beautiful cool design that looks good to the eye
Warranty
It comes with a three-year warranty
Affordable
For its efficiency, the quantum LED grow light is worth every penny
Lightweight
Cons
No fans
Some people may worry that it has poor heat dissipation because it does not have any cooling fans. The contrary is the truth because the product has an advanced technology that allows it to keep the heat at allowed levels.
HLG 550 V2 Full Review
For all your weed growth stages, the HLG 550 V2 should be your to go to choice. If you are growing weed for commercial purposes, you need LED grow lights that will offer your crops everything they need. The grow light has four Samsung custom designed quantum boards that are both reliable and efficient. The custom designed quantum boards use white light technology that allows them to channel their complete focus in the growing weed crops.
Assembled in the USA, the quantum board enhances the photosynthesis process of the crops that the crops require for germination and flowering. By providing a great penetration of canopy light, the pants grow with all the requirements they need which makes them more healthy leading to better quality and higher yields. The lights are perfect for a 4X4 GROW TENT and other grow rooms that need quality and efficient diffused light.
The HLG grow light focuses mainly on the yellow and green lights for crop growth. The yellow and green light is invisible to the eye but effective for the crops during the vegetative and flowering phases. Though the LED grow light does not have any cooling fans, the board keeps itself cool and is actually one of the coolest LED grow light in the market.
Unlike some lights that are brighter in the middle and weaker on the outsides, the light of HLG is uniform and all the crops in the grow area get an even distribution of light. It also comes with dimmable features that allow you to reduce the lighting to a minimum of 240 watts. This is great especially during some of the growing phases of your crops.
Also to put your mind at rest, the product comes with a manufacturer's warranty of three years and a guarantee of quality for all the phases of the cannabis life in the grow tent. The light is also a great choice for growers that want to switch from the traditional lighting bulbs to LED. The package includes the HLG 550 V2 led grow light and a 120 v power cord.
Wrapping it up
Samsung is one of the most popular manufacturers of quality products in the world. The fact that HLG 550 V2 uses Samsung LEDS, says the LEDs are of the highest quality. It is the best choice for efficiency and quality and with its super saving features, you possibly cannot go wrong. It is lightweight unlike many other large LED lights in the market, it comes with dimmable tips and it has impeccable diffusion of light.
Make your crops grow happily and have fun while watching them grow with the help from this wonderful product and you will not have any regrets. Read our earlier articles on LED GROW LIGHTS to compare this grow light with other quality grow lights in the market.
Bestseller No. 1
KingLED 2023 Newest 2000w LED Grow Lights with Yield LEDs 3x3ft Coverage Full Spectrum Grow Lights for Indoor Hydroponic Plants Greenhouse Growing Lamps Veg Bloom Daul Mode
HIGH QUALITY LED GROW LIGHT: KingLED grow light has adopted the newest LEDs to provide high PAR output, high energy efficiency with 2.8 umol/J while improving light penetration. Perfect for 3x3ft vegetative coverage and 3x3ft flowering coverage
FULL SPECTRUM LED GROW LIGHT: The proportion of the spectrum has been adjusted in order to provide more matching spectrum for MJ, provides full spectrum lighting of natural light for plants, veg and bloom modes are designed to provide proper light for plants in different growth stages from seedling to flowering to greatly increase your harvest.
COST-EFFECTIVE LED GROW LIGHT: Different from the traditional grow lights, Our 2000W LED light adopts a high-tech SMD LEDs and reflector technology , compares to traditional 1000W HPS/MH while consuming only 200W! It provides brighter light and save more electricity which also can save a lot of money for you
DURABLE LED GROW LIGHT:Multiple high-speed mute fans and upgraded aluminum radiators enable the light bulb to work at 50°F to 60°F that is lower than other lamps. In a lower temperatures, your plant won't be burned which could increase your lighting time and promote plant growth, Super long use time, so that you do not have to change the light frequently
PROFESSIONAL SERVICE: 3 years Professional Service and free return for 90 days. KingLED Laboratory has more than seven years of sales with after-sale service team professional in design, sales and production for the best products and service for the majority of customers. If you have any questions, please contact us freely, and we will reply within 24 hours to provide you a satisfactory result
Bestseller No. 2
KOSCHEAL LED Grow Light Full Spectrum 2000W, Plant Grow Light with Veg & Bloom Switch for Hydroponic Indoor Plants LED Grow Lamp with Daisy Chain, Output 239W
👍HIGH EFFICIENCY LED GROW LIGHTS: KOSCHEAL 2000 watt grow light full spectrum has adopted the newest LM301B diodes and the newest SMD LED technology provides the highest PAR/LUMEN output, high energy efficiency with 2.8umol/J while speeding up photosynthesis, designed to replace a single-ended 400watt HPS/CMH grow lights.
👍UPGRADED COMMERCIAL LED GROW LIGHTS:Daisy chain compatible to make fewer cords,which can connect with other grow lights to extend the coverage.No more than 3pcs growing lamps can be connected and used together by power cords.Energy & money & time- saving.The power supply works on 90VAC to 277VAC,suit for large rooms and commercial Setups.Perfect for 4'x4' vegetative coverage and 3.5'x3.5' flowering coverage.
👍GROW LIGHTS FOR INDOOR PLANTS FULL SPECTRUM:According to the light compensation point and saturation point of the plant(MJ),the more suitable spectrum of the plant(MJ) was proportioned.Total 596 LEDs included 460nm,620nm,730nm(IR) and 396nm(UV) which can replace natural sunlight.UV diodes stimulate anthocyanins,which improve the quality of fruits and flowers.
👍SAFE&DURABLE 2000 WATT LED GROW LIGHT:Without the design of the reflector because the led reflector is not heat-resistant.If a short circuit occurs,the reflector is easy to melt and fire.We adopted cooling fans design of high speed &super quiet & upgraded aluminum cooling heat sinks so that the heat dissipation efficiency is improved and the light decay is slowed down.Save the cost of changing lights frequently.
👍WORRY-FREE PURCHASE: We promise 30 days money-back guarantee and US local after service for 3 years. We will reply within 24 hours for you. If you have any questions, please feel free to contact us.THX!