Every cannabis grower intends to harvest good yields irrespective of whether he or she is growing cannabis commercially or for their personal use. One of the best ways to ensure that you get high returns from your weed is to have big buds on your crops. Getting your plants to produce bigger buds requires dedication, patience, and hard work.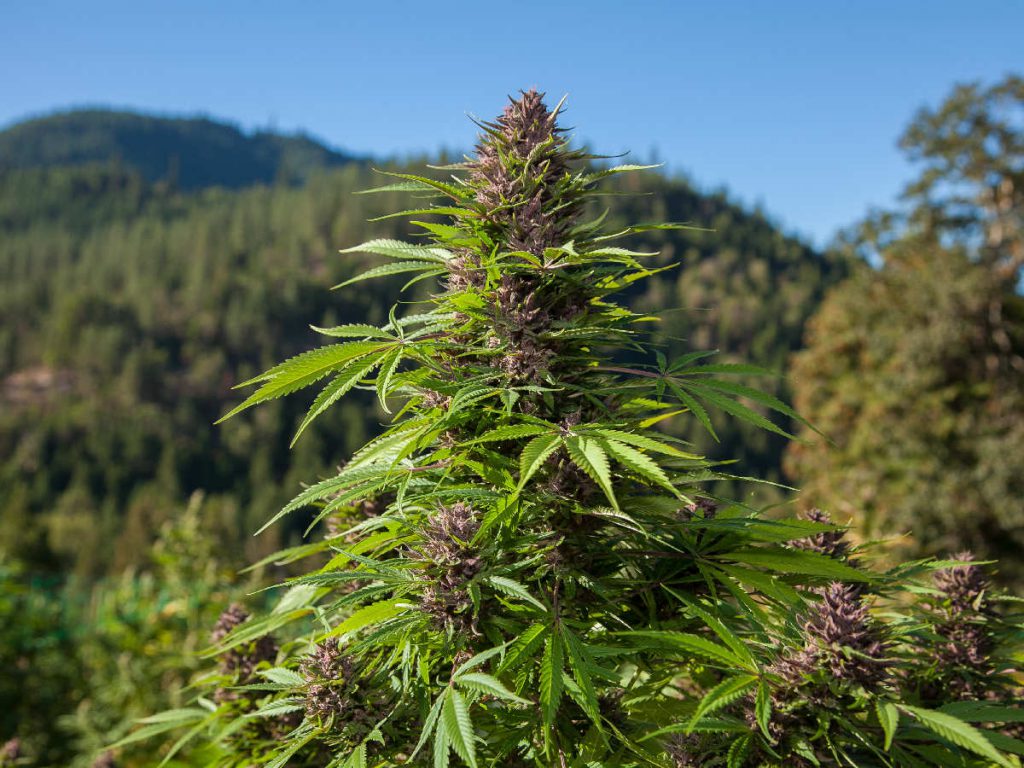 You also need to ensure that you follow all the growing guidelines, feed the crops with all the right ingredients, give them enough light, and show them some tender loving care. Outdoor weed growers have it easier than indoor growers do because they do not require as much input in terms of growing equipment for the growth of their weed. Having it easier than indoor growers, however, does not mean sitting back and allowing nature to take its course for the healthy growth of the crops.
Just like indoor growing, weed growing outdoors needs just as much care as that growing indoors. If you let nature take its course, the result will be small buds, weak growth, and minimal low-quality yields. Read on to learn more about how to grow bigger buds outdoors.
See also:
Choose the right strain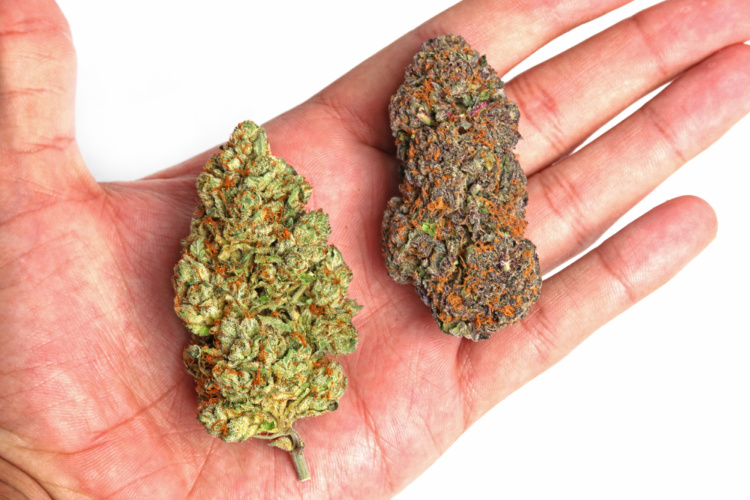 Before you even go to the other steps that you can do to the crops to grow bigger buds, you should ensure that you choose the best strains to grow. The genetics of the plants play one of the most significant roles in the kind of buds and harvest you will get. Where you buy your strains will also matter. For best results, make sure you by your seedlings from reputable online seed banks.

Prune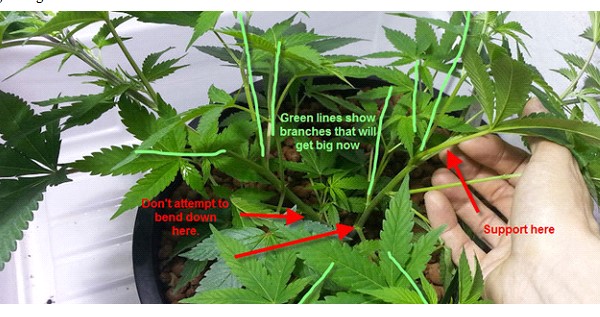 One of the best ways to ensure that your outdoor plants grow larger buds is by pruning. Some people assume that pruning is probably getting rid of too much of the plant foliage, but it is not. As the plants grow bigger, they form nodes, which translate to available locations for more bud formation.
Having more nodes or more buds, however, does not lead to having better quality. Having too many buds growing on the lower parts of the plant instead of the upper part of the plant means that the buds do not get enough light to make them grow large and healthy. The upper part of the plant canopy blocks light from reaching the lower sections, which leads to buds not maturing into anything you would be proud to see.
To ensure that you get larger buds, you need to prune off the nodes and branches on the lower parts of the plant in order to allow light to penetrate through properly. Doing this creates larger plant canopies that absorb light better. This kind of pruning called "lollipopping" enables the buds at the top of the plant to receive more nutrients and energy in just one take, making them grow larger and healthier.
Train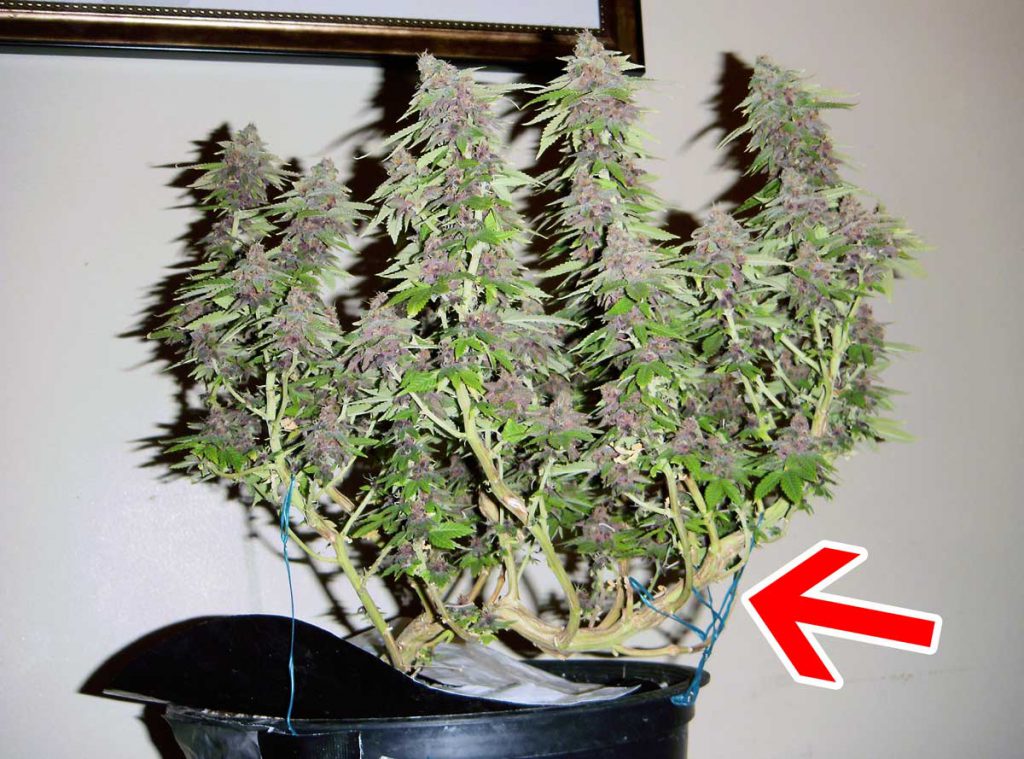 Training your cannabis plants is another great way to grow bigger buds. Allowing your outdoor plants to improve without any help, leads to some of the plant stalks growing more extensive than the branches surrounding them. When this happens, the large stems block the surrounding and lower branches from receiving enough light.
With less light, colas and buds on the branches surrounding the large stalks lack enough sunlight resulting in less formation. Stress training of the plants comes in handy at this point. The exercise entails bending the branches and tying the stalks to prevent them from growing higher than the branches.
Stress training helps to make the plant canopy even with the stalk and all the surrounding branches, which in turn leads to even distribution of sunlight. Stress training is not an easy exercise to carry out, especially for first-time growers. It is delicate, and if you are not careful, the stalks can snap when you are trying to tie them.
Lighting
The difference between growing marijuana indoors and producing the same outdoors is that with the latter, you can control the lighting system for the crops. What this means is you choose the light units best for the crop growth, you select the distance between the lighting system and the plants, you select the wattage, and the hours the plants need to receive light. In outdoor growing, you depend on only the natural light from the sun, which you cannot control.
Even though you cannot control the power from the natural source of light, or the sun, you can control the space your crops have between them to ensure that they get even distribution of light. In a grow tent, you can give a space of 3 by 3 feet between crops, but outdoors it is advisable to increase the area to 5 by 5 to ensure that there is no overlapping of colas or leaves. Allowing more light penetration into each plant is a sure way of growing bigger buds.
Spacing the plants may lead to a reduction in the number of crops, but it also means you get more yield from potent and healthier-looking buds. Make sure that no crops grow under trees or anything that can block the light from reaching every part of the plant.
Bestseller No. 1
Aerospring 27-Plant Vertical Hydroponics Indoor Growing System - Patented Vertical Hydroponic Kit for Indoor Gardening - Grow Tent, LED Grow Lights & Fan - Grow Lettuce, Herbs, Veggies & Fruits
EASY TO USE AEROPONIC SYSTEM FOR YOUR HOME: Our systems are designed to deliver high productivity and ease of use, with a focus on functionality. The vertical systems use aeroponic technology, allowing for increased air and oxygen to the root zone, promoting greater growth. Grow 27 plants in a small space measuring just 34" from corner to corner; 74" tall including tent, wheelbase, bucket and tower. Well suited for beginners and advanced hydroponic growers
2-IN-1 CONVERTIBLE SYSTEM, EASY SET-UP: The tent delivers 30% increased growth when zipped. Using a hexagonal design, the position of the 6 grow lights expose the plants to increased light for greater yield. Grow indoors all year round; remove the indoor kit and grow outdoors during warmer months with the 20' outdoor rated pump power cord. The system is delivered in one box measuring 20" x 24" x 27"; Detailed installation guide included; 2 hour assembly, no tools required; Seeds not included
GROW SMART & EAT HEALTHY: Hydroponic and aeroponic systems use a fraction of land and water compared to traditional gardening. Growing your own food at home is a sustainable food source, while also addressing food safety and security in today's changing world. The 20 gallon water reservoir, the largest in its class, requires less frequent refilling, while also allowing for better nutrient management and stability. The internal hose is easily detachable for draining and changing water
PREMIUM QUALITY & ENVIRONMENTALLY COMPLIANT: We make our systems with the highest quality components. The system Includes the Sicce Syncra Silent 1.5 pump, 6x23W foldable Tri-band LED bars, full spectrum lights covering 400-700nm, Oxford D600 tent material with highly reflective white interior panels, 200mm quiet exhaust fan and Smart WiFi Timer for light and irrigation automation. Aerospring are manufactured in Singapore and adheres to strict quality assurance and environmental standards
EXCELLENT CUSTOMER SUPPORT & COMMUNITY: We pride ourselves on our customer service and support. Aerospring owners get exclusive access to our online community, for growing tips, grow guides, troubleshooting and guidance. The system comes with 27 Aerospring growcups and 27 Rockwool cubes so you have everything you need to start growing
-$84.00 SALE OFF
Bestseller No. 2
Green hut Grow Tent 96"X48"X78" 600D Mylar Hydroponic Indoor Grow Tent with Observation Window, Removable Floor Tray and Tool Bag for Indoor Plant Growing 8X4
HIGHLY REFLECTIVE — The grow tent includes a removable Mylar floor tray, and a 100% light-proof, tear-proof reflective Mylar lining to assist your indoor growing light fixtures and equipment. Increase the intensity of your grow lights and retain heat to keep your grow room at the right temperature for your plants, herbs, flowers, fruits, and vegetables to thrive
STURDY FRAME& EXTRA-THICK MATERIAL— Heavy duty all steel poles which are rated to handle at least 110 lbs. The frame is specially finished to ensure smooth installation and safe handling.The top-quality 600D Mylar is tear proof and double stitched for perfect light blocking
LIGHT PROOF — The large heavy duty Zippers & 1.5" ribbon protect the tent from light leaking and ensure durability and long-lasting use. Let you control the climate and lighting so you can grow any plant in any place safely and easily
EASY ASSEMBLY — Our grow tents are easy to install with an instructional manual. This is a great hydroponics growing kit system starter, whether you want to set up your indoor garden in an apartment, condominium, greenhouse, or any rented space
UPGRADED CONNECTOR— Unique patent, Durable PA Material Adopted, Anti-rust Reinforced Design, Adjustable Tightness According to The Pole, Hold Poles Tightly for Firmed Support. Upgraded connector and old connector are shipped randomly in the short term.
Bestseller No. 3
Spider Farmer Grow Tent Kit 4x2 Complete SF-2000 LED Grow Light with Samsung LM301B Diodes & Dimmable Lights 24" x 47" x 71" Growing Tent 4 Inch Inline Fan Filter Ventilation System Grow Setup Kit
【TOP NOTCH QUALITY LED GROW LIGHT】: Use Samsung LM301B diodes; full spectrum light ideal for all stages of growth; adjustable light intensity with dimmer switch; protective coating on LEDs helps extend the lifespan; no fan, zero noise. Only consumes 200w, running 50% less power than the HPS or Blurple lamps. This light delivers a powerful light output and uniform canopy penetration resulting in maximum yields.
【DURABLE & STURDY GROW TENT】: 100% Reflective Mylar interior maximizes the efforts of grow lights; heavy-duty 1680D Oxford cloth exterior adds the durability; reliable SBS zipper shut and opens smoothly; double stitching for strength and light protection; well-constructed with strong and sturdy steel frame; plenty of openings for fans/ vents/ electrical cords; removable viewing mesh screen for viewing & removing humidity; bottom tray prevent water leakage on the floor and keep tent stay clean.
【POWERFUL VENTILATION SYSTEM】: Quiet and powerful 4" Inline fan and RC412 Australian carbon filter and flex aluminum ducting combo; very easy to install and use; gives strong airflow and proper air circulation.
【MONEY & ENERGY SAVING COMPLETE GROW TENT KIT】: Compare the cost of individual items and the cost of our indoor grow complete kit, our kit saves $$ and a lot of time vs buying each item separately. Designed to be user-friendly; comes with easy-to-follow installation instructions; is easy to assemble and is very simple to operate, even for beginner growers. All parts are compatible and properly matched; everything comes in 1 box with discreet packaging.
【VALUE FOR THE MONEY】: Getting a high-quality grow tent kit means that you'll get more value for a longer period of time. We provides 5 year warranty and has maintenance center in the USA. Spider Farmer has been insisting on creating more efficient, more suitable and better quality home grow equipment. For any questions, feel free to e-mail us and we will help you resolve it. Quality backed by our ironclad!!!
Bestseller No. 4
The BudGrower 48" x 48" x 80" Complete Grow Tent Kit - 600 Watt LED Grow Light, Rope Hangers, Grow Plant Pot Soil, Heat & Humidity Monitor, Electronic Timer & More - Easy Indoor Setup Grow Kits
TOP INDOOR GROW TENT: Our 48" x 48" x 80" grow tent comes with 600Watt LED Grow Light unit working in unison (All-in-one with ballast built in):Full spectrum layout, reflector design and upgraded aluminum cooling heat sinks and Upgraded Cooling, ETL. Works great in a closet, pantry, or corner of your room. Filtration System is through 4" fan, high CFM Inline Exhausting Fan with 5-speed controls.
GOOD GROWING ITEMS IN A SINGLE BOX: Get a supply of 4" carbon air filter, 2x steel ducting, 4x Duct Clamps, 3x Rope hangers, 4x 5-Gallion Grow Pots and 14" plastic saucers, Heat & Humidity monitor, Electronic timer, 2x Clip Fan, Pruning Snip, 2x Germination Domes, 10x Rapid Rooter, Power Cord, Leather gloves, 2x 16oz and 2x 32oz Fermenting jars, Drying Rack - 2.2ft 4 Layer Clip on Hanging Herb Dry Net.
DURABLE TENTS: Taylor made tents for a taller easier grow and to ensure long-lasting use. Premium Indoor Grow Tent Room Reflective 600D Mylar Hydroponic Non-Toxic Hut (Hulk Series). We assemble every small, medium and large indoor or house plants grow kit by hand with the highest quality items to ensure an efficient and enjoyable growing experience.
BEST FOR ANY KIND OF PLANTS: Start planting a flower, veg, or herb garden with these grow kits. It comes w/ specially formulated (Two Bags/10lbs) Kind Soil "Hot Soil" and Fox Farm Potting Mix (1.5 Sq-Ft) which behaves like little sponges that control the water well. A complete set of indoor grow kits for beginner and advanced growers/planters.
TOTAL GROWING SOLUTION: Our team of experts has sourced the best super-soils, tents, grow LED & HPS lights, fans & carbon filters, and support grows materials. Take pride in your grow from start to smoke, and enjoy the low cost, high quality of a 100% organic and natural yield.
Bestseller No. 5
Nutrients and soil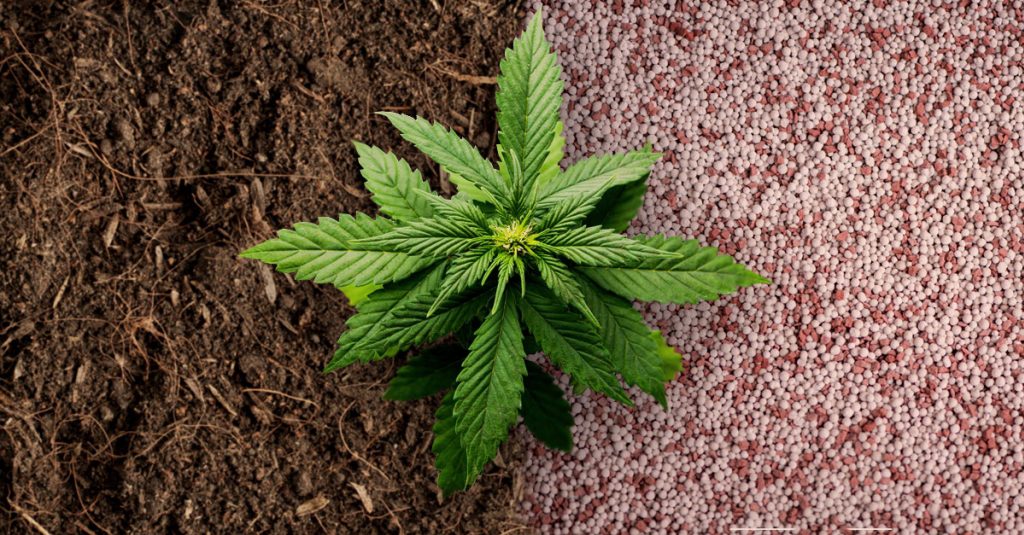 Using the proper nutrients and the right soil is also another way of ensuring that you grow bigger buds outdoors. One of the mistakes some people growing their weed outdoors is to assume that they can plant the seeds in the existing soil and wait for miracles. Weed needs soil rich in nutrients for the seedlings to germinate into healthy crops.
The dirt soil that you pop the seeds into may not contain any nutrients conducive to healthy crop growth. What you need to do is to get potting soil for your outdoor crops. The crops also need proper nutrients such as Nitrogen, Phosphorous, and Potassium (NPK) for them to flourish. Feeding the plants with the right nutrients and soil will lead to more foliage and better vegetative growth.
The healthier the plants grow during the vegetative stage, the more the yield. During the flowering stage of the crops, reduce the nitrogen input to allow the buds to grow bigger and faster, as they become denser. During this stage, you can add other nutrients such as bat guano and worm castings.
-$10.10 SALE OFF
Bestseller No. 1
FoxFarm Liquid Nutrient Trio Soil Formula: Big Bloom, Grow Big, Tiger Bloom (Pack of 3-16 oz Bottles) + Twin Canaries Chart
Get your garden going with FoxFarm Grow Big, our liquid concentrate fertilizer that supports lush vegetative growth.
FoxFarm Big Bloom Liquid Plant Food is formulated for use on all plants and can be used every time you water. OMRI Listed and Registered CDFA Organic Input Material.
FoxFarm Tiger Bloom is a phosphorus fertilizer that contains nitrogen to support vigorous growth. FoxFarm Tiger Bloom is designed to encourage abundant fruit, flower and multiple bud development.
FoxFarm Big Bloom, FoxFarm Grow Big, and FoxFarm Tiger Bloom, together at last. Designed to work together to support vigorous growth, multiple bud development and abundant fruit.
Twin Canaries Conversion Chart included with every order.
Bestseller No. 2
Bestseller No. 3
-$23.00 SALE OFF
Bestseller No. 4
Growth Science Nutrients - Starter Pack
This starter pack is intended to get you off the ground with your garden. It contains four of our tried-and-true fertilizer products that successful growers, on all scales, have come to depend on.
Made from the highest quality ingredients, specifically formulated to save you time and money. For use in soil, coco and all hydroponic mediums.
It's essential to provide the right nutrients at the right stages of growth. Growth Science will walk you through those steps with this, cost-effective starter pack.
Each pack contains 5 bottles. 1 pint of Base A, 2 pints of Base B, 1 pint of Solid start, and 1 pint of rock solid
Base A and B form the foundation of the Growth Science system. Together they provide your plants with essential macro and micro nutrients essential for growth.
-$9.00 SALE OFF
Bestseller No. 5
Fox Farm Plant Fertilizer Soil Bundle: Big Bloom, Grow Big, Tiger Bloom, Cal-Mag (Pack of 4 - 16 oz Bottles) + Twin Canaries Chart
Big Bloom Liquid Plant Food is formulated for use on all plants and can be used every time you water. OMRI Listed and Registered CDFA Organic Input Material.
Grow Big is a liquid concentrate fertilizer that supports lush vegetative growth.
Tiger Bloom is a phosphorus fertilizer that contains nitrogen to support vigorous growth. Tiger Bloom is designed to encourage abundant fruit, flower and multiple bud development.
Bush Doctor Cal-Mag is a calcium and magnesium supplement that helps strengthen cell walls and aid in fruit development.
Twin Canaries Chart included with every order
Control Pests and Bugs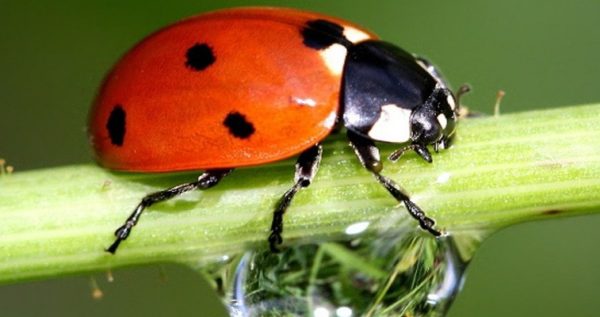 Controlling pests and insects from attacking your crops does not have any direct control over the growth of the buds, but it is an essential factor to consider. Growing your plants outdoors means that you may not have control over animals getting into your farm to eat the plants. You can avoid this by building a protective fence around the plants to keep away animals such as deer, squirrels, and other small or large animals.
You can also use special pest control techniques such as specialized solutions and essential oils to keep bugs, spider mite, and fungus infections from attacking your plants. After all, what you want is an abundant harvest, and some animals eating away your crops may reduce the yields.
Read next: Best Insect Fogger for Cannabis
-$27.01 SALE OFF
Bestseller No. 1
Bestseller No. 2
Burgess 1443 Propane Insect Fogger for Fast and Effective Mosquito Control in Your Yard
The same effective system used by professionals to kill mosquitoes.
Kills and repels mosquitoes, biting flies, and flying insects for up to 6 hours
Dispenses 10 feet cone of odorless fog. Treats an average 5,000 square foot yard in less than 10 minutes
Everyone can enter the treated area as soon as the fog disperses (typically less than 5 minutes)
Propane powered making the fogger completely portable. Compatible with a 14.1 oz. tall style propane cylinder (sold separately)
Bestseller No. 3
Hot Shot Fogger With Odor Neutralizer, Kills Roaches, Ants, Spiders & Fleas, Controls Heavy Infestations, 3 Count, 2 Ounce
KILLS ON CONTACT: Hot Shot Fogger With Odor Neutralizer kills on contact and controls heavy infestations – and keeps killing for up to 2 months.
KILLS HIDDEN BUGS: Creates a fine, penetrating mist that reaches deep into cracks and crevices to kill the bugs you see and kill the bugs you don't see.
WHERE TO USE: Use in enclosed spaces such as apartments, attics, basements, barns, boat cabins, cabins, campers, crawl spaces, garages, homes, households, sheds, storage areas and trailers.
NON-STAINING: This clear, non-staining formula won't leave a wet, messy residue.
EACH CAN COVERS 2,000 CU FT: Treats 2,000 cubic feet of unobstructed space
Bestseller No. 4
Black Flag 11079 HG-11079 6 Count Indoor Fogger, Pack of 1, Clear
: KILLS BY CONTACT: Controls a variety of household pests, including roaches, ants (except fire, carpenter, harvester and pharaoh ants), fleas, spiders (except brown recluse), mosquitoes, silverfish, brown dog ticks, houseflies and more as listed
EACH CAN TREATS UP TO 2,000 CUBIC FEET: Use one can to treat a room approximately 5 feet by 16 feet with an 8-foot ceiling.
DUAL ACTION: Kills insects and leaves a fresh scent
USE INDOORS: Treat in apartments, homes, attics, basements, garages, and household storage areas.
Bestseller No. 5
Mosquito Magician Gas Powered Backpack Fogger with 2 Gallons Natural Mosquito Killer & Repellent Concentrate - Contractor Pack
PERFECT for larger properties or contractors. Includes Commercial grade gas powered Backpack Fogger with 2 Gallons of Mosquito Magician Concentrate. BENEFITS: Treats properties in just minutes, delivers a large volume of product quickly and easily
LABORATORY TESTED and PROVEN to KILL at least 98% of mosquitoes. Creates a Natural Mosquito Barrier that REPELS for 1 to 2 weeks. It is also effective on other biting insects like No-see-ums, Fleas, Ticks and Fire Ants
NATURAL INGREDIENTS - our non-toxic blend of 6 Essential Oils includes Geraniol, Citronella, Garlic Oil, Rosemary Oil, Lemongrass Oil and Cedarwood Oil. Our All Natural Chemical Mosquito Control Formula combines them into a potent shield
RECLAIM YOUR YARD - Simply mix 4 to 6 oz of Mosquito Magician concentrate to 1 gallon of water and it is ready to use. Blows a finely atomized spray 50 feet. Tank holds 3.7 gallons. DEET and PYRETHRIN FREE - safe for kids, pets, and the environment
FULL MONEY BACK GUARANTEE - we know you will absolutely love this product, and we aim to provide the best satisfaction guarantee with our Manufacturer Warranty and USA based customer service team. You cannot go wrong with Mosquito Magician. PRODUCT COLOR - because this product is made from natural essential oils, it is normal for the color to vary from a light-yellow to a darker reddish color. This is completely normal and does not in any way affect the shelf life or the way the product works.
Timing
Planting your seedlings at the right season is also very important if you want to harvest bigger buds. Remember, you have no control over the weather changes if you are planting the crops outdoors. Choose the right season to transfer the seedlings to the ground outdoors to harvest the full-grown buds at the right time.
The best times to plant weed crops is during the spring and harvest the buds during summer. Planting the germinated seedlings before spring may expose them to frost and weak growth. Cold stress affects the weed crops, which leads to no harvest or if you are lucky, to a yield of small buds.
Harvesting
Do not harvest your cannabis before the "harvest window," as this may reduce the potency and quantity of the yields. Allow the buds to grow to their last stage as this helps to increase their sizes and maximize returns. In the last three weeks, buds gain an additional 25% size.
Harvesting at the appropriate period also ensures that you get buds that have the potency you want from your weed. The longer the wait, the higher the potency, and the more the yield are what you should remember.
Keep a growing journal
Keeping a journal has nothing to do with growing bigger buds, but it helps you with your subsequent growing sessions. It is important to note everything you do during the different stages of growth to monitor the growth of the crops. If by any chance, you do not get a good harvest during one growing season, you can always refer back to the journal to check what you did wrong the last time.
Rectifying the mistakes may help you to do it the better second time around and grow bigger buds. All it takes is consistency and practice until you get it right.
Wrapping it up
The most crucial thing in weed growing is the sizes and potency of the buds. What you do to achieve this is vital, and following all the above steps will ensure that you get bigger buds. Therefore, space the crops for even lighting, prune the crops, stress train them, keep away the pests, feed them with the right nutrients and soil, and, best of all, ensure that your timing for planting the crops is right. With this done, you can be sure to enjoy a good harvest with quality buds.