Introduction
Day by day the industry is changing and the competition is increasing. So, if you want to keep yourself in a safe zone then obviously you've to invest on new techs. That's why; today we're talking about Ceramic Metal Halide grow light: The new sensation in grow light industry. It hands down so many best grow lights technologies for their efficiency, slowest degradation rate, effectiveness and best PAR spectrum.
So, are you interested about CMH system? Do you want to know more about it? For you we created this best buying guide on CMH which will help you to understand more about it! After reading this entire article you'll know what you should know about CMH system.
Do you just want to know about the best CMH grow lights? Then scroll down, some honest and great reviews are waiting for you.
Top Ceramic Metal Halide Grow Light- Comparison Chart
Things you should know CMH grow light
Basic Things you should know about a CMH grow light
What is the CMH (Ceramic Metal Halide) grow lights?
You may heard about CMH, LEC (Light Emitting Ceramic and CDM (Ceramic Discharge Metal Halide). Didn't you? Now let me clear confusion, all these CMH, LEC, CDM are same. All these names are just talking about one technology. So, let's begin now.
Basically, the CMH grow light is a form of MH light with a small twist of HPS, that's what makes it different from other lights. The CMH grow light is made with ceramic arc tube where the traditional/old MH  grow lights are made of colorless glasses (quartz). The use of ceramic arc made it more efficient than metal halide (MH) lights. It can tolerate higher pressure than any other MH lights. That's why, a CMH system can provide better, accurate and various spectrum than any other lights.
(Advantages/Pros?) Why should you start using/switch to CMH grow lights?
Did you ever think why a big amount of growers are switching to CMH grow lights? The reason is, it has lots of benefits then all other kind of grow lights. That's why; smart growers are investing on CMH grow lights.
Do you want to know about those benefits? Here we described some awesome benefits of CMH grow light.
In short:
Wide Spectrum
You may already know that, CMH system provides the finest spectrum because of its ceramic arc tube. The ceramic arc tube can resist very high temperature which can create lights almost similar to sun. It also has sweet balanced spectrum which touches every spots of a plant. That's why; it can produce finest and wide range of spectrum than any other lights.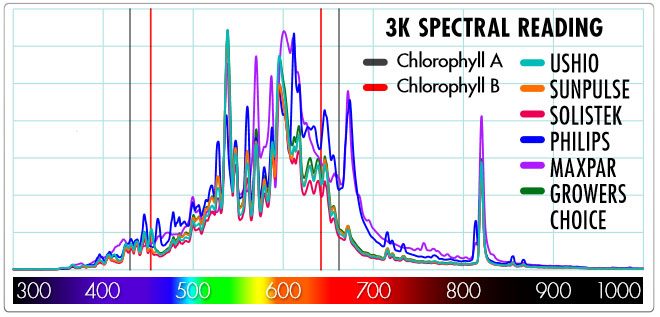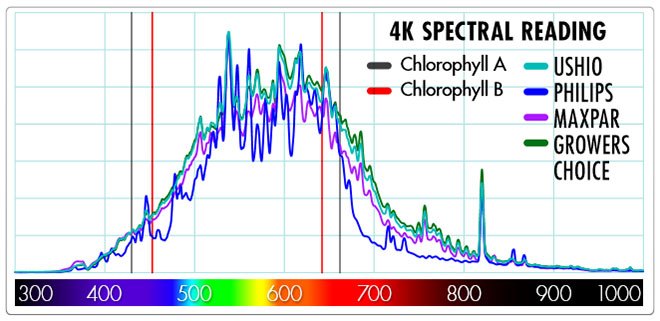 Better PAR Efficiency
A CHM grow light is more PAR efficient than others. Other light like MPS and MH used to waste a huge number of energy which isn't effectively used by plants. That's why, CHM lighting system is better than others.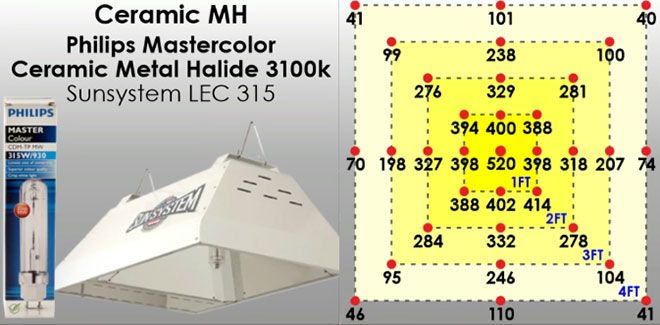 Finest CRI
If we compare with other kind of grow lights then the CMH lights can provide us the highest measurement of natural Color Rendering Index (CRI). It shows us, how an object can be seen through human eyes and how well and elusively it can reveal the color shades. The higher number of CRI gives you a realistic view. If we rate sun light 100 CRI then a CHM grow light can produce 80-96 CRI. That's why; it can show you the real view where the other lights will show you different type of colors like purple, blue or yellow.
Long-Lasting
Honestly Speaking, CHM light do last longer because ceramic arc tubes are very resistant and that's why, they don't breakdown easily. It can easily run up to 24,000 hours which is almost equal to 3 years. It also keeps their original strength (80%) up to 20,000 hours.
Heat Consumption
As we already know, the CMH light used to run at high temperature but still it produce less heat than other kind of lights. Not just that, the bulb is very close to the plant and it's also reducing the chances of burning leaves. For a small grow room/tent, it's very important to have a grow light which can give high temperatures for better growth and good amount of harvest.
Better Color Stability
CMH grow lights can provide better color and light consistently for a long time. However, a CMH bulb never loses their quality and effectiveness easily. some other bulbs loses their effectiveness very early which is very harmful for human eye and plant but a CMH bulb can provide wide spectrum continuously for long time.
Efficiency
As I said before, a CMH bulb is more efficient. The yield per watt of it is very high. Its 20% more efficient than MH lights. However, the situation varies the efficiency too.
Provides UV light
The CMH lights are offering you full wide spectrum which means it also offering you more UV lights. UV lights are very essential for plants. It helps to grow in vegetative stages and it also helps to develop stronger branches.
Downsides of Ceramic Metal Halide (CMH) grow lights (Cons/Disadvantages)
In short
Not best choice for flowering
It isn't for all kind of ballast.
Flowering
When it comes to flowering, we must have to say that, HPS lights are the king of flowering. HPS light can provide more light in the red spectrum. However, if we compare watt by watt basis then we must have to agree that, CMH have more balanced spectrum then HPS but for flowering stages CMH bulbs aren't the best choice.
Provides UV lights
Basically, CHM grow lights used to provide UV-A, UV-B and UV-C lights. The UV-C light is harmful for human eyes and skin. That's why while using a CHM grows system in growing room, the growers should use protective sunglasses and full- sleeve dresses.
Little Bit Expensive
The biggest downside of a CHM light is, its quite expensive. Its almost double then HPS grow lights but its saving more energy and also giving you better service for long time. So, it isn't a bad investment.
Quite High Heat Output
Basically, a CHM light provides over 700 nm lights on unseen able parts which is quite high (still lower than a 400w HID bulb). It's a noticeable issue.
It isn't for all kind of ballast
You can only use a LEC (CMH bulb) grow light in magnetic ballast. You even can't place these bulbs on an angle. You have to place it straightly (up or down) or horizontally.
Things you should know before and after getting a CMH grow light
However, its much better to purchase a new one because CHM doesn't work on so many type of electronic ballast for high frequency issue. The CHM bulb only supports on some good quality high end ballast with microprocessor. That's why if you're new with CHM technology then you should buy a full kit which is available with a fixture, bulb, reflector and everything in a package. It's very easy to install and use.
An ideal CHM kit has square-wave technology ballast which will save you from EMI (ELECTROMAGNETIC INTERFERENCE) issues.
★★ Top 5 Best-Selling CMH Grow Lights on Amazon
How to setup a CMH light
CMH grow light is a sensitive thing. If you can set it perfectly then it'll give you the higher yield. That's why here we're sharing some tips with you which will help you to setup your CMH system.
Before you buy a kit, always read the description first, know about the coverage area of the light. Now if it is suiting your grow room then you can invest on it. Here is a perfect example for you!
Let's choose Grow Co. 315W CMH system grow light with a Philips 3100k CMH bulb for example. Now the ideal coverage area of it is 3 by 3 feet (3×3) and two feet over the grow tent/canopy. As I side before, always try to cover within the ideal coverage area. So, don't go for 4×4 because the external side can't receive a good amount of light.
It's a perfect way to setup your system. The great thing about CMH grow light is, you can give it a vertical or horizontal position. So now, you've opportunity to find a perfect position for your growing area but be careful; don't damage your CMH grow light.
Some Controversial Topic (Explained)
CMH vs. MH
You already know that the CMH and MH grow light aren't same.  They both have so many similarities and dissimilarities too. Both of them have constructional and controlling differences. So, if you're a MH user who wants to switch to CMH, you shouldn't try to use your CMH bulb in your MH ballast. It's dangerous.
The biggest difference between CHM and MH is the cost. CMH system is expensive then MH system and this is the only disadvantage of CMH bulb. Otherwise CMH bulbs have better spectrum, more PAR light and etc. The biggest comparison between MH and CMH bulbs are, the MH light has a lifespan of 10,000 hours. On the other hand, the CMH light have a lifespan of 24,000 hours, which is almost double of MH lights.
| CMH | MH |
| --- | --- |
| Efficient | Cheap in Price |
| Better Spectrum | Not better spectrum than CMH |
| Lifetime of 24,000 hours | Lifetime of 10,000 hours |
CMH vs. HPS
As I said before, CMH isn't a best choice for flowering. The HPS grow lights are the king of flowering and that's the only point HPS won the game. HPS mostly provides red light which is best flowering growth stages.

However, CMH still have much better and balanced spectrum. It also has more cooler and more PAR lights per watt. The HPS have a lifespan of 9,000 hours only where CMH have much bigger lifespan than it.
| CMH | HPS |
| --- | --- |
| More efficient | Best for flowering stages |
| Balanced and better spectrum | Quiet Cheap in price |
| More than 2x lifespan of HPS | 9000 hours of lifespan |
CMH vs. LED
Horticultural LED light is something different than any other grow light. It has more benefits like it is more energy efficient, it produces low heat. The biggest advantage of it is, you can place it as close as you want to place without burning a single leaf of a plant. It also stays longer than any other kind off grow light but it's quite expensive too.
However, some of the manufacturers used to sell their product with wrong information's, that's why some growers don't recommend LEDs. The good news is, so many sellers are also selling good products with original information.
If you use a best led grow light like VIPARSPECTRA Reflector-Series 450W, it'll give you best performance, good PAR spectrum and it'll also consume less energy but it's quite expensive.
| CMH | LED |
| --- | --- |
| Affordable | Very simply target any PAR range |
| Quite low useable lifespan than LED | Lower heat consumption |
| | Longer Running Time |
| | Quite expensive |
Which CMH grow light should you buy?
At first, do you really want to grow with CMH system?
Well, when you decided to start growing with a CMH system our advice is you should get a full CMH system. You also have to decide the budget.
Best CMH Grow Light Systems
Grow Co. 315W CMH System Grow Light Worth Your Money
When it comes to CHM, the Grow Co. is one of the most trustworthy brand. That's why, we're reviewing a 315 Watt's grow light of Grow Co.
It's a CMH system grow light which is available with a 315w CMH kit. The kit contains a ballast which is attached with a fitting set (also known as fixture) and couple of hanger (which is very light). Now let's talk about the light, the 315w gear comes with a Philips 315W and 3100K full-spectrum CMH bulb. The light runs on 120/240V and that's why, the manufacturers will provide you a 240V power cord.
Pros:
Low-frequency ballast specially designed for CMH bulbs.

Providing you a 240V power cord

Available with warranty  

Doesn't produce heat.
Cons:
It's very bright and it has UV (so you have to wear glasses)

Slow restart (It isn't a major problem)

No 120v cord option.
FAQ:
VIVOSUN 98% Ultrahigh Reflectivity 315W CMH Grow Light  Best Reflectivity Guaranteed
If you're familiar with CMH then obviously you heard the name of VIVOSUN. The VIVOSUN is very popular brand for their lights. That's why, here we're reviewing a famous product of VIVOSUN.
It is VIVOSUN 315W CMH Horticultural grow light fixture. This fixture is offering you a 315W Ceramic Metal Halide (CHM) grow light fixture with 120/240V wide-ranging voltage ballast.
The greatest feature of it is, the fixture gives up to 98% ultrahigh reflection. The fixture also offers Vega aluminum which can boost great harvest. It runs on 120/240V. The fixture comes with a 120-Volt plug and 120/240-volt adapter. It also comes with a PGZ18 socket.
Pros:
Advanced Low-Frequency technology

Extremely high reflectivity guaranteed

Comes with plug, adapter and socket.

Quite cheap in price.

Low-consumption indeed!
Cons:
No bulbs are available with it. (so, you've to purchase one.)
FAQ:
VIVOSUN 315 Watt CMH Grow Light Fixture  Powerful with energy efficiency
Remember, what I said in the previous review? Yes, when it comes to CMH light fixture VIVOSUN is one of the most famous brand of framers. Their products are low-cost and 100% premium in quality. That's why, once again we're reviewing their product.
It is VIVOSUN 315W CMH grow light fixture which is quite unique then previous one. Here the manufacturers are offering you a 315W Ceramic Metal Halide (CMH) which is best for both major and additional grow lighting applications. It also has 98% ultra-high Italian vega aluminum reflective rate which guarantees big number of crop/harvest.
Well, it has a totally eye-catching and unique design then previous model. Not just that, it also has advanced air ventilation which designed to confirm low heat.  It also has much better ventilation system then others and its quitter too. The fixture is made with high-quality material which ensures high solidity and better performance.
Pros:
Effective and upgraded air ventilation design.

Extremely high reflection rate.

Built-in ballast.

Low consumption.

Energy-efficient.

Build with high-quality materials.
Cons:  
Quite high in price.

No bulbs included.
FAQ:
All in One-Sun system LEC 315 light Emitting Ceramic Metal Halide 
Sun System is one of the most trustworthy brand when it comes to CMH grow lights. Here we're reviewing a product of Sun System only for you.
We're reviewing Sun System LEC's 315 light producing grow light. The CMH light system is available in 3100K and 4200K bulbs with ropes (now, the choice is yours). It's also available in 120v and 240v. The Sun System's light also contains a well-matched square wave electric ballast. That's why, the users won't have any lame issues. The great thing about the product is, the kit includes a hooded reflector, ballast and a bulb which is very hard to find within low budget.
Pros:
Contains a 6-foot power cord.

One-year warranty.

Low consumption

Easy to set-up.

Heat consumption

Runs smoothly.
Cons:
Quite-high in price.

Not that good, if you compare with HPS.
FAQ:
Prism Lighting Science Ceramic Metal Halide : The Best and Most Versatile CMH Kits.
Shopping for a CMH light can be hard. Do you need it air cooled because you can't cool your grow room? Do you need it to be low profile because you have low ceiling height? Are you looking to retrofit your old single ended reflector and save some money? Or do you just want the best equipment available to maximize yields? If you said yes to one of the questions above, then Prism Lighting Science has designed a CMH light package with you in mind.
The foundation of any CMH kit includes a high-quality ballast and superior CMH grow light. The Prism Lighting Science 120/240 Volt ballast has built-in ignition failure and thermal protection for your safety. They believe in the quality of this product and include a 3-Year Warranty from the date of purchase. All their packages also include both a 120 and 240 Volt power cable, mogul base socket adapter and the best CMH grow light on the market, either the 3100K or 4200K Philips lamp.
Pros:
3-Year Warranty

Comes with free mogul base socket adapter

Compatible with both 120 and 240 Volts

Many different buying options

Awesome customer service

Cheapest CMH bundle on the market.
Cons:
Can get hot

Must use ventilation if in enclosed area.
FAQ:
Hydroplanet™ CMH 315W System Fixture: Trustworthy
Hydroplanet is a well-known brand for CMH systems. Today, we're reviewing Hydroplanet's CMH 315W system fixture. It is offering you a fixture that supports 120/240V. It's ETL registered too.  The fixture also has European style aluminum which gives outstanding consistency, output and dispersion.
The greatest feature of it is, low-frequency ballast which gives is highly efficient and that's why, it can produce maximum lightning.
Is anything missing? Ops, I forgot to mention about the lights. You can use 3100k and 4200k lamps easily. Philips lights are preferable for it.  Now let's talk about Warranties. The manufacturers are giving you 2-years of warranty and Hydroplanet is well-known for their customer service.
Pros:  
Advanced lighting system (specially designed for CMH).

Made with 97% premium aluminum.

Low-consumption and very energy efficient.

Fast and great customer service.

Cheap in Price.
Cons:
Not works with all inline fans.

Not premium like other picks.
FAQ:
Best CMH Grow Light Bulbs
Philips Master 3100K GreenPower CMH Light Bulb: Overall Best
Innovation is you! Yes, it's the tagline of Philips which is one of the biggest technological manufacturers. Philips showed us their remarkable works in so many sectors. They also played a big role in CMH bulb sector. Philips is well-known because they're one of the earliest companies who developed and manufactured the CMH bulbs. That's why, Philips's bulbs are better and best choice. That's why, here we're reviewing a bulb of Philips.
It is Philips Master 3100k CMH light bulb. The bulb is giving you extremely high PPF and 3100k color temperature which is very essential for your plants. It uses 315 Watts only and the voltage of the lamp is 98V. The open evaluated lamp structure decreases radiant heat from the arc pipe. The lamp is perfect for open fixture uses.
Pros:
Durable in quality

Excellent PAR measurement.

Perfect for flowering stages.

100% energy-efficient.
Cons:
Doesn't come with any free adapter (you have to purchase one).
FAQ:
TopoLite 315W 4200K Full Spectrum CMH Grow Bulb   Small but beast
We reviewed some products of famous brands. Now it is the perfect time to introduce a quite unknown brand with you. The brand is TopoLite. From few years, they're creating and selling many grow lights and gardening equipment. That's why, we're reviewing a CHM grow bulb of them.
It is TopoLite's 315W and 4200K full spectrum CMH grow bulb. It has full spectrum which is very essential for plants. For full spectrum, it's good for both veg and blooming stages. It can run efficiently at high-temperature which can boost high yield. It also has good amount of PAR capacity. The light is quite famous for its richest spectrum.
Pros:
Cheap in Price.

ETL listed.

Richest spectrum.

Up to 20,000-hour lifespan.

High lumen maintenance (at 8k hours)

Warranty included.

Easy to set-up.

Replaces with HPS and MH.

Energy efficient
Cons:
Not that cool. (better than HPS)
FAQ:
Is warranty/guarantee available with this bulb?
1-year warranty available with the bulb.
Is 3100k is perfect for veg?
No. 3100k is perfect for blooming flowers and 4200k is perfect for veg.
How high should I hang the light?
24-48 inches above the shade.
Does the bulb come with a normal 120v/240v cord?
It comes with a normal plug.
Does it make any RFI?
No.
Protopia CMH315W4K CMH Grow Bulb :Reliable
The Protopia is also quite unknown brand and they're also serving people from few years. When it comes to CMH grow bulbs this brand has some great products. That's why now we're reviewing one of their product.
It is Protopia CMH grow bulb. It is a 315W lamp and it also has 4200k color temperature. It lumens 110 per watt. The lifespan of the bulb is up to 15000 hours. The CRI of it is ≥98 and that's why it has one of the richest spectrum on the market.
For these advantages the lamp is a perfect solution. It offers a good number of PAR which is an advantage.
Pros:
Cheap in Price

Up to 15,000 hours' life span.

Warranty included.

Richest spectrum

Perfect for a full canopy or flowering sites.
Cons:
Light isn't that glossier/bright. (Sometimes only)
FAQ:
Best CMH Ballasts
Expert Grower's Choice: Phantom II E-ballast for 315W CMH Grow Light Bulb
Finally, it's time for the last review. What did you decide? Are you going to buy a bundle or you want to do something different? Do you want make your own CHM light system? Do you have bulb and reflector but don't have a ballast?
If these questions are familiar with you then Phantom II has the perfect solution for you. Phantom is a very trustworthy brand and that's why we're reviewing a product of them.
The product is Phantom II E-ballast 315W CMH. It's a remotely functioned and low-frequency square wave designed for the high-power CHL. It's equally effective for veg and flower growth. It's a silent, dependable and energy-efficient ballast which is very easy to use and setup. You can easily accumulate up to fifty feet away from the reflector (but you've to use a lamp cord extension). It is offering you high-quality performance in low-price. It also designed with modern technology. The ballast is available with an 8 inches 120V power cord and operating instructions.
Pros:
Low in price (if you judge with the quality).

Specially designed for high-power CHL.

Effective for both flower and veg.

Warranty included

Available with Power Cord and operating instructional brochure.
Cons:
FAQ:
Conclusion
The guideline is going to be end. We tried our best to share all the information, facts and some reviews with you.
The CHM grow light is a great thing for any indoor garden. It can save you energy, provide good amount of light and produces low heat. It also produces balanced and best spectrum and UV light too.
Well, now the price of the grow light is quite high but it is a good investment for your harvest. Therefore, if you think about the lifespan and other advantages then it is going to be smart investment.