Introduction
Once you decided to do indoor gardening, what is one of an essential thing you need? Yes, right you are, a led grow light is one of an important thing. When you decide that you will seed indoors, the light is one of the most important things you will need. 
As we know, seeding requires many shine lights. However, when you are doing indoor gardening, it isn't possible to arrange natural light. Now maybe you are thinking, if you create your garden besides the brightest windows of your house, it will provide enough natural lights. Now let me clarify you, no matter how big or sunniest windowsill you have, it will never provide your trees enough light. However, if you can set your artificial light correctly, it will give your seeds enough light.
Now you may think, a good artificial light is expensive you can't afford it, it will use electricity excessively. If you believe these things, then trust me you are wrong. You can get a best-growing light within your budget!
Yes, it's possible! You can get a best grow light for your indoor garden within your small budget! Want to know about the light? Well, it's Marshydro Mars 300w LED grow light. It's a 300w LED grow light which is also known as the best cheapest energy saving LED grow light. Scroll down to find out more about it.
Marshydro Mars 300w LED grow light Review
Marshydro Mars 300w is one of the best cheapest grow light I have ever seen. Some people always gonna think that a grow light uses a lot of electricity, but Mars 300w proved them wrong again! It is primarily famous for its energy saving grow light. However, we aren't going to tell you any lie that's why you should also know Mars 300W LED grow light isn't that good for flowering and blossoming. Like come on, it isn't a professional grow light panel.
 If you are looking for a very professional grow light panel, then it isn't perfect for you. There is so many professional LED grow light and panels are available. If you want to purchase one of that professional panel, then you may have to spend double, triple or more. If you are looking for a beginner LED grow light which can be best used for seeding, vegging then Mars 300w grow light is a perfect choice for you.
The Marshydro's 300w grow light has many features. You can easily use it in your house, the green house even you can also use it in a grow tent.  The grow light has 60 small LED lights, and those sixty-small light produces 300W, and it's consuming up to 135 watts. The grow light is available with the full spectrum which will give your plants a purple touch of lights. It can cover 450 ~ 475nm, 620 ~ 630nm and 650 ~ 660nm. Purple tint is good for vegetable, marijuana, and flowers.
The one of the most important thing we have to judge before buying a grow light is warranty and lifetime. Well, as said by the manufacturers of mars 300 LED grow light, it's offering you one-year warranty. So, we can assume it has one year's lifetime. Are you getting upset?
 Don't worry, it depends on how you are going to use it, even some of the growers using it happily from last three years. Some of us think a grow light will increase room or house's temperature. Yes, that's right, but you are using LED light which is cooler than any other lights so, don't worry about the heat.
The Marshydro's 300w grow light can save your energy with flexible coverage. It's expanding up to 135W. So, now you don't have to worry about the electricity bill. It is also safe and eco-friendly. It tested and passed US authoritative ETL certification. The light has no chemical or electrical smell.
Mars 300w grow light is also offering you one-year's original warranty and 30 day's money back guarantee. So, if you found any problem with the product you can take your money back within 30 days after buying, and if you found any problem after few months then they will fix it!
Within cheap price it is one of the best LED grow light which is offering you so many features and support too.
Want to know about Mars 300W LED grow light? Then here are the pros and cons of Mars 300w LED grow light.
Pros and Cons
Pros
When it's come to the price, it's cheap enough.
The grow light very easy to adjust (where some lights within cheap price aren't that easy to adjust.)
It has excellent durability.
It's cooler than other lights. (After using for 3 hours long when you touch the light you may feel shocked! Because it is still cool)
If you want to grow a few seeds, then trust me it's perfect for you.
Cons
It isn't perfect for professional uses. (You also shouldn't invest a little amount when you are purchasing for professional purposes right?)
It is small in size. (Because it is perfect for beginners.)
So, after reading the pros and cons, what do you think about the product? The Mars 300 LED grow light has many satisfying reviews, and the users are happy with it, and I am also satisfied with its service. It's growing my marijuana well! If you are looking for a grow light within affordable price, then I am very strongly recommending you Marshydro Mars 300w LED grow light.
Do you want to pick Marshydro mars 300w grow light or are you still confused? Some of you are still confused. Want to clear your confusion? Scroll down to know more. 
Thinking of Marshydro mars 300 grow light users
Well, it is one of the most popular grow light for the beginner. Many growers started their indoor gardening experience with it, and most of them are satisfied. Some of them are still using it in their big grow tents. Almost all the customers are pleased with it. However, some customers aren't satisfied with it, and almost everyone has the same complaint which is customer service. The manufacturers aren't offering you 24-hour customer call service, but you can email them your problem, and they will reply you within eight hours. Almost every user says it's the best grow light for beginners. Still confused or want to know more? If you are still confused or want to know more take a look below.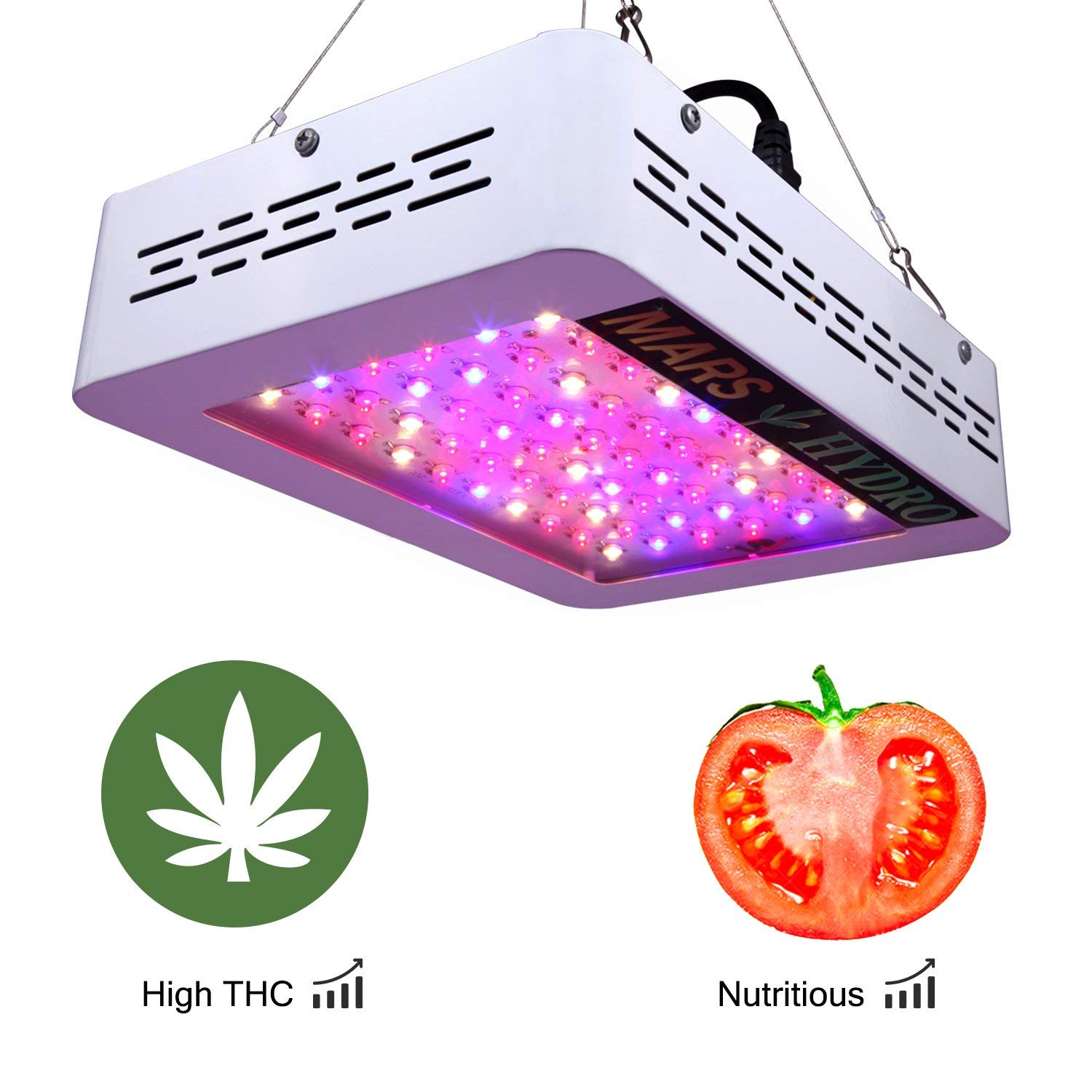 Why should you buy Marshydro Mars 300w grow light?
Grow lights are one of the best creations China. It's one of the most useful tools for indoor gardening and greenhouse. Mars 300w grow light one of the great creation of the LG-LED solution. It's one of the best small budgets grow light I have ever seen. For a beginner, indoor-gardener its perfect. After reading some reviews, you may think it isn't a good light, but lots of customers are satisfied with it! Even I am also delighted with its performance.
However, it is the best grow light within the budget. If your budget is tight or as a beginner you want to get a grow light then it is perfect for you. It occurs a tiny place, and it is ideal for the small beginning indoor garden.
Once you have decided that, you will get a grow light, but your budget is quite low! In this circumstance, I will strongly recommend you Marshydro Mars 300w grow light.
-$20.00 SALE OFF
Bestseller No. 1
VIPARSPECTRA 300W LED Grow Light with Daisy Chain Function, Full Spectrum Plant Growing Lights for Indoor Plants Veg and Flower Actual Power 130 Watt
【Optimal Spectrum】The secret to VIPARSPECTRA's success is optimal full spectrum lighting which provides plants in all stages from veg to flower with everything they need in the natural sunlight. This results in bigger buds and higher yield all while saving you on energy costs.
【Daisy chain Design】 Daisy chain feature assists growers to connect multiple lights together with fewer outlets. No additional cords is needed, just simply plug in the provided power cord into the second light's outlet to achieve connection among multiple units.
【Outstanding Design】Sturdy durable construction with fire-resistant iron housing. Suitable for each growing phase. Upgraded aluminum cooling heat sinks and advanced high speed quiet fans are great for heat dissipation.
【Coverage Area】Comparable to traditional 250W HPS/MH while consuming only 130W! Perfect for a 2'x2' vegetative coverage at 24" and 1.5x1.5' flowering coverage at 18".
【Worry-free 3 Years US warranty】We are a professional manufacturer which specialized in LED grow light for many years. Products' quality and professional customer service are always our Top concerned. We offer 3 Years local warranty and 30 days money back guarantee. If you have any questions, please feel free to contact us. We will offer you professional guidance to help you and your plants grow better.
-$5.00 SALE OFF
Bestseller No. 2
LED Grow Light Indoor Plants - 300W 420LED Plant Light with 63" Extendable Tripod Stand,Dual Controllers,Full Spectrum,4/8/12H Timer,Adjustable Gooseneck,4 Switch Modes for Greenhouse Veg and Flower
【2021 New Upgrade & LOWER RUNNING COSTS & HIGHER-QUALITY YIELDS】: LECLSTAR Grow light for indoor plants, Four-Head three-row designs, the whole lamp is composed of 420 LED high-brightness lamp beads. It only needs 40W of power to transmit 300W, high efficiency, and energy-saving, LECLSTAR Grow light can increase the growth rate of indoor plants by 50% compared to other grow lights.Meanwhile our high-quality aluminum shell are great at heat radiation with a lamp life of up to 50,000 hours.
【Dual control, automatic on/off】 LECLSTAR Grow light with line-in controller and RF controller. Plant light Support 3 light modes, 10 dimmable levels, 4 lights independent control, and auto on/off every day after setting the 4H/8H/12H timer,so there is no need to worry about plant withering when nobody at home.every feature is comendable. UL certified adapter with USB plug, more safe and flexible to use in anywhere with the grow light
【Adjustable height, easy to install】 Just within two minutes! Open the tripod, adjust height(Adjustable tripod stand extendable from 11 inches to 75 inches, just lock it at desired length for your preferred use.), turn the screw clockwise until it's secured, place the grow light on the tripod, turn the screw counterclockwise until the plant light is fully seated.Grow light Suitable for indoor plants, greenhouse, darkroom, living room, office large and tall plants, flower show, potted plants.
【Full Spectrum grow light & larger lighting area】1.Red(660nm)+Blue(460nm): promote plant growth, flowering and fruit. 2.Warm White:3000k high uniform light, like sunlight,improve seeding growth. 3.Red+Blue+Warm White(380nm-780nm):Enhance red and bluelight based on natural light,effectively promote growth.Besides,the 4-head grow light has a 360-degree flexible gooseneck made from high quality tubing to adjust an ideal illumination angle and Provides a larger light exposure range for your plants
-$12.00 SALE OFF
Bestseller No. 3
LED Grow Lights for Indoor Plants Reflector Full Spectrum 300W Growing Lamp Seedling lights for Greenhouse Succulent Veg and Flower, 338 Sunlike LEDs plant grow light outdoor, Bozily Panel Plant Light
【Bozily 300W LED Grow Lights】Truly offer a sunlike plant grow light 300w, It's like having sunlight every day when it's not sunny outside. Not just for winter but for all year round. It's lightweight, Easy to hang grow light which big surface coverage, and that you are not worried about it falling onto your plants. The plant light for indoor plants adopted 196 pcs quality super bright LEDs with spectrum 380nm-800nm, fits all stages of growth such as seeding, germination, vegetative & flowering.
【Upgrade Efficiently Plant Grow Light】The plant light each LED bulb has a 90-degree reflector to make the light source more concentrated. The 90-degree reflector is more efficient than 60 degrees, and the irradiation area is large. Grow light for indoor plants adopt an aluminum heat back panel and a small heat sink for each chip to achieve excellent heat dissipation.YIELD Equal to traditional 600-1000watts HPS/MH while consuming only 185w.
【Super large irradiation area, Easy Installation】High-density aviation aluminum material that is super heat dissipation, can effectively protect the LEDs from damaged by too high temperature. cover with 4 stainless Hanging kits for easy hanging,extra-long 60inch power cord, recommended covering an area of 32"x32" to 56"x56" and be hung at around 10" - 40".Plant lights for indoor plants full spectrum provide sufficient illumination for plants to rapidly increase plant photosynthesis and growth.
【 No Fan No Noise, Best Heat Dissipation】Our newest foldable and ultra-thin outlook,form-factor thin and big area. Bozily grow Light compared with other indoor full spectrum grow light with noisy fans, We adopt an aluminum cooling plate made of advanced small molecular material, You can even hear the sound of flies flying and you can't hear any noise while it is working. this full spectrum led grow light to be used as general lighting without hurting the eyes.
【Quality warranty 】Our LED plant lights for indoor plants adopts the technology of overcurrent, overheating, overvoltage protection, also have been certified by FCC, CE, ROHS, and PSE. 2 Years quality guaranteed, No matter what problem met, contact our 24 hours available customer service through clicking "Sold by" on the product detail page or your Amazon order page and you will be directed to "Ask a question" to send us a message, we offer resolution and ensure you're a happy shopping.
Bestseller No. 4
Grow Lights for Indoor Plants - Craftersmark 420 LED 300W Floor Plant Light, Full Spectrum Grow Light with Stand, 63 Inch Adjustable Tripod Stand, Timer, Auto On/Off,10 Dimmable Level for Plant Growth
🌼【Upgraded 420LED & Highly Efficient】The grow light has 420pcs LED, 105pcs LEDs for each light bar. The illuminated area is wider than other grow light and each light bar can be turned on/off separately. The high-quality LEDs help plants grow using full-spectrum lighting at a lower cost than traditional HPS lamps, low heat waste, and extended lifespan.
🌼【4 Switch Modes & 10 Dimmable Level】LED grow lights has 4 switch modes, 10 levels of brightness that can meet the needs of your plant when it is at different growth stages. The red light promotes flower, fruit, leaf growth. The blue light encourages vegetative and structural growth. The purple light provides the energy that can be used by the plants and help to grow.
🌼【Dual Controllers & Smart Timer】The grow light comes with a line-in controller and an RF controller that convenient to use. You can control the grow light from far or near the lamp via the RF controller. Set up the lighting time for 4H/8H/12H by the smart timer, it will Auto on/off every day. No need to worry about your plant when you are not at home.
🌼【Adjustable Stand & 360°Gooseneck】The LED grow light is equipped with an adjustable tripod stand that can be extended the height from 15" to 62". It is suitable for most indoor plants. The flexibility of the gooseneck allows you to put the light bar at any position, the stiffness is enough to hold the light bar. No worry about the light bar will dorp off on plants.
🌼【Widely Use & Safety Certification】The LED plant lights are used for indoor gardening, plant propagation, and vegetables, including indoor hydroponics and aquatic plants. It's essential for seedlings and young plants during vegetative stages. Craftersmark LED grow light has been tested through FCC, UL, ROHS, and CE, and the grow light is covered for a 2-year warranty that rest assured to use.
-$6.88 SALE OFF
Bestseller No. 5
Waterproof LED COB Grow Light 300W, WY CN Premium Small Grow Light, Full Spectrum Grow Lights for Indoor & Outdoor Plants, Flowers, Vegetables, Succulent Plants, seedings (Pink))
👏👏[Best cob grow light for indoor/outdoor plants] Adopt 60°optical lens for offering more uniform and stronger light than other small grow lights, good performance for indoor and outdoor plants growing.
👏👏[Durable cob grow light] A high-speed mute fan+upgrade rediator constructed powerful cooling system for ensuring grow lamp works at 50°F-60°F,in a low temperature,can prolong the lighting time lifetime,you can save mush cost for changing light and your loved plants also will be happier.
👏👏[Energy-effecient full spectrum led cob grow light] It can be replaced traditional 300W HPS/MH grow light, only consuming 50W, help you save much money on electricity bill ,bang for your buck. Suitable as a gift for Christmas, Thanksgiving, Mother's Day.!.
👏👏[Widely usage small led cob grow light] This sunlike grow light can be used for both hydroponics and indoor plants in soil,mainly used for small plants,mirco-greens, greenhouse, plants shelvies.omdppr gardem. grow tent.
👏👏[Professional costomer service] We are fully confidence in our grow lights, we provide a 90-day money-back guarantee and a 2-year warranty. If you have any questions, you are welcome to contact us at any time. We will provide you professional service within 24 hours!
Final Words
If you read the full article then I guess, you already know a lot about a grow light. And I am sure the knowledge will help you to pick a mars 300W grow light. I guess my review will help you to understand the quality of it! All the users are delighted with its performance. If you still can't decide then wait and watch people growing their marijuana, flower or vegetable with Marshydro Mars 300 grow light then decide which one is right for you. For price click here.
Read more: