Introduction
Once you decided to do indoor gardening, what is one of an essential thing you need? Yes, right you are, a led grow light is one of an important thing. When you decide that you will seed indoors, the light is one of the most important things you will need. 
As we know, seeding requires many shine lights. However, when you are doing indoor gardening, it isn't possible to arrange natural light. Now maybe you are thinking, if you create your garden besides the brightest windows of your house, it will provide enough natural lights. Now let me clarify you, no matter how big or sunniest windowsill you have, it will never provide your trees enough light. However, if you can set your artificial light correctly, it will give your seeds enough light.
Now you may think, a good artificial light is expensive you can't afford it, it will use electricity excessively. If you believe these things, then trust me you are wrong. You can get a best-growing light within your budget!
Yes, it's possible! You can get a best grow light for your indoor garden within your small budget! Want to know about the light? Well, it's Marshydro Mars 300w LED grow light. It's a 300w LED grow light which is also known as the best cheapest energy saving LED grow light. Scroll down to find out more about it.
Marshydro Mars 300w LED grow light Review
Marshydro Mars 300w is one of the best cheapest grow light I have ever seen. Some people always gonna think that a grow light uses a lot of electricity, but Mars 300w proved them wrong again! It is primarily famous for its energy saving grow light. However, we aren't going to tell you any lie that's why you should also know Mars 300W LED grow light isn't that good for flowering and blossoming. Like come on, it isn't a professional grow light panel.
 If you are looking for a very professional grow light panel, then it isn't perfect for you. There is so many professional LED grow light and panels are available. If you want to purchase one of that professional panel, then you may have to spend double, triple or more. If you are looking for a beginner LED grow light which can be best used for seeding, vegging then Mars 300w grow light is a perfect choice for you.
The Marshydro's 300w grow light has many features. You can easily use it in your house, the green house even you can also use it in a grow tent.  The grow light has 60 small LED lights, and those sixty-small light produces 300W, and it's consuming up to 135 watts. The grow light is available with the full spectrum which will give your plants a purple touch of lights. It can cover 450 ~ 475nm, 620 ~ 630nm and 650 ~ 660nm. Purple tint is good for vegetable, marijuana, and flowers.
The one of the most important thing we have to judge before buying a grow light is warranty and lifetime. Well, as said by the manufacturers of mars 300 LED grow light, it's offering you one-year warranty. So, we can assume it has one year's lifetime. Are you getting upset?
 Don't worry, it depends on how you are going to use it, even some of the growers using it happily from last three years. Some of us think a grow light will increase room or house's temperature. Yes, that's right, but you are using LED light which is cooler than any other lights so, don't worry about the heat.
The Marshydro's 300w grow light can save your energy with flexible coverage. It's expanding up to 135W. So, now you don't have to worry about the electricity bill. It is also safe and eco-friendly. It tested and passed US authoritative ETL certification. The light has no chemical or electrical smell.
Mars 300w grow light is also offering you one-year's original warranty and 30 day's money back guarantee. So, if you found any problem with the product you can take your money back within 30 days after buying, and if you found any problem after few months then they will fix it!
Within cheap price it is one of the best LED grow light which is offering you so many features and support too.
Want to know about Mars 300W LED grow light? Then here are the pros and cons of Mars 300w LED grow light.
Pros and Cons
Pros
When it's come to the price, it's cheap enough.
The grow light very easy to adjust (where some lights within cheap price aren't that easy to adjust.)
It has excellent durability.
It's cooler than other lights. (After using for 3 hours long when you touch the light you may feel shocked! Because it is still cool)
If you want to grow a few seeds, then trust me it's perfect for you.
Cons
It isn't perfect for professional uses. (You also shouldn't invest a little amount when you are purchasing for professional purposes right?)
It is small in size. (Because it is perfect for beginners.)
So, after reading the pros and cons, what do you think about the product? The Mars 300 LED grow light has many satisfying reviews, and the users are happy with it, and I am also satisfied with its service. It's growing my marijuana well! If you are looking for a grow light within affordable price, then I am very strongly recommending you Marshydro Mars 300w LED grow light.
Do you want to pick Marshydro mars 300w grow light or are you still confused? Some of you are still confused. Want to clear your confusion? Scroll down to know more. 
Thinking of Marshydro mars 300 grow light users
Well, it is one of the most popular grow light for the beginner. Many growers started their indoor gardening experience with it, and most of them are satisfied. Some of them are still using it in their big grow tents. Almost all the customers are pleased with it. However, some customers aren't satisfied with it, and almost everyone has the same complaint which is customer service. The manufacturers aren't offering you 24-hour customer call service, but you can email them your problem, and they will reply you within eight hours. Almost every user says it's the best grow light for beginners. Still confused or want to know more? If you are still confused or want to know more take a look below.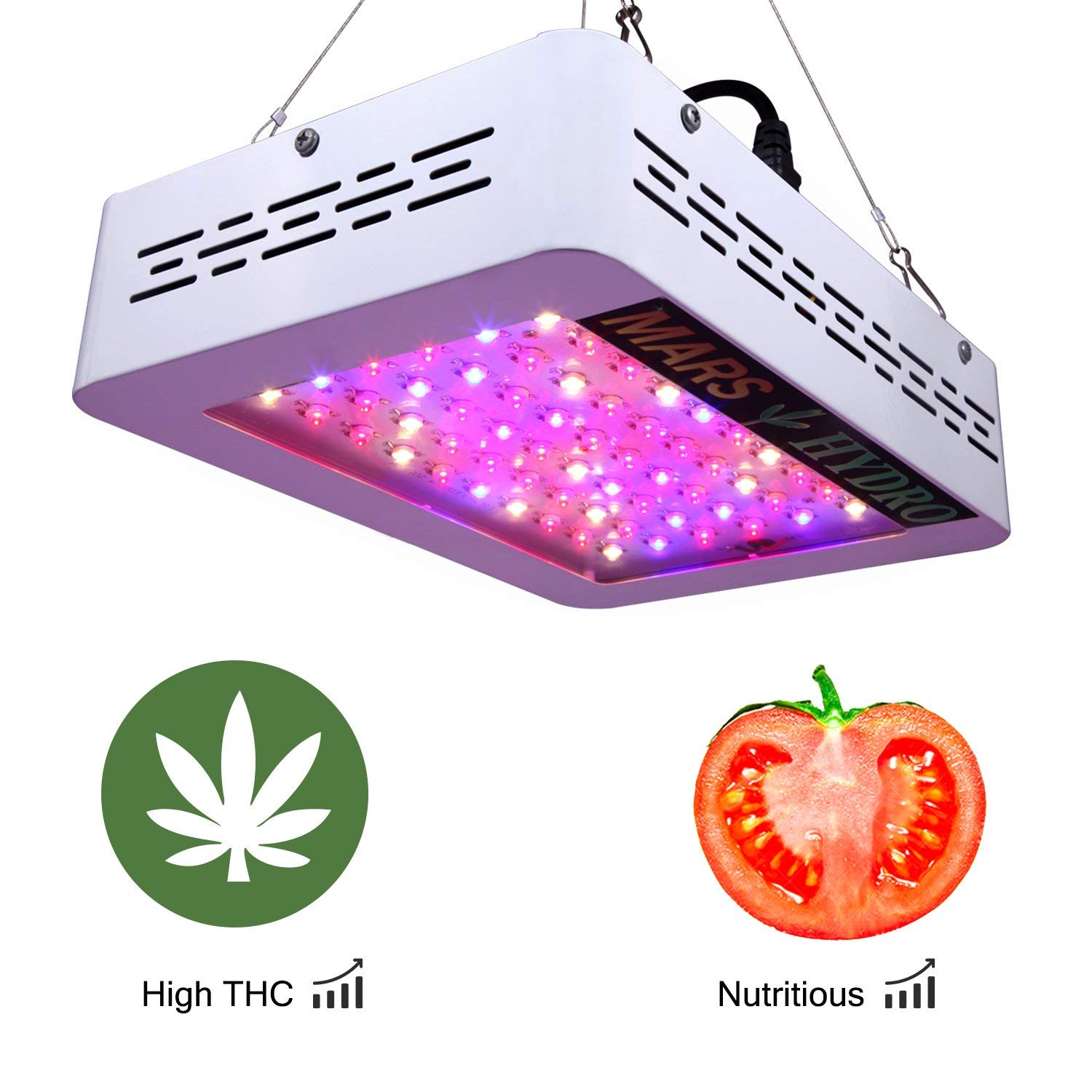 Why should you buy Marshydro Mars 300w grow light?
Grow lights are one of the best creations China. It's one of the most useful tools for indoor gardening and greenhouse. Mars 300w grow light one of the great creation of the LG-LED solution. It's one of the best small budgets grow light I have ever seen. For a beginner, indoor-gardener its perfect. After reading some reviews, you may think it isn't a good light, but lots of customers are satisfied with it! Even I am also delighted with its performance.
However, it is the best grow light within the budget. If your budget is tight or as a beginner you want to get a grow light then it is perfect for you. It occurs a tiny place, and it is ideal for the small beginning indoor garden.
Once you have decided that, you will get a grow light, but your budget is quite low! In this circumstance, I will strongly recommend you Marshydro Mars 300w grow light.
Bestseller No. 1
Mars Hydro 2023 Upgraded SP3000 LED Grow Lights 2x4ft with 960Pcs Samsung LM301B Diodes, Dimmable Full Spectrum Indoor Plant Growing Lamps, 3x5ft Veg Coverage, Daisy Chain for Greenhouse 300W
ADVANCED YET ECONOMICAL: MARS HYDRO SP3000, the 2x4 grow light adopts 960Pcs Samsung LM301B diodes, gets max yield up to 2.5g/w and higher light outputs of 1136μmol/s yet only consumes 300 watts. It fits for a 3x5ft veg coverage , or 2x4ft flowering coverage. Upgraded version from SP250
FULL SPECTRUM FOR ALL STAGES: Precisely utilizes a combination of all colors in full-cycle growth, the 4ft grow light provides plants with mimic natural sunlight to produce high-quality crops, the sunlight spectrum includes Warm White Light 3000K, Red Light 660nm, White Light 5000K
DIMMING FUNCTION AND DAISY CHAIN: Featuring a dimmable knob to control light intensity for all stages growth, our led grow light bar also supports daisy chain to connect up to 60 lights at the same time, especially convenient for large indoor plant growing or commercial planting
SAFE AND DURABLE STRUCTURE: Mars Hydro 300 watts grow light is equipped with a removable driver to avoid safety issues and added upgraded hooks on both sides for better hanging. The aluminum heat sink makes it dissipate heat well
AUTHENTIC WARRANTY BY MARS HYDRO: This led grow light bar supports 5 years warranty, with reliable customer service team and technical support, any assistance would be offered. If there is any question, please feel free to contact us, 24-hours service is always for you
Bestseller No. 2
SANSI LED Grow Lights for Indoor Plants, Lifetime Free Bulb Replacement, 300W Full Spectrum Dual Gooseneck Clip Plant Grow Light with Optical Lens for High PPFD Growing Power Lamp
Higher Growing Power & Energy Saving: SANSI Grow lights offer high growing power of PPFD:402 μmol/s/㎡@1ft, around 18 times higher than other brand. Through the lens for secondary scientific light distribution, improves light utilization, giving plants more supplementary light. Using only 20 watts of power, equivalent to 300W incandescent bulbs. Based on 18 hours per day usage, save up to 90% electricity, annual estimated cost 13.14.
360° Gooseneck & Full Spectrum: Making every plant covered by 360° surrounding light, actualize a more ideal full life cycle full spectrum supplementary light program, covering the entire visible spectrum of 400nm-780nm, suitable for every cycle of plant growth, effectively promote plant growth, and improves crop yield and quality. Providing 4000K daylight, color rendering index Ra is close to 100, infinitely close to natural light.
Replaceable bulbs: Different from similar products on the market, the bulbs of this product can be replaced, which not only facilitates customers to replace broken bulbs at any time but also avoids wasting money to repurchase the whole grow light. Saving money and protecting the environment. Additionally, whole-life warranty for the bulb.
Patented Ceramic Technology: Chip on Ceramic, SANSI's patented technology replaces the traditional Mcpcb aluminum substrate with a non-conductive ceramic heat sink, and directly solder the LED chip on the ceramic heat sink, effectively reducing the systematic thermal resistance between the LED PN junction and the surface of the heat sink, resulting in faster heat conduction and higher product reliability, producing a SANSI bulb with higher light efficiency.
Guarantees: ETL listed certification, quality and safety verified, 25,000 hours lifespan and whole-life warranty for the bulb. Attention Please: The maximum safety wattage rating is 10 watts for each head.
Bestseller No. 3
CASTNOO 300W 54 LED Grow Lights, Full Spectrum Little Solid Grow Lamp with IR & UV LED Plant Lights for Indoor (Space-Saving) Plants,Micro Greens,Clones,Succulents,Seedlings
High Cost-Effictive High Efficiency:Feature afford price with energy-saving. Save 90% energy compared with HPS/HID. Beat HPS/HID and traditional LED Light.Covers a full 2' x 2', easily replace a 300W HPS or HID while consuming 30 watts of actual power
New Upgraded Epistar LED Chips:Less heat release than other general grow light led's 1/3, High Par Value and High Lumen, Minimum Heat, Maximum Growth(photosynthetically active radiation)ensured high light absorption of plants to maximize the plant growth and harvest. Higher lumen and long lifespan ensured
Best VEG-BLOOM Full Spectrum: Special ratios of Blue/Red/White Spectrum which based on 10 years of research and testing can be fully absorbed by the plant to photosynthesis, Best for fast growth and high yield.
Won't Burn Plants:Keeping heat off plants is essential. By using self-cooling aluminum and a unique heat sink design to maximize heat dissipation area, the LED maintains a cooler temperature even after 24 hours of continuous use
Reliable Product and Service Guarantee:Little solid grow light,which would give your adorable plant or life vegetable a comfortable environment.The light of ours is not very strong,but suitable for the growth of plant.If you find your plant do not like it ,please tell me,we would solve it for you asap and 100% refund as you want.
Final Words
If you read the full article then I guess, you already know a lot about a grow light. And I am sure the knowledge will help you to pick a mars 300W grow light. I guess my review will help you to understand the quality of it! All the users are delighted with its performance. If you still can't decide then wait and watch people growing their marijuana, flower or vegetable with Marshydro Mars 300 grow light then decide which one is right for you. For price click here.
Read more: