Growing marijuana on a small grow space is challenging because you may not know how to balance some of the essential things that your crops need. This is so especially for people venturing into WEED gardening for the first time. One of the biggest challenge is finding the correct lighting system for small spaces.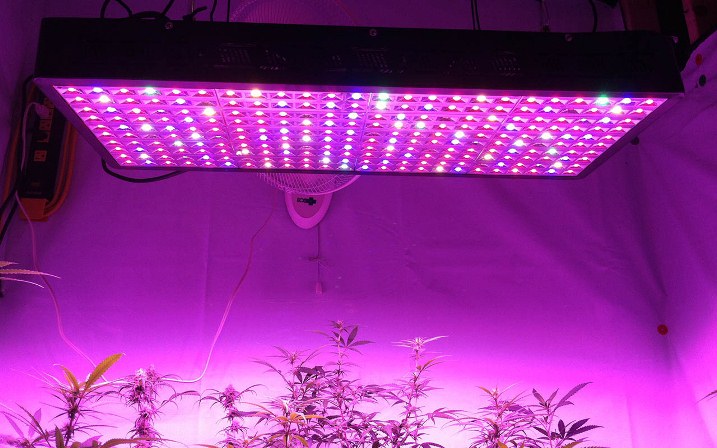 Many may opt to go for bigger lights because of the saying that bigger is always better but when it comes to the lighting system, you need to get the proportions right, you do not want lights that will not give your crops full coverage nor do you want lights with too much brightness and heat. You need smaller LED lights for small grow spaces. The best option is the 300-Watt LED Grow Lights and below we reviewed some of the best in the market and came up with the following list.
Our top picks of the 300 watt LED grow lights.
300 Watts LED Grow Light Advanced Platinum Series P300 LED Grow Light
This amazing full spectrum LED light combines twelve different bands to create a lighting system that give your crops all the light they need. Being among the best lights in the market, the 12-band spectrum out performs many other models in the market with their light intensity. The light spectrum also comes with selectable VEG and BLOOM switches that you can control to give the crops the light they need.
The lights, which are especially ideal for all the stages of weed growth also, have quiet fans and aluminum cooling sinks enabling your crops not to get overheated. The product comes with a 5-year warranty and a 90-day satisfaction guarantee. The lifespan of the LED light spectrum is 100.000 hours. As powerful as the LED lights are they also save energy as they only consume 180 watts of energy.
Pros
Has amazing features that help to generate efficient light
Full spectrum light
Saves energy
High PAR
Long lasting
Sturdy
Cons
More pricey compared to other models
Verdict
When it comes to grow lights, this one is exceptional and nothing much can really change the fact that it is worth every penny. It is also the reason it tops the list. Verdict, get  this product and you will be laughing alongside your MARIJUANA plants.
VIPARSPECTRA Grow Lights are some of the most efficient full spectrum lights for indoor weed growers the lights consume very little energy but optimize crop growth to give higher yields as compared to ordinary grow lights. The UL certified grow light is safe to use on the crops during all the stages of growth. It has fire resistant reflectors that strengthen the penetration of light to give full coverage to the crops.
The LED grow light is durable, sturdy and it will give you service for long hours. The product also comes with heat dissipation features of aluminum heat sinks and extremely quiet cooling fans. You can connect the lights to another grow light because it comes with a daisy-chaining feature.  It also comes with a hassle free 3-year warranty and a satisfaction guarantee of 30 days.
Pros
Gives optimal full spectrum light
Has an effective cooling system
Scientifically designed
Allows the plants to give more resinous buds
It is daisy chain able
Cons
Not waterproof
Coverage is smaller compared to other models
Verdict
This great product will give your crops even light proportion with well-balanced coverage. This is therefore a great buy and we would recommend you to go for it.
MarsHydro LED Grow Light
Marshydro is a well-known manufacturer of quality LED grow lights and this product is just perfect for anyone that wants the best from their crops. The grow light is also one of the best in the market and it will not let you down throughout the growth stages of your weed.  Equipped with 60 EPISTAR LEDs each with 5 watts, the LED lights also come with a color band that scatters evenly on the panel of the grow light.
The grow light not only delivers an equal wavelength to all the crops but it also helps to give the crops the essentials it needs for proper growth. The consumption of energy by the full spectrum light is 132w, which makes it a great energy saving product. It keeps heat at bay by using the inbuilt fans that are extremely quiet.
Besides the fans, the LED light also has aluminum heat sinks. It comes with a 1-year warranty and a 30-day money back guarantee. You can use the LED light on hydroponic crops and soil potting crops.
Pros
Gives full spectrum light features
Offers the plants sustainable growth with full coverage of light to all the crops
Sturdy
Durable
Saves energy
Has an efficient cooling system
Comes with an automatic timer
1-year authentic warranty and a 30-day money back guarantee
Cons
Not dimmable
Not waterproof
Does not have dual mode switch
Verdict
If you are looking for a product with potential and one that will give your crops the ability to grow looking healthy and with all the essential nutrients, we would definitely recommend that this 300W LED light will not let you down. Go on and make your crops happier.
MAXISUN 300W LED Grow Light
MAXISUN 300W LED Grow Light  is another worthwhile product that you can buy and not regret even for a single day. It makes the best companion for your CANNABIS plants because it comes with special and quality features that you will not find in many other products. For starters it is dimmable which sets it apart from the rest and has 62 epileds LEDs of 5 watts each all capable of producing enough light to give even coverage.
The placement of chips on the panel of this MAXISUN grow LED light is different from other placements in the market. The dimming control of the unit allows you to control the intensity of the light.  You can also connect the grow light with other grow lights because it comes with a daisy chaining ability.
If you are worried about energy consumption, you do not have to because the LED grow light uses only 142 w of power, which is much lower than conventional grow lights, it has cooling fans and aluminum heat sinks to help with temperature and heat control. The LED grow light also comes with a 3-year manufacturer's warranty and a 60-day hassle free return policy.
Pros
Avails full spectrum light coverage
Comes with dimming abilities
Has a better and unique placement of LEDs on the panel
Daisy chaining features
3 year warranty with a 60-day hassle free return policy
Cons
It is not waterproof
Does not come with timer
Verdict
With a rating of 4 to 5 stars, you can tell that this is a product with amazing capabilities. In short, buy it and you will another happy user with happy crops to show for its worth.
MEIZHI 300W LED GROW LIGHT REFLECTOR SERIES
MEIZHI is not new to LED grow lights, as the company is known for having some of the most quality grow lights in the market. This particular 300W LED light features 60 epistar LEDs all equipped with 5-watt chips that give your crops full spectrum light coverage. The lights are efficient for both hydroponically grown crops and soil-grown crops.
For an even better spread of light the LED light has a focusing angle of 90 and 120 degrees. This gives the plants an even spread of light. The grow lights are suitable for all stages of drop growth and it comes with aluminum sinks and cooling fans that keep the temperatures regulated to avoid the crops from overheating or losing any of their nutrients. The product also comes with a 1-year manufacturer's warranty and 30-day unconditional return policy.
Pros
Sturdy
Durable
Efficient spread of light
Saves energy
Effective cooling features
1-year manufacturer's warranty and a 30-day unconditional return policy
Cons
Does not have a dual mode switch
It is not waterproof
Verdict
Though there are other LED lights in the market with better qualities than this product, you still do not have to worry about your crops not receiving enough light coverage to make them grow well. It is also a great buy if you have a tight budget because its price is very friendly compared to other products. Overall, buy it and you will not regret.
VIVOSUN 300W LED Grow Light
VIVOSUN 300W LED grow light is especially good for those growing their crops hydroponically though it is just as good for all other growing methods. It gives the indoor grow room enough illumination to cover every part of the room. Its reflector design features LED chip technology that gives it a superior full spectrum light effect.
The products deliverance of light during the veg and bloom stages allows the crops to get great photosynthetic features throughout different stages of growth. the product also come with an impressive cooling system with an in-built five inch cooling fan and heat sink vents made with heavy duty material and large enough to allow balanced ventilation and air flow.
Pros
Comes with an effective reflector design that does not deter or tamper with the light effect in the grow room
LED chip technology that gives optimal full spectrum light effect
Cooling fan n heat sinks vents for airflow and ventilation
Saves energy
Daisy chain features
Cons
High light intensity
Covers a smaller space compared to other products
Verdict
Besides the intensity of the light, this great product will make your crops grow well. As for the light, you can use protective gear to protect your eyes from the glare. Other than that, buy it.
Bozily LED Grow Lights
One of the times when gardening becomes boring is when you have to keep turning the lights on and off every time you want to control the system. With this LED grow light you do not have to contend with that because it comes with an auto on off switch. The indicator on the lighting system turns yellow which is an indication that your timing is set for four hours.
After the four hours, it shuts itself off. Green indicates 8 hours and orange indicates 12 hours. That is just one of the benefits that you get when you purchase this amazing LED grow light. The light is twice as large as many traditional lamps in the market, meaning it gives better light coverage with an ample angle of 360 to 90 degrees for super lighting effects.
It is ultra-thin and foldable, easy to set up, portable and it allows you to place it in whatever shape you deem fit. When you are not using the LED light for your marijuana, you can set it up outside as a landscape light. It looks simply beautiful. The material is high-density aluminum with superior heat dissipation capabilities and protective features for both the crops and the LED lights.
Pros
Full spectrum
Thin beautiful design
Foldable
Lightweight and easily portable
Easy to store
Versatile
Auto on off switch
Cons
Can only cover a small area and therefore not fit for medium to large weed growers
No daisy chaining features
Verdict
If you want style and simplicity, then this product will do just fine. When you take a break from gardening, you can turn your LED light into a landscape light and it will make your place look more beautiful. It is efficient for the crops growth so the opinion here is it is a great buy.
Growstar 300W UFO LED Grow Light
This cob grow light is a favoirite with many marijuana small-scale farmers because of its wonderful features. The company for starters focuses on making products that are of the highest quality, which is one of the reasons that Growstar UFO LED grow light is a top choice for many growers. The light uses CREE LED chips known for their remarkable features.
The total number of LED chips is 54 with every piece bearing 5 watts and one with 30 watts Chips On Board. The grow light gives your marijuana plants full spectrum light and it has UV and IR for further protection. It also has a scientifically designed reflector that gives out consistent light through 90 and 120 degrees.
This helps the plants to get uniform light throughout their growth stages. All Growstar lights go through testing before shipping so you do not have to worry about getting a product that does not work. The LED UFO light also save energy as they have a great cooling system and aluminum heat sinks. The product comes with a 2-year warranty.
Pros
Full spectrum lighting
Cooling system
Energy efficiency
Hanging kit
Epileds and Bridgelux LEDs
Lightweight and easy to mount and use
Reputed manufacturer
Cons
It is not waterproof
There is not switch to control the LEDs
Verdict
The popularity of this cob grow light only goes to shoe that is a product worth spending your money on. It comes with all the benefits you could get from any LED light and much more. Purchase one today and join the throng of happy marijuana farmers.
Mrhua 300W LED Grow Light
Though smaller than other standard grow lights Mrhua LED grow light is still very efficient systems for lighting indoor grow spaces. It is just as powerful as all the rest and it uses COB or Chip-On-Board fixtures for its lighting. The cob fixture makes the light become extremely powerful with a wide coverage.
It is full spectrum and comes with UV and IR for protection purposes. The grow light is extremely energy efficient as it uses only 133 watts of power. In spite of the light intensity, the product does not generate much heart that could harm your weed.
Pros
Efficient
Compact small size
Full spectrum light
UV and IR protection properties
Ideal for all stages of weed growth
Low heat generation
Intense light
Cons
Only has one chip on board
Verdict
If you want to find how the latest technology in LED lights works, then you should find out with this product because it is simply one of the best Chip-On-Board models.
Roledro LED grow lights
This amazing product from Roledro is another reason why indoor growing is so much fun. The LED light comes with many quality abilities that attract many weed growers. Unlike many other LEDs in the market that come equipped with 60 LEDs, this grow light has 100 LEDs with each one of them bearing 3 watts. This increases the space the lights cover in the grow room.
The light deliver full spectrum light for the crops throughout all their growth stages. Its power consumption is also great and you do not have to worry about paying hefty electricity bills. It has a cooling system and a scientific design that keeps power consumption at its minimal. The LED grow light comes with a 2-year warranty and a lifetime of consulting service.
Pros
Balanced proportion of light
Excellent light intensity saves energy
Scientific design
An effective cooling system
More coverage area
2-year warranty
Cons
Does not have daisy chaining features
Does not come with a dual mode
Relassy 300W LED grow light panel
Giving your crops the correct light balance enables them to grow healthy and strong. Relassy 300W LED grow light gives your indoor growing space enough light to cover all the crops. The product features an auto on off feature that allows you to set the lighting timings for your crops.
The grow light offers full spectrum and it comes with UV light which helps to minimize harm to the plant such as diseases, sterilization and disinfection. The design of the grow light is thin and easily foldable. This is unlike many other grow lights because this feature allows you to save space when you are not using the lights. The product is noiseless and ideal for all growth stages.
Pros
Great light utilization
Foldable design making it easily portable and easier to store
Full spectrum coverage
Silent
Auto on off timing features
Has a UV light for crop protection
Cons
Does not have cooling fans
Verdict
Even though the product does not come with cooling fans, it does not consume too much electricity and its light distribution is excellent., it is worth your money so we would recommend you to go for it.
Related Post:
Wrapping it up
Using LED lights for your indoor farming is the best method to make your crops grow faster and with good health. The lights mimic the sun's rays which all plants need for proper growth and for photosynthesis. All the above LED lights are of the highest quality and they all come with full spectrum lighting. Whichever you decide to buy for your indoor GROW TENT or GROW ROOM or whatever indoor space you are using, will do you and your crops great service.