Post last updated on:

by
Many marijuana farmers today are choosing to grow their crop using LED grow lights and all for a good reason. Besides being the cheapest choice, farmers also expect better yields and more advantages over the traditional lighting methods. You do not need sunlight to have some of the healthiest crops in the market. You have LED grow light to give your crops all the light and nourishment they need. What is even better is your crops get to grow much faster.
Many of the readers have requested a review of
RECORDCENT LED Grow Light
and below is everything you want to know. This will save you the agony of going through the hundreds of products in the market which takes too much of your time.
Before we proceed, here is a quick summary of what to expect by using RECORDCENT LED Grow Light.
Why you should buy RECORDCENT LED Grow Light for the growth of your crops
It is cheap
One of the main reasons why you should opt for this particular LED grow light is because it is extremely cheap. Compared to so many other LED grow lights in the same category, this one sells for much less.
Great power output
With 1000-watt LED grow light, the product has great power output. Here you also have to note that because it is cheap, its quality is low. On the contrary, it is one of the best of its class when it comes to quality.
Considering its power output, you could not ask for a better product. Before you take my word for it though, read the full review below and make a decision on whether you should go for potent and quality.
Advanced technology
The companied carried out 8 years of research before coming up with this amazing LED grow light. A lot of technology goes into making it one of the best and majority of the marijuana farmers using the grow light can attest to its high quality that leads to high output without using too many expenses.
Lightweight
You do not have to worry about finding help to carry your LED grow light around or to set it up because it is lightweight.
Cons
Durability
Though the LED grow light comes with many benefits, it only gives a lifespan of 35,000 hours, which is still not too bad.
Warranty
The LED grow light does not come with a long-term warranty but this does not mean that you do not get the satisfaction guarantee that it is one of the best. For a more detailed review of the LED grow light, read on.
RECORDCENT LED Grow Light full review
Some people may have the assumption that because the LED grow light is very cheap, its quality is cheap too. Let the price not fool because what you have here is one of the best quality LED grow light for marijuana farmers. It gives some of the best and more expensive similar products in the market a run for their money. To start, the first thing you notice about the LED grow light is its well-designed structure. To set up your grow light, you will not need additional equipment like reflectors, coolers or ballasts. What you have here is the complete deal.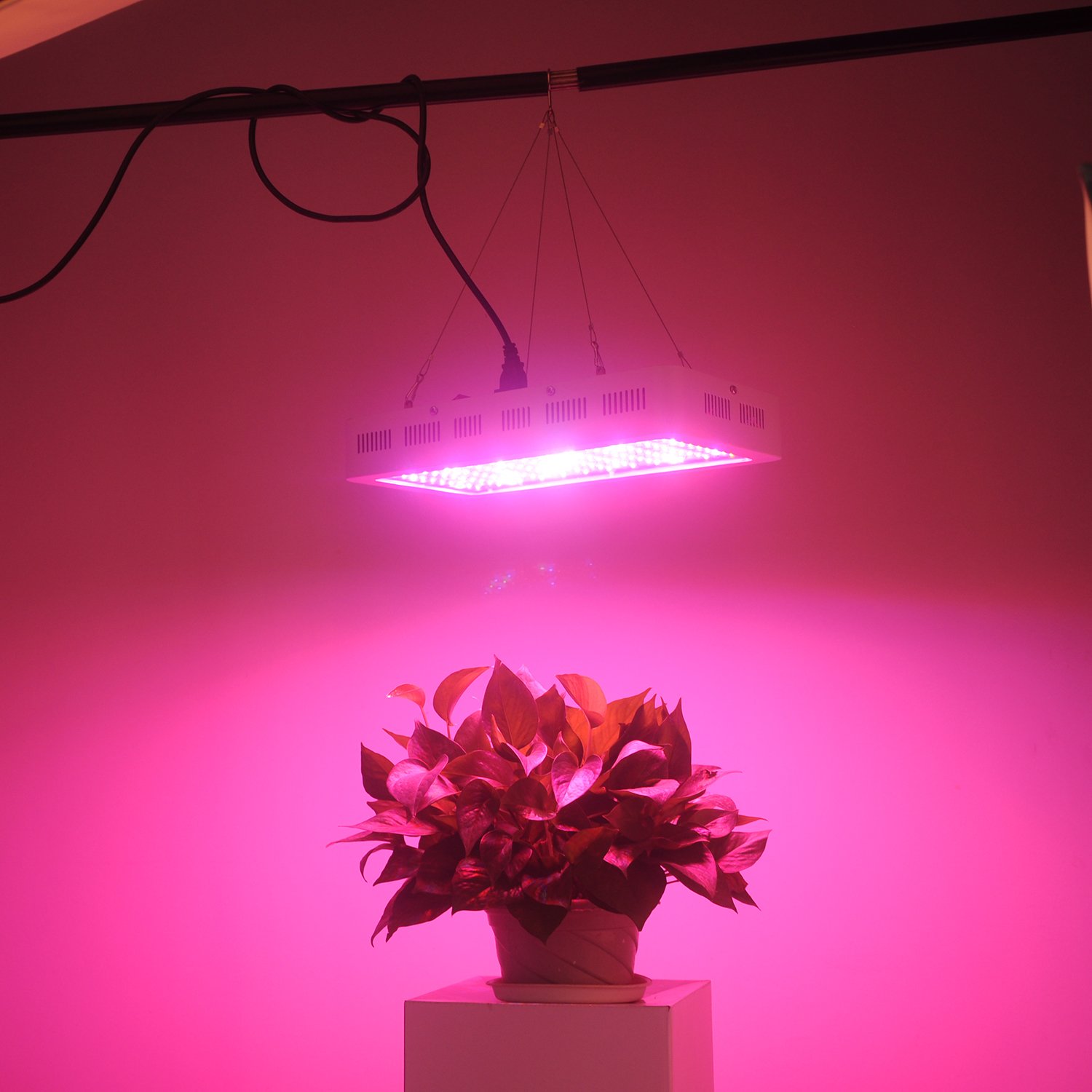 The materials used on the product are of the highest quality, which adds to the durability of the 1000-watt grow light. Besides the high quality material, the LEDS in the grow light have high power and the perfect wavelength. The light the lights emit is full spectrum, which the plants need for effective photosynthesis performances during their growth.
The LED lights can work separately as each one of them has its own resistance. This helps to reduce the amount of operating temperatures thus saving you costs. The grow light has 100 pieces of 5 watt dual chip LEDS which are much more efficient than 3 and 1 watt LEDS. Another way the LED grow light saves energy.
Some people may feel that the lasting time of the LED grow lights is not sufficient, but 35,000 hours are not too bad for the growth of your crops. This is enough time for your marijuana plants to receive the full spectrum LED light along with the UV and IR light the plants need to grow.
The LED grow light also comes with two cooling fans that help to keep the temperatures in your greenhouses low. For even better temperature control, the LED grow lights hang directly from the aluminum frame, which helps to sink the heat further.
Even though you do not get a long-term warranty after purchasing the grow light, the company offers 120-day satisfaction guarantee because they are confident that the lights will not disappoint. If you do not like the results, you can return your purchase within 12 days and get back your refund. Other LED grow lights that are similar to the RECORDCENT LED Grow Light are  Dimgogo 1000W Triple Chips and King Plus 1000W Led Grow Light
Conclusion
Whether you are a new marijuana farmer or it is something you have been doing for a while, this LED grow light is decent for your products. It is one of the best in the market and you can Buy it from Amazon at an affordable price. It is a worth investment and you can expect better faster growth that will give you higher yields. If you have any questions or want to know more about the RECORDCENT LED Grow Light. Let me know in the comments box.
Best 1000w Led Grow Lights On Amazon: