As a cannabis grower, one of the most important decisions you will make other than choosing the right seed bank is identifying a reliable lighting system. CFL or compact fluorescent light is one of the best lightings in terms of efficiency and value. For many years, professional cannabis growers have been using high-pressure sodium grow lights (HPS), or High-Intensity discharge grow lights (HID) in their indoor gardens. Even though the lighting offered is robust and of full spectrum, they leave you with hefty electricity bills to clear and sometimes may be too powerful for the plants. What you need to acquire is a lighting solution that will not risk burning your plants or leave you with high electricity costs even when run for 12 hours every day.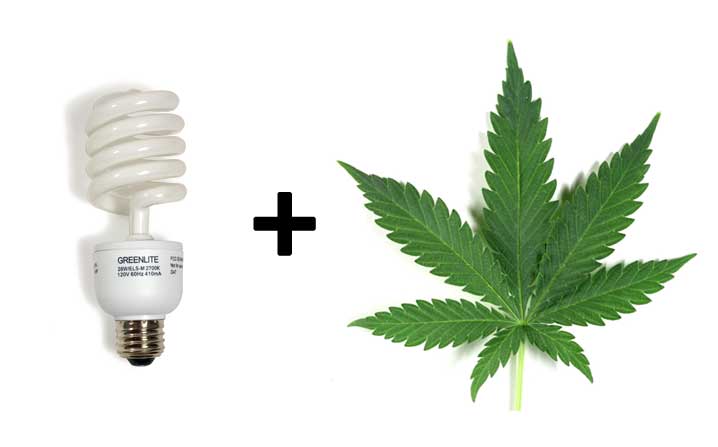 The best mode of lighting that can easily replace HPS and HID lighting is the compact fluorescent lighting. CFL grow lights are quite similar to the bulbs you find in many homes and offices. They are far better in terms of energy consumption and heat output. CFL provides the much-needed spectrum of light to aid for the vegetative growth of cannabis as well as the flowering stage. The bulbs are long-lasting and do not need yearly replacements like the high-pressure sodium grow-lights. Just like a traditional fluorescent bulb, CFL works when electricity passes through gaseous vapor in an area of low pressure. They come in two significant shapes, u-shaped glass tubes or spiral glass tubes. Their wattages range from 40 to 250 watts. One bulb can last for 10,000 to 20,000 hours while its ballast can last between 50,000 to 60,000 hours while in operation.
When it comes to indoor gardening, there are two types of Compact fluorescent light; daylight and soft white. What differentiates them apart is their color temperature. Color temperature is a vital aspect of the growth process of a plant. For this reason, it is essential to switch both types of bulbs often to allow the plant experience the different temperatures of light in its growing process so that it can thrive.
This article highlights the best CFL GROW LIGHTS for cannabis growers that you can find in the market today.
Read more:
Best Compact Fluorescent Light Bulbs
MaxLite MLS26GUWW6 GU24 Base Compact Fluorescent Light Bulb
The MaxLite Compact Fluorescent Light Bulb is one of the best soft white CFL bulbs. It runs on 26 watts of power and has a smooth white appearance that is similar to traditional incandescent bulbs. It has a GU-24 bi-pin base that fits in most lighting fixtures. The lamp offers a warm white (2700K) and a cool white (4100K) correlated color temperatures. It has a quick starting electron ballast that operates without flickering. The light bulb is energy saving with the ability to save up to 75 percent of energy costs. It can last up to 10, 000 hours of use. You would require four or five of the MaxLite Base Compact Fluorescent Light Bulb to produce enough light to supply cannabis and produce fruits and flowers.
Pros
The bulb is flicker free thanks to an electronic ballast.
It is long lasting.
It is energy saving.
Its small size allows it to fit in all standard lighting fixtures.
Cons
It is pricey.
Agrobrite FLC26D 26-Watt Spiral Compact Fluorescent Grow Light Bulb
If you are a beginner with a small cannabis garden, I recommend getting the Agrobrite Fluorescent Grow Light Bulb. The bulb is only 26 watts (6400K), but it emits light equivalent to a 130 watts incandescent bulb. It is a favorite daylight CFL bulb that has a color spectrum which ranges between blue-white that can help with the vegetative phase of your marijuana plant. You need about four to five bulbs to provide the required light output and achieve the best quality vegetative phase. You can also use it when starting seedlings. The spiral grow-bulb comes with a medium base that can fit in all the standard lighting fixtures. The light bulb is UL listed and can last up to an average of 10,000 hours producing 1600 lumens.
Pros
It is long lasting.
It can fit on any standard light fixture.
The bulb can save energy costs.
Cons
Finding defects is common.
Westinghouse 3667000, 5 Watt CFL Light Bulb
The Westinghouse CFL Light Bulb is one of the best bulbs for the growth of clones. The grow light only has 5 watts but emits an equivalent of 25 watts by incandescent bulbs. It produces a soft white light of 2700K. The grow-light is not intensive as other CFLs of higher wattages since it creates a lumen of 270. However, the amount of light it can produce is sufficient enough for use in the growth of clones. Since it only has 5 watts, the amount of heat it can emit is not enough to cause damages to a plant. Due to its low wattage, it is best to place the light bulb 2 inches away from the plants to attain the best results. The grow light is compatible with most standard light fixtures and can up to 10000 hrs.
Pros
The light bulb is affordable.
It has a lengthy lifespan of 10000 hours.
It can fit in most standard light fixtures.
It produces warm light that does not burn the plants.
Cons
You cannot use it with a diming device.
SunBlaster CFL Self ballasted Propagation lamp
The SunBlaster CFL Propagation lamp uses only 26 watts of power to provide a full spectrum lighting that is needed by plants to grow and thrive. The lamps are affordable and can fit in almost any light fixture without any problems. The compact propagation lamp is set to replace incandescent bulbs of 100 watts. It produces a 2700K light spectrum. The light bulb is for use during the later stages of cannabis plant growth. It creates a cool natural light that you can compare to natural daylight with a brightness of 1700 lumens. The bulbs do not flicker while in use to provide a high output.
Pros
It is easy to install and use.
The light bulb is affordable.
It does not flicker when in use.
It ensures proper development and growth of crops
Cons
Finding defects is common.
Satco S7334 40 Watt (150 Watt) 2600 Lumens Hi-Pro Spiral CFL Bulb
The Satco Hi-Pro Spiral CFL bulb is one of the best grow-lights for use during the flowering stage of cannabis. The CFL grow light produces a warm white light with the perfect intensity to help the cannabis plant achieve its best results. The bulb uses 40 watts and provides a light output that is close to an incandescent bulb of 150 watts. It has a bright color temperature of 5000K and has a color rendering index of 82. The grow light comes with an E26 medium base socket that can fit in all the standard light fixtures. The bulbs have an electronic ballast for the instant-on feature. It does not flicker during operation and can last for up to 10000 hours. The lamp has an energy star and is UL listed.
Pros
It can last for a long time while in use.
The bulb is an energy saver.
It is easy to install since it can fit in all standard light fixtures.
Cons
Several users have complained about the brightness.
Best CFL Grow Light
Hydrofarm Agrobrite FLCDG125D Fluorowing Compact Fluorescent System
If you are looking for a grow light to use on small plants or to add as supplemental lighting in your cannabis grow room, you should consider getting the Hydrofarm Agrobrite CFL Fluorowing System. The system comprises a compact reflector hood, a dew-guard and a bulb that uses 125W. The reflector hood is responsible for increasing the coverage of light through the plant canopy. The lamp produces a bright white light that can effectively power a complete plant cycle from vegetative to flowering. It comes with a one year guarantee.
Pros
It can last for more than one year.
A decent warranty covers it.
It can cover a medium sized garden.
It has a reflector to increase the coverage of light.
Cons
It is relatively expensive.
Finding defects is common.
What to Consider When Buying a CFL Grow Light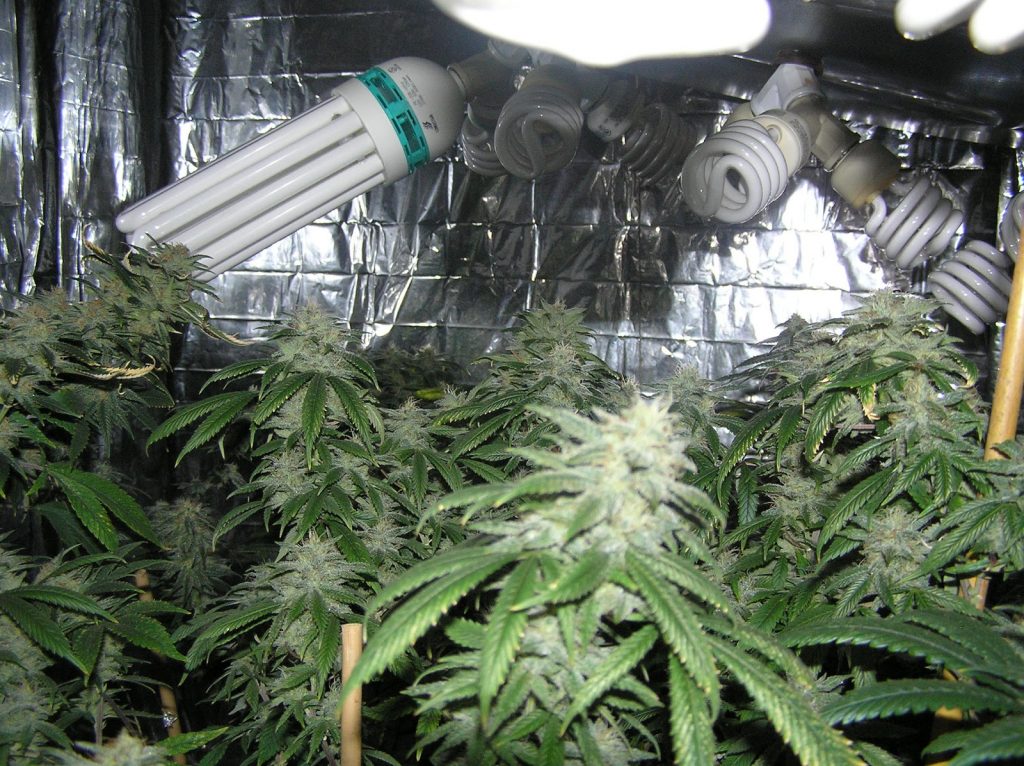 When buying a CFL light, you should consider getting one with the highest wattage possible (W). The higher the wattage, the more power the bulb will produce leading to more light for your cannabis plants. You should understand how much lumens a bulb can produce to determine if it is suitable for use. A cannabis plant requires 10,000 lumens to grow. Therefore, if a bulb produces 2500 lumens, you would need four of them to attain the necessary levels. You can find CFL versions that range from 5W to 105W. Even so, there are larger models that exist.
As I earlier indicated, different plant growth stages require different spectrums of light. By using the Kelvin scale, you can measure the color temperature that CFL bulbs emit and know which one you need depending on the growth stage of the marijuana. Here is a quick breakdown of the type of CFL grow light you need to get.
Warm White, Soft White
Ranges between 2700 – 3000K
Bulbs that lie in between this stage have a warm light that resembles the sun. It is best suited for the flowering phase of the plant. During this stage of growth, the seed starts to spread in preparation for another set of new plants.
Cool White, Bright White
Ranges between 3500 – 4100K
The bulbs that lie in this range are quite often not very optimal for use in the vegetative or the flowering stages of a plants life cycle. You can use only or two bulbs from this range as a supplement to the vegetative and flowering range.
Daylight
Ranges between 5000 – 6500K
The bulbs from this range are the best to use in the vegetative phase of the plants. In this phase, plants start forming leaves and grow very fast to get to the flowering stage. Daylight CFL bulbs are the best types to begin a plant growing life cycle. It helps to save power during a plant's vegetative stage making it better than a metal halide system or high-pressure sodium. Since they are also not as strong as HPS or HID, you can place them closer to the plants without the fear of burning the plants.
Benefits of Using A CFL Grow Light
CFL grow lights do not require the use of external ballasts making it very easy to set up the lights. All you need to do is fix the bulb in the fixture, and you are ready to go. CFL grow lights generate less heat compared to the traditional sources of light for indoor plants. It, therefore, allows you to place the bulbs close to the plants at a distance of 6 to 12 inches without causing any burning to the plants.  You can easily adjust the mounting length in regards to the needs of your plants.
The low heat generated by the CFL grow light allows you to save money that you would otherwise require to purchase a cooling system. The bulbs come with standard sockets. You do not need to buy any fancy accessories to connect the lamp, all you need to do is connect to a standard light fixture. CFL grow lights are very cost friendly when you compare them to the other types of grow light in the market.
What You Need to Get Started on Growing Cannabis
The design of CFLs makes it easy to set them up without the need of acquiring any special equipment. Even then, you need to have some essential items to get started. If you want to set up your indoor marijuana garden, you have to invest in a few startup supplies. However, the cost of items gradually goes down with each growth cycle your complete and start again.
You need to decide on the hydroponic tray you want to use for your plants and the growth medium to use. To select the best grow tray, you first need to identify the hydroponic system you intend to use. Choose one that is long lasting and durable so that you may cut costs on continuous replacements. There are different types of growth mediums available today. Depending on what you find convenient, you can choose between perlite, vermiculite, Rockwool, coconut fiber, clay pellets and any other material with the ability to retain water and minerals.
Next, you need to identify an area indoors to set up your garden. It should be free from any source of light since you want to control the type and amount of light that your cannabis plants receive. One of the ways that I have found helpful in managing the amount of light in an indoor garden is by setting up a grow tent. Not only do they help you in controlling light, but they also help to control the fluctuating temperature in a room. They consist of thick Velcro panels that create an air-tight seal maintaining the internal temperature as well as keeping pests and odor out.
It is also crucial that you get the right nutrients for your cannabis plant. Always keep in mind that the vegetative stage of cannabis requires you to provide it with more nitrogen while the flowering stage needs more potassium and phosphorous to promote the growth of the bud.
Finally, you need to have high quality seed from a reputable seed bank. To identify one that can provide you with the best quality seeds, go through their client reviews online to see what other people think of their products and services.
Frequently Asked Questions
Should you get one big CFL or put together several small CFL bulbs?
Either option is okay to use. However, you should know that the cost of buying several small CFL bulbs an attaching them is slightly cheaper than that getting one big bulb. Also, you can customize your lighting arrangement with the smaller bulbs better than using a large lamp that provides lighting from one side.
What distance should you place your light?
The amount of light that CFL bulbs emit is low compared to high-intensity bulbs like LEDs. After doing several trial and errors, I was finally able to note that the CFL grow bulbs performed well when I placed them between 2 inches and 4 inches away from the cannabis plants.
Conclusion
When using a CFL grow light on your marijuana plant, it is essential that you ensure the light is not too far or too close to the plant. I often do this by placing my palm in the middle and feeling the effect of the light. If it feels uncomfortably hot, then the light is too close, if it just feels warm them the light is at a safe distance. CFL grow lights may not produce as much light as an LED grow light produces but several things you have to worry less about whenever you use it is burning your plants and having high electricity costs. Even though the list above does not touch on all of the best CFL grow lights in the market, these few CFL grow lights stood out to be worth their price in every way. I do hope that this guide will help you successfully start on your indoor marijuana garden by using the best CFL grow light.
★★ Top 5 Best-Selling CFL Grow Lights on Amazon