So you have just embarked on marijuana indoor growing and you are looking for the perfect LED grow lights. You are just starting so the best one for you has to be something affordable, probably light and a high quality product that will give you great service. Light is great and so is cheap and there are many products in the market with the same characteristics. This is good but it is also very confusing because you are spoilt for choice. however not all of them will give you great quality even though they are everything else you may be looking for in a LED grow light.
I will help those just starting the indoor farming projects with a great product for the price. This product is not only good for those starting out indoor growing but it is good for those intending to change their lighting system to something more convenient.
I am talking about AGLEX 2000 watt LED Grow Light. Read on to find out why people just love this LED grow light and why after you buy it you will wait anxiously for the harvest time to find out just how high your yield will be. Before giving you the full review, I will start with the favorite part. What benefits does the LED grow light come with? Here are the pros and cons of the grow light.
The good and the bad of AGLEX 2000 Watt LED Grow Light
Pros
AGLEX offers you the best deal for this LED grow light. It is cheap and not many other products with the same feature sell for this price.
Scientifically engineered
You can trust the grow light to deliver outstanding results all with the help of a scientifically engineered AGLEX patented modular reflector.
Comes with a high quality cord that makes the grow light safer and more reliable to use
The LED grow lights daisy chain feature makes your marijuana planting easier to carry out.
Expects high yields within shorter periods when you use the AGLEX 2000 Watt LED Grow Light
With the combination of different features, the LED grow light gives full spectrum, which is not only ideal for marijuana farming but other indoor plants as well.
You also get a 3-year manufacturer's warranty
Cons
The product is great but it lacks an adjustable rope
The grow light is extremely bright so do not look directly into it without protective eyeglasses.
AGLEX 2000 Watt LED Grow Light full review
Besides the need to attain high yields, every indoor grower also wants a product that is hustle free and one that will save them some money. AGLEX 2000 Watt LED Grow Light is all that and more. Made with advanced technology, the LED grow light comes with a high precision lens paired with reliable AGLEX COB Reflector tech, which gives your plants 98% light source. This like the manufacturer of the LED grow light says, will make your marijuana plants not only healthier but happier too. The grow light has a beautiful humanized veg and bloom design. The design gives you a timer and an easy switch on and off feature. You can use at different times during the growing stage of the plants. What is even better is that you do not have to unplug the LED grow light.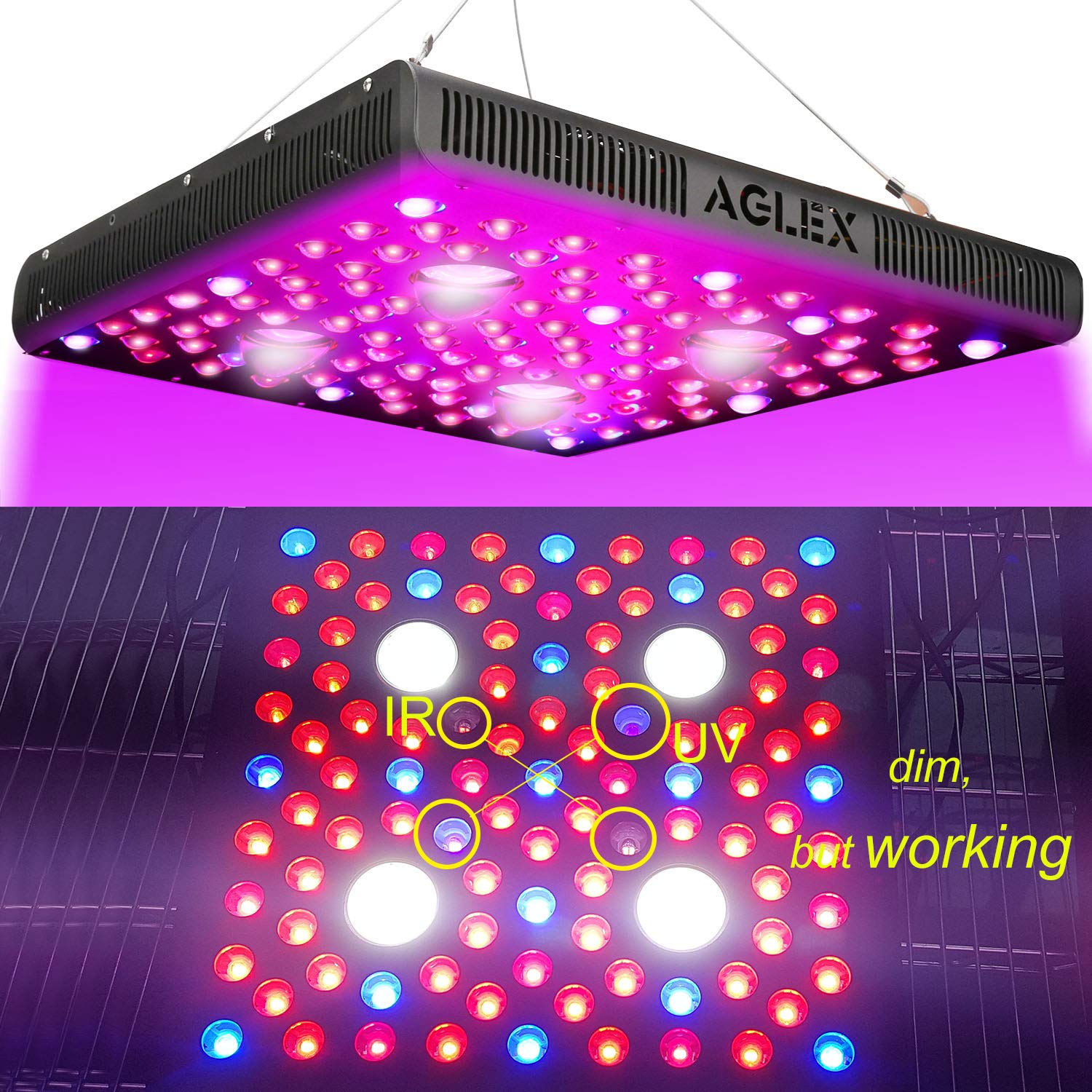 The daisy chain helps you to have a well-maintained neat lighting system. you can connect multiple lights without the worry of the wires getting tangles up to create a messy situation. The big fans and the large aluminum heat sink, give the LED grow light an efficient cooling system. This not only saves you cost on heating expenses but it also pro longs the LED grow light's lifespan.
The full spectrum AGLEX LED grow light applies double chip LED and high power COB, which mimic the natural sunlight thus delivering strong lighting to the plants, which in turn creates stronger healthier plants. This also reduces the growth time by a high margin, which in turn reduces the overall growing costs. The yields are also much higher than you would get in a planting session with no LED grow lights or with some other types of LED grow lights. So in short, you save on costs, get high quality and effective indoor lighting and harvest more. What more could you ask for?
What you get when you purchase AGLEX 2000 Watt LED Grow Light is a 2000-watt COB LED grow light, a hanging hook kit, a US power cable that does not tangle a user manual and a 3-year worry free warranty. Besides that if, you have any questions to ask about the product or want to make a complaint or an enquiry, you have yourself a friendly customer service to attend to you.
Conclusion
There you have it. One of the best powerful, highly potent yet cheap LED grow light. You can carry out your marijuana indoor growing luxuriously and with ease. All you have to remember is that the LED grow lights is very bright and as much as you would love to stare at its beautiful LED bulbs, wear protective glasses. Buy this affordable LED grow light from Amazon. We hope the above review was of help to you and you can now go out there with confidence to get yourself quality and style without spending too much of your money. If you want to find out more, let me know on the comment section.
Best 2000 Watt Led Grow Lights On Amazon:
Bestseller No. 1
LED Grow Light, TAURUSY 2000W Sunlike Series Dimmable Grow Lamp with Upgraded Chips & UL Listed Driver Full Spectrum Plants Lights for Indoor Veg and Flower Growing Light Fixtrues 620 LEDs
Higher Efficiency: TAURUSY Sunlike Series adopts the latest high-quality LEDs Technology and can reach production efficiency up to 2.75 umol/J. The Plant Grow Light can provide better uniform canopy light penetration and generate more available and powerful lighting per watt.
SUNLIKE DIMMABLE FULL SPECTRUM DESIGN: TAURUSY Sunlike Series Led Grow Light contains 3000K warm white light, 5000K blue light, 660nm red llight, and 760nm IR light in 224 PCS High-power LED chips. TAURUSY Led Grow Lights are suitable for almost all plants, vegetables and flowers whole growth stage and is able to obtain the satisfactory yield while saving the energy costs. The added DIMMER knob is featured to manipulate the brightness level of the light.
SUNLIKE DESIGN: TAURUSY Sunlike Series takes the high-productive led light output available at present, which creates the better canopy light penetration and gets 40% higher yields with less energy compared with other lights.
NOISE-FREE DESGIN: TAURUSY Sunlike Series Led Grow Light is specially designed for indoor planting grower, which will bring you a fanless quiet planting experience. The large areas of 3 MM solid aluminium HEAT SINK, UL listed, IP65 rating Driver 85-265V input voltage, and more than 50000 hours lifespan , which is more perfect than other grow lights.
WORRY-FREE WARRANTY and QUICK RESPONSE CUSTOMER SERVICE: TAURUSY LED Grow Lights provide 36 Months US Local warranty and 30 days refund guarantee. Quick response customer service, professional guidance and US local after-sales service will provide you with a worry-free and satisfactory shopping.
Bestseller No. 2
KOSCHEAL 2000W LED Grow Light Full Spectrum with Samsung LM301B and UV LEDs Daisy Chain Grow Lights for Indoor Plants Greenhouse Hydroponic Growing Lamps with Veg Bloom Switch Coverage 5x5ft
👍HIGH EFFICIENCY LED GROW LIGHTS: KOSCHEAL LED plant grow light has adopted the newest LM301B diodes and the newest SMD LED technology provides the highest PAR/LUMEN output, high energy efficiency with 2.8umol/J while speeding up photosynthesis, designed to replace a single-ended 400watt HPS/CMH grow lights!
👍UPGRADED COMMERCIAL LED GROW LIGHT: Daisy chain compatible to make fewer cords, which can connect with other grow lights to extend the coverage. No more than 3pcs growing lamps can be connected and used together by power cords. Energy & money & time- saving. The power supply works on 90VAC to 277VAC, suit for large rooms and commercial Setups. Perfect for 4'x4' vegetative coverage and 3.5'x3.5' flowering coverage.
👍FULL SPECTRUM LED GROW LIGHT: According to the light compensation point and saturation point of the plant(MJ),the more suitable spectrum of the plant(MJ) was proportioned.Total 596 LEDs included 460nm,620nm,730nm(IR) and 396nm(UV) which can replace natural sunlight. UV diodes stimulate anthocyanins,which improve the quality of fruits and flowers.
👍SAFE&DURABLE LED GROW LIGHT: Without the design of the reflector because the led reflector is not heat-resistant. If a short circuit occurs, the reflector is easy to melt and fire. We adopted cooling fans design of high speed &super quiet & upgraded aluminum cooling heat sinks so that the heat dissipation efficiency is improved and the light decay is slowed down. Save the cost of changing lights frequently.
👍WORRY-FREE PURCHASE: We promise 30 days money-back guarantee and US local after service for 3 years. We will reply within 24 hours for you. If you have any questions, please feel free to contact us.THX!
Bestseller No. 4
2022 Upgraded WZDRAGON 2000W LED Grow Lights Double Chips Full Spectrum for Greenhouse and Indoor Plant Veg and Flower Growing
【Veg/Bloom Switch】: Perfectly help you to save the energy and improve the environment of plant growing, the Veg/Bloom switch, was designed to provide proper light for plants in different growth stages to greatly increase your harvest. Veg switch is the blue LED and white LED only used for seed or seedling growth; Bloom switch is the red LED and white LED. For flowering, both Veg and Bloom switches can be used.
【High Performance Materials】: 2000W led plant light uses high-performance material aluminum substrate with a large heat dissipation area, so the bulb can work at a temperature of 50°F to 60°F, which is lower than other bulbs. At lower temperatures, your plants will not be burned, which will increase the lighting time and promote plant growth.
【Safety and Energy-saving Technology】: Different from traditional HPS, our LED grow lights use high-tech LED chips (dual chip 10W LED), our 2000W LED grow lights can replace the traditional 1000w HPS to provide brighter light and save energy More power can also save you a lot of money.
【Core Coverage Area/Full spectrum】】Twice effective coverage area than any Reflector Series lights, perfect for a 7.9' x 7.6' growing area at 25" height. WZDRAGON LED grow lights provides full spectrum lighting from 380 nm to 780 nm (including UV + IR) of natural light for plants needed of all growing stages from vegetables to flowers.
【5 years warranty】: Plus 90 days satisfaction or return guarantee. We are so confident in our products' quality control, if any question pls contact us, we will offer you professional guidance to help your plants grow better,Lifespan: 100,000 hours.
Bestseller No. 5
BESTVA 2000W Led Grow Light 5x4ft Coverage LM301B Diodes 10x Optical Reflector Full Spectrum LED Grow Lights for Indoor Plants Greenhouse Veg Bloom Light Hydroponic Grow Lamp
【Upgraded Aluminum Reflector】 HIGHER ENERGY AND MORE EFFIENCY LED GROW LIGHTING. Through a lot of testing from our laboratory reached the conclusion, the Aluminum Reflector increase spotlight intensity and reduce light waste, improve the penetration of light up to 50%, with 2X higher PPF than the old style. It's not only shorten the planting to fruiting cycle greatly but also increase more yields.
【Double LM301B Diodes】LOW ENERGY CONSUMPTION LED GROW LAMP. Different from the traditional HPS, BESTVA DC Series light adopts a high-tech SMD LEDs and aluminum reflector , increasing some LM301B diodes and aluminum reflector can improve the light penetration, it provides your plants get more efficacious light and decrease the light waste. Which can help you save more electricity and save a lot of electricity bills.
【Two Cultivation Modes】 FULL SPECTRUM LED GROW LIGHT. Nine different bands of LEDs make up our true full spectrum light, which helps plants, vegetables and flower indoor growing at all stages, just like in the natural sunshine. VEG mode and illumination 18-24hours a day in growth, BLOOM mode and illumination adjust to 12hours a day in flowering.
【Durable Cooling System】Multiple high-speed mute fans and upgraded aluminum radiators enable the light bulb to work at 50°F to 60°F that is lower than other lamps. In a lower temperatures, your plant won't be burned which could increase your lighting time and promote plant growth, Super long use time, so that you do not have to change the light frequently.
【Professional Customer Service】3 years Professional Service and free return for 90 days in US warehouse. We have more than eight years of sales with after-sale service team professional in design, sales and production for the best products and service for the majority of customers. If you have any questions, please contact us no hesitate and we will reply within 24 hours to provide you a satisfactory reply.