Since full spectrum LED grow lights are still new in the market, many people question the advantages they offer compared to the various other types of grow lights. These questions arise from the need of many professional cannabis growers to maximize their yields keeping them always on the lookout for any new technology that may solve their problem.
New lineups LED lights are released by various brand every year. However, most of them fall short of their claims. It is however very different for the Colorado-based company, Black Dog LED.  It produces some of the best LED grow lights that never disappoint when it comes to their wattage claims. With that said, let us look at one of the company's new market entry THE BLACK DOG LED GROW LIGHT REVIEW. To start off here are some of the benefits that come with the LED PhytoMAX-2.
The Pros and Cons of the Black Dog LED PhytoMAX-2
Pros
Powerful LED bulbs
The grow light is equipped with powerful 5-watts diode bulbs that can provide a canopy penetration comparable to an HPS light.
Light Spectrum
The grow light delivers a full spectrum light that is especially useful for growing cannabis. The spectrum is single allowing for a non-disruptive transition from the vegetative phase to the flowering phase.
Coverage
The device provides the biggest plant coverage among all the LED grow lights in the market.
Optics
The grow light makes use of the primary lenses rather than the secondary lens that most grow lights use. It helps in providing an even light footprint and reducing the amount of light that gets lost.
High Yield
Expect to achieve a high marijuana yield free from pests and diseases by using the Black Dog PhotoMAX-2 grow light.
Cons
Prices
The Black Dog LED PhotoMAX-2 is one of the highest priced grow lights in the market. However, this is compensated by the fact that its performance is extraordinary.
High Heat Emission
The Black Dog PhotoMAX-2 emits heat that is equivalent to a 1000W HID bulb.
The Black Dog Led Grow Light Full Review
The Black Dog LED PhytoMAX-2 uses the highest quality top-bin LEDs that use 5-watts of electricity evenly. The diodes ensure that light is distributed evenly in the grow tent. The design helps to eradicate leaf burns and hot spots that are caused by other LED lights that come with fewer LED lights that are more powerful.
Diodes that use a wattage higher than five watts produce too much heat reducing the LED lifespan. It then becomes a challenge to manage the excess heat that it emits. The heat that the Black Dog LED PhytoMAX-2 produces, on the other hand, transfers to the heatsink where it blows it away from the device. The diodes also help the light to penetrate through the canopy of the cannabis plants efficiently.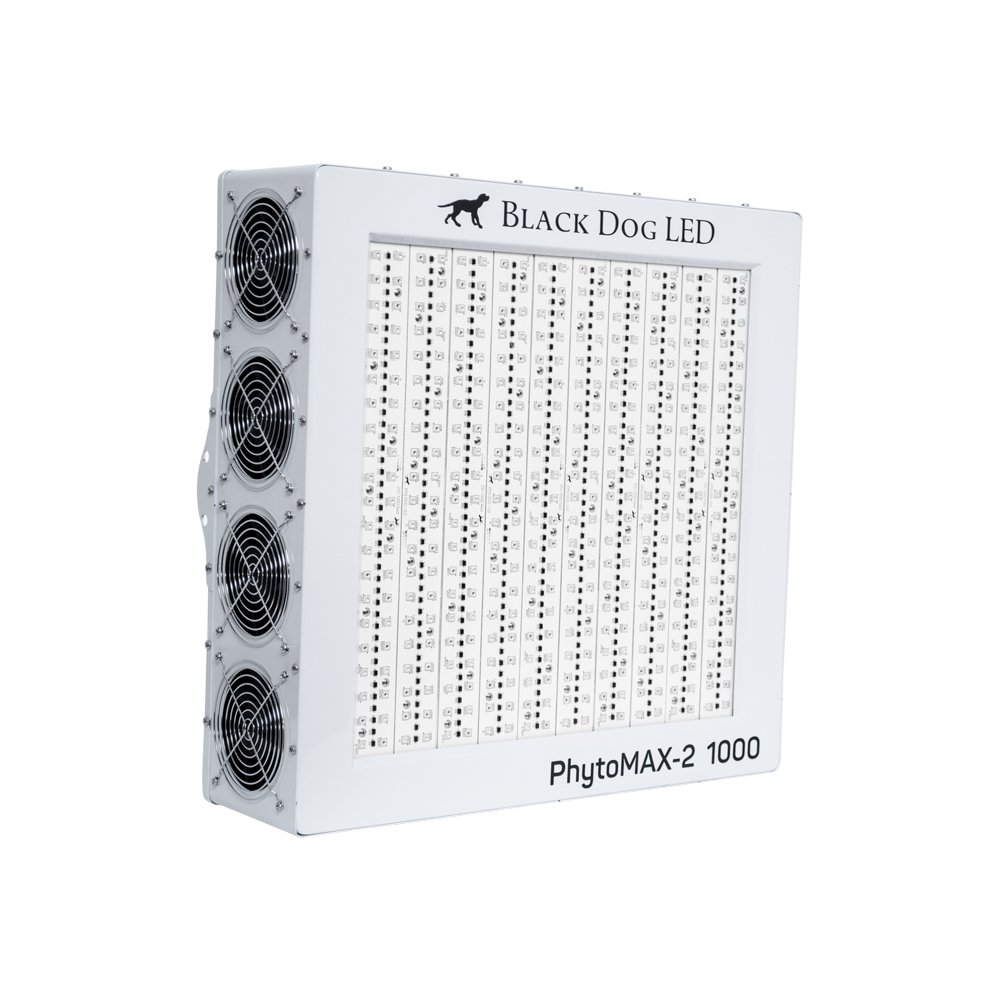 It is always important to consider the spectrum that an LED light produces before purchasing. If a grow light does not provide the needed light spectrum, both the plant growth and flower quality will be affected. The Black Dog LED PhytoMAX-2 utilizes its proprietary Phyto-Genesis Spectrum. The spectrum came about after years of research as a way to promote high-quality, healthier and disease-resistant plants.
The spectrum also contains Ultraviolet (UV-A) light and near-infrared (NIR) where the UV-A light helps in increasing the production of trichomes and making the plants more resistant to pests and diseases. The NIR, on the other hand, helps to boost the plant's photosynthetic efficiency through the Emerson Effect. It does not emit any UV-B light.
It does not have two separate modes for veg and bloom. The Black Dog LED PhytoMAX-2 produces a single spectrum eliminating plant shock that happens when a plant is adjusted quickly from blue LEDs to red LEDs causing growth stalling. The Black Dog LED PhytoMAX-2 provides a handy system to combat the excess heat it produces. It contains one of the biggest heatsinks in the grow light industry which covers most of the weight that makes up the device. The size makes them sufficient enough to cover the heat the 441 5-watt diode LEDs produce.
Its design allows it to emit less heat when you compare it to other LED grow lights. Too much heat is not suitable for plant growth as well as the lifespan of LED lights. The PhytoMax-2 grow light has a minimum LED lifetime of 50,000 hours which equates to 15 years of usage. You can still use it after the time period is complete. However, we would not recommend it since the light intensity and efficiency would be slightly lower and not sufficient for proper plant growth.
It also comes with ultra-quiet fans that are depicted to last for 70,000 hours while in operation. The fans are on one side of the device, unlike many other brands that set them on top of the unit, helping cannabis growers to mount the device closer to the ceiling without restricting airflow.
Most LED grow lights in the market provide PAR ratings to show the light's ability to grow plants. However, PAR values are not always actual. They do not always give an accurate reading. The Black Dog LED Grow Light offers the value for the total photon flux of 961 mol per second. Unlike most, it provides a more accurate measure of the light's power on the area of coverage.
It can provide a higher vegetative and flowering footprint compared to any other grow light in the market. The Black Dog LED Grow Light distributes light evenly throughout the area of coverage. Many grow lights provide a powerful light in the middle of the coverage area with the intensity dropping off as you move to the edges of coverage. However, the Black Dog LED Grow Light provides more power towards the edges with the plants in those sections getting almost as much light as those from the middle part of the coverage area.
Since the plants receive even light coverage, the plants will grow proportionately. You do not need to continually rotate your cannabis plants to avoid hot spots and leaf burns.
The Black Dog LED PhytoMAX-2 holds an FCC certification in electromagnetic and interference limits and is ETL certified meeting all the UL safety standards. It also has a CE certification making it applicable for use in the European Union.
The device comes with a limited lifetime warranty, and 90-day money back guarantees to give you the confidence you need to make a purchase. The company takes the responsibility of repairing the device if it becomes defective within 45 days of receiving the product in the first three years of purchase. Afterward, the company w kill only take care of the cost of the parts while the labor cost goes to the buyer for the period between 3 to 5 years. After five years, all the cost responsibilities transfer to the user.
Conclusion
If you are looking for an LED grow light that can deliver the best results for your cannabis plants, you can never go wrong by selecting the Black Dog LED PhytoMAX-2. It rates as one of the best in the industry mostly due to the wattage it can produce and its impeccable heat management capability. Even though the price of the device is high, it is an investment worth making.
Read more:
-$140.00 SALE OFF
Bestseller No. 1
SPIDER FARMER SE7000 LED Grow Lights 730W 5x5ft Coverage 2688pcs Samsung LM301B Diodes Full Spectrum Dimmable Daisy Chain Commercial Bar Style LED Growing Lamp Vertical Farming
MAXIMUM UNIFORMITY & EFFICIENCY: SE7000 with unique designed extended 8 bars LED grow light provide more uniform and full canopy coverage, especially to the outer edges cultivation areas. With 2688pcs SAMSUNG LM301B diodes, SE7000 Led grow lights draw 730 watts with 2045 umol/s, achieving an impressive PPE of 2.8 umol/J, coverage for 4x4 feet/5x5 feet of high-yielding full-cycle growth.
RED-ENHANCED FULL SPECTRUM & DIMMABLE: The full spectrum SE7000 LED grow lights (3200-4200K,4800-5000k, 650-665nm)have different wavelengths of light, ideal for every stage of plant growth from seed to harvest . 10-100% dimmable grow lights are ideal for growers to adjust the light intensity for different growth stages and save on growing costs.
DAISY CHAIN DIMMING AND QUICK INSTALLATION: The dimming daisy chain feature allows growers to connect up to 60 SE7000 grow lights together that can be dimmable at the same time. Therefore the SE7000 is widely used for commercial grows (horizontal and 4x4 foot vertical tillage, racks), grow rooms, home grows (5x5ft grow tents), DWC, hydroponics.
PASSIVELY COOLED & REMOVABLE DRIVER: Bar style grow light design and aluminium heat sink on the back contribute to better airflow and great heat dissipation. The SE7000 plant growing light comes with a removable driver and 6.56-foot power cord that extends the life of the grow light by reducing ambient heat in the grow space. No need to worry about wet conditions because of the waterproof coating on the LED diodes.
5-YEAR WARRANTY: High quality products and attentive after-sales service create the irreplaceable Spider Farmer LED grow lights. 5 years of after-sales service is provided for the SE series grow lights, and any problems within five years can be repaired at your local repair center (USA/Canada/UK/Germany). Please feel free to contact us about product problems and we will help you solve them.
Bestseller No. 2
MARS HYDRO 2023 Smart FC8000 800W LED Grow Light with Bluetooth Wi-Fi Control, 2968Pcs Samsung Osrams Diodes, Commercial Full Spectrum Detachable Dimmable Daisy Chain Grow Lamp for Indoor Plants
UPGRADED APP-CONTROLLED: Mobile access to your FC8000 grow light on the Mars Hydro APP via WIFI. Easily control the grow lights and schedule your growth plans with your fingertips on your cellphone screen whenever and wherever you are. All data and settings are stored and transferred by the OTA (Over The Air) technology.
PRECISE CONFIGURATION & AUTO-DIMMING: The light intensity can be accurate to year/month/day/hour/minute for dynamic light levels that match your growth schedules. Dimming programs run automatically after configuration to serve full growth from seed to harvest. Provides Sunrise & Sunset Simulation option to mimic the natural photoperiod of plants, dividing the scheduled time equally into 12-time segments, where light levels will rise from 0 to 100% for the first 6 time segments and fall from 100% to 0 for the last 6 time segments.
MAXIMIZE YIELDS & CROP QUALITY: MARS HYDRO FC8000 LED growing light with 2968pcs Samsung LM301B & Osram 660nm Diodes, boast the market-leading efficiency 2.9 µmol/J, Max 3.0g yield per wattage with 30% higher Average PPFD,achieve 50% higher yield & quality compared with the old lights! Only consumes 800w perfect light for 4x4ft flowering.
FLEXIBLE DIMMING DAISY CHAIN,prefect as commercial LED grow lights, FC8000 dimmable grow lamp with daisy chain,up to 15 lights connected, master light controlled offers great convenience to your planting! IP65 Waterproof wide 8-bar offers even & broad canopy coverage,maximizes grow space,flexible 180 degree design,ideal for home & vertical farming.
UPGRADED FULL SPECTRUM GROW LIGHT: High-intensity spectrum with enhanced red (Top-Bin Samsung 2800k-5000knm Warm White,4800-5000k White,Osram 660nm Deep Red),speed up blooming & fruiting, FC8000 grow lamp born for Density Buds,widely suit for full-cycle commercial, home, grow tent, grow room, hydroponic,soil growth.Input Voltage 100-277V.
Bestseller No. 3
Horticulture Lighting Group HLG 600 Rspec 600W 120V LED Quantum Board Grow Light with Samsung LM301H, Inventronics Driver, Growing Lights for Indoor Plants, Full Spectrum, Dimmable, Highest PPF
HIGHEST EFFICIENCY FARMING LIGHTS: Agricultural LED lights have a high output of 1529 PPF at 2.60 μmol/j, making this one of the highest efficiency grow lighting on the market, with third-party lab results to prove it. This vegetation light is custom designed to fit a 4x4 ft grow tent perfectly, or wherever else your plants' happy place happens to be; ETL/UL Certified
BETTER CANOPY PENETRATION: Full Spectrum White + Deep Red LED light diffuses evenly, making it ideal for full veg / flower cycles plus healthy, uniform growth so there will be no more brown tips. Footprints are Veg 5x5 ft at 28" and Flower 6x6 ft at 40"; Dimensions are 26" x 21.5" x 2.75"; Recommended mounted height is 28-36 inches above canopy
DIMMABLE GROW LIGHT: Dimmer knob allows output to be adjustable from 100 watts to 600 watts; Also features a reliable passive cooling design for reduced heat, which means better temp control for your indoor herb garden.
COMMERCIAL LED GROW LIGHTING: HLG 600 Rspec Commercial Indoor Horticulture LED grow light is designed to replace a 1000W HID, and uses our 4 full spectrum white light Quantum Boards with Samsung LM301H and Deep Red 660nm LED diodes
DESIGNED & ASSEMBLED IN USA: Grow lighting leader, HLG, designed the 1st high-density modular light engine for horticulture and through constant innovation, has led the way in developing efficient, effective growing lights. This HLG indoor grow lamp comes with a 3-year warranty.
Bestseller No. 4
MARS HYDRO 800Watt FC-E8000 LED Grow Light 5x5ft with 3928pcs Diodes Full Spectrum Grow Light Bar Commercial Plant Growing Lamp for Vertical Farming, Achieve 2.8umol/J Detachable Precise Lighting
HIGH-EFFICIENCY LED GROW LIGHT: FC-E8000 grow bar light adopts 3928pcs BridgeLux Diodes, market-leading 2.8 µmol/J PPE, Max 2.5g yield/wat with 30% higher Average PPFD, more cost-effective compared with other same type lights.Only consumes 800W, perfectly cover 5x5ft (personal), 4x4ft (commercial) grow space.
INNOVATIVE PRECISE UNIFORM LIGHTING: Built-in removable bars interval & dimmability enable the exact dynamic PPFD control over each of plant growing stages, FC-E8000 detachable bars deliver highly uniform adjustable PPFD levels throughout plant canopy, best for more uniform Density Buds.
EASY DIMMING DAISY CHAIN, prefect as cost-efficient commercial LED grow lights, FC-E8000 dimmable grow lamp supports daisy chain max up to 30 lights,master light easily controlled,IP65 waterproof, making it a high performance light for enormous yields. User-friendly dimmer suits full-cycle home horticulture too.
SUPERIOR HEAT DISSIPATION: Detachable power supply can be mounted remotely on the side of a grow tent/rack or on adjacent wall to remove heat from grow space; real Aluminum heatsink & 6 slim profile passive cooled bars (THINNER & LARGER surface) creat less heat, drop 50% in electricity bill than HID lights!
FULL SPECTRUM LED GROW LIGHT: With high-intensity spectrum (2800k-5000knm, 660-665nm enhanced Deep Red), FC-E8000 provides broad-spectrum light, producing high quality crops with remarkable savings on energy. Trusted 5 full years warranty, 100% Satisfactory Solution guaranteed if any problem!
Bestseller No. 5
VIVOSUN VS4000 LED Grow Light with Samsung LM301 Diodes &Brand Driver Dimmable Lights Sunlike Full Spectrum with Grow Room Glasses for Seedling Veg & Bloom Plant Grow Lamp for 4x4/5x5 Grow Tent
Low Costs & High Efficiency: VIVOSUN VS4000 LED grow light uses Samsung LM301 diodes & brand driver for high energy efficiency with 2.9 μmol/J; Extremely high output but consumes only 400W of electricity
Convenient Dimmable Lights: This LED grow light has a dimming knob & ballast, so it adapts to different plant growth stages by adjusting its output from 40% to 100%
Sunlike Full-Spectrum Light: These VS4000 LEDs deliver the optimal full-spectrum coverage and power needed by your plants at all growth stages, supporting efficient photosynthesis for plants
Low Noise & Low Heat: VS4000 LED grow lights have power supply and ventilation holes; No fans needed means low noise; Ambient heat around this light is very low, so there is no burns or damage to your plants
Warranty: Super durable and reusable; Comes with grow glasses, a pair of VIVOSUN US-patented rope hangers & 5-year after-sales service