There are so many grow lights in the market, so why should you consider buying the
Advanced Platinum Series P900
? Well, this review will make it clear for you.
As usual, we will start with a proper summary that highlights the pros and cons of this light, so we can then review it in more detail.
However, from now I can tell you that it is an amazing choice, but let's check why exactly!
Summary: Why This Grow Light Is Magnificent For Your Plants
Pros:
100% Usable Light. You will not waste even a bit of electricity, because these lamps will offer you 100% usable light across 12 bands. Efficiency and superb growth for your plants.
Dual Focusing Lens for Enhanced Growth. This allows your plant to receive light despite their position, so they can grow optimally.
Maximum Coverage. You can either use the light for a 4×4 area or for a wider one (6ft.x4.5ft)
Cons:
The installation can be tiring, especially for the beginner
Expensive
Conclusion:
Overall, this grow light is one of the best you will find in the market, and even though it can be expensive, the price is justified. The light output is incredible, perfect for flowering and vegetative season and is very quiet.
It can easily replace a 1000w HPS light, and thus, save you tons of money in electricity. Therefore, if you are looking for a powerful grow light with an excellent light spectrum and a great coverage, then the Advanced Platinum Series P900 is for you!
Now let's review it in a more detailed fashion, so you can understand everything about this product and why it is so good for your plants.
Why Is It Good For Your Plants?
Before we move any further, you have to know that I have reviewed other grow lights from this same series. You can check them here:
Now, let's continue! 😉
First off, the light is usable across 12 bands, which means that you will not waste electricity in unnecessary lighting. However, this means more than saving money, because it will also cause an excellent photosynthetic reaction in your plants, something that will make them grow faster and stronger.
Another great point is that it has the highest PAR/Lumen output per watt, approximately 100% to 200% more than conventional grow lights. Even though it is not accurate to compare grow lights solely based on the PAR and Lumens, it is good to know that you get plenty of it with the Advanced Platinum Series P900.
Furthermore, this combination of great lighting power and light usability, allow this grow light to deliver your plants exactly what they need: light that goes from the deepest levels of UV to the highest levels of IR.
It does not matter what you grow, be it tomatoes, cannabis, flowers, etc. If you want to make them grow fast, strong and healthy, then this grow light will help you to accomplish so. Guaranteed.
As you probably know, both IR and UV light have excellent benefits for your plants, and that is why your chosen grow light needs to go through the full spectrum.
For instance, IR light plays an important role during blooming, because if there is not enough of it, then the plant will not bloom. Therefore, it is obvious why your plant needs plenty of it in the right measurement, and this plant delivers exactly so. It even comes with a vegetative and flowering switch!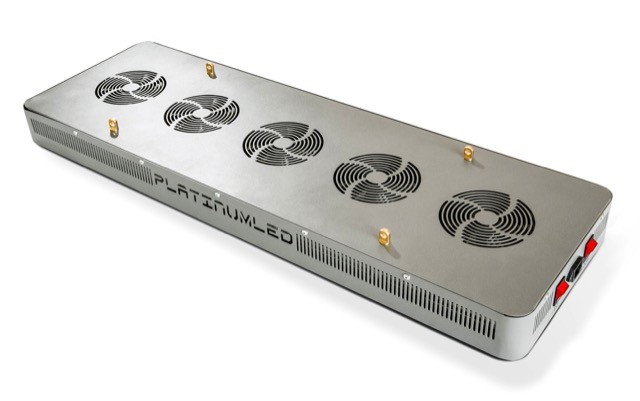 If you want a more concrete example of why this feature is so important, let's talk about cannabis. Germinated seeds of weed tend to move towards red light and that is a fact, because it can go underground unlike blue light. Moreover, it plays an important role during flowering.
As you can see it is very important, but worry not, because it will also provide your plants with enough blue light, so your plants can get enough of both and grow beautiful, strong and healthy.
The coverage is excellent as well. If you put it install at 18" high, then it will cover a nice 6ftx4.5ft area, which is more than enough for most indoors garden.
Another important fact is that it does not make much noise, and this is excellent for people who live in    small spaces yet want to have their own indoors garden for growing weed, plants, etc.
Finally, you will have this grow light with you for many years to come, because it comes with a 5-year warranty. Wait, not only that, because it comes with excellent aluminum heat sinks, which dissipate heat and therefore make your product last for longer. What could be better than that?!
Conclusion:
As you can see it is an excellent grow light. It is expensive, I know it, but if you need something with plenty of power (as described) and an excellent coverage, then the Advanced Platinum Series P900 is what you need!
I hope you liked it, and if you have any question, feel free to comment it and I will get back to you!
Reading more::