Whether you are planting one, two, or many crops indoors, you will need to provide them with the essentials they need for proper and healthy growth. One of those essentials is lighting. Since planting crops indoors does not provide the plants with natural suns light, you will opt for grow lights that come in different sizes, shapes, and wattage.
Grow spaces also range from large, medium to large. If you are growing in a small grow space or planting one or two plants, you could do with small grow lights instead of the larger ones that are too powerful for the small room or too bright or hot for one or two crops. Mini grow lights also come in handy when filling up shadows left unlit by the larger grow lights.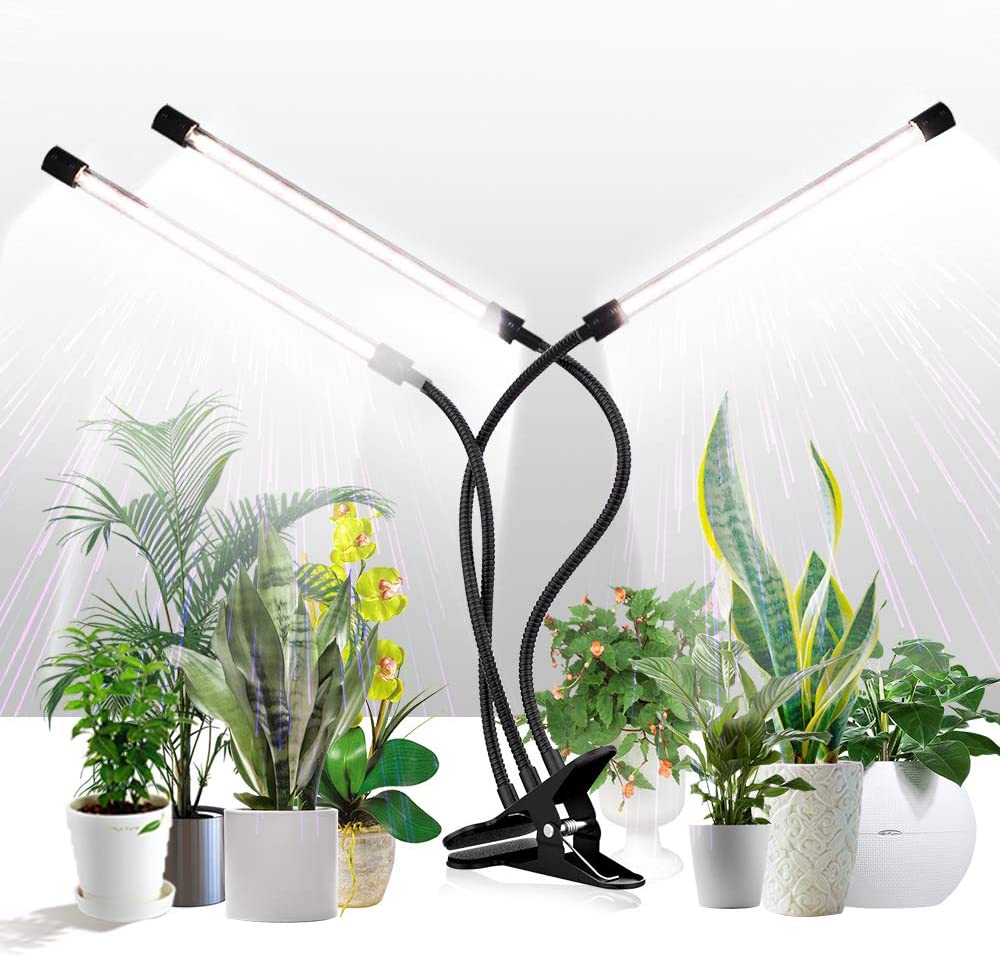 Whatever the reason is for choosing to go with small grow lights, you will still need to choose the best quality if you need effectiveness. We reviewed some of the best small grow lights on the market, and came up with the following list.
Related Post:
Our Top Picks
Buteny Grow Lights
The Buteny indoor grow lights consists of 39 red and 21 blue LEDs that provide plants with full-spectrum light from the seedling and germination phase to the flowering and maturity stage. Besides the full spectrum lighting, the small grow light comes with other functions that make it easy and practical to use. One of the functions that make it stand out is a circular memory timer that you can set using three options.
You can set the timer to turn on and off every day after every 3, 6, or 12 hours. The grow light has three heads, each with its own switch mode. Furthermore, it has six dimmable options that allow you to adjust the light amount to suit the different plant growth stages.
One of the most striking features of the grow light is the 360-degree gooseneck. The gooseneck comes with an easy-to-adjust angle that enlarges the illumination area's distance, ensuring all plants get even light coverage. The base of the grow light has sturdy clips that provide it with stable and firm support.
The grow light is versatile, and you can use it for different types of indoor plants at home, in a grow tent, on the patio, and even at the office. It is lightweight, easily portable, affordable, easy to set up and use.
Pros
Provides full-spectrum lighting from red and blue LEDs
360-degree gooseneck with adjustable angles and distance
Six dimmable options
Easy to set up and use
Three switch modes on three heads
Affordable
Sturdy and firm base
Ideal for home and office
Suitable for different indoor crops
Lightweight and easily portable
Auto on/off switch
Cons
Bulbs are not replaceable
Not ideal for plants that need lots of light
LEOTER grow light for indoor plants
If you are looking for the best small grow light for your indoor plants, you should try the LEOTER grow light designed for various plants that include marijuana, herbs, salad, and algae. The model has adjustable and flexible 360-degree gooseneck four heads that enable broader coverage of the grow space. You can also direct each of the four lambs to specific places for a better light spectrum.
Other features that make this small grow light a favorite among many growers include the LED lamp combination of 36 red, 16, blue, and 28 full spectrum LEDs that meet all the plants' light conditions for all their growth stages. Moreover, it also comes with a built-in automatic on/off circular memory timer function that enables you to set it for 3, 6, and 9 hours depending on the growth stage. The auto on/off switch saves energy when the plants do not need light from the lamps.
Additionally, the grow light also comes with ten dimming level options that offer you the opportunity to adjust the lamp brightness depending on the plants' needs. You also do not have to worry about the grow light's stability as it comes with a metal clamp that allows you to fix it firmly on a table or desk at home or in the office. Lastly, you can choose a USB connector or an AC plug with an adapter to power the grow light.
Pros
Four easily adjustable 360-degree gooseneck heads
Great combination of LEDs
Ten dimmable modes
Auto on/off built-in timer that helps to save energy
USB and AC power plug
Easy to use
Cons
You cannot fix it on the table without a clamp
45w Grow Light by EMMMSUN
Another small LED grow light that you can use with ease either at home or in the office to grow a variety of crops is the 45-watt grow light by EMMMSUN. The grow light consists of sixty highly luminous LED beads (31 red and 21 blue) and a clamp that allows you to clip it firmly on the table, windowsill, or shelf. It has a flexible and adjustable gooseneck that adjusts easily to suit the plant's needs.
Auto on/off two ways timing function allows you to set the grow light at 3, 6, and 12 hours. Additionally, the grow light comes with five dimmable brightness levels and three spectrum modes that suit different plant growth stages. The desk plant grow light comes with a high-powered 5V-2A adapter that prevents short-circuiting, heating, and light flickering.
Furthermore, the grow light is easy to use, affordable, comes with a long lifespan of 50,000 hours and a lifetime warranty.
Pros
Ideal for home and office
It consists of sixty high luminous beads
Auto on/off built-in timer
Five dimmable brightness levels
Three spectrum modes
Lifespan of 50,000 hours
High-powered adapter
Lifetime warranty
Easy to use
Cons
Lamp arms are not too strong
Dommia Led Grow Light
Some lamps make excellent reading lamps when they are not providing plants with full-spectrum lighting for photosynthesis and health. One such lamp is the Dommia LED grow light, which features two heads with 360-degree gooseneck flexibility. The light combines both white and blue LEDs for more effectiveness and lighting spectrum.
It is also versatile and suitable for different crops in various offices and home settings, including the balcony and greenhouse. Additionally, the grow light is one of the easiest to use, and its simplicity includes an on/off switch that controls the lamp. You also do not have to worry about overheating, as the mini grow light is safe and reliable for all plants. It is also affordable, and the beautiful design brightens up any room.
Pros
Flexible and long 360-degree gooseneck
Safe and reliable
Combines white and red LEDs
Easy to use
One auto/off switch
Cons
It does not come with dimmable features
On/off switch not automatic
Bulbs are expensive to replace
Not possible to control each of the lamps separately
Bozily 45w Plant Light
If you are looking for an affordable yet reliable mini grow light for your indoor crops, the Bozily 45w plant light is a great option. The light features dimmable replaceable bulbs made up of 88 LED chips with full-spectrum light for all the stages. It also features two 360-degree gooseneck rotating heads with adjustable angles to provide all the crops with the light they need through different growth stages and for expansion of the illumination area.
A clamp attaches the light on the edges of a desk or table effortlessly. Furthermore, the lamp has a heat dissipation design that ensures your plants grow without burning or extreme brightness or heat. The lamp has a long lifespan of 50,000 hours, and it comes with a quality guarantee of two years and a 30-day money-back guarantee.
Pros
50,000 hours lifespan
Dimmable bulbs
Provides full-spectrum light
Rotating 360-degree two heads
Adjustable gooseneck
Easy to use and affordable
Protection against overheating
30-day money-back guarantee
Cons
You can only use it by clamping it on a table or desk as it does not come with a base.
Hydrofarm Mini Sunburst SBMM150S High-Intensity Sodium Lighting System
A mini HPS grow light such as the Hydrofarm's Mini Sunburst reflector is another excellent addition to your gardening tools. The lighting system comes at an unbeatable price and with everything needed to start your gardening immediately. It has a simple setup and excellent features.
Even with its small size, the mini HPS grow light has a robust, compact, and lightweight lamp that makes it easily portable to use in different locations both at home and in the office. One of Hydrofarm Mini Sunburst's main features is the reflective hammertone construction that ensures all the light goes back to the plants.
Other features include:
A quiet magnetic 150-watt high-intensity lamp
An eight-foot power cord
Hangers
A set of usage instructions
The light is suitable for small gardens with a few plants, which means you will need a larger light for larger grow spaces. It has a much shorter lifespan than many other LED grow lights, but it does the job.
Pros
Comes with instructions
Easy to hang
High intensity magnetic 150-watt lamp
Quiet operation
Long power cord and hangers
Compact, lightweight, and portable
Affordable
Cons
It does not provide full-spectrum light
The HPS lamp can get extremely hot
Characteristics of Small Grow Lights
Small grow lights share features that you do not find in large LED grow lights. Some of the most common features are as follows.
Size of the LED grow lights
The lights are small, just as the small suggests. Their size allows you to carry them easily from one position to the next with ease. They are lightweight, compact, and versatile. You can use the lights on the patio, in the office, on the balcony, or anywhere else, you want.
Some small LED grow light models come with clamps that allow you to clip them on a desk or table. Others come with hanging cords allowing them to provide the crops with light from hung positions. The sizes are especially ideal for small spaces.
Low-cost
Many of the small clip-on LED grow lights are affordable, allowing you to buy several of them if you have plants that need more lighting or a larger space that needs more than one light.
Design and Style
It is completely fine to grow your indoor crops with any ordinary and standard light bulb. However, it becomes even more appealing if you include the product's style and design on the features you are looking for in a grow light. Many of the small grow lights come in decorative designs that incorporate too well with your home décor.
The styles and designs range from framed lights to colorful light covers and stands. Other options you get with the small lights include several headed lights with adjustable features, which allow you to use the light as your reading lamp and your grow light.
Wrapping it up
Grow lights are some of the most incredible tools needed for the healthy growth of plants indoors. With the grow lights, you can grow anything from houseplants to succulents, herbs, cannabis, and anything in a greenhouse. You can also grow potted flowers in your workplace or hang them on the balcony.
When you are growing one or two plants or having a small space, you do not need to struggle with large grow lights. Small grow lights will do just fine as they come with features that provide your one or two plants with the light they need to flourish. Small grow lights are also cheaper than the larger ones, which means you can buy several of them for larger spaces or more plants. Moreover, many small grow lights come with unique styles and designs that go well with home and office décor.
Our top picks of the best small grow lights range from LED grow lights to HPS lights and grow lamps. They all provide crops with excellent light coverage for all their stages of growth. Whichever you choose, you can trust your indoor plants to grow healthy, stocky, and clean.