Growing cannabis is fun and profitable for those that do it commercially. Many people also assume that growing the crop is easy, especially with the "how-to" readily available information online. Some even wonder if reading marijuana grow paperback is worth the trouble with all the cannabis blogs and open forums that anyone can find online.
Others do not even have to get any info online or from paperbacks as they have other growers with years of experience to show them the ropes. As long as the choice you make provides you with all the information you need to grow your weed effectively, it is valid.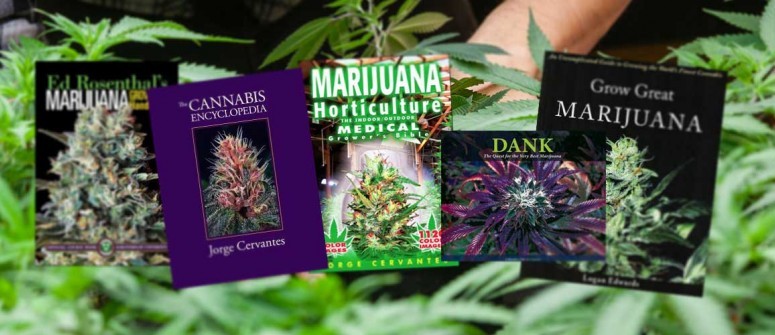 In this article, our focus is on the best marijuana grow book, or rather paperbacks that come with written versions of cannabis growing. The authors of the paperbacks are past or present-day cannabis growers with enough knowledge and experience that they share with upcoming or new growers at affordable prices. Looking up something from the computer screen is easy, but nothing beats a hardcover book that you can pick up to read anywhere.
A paperback also becomes handy in situations where you cannot access a computer or a smartphone for quick guidelines. It is also a haven for book collectors.
Regardless of how skilled you are at growing cannabis, the learning experience never stops, and the best marijuana grow books can provide you with all the help you need at your fingertips. We reviewed some of the best paperbacks on the market by world-renowned writers and came up with the must-haves best marijuana grow books that should be part of your collection.
Our Top Picks
Marijuana Horticulture: The Indoor/Outdoor Medical Grower's Bible
By Jorge Cervantes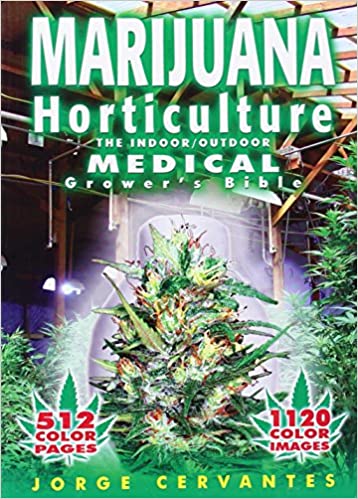 The Indoor/Outdoor Medical Grower's Bible by the legendary Jorge Cervantes is one of the most popular and comprehensive best-selling best marijuana grow book ever written. The book has 512 pages with over 1000 illustrations and full-color photos detailing everything you need to know about weed growing.
The pages would be fewer were it not for the many ads, but that is an indication of its popularity. The information in the book will get you started on the cannabis-growing journey straight away. The book, first published in 1983, translated into five languages- English, Dutch, French, German, and Spanish, with more than 500,000 copies in print, and sold. The author also gives credit to over 3000 contributors that make the book a huge success.
Though the book is comprehensive, especially for beginners, it is easy to find everything you need in different growing weed areas. The author assumes that the reader should have at least one cannabis grow phase under their belt to grasp the details in the book. A beginner will need to look elsewhere for a step-by-step guideline because this particular bestseller does not come with that. Some of the newly updated chapters include a medical section.
Jorge has also taken the initiative to rewrite and expand some of the chapters. Adding the latest information makes the new and older growers keep with what is happening in the industry.  The book is suitable for both outdoor and indoor weed growers.
Pros
It consists of over 1000 color images and illustrations that make learning more visual and straightforward.
There is a recently updated edition with a new medical chapter
Credits to the information in the book go to over 300 contributors
Recently revised information
Published in five languages
Suitable for both indoor and outdoor growers
Cons
Not the best choice for beginners as it is too comprehensive
It contains too many advertisements
Some think the book is too crowded or "busy."
It is not the easiest best marijuana grow book to read, especially on kindle
Design And Build A Room To Grow: Money Can Grow On Trees 1st Edition
by Bill Faulconer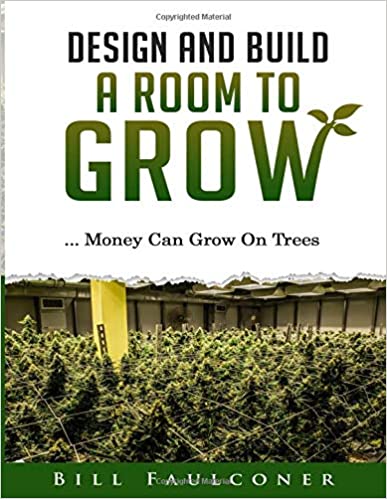 This paperback is another one of the best marijuana grow books and its most striking feature is the captivating title, especially for anyone who wants to grow cannabis for commercial purposes. It begs the question that many people ask-Does cannabis money grow on trees. Several years ago, when cannabis cultivation was illegal in many states, the answer to this question would have been a definite no. Today, with many states legalizing cannabis, especially for wholesale commercial use, the answer is a definite yes.
Bill Faulconer takes you through the modern cannabis industry that will have the plants grow money for you. The author, Bill Faulconer, boasts of a vast experience that ranges from being an electrician, a salesperson, and a cannabis grower and consultant. After exploring his cannabis growing options,
Bill used the expertise garnered on the field to open a grow store that was a huge success. He went on to make consultative visits to help other growers set up their cannabis grow farms. When Bill finally wrote his book "Design And Build A Room To Grow: Money Can Grow On Trees", he used his expertise and experiences to provide a helpful perspective on creating and finding cannabis grow room solutions.
The book breaks down all the crucial information a grower needs to structure an efficient and cost-effective grow operation that will produce high-quality marijuana. Moreover, it provides a step-by-step guideline on planning, implementing, and owning a grow room, including topics on the ideal grow lights to use, tips on increasing space construction, and how to plan grow room space accordingly.
The author also addresses other topics that many beginners do not know about, such as revenue estimates and utility costs. The book is ideal for any beginner that wants to start their cannabis growing experience, and it provides valuable tips to veteran growers that want to save time and money. The book is captivating from start to finish, and it includes pictures that help cultivate a better understanding of all the concepts.
The language used is easy to grasp, instructions are clear, and the detailed information makes it a serious read. It is an English book with 204 pages.
Pros
Uses easy to follow steps
Easy to grasp information even for novices
It covers practically everything each cannabis grower needs to know about creating an efficient grow room
It consists of pictures, drawings, and worksheets that it easier to understand
Deal for both beginners and veteran cannabis growers
Cons
It has too much repeat information
Not too practical for commercial growing but excellent for home growers
The Definitive Guide to Growing Marijuana for Recreational and Medicinal Use
by Greg Green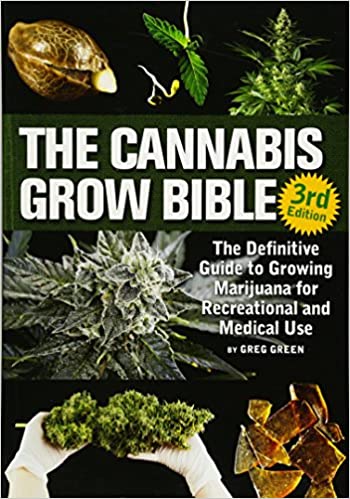 Greg Green is an accomplished author with some of the best marijuana grow books, such as The Cannabis Grow Bible and The Cannabis Breeder's Bible under his belt. The Definitive Guide to Growing Marijuana for Recreational and Medicinal Use is one of his most comprehensive guides to cannabis gardening.
What makes the cannabis grow bible even more appealing is its additional 200 pages of new information regarding lighting techniques and equipment, advanced extraction methods of cannabinoid and more detailed gardening guidelines for veteran growers and novices. Overall, the book has over 700 pages that include illustrative photos for the step-by-step guides.
Besides marijuana growing, the guides also focus on hash production and plant breeding. Moreover, it features an easy to follow start guide at the beginning of the book that allows growers to start cultivation straight away and improve their techniques as they continue to read other detailed chapters.
Greg grew up in Ireland and he has travelled widely in many parts of the world. He studied plant horticulture and advanced botany in different universities. The courses play a massive role in widening his expertise in cannabis horticulture and breeding.
Pros
Comprehensive step-by-step guide for cannabis growing
Includes chapters on lighting and extraction techniques, hash production, and plant breeding
Author knowledgeable on cannabis horticulture
Easy to follow guide
Suitable for both veteran cannabis growers and veterans
Cons
Some readers think some of the information is outdated
Marijuana Grower's Handbook: Your Complete Guide for Medical and Personal Marijuana Cultivation
by Ed Rosenthal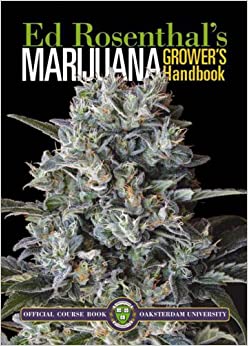 Ed Rosenthal's quote is, "Marijuana may not be addictive, but growing it is", and this book might change how you grow cannabis. Marijuana Grower's Handbook by Ed Rosenthal is a book written primarily for beginners and veteran cannabis growers who want to sharpen their skills. It offers growers the best techniques, tools, and latest knowledge to grow the most potent and resinous cannabis buds indoors and outdoors.
Moreover, the book also provides information on saving labor, time, and money using the most efficient technology. Marijuana Grower's Handbook is 510 pages, and each topic comes with clear illustrations and full-color photos that offer a better understanding of all the information. It covers everything you would expect in a cannabis grow guide, including the basic and advanced growing techniques, growing medium, and what to expect when you grow your weed both indoors and outdoors.
The structure of the book has clearly defined sections with well-organized and pertinent information. The book's back has a glossary with all the keywords you would expect to find in the cannabis industry. It is not surprising that the book is an excellent read because Ed Rosenthal is an experienced cultivator with over 30 years of experience under his belt.
Unlike many other authors that fall prey to the hype surrounding cannabis growing, Ed has a different approach that only sells knowledge and nothing else.
Pros
All-in-one cannabis grow bible
Very informative handbook
Clearly defined sections that make reading easy
It comes with a glossary at the back
The author has over 30 years of experience in the cultivation of cannabis
Ideal for both new and more experienced growers
Cons
Some of the most crucial cannabis growing details, such as managing the seedling stage, are missing
DIY Hydroponic Gardens: How to Design and Build an Inexpensive System for Growing Plants in Water
by Tyler Baras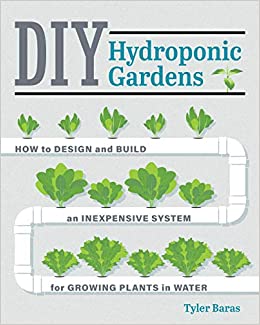 Growing cannabis hydroponically is a widespread practice among many indoor growers. It does not require soil, and you can do it practically everywhere with the right tools. The growing system involves water, but even if you live in a place with water scarcity, you can still grow your cannabis hydroponically with much success.
The question, though, is how many people can grow their plants hydroponically with water scarcity? The answer is many can do it but only if they have all the knowledge needed on how to do it.
Tyler Baras steps in to help those struggling with hydroponic farming with this comprehensive handbook with reliable information for hydroponic DIYers and one of the best marijuana grow books today. Baras, who fans refer to as farmer Tyler, explains in detail the steps to building, planting, and maintaining multiple hydroponic systems that come with uniqueness, some of which might cost more money than others do to create. The book is 192 pages.
The seven chapters of the book are:-
Introduction to the science of hydroponics
The equipment you need for your hydroponic growing system
DIY hydroponic growing systems
How to grow healthy and robust seedlings r cuttings
Plant nutrition
Maintenance of the hydroponic systems
Common hydroponics problems and troubleshooting
Tyler Baras has extensive experience in a wide range of growing cannabis and other agricultural products. The knowledge also includes expertise in commercial hydroponics. He holds a BS degree in horticulture sciences and organic agriculture. He has travelled widely and has worked at the first certified hydroponic farm in the USA, among many others.
Pros
Offers detailed steps on how to build efficient hydroponic systems
Only 192 pages with seven chapters making it an easy read
Helpful information for DIYers
Cons
Not suitable for beginners building a hydroponic system for the first time
Read next: Best Indoor Hydroponic Grow System For Growing Marijuana
Wrapping it up
If you aspire to be proficient in cannabis growing and everything else that comes with it, you need to learn everything there is to learn from the best. You can do this by checking out cannabis blogs online or using the old-fashioned way of reading a paperback.
The above paperbacks are some of the best marijuana grow books written by world-renowned authors with seasoned professional experience in cannabis growing. They give detailed information about everything you need to know about the basics and the advanced techniques of marijuana growing. The step-by-step guides are perfect for newcomers in the industry as they can start their growing journey immediately without consulting anyone else.
Bestseller No. 1
4x4 Grow Tent Kit Complete High Reflective Mylar Indoor Grow Tent 48"x48"x80"+ LED Grow Light Combo Hydroponics Indoor Plant Growing Tent System (Upgraded Grow Tent Kit)
★【Complete Grow Tent Kit】1 x Grow Tent;1 x Full Spectrum LED Light;2 x Air Ducts;1 x Extraction fan;1 x Adjustable Fan Power Control;1 x Timer;1 x Power Supply;1 x Planting Bag;Lots of Accessiries;Tent Size: 48" x 48" x 80" (L×W×H);Material: Steel + 600D Oxford Fabric + PVC;LED Grow Light Power:150W; DIY Design Is Available- Our grow tent kits do not have pre-opened holes, so you can use the tools in the kit to cut the holes for the fan and vent that suits you.
★【Sturdy & Durable Hydroponic Grow Tent】Exterior: Made of high quality 600D oxford nylon fabric: tear resistant, waterproof ;Interior:100% highly reflective Mylar inside,utilize all the supplied light without waste; Chrome plated reinforced metal bars:corrosion resistant,rust resistant,long service life-will be able to withstand constantly taken down and set back up.
★【Easy Installation & Maintenance】Assembly instructions and all hardware are included for quick and easy installation;Easy to clean;Grow tent kit helps you optimize temperature, humidity, light, and ventilation, so you can get a larger yield than you could get with outdoor growing.
★【NO Light Leaks】Superior light blocking;Heavy duty exterior and interior material; Heavy duty double-pull zippers-easy to open and aren't prone to catching or breaking after time; Feathers flaps covering the zippers-helps prevent leaks- make a completely opaque grow tent; blocks ambient light from entering, and system light from exiting
★【Cost-effective & Less Messy】Plants grow faster and flower bigger;full-spectrum LED mimics natural sunlight, and it provides all your plants need throughout their growth cycles.Removable Floor Tray-keep floor clean and protects the tent from dirt and debris
-$37.75 SALE OFF
Bestseller No. 2
VIVOSUN Grow Tent Complete Kit, 48"x48"x80" Growing Tent with VS1000 Led Grow Light, 6 Inch 440 CFM Inline Fan Carbon Filter and 8ft Ducting Combo
Keeps All Light In: VIVOSUN Hydroponic Mylar Grow Tent blocks all light from escaping and is lined with 100%-reflective mylar to boost the output efficiency of your setup; No need for additional flaps or tape, just zipper the black lining to create a lightproof seal
High Efficiency & Lower Cost: The VIVOSUN VS1000 LED grow light uses the latest high-efficiency (2.75μmol/J) LED plant light technology with premium Samsung LM301 diodes, providing uniform lighting and stronger light output; The energy consumption is only 100 watts, making it more efficient than traditional HID lights and other plant lamps on the market; It is perfect for covering 3 x 3 ft. area (4 x 4 ft. max) and lights can be absorbed better by plants
Powerful Air Flow: Heavy-hitting blower with a fan speed of 2450 RPM; Puts out only 50 dB noise level; Moves air efficiently through your target location for optimal ventilation
Precise Data: VIVOSUN wireless indoor outdoor thermometer records accurate all time/24 hours max and min temperature and humidity readings; Temperature trend arrows indicate whether it's getting warmer or colder near the remote temperature monitor; Temp Accuracy: ± 1.5°F/± 1°C; Humidity Accuracy: ±5%
Reusable and Versatile: Made of pliable, braided, and heavy-duty polyester, this netting can be used for vertical gardening, horizontal gardening, and A-Frame trellises; It's long-lasting, reusable, and will support your plants' growth; You can easily fold it up and store it away after you're done using it
Bestseller No. 3
VIVOSUN GIY 4x4 Grow Tent Complete System, 4x4 Ft. Grow Tent Kit Complete with VS1000 Led Grow Light 6 Inch 440CFM Inline Fan Carbon Filter and 8ft Ducting Combo, 48"x48"x80"
Complete Kit Included: 48x48x80-Inch grow tent, 6 Inch 440 CFM Inline Fan, carbon filter, 8 feet of ducting, 2 stainless clamps, VS1000 LED grow light, grow room glasses, rope hangers, 3x3-ft. elastic trellis netting, 5pcs 5 gallon grow bags, temperature humidity monitor, pruning shear, and digital timer
Promote Plant Growth: VIVOSUN grow tent is equipped with a lined zipper double stitched to avoid light leaks; is made up of 100% reflective Mylar, ensuring the plants absorb the nutrients through the internal lights
Lower Costs & High Efficiency Light: VS1000 LED grow lights use the latest LED plant light technology, including Samsung LM301 Diodes, high-energy efficiency with 2.75 μmol/J; Extremely high output but consumes only 100W of electricity, making it more efficient than traditional HID lamps and other plant lamps on the market
Strong Support for Plants: Elastic trellis netting provides a sturdy support structure; The grow bags provide excellent air circulation and drainage; The design of pruning snips is perfect to use whether you are right- or left-handed with ease; The digital timer, thermometer, and hygrometer make it extremely easy to control the environment in your grow room
Advanced Grow Made Easy: The tent is supported by strong metal poles that are specially finished for smooth installation; Don't waste time buying and returning parts that may or may not be compatible or safe to use together! This VIVOSUN complete system includes every part you need to get set up for advanced grow
Bestseller No. 4
VIVOSUN Grow Tent Complete System, 2 x 2 ft. Grow Tent Kit Complete with VS1000 Led Grow Light, 4 Inch 190CFM Inline Fan, Carbon Filter and 8ft Ducting Combo, 24" x 24" x 48"
Complete Kit Included: 24 x 24 x 48-Inch grow tent, 4-Inch 190 CFM inline fan, carbon filter, 8 feet of ducting, 2x stainless clamps, VS1000 LED grow light, grow room glasses, rope hangers, 3 x 3-ft. elastic trellis netting, 5-pcs. 5-gallon grow bags, temperature humidity monitor, pruning shears, and digital timer
Effective Ventilation: Powerful blower with a fan speed of 2300 RPM for an air flow of 190 CFM; Moves air through your target location efficiently for optimal ventilation; 1200+ RC 412 Australian Virgin Charcoal Bed; The air aluminum ducting featured with the flexible length for exhaust fan blower or inline fan
Lower Costs & High Efficiency Light: VS1000 LED grow lights use the latest LED plant light technology, including Samsung LM301 diodes, high-energy efficiency with 2.75 μmol/J; Extremely high output but consumes only 100W of electricity, making it more efficient than traditional HID lamps and other plant lamps on the market
Strong Supports for Plants: Elastic trellis netting provides a sturdy support structure; The grow bags provide excellent air circulation and drainage; The design of pruning snips is perfect and easy to use whether you are right- or left-handed; The digital timer, thermometer, and hygrometer make it easy to control the climate in your grow room
Advanced Grow Made Easy: The tent is supported by strong metal poles that are specially finished for smooth installation; Don't waste time buying and returning parts that may or may not be compatible or safe to use together; This VIVOSUN complete system includes every part you need to get set up for advanced grow