The cannabis plant is at its most fragile and vulnerable state as a seedling, making the growing stage prone to several problems. If you fail to take care of your marijuana seedlings during this critical stage, you will start with unhealthy looking plants that will affect the growth and future yields.
Of course, before planting, you have to ensure that the seedlings you have are from a reputable seller to avoid buying weak seeds that will give you problems from start to finish. To be on the safe side, if you are a beginner, you should buy your seedlings from any of the reputable online seedbanks.
Seedlings start with two cotyledons, already formed inside the seeds but open up after sprouting. After the cotyledons, other cannabis leaves start growing from the middle of the cannabis seedling. The leaves continue to look more like the cannabis leaves you are familiar with, as they get older.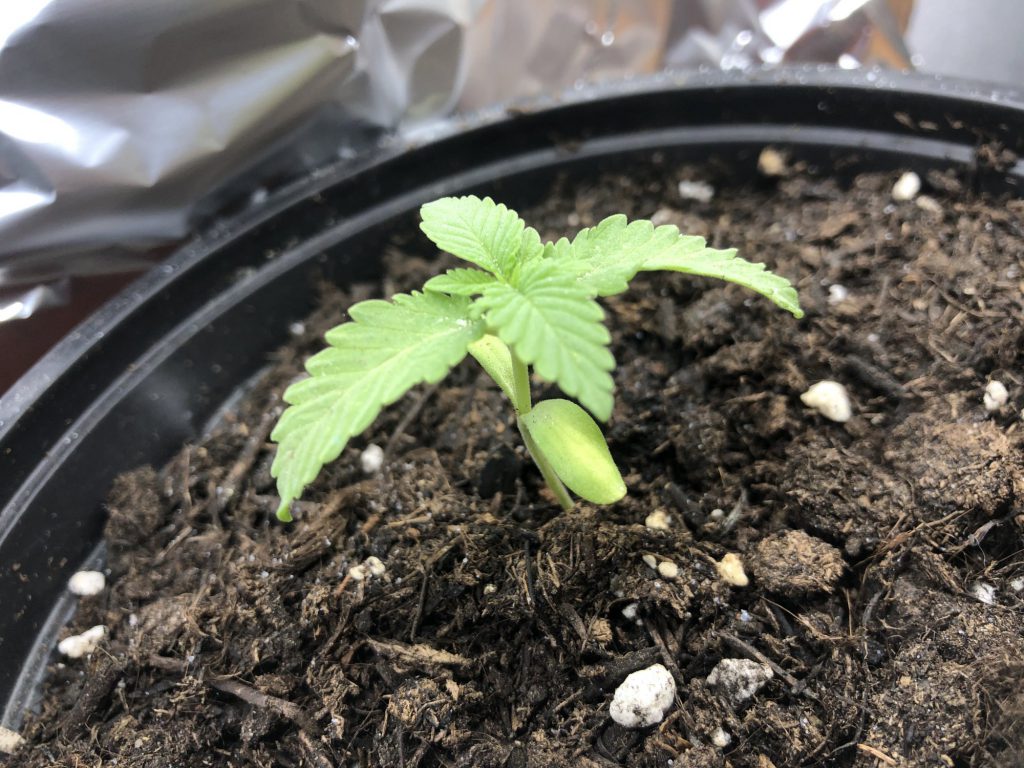 During this stage, you need to be extremely careful about how you handle the delicate plants if you want them to continue with healthy growth. The most common cannabis seeding problems that could change the healthy growth are overwatering, underwatering, light, nutrient, and temperature issues.
An experienced cannabis grower can easily avoid these issues, but for a newbie growing cannabis for the first time, this article explains the cannabis seedling problems you may encounter.
Most common cannabis seedling problems
1. Overwatering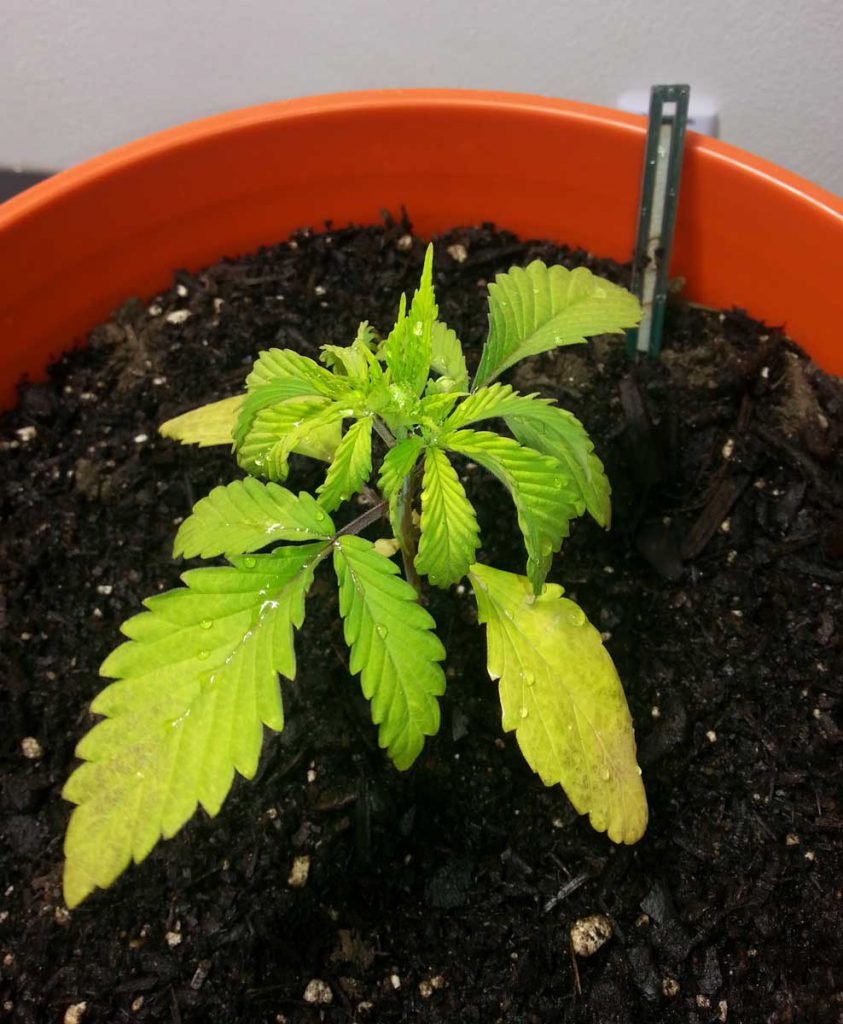 Overwatering has more to do with the lack of oxygen than it does with burdening the seedlings with too much water. The most common symptoms of overwatered plants are droopy seedlings, moist medium, and damping. The symptoms mostly show themselves in hydroponic systems where plans grow exclusively in water.
The plant roots, immersed in water, use up the available oxygen, and they remain fine as long as they get enough of it in circulation.  If they use all the oxygen, they start to droop without wilting and showing all the other oxygen deprivation symptoms.
One of the leading causes of overwatering is planting the seedling in a large pot. A large pot holds more water that takes longer to dry out, which becomes a problem considering seedlings do not absorb too much water. Instead of using a large container for your seedling, you should start with a much smaller one that does not hold too much water.
Using a smaller pot helps the plants to grow faster.  You can change to a larger container later after the seedlings start to display significant growth. If, by any chance, you do not have any other choice but to grow your seedling in a large pot, do not panic because you can adjust the watering methods to prevent overwatering.
The following methods will help to prevent overwatering when using a large pot:-
Use smaller amounts of water to water the plant.
Using a circular motion, pour the water into the pot.
You also need to make sure that the top layer of the soil does not contain any moisture or dampness before resuming your next watering cycle.
On the other hand, using a small pot for a large seedling is also not a solution, and you will end up with the same weak plants. Using a small container leads to plants with bound roots. The plants later develop strange symptoms that include discoloration, nutrient deficiencies, and drooping. Root bound happens when roots wrap themselves outside the container without providing water with an escape.
Lack of drainage is also a huge problem as it prevents water from moving from the container to the soil freely. If you are using clay-based soil as your growing medium, you may encounter a few occasional overwatering issues. Ensure that the bottom of container you use for your seedlings has enough drainage holes. You should also make sure the drainage holes are devoid of any clogging for better drainage.
Another cause of overwatering is frequent watering of the seedling. Before adding any water to the container, you need to make sure that the soil is dry for the roots to get an adequate oxygen supply. Roots absorb oxygen in the water quickly, which is why they need to survive by having enough air pockets. One way of ensuring that the growing medium retains more oxygen is by using a potting mix such as perlite.
Another way of increasing air in the soil is by using air or smart pots that allow air in through the sides. You can also reduce overwatering by providing the seeds with less water, especially during the low and colder temperatures.
-$4.65 SALE OFF
Bestseller No. 1
Smart Pots 20-Gallon Smart Pot Soft-Sided Container, Tan with Strap handles
Soft-sided fabric aeration container that has the rigidity to hold its shape
Provides aeration, enhancing root structure, resulting in a vigorous plant with more flowers and fruits and increased insect and disease resistance
Allows excess heat to escape
Developed for, and used by commercial tree growers
20 Gallon capacity; 20 inch diameter x 15.5 inch height
-$2.18 SALE OFF
Bestseller No. 2
-$2.29 SALE OFF
Bestseller No. 3
Smart Pots 5-Gallon Smart Pot Soft-Sided Container, Black with Cut handles
Soft-sided fabric aeration container that has the rigidity to hold its shape
Provides aeration, enhancing root structure, resulting in a vigorous plant with more flowers and fruits and increased insect and disease resistance
Allows excess heat to escape
Developed for, and used by commercial tree growers
5 Gallon capacity; 12 inch diameter x 9.5 inch height
-$1.49 SALE OFF
Bestseller No. 4
Smart Pots 5-Gallon Smart Pot Soft-Sided Container, Black
Soft-sided fabric aeration container that has the rigidity to hold its shape
Provides aeration, enhancing root structure, resulting in a vigorous plant with more flowers and fruits and increased insect and disease resistance
Allows excess heat to escape
Developed for, and used by commercial tree growers
5 Gallon capacity; 12 inch diameter x 9.5 inch height
-$2.79 SALE OFF
Bestseller No. 5
2. Underwatering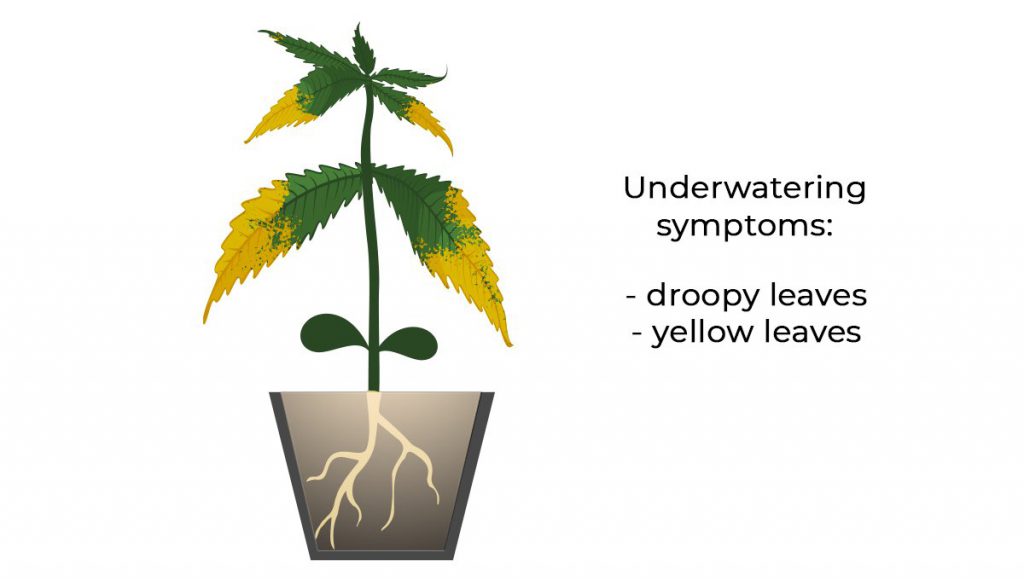 Underwatering seeds is another common problem that affects the growth of cannabis plants. Even though the problem is not as common as overwatering, underwatering also display easily visible symptoms. The symptoms include dry soil with no moisture, plant wilting, and drooping, stunted growth, twisted and discolored plants.
Underwatering happens especially with beginners that overcompensate after learning of the dangers of overwatering. Combining nutrient overdose with underwatering also causes the seedlings to turn into a dark green color, alongside all the other symptoms.
Water is an essential ingredient for plant growth, and since they lose much of it through transpiration, you need to ensure that the soil has enough moisture throughout for proper growth processes and functions.
If you allow the roots to dry out, they will eventually die, and you will have no plants to look forward to growing to maturity. Underwatering is an easy thing to fix. All you need to do is water the plants once you see the growing medium drying up or the plants wilting due to lack of water and moisture.
Water the plants regularly, even though the soil mix is hot or has many nutrients. Once the plants start adapting to frequent and enough water supply, they will come back to life fast.
3 .Nutrient Toxicity
The symptoms of too many nutrients in your seedlings include leaves that are spotted, crispy, discolored, or yellow. Other nutrient toxicity symptoms include dark leaves and tip burns. Nutrient issues come from overfeeding the seedlings with too many nutrients or too little of them.
You can also have a nutrient issue if you use the wrong nutrients.  Seedlings should use correct and enough nutrients that help them to stay green at all times. One of the main nutrient toxicities is nitrogen deficiency. Plants with nitrogen deficiency turn leaves into brown and yellow colors. The leaves also go soft before folding and falling off the plant.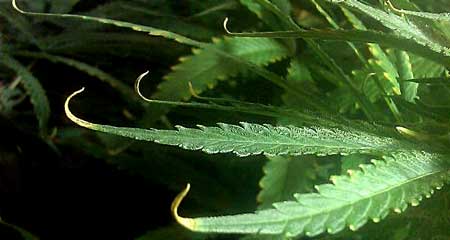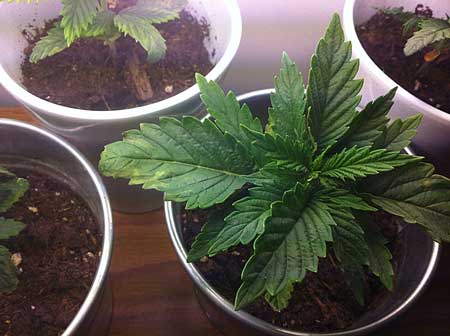 Nutrient deficiency affects older leaves at the bottom of the plant first before it starts to impact leaves on the other parts of the plant. Another major cause of nutrient toxicity is using slow-release soil. Slow-release soil causes nutrient burn to the seedling, affecting plant growth and the final yield. One example of slow-release soil is Miracle-Gro Soil.
Contrary to what some growers believe and practice, seedlings do not need many nutrients until they are three-week-old sprouts. Nutrient toxicity also develops fast, so you should be very careful about how much you feed the seedlings.
Bestseller No. 1
-$1.91 SALE OFF
Bestseller No. 2
Bestseller No. 3
Uncle Bud's Coco and Perlite Potting Mix, Soil for Maximum Plant Growth, Perfect for Indoor and Outdoor Container Gardens, 8 QTS, Coconut Coir Peat, Plant Directly no Additional Ingredients Required
PROTECTS FROM OVERWATERING - This mixture is specifically designed to capture and retain nutrients so you can feed the plants heavily without drowning them. Strong aeration and drainage. Gives peace of mind you won't overwater your plants
FOR MAXIMUM PLANT GROWTH - The Coco Coir behaves like little sponges offering nutrients and water as needed by the plants. You'll grow a happy, healthy and bountiful harvest! Perfect for use with indoor greenhouse or grow room
PLANT DIRECTLY IN THIS MIX - Plant directly in this mix with no additional ingredients required. Easy and simple to use for veterans and first time growers alike. Won't compact, allows root aeration and generates strong roots
PH BALANCED - PH Balanced to create an ideal growing environment for many types of potted plants indoor or outdoor. Blended with container gardening in mind. Lower humidity reduces the possibility of root rot, as well as leaving insects less likely to bother your potted plants
DOUBLE WASHED - Our coco coir is doubble washed to ensure mixture is free of outside contaminants that make the coir "muddy" when wet. Don't trust mixes that have not been double washed
-$14.95 SALE OFF
Bestseller No. 4
FoxFarm FX14054 Happy Frog Potting Soil, 12 Quart
Ready to use right out of the bag
This unique mix is alive with beneficial soil microbes and mycorrhizal fungi
Dramatically expands root development enabling plants to feed more aggressively
Not for sale in: FL,GA,HI,IN,MO,SD
-$15.79 SALE OFF
Bestseller No. 5
FoxFarm Ocean Forest Potting Soil, 1.5 cu ft
Ocean Forest organic soil is ready to use right out of the bag
Ideal for containerized plantings
Contains earthworm castings, bat guano and micronutrients
Light texture and well aerated
Available in 1.5-Cubic feet
4. Lighting Issues
Too much or too little lighting is another issue that affects cannabis plants. Probably the most widely recognized lighting issue that include over the top or too minimal light, incorporates burnt out leaves, taller than normal seedlings that outgrow their size in search of light, badly crinkled leaves, and superfluous stem spaces between stem nodes. Plants get tall due to lack of enough light while they look burnt or fried when they have too little light.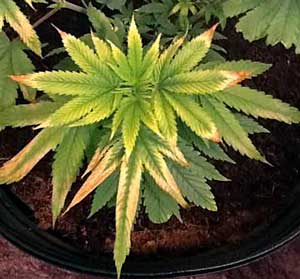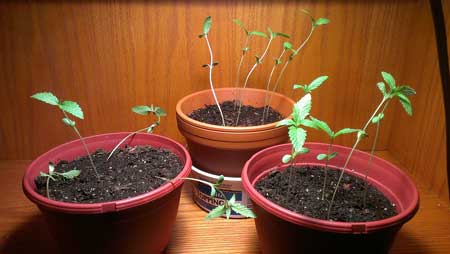 If you are growing your marijuana indoors, you can fix the lighting problem by moving the lights further or nearer your plants. If you are growing your weed outdoors, you can fix the problem by covering the plants when it gets extremely hot.
Also, ensure that all your plants, whether you are growing indoors or outdoors, get enough light exposure. During the seedling stage, cannabis plants need little lighting, but you should adjust as the plants grow.
-$10.00 SALE OFF
Bestseller No. 1
Plant Grow Light,yadoker LED Growing Light Full Spectrum for Indoor Plants,Height Adjustable, Automatic Timer, 5V Low Safe Voltage,Idea for Large Plant Light
🌻48 LED Grow Light Full Spectrum - Compact grow light with high quality super bright LEDs, offer full spectrum 380nm-800nm, including white5000K/18 LEDS,warm white 3000K/18 LEDS,red/8 LEDS,blue/4 LEDS to effectively promote indoor plant growth any time of year, beneficial to entire growth period.
🌻Height Adjustable Up to 61.1" - The height range is 13.7"-61.1", The pole does telescope up and down as well which is handy it can grow the plant to stay at a reasonable height,also it will cover a pretty larger space to shine light on more plants in close proximity when it is fully extended.
🌻10-level Dimmable - The brightness can be adjusted, 10 brightness settings ranging from 10% to 100%, you can choose the most suitable brightness for your plants growth.
🌻13ft Long Cord - Now you can easily use this grow light for your favourite hanging plants or larger plants,no worry about additional extendable cord.
🌻 Automatic Timer,On/Off Switch - The lamp operates from a built-in timer with 3 modes cycle timing function which stay on for 8/12/16 hour and off for 16/12/8 hours. The timer sets itself when one plugs-in,full control when the light turns on and off, simply by on/off switch as you needed,no need to unplug/re-plug.
Bestseller No. 2
Grow Lights for Indoor Plants, Four Head LED Grow Light with Full Spectrum & Red White Spectrum for Indoor Plant Growing Lamp, Adjustable Gooseneck, Suitable for Plants Growth (Four-Head Plant Light)
🍒【Adjustable gooseneck & telescopic pole】The flexible gooseneck can be rotated 360 degrees, and the pole can also be telescopic, allowing you to more easily adjust the distance between the plant light and the plant
🍒【White & red LED lamp beads】Simulating natural light, especially red light, can make plants better photosynthesize to promote healthy growth
🍒【Efficient full-spectrum LED lamps】The plant growing light has 72 LED lamp beads, and vegetables, fruits or plants can be fully cared for and supplied without sun exposure
🍒【Designed for plant growth】This plant growth lamp can meet the needs of light in different growth stages such as fruits, vegetables, herbs, etc
🍒【Multiple usage】You can put it on the balcony, living room, office, greenhouse, you can use it for indoor gardening, breeding, potted plants have a wide range of uses, especially suitable for growing plants in the dark or when it rains
-$15.50 SALE OFF
Bestseller No. 3
GooingTop LED Grow Light,6000K Full Spectrum Clip Plant Growing Lamp with White Red LEDs for Indoor Plants,5-Level Dimmable,Auto On Off Timing 4 8 12Hrs
【6000K White Light】Equipped with 10 Red + 74 White LEDs, this mini growing light is similar to the full-spectrum sunlight at noon,that is professionally designed for indoor garden plants.Moreover, its color rendering index is as high as 95, the light is soft and flicker-free, which is very suitable for reading lamp
【Timer Function & Multiple Settings】The indoor seedling light offer the circular memory timer function with 3 options-4h/8h/12h. When keeping power, it can automatically turn on and off every day according your settings, no more manual operation for you.【Also You Could Operate One of Them Separately,And Support 5 Levels of Dimming.】
【Easy to Install】with flexible Gooseneck & strong clamp,it allows you to place the LED plant lighting fixture in any direction to provide the best lighting angle for your plants,meet the cover around the plant.Powered by USB or AC Power Plug (adapter included )
【High Efficiency LED Lamp】as for LED power draw this mini succulent lights just comsume about 10watt and is equivalent to a 50w halogen bulb.Estimately monthly cost roughly $2 in electricity (12 hours a day). It is a great gift if you growing some desktop small plants.
【365 Days Worry-free Warranty】We offer 365 days warranty and 24h friendly customer service. If there are ever any issues about the product, please feel free to contact us and we will give you a free replacement or full refund.
Bestseller No. 4
LEOTER Grow Light for Indoor Plants - Upgraded Version 80 LED Lamps with Full Spectrum & Red Blue Spectrum, 3/9/12H Timer, 10 Dimmable Level, Adjustable Gooseneck,3 Switch Modes
Efficient LED Combination: This LED lamp has grow lights made up of 80 efficient growing LEDs (36 red, 16 blue and 28 full spectrum). It meets the conditions of plant growth without sunlight. 1--Full Spectrum(380nm-800nm): Suitable for all plants to root and sprout. 2--Red(660nm)+BLUE(460nm) Spectrum: for blooming and fruits. 3--Red+Blue+Full Spectrum: A mix of Red+Blue+Warm White is best to fuel the growth of your plants.
Upgraded Auto ON/OFF Timer: Plant grow lights come with the circular memory timer function allows to automatically turn on/off every day according to your settings: 3H(Blue)/9H(Green)/12H(Red). Which requires no manual operation and takes good care of your plants when you on work or vacation.(Please note: The timer needs to be reset if the grow light is powered off.)
10 DimmableModes: Our grow lamps provides 10 dimmable modes to suit varied stages of plant growth. It has 10 levels of light intensity and has 3 spectral modes to meet different stages of plant-growing needs.
Visible Quality and Adjustable: The LED grow lights have a USB connector which makes it convenient to connect in your office or home to USB or AC power plug (includes adapter). The 4-head light has a 360-degree flexible gooseneck made from quality tubing to keep a fixed position. The metal clamp allows the lamp to be placed anywhere in your home or office.
Scientific Heat Dissipation Design: Indoor LED grow light is backed by an aviation-grade heat sink powered by a temperature control unit. This improved heat sink efficiently dissipates the heat generated by the lamp to the atmosphere.
Bestseller No. 5
VIVOSUN VS1000 LED Grow Light with Samsung LM301 Diodes & Sosen Driver Dimmable Lights Sunlike Full Spectrum for Indoor Plants Seedling Veg and Bloom Plant Growing Lamps for 2x2/3x3 Grow Tent
High Efficiency & Lower Cost: The VIVOSUN VS1000 LED grow light uses the latest high-efficiency (2.75μmol/J) LED plant light technology with premium Samsung LM301 diodes, providing uniform lighting and stronger light output; The energy consumption is only 100 watts, making it more efficient than traditional HID lights and other plant lamps on the market; It is perfect for covering 3 x 3 ft. area (4 x 4 ft. max) and lights can be absorbed better by plants
Dimmable Ballast: This LED plant lamp has a dimming knob that makes it adaptable to different growing periods for various plants; The 4 levels of the adjustable dimmer can be used for sprouting to flowering; ​Designed with the daisy chain function (EXT), it allows you to connect multiple lights with 1 socket and reduce the number of outlets to avoid the mess; The slimmer style body allows for more types of plants
Full-spectrum Sunlike Lighting: These LEDs deliver optimal light-spectrum coverage (380nm-780nm, 660nm, 3000K, 5000K), offering more power for your blooms and maximum PAR output at various distances; The cool white light (5000K) promotes germination rates, the warm white light (3000K) peeds up blooming time, and the red light (660nm) improves the plant production; The lights can get through the surface of plants and deep into them to increase yields
No Noise & Low Heat: Equipped with high-quality heatsink and ventilation holes, this indoor growing light has effective heat dissipation function and lower ambient heat that prevents burning or damage to your plants; You can place the lamp above plants directly and give them enough lights based on the need; With no fan design, the light can provide a quiet working environment without interruption
Safe to Use: The pair of grow room glasses in the package can protect your eyes when the light is turning on; The VIVOSUN US-patented rope hangers are easily attached to the indoor tent or other growing tools; The IP65 rating surface can meet your demand in different indoor planting environments; We provide you with a 5-year after-sales warranty service, and if you have any problems with the item you received, please do not hesitate to contact us
5. High Temperatures
Another common cannabis seedling problem is high temperature. High temperature leads to leaves looking like canoes and tacos displayed by curling edges. Besides curling, the leaves also show spots and wilt. The best temperature levels to maintain in your grow room if you want your plants to grow healthy is between 68 and 78 degrees Fahrenheit.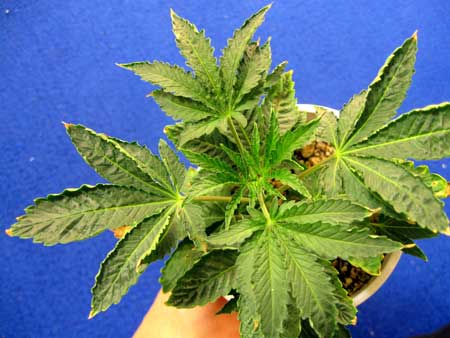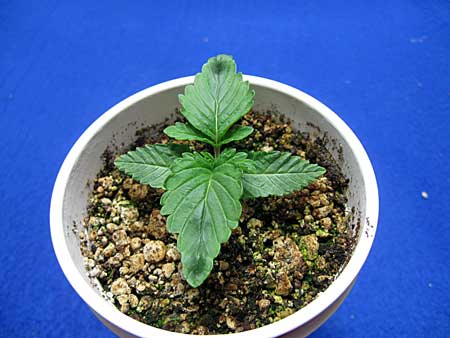 To ensure that the temperature stays at the required levels, you should monitor it closely and use a thermometer to help you keep it in check. Another way of maintaining desirable temperature levels in the grow room is by ensuring that the grow lights are not too close to the plants. Maintain the required light distance to avoid overheating and burning plant canopies.
Read next: Best Temperature and Humidity Controllers
Desirable Traits of Cannabis Seedlings
If you want healthy looking cannabis seeds, you should look out for the following traits.
Healthy seedlings, leaves, and stalks should bear a green color. If you notice that the seedlings have a purple color while the stems and stalks are a grayish color, it is an indication that the development of the roots is poor. The color changes are also an indication that the roots cannot process nutrients adequately.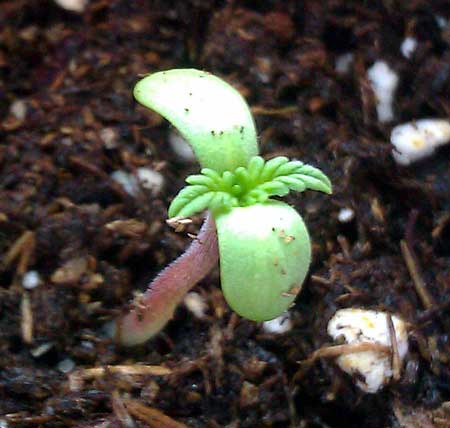 You can tell the cannabis plant is healthy if the leaves are upright and parallel to the soil. Improperly formed leaves will show a trait such as discoloration, droop down, and curls. The defects are an indication that the seedling is not handling the same conditions other seedlings are thriving in well enough.
Unless you are growing your cannabis seedlings in aeroponics or deep-water culture (DWC), it is not always possible to monitor your plant's root development easily throughout their growing cycle. However, you can tell if they are healthy if they display the appropriate height depending on their age, and the leaves have the appropriate size and set well without curling.
Visibility of the positive traits expected of the cannabis plants such as density, good health, and branching, is mostly possible during transplantation and the harvesting period.
If you notice seedlings that do not keep up with the rest in terms of healthy leaf development, height gain, robustness, and growth rate, you should dispose of them because they are defective. In some cases, you may decide to throw caution to the wind and keep the undesirable or defective seedlings in the hope that they might stay alive and germinate into healthy plants.
It is a tough decision to make, but it is not unusual for defective seedlings to turn around and surprise you with the deliverance of healthy plants and highly potent yields. However, you also have to prepare yourself if you decide to take that road because many of the defective seedlings may grow into plants. However, you have to contend with ending up with unhealthy plants prone to several diseases, provide little yields, and need lots of attention throughout their growing cycle.
Wrapping It Up
Growing cannabis is not a walk in the park, especially for those doing it for the first time. However, enough knowledge about what to expect during the growing cycle and enough practice makes cannabis growing both fun and fulfilling. Using seedlings to start your growing journey needs, the utmost care because they are delicate and susceptible to many ills.
Before putting them in the ground, the first step is to ensure that your seedlings are from a reliable and trusted seller. Buying from a reputable seller assures you of strong, resilient, and easily adaptable seeds that will grow to healthy plants and high yields. The next step is caring for the seedlings.
Do not feed them with too much water or give them too little that will end up killing them. Ensure that the lighting system you have in your grow space provides full-spectrum light to cover all the seedlings.
Monitor the temperatures carefully to prevent the crops from burning out and get a dehumidifier if the place is too humid. If you have seedlings that do not measure up, get rid of them, and leave only the strongest for better yields and fewer problems. The whole exercise may seem too challenging, but it is worth the effort.
-$73.00 SALE OFF
Bestseller No. 1
Elitech STC-1000Pro TH Temperature Humidity Controller Thermostat Pre-Wired Outlets 110V 1100W 10A
【Wide Control Range】Temperature & humidity 2 in 1 Sensor; Temperature control range 23℉~158℉, humidity control range 5%RH~99%RH. It starts cooling or heating; humidifying or dehumidifying according to configured parameters, which helps to keep a desired temperature/humidity anytime.
【No Wiring】Its large LCD screen, simple 3-button, and pre-wired design making it easier for use with plug and play.
【Dual Relay Output】Be able to connect two types of equipments at the same time, work1 for temperature controlling; and work 2 for humidity controlling.
【Multi-functional Setting】Its functions include high or low alarms, start delay, temperature or humidity calibration, Temperature unit ℃/℉ and continuous working time for humidity.
【Safe & Reliable】Comply with CE, FCC, WEEE standard and adopt fireproof ABS case for safety when in use. Flame Retardant UL94 V-0. 24/7 US Technician Support via Email and Phone.
Bestseller No. 2
DIGITEN DHTC-1011 Temperature and Humidity Controller Outlet Plug in Thermostat Humidistat Reptile Humidity Controller Greenhouse Thermostat Heating Cooling Humidifier Dehumidifier
🍄【Wide Control Range】Temperature and humidity 2 in 1 sensor; temperature control range is -40℉~248℉, humidity control range is 1%RH~100%RH. It starts cooling or heating, humidifying or dehumidifying according to configured parameters, which helps to keep a desired temperature and humidity anytime.
🌱【Convenient Design】The temperature and humidity controller has a large LCD screen with simple 3-button, and pre-wired design making it easier for use with plug and play.
🍾【Dual Relay Output】Be able to control temperature and humidity equipments at the same time, one is for temperature controlling and another is for humidity controlling.
🧀【Multi-functional Setting】Supporting calibration, compressor delay and saving reset setting values. Centigrade or Fahrenheit degree display, easy to set. High or low temperature and humdity alarms are available. And with temperature calibration and compressor delay for protecting cooling device. It can save the original setting values in case accidentally power-off.
🦎【Multiple Use】Widely used for home brewing (refrigerator), fermentation, greenhouse, terrarium, reptile, planting (mushroom), meat storage and cooking, ventilator fan, crawl space, turtle enclosure, curing chamber, snake cage, tobacco cage, etc.
Bestseller No. 3
Inkbird Temperature and Humidity Controller ITC-608T Pre-Wired Dual Stage Thermostat 120VAC 15A 1800W ETL Listed Mushroom Greenhouse Homebrew
💙💙US ETL Certificate Listed. ITC-608T thermostat temperature and humidity controller is ETL listed, and rigorously tested for quality control and safety.
💙💙Three in one Multifunctional Temperature and Humidity Control Mode with Dual Relay Output. ITC-608T can work as a temperature controller, a humidity controller, a temperature and humidity controller. First, only plug temperature sensor with cooling and heating equipment. Second, only plug humidity sensor with humidifier and dehumidifier equipment. Third, plug both temperature and humidity sensor with cooling/heating and humidifier/dehumidifier equipment.
💙💙Supporting calibration, compressor delay and saving reset setting values. Centigrade or Fahrenheit degree display, easy to set, PV and SV dual display windows. And with compressor delay for protecting cooling device. ITC-608T can save the original setting values in case accidentally power-off.
💙💙More power up to 1800W. Temperature control range is -40-212°F(-40-100℃), humidity display range is 5 -99.0%RH. Max Loading: 120V 15A 1800W. Temperature senor is waterproof while humidity sensor is not.
💙💙Multifunctional usage. Temperature and humidity controller ITC-608T can be used in home brewing (refrigerator), fermenting, Greenhouse, terrarium, reptile, planting (mushroom), meat storage and cooking.
-$16.00 SALE OFF
Bestseller No. 4
Xetron Temperature and Humidity Controller with Pre-Wired Outlet Humidifier/Dehumidifier and Heating/Cooling Regulator, Thermostat Humidistat Controller for Reptiles Seed Homebrew, STC-1000ProTH
【Ideal Temperature and Humidity Control】 Temperature (Work1) and humidity (Work2) two-in-one sensor probe, Temperature (Heating or Cooling) and Humidity (Humidify or Dehumidify) modes can be used simultaneously or independently no matter in winter or summer. A wide temperature control range of 23 ℉~158 ℉/-5~70℃ with high accuracy of ±1℉/±0.5℃, and the wide humidity control range of 5%RH~99%RH with accuracy of ±5%RH.
【Easy to Operate】 No other accessories required and use it directly! 2 Pre-wired temperature and humidity outlets and simple 3-button design makes the STC1000ProTH temperature humidity controller plug and play. The 2.5" large LCD screen displays the real temperature and the set value at the same time, as well as the data can be read directly from a long distance.
【Dual Alarm】 Easy to set the alarm temperature and humidity. The Buzzer Beeps and bell icon display if the temperature goes out of high/low limits, let you hear the alarm in time even when you are not next to the detection object. Ideal for homebrewing, reptiles, pets house, fermentation, incubation, refrigerator, greenhouse, reef tank etc.
【Perfect fit for your DIY project】 Personalized parameters can be set, support settings including ℃/℉, temperature & humidity calibration, high and low alarms value, start-up delay, protection time and etc., to meet the different needs of users.
【Security & Quality】 Made of anti-flame ABS material, it has compressor delay protection and comply with CE, FCC standard, making it more secure to use. If you have any questions please contact us, our product has a one-year warranty and lifetime customer service.
Bestseller No. 5
Inkbird ITC-308 Temperature Controller with IHC-200 Humidity Controller
【Plug n Play】no more complicated wires are needed, and the programable temperature controllers is friendly to growers, staters.
【Buzzer Alarm】High and low temperature/humidity alarms support custom adjust.
【Dual relay】Both controllers offer two power outlets. Plug-in heating equipment, and ventilation fan on the temp controller, and plug the humidifier and dehumidification equipment on the humidity controller.
【Affordable】DIY the ventilation system for your grow tent gets more fun but costs less than getting a pre-set ventilation system.
【Reliable】Inkbird is the first one to offer pre-wired temp/humidity controllers.