Rosin presses are very new in the market, but many people are embracing the extraction methods for DIY from the comforts of their homes. The last two years have seen some of the best rosin press machines make their way into many marijuana tool stores. Some of the press machines are very affordable and selling for under $500.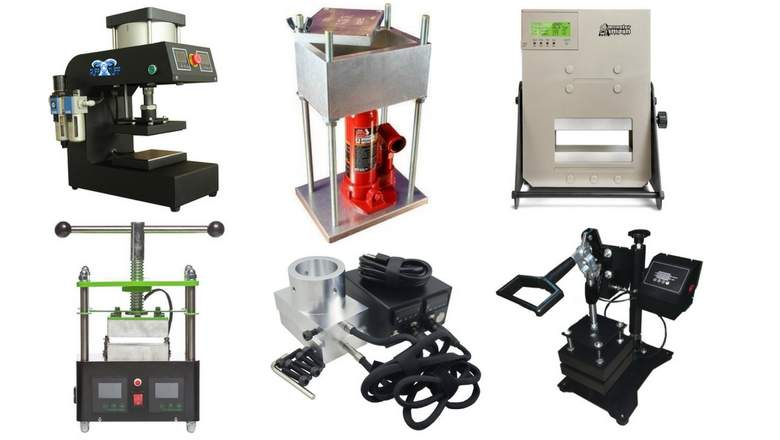 The low prices do not compromise their quality. Because the market of rosin presses is still new, some people may not know the right products to choose from yet. This article helps those that may not have a clue of the products making the headlines in the market. Before we look at the best rosin press machine, do you know what a rosin press is?
What Is a Rosin Press?
A rosin press is a processing method that uses pressure and heat to extract resin from marijuana plants. The heat and pressure come in the press machine that helps to control the variable required for extraction. Many of the rosin presses are small, portable, and easy for DIY processing.
Another essential component besides heat and pressure used for processing rosin is time. When the three balance using the latest innovations, they create excellent products that come with superior effects and flavors. It is essential to control heat and temperature when extracting rosin to ensure that you get the best of terpenes and cannabinoids. Ensuring the heat is low is the surest way of avoiding degradation.
See also:
Best Rosin Press Machine
Dulytek DM800 Personal Heat Press
If you are in the market for the most affordable rosin press machine, then buy Dulytek DM800 Personal Heat Press. The rosin press machine is among the least expensive in the market today, but that does not compromise its ability to perform quality presses. It is an excellent machine to have at home, especially if you want your rosin.
The device is lightweight and weighs only 4.5 kgs making it easily portable. You can put it in a backpack and take it with you anywhere you want. It is sturdy and has a durable construction with an ergonomic handle design that provides you with comfortable and convenient pressing.
The rosin press has a digital temperature controller set at the back that sets the temperatures for its two heating plates. The temperatures display in both Fahrenheit and Celsius. It also comes with a press timer and an adjustable pressure nut that helps to control the amount of force you apply to the material when extracting.
With every purchase of the rosin press, you get a bonus of a starter kit that comes with a silicone mat, double-sided 2 stainless collection tools, 10 pieces of parchment paper measuring 10"x7", four magnets and a lidded silicone.
Pros
Durable and sturdy construction
Ergonomic handle design that provides you with easy pressing
Lightweight, compact, and easily portable
Comes with dual heating plates for more efficiency
Controlled temperature set
Temperature displays in Fahrenheit and Celsius options
Comes with a timer
Comes with a pressure nut to control how much material you press
Comes with a bonus of several accessories that make pressing more accessible and fun
Easy to use
Ideal for beginners
Affordable
Great customer support
Discrete packaging
Cons
Does not have enough weight to press bulky material
Dulytek DHP7 V3 Hydraulic Heat Press Machine
Dulytek DHP7 V3 Hydraulic Heat Press Machine is yet another quality rosin press that provides you with quality extraction. The press machine can generate 7 tons of rosin within a short period. The construction of the device is a durable built with solid insulated aluminum heating plates.
It comes with a timer and temperature control with built-in power conservation options. The device also comes with a convenient carrying handle that makes it easy to move the rosin press from one place to the next. A cranking handle controls the pressure and ram speed. The body frame of the press has reinforcements that allow it to take extra loads of up to 12 tons.
It also has an easy to use control panel that sets all the necessary parameters. If you need to raise the rosin press, a removable and upgraded hydraulic jack that you can unscrew easily will do the job for you.
With every purchase, you get a bonus that includes one lidded silicone storage jar, 10-sheet pack of parchment paper, two stainless steel double-sided collection tools, four magnets, and a silicone mat. The items included in the package are the 3-prong power cord, pump handle, a starter kit, and an instructions manual.
Pros
Durable construction
Provides quality extraction
Solid insulated heating plates
Affordable
Comes with timer and temperature control
Built-in power conservation options
Easily portable with a convenient carrying handle
Pressure and ram speed control
Touchscreen digital control panel
Comes with a hydraulic jack for raising the press
Bonus accessories
Instructions manual
Cons
Hydraulic jack, not the best quality
MyPress Gen 2 Portable Heat Press Machine
MyPress is a quality cannabis rosin press designed for home use. The press has a durable construction of high-quality material materials that come with durability and efficiency. It uses pressure and heat to carry out its applications. The press creates the best cannabis rosin using a solvent-less technique that eliminates any contamination to the final product.
The machine is self-cleaning, which saves you effort and time. At only 13 pounds, the rosin press is small, compact lightweight, and easily portable. The heating plates are 3 x 3 stainless steel axiom that delivers heat ranging from 160 degrees Fahrenheit to 280 degrees Fahrenheit. The maximum pressure the plates can handle is 6 tons.
The rosin press also comes with excellent safety features. It has a pressure-adjusting wrench that helps to control the pressure applied to the heating plates when the device is in operation. It also switches off automatically after 30 minutes if there is no extraction activity. When you are not using the MyPress, it stays in a closed position, which means that the plates remain safe from exposure and accidental touching.
The machine also powers off if the heat exceeds 400 degrees grounding the frame and plates. The rosin press has a display of a single LED counter that displays the amount of cannabis under extraction. The counter activates immediately after the axiom plates close, and timing freezes after opening the plates.
The palates take about 25 minutes to get hot, depending on the temperature of the room and the plate. It takes another one hour to cool off after pressing. MyPress comes with an instruction manual for ease of use.
Pros
Lightweight, small, compact, and highly portable
Durable construction made with high-quality materials
Designed for home use
Does not require much maintenance it has excellent safety features
Easy to use
Switches off automatically when it is not in use
Energy saving
Come with a limited warranty and a 90-day warranty on components
Comes with an instructions manual
Cons
Does not produce large rosin amounts
Dabpress 10 Ton Hydraulic Cylinder Heat Press Machine
Dabpress 10 Ton Hydraulic Cylinder Heat Press Machine measures 3 by 5 inches making it small enough for portability. The press machine also comes with a high-quality construction of 6061 aluminum with stainless steel sticks. The durable press machine is durable and reliable for home use.
One of the features that stand out in the press machine is the 10- ton replaceable hydraulic cylinder. The hydraulic is robust and highly efficient, delivering much more than the size of the machine. The press machine also comes with an innovative drip system that directs drip to the baking paper preventing overheating of the heat press.
The device heats up fast, but it comes with bamboo insulation layers that give it more safety. It also comes with a temperature control feature with a built-in controller that helps you to monitor the heat levels. The press machine has feet protectors installed with a magnet to prevent damage and scratches.
Pros
Lightweight and portable
Presses 10-tons of rosin which makes it compelling for its size
Comes with safety features
Durable and sturdy
Uses an innovative drip system that gives it precision
Comes with temperature control features
It has feet protectors that help to prevent scratches and damage
Cons
Dabpress 6 Ton Bottle Jack Heat Press Machine
Another quality rosin press from Dabpress is the 3 by 5-inch bottle jack that comes with impressive features. The press machine is a small unit that weighs only 40.8 lbs, making it easily portable. It is easy to use the device and perfect for home extraction applications.
The lightweight device has durable construction of an H-shaped frame made with stainless steel. The frame has an installation of a 6-ton bottle jack spring that keeps it stable and away from the pressing area. It also comes with long-lasting heating rods that can last for 6,000 hours.
A thermocouple and independent heating rods guarantee that the press machine delivers accurate temperatures at all times. The temperature control box is easy to remove. The power output of the press device is 500 watts with a voltage of 110 volts.
It also provides secure cleaning options with the help of an anodized working surface. The same surface also ensures that the rosin pressed is of the strongest flavor. It comes with an easy to follow the instructions manual.
Pros
Durable construction
Lightweight, small, compact and highly [portable
Highly efficient
Comes with a 6-ton bottle jack for added safety
Long-lasting and easily removable temperature control box
Easy to clean and maintain
Affordable
Cons
Cannot press a lot of rosins because it is small
Rosin press bags
Squish Bags
Rosin Press Bags are an essential part of rosin pressing. Some of the best rosin bags in the market today are squish bags. The 120-micron rosin press screen bags or squish bags come in different sizes. For this particular model, you can get 37 and 90-micron sizes. The bags are safe to use, as they do not contain any dyes or chemicals.
They make the best filtration tools. One squish bag can hold up to 25 grams of material. If you want smaller materials, you can trim the bags without any fear of damaging them. The bags work best with 1000-15000psi pressures. They also perform best under temperatures ranging from 180 degrees to 240 degrees Fahrenheit.
Pros
They are safe filtration tools
They are free from chemicals and dyes
They have enough space to hold a lot of material
They are safe to cut if you want smaller material amounts
Cons
They are not soft
High microns, which may result in poor quality filtration
Rosin Evolution Press Bags
Rosin Evolution has some of the most tech bags for rosin designed to withstand pressure and heat of 1000 to 15000psi. A single rosin bag can hold 10 to 20 grams when turned inside out for maximum yield. The bags come in 25, and 37 microns, and they have a seam that bears an extra fold to capture fine particles.
The bags have construction of high quality 100% of dye-free, and food-grade nylon mesh. They are durable and easy to wash. The bags come with a return policy.
Pros
Quality bags made with food-grade durable material
They can hold up to 25 grams of rosin
Dye-free material
Durable
Easy to wash
They come with a return policy
Cons
How To Press Rosin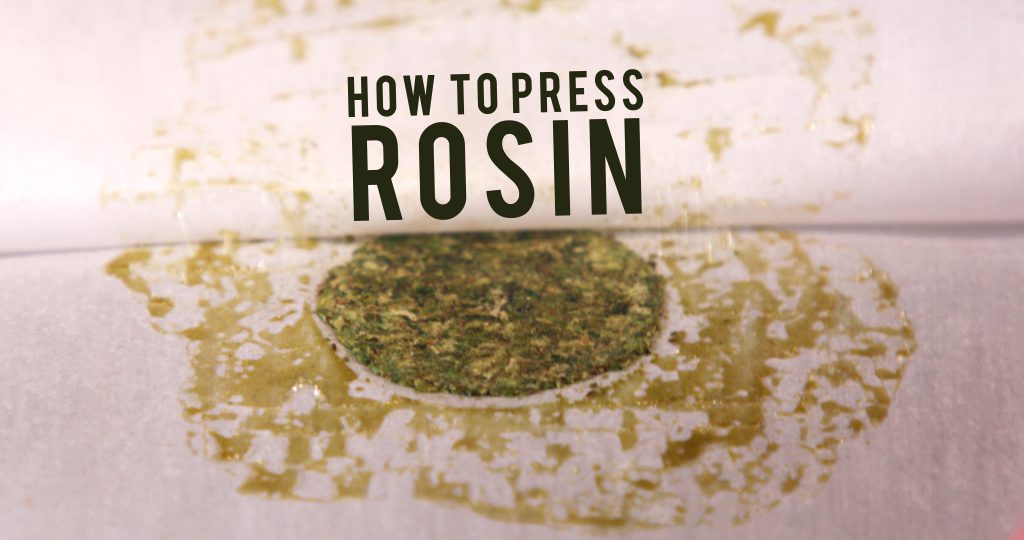 Before you start pressing rosin, you should ensure that you have the following essentials
Materials to use for the extraction process
Use high quality and fresh buds to achieve good yield and flavor
The best micron bags will help in the production of high-quality rosin. The bags come with different microns ranging from 20 to above 150. You get better quality rosin with less smaller microns.
Do not use very dry buds, as they will not give you quality rosin.
Temperature is one of the most crucial factors to consider when pressing. Choose the desired temperature that will give you quality rosin.
Allowed extraction pressure
The pressure is also another significant factor when extracting. Do not use too much pressure to avoid overkilling the buds.
Psi ranges from 300 to 1500, and it depends on the tons of pressing power.
Read next:Health Benefits of Medical Marijuana
Method
After selecting your materials, fill in the rosin filter bag. Prepare a parchment paper to collect your rosin and set up the press machine. Plug in the heaters and set the temperatures that you desire. After the press heats up, place the bag with the material between the heated plates and close the plates.
Press the plates gradually until you achieve the desired pressure. The resin starts to melt after a few minutes, and you begin to get your low of rosin. The whole exercise rakes between 5 and 10 minutes. After you finish, release the pressure and open the plates.
Retrieve that parchment paper and your rosin. Wait for the rosin to solidify by cooling it. After it is cold, scrape it off the parchment paper and put it into a silicone pot or a glass jar, store the final product in the fridge to preserve the flavors.
Read more: Grow Room Ventilation -Grow Tent Exhaust Fan
Wrapping it up
Rosin pressing is a fun thing to do, especially once you get the hang of it, it may seem like a hard thing to beginners, but the press machines make everything go smoothly. If you are just beginning, you can purchase any of the above rosin press machines to make your work easier. They are all affordable machines that come with amazing qualities. They are easy to use, portable, and just as easy to clean and maintain.