Introduction
When you are growing your weed indoors, you are at a certain disadvantage as compared to the person growing their WEED outdoors. The one growing their weed outside has the advantage of using the natural light from the sun for the proper growth of their crops. You can however use lights to achieve the same lighting effects outdoors crops receive from the sun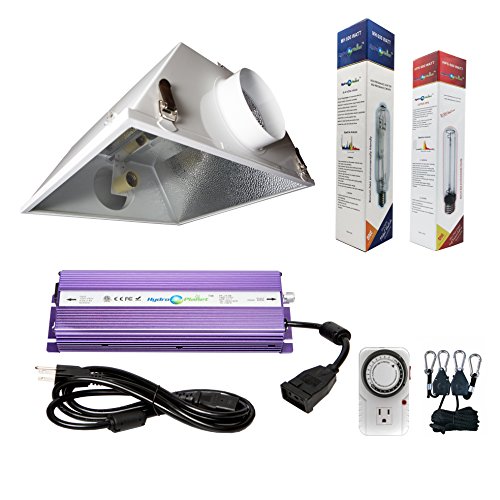 Indoor growers have the option of using LED grow lights or high-pressure sodium HPS grow lights among many others. We have discussed a number of LED grow lights in our previous articles and today, we focus on HPS grow lights. HPS GROW LIGHTS are unique in their own way.
They come with different performances and designs as compared to other grow lights. When it comes to generating lumens for your indoor weed, HPS lamps are the best as they provide very adequate lighting capabilities. They are better than incandescent bulbs by a large margin and they are great energy savers.
Read More:
Best HPS Grow Light System- Comparison Chart
Basic Things you should know about High Pressure Sodium Grow Lights
What is a HPS grow lights?
Before we look at some of the best HPS grow lights in the market, it is good to understand what they are first. HPS stands for high-pressure sodium. HPS light comes in the form of a narrow arc tube held by a wire frame. HPS light contains xenon gas, high-pressure solid sodium and mercury.
How HPS light works
HPS light works by using ballast, which creates a pulse that stirs the gas in the bulbs or lamps. The ballast first ignites the xenon gas, which in turn generates a flow of electrons. The electrons heat up the arc producing a pale blue light. After this, the arc vapors mercury into gas generating a deeper blue color. Finally, the sodium gas vapors turn the arc into a yellow color spectrum.
These are all the colours that provide lighting effects that influence the growth of the crops. All the colours have different wavelengths depending on the gases inside them. Majority of the HPS bulbs are ideal for the FLOWERING phases of the crops because of their orange and red lights.
Though you can use the lights for other stages, it is better to supplement HPS grow lights with other lights during the other growing stages for even better yields. Before we look at the advantages and disadvantages of HPS grow light, we did a roundup of the best HPS grow lights in the market and came up with the following six products that you cannot afford not to try if you want the best out of your cannabis.
Advantages and disadvantages of HPS grow lights
Pros
Energy efficiency
When it comes to energy efficiency, HPS light beat all the other kinds of lights in the market. This reduces your electricity bills by a large margin.
Affordable
HPS bulbs are far cheaper than LED grow lights. This makes them ideal for people growing their crops and have a tight budget to buy the more expensive LED grow lights.
Ideal for flowering stage
They have a particular colour wavelength that is ideal for the flowering and budding stages, which also provides the crops with the best lighting for the production of healthy and bigger flowers. They help to increase the yields.
Less cost per wattage
Compared to LED lights, HPS bulbs have less cost per output wattage, which makes them very cost effective.
Cons
No blue colour spectrum
HPS lamps do not have the blue colour spectrum, which is crucial during the vegetative stages of growth.
Too much heat
Some of the HPS lamps produce too much heat, which may be damaging to the crops. To avoid this, you should always make sure there is a safe distance between the grow lights and the crops.
Mercury
Mercury is a dangerous chemical and you should therefore be very careful when disposing the bulbs. You should avoid throwing the in the trash as the substance could harm both animals and humans especially if there are pets and kids around the trash area.
Focus
Unlike LED grow lights that do not need much to power them, HPS lamps and bulbs need reflectors and ballast to power them.
Our Recommendation: Best HPS grow light System
Complete Package for you- Sun System 150W HPS Complete System
If you have a small space and want the best lighting system for your weed crops. You can always go for Sun System 150W HPS Grow Light. The self-contained grow has high-density lighting that is suitable for the growth of your weed throughout all the stages. It is ideal to use in spaces such as grows tents or growing closets.
The lighting system provides the grow space and the crops with a brilliant full and warm spectrum that comes with a powerful wavelength. The wavelength has the ability to generate 16,000 lumens with light temperatures and a colourful and a color spectrum. To keep the room well ventilated, the system has a venting system with amazing heat dissipation.
The finishing on the lighting system is a white powder coating that is element and rust resistant. Sun system HPS grow lights also come with high performing air-cooled reflectors that keep the room cool especially during the hot seasons. The reflectors interior contains a reflective aluminium corner insert that provides quality and efficient diffusion and output.
The reflector also ensures that there is light uniformity in the GROW TENT at all times during all the stages of the growth. The HPS grow light comes with a one-year warranty.
Why sun system 150W grow lights is a good buy
It has a very easy set up even for those growing weed for the first time
The fixture of the system is light and compact
Provides high intensity light with superior lumen output
Provides color light temperature
Has a brilliant color spectrum
Quality PAR for successful weed growing
Comes with a highly reflective aluminium corner covers that provide excellent diffusion and output
Offers a uniformity of lighting to the whole tent space
Comes with quality vented housing that provide enough heat dissipation
Affordable
Easily replaceable parts
Comes with a one-year warranty
Cons
Does not come with a light bulb
May not plug into a 115V rated wall outlet directly
Packaging boxes are non-discreet
Verdict
This HPS grow light is suitable for small spaces and for first time weed growers. Its plug and play easy set up enables you to unpack the package, set up the system and start your growing immediately without the need of a professional helping with the set up. It is also affordable and it will give your crops all they light they need for all their growth stages.
Best for seeding to flowering- iPower 1000W Digital Dimmable Grow Light System
If you are looking for an alternative to LED power, iPower provides you with the best HPS grow lights in the market especially for weed growers. The company has been in the market for many years and they make the best quality HPS grow lights that see people from all over the world buying them for their indoor gardening. The 1000-watt HPS grow light is one of their best ever.
The 1000-watt feature of the HPS grow light that stands out is the dimmable power option feature. The feature supports an input of 120 volts and 240 volts. If you do not want that much light, you can dim the light to lower levels that are fit for your weed crops.
The feature also supports three other power options of 50, 75 and 1000 percent and emits a stable power output without any flickering or blackouts. With this option, you also get a power cord measuring 8 feet clip hanger that can hold weights of up to 150 pounds and a nine inch reflector that ensures your grow space gets full light coverage.
The lighting system also comes with a heavy-duty lamp UL safety guaranteed cord measuring 15 feet. The lighting system provides a brightness of 140,000 lumens delivered by a bulb with a lifespan of 24,000 hours. The bulb is capable of maintaining 90% lumens after a usage of 5000 hours.
The full spectrum bulbs provide enough lighting for all the stages of weed growth. To ensure that your crops do not get too much heat from the HPS lights, ensure that you have an adequate fan.
Why ipower 1000-watt HPS MH dimmable grow light system kit is a good buy
Suitable for all stages of weed growth
Comes with dimmable electronic ballast features
Has a 24,000-hour lifespan
The system is UL certified
Comes with a hanging kit
Has a timer that allows you to control the lighting timings
Has an effective reflector that ensures the crops get maximum lighting
Has an air-cooled reflector that prevents heat stress to the crops
Comes with a one year warranty
Flicker free
Cons
Pricier than other HPS grow lights in the market
Parts are hard to replace
Not as much light as LED grow lights
Verdict
The lighting system costs more than other systems in the market but that is because it is a quality product. You will not go wrong with this HPS light as it provides full spectrum for all your crops and it is the next best system you can get outside of LED Grow Lights.
Powerful as hotter- Vivosun Hydroponic 1000W HPS grow light kit
VIVOSUN is one of the best manufacturers of grow lights and other indoor growing tools and kits. This hydroponic 1000-watt HPS grow light is one if the best in the market for weed growers. The light comes with a light air cooled reflector made from high quality aluminium. It balances the light reflected to the crops giving them adequate lighting effects for their healthy growth.
The light is a favourite with many gardeners because of its stability and compatibility. The bulbs of the lighting system give out the perfect radiation required by the plants making it one of the safest HPS grow light to use for your weed especially during the vegetative and flowering stages. The grow light comes with rope hanger and other accessories that make it the ideal system to use for your gardening.
The other accessories include a digital timer that makes it easy for you to set the correct time for when you want to use the grow light. It has dual outlets that allow you to plug the lights into any socket in the GROW ROOM. It is also affordable, durable, has long lasting lighting effects and it is easy to set up. The bulbs have a high lumen output and a lifespan of 24,000 hours.
Why it is a good buy
Comes with a timer
Excellent reflector that ensures the crops get enough light to make them grow healthy and strong
Dimmable ballast
High PAR value
Comes with a rope hanger
Affordable
Stable and durable
High lumen output
24,000-hour lifespan
Cons
Has a higher failure rate than some HPS grow lights in the market
Deteriorates faster than some other lights with the same lumen output
Verdict
Despite the few disadvantages, VIVOSUN is a great company and you can trust their products to come with great and efficient service. This particular grow light is one of the most popular and it is affordable.
Yield Lab Horticulture 400W HPS Grow Kit
Yield Lab Horticulture 400W HPS MH Grow Light is a double-ended bulb that will not disappoint you in its delivery. Unlike many other HPS bulbs, this bulb is powered from both ends, which gives it more power and a longer lifespan. The bulb emits a powerful yellow, orange and red light spectrum that increases the volume of flowers and buds.
It is best suited for the flowering stage of weed growth. The high efficiency light emits 2,100 K light at 130,000 lumens. You can also use the light during the VEGETATIVE stage for a healthier and denser growth. The lights emit blue spectrum light of around 30%, which stimulates vegetative weed growth.
If you do not have any other light to compliment this light with, it is safe to use it for all the stages of growth. The grow light has a lifespan of 14,000 hours, which is much higher than that of the average HIH bulb. If you want to keep the bulb working for an even longer period, make sure that when you switch it off, you should let it cool first before switching it back on.
Its power consumption is low and it comes with dimming features. It also has an air-cooled reflector made from rust free galvanised steel with white powder coating. The reflector is resistant to high temperatures, comes with an in built lamp socket and it provides maximum airflow and cooling to the crops. The grow light kit also comes with a ratchet hanging kit.
Why it is a good buy
Double-ended bulb
Comes with an air cooled reflector that allows even distribution of light to all the crops
Full spectrum lighting
Great for the flowering stage of marijuana
Long lifespan
High lumen output
Comes with a ratchet hanging kit
One-year warranty
Comes with a set timer
High PAR rate
Comes with an instructions manual
Cons
It is pricier than other HPS grow lights in the market
Verdict
If you are thinking of being a professional weed grower, it will do you good to try this quality grow light. It is long lasting and even though it is more expensive than other grow lights, it is worth the money you spend.
Best HPS Grow Bulb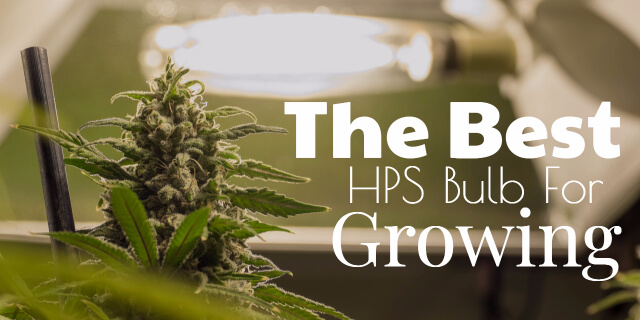 600W HPS Bulb- Apollo Horticulture HPS Grow bulb lamp
Apollo horticulture GLBHPS600 600w HPS Grow Lights is considered one of the best HPS GROW BULBS for hydroponic lighting system. Apollo Horticulture GLBHPS600 is a quality system that you should seriously consider if you want to succeed in weed growing. The grow light is a fluorescent lamp that functions as a grow lamp to provide lighting for your crops.
The lighting system emits an orange to a red glow that triggers plant hormones, inducing flowering and budding. The lighting system is most suitable for the flowering stages of your weed growth. The light imitates the autumn sun, which in turn increases reproduction and the appearance of more and healthier flowers.
The result is a larger healthy yield of cannabis buds. The red-orange spectrum, specifically designed for hydroponic cultivation is compatible with magnetic and electronic ballasts. The bulb has a lifespan of 24,000 hours and an incredible lumen output that improves as you continue using the bulb.
Its power usage is 110 volts just like many other HPS grow bulbs in the market. One of the major reasons why this HPS bulb has the ability to stimulate flowering is because of the high-pressure sodium in the bulbs. It is easy to use even for beginners and it only takes ten seconds to warm up and start working.
Why it is a good buy
Stimulates the flowering stages of weed crops
Has a bulb lifespan of 24,000 hours
Only takes 10 seconds for the bulbs to warm up
Compatible with both magnetic and electronic ballasts
Specifically made for HYDROPONIC plant cultivation
Bright bulbs that provide full light spectrum
Affordable
Easy to install
One-year warranty
Cons
Besides the warranty being short, there are no other bad things to say about this bulb
Verdict
If you are tight on budget and looking for the best HPS lighting system, Apollo horticulture will do you just fine especially during the flowering phase of your cannabis. The lighting is excellent and the lifespan of the bulb is enough for several growing cycles.
1000W DE- Ushio Pro plus Double Ended HPS​
Double-ended bulbs are some if the best grow lights in the market. This professional grade HPS GROW BULB has quality performance that provides your weed crops with full spectrum light for all their growth stages. The grow lamp, which is one of the HI-LUX GRO lamps, uses super high output lamp technology to achieve the best lighting for the vegetative and flowering phases of growth.
The lamps offer consistent lighting with high performances. The ISO 9001 certified German made lamp has a great lumen output for high PAR values of 1950 and 2100 micromoles. It produces both blue and red lights for healthy plant growth. The lamp has low energy consumption making it one of the most economical lamps in the market. The design is an attractive tubular low profile, which also make it compact and durable.
Why it is a good buy
One of the most economical lamps in the market
Has excellent energy efficiency features
Has both red and blue lights for good photosynthesis efficiency ISO certified
Double-ended lamp
Great lumen output
Cons
It is expensive compared to other HPS lamps in the market
Verdict
Double-ended lamps have a very good spread of light and they do not require as much fixing as the other kind of lights. Their lumen output is excellent and they are great energy savers. If you are looking for the perfect lighting set up that will give you a larger percentage of yields with the minimal growing costs, then I would highly recommend this quality HPS double-ended lamp.
Related Post:
Things you should know after deciding to get one HPS grow light
Before you go to the market to buy HPS grow lights, you should know about some things. The following guideline will help you in choosing the right lights for your crops.
Ballast
In the above products, you may have seen ballasts being mentioned severally. A HPS grow light is powered by ballast for it to work. The most common ballast is the digital because it is compatible with majority of the HPS bulbs.
It is also cooler and uses very little electricity to produce high light intensity. Digital ballast comes with dimming abilities, radio frequency shielding and bulb protection. It is also flexible which allows you to run varying wattages.
Reflector
Another common thing that HPS lights have is reflectors. Reflectors help to improve the light focus, which saves the life of the bulbs. The reflectors either come as open or air-cooled reflectors. Open reflectors ensure that your cannabis plants get as much light as they require. They also come with features that allow you to adjust the light.
This way you can place either place your crops nearer or further away from the light depending on the feature you choose. Air-cooled reflectors on the other hand captures the hot air in the grow tent and keeps it away from your crops. You can also connect the air-cooled reflectors to an air duct exhaust for better flow of air.
Coverage
HPS lights come in different sizes and wattages. Before you choose the size you want, you should first be sure of the size of your grow room. The most notable wattages of HPS bulbs are 150W, 250W, 400W, 600W and 1000W. The lower the wattage, the less distance the plants should be from the lamps. This is because the more wattage the lamps have the greater the heat and this could burn the crops.
| Wattage | Plant's distance from canopy/roof | Recommended Area |
| --- | --- | --- |
| 150W | 6'' or 15cm | 1.5' x 1.5' |
| 250W | 10'' or 24cm | 2.5' x 2.5' |
| 4000W | 14'' or 30cm | 3.5' x 3.5' |
| 600W | 18'' or 45cm | 4.5' x 4.5' |
| 1000W | 24'' or 60cm | 6' x 6' |
Single End HPS Grow light
HPS grow lights come as either single ended bulbs or double-ended bulbs. Single ended bulbs look like the ordinary incandescent bulbs. The difference between them and the usual incandescent bulbs is that they use larger sockets known as mogul base.
They use an arc tube whose work is to manufacture light. The tube gets its energy from the bottom of the bulb, which is connected by a frame wire at the base.
DE HPS Grow Light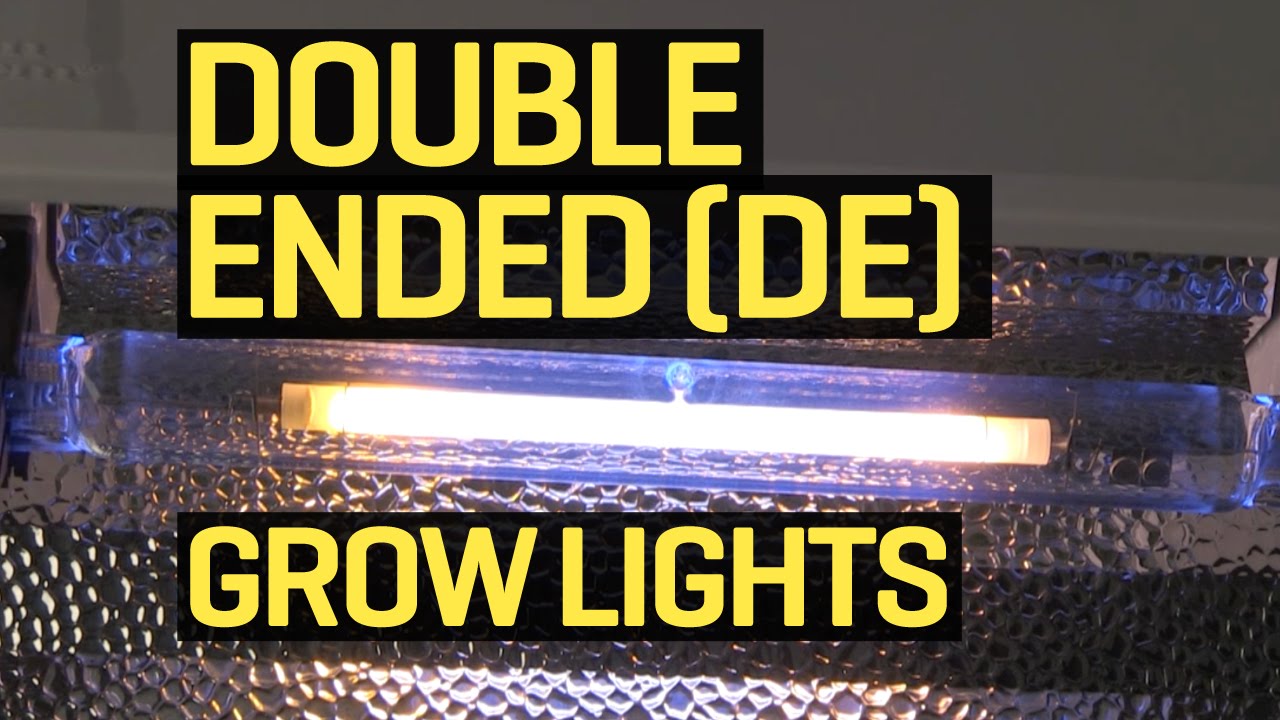 Double-ended HPS bulbs are some of the best in the market. They look just like the ordinary fluorescent tubes and they are easy to fix. They come with two wires at each end that you fix to a socket. Double-ended bulbs are popular with both professional, hobbyists weed growers, and there are several reasons why they prefer them to single ended HPS bulbs. Some of the reasons are;
Compared to single ended bulbs, they are much thinner, they have a more even light emission, they do not have a vacuum but instead have nitrogen gas, which helps the bulbs to generate more light, they are more durable and their degradation is much slower. The only reason why they do not go in larger quantities than the single ended HPS bulbs is that they are more expensive.
Cost
Price is another important factor to consider when buying your HPS grow lights. The good thing is that the light comes with different affordable prices, which gives you a wide choice to consider. The only other important thing to take into account is that you should always buy your grow lights from reputable vendors to avoid buying fake bulbs and lamps.
Conclusion
The grow light sector is one of the most competitive especially for indoor growers. The confusion comes in when selecting the best lighting systems for your crops during their growing phases. You can trust the above HPS grow lights to provide excellent results especially during the flowering phase of your cannabis.
They also give you superior and larger amounts of yields, which is what you are aiming for. To compare HPS grow lights with LED grow lights, you can read our earlier articles on the latter.