Introduction
Nowadays the grow light sector is being so competitive. For the reason, there are so many type of lights and brands are available which create confusion in our mind. That's why, today here I am sharing the second installment of 101 series.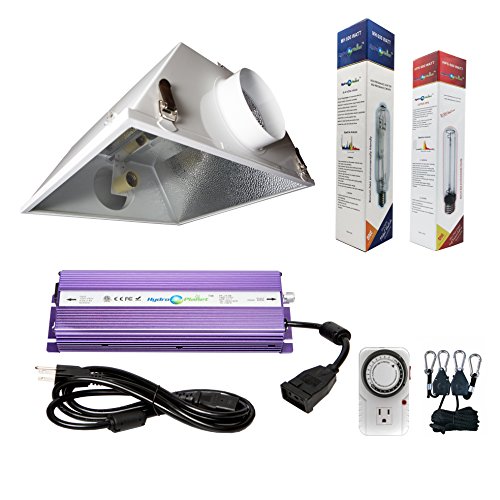 After publishing the 101 of CMH grow light, I received some mail where some of you were requesting for a one and all guideline and best HPS grow light and bulbs recommendation. So, here it is.
Few years ago, I and my friend were researching on a best grow light for flowering. While researching on this topic, we found that HPS is the king of flowering. That's why my flower lover friend Anna start using HPS bulbs for growing flowers. Within some years, she used more than 15 HPS lights and bulbs. Today she'll share some knowledge, a proper buying guide and some unbiased product reviews with you.
For Superior, reliable and huge amount of yield as result, HPS lights is one of the best choice.
Anna William  
If you're in a rush and want to check our recommendations, see above. A comparison table is waiting for you.
So, let's get started with Anna…
Best HPS Grow Light System- Comparison Chart
Basic Things you should know about HPS grow lights
What makes you a smart consumer? Why should you gather some knowledge before picking a HPS grow light?
Hello ladies and gentleman, it's me Anna starting with these two questions.
Don't stop learning ☺
A smart grower will always research and gather knowledge even before investing pennies. Yes, I'm not just saying, I mean it. If you want to be a smart grower then you should start gathering knowledges before buying anything.
As we're discussing on HPS grow light system and bulbs here, here are some basic and important things about HPS grow light.
Remember, knowing everything about HPS system will help you to drive more yield.
What is a HPS light
The full meaning of HPS is, High Pressure Sodium. The light was invented with the intention of massively growing. HPS is a kind of light which holds a narrow arc tube detained by wire frame. As the name says, the HPS bulb made of solid sodium (very high power), mercury and xenon gas. These element are available in the arc tube. It's the secret of super efficiency and for these elements the HPS light can produce better and improved light spectrum.
The HPS lightning system was invented in 1964. From almost five and five decades it is grower's first choice.
As I said the light contains some elements which are sodium, xenon gas and mercury. Once you start the light, it'll take a pulse start by mixing the gas. After starting, at first the light start exploding xenon gas and produce a strong stream of electrons. Once the arc tube heats up, it'll create a faded bluish light. After some time, the heat of the arc tube will consequently vape the mercury into gas which will turn into more bluish. Now in the last step sodium will be vapored at 450F and the arc will turn into more yellowish which is the color spectrum.
Now you know the open secret of HPS grow light, its three natural element and how it turn into effective and color spectrum.
HPS Lightning Technologies Wavelength
Basically, I don't like to discuss too technical topics. However, it's also essential to know about wavelength because in this section, you can decide should you get one HPS grow bulb or not. Let's Begin!
As I said in the last section, the bulbs have very powerful sodium, mercury and xenon gas. As the way HPS implement the gas, it can be made up of three colors. Which are Yellow, Orange and Red. The HPS lights can provide lots of red lights (630-750 nm).
The HPS lights are best for flowering stage because it provides huge number of red and orange lights.
Did you saw that quote?
Well, its 100% true. The lightning system is perfect for flowering stages. From last three decades the growers are using it for flowering stages and they're getting great result. That's why my hobbyist uncle says,
If you want to see your plant happy in flowering stages then invest on HPS.
Can't you use HPS for all stages?
Well, two years back I experimented on a marijuana plant. It gave me decent result but not as much as I expected.
What do I use after flowering phrase?
I use an additional MH (Metal Halide grow light) grow light. A MH grow light can produce more white and bluish color spectrum. It makes a balanced output for my plant. This combination goes perfect with my plants.
Hey! Did you checked 101 of MH grow light? Check it now, you may need one soon. 😉
Why HPS lights are still so famous?
You may think, this technology was invented before five decades then it's so famous.
Well, it isn't rocket science. HPS in still one of the most powerful and efficient lighting system. Even after so many years, so many manufacturers are researching on it.
It's all about efficiency and high power.
It can provide full-spectrum which is essential for plants and plants also can use it properly.  On the other hand, it's also perfect for flowering and fruiting stages. That's why HPS is one of the evergreen lightning technology.
So, did you learned something? I hope, you did! These were some basic things everyone should know before getting one HPS grow light.
Now let's talk about the pros and cons of HPS grow light. Let's see, is it suit your garden or not!
Benefits and Downsides of HPS grow light
Here the debate starts. Don't be judgmental, always decide after understanding your and your plant's need.
By the way, I just tried something different, something new here. I add Downsides and its solution together. If you liked it please let me know in the comment box ☺
Advantages
It provides good spectrum for flowering, blooming stages. That's why many professional grower's invested on it. ( Proved it in color wavelength)

The price is reasonable and affordable for every grower.

It's reliable.

The lights are energy-efficient because it have higher PAR efficiency.

It also give high-lumen output. Nearly 80-160 lumens per watt.

The HPS grow lights are available in different sizes and different specification.

Long Lifespan.
HPS is powerful, efficient and hot too!
Disadvantages
  

Problem

      

Solution

The light can't produce blue spectrum which is vital for vegetative stage.

Follow the method I described in HPS Wavelength.

It need ballast for power connection and reflector for better-quality focus.

Invest some bucks if you really want great performance.
So, decided anything?
Well, I know what you are feeling. So many people don't like heat, they simply want something what produces less heat. If you're one of them, my recommendation is increase your budget and go for Best LED grow lights. I hope this article will help you a lot to get one. Or you can also check CMH grow lights, they're also great
Interested in HPS grow bulbs? Then, scroll down and start getting more knowledge 😉
Things you should know after deciding to get one HPS grow light
First of all, if you don't want to get a HPS light, still these knowledges may help you so keep learning like a smart grower. For those, how decided to purchase a HPS grow light, it's an essential section for them.
Now I am going to talk about something many people don't like. The ballast and reflector of a HPS grow light. I mean, if you want good result, obviously you've to invest right? For those smart consumers who want to understand the value of ballast and reflector, go down!
Smart growers are like entrepreneurs, they don't be afraid of investment.
Ballast
Can you use a HPS grow light without power?
Sorry for the silly question but that's the truth. You can't give your light power without a ballast.
You need a ballast so buy a good one which will give you long-lasting service
Which one do I recommend?
I'll recommend you a digital ballast because, it can be used with almost any bulb, runs quite cooler, use lower electricity but it produces higher light power.
How can you find a best grow light for you?
I'll recommend you to find these qualities in a perfect ballast:
Dimming ability in big range

Not over-priced and affordable too.

Radio frequency shield.

Protection of your bulb.
Always find these three things before picking one. Or you can also read our guide on Digital Ballast.
Best of luck ☺
Reflector
Always my grandpa used to tell me that, always stay focused on your study, it'll give you success. I know all of us heard these advices in our life.
After a decade I recalled this memory while using the reflector. The main thing is, the reflector keeps your light more and better-quality focus. Which will give you great result, guaranteed!
Besides focusing a HPS grow light will help you to save your bulb for a long run.
There are two types of reflectors are available those are:
Open:

An open reflector will provide you as much light as possible. It also have adjustable feature so now it's up to you. Now you can set your light as near or as far as possible.

Air-cooled:

 It's perfect for small grow tents. Actually these can observe and capture hot airs away from your plants. It can be hooked into air duct exhaust.  
For better performance you must need a ballast and a reflector. So, before picking a HPS grow light also think about it once ☺
How powerful light do you need for your garden/grow tent/ grow room?
As a newbie gardener (applicable for some professionals too), it's quite tough to decide how many lights you may need or how much wattage's light you may need. That's why, here I'm giving you some advices according to your place's size.
A smart grower will invest after considering the plant's condition and area.

| Wattage | Plant's distance from canopy/roof | Recommended Area |
| --- | --- | --- |
| 150W | 6'' or 15cm | 1.5' x 1.5' |
| 250W | 10'' or 24cm | 2.5' x 2.5' |
| 4000W | 14'' or 30cm | 3.5' x 3.5' |
| 600W | 18'' or 45cm | 4.5' x 4.5' |
| 1000W | 24'' or 60cm | 6' x 6' |
I hope this chart will help you a lot while choosing best HPS grow light for you.
Some important facts for you  
Most of the 150W and 250W lights comes with a ballast.

More wattage, bigger in size, hotter while using!

From 400W, all the lights are very industrious and hot too.

It's better to use two 600W lights than a 1000W lights because the 1kW isn't that productive and also consume more electricity.
Controversial Topic: Single End vs Double End HPS grow light (explained)
Well, I separately described about it below! Let's clear all the confusions. Scroll down to know about it!
Single End HPS Grow light
The single-end HPS grow light looks like the traditional glowing bulbs which we used in our house (nowadays people are using energy saving bulbs, LED bulbs through).
How to recognize a Single-End HPS grow light?
Here are some features of a Single-End bulb.
Looks like traditional (light that invented by Thomas Alpha Adison) light.

It have a big socket.

In the glass tube, there are multi utilities to make light.

It gets energy from a metal frame wire.
These are the features of SE HPS grow light. Now let's jump into DE HPS grow light.
I invested on DE grow light and it's worth it!
DE HPS Grow Light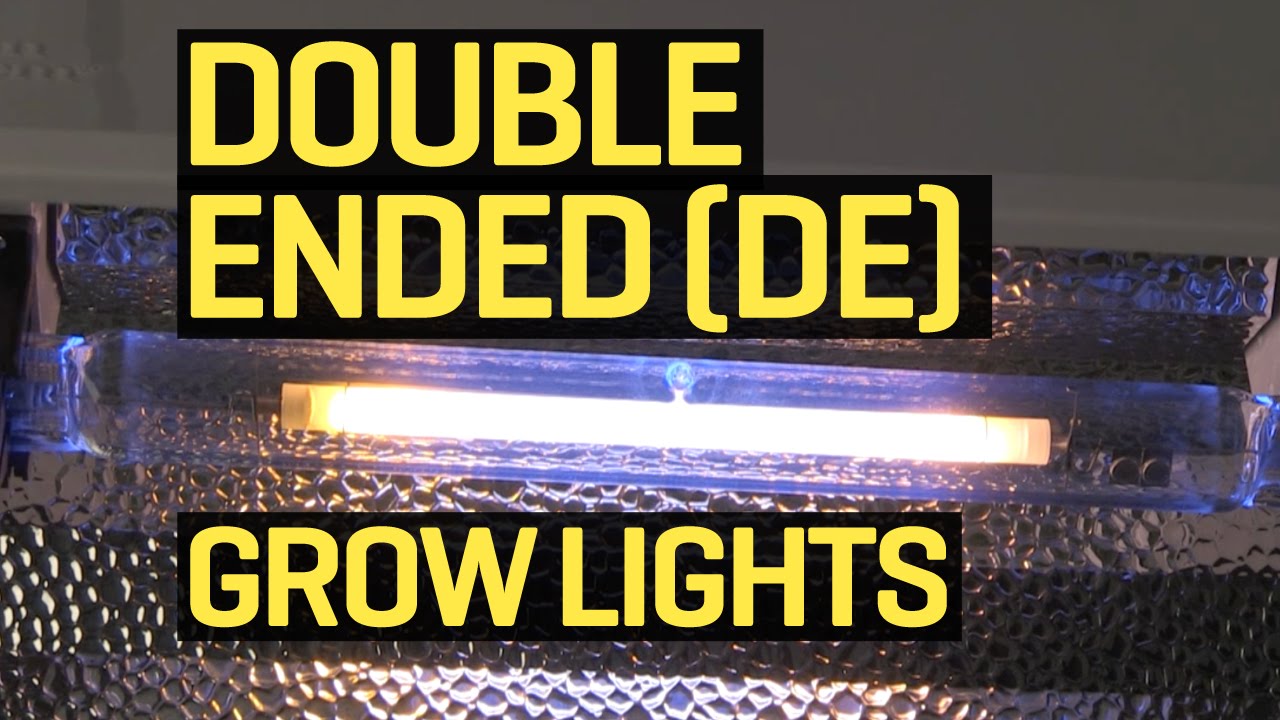 The Double-End HPS grow light is the new trend of the market. It has capabilities to build good amount of yield then SE. It's something more than luminous tube bulbs.
How to identify a Double-End grow light?
It has two wires.

The both wires are connected with end of the light.

More productive and last longer. (Ask anyone who knows about it)
The controversial topic starts from here!
WHY DE is much better than SE?
Here are some points you should see!
DE bulbs create smoother light than SE bulbs.

It has more lifespan than SE.

The light is filled with nitrogen gas which helps to provide light more efficiently.

DE bulbs produces more PAR than SE bulbs.

In flowering stages, DE can give an outstanding performance.
If I start digging, I may find so many benefits of DE and downsides of SE. End of the day still SE wins because of its cheap price. Now it's up to you.
Our Recommendation: Best HPS grow light System
After gathering all the basic knowledges, now you're ready to know about the best growing system and bulbs. So, are you ready to enjoy all these unbiased and original reviews? If you're then just jump below and enjoy these reviews ☺
Complete Package for you- Sun System 150W HPS Complete System
Are you looking for a full compact HPS package in one box? 
If this question is familiar with your desire then it's a perfect package for you. The package is available with a 150W bulb which can output 16,000 lumens and it also provide perfect color spectrum. It also has a ballast and build in reflector. Here are the pros and cons of this complete package.
Perfect for any entry-level grower
Pros
Easy to use

Consume small amount of electricity

It can output good amount of PAR

Aluminum injected body

Affordable price

Easy to install
Cons
It isn't a good choice for professional uses.

It can only cover a small area perfectly
FAQ
Is it well-matched with any ballast?
= Yes, it is.
How to long cord will be provided by sun system?
= 10 ft.
Best for seeding to flowering- iPower 400W Digital Dimmable Grow Light System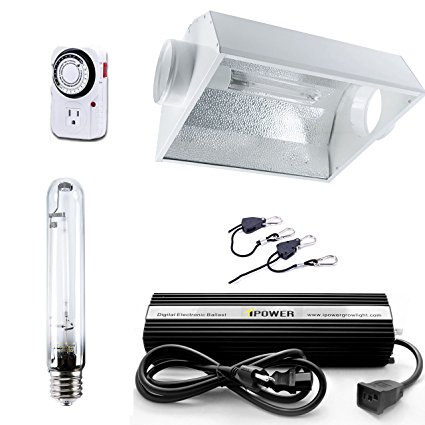 Are you a looking for something which can help you from seeding to flowering? Where you can use MH and HPS bulb both?
If these are your problems then take a breath, you got the perfect solution for you.
The solution is iPower's HPS grow light system. The system can provide you everything you need. The 400W light also delivers well-balanced spectrum. I just loved it while using. I used this system on plant's all life cycle and it worked well for me. The reflector also can cover a good area.
Want to know the good and the bad sides of it?
Best for intermediate level grower
Pros
Affordable in price

Gives the best coverage area experience

Didn't give any diversion to the light. In simple words, it won't harm your light.

Comes with a digital dimmable ballast.

Available with an 8-ft adjustable hanger and ceramic mogul socket.
Cons
It produces too much heat.

No feature of temperature controlling.
FAQ
How active their customer service is?
= Very active, I must say. Just shoot them a mail and leave on them.
Which plugin goes perfect with it?
= The 110v normal plugin goes perfect with it.
Powerful as hotter- Vivosun Hydroponic 1000W HPS grow light kit
Do you want to try a 1000W HPS grow light?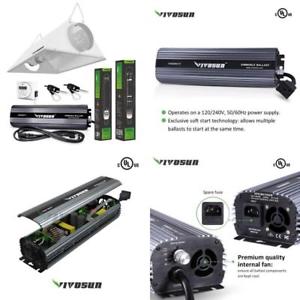 This is my third recommendation. When it comes to 1000W HPS light, it hasn't that reputation in market. However the reflector and ballast made this a kickass offer. The air opening reflector is such a charm even it also warped with German aluminum. The ballast is also significant. It also comes with the 1kw bulb which can also provide great service, it output 140,000lm.
1000W isn't for newbie only professionals can pull it off 😉
Pros
Easy to use

Comes with a digital timer

Provide rope ranger and a MH bulb.

Not that hot cause it has air cooled reflector.

The lights can provide high PAR efficiency.
Cons
Quite expensive in price

Uses more electricity than a 600W bulb

.
FAQ
Is the rope hanger strong?
= Extremely Strong.
How to cool the reflector's hood?
= Use inline fan.
Beast with hotness: IPower 600W HPS Light System kit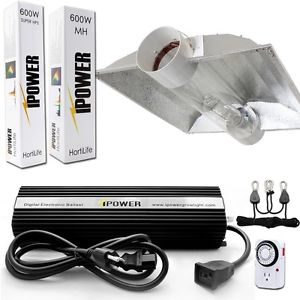 When it comes to gardening (especially indoor gardening) iPower is one of the most trustworthy brand I have ever seen. I personally use and recommend so many products of IPower and that's why I'm reviewing their second product which I am using now in my growing room.
A beast within affordable price
It's iPower 600W light system kit. A beast within affordable price. It has all the best features iPower 400W have. The kit comes with a 600W electronic ballast, a 600W HPS bulb which provides 2100K and an 8 ft. adjustable notch hanger. It also has a 19-inch reflector. The package also comes with a 8 feet power cord. So, these are the feature of it now let's move to the pros and cons!
Pros
Comes with a 8-feet power cord
Durable
Comes with a wing reflector which covers a good area
Cons
Can't control the temperature
FAQ
Should I use an inline fan?
= You have to use one for cooling the hood.
Is there any fan included with the package?
= No but there is a small fan in the black electrical box.
Yield Lab Horticulture 1000W HPS Grow Kit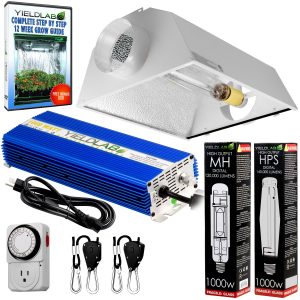 Till now, we reviewed all the product of well-known brand. Now let's review a classy product of an unrevealed brand. So, let's get into the review.  
It is Yield Lab Horticulture 1000W HPS grow kit. The kit comes with a 1000W digital ballast, inside the ballast there is a small fan available too. A 1000-watt high pressure sodium bulb also includes the package. It can give output up to 130,000 lumens. Besides a HPS bulb it also offering you a MH bulb. The package ends with a super air cool hood reflector which has air ventilation port too.
It's a perfect choice for intermediate and professional farmers!
Pros
Comes with a MH light too

High PAR rate

Professional Ballast 6' x 6' or 1.8m x 1.8m​

Comes with a 120V power cord, hanger and analog timer

An instructional grow guide. Which helps me to grow more yields.
Cons
Quite expensive
Some people don't like the reflector's quality but honestly I faced no problem with it.
FAQ
Is there any glass on the hood of it?
= Yes, there is a solid glass available on the hood. ☺
How hot does the light and reflector get?
= Its get too hot.
Is it good for an entry-level grower?
= I don't think so!
I am using this one from last eight months and it's still giving its best. If you're a professional grower, it worth a try. ☺
These were the reviews of best HPS grow light system. If you don't want to purchase a full system or just want to buy a HPS bulb then jump below. Some fair reviews are waiting for you.
Best HPS Grow Bulb 
So, HPS bulb seekers, let's get started from below!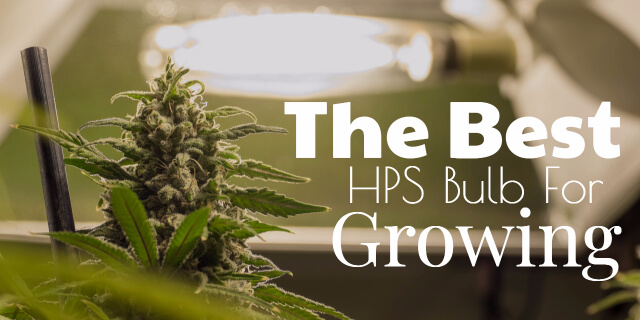 600W bulb- Eyehortilux HPS grow bulb  

Do you want to get more violet, blue and green spectrum? Then Eyehortilux 600W grow bulb  is your solution.
When it comes to horticultural world, Eye Hortilux is one of the best and popular brand among the growers. They provide so many high-end products. From my personal using experience, here I am giving a short brief about it.
This model is available in market in all sizes (250w-1000w). The light is very popular for providing premium and elegant results. I tested so many HPS bulbs but I found it can provide better service than any other traditional bulb. Here are the pros and cons of it!
Quality product comes with some extra bucks
Pros
Delivers 25% more blue lights than any other traditional bulbs. ( it's good for vegetative stage)
Provides 17% more light than any other HPS bulbs.
Contains less mercury

Stylish Design
Cons
Not durable

No heat consumption

Look oldies

Can produce better performance for 11-12 months. For better performance, you should buy new one each and every year.
FAQ
Is it work on digital ballast?
= it works on it.
Why it's better than others?
= For better spectrum.
1000W- Eyehortilux HPS grow bulb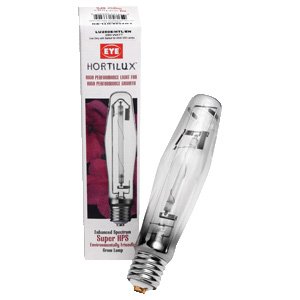 As I said before, Eyehortilux is very popular for their horticulture technologies. Now here we're reviewing another Eyehortilux HPS grow bulb.
It has almost all the features the 600W has. That's why, without explaining those things again, let's move to the pros and cons section.
Small in size but perform like a beast
Pros
Provides good amount of lumen and PAR output.

Perfect for industrial uses.

25% more color spectrums.
Cons
Quite expensive in price

Provides more heat.

Not durable.
FAQ
= too much hot.
= No. if you bend it, it'll broke in seconds.
The 600W's pros and cons goes with it too. So, if you want to try 1000W HPS bulb then go for it!
600W HPS Bulb- Apollo Horticulture HPS Grow bulb lamp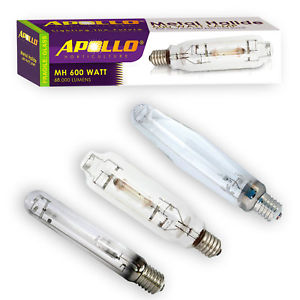 It's quite difficult to find an indoor grower, who didn't heard the name of Apollo. Apollo is famous for its premium horticulture products, grow bulbs and etc.
That's why, I used a HPS grow light of Apollo. It was good. It was Apollo Horticulture 600W HPS grow bulb. It is one of the most efficient bulb I ever used. It can give output of 87k lumens. Without further delay let's move to the next step!
                Cheap in price but not in quality.
Pros
Compatible with electronic and magnetic ballast.

Best for fruiting and flowering.

Produces 2000K Red-orange spectrum.

Inexpensive in price.
Cons
Take sometimes for starting up

Not that long lasting
FAQ
Can I run it on magnetic ballast?
= Yes, you can.
Can I use it in vertical position?
= Yes, you can!
1000W DE- Ushio Pro plus Double Ended HPS​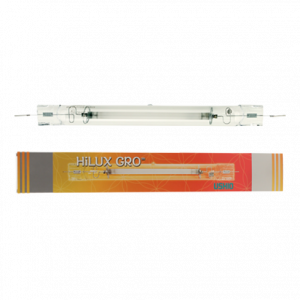 Ushio is a famous brand among the farmers for their unique and great products. I used it for three months and it satisfied me enough.
Here I'm giving a short review on it.
It is Ushio's pro plus double ended HPS grow bulb. It is one of the best grow light of market. It's a professional grade light so stop worrying about the quality and performance. Want to know more about it? Scroll down!
Only expert grower knows the real value of it
Pros
Guaranteed lifespan

High PAR and lumen output.

Provides good amount of red and blue spectrum.

Best for heavy uses!

Consumes more electricity. As it is a 1kw HPS grow light.
Cons
FAQ
Can I use it in electrical ballast?
= yes, you can.
Is it a good choice for beginners?
= No, it isn't.
Conclusion
At the end of the day, we all are growers, our hobby and passion are almost same. Helping you guys were my first intention. That's why, I created this long content for you. I hope you learned a lot and you made a perfect decision for your garden.
Don't forget to appreciate our hard work 
So, keep growing with your Best HPS grow light and don't forget to share your experience with us through comment! Best of luck .