Have you seen any yellow or brown patches on your autoflowering cannabis plant's leaves when it's flowering? Unfortunately, cannabis leaf septoria may be afflicting your plant.
What is cannabis leaf septoria?
When cultivated outdoors, autoflowering cannabis plants are especially sensitive to a fungus called Cannabis leaf septoria, often known as 'yellow leaf spot.'
The fungi Septoria neocannabina and S. cannabis cause this plant disease. Cannabis leaf septoria can be transferred to your plant by bacteria, nematodes, animals, and other plant disease agents. A warm, moist atmosphere is ideal for the growth of spores.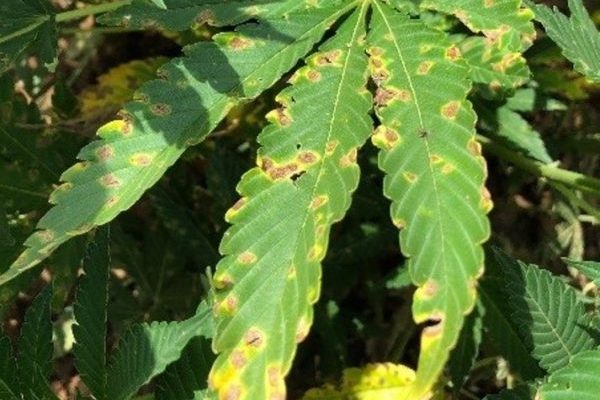 Flowering plants are frequently affected by cannabis leaf septoria, which appears as soon as the plant begins to blossom. It starts on the lower leaves and progressively works its way up to damage the uppermost layers of the leaf as it spreads. The fungus may also spread to the stem if it is infected there.
See also:
What is the danger of cannabis leaf septoria?
Pot leaf septoria may cause havoc in your autoflowering cannabis grow if it isn't kept under control early on.
This disease affects the health of your cannabis plant by interfering with leaf functions including photosynthesis and damaging foliage, as well as reducing the amount and quality of your crop's production. Dry, dying, and even falling leaves are all possibilities when dealing with damaged leaves.
Cannabis leaf septoria, while not a life-threatening illness, can weaken your autoflowering cannabis plant's defenses, resulting in a subpar crop.
How to treat cannabis leaf septoria?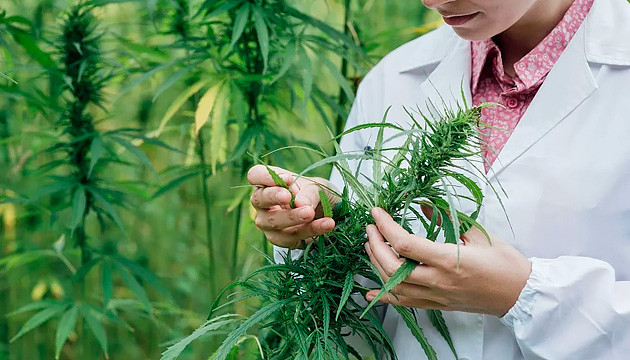 To begin treating your plant for leaf septoria, you must remove all of the infected leaves.
Destroying old, diseased foliage will improve circulation and reduce your plant's exposure to leaf septoria vectors. Getting rid of diseased leaves alone may be enough to stop the disease from spreading further, depending on how far it has already advanced.
Here are some treatment suggestions for leaf septoria that you may put into practice:
Introduce a fan, open all of your windows, and leave some space between your plants to improve air circulation. Improved ventilation has been shown to reduce humidity by as much as 50%.
Do not water your plants in the evenings or at night since they need it the most. By managing water, it is possible to avoid the formation of mold and other microorganisms.
Aim for a maximum 5 degree Celsius change in temperature between day and night in your cannabis grow. Plants recover more quickly when the temperature fluctuates within a limited range.
Neem oil and a 20 percent horsetail tea solution are two organic remedies that can aid your marijuana plant in the fight against marijuana leaf septoria, a fungal infection. Every fifteen days, give your plant a spray of this solution.
-$10.00 SALE OFF
Bestseller No. 1
Kate Blanc Cosmetics Neem Oil for Skin (4oz) Natural & USDA Organic Neem Oil Concentrate. 100% Pure Neem Oil for Hair Growth and Organic Neem Oil for Plants. Mixed with Water to create Plant Spray
ORGANIC NEEM OIL FOR HAIR GROWTH- Pure Neem Oil has a repugnant and garlicky scent (it smells really bad). It also solidifies in cold weather and will be chunky & pastry. This is normal. It will turn into oil at room temperature. Kate Blanc's Organic Neem Oil is certified organic by USDA and is guaranteed to be authentic, pure, natural, and hexane free. 100% Guaranteed Authentic or FULL REFUND. Our USDA Organic Certificate is shown on the product images.
NEEM OIL FOR PLANTS SPRAY INDOOR: Neem oil can help your houseplants and indoor plants be healthy and green in the garden. Organic neem oil can be added to your dog shampoo for fur treatment and benefit your pet's coat and skin.
NEEM OIL FOR SKIN: Neem Oil helps clear blemishes and prevent future breakouts. This helps restore moisture & promote soft, supple skin. It can also help calm temporary redness and itchiness due to dryness, eczema, dandruff & more.
NEEM OIL CONCENTRATE: Neem Oil's unique underlying property is rich in antioxidants and essential fatty acids and Vitamin E. It is the perfect nourishment for your skin, hair, and nail. Daily usage can help diminish the appearance of wrinkles, fine lines, and aging. Neem oil can be used for dog fur.
100% GUARANTEE AND ONE YEAR WARRANTY - We aim to offer the highest quality and most authentic products. We guarantee your satisfaction. If you are not satisfied with your purchase, please return it for a FULL REFUND within 365 days. Add to Cart.
Bestseller No. 2
Bonide Captain Jack's Neem Oil, 128 oz Ready-to-Use, Multi-Purpose Fungicide, Insecticide and Miticide for Organic Gardening
MULTI-PURPOSE BUG KILLER - Bonide Neem Oil is a perfect pest control solution for any garden dealing with mites, flies, mildew, and more. This product is a three-in-one fungicide, miticide, and insecticide.
READY TO USE - This product is conveniently ready to use when it arrives. The spray nozzle makes this product easy to deploy and can even be used up to the day of harvest.
KILLS ALL STAGES OF INSECTS - Bonide's 3-in-1 Neem Oil is great because it kills the egg, larvae, and adult stages of insects while also preventing the fungal attack of plant tissues.
DORMANT SPRAY - In addition to being useful for ridding your garden of insects and other pests, this Neem oil makes a great dormant spray to help protect your plants throughout all seasons.
ORGANIC GARDENING - Derived from the Neem seed, our product is great for use on roses, flowers, vegetables, fruits, herbs, indoor houseplants, trees and shrubs. It's approved for organic gardening.
Bestseller No. 3
Harris Neem Oil, 100% Cold Pressed and Unrefined Concentrate for Plant Spray, High Azadirachtin Content - OMRI Listed for Organic Use, 12oz
100% Cold Pressed & Unrefined - All natural with absolutely no chemicals or additives included to ensure that the neem oil retains its original composition
Cosmetic grade - The oil is high in antioxidant compounds that soothe the skin
Organic gardening uses - used in organic gardening to keep plants looking healthy
Mix with lotions or shampoos - Antioxidants, vitamins and essential fatty acids provide nourishment for hair, nails and skin
Satisfaction GUARANTEED - If you aren't fully satisfied with our Neem oil, contact us and we will issue a full refund no questions asked
-$6.00 SALE OFF
Bestseller No. 4
Neem Bliss - Pure Neem Oil for Plants - Organic Neem Oil Spray for Plants, 100% Cold Pressed Neem Oil - OMRI Listed Pure Neem Oil - All-Natural Neem Oil Concentrate Leaf Polish for Plants (16 Fl Oz)
🌱【The PUREST Neem Oil on the Market!】- Plantonix Neem Bliss is freshly made from the fruit kernels of the neem plant, without the use of any heat or additives! The cold press process retains essential nutrients, ensuring you always get the best results for your garden, soil, or irrigation system!
🌻【Easy to Use for Many Applications!】- To use for plants, simply mix 1.5 teaspoons of Plantonix Neem Bliss per 1 quart of water. Then, add half a teaspoon of dish soap per 1 quart of water. Spray the diluted Neem Bliss on all leaf surfaces, and then reuse every 2-4 weeks for best results!
🌷【Highly Concentrated and Soluble!】- All Neem Bliss is heavily concentrated and made with zero additives, making it easy to reuse on farms, lawns, and indoor and outdoor gardens! The main active ingredient in Neem Bliss is azadirachtin, allowing it to be highly soluble and ideal for topical applications.
🌸【Safe for Organic Use!】- Our Neem Oil is listed by the Organic Materials Review Institute (OMRI) as a certified organic product! Regular foliar application of Plantonix Neem Bliss will ensure your plants remain healthy from seed to harvest!
-$1.00 SALE OFF
Bestseller No. 5
HARRIS Neem Oil Cold Pressed Water Soluble Concentrate, Makes 12 Gallons, 8oz NEEM-8C
Makes Up to 12 Gallons - The 8oz bottle makes 12 gallons of ready to spray neem oil when mixed according to directions
Ready to Mix - Simply mix with water and spray. No surfactants or additional ingredients are required
Cold Pressed - Retains the integrity and original composition of neem oil in its purest form
80% Neem Oil - Uses 80% neem oil and 20% surfactant blend to allow the neem to mix with water
Garden Healthy - Use on a variety of plant leaves and stems as well as in garden soil for soil health
Tips On How To Prevent Septoria On Cannabis Leaves
When dealing with leaf septoria, early diagnosis is critical as it is with most other garden pests and diseases. Keep a watchful eye on your plants when the weather is hot and humid, as well as when the flowering cycle is just getting started.
Once you've found the illness, make sure to take the following actions to stop it from spreading:
1. Remove Infected Foliage
Removing diseased leaves is the first step in properly treating leaf septoria. You can typically stop the spread of the illness if you catch it early enough by burning or eliminating all of the diseased lower leaves.
If the illness hasn't yet spread to the tops of your blooms, you may probably avoid this stage unless you really want to. Removing blooming foliage will make a plant more weaker and its buds will be of lesser quality as a result.
2. Improve Air Circulation
Proper air circulation is critical for cannabis plants because it helps keep pests and illnesses under control.
Adding an extra fan to your area and providing some space between your plants might help improve air circulation if you're growing indoors. However, if you're doing this in the open air, it may be more challenging.
The act of pruning can also aid to improve the flow of air within and among plants. Trim back any too bushy portions of your plants to keep leaves from touching or overlapping.
Elevating your plants so that they catch more breeze may be a good idea if you're working in the garden while it's still warm outside. Alternatively, if you can, use an electric fan to circulate the air around your outside plants.
Bestseller No. 1
Bestseller No. 2
-$13.00 SALE OFF
Bestseller No. 3
VIVOSUN D4 4 Inch 195 CFM Inline Duct Ventilation Fan HVAC Vent Blower for Hydroponics Grow Tent
Powerful Airflow: This VIVOSUN powerful blower with a fan speed of 2500 RPM can create an airflow of 195 CFM; It works efficiently in ventilating grow tents, transferring heat or cool rooms, circulating fresh air, as well as controlling proper humidity, temperature, and air quality for your grow area
Quiet Operation: Fitted with a flow deflector that concentrates the fan stream and cuts turbulent kinetic energy to reduce sound output to just 30 dB, which does not have any harm to your health and will not disturb your work
Safety Protection: The motor is ETL listed and features an automatic reset function to prevent overheating or other safety issues; The electrical junction box is made from flame-retardant components for fireproofing
Simple Hookup: The flanges on both the intake and exhaust ends are simple to assemble with the vent hose by locking tabs; A cord of 5.9-feet long for hassle-free setup; The housing, even the impeller and blades, are easy to detach for cleaning and maintenance
Wide Applications: It can improve airflow to reduce humidity, block odors, and lower temperatures in grow rooms, basements, or kitchens; Can be used with a variable speed controller (bought separately)
Bestseller No. 4
iPower 4 Inch 230 CFM Inline Duct Ventilation Fan Quiet Vent Blower for Hydroponics Grow Tent, Greenhouse Air Circulation, Upgrade, Black
Effective Ventilation: Quiet and efficient design with a fan speed of 2600 RPM for an air flow of 230 CFM. Powerful blower to move air to your target location for optimal ventilation
Low noise: Equipped with a flow deflector that makes the fan airflow more concentrated and reduces the turbulence energy. Run at only 36.4 dB noise level to ensure the grow operation won't disturb your life
Simple installation: Removable intake and exhaust ends with locking tabs for simple and easy hookup. Easy to install, quick to remove and convenient to maintain. The cable length is 5.9 feet and can be easily set
Premium design: Lightweight and compact fan takes up minimal space and fits in any grow room. High-quality blades and efficient flow deflector increase airflow while realizing smooth, whisper-quiet operation
Wide applications: Suitable for grow tent, greenhouse, basement workshops, bathroom or kitchen. Clean and freshen air. Keep environment humidity and temperature balanced
Bestseller No. 5
AC Infinity CLOUDLINE S6, Quiet 6" Inline Duct Fan with Speed Controller, EC Motor - Ventilation Exhaust Fan for Heating Cooling Booster, Grow Tents, Hydroponics
Designed to ventilate grow tents, transfer heating/cooling to rooms, circulate air, exhaust odors, and cool AV racks.
Features an 8-speed manual controller utilizing PWM. See T-Series for temperature and humidity controls.
Mixed flow design combined with an EC-powered motor for a truly quiet and energy efficient performance.
Kit also includes corded AC power adapter, installation manual, and all necessary mounting hardware.
Duct Size: 6" | Dimensions: 7.9 x 12.6 x 8.4 in. | Airflow: 402 CFM | Noise: 32 dBA | Bearings: Dual Ball
3. Avoid Moisture
Fungal spores spread and germinate mostly because of moisture. As a result, moisture should be avoided at all costs.
Avoid watering your plants from above, since this may wet their leaves, and think about watering them less frequently to allow the soil to fully dry out. Also, water in the morning so that the soil has time to dry out.
4. Mulch
During the fall and winter months, fungus spores may be found in soils where they wait to germinate until the conditions are perfect.
The only way to prevent spores from spreading to your plants is to avoid changing your growth medium in the middle of the process.
To begin, remove any dead leaves and rake the soil to eliminate any diseased plants that may have grown there. After that, make sure your soil is completely dry. Finally, cover your soil with a heavy layer of mulch and water your plants.
As a result, fungus spores won't be able to travel from the soil to your plants.
5. Remove Weeds
Septoria lycopersici spores frequently inhabit night shadow and horsenettle. Make careful to eliminate any weeds that might serve as hosts for the fungus by running through your yard.
6. Keep Track Of Temperature And Humidity
Keep in mind that hot, humid weather is conducive to the development of leaf septoria. This means that you should lower the humidity and temperature in your grow room if you have an illness (where possible).
7. Apply Fungicides Or Natural Oils
Steps 1-6 may be sufficient to eradicate a mild case of leaf septoria and prevent it from spreading. However, if the illness is severe, you may have to resort to stronger fungicides to combat it.
Fungicides and disease control sprays with a broad spectrum of activity are typically sufficient. Consider using a copper-based fungicide for further security. Either way, when applying a disease control chemical, make sure to follow the package directions carefully and avoid getting any on your buds.
Essential or horticultural oils like neem are good options if you want something more natural. Neem oil may be sprayed to your plants with ease using a mister and is widely used to treat a wide range of garden pests and illnesses.
Try eucalyptus, rosemary, lemon, and cinnamon oils as an alternative. No matter how you use them, keep in mind that these oils contain potent smells and should never be allowed to come in contact with your buds.
Brown Spots on Cannabis Plant Leaves During Flowering
In most cases, these dark or rust-colored patches on your marijuana leaves indicate the presence of mold, an insufficient supply of the nutrients calcium or magnesium, or nutritional burn.
Magnesium Or Calcium Deficiency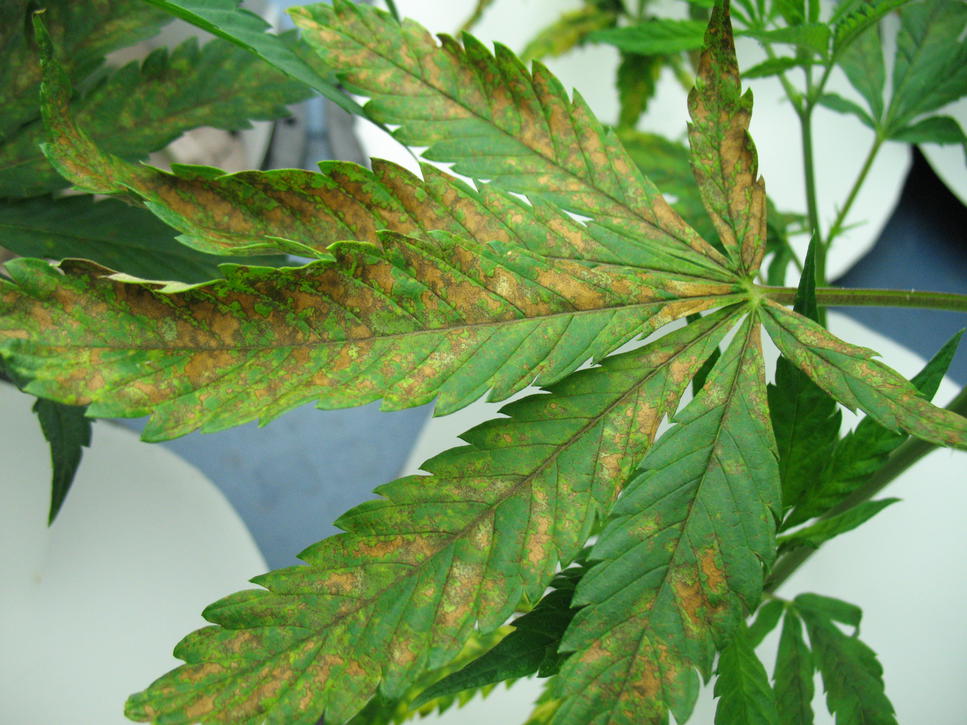 A magnesium or calcium shortage can cause rusty brown patches, however magnesium is more often deficient than calcium.
When your weed plants are blossoming, a modest deficit will not impact them badly, but the symptoms of a deficiency will worsen when they are flowering (since the plant uses up more of these nutrients when flowering).
However, if you don't do something about it, the problem will just become worse. Starting with a few rust spots on the plant's middle-aged (those towards the top), the rust eventually spreads throughout the entire plant. Flower output has been reduced to a minimum at this time.
Of course, if you fix the problem only to find out later that it wasn't the real problem at all, you've just made things worse. Calcium and magnesium deficiency might cause this. That will be discussed further down.
To begin, we want to ensure that the rust patches are caused by a lack of magnesium or calcium in the plant (whether it is because you are not feeding it enough or because those nutrients are locked out). Symptoms of a Mg or Ca shortage are often seen (but not always) in other conditions such as these.
Additional Symptoms Of A Mg or Ca Deficiency
Calcium shortage might result in curled lower leaves, so keep an eye out for that. A lack of magnesium causes the leaves to yellow while the veins stay green.
These are signs that your plants are deficient in one of these minerals if you notice either of them. There is no fungus causing the problem. That said, giving your plants additional calcium or magnesium isn't a given just because of this fact. In other words, no matter how much they receive, they will never be able to use it all.
Nutrient Lockout
When a nutrient is blocked from entering the body, it's called nutritional lockout. Numerous factors can contribute to this, but the most prevalent one is an imbalance in the pH level.
The pH ranges in which various nutrients are best absorbed vary. Nutrient absorption is reliant on pH levels being within a certain range. It can't get in since it's locked up.
The pH of the soil should be maintained at 6.8 for marijuana plants (5.8 for hydro and other soil-less media). Every necessary vitamin can be absorbed in such amount, thus none of them are deprived.
A highly moist and/or cold root environment, or a high potassium, ammonia, or calcium to magnesium ratio, or the reverse for calcium, can also induce nutritional lockout.
The most common reason for a magnesium or calcium deficit is magnesium or calcium lockout. Before increasing nutrient levels, ensure sure this is not the case in your instance. That'll be covered in more detail in the next section.
Bestseller No. 1
PH Meter for Water Hydroponics Digital PH Tester Pen 0.01 High Accuracy Pocket Size with 0-14 PH Measurement Range for Household Drinking, Pool and Aquarium (Yellow)
【How to use calibration】Press CAL for 5 seconds to enter the calibration mode, press in turn to select the powders corresponding to 6.86, 4, and 9.18 to complete the calibration.
【Mini Size】The mini size ph meter we designed allows you to easily put it in your pocket, so you can take measurements anytime, anywhere. It can help you test it whether you take it to the pool, on a trip, to the beach or camping.
【Family Essentials】As a tool to improve the quality of life. Can be used to test drinking water, swimming pools, PH balance in aquarium, RO system, spa or hydroponics. Basically all the environments that need to test PH value can use this tester to get accurate data.
【Easy to use】turn on the switch,put the probe into the water and stir (make the small glass ball fully contact the liquid) and the value can be read when the value is stable.
【Automatic temperature compensation】There is no need to care about the temperature of the liquid being measured. The PH meter has an automatic temperature compensation function, which can be adjusted according to the water temperature and water quality.
Bestseller No. 2
YINMIK pH Meter, Digital pH Tester for Hydroponics, pH Temp Meter with Horizontal Display for Pool, Spa, Hot Tub, Indoor Plants, Koi Ponds, Drinking Water, Wine Beer Making, Aquarium, Aquaculture
[Large Horizontal Screen Display] Tired of using yellow ones with small vertical reading display? YINMIK YK-P01 pH meter screen is designed for horizontal display, pH and temperature value can be read simultaneously which makes your job easier and more comfortable.
[Accurate pH Tester with Effective ATC] Built with stainless steel temperature sensor, YK-P01 pH meter has an effective temperature compensation (ATC) function, which ensures the rapid response and accurate test results.
[Easy Calibration] Supporting 3-point auto calibration, following the instruction manual can easily achieve 4.00, 7.00, 10.01 auto calibration. Don't worry about the calibration solution, you can easily configure up to 500ml of calibration solution for each standard using the calibration powder included in the package. In addition, you can also purchase calibration powder from the YINMIK store on Amazon at an affordable price.
[More User-friendly Designs] Backlights function ensures you can use the product in a dimly lit working environment. HOLD/TEMP button can be used for reading lock, attribute to this function, the reading will not disappear after the pH meter leaves the test solution.
[Wide Application] Excellently Use YINMIK PH Meters to measure the pH in your pool and spa; to monitor your indoor garden nutrients in water and soil and Check pH when mixing media for tissue culturing ; to get a decent idea of your mash ph when brewing beer or wine; to monitor your aquarium water conditions and test pH of your koi ponds water; to measure pH of your well water , alkaline tap water and other drinks .
-$6.00 SALE OFF
Bestseller No. 3
PH Meter, 0.01 High Accuracy Pocket Size with 0-14 PH Testing Range PH Tester, Digital PH Meter for Water, Water Meter for Hydroponics, Drinking, Pool
[ 𝗛𝗶𝗴𝗵 𝗔𝗰𝗰𝘂𝗿𝗮𝗰𝘆 ] PH meter for water has high precision pH accuracy, which can test quickly and accurately within ±0.01 pH. It only takes a few seconds to show accurate and stable reading.
[ 𝗘𝗮𝘀𝘆 𝘁𝗼 𝗖𝗮𝗹𝗶𝗯𝗿𝗮𝘁𝗲 & 𝗨𝘀𝗲 ] Press CAL for 5 seconds to enter the calibration mode, select the powders corresponding to 6.86/4/9.18 to complete the calibration. The pH value of any solution can be tested by just immersing the probe of the pH meter.
[ 𝗪𝗶𝗱𝗲 𝗔𝗽𝗽𝗹𝗶𝗰𝗮𝘁𝗶𝗼𝗻𝘀 ] General-purpose pH tester, professionally used for pH test of various liquids. pH meter could be used to test drinking water, swimming pools, pH balance in aquarium, RO system, spa or hydroponics. All the environments that need to test PH value can use this tester to get accurate data.
[ 𝗙𝗮𝗺𝗶𝗹𝘆 𝗘𝘀𝘀𝗲𝗻𝘁𝗶𝗮𝗹𝘀 ] PH meter for water as a tool to improve the quality of life, bring you healthy drinking water, fruit juice, chili sauce, seasoning sauce. At the same time, if you have aquatic pets, the pH tester is also a perfect tool to ensure the safety of the pet's water source.
[ 𝗔𝘂𝘁𝗼𝗺𝗮𝘁𝗶𝗰 𝗧𝗲𝗺𝗽𝗲𝗿𝗮𝘁𝘂𝗿𝗲 𝗖𝗼𝗺𝗽𝗲𝗻𝘀𝗮𝘁𝗶𝗼𝗻 ] No more need to take care about the temperature of testing liquid,as the pH Meter Has an Auto Temperature Compensation Feature That Adjusts to Water Temperatures and Water Quality.
-$21.23 SALE OFF
Bestseller No. 4
APERA INSTRUMENTS AI209 Value Series PH20 Waterproof pH Tester Kit, ±0.1 pH Accuracy
Easy auto. calibration with buffer recognition; auto. temp. compensation (ATC) ensures accuracy in various temperatures (32 to 122F)
Backed by Apera quality pH sensor with low impedance, ensuring high response rate
Comes in a rugged carrying case with pH 4&7 buffers and a lanyard
Auto recognition of stable values improves consistency, so you don't have to guess when to manually hold measurement
Up to 2000 hours' continuous operation, powered by AAA batteries
-$20.00 SALE OFF
Bestseller No. 5
SONKIR Soil pH Meter, MS02 3-in-1 Soil Moisture/Light/pH Tester Gardening Tool Kits for Plant Care, Great for Garden, Lawn, Farm, Indoor & Outdoor Use (Green)
Kindly NOTE: This soil tester can not be applied to test pH value of any other liquid. If the soil is too dry the indicator will not move, and water it before testing.
3 METERS IN ONE: Soil moisture level, Soil pH value and Sunlight level could be tested easily according to your need by switching the function button of this soil meter.
NO BATTERY NEEDED: Simply insert the meter into soil, wait few minutes, accurate test results will be displayed on the readout panel. No battery is needed.
STURDY AND SCIENTIFIC DESIGN: Reliable materials and upgraded technology used for this soil meter make it advanced and high-quality for long-term use.
MULTIPURPOSE SOIL TEST KIT: Portable and compact design enables you to use this soil meter for house garden, farm, lawn and any other soil & plant analysis. Ideal for indoor and outdoor use.
Ca and Mg Deficiency Treatment
To begin, rule out nutritional lockout as a possibility. Test the pH of the soil after it has soaked through the pot by testing the water discharge.
If a digital pH meter, such as this one, is out of your price range, you may use testing sheets instead. Do not, however, rely on soil testers, which are notoriously unreliable.
Calcium is best absorbed in soil with a pH of 6.5 or 9.1 (without soil, 5.4 to 5.8), and magnesium in soil with a pH of 6.5 to 9.1. (5.8 to 9.1 for soil-less growing). Nutrient deficiencies are most usually caused by pH levels that are either high or too low.
To remedy the issue, raise the pH a few points. As previously stated, you desire a soil pH of 6.8 and a soilless media pH of 5.8.
Your pH is perfect, but your plant isn't getting enough calcium or magnesium because of nutrient deficiency. Increase the quantity of the deficient nutrient and observe the impact on the plant. Too much of any of these two nutrients can cause a deficiency in the other.
Burning of Nutrients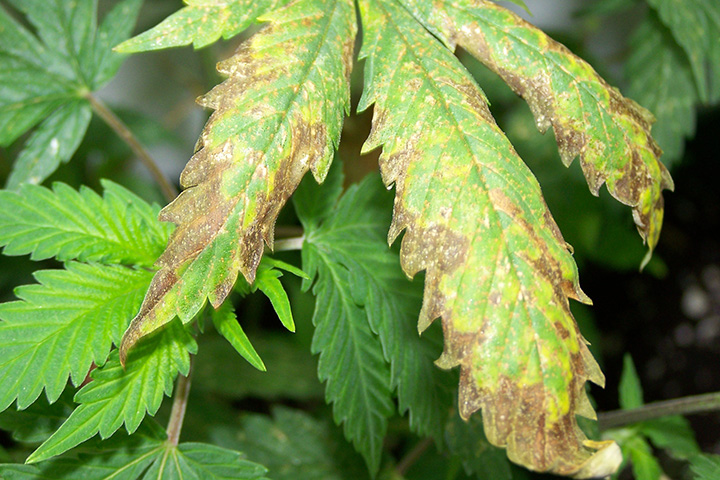 If fungus or nutrient shortage aren't to blame, the problem may be due to nutritional burn. There are too many nutrients being given to your plants.
To begin resolving the problem, do a flush on the system. This entails just watering your weeds to remove all of the soil's residual nutrients. Your plants will begin to wilt if they run out of nutrients.
To avoid this, cease flushing and begin replenishing your body's nutrition as soon as possible. Reduce the amount of water you're giving your plants by half and keep an eye on the results. Adapt the quantity to your needs by increasing or decreasing it.
Final Thoughts
There are several reasons why cannabis leaves develop brown patches. Find out what problem your plants have initially. You'll be able to fix it once you realize what's wrong.
However, if your problem is due to nutrient deficiency, there is no way to know how much of each nutrient your plants require. There are so many variables that you'll have to keep experimenting with the quantities until you find one where the plants no longer display indications of nutrient burn or deficiency, such as rust patches or other indicators of nutrient burn.
Because cannabis is such a hardy plant, even if you abuse it or neglect it, it will still thrive and bear fruit. It won't produce as much as a healthy plant would, so it's important to keep working at it until you see results.