Hydroponics is a modern way of farming without using soil. It uses a water-based solution fortified with mineral nutrients, and the basic idea is to allow the roots to absorb the nutrients directly. Hydroponics has been in existence for many years and is turning into a way of farming without necessarily using soil. Hydroponic gardening is gaining lots of popularity with each passing day. Consequently, the sell of hydroponic kits is becoming a thriving business.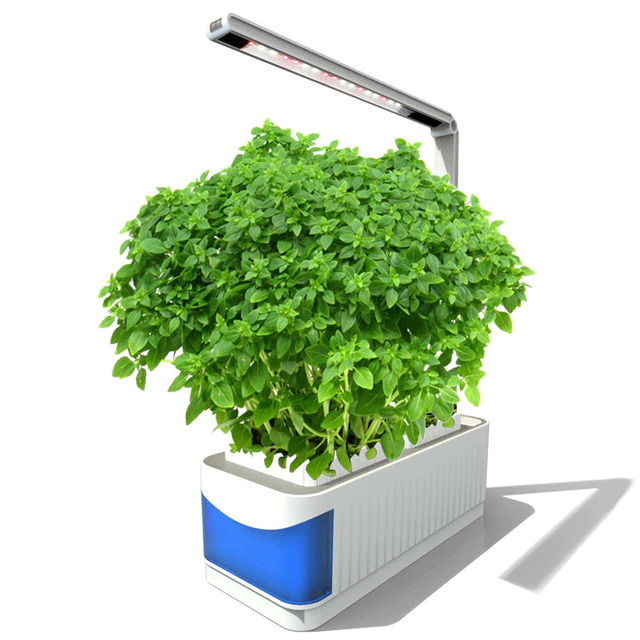 You can either make your DIY kit, or you can experiment with the various options that are available in the market. Ready-made hydroponic kits are more convenient and efficient as they have been manufactured by experts who are equipped with all the necessary skills. Read through our hydroponic kits review and choose a kit that will suit your unique needs and preferences.
Best Article About Hydroponic On 12- 2023
Top 5 Hydroponic Kits On The Market
Aunifun Hydroponics Grower Kit
This is a window garden kit which means that it does not include a lighting system. You will either have to use the light from your window or buy a separate lighting system. A lighting system is highly recommended as it will make this hydroponic herb garden more efficient.
Aunifun Hydroponics kit is fundamental and easy to set up. It comes in a plastic reservoir and a lid fitted with six slots to support six growing plants at once. It is also equipped with an air pump and stone for oxygenation.
While Aunif is not as sophisticated as other kits available in the market, it is an excellent introduction to this alternative form of gardening.
Pros
It is affordable
Easy to set up
Can support up to six plants
Includes a plantingbasket, sponges, tweezers and a planting box
Cons
Customer's reviews
Many users gave this product a 4-5 star ranking out of the possible 5. This is what some had to say
"This is a great way to get to start with simple Hydroponics. Everything is here and of good quality. They even included a pair of tweezers! Got your net cups – Small and cute. Sponges – Be sure to follow the instructions on how to rinse out any residue. There's nice little water level indicator – A colour-coded pencil-shaped buoy."- Cris
"The Aunifun Hydronics is a great growing kit. Great for growing plants that aren't too big. Did have to purchase another pump, since the plants were lacking oxygen but besides that everything went well."-DW
AeroGarden Sprout LED
This stylish hydroponic herb garden comes with three fresh gourmet herbs: Genovese Basil, Curly Parsley and Dill. This sophisticated countertop garden allows you to grow fresh herbs, salad greens, vegetables and more all year- round. The system uses water and certified minerals to grow non-GMO plants free of any chemicals naturally.
AeroGarden Sprout is fitted with 10watts LED lighting that enhances the plant's photosynthesis process for more natural and rapid growth. With proper configuration of the LED lights and sufficient levels of nutrients and water, plants in this system can grow up to five times faster than when in the soil.
Besides, Sprout LED is fitted with an easy-to-use control panel that creates the ideal conditions for your plants. The control panel will automatically turn the lights on and off and prompt you when to add water or nutrients.
Pros
Includes Gourmet Herb Seeds
LED grow lights for optimal conditions
Control panel that prompts you when to add water or nutrients
Lights that turn on/off automatically
Easy to set-up
Rapid growth of plants
Cons
Can be affected by light outage and go back to factory settings
pump clogging hindering water circulation
Customers' Reviews
"Always want to try hydroponics gardening, got this during Thanksgiving sale with an acceptable price."
 This is very easy to assemble and easy to use. I use RO system water for my AeroGarden. My AeroGarden comes with 3 pre-seeded pots, Genovese Basil, Dill, and Curly Parsley."-zPu
AeroGarden Ultra LED
If you have always nursed the idea of growing fresh herbs and vegetables right on your kitchen's countertop, then this kit is a must-have. This advanced hydroponic kit allows you to grow up to 7 plants at once. The high-performance LED lights will offer the optimal conditions that your plants need for rapid growth and abundant harvest.
Moreover, the system is fitted with an interactive easy-to-use LCD screen that guides you on how to set-up your machine. The screen will also tell you when to add water or nutrients to your plants.
You do not have to worry about when to turn the lights on/off as they are automated. The settings on the LED lights are customizable, which means you can set according to the specific purpose. For example, blue LEDs are for higher harvests, white for rapid growth and red LEDs are for more fruits and flowers.
The AeroGarden Ultra is easy to set up, and you do not need any tool to do so. Just insert the Seed Pods in your kit, add water and minerals and watch your plants blossom.
Pros
An interactive LCD screen that offers useful growth tips
LED lights
Can support up to 7 plants
Easy to set up
Comes with seeds and everything else you need to start growing your plants
Cons
Pricey compared to other hydroponic kits of its calibre
Plants can crumple when they become big. Space is not sufficient for many plants
Customers' Reviews
"Best thing ever. Check out my photo that is less than 20 days from planting them. Set-up is straightforward, and you can see results in just a few days (they grow so fast that one day there will be 2mm and the next they will be 1inch). This is magic, and I'd say the plants are fake except I've eaten them and they taste great"–Andre Gomes
Viagrow Complete Ebb & Flow Hydroponics System
Complete Ebb & Flow hydroponic system comes in four different sizes. The number of plants you can depend on the size of the kit but its anywhere between 9 to 25 plants.
In this review, our focus is on size 3''x3″. This is a window garden system which means that it does not include a lighting system. The lighting is sold separately. The kit allows you to plant up to 16 plants ensuring that you have fresh herbs or flowers all year-round. The nutrients for your plants are not included in the system, and you also have to purchase them separately.
Additionally, the kit is fitted with a 5.25 inches pot and a reservoir beneath it. A built-in programmable timer is used to control flow circles, ensuring the smooth operation of the system.
The Viagrow Complete Ebb& Flow is relatively affordable and an excellent option for beginners eager to test the waters of a full-sized hydroponic system. It is also easy to set-up and maintains.
Pros
A built-in programmable timer
You can experience a complete set-up system
Parts and accessories are of good quality, therefore, guarantee durability
Easy to set-up and use
Cons
Some systems missing some accessories such as tables and pumps
Customers' Reviews
"A complete set-up. It functions perfectly. I use mine in a tent, so my vertical space is at a premium. I cut the legs so that the tray was 26″ high. As long as your tray is higher than the water in the reservoir it drains fine"- Jeff M
DreamJoy Hydroponic Grow Kit
This is a hybrid model that can either be an ebb & flow or a Re-circulating Deep-Water Culture System. The Ebb and Flow system ensure that all the requirements of your plants are meant promptly while the deep-water culture offers a continuous water supply.
Furthermore, this system is built of high-quality food-grade PVC and provides up to 72 sites for aeroponic farming. It is fitted with eight pipes that supply all the 72 sites with sufficient water for the rapid growth of your plants.
The constant recycling of nutrients in this system makes it more cost-effective and environmentally friendly. This hybrid model can either be used indoors or outdoors and its ideal for vegetable gardening thanks to its spacious setting.
DreamJoy Hydroponic Grow Kit does not only facilitate high growth rates but also guarantees quality. This is because the roots of your plants are ever in direct contact with the nutrient-rich water source and a constant supply of nutrients.
Pros
A multifunctional hybrid model
High-quality system made of food-grade PVC material
Recycling of nutrients to minimize waste
Cons
Lacks a receiver tank
Too bulky
not suitable for all plant types
Customer's Reviews 
"I had been looking for a smaller unit that could hold many plants. The DreamJoy is ideal for in the house or outside. I do recommend taking a level to ensure that you don't have a little water disaster as we did. You will also need a large bucket to put the pump in so it can circulate the water."-Zobra 1806
So, there you have it! The top five best hydroponic kits and their different features. But before you order for your favourite indoor herb garden, it will be useful to learn some few benefits and challenges of this alternative form of farming.
Benefits of Hydroponic Garden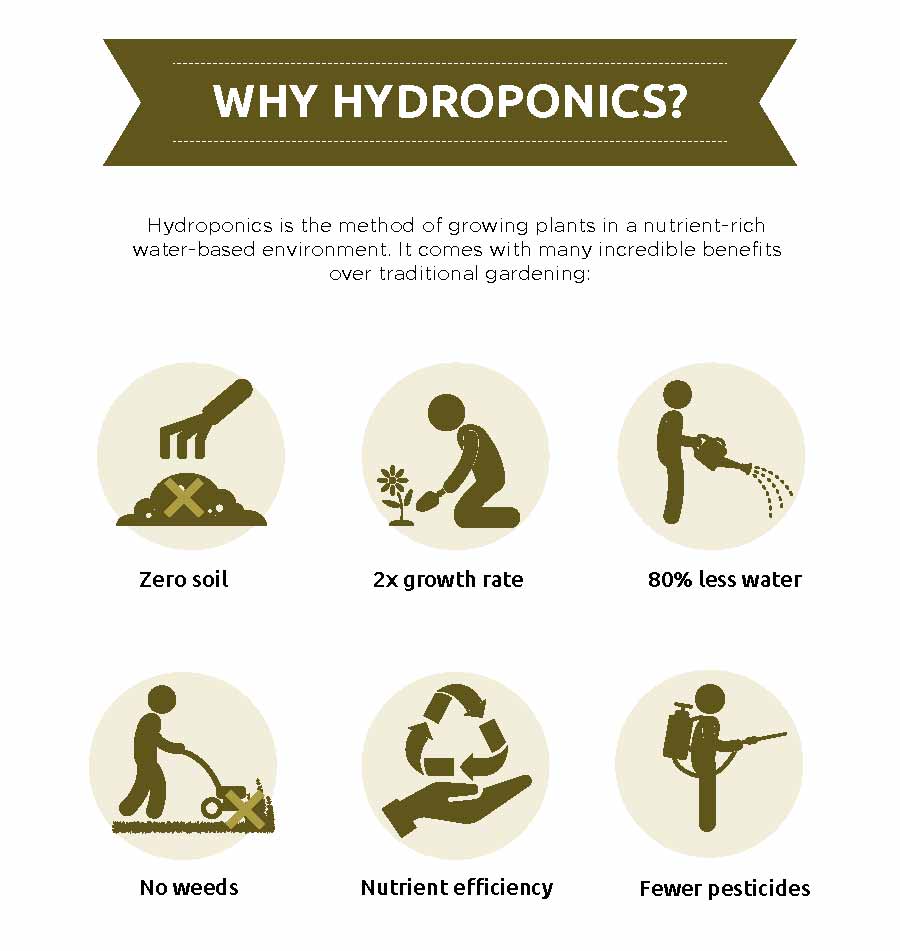 It is a soilless form of farming
You can comfortably grow your crops in places where the land is limited, or the soil is highly contaminated
Makes use of limited spaces
There are small kits that can be fit in small apartments or on countertops. You do not need exaggerated spaces because everything that your plant needs is provided in the system
Saves water
Unlike plants grown in conventional soils, plants in hydroponic use much less water. Also, water is re-circulated which minimizes waste
Faster growth rates
Plants in this system grow faster because all the conditions, including light, temperature and nutrients are optimally controlled. Also, root plants are in direct contact with the nutrients, which means that plants do not waste energy looking for nutrients.
No use of pesticides and herbicides
Many pests and plant diseases thrive in the soil. Now that you have done away with soil, it means that your plants are free of harmful pests and diseases. Consequently, you will use less or no chemicals resulting in cleaner and healthier plants.
Factors to Consider when buying Hydroponic Kits- Buying Guide
Buying a hydroponic system is an adventurous process, as you have to consider a few factors. Let us explore a few of these considerations.
The types of plants you want to grow
This should be the first consideration since different plants will do well in specific hydroponics kits. For example, a Complete Ebb and Flow Hydroponics will serve you the best if you plan on planting various types of plants.
Cost of the Hydroponics
This is another crucial factor, as all Hydroponics are not sold at the same price. Decide on the amount of money you are willing spend and eliminate those kits that are out of our budget. This way, you will save on time and valuable energy.
The size of your space
Hydroponic systems are of different types and sizes. You should choose one that will fit in your space without overcrowding the area. Luckily it is possible to find a system that will fit your space no matter its size.
The amount of time you can commit on your Hydroponic Kit
Some Hydroponics will require more attention than others. Some are hands-on, and you need to be there adjusting, making measurements, and so on. Others are automatic and can continuously monitor their temperature, lightings and adjust accordingly
The size of the harvest you desire
This is an essential consideration as it will determine the size of hydroponic that you will buy. It will also help you to budget accordingly.
Hydroponic gardening can be fulfilling and exciting when done in the right way, using the right system. The above tips will guide you when choosing a kit that will meet your individual needs and requirements.
Wrapping it up
Cooking with fresh herbs will be a dream come true with the above reviewed hydroponic gardens. As you have realized a hydroponic kit may be basic or complex depending on the amount of money you are willing to invest and the types of plants grown.
Plants grown through this system are more disease resistant than the ones built-in conventional gardening. However, it is essential to ensure that the minerals used and water is sterile before adding to the system to avoid contamination.
Whether you are a veteran gardener or you are just testing the waters, hydroponic gardening is the way to go. Buy your most preferred kit and enjoy this venture to the maximum.
Bestseller No. 1
162 Pcs Seed Pods Kit, Hydroponics Growing System Grow Anything Kit with 40 Grow Sponges, 40 Grow Baskets, 40 Grow Domes, 40 Pod Labels for Seed Starting System
Seed Pod Kit: The seed pod kit is compatible with most hydroponics growing systems.
High Quality Seed Pods Kit-The plant sponges are made of natural peat, which is the high-quality grow media for hydroponic growing. The grow baskets and grow domes are made from quality plastic material that is reusable and durable.
Easy to Use and Transplate-Just soak the grow sponges into water, add your own seeds and drop the growing kit into the hydroponics growing systems then enjoying watching your plants grow!
Wide Application: You can grow anything you want in the hydroponic growing system, Suitable for cultivating various types of plants, such as vegetables, fruits, flowers etc...
You will get a seed pods kit including 40 grow sponges, 40 grow baskets, 40 grow domes, 40 pod labels, 1 A&B, Supply all needed for your gardening plant growing system.
-$60.00 SALE OFF
Bestseller No. 2
Hydroponics Growing System 15 Pods, Indoor Herb Garden with Grow Light, 304 Stainless Steel Indoor Garden Kit, Auto Timer, Gardening Gift for All Ages
Durable & Harvest All Year: Featuring an upgraded 304 stainless steel water tank, our hydroponics growing system is rust-resistant and corrosion-resistant, easy to clean, and durable compared to plastic alternatives. It includes 15 planting pods, enabling year-round cultivation of herbs, vegetables, fruits, and flowers regardless of the weather.
500% Faster than Soil Planting : Our indoor herb garden offers "Growing" and "Flowering/Fruiting" modes. It utilizes 72 energy-efficient 24W full-spectrum LED bulbs that mimic natural sunlight to boost photosynthes, ensuring high germination rates and robust root development. This indoor gardening system features a built-in timer (16 hours on, 8 hours off) to meet specific plant growth needs.
Quiet Self-Circulation System: This indoor garden kit employs advanced push-flow aeration technology with an upgraded silent water pump. It circulates water every 30 minutes, boosting oxygen levels for faster and healthier plant growth. The pump is noise-reduced with external soundproofing and can be easily disassembled for a longer lifespan. Its 6L water tank supports your plants for 15-30 days, even during short trips, ensuring hassle-free watering.
Ideal Growing Conditions: Crafted from robust and durable aluminum alloy, the telescopic rod is designed for easy disassembly and reassembly. Our hydroponic systems provides adjustable height to accommodate the size of vegetables' growth, reaching a maximum of 19.7 inches, ensuring full light exposure for plants at every stage of growth.
Perfect Gardening Gift for All Ages: This indoor growing system fits anywhere in your kitchen, bedroom or living room. It's a great gift for your loved ones on holidays like Halloween, Thanksgiving, and Christmas, but also serves as an ideal tool for nurturing robust root systems and early seedlings in preparation for future transplantation into soil.