A number of weed growers prefer to use the hydroponic system for the growth of their crops rather than other growing media. The reason for this is because the soilless system allows the grower to control the amount and the rate of nutrient supply the crops can take. Crops that grow hydroponically have a much better chance of accessing oxygen and nutrients directly into the roots than those growing under other media.
Hydroponic farming produces crops with high nutrient content and great quality. Compared to other crops, hydroponics also matures much faster. For weed farming, growers have different hydroponic growing system designs. One of the systems is ebb and flow hydroponics also known as flood and drain, while others are drip systems, deep water culture DWC, fertigation wick system and others.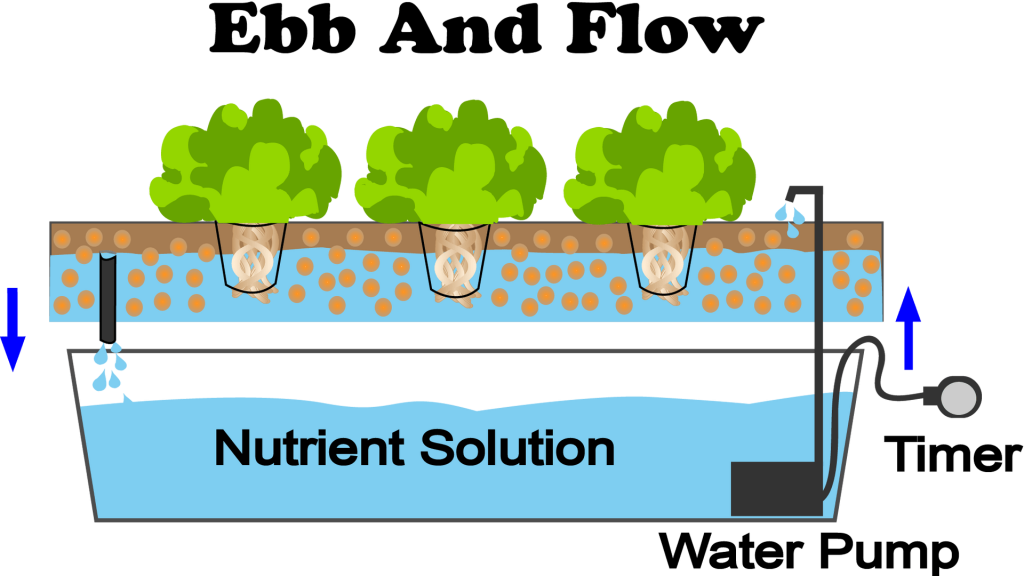 Ebb and flow is popular among many of the hydroponic growers because of its ease of use, affordability and reliability. With the ebb and flow hydroponics system, the plants do not stay suspended in a nutrient and water solution permanently but intermittently. The plants grow in containers filled with course substrate to give support to the plants.
The good thing about ebb and flow is that there are numerous DIY options that help to save you a lot of costs. However for those that cannot get the extra time to make their own ebb and flow systems, they are in luck as there are many other options in the market. In this article, we give you a review of some of the best-selling ebb and flow systems and give you a buying guide on what to look for when buying your system.
Our Top Picks  Ebb and Flow System
Viagrow Complete Ebb and Flow Hydroponics System
This particular 4 by 4 hydroponic system is a complete kit that comes with everything you need to start your ebb flow hydroponic growing.
The system can cater for 25 and more plants efficiently. The automated Viagrow system pumps and circulates nutrients, oxygen and water from the reservoir to the growing plants with ease. The product measures 54 by 54 by 48 inches and weighs about 111 pounds.
The whole package includes a flood and drain fitting kit, a submersible pump, 50 liter bag grow rocks, poly tubing, a 40 gallon reservoir, a flood tray 25-1 gallon nursery pots and a multi pin timer. The system does not come with a light system and nutrients. The easy to set up product is also affordable.
HydroFarm MGSYS Hydroponic MegaGarden Ebb and Flow System
Convenience when growing your hydroponic crops is very important if you want to harvest quality and high quantity yields. Using the HydroFarm MegaGarden ebb and flow system will give you all the convenience you need. The system caters for a garden with 22 by 22 by 10 inches measurements.
The system works by pumping nutrient solutions from the reservoir into the water tray which allows a uniform distribution to all the crops. It is easy to use even for first time growers. It is also fast and fun and if you use it correctly, you can be sure of harvesting yields that are five times more than the standard yields from the same garden size. The system measures 10 inches high and you can use it indoors or in greenhouses outdoors. It boasts of an efficient drain pump irrigation mechanism that helps to ensure the roots get optimal moisture.
The tray is removable, soilless and measures 23 by 23 inches square. It can hold fifteen 5-inch grow pots filled up with pebble grow media or fired clay. The complete package includes a 7-1 gallon reservoir, a timer that with 12 flood settings, a submersible pump, a pH test kit, an instructions manual, rock wool starter cubes, and 16 ounces of HydroFarm all-purpose nutrient. The system does not come with any lighting system.
HydroFarm Active Aqua Grow Flow Ebb and Gro Hydroponic System
If you are looking for ebb and flow system that needs little attention, HydroFarm Active Aqua Grow Flow is the way to go. The system comes with an easy to control and program unit that allows you to just setting up and going on with your other work. The system which is both reliable and efficient is also affordable and fast. For safety measures the system comes with fail safe overflow protection that helps to prevent spillage and possible flooding.
The LED indicator lights up when and if the float valve stops operating. Another safety measure also comes from the shut-off valve which shuts the system down automatically if the float valve stops operating. All the safety measures ensure that the grow space is clean and free from damage or spillage. If you want to expand the system, you can connect the system to 24 modules if you are using a 5-gallon system or connect to 48 modules if you are using a 2-gallon system.
Using the components of this ebb and flow system, you can also build yourself a DIY grows system from scratch. Included in the package are 12 growing pots and micro nutrients in 1 quart bottles of FloraMicro, FloraBloom and FloraGro.
DreamJoy Hydroponic Row Kit Ebb and Flow DWC System
Made with food grade materials, the DreamJoy hydroponic grow kit is like a dream come true for ebb and flow cannabis growers. The system comes with an easy to assemble design that is both fast and convenient. Even if you are a novice in weed growing, you do not need any prior experience to use this system. The system produces healthy crops with more yields than the standard hydroponic growing media.
The complete package includes one main pipe and holder, 36 planting sites, 110v water pump, a planting sponge and a 3.3 foot hose. Because of its design, DreamJoy is one of the best space saving systems in the market. The kit does not come with a nutrient basin or reservoir unlike many other systems in the market.
Best Article About Hydroponic On 09- 2023
Ebb and flow hydroponics system buying guide

Installing the ebb and flow hydroponics system in your grow room comes with many benefits. Besides the systems being easy to install and use, they are also some of the most affordable units in the market. Even with all the easiness of use and the benefits, you still need to be sure that you are buying the right unit with all the correct features in order to harvest better quality and quantity yields. Below are some of the factors to consider before buying your ebb and flow hydroponics system.
Majority of the ebb and grow hydroponic systems come with a design meant for small growing spaces. If you have a larger grow space or you want to harvest a larger yield, then the best thing would be to go with a different hydroponic system.
The systems tray size should also be another thing to consider as it determines how many plants you can grow at one go. Some of the trays are large and can handle bigger plants while others are too small to handle bigger crops. The smaller ones can only handle seedlings. Whatever you choose, make sure you are choosing a tray with ample space for your crops.
Even if you have a small grow space, you may want to expand your yield. If you want to do so, check for systems that come with expansion options such as modules that you can connect to the system. With the expansion, you can plant twice as many crops as the system can hold.
One of the things that you should know is that when it comes to growing equipment and tools, the brand name matters a lot. It is advisable to always go with the top brand names in the industry because they come with enough testing and many features.
Some of the highly rated brands are more expensive than other less known brands. Your budget may force you to go for the cheaper brands but you have to be very careful not to risk the wellbeing and growth of your crops because of the difference in cost. The cheaper ones may come with attractive features and options but when it comes to carrying out the applications, they give dismal results.
You also do not have to break your account buying the most expensive units in the market. Luckily for most growers, ebb and flow hydroponic systems are affordable irrespective of the brand names.
It is also advisable to do your homework extensively on the various systems in the market. You can do this by reading reviews and asking people that have used the systems before. Compare different products in the market before settling for one.
Checking what is in the package is also important as it helps you to know what extra to buy if the contents do not cover everything you need. Majority of the ebb and flow systems do not come with the lighting systems and a few do not come with a nutrient solution. It would be wiser to go for a unit that comes with nutrient solutions especially if you are a first time user.
Ease of use and assembling
Do not go for a system that will need a professional for assembling. Majority of the ebb and flow systems come with easy assembly designs which is a relief especially for novices.
Wrapping it up
Many cannabis growers prefer the hydroponic growing system because of its convenience and cleanness compared to soil based growing methods. Ebb and flow, which is one of the many preferred hydroponic growing systems requires minimal maintenance and it is one of the easiest systems to use even for first time growers. The yield from using the hydroponic system is high and the quality is just as high.
The above units are some of the best in the market and they come with all the features you need for growing in a small space. They are affordable, easy to use and maintain and easily available. The buying guide should help you to find the best system in the market.