For the effective growth of your MARIJUANA crops, you need to keep the temperatures at good levels throughout all the growth stages. Indoor growers may assume that all they need is to monitor the temperature indoors but you should monitor in all locations, which includes even the temperatures outdoors. This will give you all the information you need for heating and cooling actions that will benefit your crops.
You cannot monitor the temperatures by physically checking out the changes in weather conditions or by using your smart phone weather apps because you may end up with misleading information. You need a reliable THERMOMETER for this action. While there are many different models in the market that you can use, not many of them beat Acurite wireless indoor-outdoor thermometer.
Before we go into a full review of this amazing thermometer, below is a summary of the things that make it stand out.
Read more:
Reasons why Acurite should be your choice indoor/outdoor thermometer of choice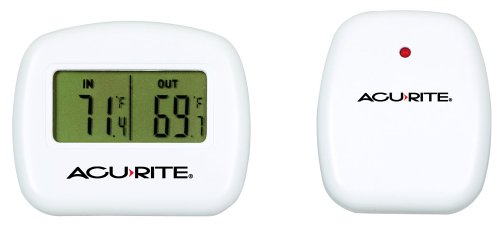 Pros
Simple and easy to understand
Even for new time users, the thermometer is simple to set up and to read and understand
Does not require any calibration
Some thermometers in the market require calibration which is confusing to some people and which may give wrong readings if calibrated wrongly. With this model, all you need is just place it where you need it to be and you are set.
Easy mounting options
the thermometer comes with easy mounting options, meaning you can have it on the wall, at the counter, on the table or practically any other place you deem fit.
Wireless
The thermometer is wireless, which saves you the agony of cords and using energy for it to work
Compact and small size
It is compact and the size is small which allows easier portability
Affordable
You do not have to go too deep into your pockets town the thermometer because it comes at an affordable price.
Warranty
The thermometer comes with a one-year warranty
Cons
Too small
While the size may be good because of moving it around, it is a problem for some people because reading the temperature on the LCD
It may not last as long as you want it to and you may need to change it after two years.
Acurite wireless thermometer full review
One of the things that make the ACURITE THERMOMETER stand out from the rest is its simplicity. It is the best choice thermometer for people starting their marijuana-growing journey. It comes with an easy to read LCD that displays both indoors and outdoors temperatures. It is straightforward, as it does not come with other confusing features such as HUMIDITY sensors and the like.
Besides monitoring temperature, the sensors also allow you to assess the HVAC coverage of your indoor grow tent or grow room and check for drafts. The thermistor is precise and can observe outdoor temperatures of up to -40 degrees and transmit all the readings to the display at 60-second intervals. It covers a range of 100 feet around it which gives you a clear idea of the temperature conditions in and outside the grow space.
It comes with several mounting options. If you want to place the thermometer on the table, it has fold out features that allow it to stand on the table with ease. You can also place it upright on its base and if you want to mount it on the wall, it has keyholes to allow you put it on position.
Its wireless options save you the agony of using cords and plugging into a power socket every time you want to use the thermometer. It uses two AAA batteries that last for long. It is lightweight makes it popular with many weed farmers.
When you are in between growing your crops, you can use the indoor-outdoor thermometer to monitor temperatures in other places such as the refrigerator, the marijuana drying and curing room and other places. The thermometer is affordable and effective and you do not have to worry about digging deep into your pockets for an effective thermometer that will give you all the information you need without other distracting features.
If you are worried about the reliability ad ability of the product, the manufacturer gives you a one-year warranty for your peace of mind.
Wrapping it up
Humidity, temperature, LIGHTING and nutrition are among the things marijuana needs for proper growth, you cannot allow your crops to grow in a grow place that has irregular temperatures. They will not give you the expected yields if you do that. As the name reads, Acurite gives you accurate readings that help you to monitor the temperatures both inside and outside the GROW ROOM better.
Get yourself one today and join the throng of happy marijuana farmers that rely on the accuracy of accurate thermometer for the monitoring of their crops. We hope this article gives you all the information you need to help you in monitoring the temps of your grow space better. For any comments or questions, you can reach out to us and we will respond.