LED lamps are the growing trend amongst modern cannabis farmers. Their performance sets them aside as betters to the traditional grow light that many people are used to seeing. But what makes them very different?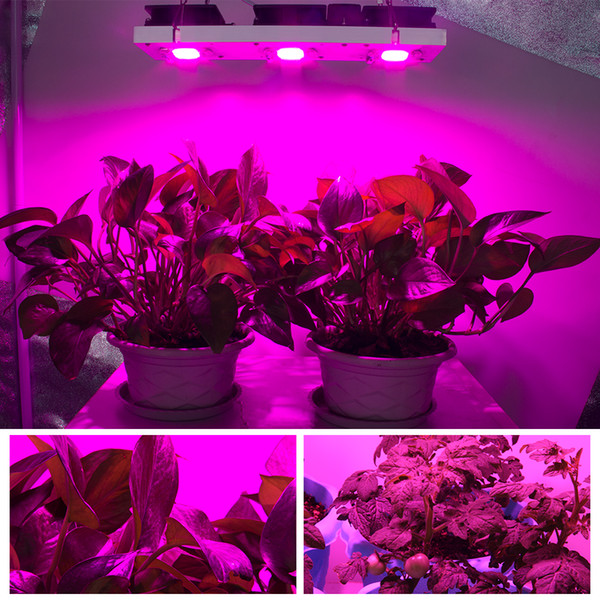 LEDs are very energy conscious. The bulbs can provide a lot of light energy at a fraction of power an HID/ HPS system would take to give the same light intensity. An LED provides your plants with a full spectrum light. The full spectrum light eliminates the need for using more than one grow light in a planting season. A full spectrum light supports plant growth throughout all the stages. You can choose to use a grow light due to many other reasons. But which grow light should you incorporate in your farm? Here is a look at the top 200W LED grow light that you may choose to use in your farms today.
Related Post:
CF Grow Waterproof 200W LED Grow Light Full Spectrum
The CF waterproof grow light comes in a straightforward design. You can use the lamp both indoors in humid environments and outdoors since it is waterproof. The light comes with a steel hanger, a waterproof power cable, and a user manual. It uses Bridgelux COB LED Grow lights to produces a power that is better than most 300W grow LED lights.
The grow light provides a full spectrum light ranging from 380 to 730nm. It works perfectly throughout all the plant growth stages. The light encourages the rapid growth of plants and an increase in the yields. It does not have a fan but controls heat through a heat dissipation intelligent control, IC. The IC maintains the temperature of the whole unit at 65 degrees Celsius. You can, therefore, increase the lifetime of the bulb. Currently, the lamp can last for 50,000 hours when in continuous use. The light comes with a two-year warranty assuring you that the product is of top quality.
Pros
The grow light is waterproof
It is energy efficient as it can deliver results better than some 300W grow lights
It can last for a very long time
The grow light produces a full spectrum light
It does not make any noise
The grow light is easy to install and use
Cons
It produces a lot of heat that may burn when you touch the lamp
The light is too bright and may burn your eyes
CANAGROW 200W CREE CXB3590 COB LED Grow Light Full Spectrum
The Cree COB LED Grow light is one of the best in delivering an ideal light spectrum to your plants. The CANAGROW 200W CREE CXB3590 COB LED Grow Light makes use of this LED to provide a full spectrum light to your plants. The COB LED grow light has a longer lifespan, produce better light quality, and highly efficient than traditional grow lights. It can readily replace a 400W HPS grow light. The grow lamp uses high quality components from the top companies in the world. The parts are waterproof, ensure a stable voltage and a long lifespan.
The full spectrum light from the grow light helps your plants to grow faster and increase the overall yield rapidly. The lamp comes with an adjustable dimmer. You can use it to control the amount of light you are feeding the plants. If your plants have a dense canopy, you may increase the light intensity using the dimmer. It will then penetrate deep through the canopy of your plants. The COB LED of the lamp has a glass lens covering that helps to increase the efficiency of the light by 97 percent. The lens helps to increase the concentration of light on the area of coverage. You can then grow your marijuana in an area between 7.5 to 70 square feet. You can position your light anywhere above 8 inches from the plant canopy to 59 inches, depending on your plant and the stage of growth.
The grow light comes with a daisy chain feature allowing you to connect more than one grow light in a series. You can, therefore, cover large grow areas with ease. The grow light has inbuilt fans that help to keep the operational temperatures at an optimum level. The fans do not make noise while in operation, making the light suitable for indoor use.
Pros
The grow light is very durable as it can last for about 50,000 hours
It produces a full spectrum light that supports all the stages of growth
It can cover a large area
It provides a highly efficient light
It is easy to install the grow and operate it
It gives off a minimum heat output
Cons
It produces a light too bright for the bare eyes. You need to wear eye gear when you get into the grow room.
Go Green LEDs 200W Cree LED CXB3070 Powered Grow Light
The Go Green Cree LED grow light uses 4 COB LEDs that deliver an ideal full spectrum light for the growth of plants. The lamp provides an excellent PAR output per watt without affecting the power bill too much. The grow light can outperform a 400W HPS/MH grow light in terms of the power output. The light spectrum the bulbs produce is optimized to increase the photosynthetic response of your plants. It leads to rapid growth and an increase in the yield. The lamp contains individual high-efficiency drivers for each bulb.
The bulbs as well have lenses that help to concentrate the light on the plants. Go Green LEDs put more focus on designing a grow light that would dominate the market with efficiency. The lamp delivers a high light intensity with a bid to shorten the growth time and hasten the harvest. The light is suitable for use through all the growing stages of a plant. The grow light manages the heat it emits through 4 dual bearing cooling fans. The optimum temperature for the lamp to operate safely without causing harm to the plants is 90 to 110 degrees Fahrenheit. It can provide a coverage of 36" by 36" when you place it at 16" above the canopy of your plants.
Pros
It is one of the most efficient COB LED grow lights
It gives off a full light spectrum that supports all stages of plant growth
It is energy saving
It is easy to install and use
It leads to a high yield
It can last for a very long time.
Cons
The grow light has an average design
Summing up
The best LED grow light to use in your cannabis garden should be one that can deliver a high light intensity consisting of a broad color spectrum. The light intensity is especially important when your cannabis plants start to flower. A high light intensity shortens the growth span of your cannabis plants while increasing their yields. By using the grow lights in the list above, you can be confident of achieving the best results for your cannabis plants.
Bestseller No. 1
VIPARSPECTRA 2023 Upgraded P2000 Led Grow Lights for Indoor Plants Full Spectrum, Dimming Daisy Chain Grow Lamp for Veg Bloom in 4x2/3x3 Grow Tents Greenhouses
NEW DIODE LAYOUT & DAISY CHAIN FUNCTION : VIPARSPECTRA Newest upgraded P2000 grow light with more scientifically diodes distribution to ensure the most uniform PAR map and the deepest canopy penetration to maximize plant yields. Daisy chain function allows you to connect up to 20pcs p2000 grow lights for your commercial growing, horizontal and vertical farming, greenhouse planting and hydroponics etc.
LOWER RUNNING COST & DIMMER FUNCTION: P2000 LED grow light has adopted the newest SMD LED Technology, providing high PAR output, high energy efficiency and stronger light output. Achieve greater yield while saving you on energy costs! An added dimmer knob is featured to manipulate the brightness level of the light, allowing flexibility to obtain perfect growth performance for each growing phase.
OPTIMAL FULL SPECTRUM LIGHT & SUPERIOR HEAT DISSIPATION: Consists of 660nm of red light, 3000K and 5000K of the white light spectrum, provides plants in all stages from veg to flower with everything they need in the natural sunlight. Designed for durability. Silent fanless design. Built-in large areas of solid aluminum heat sinks, essential for heat dissipation while ensuring long lifespan of the light.
LOW ENERGY CONSUMPTION GROW LIGHTS: Comparable to traditional 400W HPS/MH while consuming only 200W! Perfect for 4'x3' vegetative coverage at 24" and 4'x2' flowering coverage at 20". Remember to properly adjust the height and brightness accordingly to your plants desired level for optimal growth.
TRULY BEST BACK FOR THE BUCK: Plug and Play. Professional guidance, friendly customer service and US local after-sales service provides you with a pleasant shopping experience and helps your plants grow better. Make sure you purchase authentic VIPARSPECTRA grow lights. If you have any questions, please contact us at any time.
-$7.00 SALE OFF
Bestseller No. 2
Ohtoad Grow Lights for Indoor Plants,200W UV-IR Full Spectrum LED Plant Grow Light, Hanging Light with On/Off Switch & Daisy Chain for Houseplant
🌱【POWERFUL LED & LOWER RUNNING COSTS】:Grow lights for indoor plants full spectrum uses 204pcs high quality LEDs and 3000K, 5000K, 660nm, UV-IR LEDs.3000K and 5000K diodes provide more reddish and blueish light. 660nm and IR light is especially useful during bloom, where it speeds up flowering time and boost yields. 395nm UV light can make your plants health.200W plant growing lamp much more powerful than other small grow light and only consumes 25 watt home electricity at 100% brightness.
🌱【UV IR LIGHT & TWO INSTALLATION METHODS 】: The hanging grow lights can be strung on a string and hung above plants, or sucked on a plant shelf, it's easy to install.
🌱【ON/OFF BUTTON & DAISY CHAIN FUNCTION】: This LED grow light has an on-off switch and daisy chain function. The 6.6ft power cord is good for adjusting the height you need for indoor use. In addition, you can use two power cords to connect two plant lamps, and you can use both lamps at the same time with only one outlet.
🌱【WIDELY COVERAGE AREA & WIDELY USED】: Ohtoad small led grow light is made of aluminum+ABS, the body with good heat dissipation and strong ABS material ensures your panel is more durable and long-lasting. Covering an area of up to 1.2x2 feet at a height of 14 inches and 2x2.4 feet at a height of 18 inches.Grow lights are suitable for all indoor plants including seed starting,vegetables, succulents, fruits, flowers and more to help your plants grow vigorously all year round.
🌱【HASSLE-FREE SERVICE & BEST GIFT】: Our indoor plant grow lights have a professional team and many years of experience to ensure that you get the best quality and safe indoor plant plant lights, if you have any questions, please feel free to send us an email, we will help you solve the problem.Our grow light also support gifted package,is the best gift for gardening and planting lovers.
Bestseller No. 3
UNIT FARM UFS3000 LED Grow Light, 200W Plant Grow Lights, 736 OSRAM LED Full Spectrum Growing Lamp, Indoor Hydroponic Light for 3x3FT Pepper Tomato Herb Seedling, 2x2FT Flowering Grow Tent
【High-Efficiency Plant Growing Lamp】 30% more diodes than other SMD panels in the same power draw, offer 30% higher output. 736 diodes only consume 200watts. Equal to 400Watts box style blurple light and HPS. works on 110V to 240V.
【Reliable Plant Grow Light】 WITH 100,000H long lifespan OSRAM diodes. 2 times longer than unknown brands SMD LED. CRI up to 90, 10 times higher than blurple light, 30% higher than cheap SMD LED. Easier to observe the health of plants.
【Sunlike Full Spectrum for Indoor Plant】 Mixed 3000K, 5000K, 660nm Red, 730nm IR, and 380nm UV. Make the lamp create a rich spectrum to covers all growth stages. The red and IR help to get nice & big buds, Great boost yields. The UV stimulates plants to create amazing flavor.
【Ultra thin & Flexible LED Panel】Single panel with the driver that isn't fixed at the top. Can set as the main light, as sidelight around the plants. easily adjust the direction, make the light into every corner. Perfect for space budget growers.
【Tips for Coverage & Hanging】 For tomato, herb, or pepper in veg, at 26''-30'' in 4x4FT; For flowering, at 20''-24'' in 3x3FT. For 2x2FT room in high levels of CO₂, please set it at 22''-24''. That would level up the yield.
Bestseller No. 4
Grow Lights for Indoor Plants,Lxyoug Full Spectrum with 60" Extendable Tripod Stand,420 LEDs 200W Auto On/Off Timing Function Four-Heads Floor Plant Grow Light for Various Plants
Highly Efficient Full Spectrum: The four-heads grow light offer 380 up to 800nm full spectrum, from which plant can absorb all lights it needs. Grow lights contain 420 LED beads and output is 200W, which can provide plants with the sunlight-like light they need, effectively supplementing the lack of natural sunlight, and very suitable for each growth stage of plants.
Floor Grow Light with Adjustable Stand: The grow lights of indoor plants are equipped with stable, durable tripod stand and can be adjusted from 15" to 60". just adjust the desired height according to your plants, very suitable for more differents size indoor plants. Grow light has 360° independently adjustable gooseneck rotatable design, which provide wider and more flexible range of light.
Automatically On/Off Timer Function: Auto circular memory timing function has 3/6/12H modes for you to choose, the plant light will turn it on by itself everyday as your setting, even you're on the travel, the grow light will still take good care of your plants every day!
4 Lighting Modes & 6 Dimmable Brightness: Our plant light for indoor plants provides 4 Lighting modes and 6 dimmable brightness modes, you can randomly switch it to the most suitable brightness for your plant growth, helps your plants grow 5 times faster than natural. Moreover, you can adjust the number of heads turned on by the plant light, which is more energy-saving and environmentally friendly.
Specifically Design Light for Plant: The plant light is made of an aviation-grade heat sink and high-quality aluminum shell, create an excellent heat dissipation to reduce light loss and more than 50000 hours lifespan, perfectly suitable for balconies, greenhouses, darkroom, office and etc., especially when the plant needs extra light when raining, snowing, dark indoor and so on, will give your plants considerate care.
Bestseller No. 5
Grow Light for Indoor Plants - SERWING 200W LED Grow Light Full Spectrum, Plant Growing Lamp for Indoor Cultivation, Greenhouse, Grow Tent, Hydroponics (Sunlight)
SUNLIGHT FULL SPECTRUM GROW LIGHT- SERWING E1 LED grow light, spectrum covers 440 ~ 475nm blue light and 625 ~ 740nm red light most needed for plant growth. Blue light is conducive to plant leaf growth, and red light is conducive to plant flowering and fruiting. SERWING grow light will help you grow brighter and stronger plants.
GROW LIGHT FOR ANY GROWTH STAGE- Includes 60pcs red , 64pcs 5000K&132pcs 3000K LED beads. For plants in the seedling stage, this plant lamp can make them develop faster and will not grow in vain. For mature plants, this plant lamp can make the color of the flowers brighter and the fruit more plentiful.
HIGHLIGHT LED PLANT GROWTH LIGHTS- The Color-rendering index, Ra of this SERWING E2 grow light is greater than 87. The luminous flux reaches about 3735lm, which can give sufficient light intensity to indoor plants. Giving plants enough light intensity and enough light time is exactly what must be done to cultivate excellent plants.
LIGHT AND THIN BUT EFFICIENT PLANT LIGHT- Large area aluminum substrate brings excellent heat dissipation performance and can be turned on for a long time. While releasing super high brightness, the plant lamp only weighs 450g and can save a lot of energy. Equipped with hanging rope, you can hang in the ideal position at will.
CORDIAL CUSTOMER SUPPORT SERVICE- If you have any questions about our E2 sunlight plant growth light, or encounter any problems during use, please remember our kind customer support service. They will answer all your questions patiently with a cordial attitude and will seriously help you solve any trouble you have.