LED lamps are the growing trend amongst modern cannabis farmers. Their performance sets them aside as betters to the traditional grow light that many people are used to seeing. But what makes them very different?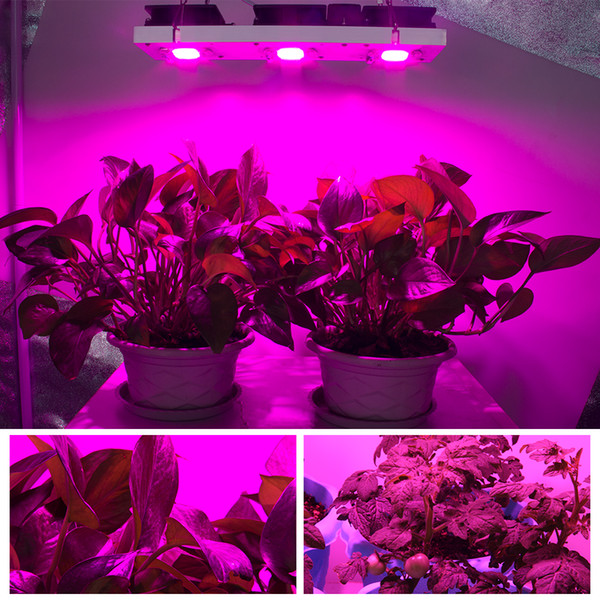 LEDs are very energy conscious. The bulbs can provide a lot of light energy at a fraction of power an HID/ HPS system would take to give the same light intensity. An LED provides your plants with a full spectrum light. The full spectrum light eliminates the need for using more than one grow light in a planting season. A full spectrum light supports plant growth throughout all the stages. You can choose to use a grow light due to many other reasons. But which grow light should you incorporate in your farm? Here is a look at the top 200W LED grow light that you may choose to use in your farms today.
Related Post:
CF Grow Waterproof 200W LED Grow Light Full Spectrum
The CF waterproof grow light comes in a straightforward design. You can use the lamp both indoors in humid environments and outdoors since it is waterproof. The light comes with a steel hanger, a waterproof power cable, and a user manual. It uses Bridgelux COB LED Grow lights to produces a power that is better than most 300W grow LED lights.
The grow light provides a full spectrum light ranging from 380 to 730nm. It works perfectly throughout all the plant growth stages. The light encourages the rapid growth of plants and an increase in the yields. It does not have a fan but controls heat through a heat dissipation intelligent control, IC. The IC maintains the temperature of the whole unit at 65 degrees Celsius. You can, therefore, increase the lifetime of the bulb. Currently, the lamp can last for 50,000 hours when in continuous use. The light comes with a two-year warranty assuring you that the product is of top quality.
Pros
The grow light is waterproof
It is energy efficient as it can deliver results better than some 300W grow lights
It can last for a very long time
The grow light produces a full spectrum light
It does not make any noise
The grow light is easy to install and use
Cons
It produces a lot of heat that may burn when you touch the lamp
The light is too bright and may burn your eyes
CANAGROW 200W CREE CXB3590 COB LED Grow Light Full Spectrum
The Cree COB LED Grow light is one of the best in delivering an ideal light spectrum to your plants. The CANAGROW 200W CREE CXB3590 COB LED Grow Light makes use of this LED to provide a full spectrum light to your plants. The COB LED grow light has a longer lifespan, produce better light quality, and highly efficient than traditional grow lights. It can readily replace a 400W HPS grow light. The grow lamp uses high quality components from the top companies in the world. The parts are waterproof, ensure a stable voltage and a long lifespan.
The full spectrum light from the grow light helps your plants to grow faster and increase the overall yield rapidly. The lamp comes with an adjustable dimmer. You can use it to control the amount of light you are feeding the plants. If your plants have a dense canopy, you may increase the light intensity using the dimmer. It will then penetrate deep through the canopy of your plants. The COB LED of the lamp has a glass lens covering that helps to increase the efficiency of the light by 97 percent. The lens helps to increase the concentration of light on the area of coverage. You can then grow your marijuana in an area between 7.5 to 70 square feet. You can position your light anywhere above 8 inches from the plant canopy to 59 inches, depending on your plant and the stage of growth.
The grow light comes with a daisy chain feature allowing you to connect more than one grow light in a series. You can, therefore, cover large grow areas with ease. The grow light has inbuilt fans that help to keep the operational temperatures at an optimum level. The fans do not make noise while in operation, making the light suitable for indoor use.
Pros
The grow light is very durable as it can last for about 50,000 hours
It produces a full spectrum light that supports all the stages of growth
It can cover a large area
It provides a highly efficient light
It is easy to install the grow and operate it
It gives off a minimum heat output
Cons
It produces a light too bright for the bare eyes. You need to wear eye gear when you get into the grow room.
Go Green LEDs 200W Cree LED CXB3070 Powered Grow Light
The Go Green Cree LED grow light uses 4 COB LEDs that deliver an ideal full spectrum light for the growth of plants. The lamp provides an excellent PAR output per watt without affecting the power bill too much. The grow light can outperform a 400W HPS/MH grow light in terms of the power output. The light spectrum the bulbs produce is optimized to increase the photosynthetic response of your plants. It leads to rapid growth and an increase in the yield. The lamp contains individual high-efficiency drivers for each bulb.
The bulbs as well have lenses that help to concentrate the light on the plants. Go Green LEDs put more focus on designing a grow light that would dominate the market with efficiency. The lamp delivers a high light intensity with a bid to shorten the growth time and hasten the harvest. The light is suitable for use through all the growing stages of a plant. The grow light manages the heat it emits through 4 dual bearing cooling fans. The optimum temperature for the lamp to operate safely without causing harm to the plants is 90 to 110 degrees Fahrenheit. It can provide a coverage of 36" by 36" when you place it at 16" above the canopy of your plants.
Pros
It is one of the most efficient COB LED grow lights
It gives off a full light spectrum that supports all stages of plant growth
It is energy saving
It is easy to install and use
It leads to a high yield
It can last for a very long time.
Cons
The grow light has an average design
Summing up
The best LED grow light to use in your cannabis garden should be one that can deliver a high light intensity consisting of a broad color spectrum. The light intensity is especially important when your cannabis plants start to flower. A high light intensity shortens the growth span of your cannabis plants while increasing their yields. By using the grow lights in the list above, you can be confident of achieving the best results for your cannabis plants.
Bestseller No. 1
2022 New SONLIPO SPF2000 LED Grow Light 200W 4x4ft Coverage, Use 882pcs Samsung Diodes Sunlike Full Spectrum Veg Bloom Switch Growing Lamps for Indoor Plants Seeding Flower Led Plant Light Fixture
【Lower Running Costs & Higher PPFD】Actual power only 200 watts, High PPFD, up to 1415 μmol/m².s. Comparable to a traditional 600W HPS or CMH light. Save up to 60% on your electricity bill. Using 882pcs of the latest high quality LED technology - Samsung LM281+ diodes, to provide high PAR output, longer lifetime and better light canopy penetration. SPF2000 grow light perfect for 4x4ft vegetable stage, 3x3ft bloom stage.
【VEG & Double BLOOM Switch】Aaccording to the growth and yield of plants, SONLIPO designed 3 switches, VEG, BLOOM and enhance BLOOM, to facilitate the control of red and blue light spectrum, to make the roots and stalks of plants grow thicker, and prevent them from growing taller in vain. Enhance RED light, can greatly increases the size and number of flowers to maximize the yield of the plant, maximum 2.9 g/w.
【Full Spectrum Grow Light】Infinitely close to natural sunlight, consists of 660nm Red light, IR 740nm, and 3000K, 4000K, 5000K, 6000K light spectrum. IR is dimmer than other red diodes. 3000K providing more reddish light and the 6000K providing more blueish. The 660nm red and IR light is especially useful during bloom, where it speeds up flowering time and boost yields. Uniformly across the surface and deep into the roots and bottom of canopy for consistent, highest quality flowers.
【Well Made, Excellent Heat Dissipation】Solid structure, No Fan Noise Free. The housing is made of aviation heat sink aluminum, thick and strong, and provides excellent heat dissipation. Cable has protective cover, user-friendly packaging. Built-in short-circuit protection device automatically protects your lights from damage, you can easily save money without purchasing lights frequently.
【100% Warranty & Easy to use】Plug and Play, One-touch switch sets the light spectrum for your plant to suit it. Product quality and friendly customer service are always our primary objectives. We offer a 90-day new replacement or full refund, 12 months free warranty, and professional guidance to help your horticultural grow and grow craft better.
-$27.00 SALE OFF
Bestseller No. 2
Grow Lights for Indoor Plants,Lxyoug Full Spectrum with 60" Extendable Tripod Stand,420 LEDs 200W Auto On/Off Timing Function Four-Heads Floor Plant Grow Light for Various Plants
Upgrade Floor Grow Light with Stand : 4 in 1 LED floor plant lamp Full Spectrum with 420 LEDS, Extendable Tripod Stand from 15 inches to 58 inches, just lock it at desired length for your preferred use, you can stand it on the floor adjust the desired angle according to the needs of the plant.
Full Spectrum Grow Light : This grow light offer 380 up to 800nm, from which plant can absorb all lights it needs.similar to sunlight. The four-heads lights contain 420 leds and output is 150W, which can provide strong and uniform intensity of light to plants. Emiral LED grow light has larger lighting area and is very suitable for every plant growth stage
Quality Material: The led grow light features quality tube made of metal, which can hold the three-heads light, prevent them from falling down. Also, tripod stand enlarged the width, perfectly support the led grow light, make sure to provide the effective lights to your beloved plants
6 Dimmable & 3 Switch Modes: Our Plant Growing Lamps provides 6 dimmable modes ,You can adjust brightness to suit varied stages of plant growth,and 3 Switch Modes A Light On,B Light On and Both Light On.High quality led chips (50,000 hours lifetime),the wave of the light from 400nm to 840nm to meet different stages of plant-growing needs .Suitable for both home & office
Safty & Best Service: Our plant light has the certification of FCC, CE and ROHS, Promise 12 month warranty plus a 30 day money back guarantee.
-$10.00 SALE OFF
Bestseller No. 3
LED Grow Light, VIPARSPECTRA P2000 LED Grow Light Full Spectrum LED Grow Lights with Samsung LEDs(Includes IR), Dimmable Grow Light 4x2ft Coverage for Indoor Plants Seeding Veg and Bloom 700PCS LEDs
LOWER OPERATION COST & DIMMER FUNCTION: VIPARSPECTRA P2000 LED grow light has adopted the Samsung LM281B+ LED Technology to provide high PAR output, high energy efficiency and long lifespan while improving light penetration. An added dimmer knob is featured to manipulate the brightness level of the entire light, allowing flexibility to obtain perfect growth performance for each growing phase.
FULL SPECTRUM LIGHT For INDOOR PLANTS: Consists of 660nm of red light, IR, 3000K and 5000K of the white light spectrum, provides plants in all stages from veg to flower with everything they need in the natural sunlight. Achieve greater yield while saving you on energy costs!
SLEEP-FRIENDLY GROW LIGHT: Silent fanless design. No fans zero noise. Built-in large areas of solid aluminum heat sinks, essential for heat dissipation while ensuring long lifespan of the light.
COVERAGE AREA: Comparable to traditional 400W HPS/MH while consuming only 200W! Perfect for 4'x3' vegetative coverage at 24" and 4'x2' flowering coverage at 20". Remember to properly adjust the height and brightness accordingly to your plants desired level for optimal growth.
WORRY-FREE WARRANTY: Plug and Play. No installation required. Product quality and friendly customer service are always our top priority. We offer worry-free 36-month local warranty and professional guidance to help you and your plants grow better.
Bestseller No. 4
KUAREZ 2000 Led Grow Light with Daisy Chain Dimmable Grow Light for Indoor Plants Full Spectrum Plant Grow Lights with Samsung Chips & MeanWell Driver Veg Bloom Greenhouse Light
【UNIQUE DESIGN】 The upgraded RD series grow plant light dimmable comes with equipment to control unlimited grow lamps within 82FT(25m). 10 levels precise dimming to meet the brightness your plants need in different stages easily. Multi-light in different/same watts can be added in same group to achieve daisy chain function. 5 groups selection allows to control lamps from different area separately or together easily. Make the planting easier and more intelligent.
【HIGH EFFICIENCY & COST SAVING】 The 2000 plant grow lights full spectrum uses Samsung leds, creates better canopy light penetration with PPE 2.7 μmol/J, helps maximum higher yields of indoor plants. Consuming only 200W, running 50% less power than the HPS or Blurple lamps or other SMD LEDs to save the cost but getting higher yields. Ideal to cover 3.5' x 4' veg stage at 22'', 3' x 3.5' flowering stage at 18''.
【PERFECT FOR ALL GROWTH STAGES】 This full spectrum led grow light contains 3000K, 5000K, 660nm and IR730nm chips. The light infinitely close to natural light and it provides desired need for plant growth in all stages from seeds to harvest. The IR 730nm chip looks dim, and it could speed up the phytochrome conversion , promote blooming/fruiting and increase yield.
【WELL MADE & RELIABLILITY】 This indoor grow lights adopt glue coated technology, water resistant, increase the lifespan. Thick large aluminum heat sink for good heat dissipation, low heat could slow down the light decay and no fan no noise. High safety performance Mean Well driver, IP67 waterproof and UL/CE certified. High quality components ensure the lights more reliable and last longer.
【HASSLE-FREE PURCHASING】 Professional R&D and customer service teams will offer support for your any questions or help within 24 hours, 30-day money-back guarantee and 36-Month warranty after sale. Make your purchasing with confidence.
-$12.01 SALE OFF
Bestseller No. 5
Grow Light, (2-Pack) 200W LED Grow Lights for Indoor Plants Full Spectrum Plant Growing Lamps for Seedling Veg and Bloom by BAVIHOR
HIGH QUALITY LED GROW LIGHT: grow light has adopted the newest 256Pcs LED High quality LED Chips to provide high PAR output, high energy efficiency with 2.7 umol/J while improving light penetration. Perfect option for 2x2ft.
FULL SPECTRUM LED INDOOR GROWING LIGHT: These full-spectrum LEDs which deliver optimal light-spectrum coverage is perfect for veg to bloom, to adapt to each phase of the plant cycle, very close to natural light, best for all plants to grow at each stage, help to achieve greater harvest yield and crop quality.
LOW ENERGY CONSUMPTION GROW LIGHT: Different from the traditional HPS, Comparing with traditional 200W HPS/MH, it only consume 70W and saves up to 50% energy than other led grow lights. It provides brighter light and save more electricity which also can save a lot of money for you.
Applications: Widely applied for indoor growing, climate rooms, house garden, home grows (grow box and tents), greenhouse cultivation, pipeline cultivation, hydroponics.
PROFESSIONAL SERVICE: We provide 5 years after-sales service with local maintenance center and free-of charge return policy within 90 days. Make sure you purchase authentic, high-quality grow lights with an affordable price. If you have any questions, please feel free to contact us, and we will response in 24 hours with a satisfactory reply.