Humidity refers to the level of water vapor in the atmosphere. Usually humidity is expressed as a percentage. It is important to keep track of the level of humidity in a room, because whether high or low, humidity has its effects.
The level of humidity has diverse effects on human beings, animals and plants. One of the plants affected by humidity is marijuana. When the humidity is low, evaporation happens very fast leaving the marijuana plants dry and in need of more nutrients and water. The marijuana plants will therefore have to absorb more water and nutrients to supply the one lost during evaporation.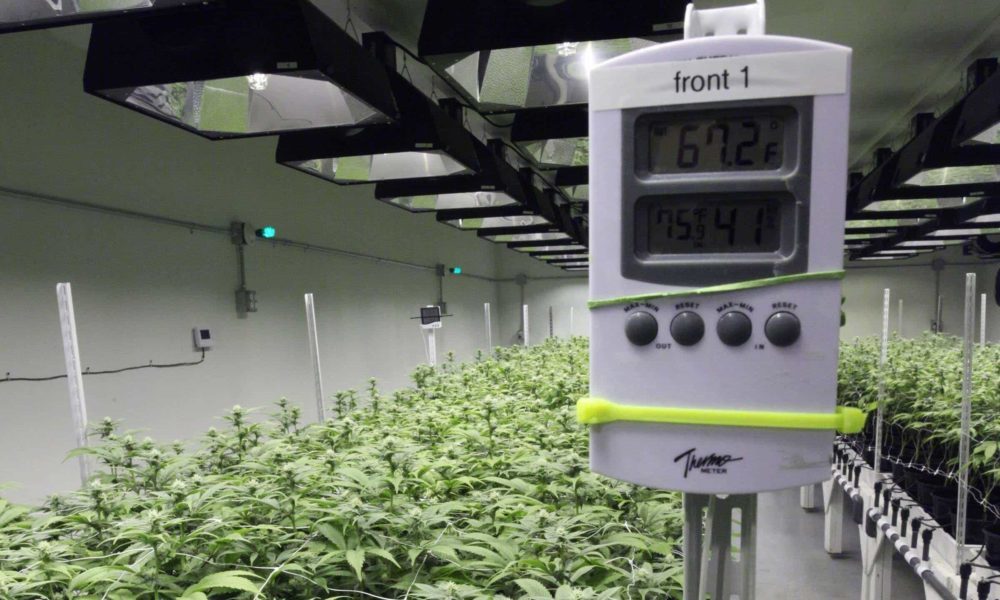 However, in case the rate of evaporation is too high, the stomata will close in an effort to protect the cannabis plant against dehydration. Since the stomata are closed, the plant will not be able to absorb any nutrients or water hence leading to stagnation in its growth. It is for this reason that most weed growers use devices like hydroponic humidifier to control the humidity in the weed grow room. However, before using a humidifier, you need to know the amount of humidity in the air. This is where the hygrometer comes in.
Best Equipment About Climate Control For Grow Cannabis Indoor 09- 2023
What is a hygrometer?
Also known as, a humidity meter, a hygrometer is a weather gadget used to measure the amount of moisture in the air. They are the devices used to measure the level of humidity in the air.
Besides measuring the amount of moisture in the open air, a hygrometer can also be used when measuring the amount of humidity/moisture in the soil or in confined spaces such as grow rooms. The BEST HYGROMETER is one that gives accurate readings. The following are some of the best hygrometers that are going to give you the most accurate reading.
Top 10 Hygrometers With The Most Accurate Readings
ThermoPro TP65 Digital Wireless Hygrometer
Made by ThermoPro, this hygrometer has all the features necessary for a great hygrometer. With this hygrometer, you are going to be a pro in measuring the level of humidity in the air. Its 4" LCD display will ensure that you do not misread it. On the other hand, the backlit touchscreen will ensure that you still read it easily even in dim light.
The great thing about this device is that it also measures the temperature levels. It has arrows, which indicate when the temperature is getting high or low. The same arrows also indicate the level of humidity in the air. With a remote range of 200ft, it can also be used to gauge the level of humidity and temperature outdoors. It has no cables since it is powered by AAA battery making it highly portable. It also features all-time low and high records for both humidity and temperature in within a span of 24 hours. To reset the hygrometer, simply press one of the buttons found at the front of the hygrometer.
I recommend this hygrometer for you if you have never used a hygrometer before or if you looking for an easy-to-use hygrometer.
AcuRite 00613 Indoor Thermometer & Hygrometer with Humidity Gauge
The best feature of this hygrometer by AcuRite is the fact that it is small enough to fit in your pocket making it easy for you to take it with you wherever you want. Whether you want to leave it at home or take it with you when you are on the move, the choice is yours. For instance, if you go hiking, you can simply clip it to your backpack.
It has a stand that can be folded when you want to place it on a tabletop and a magnetic backing so that you can mount it on any metallic surface in case space is limited.
Another great thing about this hygrometer is that it is pre-calibrated so that you get accurate humidity and temperature reading.
XIKAR PuroTemp Digital Hygrometer Rectangular
Made by The Big Easy Tobacco Accessories, this hygrometer is ideal for first time users because it as a very simple design. Its three-button design allows users to calibrate it easily. It comes with instructions so calibrating it is very easy.
Furthermore, it is small enough with the size as a credit card and is half-inch thick making it highly portable. Mounting it is also very easy since it is magnetic making it possible for you to mount it on any metallic surface.  In addition to the magnetic mount, this device also features a metal mount with an adhesive backing so you can also mount it on a non-metallic surface as well.
Powered by a small 'button cell' battery, the hygrometer can record any change in temperature or humidity even if it happens within seconds.
However, it does not have a little stand on the back making it impossible to prop it on a tabletop or night stand.
SMARTRO SC42 Professional Digital Hygrometer
One of the best features of this hygrometer is the fact that it comes with a lifetime warranty so you can get technical assistance from the manufacturer  at any time as long as you have it. In terms of accuracy, the hygrometer has 24 VENTS that are sensitive enough to provide accurate readings after every ten seconds.
The clear LCD screen makes it possible for you to read it even from a far distance. Additionally, it has a durable stand so you can place it on the table beside your bed or on any surface, you want. Apart from the stand, it also features a magnetic stand and wall hanging design. Therefore, whether you want to hang it on the wall, place it against a metallic surface or place it on a non-metallic surface, the choice is yours. The multiple mounting options make it possible for you to place it in any room you want.
The only challenge you are going to have with this hygrometer is that it is small in size measuring 2.4 x 2.1 x 0.7 inches. However, I would recommend this hygrometer because of the lifetime warranty and multiple stand options in addition to its other great features.
HygroSet II Round Digital Hygrometer for Humidors
Not only is this hygrometer by Quality Importers Hygroset simple and easy to use, it also one of the MOST ACCURATE HYGROMETER with a 10 second refresh rate and an accuracy of +/- 2%.
It has a large digital display with numbers that are large enough so you can easily read them from a far distance.
The other great thing about this hygrometer is that it is compatible with most cigar humidors and has a magnetic back with double-sided sticker for secure and easy application. The two-sided tape comes in handy when you want to mount it permanently.
I also like the fact that this hygrometer can be easily calibrated using common household items. To change the readings from F to C degrees or vice versa, simply press the red button. The batteries can also last as long as four years, which is great because, you do not have to keep worrying about the batteries running out every now and then.
The only and biggest challenge is that this hygrometer does not work with exterior mount humidor models
Xikar Round Digital Hygrometer
This round hygrometer from Xikar is designed to give you accurate humidity and temperature readings minimal maintenance. With its standard size of just 1.75", it can fit in any space that an analog hygrometer with a humidor fits.
It reads humidity within a range of 20% to 95% making it very accurate. It also reads temperature in both Celsius and Fahrenheit. It comes with a protective sheath that keeps the batteries away from the contacts. However, before you use it, you have to remove the sheath since it cannot work with the sheath.
The hygrometer works great and quickly responds to various environments since it only takes a few minutes to settle in on temperature and humidity in the humidors. The accurate readings, ease of use and small, convenient size are some of the best features about this hygrometer and the reasons why I recommend it.
Ambient Weather WS-3000-X3 Thermo-Hygrometer
If you are looking for a hygrometer to measure both indoor and the outdoor temperature and humidity then you should consider getting this hydrometer. Even though it is designed with multiple features, this hygrometer requires no expertise when setting it up.
It has three remote sensors for both humidity and temperature, which display readings at the same time. It also has an alarm, which goes off once the temperature r humidity goes beyond your preset maximum or minimum readings.
For ease of use, the hygrometer allows you to set it on scroll mode so that you can view the indoor temperature and humidity readings every five seconds without having to press any buttons. One feature that I really love about this hygrometer is the fact that it can monitor humidity and temperature in 8 remote locations.
HDE Digital Hygrometer Indoor Outdoor Thermometer
This is another hygrometer that lets you keep track of the temperature and humidity both indoors and outdoors. It has a wired external sensor, which you can string outside the house to get the external temperature readings, and a built-in sensor for measuring the indoor temperature and humidity.
With this hygrometer, you will not have to get outside to know whether the weather is hot or cold.
For easy reading, it features a large display which shows temperature and humidity measurements simultaneously. By pressing the MAX/MIN switch, you get the maximum and minimum temperature and humidity readings.
It has a stand back so whether you would like it hanging on your wall or standing on the tabletop, the choice is yours. It works great in both confined spaces like the cannabis grow room, or outdoors. What I like most about this device is the fact that it is very reliable as it can measure temperatures as low as -50 degree Celsius to as high as 70 degree Celsius and humidity from 25 percent RH to 98 percent RH.
Digital Thermometer Hygrometer w Min/Max Memory & Remote Probe
This hygrometer has the ability to read temperature and humidity from far and is designed in such a way that it shows both temperature and humidity readings at the same time. Made by Incubator Warehouse, this device displays relative humidity of between 10% and 99% +/-5%.  Its memory function makes it possible for you to keep track of the highest and lowest temperature and humidity while you were away.
In addition, it is highly portable with a compact size of 2.5″ x 2″ x 0.5″. However, even though the size is small, you can still read very well since it has a large an easy to read LCD screen. It features a stand on the back for when you want to place it on a flat surface such as the table top and two magnets that are strong enough for easy mounting on metallic surfaces.
2 Pack Senbowe™ Digital Hygrometer Indoor Room Thermometer
If you love color and functionality, you will definitely fall in love with this hygrometer from senbowe. Designed in blue color, this hygrometer features a backlight and touchscreen making it very convenient in today's living. With a 4" large LCD touchscreen, using this hygrometer is as easy as a walk in the park. In addition, the big screen means that with just a glance form across the room, you can clearly see the humidity and temperature readings.
The highly visible readings make this hygrometer ideal for elderly people or people with eye problems.
For ease of use, the device features three placement options: the tabletop, the wall or magnetic surface. It has a retractable holder for when you want to place it on the table or any flat surface, a hole for hanging it on the wall, and a magnetic attachment for when you want to place it on any metallic surface.
Powered by two AAA batteries, the device provides accurate humidity and temperature readings, which are updated every 10 seconds.
Buying guide: Factors to consider when buying a hygrometer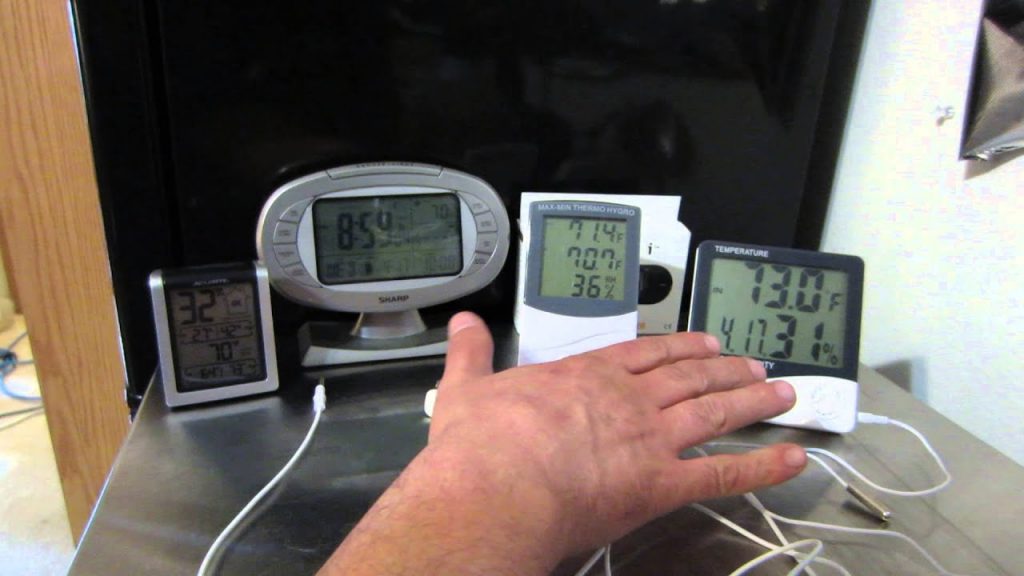 There are so many factors that you need to consider before picking a hygrometer. This is because the hygrometer you choose has to meet your needs. The following are some crucial factors you have to consider before making the purchase.
Accuracy
Accuracy has to be on top of your list because it is the most important attribute of a hygrometer that you should be on the look-out for. For instance, if your hygrometer is not accurate, your cannabis plants are going to suffer the consequences and you may end up suffering huge loses simply because the hygrometer is not accurate enough. However, when you have an accurate hygrometer you will know when to use weed humidifier to control the humidity levels.
When you look at the models reviewed above, you will notice that they all have different accuracy ranges and ratings. The most accurate hygrometer has a sensor accuracy rating of +/-1%, but a hygrometer with a sensor accuracy rating of up to +/-4% can also work well.
Ease of Use
A hygrometer that is not easy to use is not beneficial to you even if it has so many features. This is because you will end up trying to set it up rather than getting the readings. A good hygrometer is one that is extremely easy to operate. To know whether a hygrometer is easy to use, be sure to check on the user interface before purchasing it.
Another factor that makes a hygrometer easy to use is a large display. You need a display that lets you read it easily even from a far distance, a display that even elders can read with ease. In addition, the buttons and controls should also be easy to use.
Certification
Certification by The National Institute of Standards and Technology (NIST) is another factor that you need to be on the look-out for when selecting your hygrometer. This will also help you pick an accurate hygrometer because a hygrometer that is certified by NIST is a reliable and accurate hygrometer. In addition, if you are a weed grower, a NIST certified hygrometer would help you pick the best deep water culture for your plants.
Remote Monitoring
In today's world, internet is everything. People are so busy that a device which lets them carry on with their lives is very much welcome. The same goes for hygrometer with internet connection. With such a hygrometer, you will be able to monitor the temperature and humidity changes in the grow room or any room in your home no matter where you are.
Among the above hygrometers, there are models, which let you read the hygrometer while you are far away. These are the models that I would recommend you to go for because you will be able to avoid irreversible damages when you have such hygrometers.
Other features
Other than the factors listed above, the other features that you can also consider are the multiple mounting options, the recording of minimum and maximum temperature and humidity readings, and if you intend you get a hygrometer for the outdoors, then you should consider getting one with a rugged design to enable it withstand harsh weather conditions.
Conclusion
A good hygrometer will help you monitor the humidity levels in your room with ease. This will help you avoid causing damage to the property or possessions that you treasurer most such as your weed in your grow room.
Picking the best hygrometer is not an easy job, but with the above review of the best hygrometers, I believe you now have the knowledge to make the right choice. Be sure to take your time when picking the best hygrometer for you.
Top 5 Best Selling Hygrometer On Amazon: