With Christmas just around the corner, many people are busy shopping around for decorations to make their homes look brighter and charming for the festive season. Gift lists are also piling up for what to get friends and families. Some of the most important items on the list are wall decorations, Christmas trees; throw Christmas pillows and Christmas lights. Displaying Christmas lights is one of the most memorable ways to celebrate Christmas. They are striking, enticing and they go with every theme of the decorations you have around your home.
Christmas lights are an age tradition that never goes out of style. Many families string different kinds of lights both indoors and outdoors to make their places look livelier. Actually when you go around homes during the festive season, you would think there is a competition for who has the best lights on display. Christmas lights are not only a favourite with homes, offices, parks and recreational places, shopping malls and streets all transform during the festive season.
Read Next: Best Gifts for Stoners | for Weed Lovers That Aren't Cheesy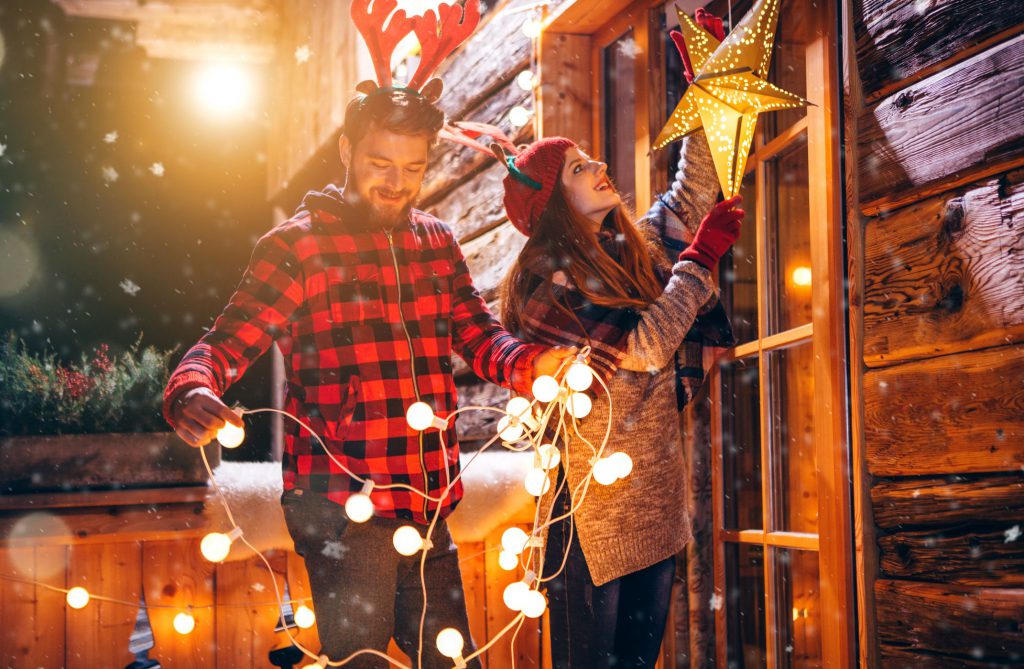 Christmas lights are seasonal. Some people use them for other occasions besides Christmas but majority of the people worldwide prefer lighting up their homes with extra lights during the the Christmas period. You can never have too many Christmas lights in a home or office or even in a shopping mall. In fact, the more the lights, the more sparkle you will add to your home. They are also some of the most versatile Christmas decorations. This is because you can use them anywhere both indoors and outdoors. You can use them as standalone decorations or as compliments to your other Christmas decorations like trees. Add some lights to the mantelpiece, the stairways, porches, around the pool and many other places, and you will have your home twinkling from miles away.
You can also choose how you want your Christmas lights. Some people prefer them very bright while others like them subtle and soft. You can also choose to go with bold light colours or sharp colours. Whatever style you fancy, you can get it from Amazon and many other stores. Before you go out buying your Christmas lights, you need to note a few things. The reason why it is important to note this is that many people assume that all the lights need is purchase and stringing. However, Christmas lights just like many other products need handling with utmost care. As popular as they are with many people, there are unscrupulous people out there that can sell you lights that do not work well or meet your expectations.
What is the symbolic of Christmas Lights?
Many people ask this question and there is a belief that people put up Christmas lights so Santa can find his way to the homes. However that's a story told mainly to children and Christmas lights mean much more to Christians than just Santa finding his way to deliver gifts. Christmas lights symbolise the start night that Christ came into this world. Many people use the lights as symbols of the star of Bethlehem which was the first sign signifying the birth of Christ.
The lights also symbolise the light of Christ. In many churches, people use candles as a symbol of the eternal light of Christ. Since burning up candles would be cumbersome, lights replaced them to give the same meaning. The lights are also a symbol of the good in this world, hope and light. The lights are also a reminder to Christians to follow the way of Christ and the path of right and righteousness.
Things to take into account before you buy Christmas lights
Be specific on the places you want your lights for safety
Many people have the assumption that it does not matter whether you need Christmas lights for indoors or outdoors because they can serve both places. That is where many people go wrong. When you are buying your lights, you have to be very specific whether they are for indoors or outdoors because they are different. Lights certified only for indoors cannot fit well outdoors. Outdoors Christmas lights can withstand harsh weather conditions like water, hazards and they are not a hazard to the plants like trees. Indoors lights are different and majority of them cannot withstand harsh weather conditions.
Before you purchase, make inquiries as to whether the lights are for indoors, outdoors or can serve both places, if you are using stored lights, the plug can tell you where the lights belong. If you cannot verify by looking at the plug whether the lights are for indoors or outdoors, do not use them until you get a specialist to direct you on where to string up your lights. Using indoors lights for outdoors can cause harm. Harsh weather can make them blow up and this could even start a fire. Outdoors lights if used indoors can also become a problem because they get extremely hot. This too could cause a fire if ignored.
Your power supply
In most cases, you will get two different types of lights. Those lights powered by batteries and those that use electricity. Majority of Christmas lights use electricity so before you purchase, make sure you have a good power system. Check that everything from the sockets, to the connections and cables are all safe. By safe, it means they should be waterproof because moisture is dangerous to any electric circuit. If you do not have proper covers for the sockets, make sure you purchase good ones.
To make the electric circuit even safer, buy a safety gadget like the RCD adaptor. This will protect your lights especially when there is a surge in electricity. The adaptor helps to cut down the power supply this protecting your lights from any damage. Many of the lights come with electric timers that allow them to go on and off at intervals or when you want them to go on and off.
If you opt to go with battery-powered lights, make sure you check the state of the batteries. Running the lights on batteries is cheaper but the lights are not as bright as electric powered lights.
Prices
Do not go for the first box of Christmas lights that you come across. Make sure you carry out enough research to compare different prices for the same item from different stores. Go with the store that offers the best price. Do not go for cheap lights in the name of saving money because the lights may disappoint you. Cheap is not always good but make sure you do not go beyond your budget.
Bulbs
Majority of today's lights mostly use LED bulbs. LED means light emitting diode and these lights are very efficient in energy saving. Compared to the traditional incandescent bulbs, they are very safe especially if you have children around the house and they do not overheat.
Advantages of LED Christmas lights
Christmas lights mostly go on for the whole night once you switch them on. The advantages of using LED lights are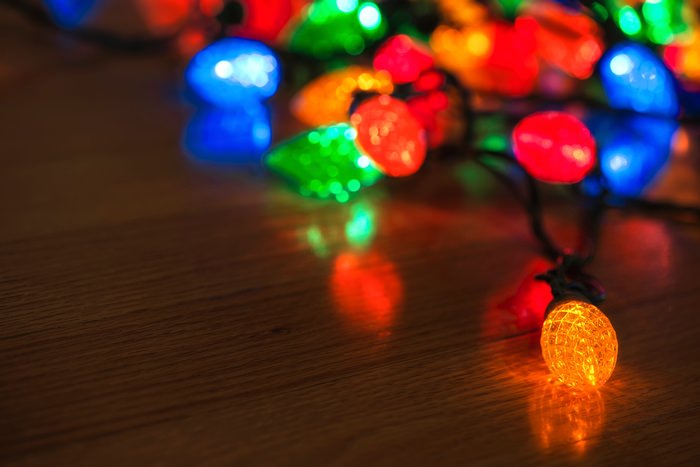 Saves costs
When you are buying them, they are more costly than the other traditional bulbs. However in the end, they save more energy than the other bulbs. LED Christmas lights use about a third less power than the other bulbs. You end up saving much more when you use then than when you use the less expensive bulbs
Eco-friendly
LED bulbs are eco-friendly because they sake on energy. This means less natural resources goes into producing more energy. This also reduces pollution, something that does not happen with the use of incandescent bulbs.
Durable and long lasting
One of the reasons why LED bulbs are slightly more expensive is because they last longer than the traditional bulbs. The normal life of the bulbs is 10 times better than the traditional bulbs. They can stay past 4000 hours of use without reducing their light effects. One of the reasons why they last longer is because they do not have filaments like their counterparts that burn and heat out after long use.
They are versatile
LED lights come in more options than the incandescent bulbs. You can choose the shapes you want and the amount of light you want. They also come in different appealing colours and the quality of the light is very good.
Easy to maintain
LED light are very easy to maintain and store. Once your holiday is over, all you do is toss them in a box without the fear of them breaking up. This is because they are plastic and you do not have to spend hours wrapping then up so that they do not break. If they get dusty, you can easily wipe the dust away without the fear of damaging them.
The only drawback to the LED lights is the initial price. This however is not much, considering how much you will save once you start using them.
Types of lights
Christmas lights come in different types. They also come in many colours and different shapes. Some of these types work well for outdoors but do not look too good indoors, make sure you differentiate the types of lights you want for the outdoors and those that look good indoors. Outdoor Christmas lights come either in strings or as novelty lights.
String lights
Strings lights are the most popular Christmas lights in the market today. Also known as fairy lights, they are very versatile and you can use them in many different ways. You can hang them on any place that you deem fit like on the window frames, on the roof, along the fences, around tree trunks, on the eaves and just practically any other place you think they can fit well into. String lights also come as rope lights with encased bulbs in plastic tubes that are very flexible.
Other fairy lights you can use for your outdoors are icicle lights. The lights look like frozen icicles and you can hang them anywhere around your home. They are also very colourful and eye-catching. When the lights turn on, it looks like dripping water from icicle.
Other kinds of string lights you can use are net lights. Net lights come in a square grid and they are best for draping anywhere around your home. You can drape them over your bushes around the house, and shrubs to make your garden sparkle with life.
Novelty lights
Novelty lights come in beautiful Christmas themed silhouettes. You can buy either in pieces or in sets. They are very convenient to put up and you can decide to either have them hanging anywhere around your home or have them freestanding. Some of the most novelty light shapes are stars, baubles, Santa, trees, Angels and reindeer. You can choose either inflatable novelty lights or those that come with wires. The inflatable lights, light up from the inside.
If you want to make a further statement, look for moving animated figure lights. They are showy and very attractive, they can nod, wave and move and make the place look even more charming and more alive. The lights from golden colours to white and blue toned among many others.
When is the best time to hang Xmas lights?
Some people wait until the last few days to Christmas to hang their lights. With all that goes on around during this time, that is not the best time to hang your lights. If you rush the hanging of your lights, you may end up with a ridiculous looking Xmas lights pattern. The best time to hang the lights is before the weather gets extremely cold. This is when the weather is favourable because it is also safer.
Climbing up walls and trees on a ladder when it is wet can be extremely dangerous. It is also inconveniencing to work outdoors when the weather is terrible. Even if you do not do the actual hanging when the weather is favourable, you can carry out all the preparations so that what remains is just to connect your lights to the cable. It is also very important to test all your Xmas lights before hanging them. This is so especially if you are retrieving them from the garage or any other storage place. Also, make sure you go shopping for your lights early to avoid a last minute rash to the stores.
Best Christmas lights Reviews
Below is a look at some of the best Christmas lights in the market today. You can get all these and more from Amazon.
Koopower
Koopower is a LED string light best suited for indoors. It comes with a remote and a timer. It is affordable and versatile because you can use it many other occasions besides Christmas. The LED string light has a great light effect that gives you eight options. The 8 light effects are chasing, slow fade, combination, sequential, twinkle flash, steady on, in wave and slow glo.
The timer helps you to programme the sequence by 6 hours on and 18 hours off. This will continue until you switch it off or until the timer battery runs off. It uses very low voltage, so you save costs on electricity use. The LED bulbs stay cool at all times which means they do not consume much energy. The string light comes mounted on a clear cable allowing the LED lights to provide both elegance and warmth to your home decorations.
The string light is 69 ft. long, with a string length of 20 metres and an extension of 1 metre. It also comes with one remote control
Pros of Koopower
Comes with a wireless remote control

Has a timer that only stops when you switch it off or the battery runs out

Comes with 200 white LEDs that give a warm glow to the room and enhances other decorations

Light is very calming

Adjustable brightness

Long string that can cover a large area
Cons
You can only use the light indoors
Hofert Everglow 2980-22 100 Clear White Wire Light Set
This light gives out the perfect white lighting that fills the room with warmth and calmness it is good for both weddings and Christmas and any other occasion you may want. The lights are good for indoor decorating. The box comes with 100 Christmas lights. There is spacing in between the bulbs that have a voltage of 2.5 volts. They have an end to end connection with a total string length of 18 ft. with an additional cable length, the total comes to 20ft. the light is very affordable
Pros
Has a beautiful white colour that illuminates the room giving it a soft feel

Bulbs have a low voltage, which saves on energy

The numbers of bulbs means they can cover illuminate a large surface area

The length of the string is very convenient
Cons
The bulbs are not LED so they consume a lot of energy

They do not come with a remote, which means it could get cumbersome controlling them

They do not come with a timer

They are only good for indoors
Noma/Inliten Holiday Wonderland's 300-Count Mini Multi Colour Christmas Light Set
The above is a multi-coloured string set good for both indoors and outdoors. It connects 3 sets of Christmas lights, which makes the set versatile. You can use for various projects around your home. The set contains 2.5 voltage incandescent bulbs with 3-inch spacing among each one of them. The wire that connects the bulbs together is green in colour and the length of the light is 39 inches. It is also compatible with several other gadgets and comes with a replacement fuse, 2 extra-large bulbs and 3 flasher bulbs. You can only connect a maximum of 130 lights on a maximum of 3 strands.
Pros
It is affordable

Good for both indoors and outdoors

Has a multi-coloured string-to-string light set

Has a colourful green wire

Comes with several light strands

Can connect 150 lights

Has a warm comforting light

It is versatile
Cons
The bulbs are incandescent so the energy consumption is high

Does not come with a remote

Has no timer

From some reviews, one of the wires blinks off after some time
Brizled Faceted C9 LED String Lights
This is 16ft fairy LED string lights with 25 bulbs. They are not only good for Christmas but many other occasions too. They come in 3 warm white colours and they look amazingly beautiful. They a very low power consumption rate and they are always cool to the touch at all times. They have a bulb life of over 25,000 hours and are both durable and resistant to any breakages. The lighted length of the light is 16ft and with the cable, connection adds up to 17ft. the connecting wire is green in colour and it comes with a replaceable fuse plug. This LED fairy Christmas light also comes with extra LED bulbs and an extra fuse. Electrical rating of the light is 2.4 watts, 60Hz, 120v and 0.02A.
Pros
Has beautiful warn white colours

The bulbs look beautiful

Bright light that warms the whole room

Low electric consumption by the bulbs thus saves costs

Great for many occasions and not just Christmas

Affordable

Comes in sets making it convenient

Comes with extra bulbs and a replaceable fuse
Cons
Is mainly good for indoors

Does not come with a remote

Does not cone with a timer
Lalapao 2 Pack Solar String Lights
The above is an outdoor string lighting powered by 200 LED modes solar bulbs. The lights are waterproof and great for garden Christmas trees. The fairy lights are also great for other occasions like weddings. The lights come with a user manual and they turn all white when you switch them on. The lights can run up to 10 hours nonstop when they are fully charged. You can use then indoors to brighten up the Christmas trees. They come with 2 switch buttons, and a string that is 22 metres long. The plastic material on the lights is durable and they are very easy to put up.
Pros
They are solar powered so they consume no electricity

Eco friendly

Warm while colour that makes the places round them come to life

Good for both indoors and outdoors

Waterproof

Durable

Comes with a user manual

Comes with an ON/OFF switch

Affordable
Cons
Uses rechargeable batteries
Good Tidings Holiday Light Set
Good tidings holiday lights are multi-coloured ceramic lights that come in a set of 25 bulbs. The lights are C9 style and stand on green wire strands. They are good for both indoors and outdoors lighting. The bulbs are easy to screw in and out, which makes it easy to change them. The space between the bulbs is 12 inches, the lighted length is 20 feet and that with the cable length comes to 24 feet.
Pros
The lights are affordable

They come in different beautiful colours

Good for both indoors and outdoors

Easy to screw in and out the bulbs in case they burn out

They bring out the old-fashioned Christmas feel
Cons
The bulbs are not durable and you cannot use them for many repeat seasons
Conclusion
Get into the Christmas spirit with the above lights and enjoy a bright Christmas. Shop at amazons for a variety of other Christmas lights that will go well with whatever decorations you have going on around your home. Christmas lights bring joy and warmth to every home. Whether you choose to go with incandescent bulbs or LED bulbs, you will still enjoy what they have to offer. However remember if you want to save on electricity, then LED bulbs will do you much better that the traditional incandescent bulbs. Enjoy your Christmas and enjoy the sparkle from your Christmas lights.
Read more: