Though it is considered illegal in most federal states, marijuana, or cannabis business is an exciting business that has experienced growth over the past few years. In the states where it is legal, marijuana business attracts a variety of investors due to the fact that the business is promising.
One of the reasons why marijuana business is growing at a fast pace is because in most US states, marijuana medical programs are used in the treatment of various medical conditions like psychiatric disorders, cancer and general pain management. Therefore, if you are thinking of venturing into the marijuana business, do not think twice.
However, before venturing into the marijuana business, you need to make sure you have the necessary equipment like the weed scale. With a good weed scale, you can avoid being ripped off by your local dispensary. Below are some of the best digital weed scales on the market.
Top 10 Digital Scales For Weed On The Market
Smart Weigh SWS100 Elite Digital Pocket Gram Scale
One of the great things about this weighing scale by Smart Weigh is the fact that it has a very clear screen display that has a stark contrast LCD blue backlight and large size digital that are easy to read, so you will not have trouble reading the measurements. With a weight capacity of 100 grams, this scale is durable and can be used to weigh your weed conveniently and efficiently. It features buttons that are easy to use, and has all the common measurements for easy weight translations such as ounces, grain, gram and carat.
To set the measurements, simply press the mode button. The scale is pocket size making it very portable for when you want to move with it. To ensure accurate readings, the scale is made with high precision sensors. It features a protective cover, which measures 2.5 x 3.0 inches that can serve as a weighing tray.
Even though there are times when the scale readings are less than 0.1, the scale is one of the best you can find.
American Weigh Scales Signature Series Silver 
Made by American Weigh, a trusted brand when it comes to weighing scales, this digital weighing scale has a capacity of up to 1 kilogram. It also features an LCD screen that is clear enough for easy reading of the measurements.
With this scale, you will not have to worry about the safety of the weighing surface as it features a flip-open lid that covers the stainless steel weighing surface when not in use. It is silver in color and is powered by two AAA batteries.
The scale measures in oz., ct and gn. However, the weighing area is very compact but if you are looking for a portable scale, then you will not mind the small weighing area. The scale is very lightweight with a weight of less than 2kgs. It is also cute and inexpensive when compared to other scales.
The disappointing thing about this scale is that the lid that covers the weighing area does not shut all the way. However, other than that, the scale is great.
American Weigh Scales GEMINI-20 Portable MilliGram Scale
This is another cute weighing scale from American Weigh. Just like the previous one from American Weigh, this scale is also powered by only two AAA batteries. However, unlike the previous one, this scale requires Polaroid AAA batteries for best results. With a 20 grams capacity, this scale is best for measuring small quantities of weed. It features six weighing units; g, oz., dwt, ozt, ct and gn/gr.
The fact that this scale measures in increments of 0.001 rams means that you get precise measurements. The scale is highly portable due to its small size and features tweezers, calibration weight and tray. It also has a flip-down shield for covering the delicate weighing surface so you get accurate measurements. However, you might want to be exercise some caution when measuring powered weed as the powdered weed can easily make it way down the device and cause it to eventually malfunction.
Etekcity Digital Touch Kitchen Scale Multifunction Food Scale 
Made in a unique and beautiful design featuring a smooth tempered glass platform for easy cleaning and general maintenance, this scale by Etekcity is slim enough to fit in practically any space. However, do not let the slim design fool you as the scale can withstand up to 13 pounds of weight and you do not have to worry about overloading it and spoiling it by accident because the scale features a safe overload indication that will automatically alert you when you overload the scale.
Besides the overload indicator feature, the scale also has a low battery indicator that alerts you in case the scale batteries are running low. To save the batteries, the scale features an automatic one-minute shutoff that ensures it goes off after one minute of inactivity. With this great feature, you get to save your batteries and do not have to stress yourself by going back to the scale to check whether you shut it off after use.
The scale also features the tare function that lets you deduct the weight of the container you use to measure from the total weight so you can get the net weight of the contents of the container.
Even though the automatic feature is great for saving batteries, it is however annoying when it turns off in the middles of your attempts to measure something that might be problematic to measure. All in all, it is a great scale worth purchasing.
Weighmax Electronic Kitchen Scale
Sometimes it is not easy to find the right scale to measure powdered weed. However, with this scale, you do not need to look for a container to put whatever you want to measure as the scale features a removable bowl that is easy to clean. The bowl also serves the purpose of ensuring that your weed does not fall off the weighing scale when you are measuring. Made by Weighmax, the scale has back-lit LCD display that makes reading the measurements very easy. It has a capacity of 2kgs/5lbs with a sensitivity of 0.1oz. The scale allows you to measure using three units; pounds, ounces and grams.
To measure using the bowl, first place the bowl on the scale, then turn on the scale, put your weed in the bowl, and then take your measurements. Make sure that you put the bowl on the scale before turning on the scale. If you do otherwise, the measurements are not going to be precise. You can also use another bowl beside the one that comes with the scale. The on/off feature acts as the tare feature.
Horizon PCC-100 Digital  Scale and Calculator
The great thing about this scale is that it comes with a calculator making it easier for you to make your other calculations as you measure your weed. It features a stainless steel platform, back-lit LCD display for easy measurement reading.
The calculator that functions perfectly is solar powered so you get to save you get to only batteries for the weighing scale only. The scale is small enough to fit in your pocket and comes with a leather protective pouch that looks cool.
Weighmax EX-650C Black Digital Coin
If you are looking for a scale to measure your weed in small quantities, this is it. Made by Weighmax, this scale has a capacity of up to 650 grams. In case the weighing area is not enough for your weed, you can pop off the top cover and use it as an additional weighing area. When turned down, the top cover also serves as a protector for the weighing area when.
The scale is also small enough making it easy to carry around with you. It features an automatic energy-saving shut-off that prevents energy loss when not in use. The scale weighs in g, ct, oz. and ozt.
However, the scale does not feature perfect accuracy as you may not get the same measurements each time you put your wed on the scale. All in all, given its affordable price, the scale is pretty good.
Digital Touch Pocket Scale 0.01oz
Made by Tomiba, this weed scale comes with its own measuring cup for those times when you want to put your weed in a container before you measure it. It has a meticulous accuracy and weighs up to 3 kilograms with measuring increments of 0.1 gram. It is small enough and lightweight making it portable.
With diverse measurements including g, oz, ct, dwt, gn and ozt and a precise touch control panel, this scale is definitely worth every penny. It also has the tare function that comes in handy when measuring using a container. For stress-free maintenance, the scale is made of stainless steel with a great platform strength that makes it easy for the scale to withstand heavy weights given its small size. It comes with a scale cover for effortless and safe storage. The scale cover can also be used as a tray for measuring the weed.
Smart Weigh Digital Pro Pocket Scale 
The best feature of this weighing scale made by Smart Weigh is the hold feature. The hold feature lets you hold the weight readings so you do not have to rush read the measurements. The hold feature ensures that the weight readings are available for a long as you want. You can even weigh your weed, hold the readings and go about your business, which might involve making other calculations.
It also has a counting function that is ideal for when you want to count rather than weigh your marijuana. To use this function, simply pace the weed on the scale and let it do the counting on your behalf.
Besides the counting function and the hold feature, the scale also has numerous measurements including g, gn, oz., ozt, dwt and ct. It also has the tare function for when you use a container to weigh your weed.
However, the scale only reads to the nearest 1 grain and some button keys are difficult to see and read. Nevertheless, the scale is sturdy and looks amazing.
Digiweigh DW-BX Digital Pocket Scales
Made by DigiWeigh, this scale has four modes of measurements and a capacity of 600grams/386dwt/21.2oz/19.2ozt. Like most of the scales reviewed above, this scale also features the tare function that makes is possible to measure your wed using a container. It comes with two AAA batteries and has a stylish platform that makes it look awesome. It is also very portable because of its small size and its design can match practically any décor.
To ensure durability, the scale is made using high quality materials as well as an integrated design that ensures reliability and accuracy. It is also very easy to clean and the price is reasonable.
Where to buy a scale for weed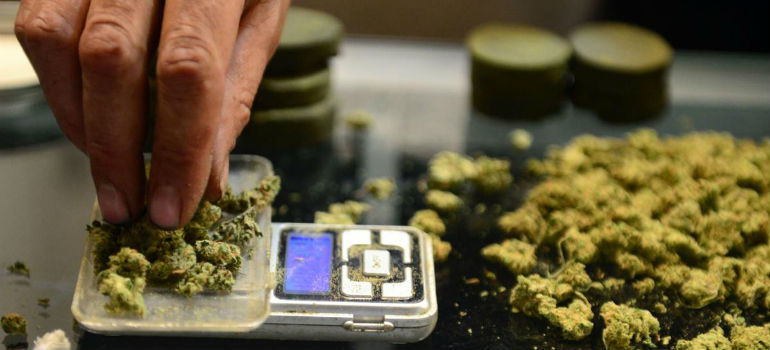 You have probably looked for a weed scale in your local supermarket. The truth is, even if most local retailers sell weighing scales, these scales are not ideal for measuring medical marijuana. This is because most of the weighing scales sold by the local retailers are made to be used in weighing items like food, arts and crafts, and postal. For such tasks, there is no issue if the scale weighs in increments of a single ounce.
However, if you want a good gram scale that weighs high value items like medical weed, then you are going to need a scale that weighs by the fraction of a gram. Even though you can hardly find such a scale in the retail store, there are still other places where you can find these scales for measuring weed. The following are some of these places.
HerbScales.com
HerbScales.com is run by people who have used medical marijuana and therefore know the challenges that come with trying to find the right weed scale. They have done extensive research and have some of the best weed scales you can find out there.
At HerbScales.com, you are guaranteed to find the best weed scale and even though the price might be high compared to other places, you can be sure of the quality of the marijuana scale. The site offers free shipping and free returns in case you are not satisfied with your purchase.
Head shops
The disadvantage of purchasing a marijuana scale from a head shop is the high price. The head shops are costly to run and these costs affect the cost of the items that they sale including the weed scales. Thus, even if you are going to buy a good weed scale there, be ready to go deeper into your pocket.
Besides the high price, the other disadvantage of buying a weed scale at a head shop is the lack of variety. Since head shops do not specialize in gram scales, you may end up with only a few scales to choose from.
Arts and Crafts stores
Even though you might find a good gram scale at the arts and crafts store, finding a local arts and crafts store might be tricky.
Gas station
There are many gas station located in the un-down parts of town selling gram scales. At these gas stations, you can also find pipes and grinders. However, the challenges at the gas station stores are similar to the ones you encounter at the head shops, which mainly include high prices and lack of selection. However, finding a gas station selling gram scales might be another challenge all together as it is not easy to figure out which one sells and which one does not.
EBay/amazon
Most people visit these sites when they are looking for scales. So you have probably thought of trying your lack at any of these two sites if not both of them, However, even though the chances of you getting a weed scale on either of these two sites are high, you are probably going to get a Chinese version of the original gram scale. The good thing is you are going to spend less money that you would have spent purchasing the original gram scale. However, this does not mean that the scales are not functioning properly.
The other great thing about EBay and Amazon is that you get to choose the scale you like most from the multitude of scales available. Out of all the above options, EBay and Amazon are the best places to look for gram scales because not only are you sure to get one there, you also purchase them at very affordable prices and you get to pick from a huge selection.
Factors to consider when purchasing a weed scale
It is easy to get confused with the huge variety of gram scales especially if you are shopping for the first time. To help you in making the right choice, the following are some of the factors you should look out for when buying a weed scale.
Size
The size of the weed scale will determine whether the scale is portable or not. A good weed scale is one, which is portable, one that you can carry around in your pocket if possible. Therefore, it means that you should consider the small sized weed scale to ensure you carry it around with ease. However, of you are looking for a scale to use primarily at home, then portability will not be your number one requirement. A medium duty model will be fine for home use.
Accuracy/Measurement precision
Measuring weed or medical marijuana requires a high level of accuracy when taking the measurements. A scale with wrong readings can cause many problems especially in the case of medical marijuana. Some models measure down to one-hundredth of a single gram while others only measure down to a tenth. Therefore, the best pick here will be the one with a higher precision.
Weight Limits/Capacity
Some gram scales have a weight limit of up to 600 grams while others go up to 3 kilograms. In order to pick the right scale, you need to consider the amount of substances that you are going to weigh, in this case, weed. The scales with less capacity are best for measuring small quantities while the scales with high capacity work best when dealing with large quantities. Therefore, you have to consider the amount of weed you are going to measure before you make your choice in terms of weight capacity.
Features
Some gram scales come with measuring bowls while others do not. Some have additional functions like the hold and the counting functions while other lack these functions. You might find a scale with one great feature but lacking in other features so the best thing you can do is to pick the one with the features that best suit your needs. The number of measuring modes is also another factor to consider.
Certification
It is important that you ensure your weed scale has certification from the National Type Evaluation Program (NTEP) in case you want to use it for commercial purposes. NTEP has the duty to ensure that weed scales follow its specifications in terms of their capacity, accuracy and how the scales are affected by changes in temperature. NTEP is a body that was put in place by the National Conference on Weights and Measures (NCWM).
Conclusion
It clear from the information above that in order to have the right scale, you have to be ready to spend your money. Nothing comes cheap and what seems to be cheap might turn out to be expensive in the end. Besides, if you love your weed business, you have to ensure that you have the right equipment to help your business grow. To make you work easier, we have listed for you ten of the best weed scales so now it is up to you to make a choice.
Read more: