Tomatoes are some of the most popular vegetables worldwide, and growing them is both challenging and rewarding. Many people grow their tomatoes indoors for different reasons. One of the main reasons is that they can harvest tomatoes any time they want, irrespective of the season. It also means that if they are doing it for commercial reasons, they will always have a constant income flow.
Others prefer to grow their own tomatoes because they like their organic, which they do not get from the stores. Growing tomatoes indoors requires suitable artificial light sources that can provide the same or almost similar natural light provided by the sun. The light temperatures tomatoes need to grow healthy, strong with high yields is between 75 and 80 degrees Fahrenheit.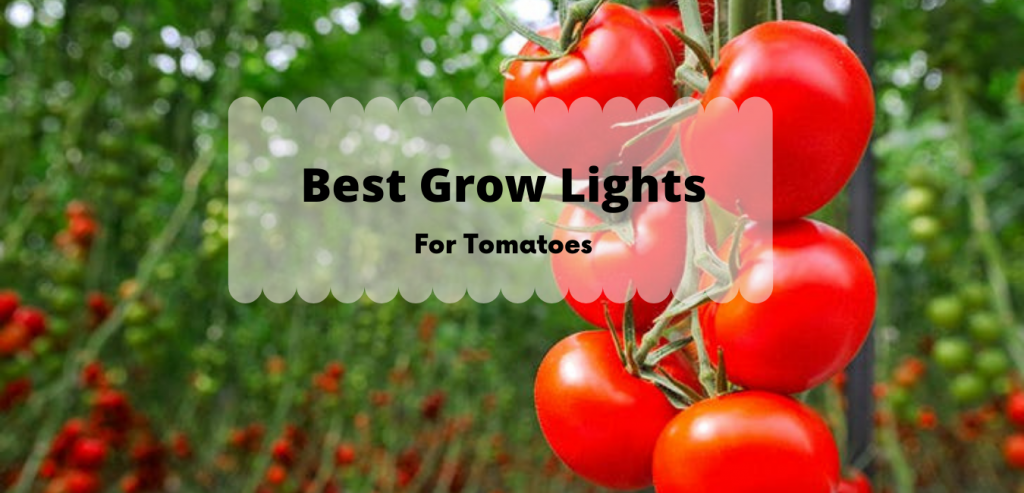 With the help of a tomato grow light, growers can enjoy the benefits of fresh tomatoes from their gardens any time they want. Whatever reason you have for growing your tomatoes indoors does not matter as long as you have the right tools and medium for your vegetables. One of the must-haves for indoor tomato growing is a tomato grow light, and we reviewed some of the best on the market and came up with the following picks.
Read next: How to Grow Hydroponic Tomatoes
Our top picks
U-MAX Sunlike Full Spectrum Waterproof Plant Grow Light
One of the best grow lights for growing tomatoes is the highly efficient U-MAX Sunlike Full Spectrum Waterproof Plant Grow Light. The light features full-spectrum lighting provided by 832 pieces of white lamp beads and 104 pieces of red lamp beads, enough for all stages of tomato growth from seeding to fruiting. It is suitable for 6 X 6 ft during the vegetative phase and 5 X 5 ft during the flowering stage.
Moreover, the tomato grow light provides excellent energy efficiency, and it is compatible with the latest lead lamp beads and MEAN WELL drivers. The construction includes a 1.9-inch thick and solid aluminum heat sink with the perfect heat dissipation and a waterproof cable protective cover and power connector that provide you with more opportunities to plant your tomatoes without the fear of water damaging your light kit.
Furthermore, the light system comes with a service lifespan of more than 50,000 hours and a five-year warranty, which you do not get from many other brands. It has a no-fan design, which makes its operation quiet.  You also get two lifting ropes in the package, a wire hook, a 4.5-foot cable, and an instruction manual. The grow light has ETL, UL, and CE approval, and it is ideal for commercial indoor setups, greenhouses, and grow tents.
Pros
Solid construction
Energy-saving design
Long lifespan of 50,000 hours
Full light spectrum
Five-year warranty
Easy setup
Cons
It does not provide dimmable options.
It can get extremely hot and bright
HYSTORM 2000W LED Grow Light Full Spectrum Double Chips Grow Lamp
The HYSTORM 2000W LED Grow Light is an upgraded full spectrum light ideal for the hydroponic growing system and all the stages of tomato growth. The grow lamp is a powerful grow light that uses nine LEDs that mimic the natural sunlight to ensure plants get the spectrum and brightness they need.  The monochromic LEDs emit IR, UV, Blue, Yellow, Deep Blue, Orange, White, and Red lights.
Furthermore, the tomato grow light comes with the two most essential switches VEG and BLOOM, which help the plants, get enough light during their respective growth stages for better and healthier yields. The highly efficient grow light is also energy efficient at it has a consumption of only 401 watts.
One of the other features that make the grow light unique is its handmade heat dissipation design, making it reliable. Additionally, it comes with an automatic on/off switch, a long lifespan of 10,000 hours, a 90-day unconditional money-back guarantee, and a four-year warranty.
Pros
Powerful and full-spectrum lighting for different growth stages
Energy saving
VEG and BLOOM switches
Reliable handmade design
Auto on/off switch
Long lifespan of 10,000 hours
Four-year warranty
90-day money-back guarantee
Easy to setup
Cons
It does include an inbuilt cooling fan
It can get extremely hot
Xingruyu 150W LED Grow Light
One of the most effective 150-watt tomato grow light to use is the Xingruyu LED grow light with a 380 nm to 780 nm wavelength range. The grow light provides full-spectrum lighting with the aid of 414 pieces of high-quality LEDs made of red, blue, and warm light. The LEDs have enough light to mimic the sun's natural light, making them suitable for all the crops stages of growth.
Moreover, the grow light has a 180-degree adjustable design that allows you to provide the plants with suitable light illumination by adjusting the lamp and plant's angle accordingly. The feature helps to promote healthier plant growth. The design is also waterproof, with a heat sink that accelerates heat dissipation, ensuring the lamp works at an average temperature.
A built-in pc cover prevents water mist or moisture from getting to the light beads, making them safe and reliable. You can power the 150-watt lamp using the regular AC socket or a USB connector, and to make it convenient, the set comes with a power cord and USB power plug. The lamps actual power consumption is approximately 35 watts making it great on energy saving.
Furthermore, the lamp comes with a wide application as you can use it for other indoor plants besides tomatoes. It is suitable for grow tents, greenhouses, hydroponics, a large variety of indoor plants that include herbs, flowers and veggies, and all stages of growth.
Lastly, the grow light has a 50,000 hours lifespan, which is an equivalent of about five years or more, a 90-day no fuss money-back guarantee and a three-year manufacturer's warranty.
Pros
Highly effective full-spectrum light
It consists of 414 LEDs
Versatile
Heat dissipation sink
Waterproof construction
One-year warranty
90-day money-back guarantee
Powered through both USB and AC
Long lifespan
Cons
Light can be too bright for the naked eye
It does not include a timer switch
AeroGarden 45w LED Grow Light Panel, Black
If you are looking for a versatile but affordable tomato grow light that will nurture your tomatoes from the germination stage to fruiting, you will do well with the AeroGarden 45w LED Grow Light Panel by MiracleGro. You can use the light in a hanging position or tilt it on its stand, and to make it convenient to use, the unit comes with a hanging kit and a stand.
The grow light comes with a lifespan of 30,000 hours, easy setup and use and an affordable price. The grow light is compact, lightweight, easily portable, and compatible with all growing medium.
Pros
Made by a reputable manufacturer
Versatile-you can use it hung or on a stand
Lifespan of 30,000 hours
Nurtures plants from germination to fruiting stage
Provides full-spectrum light
Adjustable 360-degree stand
Cons
Legs are not too steady
It does not include an auto on/off switch
Legs are too short
Wolezek Upgraded 4-Head LED Floor Grow Light
Wolezek Upgraded 4-Head LED Floor Grow Light is another reliable tomato grow light that comes with fantastic features. It has two controllers-line-in and RF, that support ten adjustable brightness levels, three switch modes, and an auto on/off cycle timer. The timer sets the cycle at 4, 8, and 12 hours depending on the plants' needs.
Additionally, the grow light comes with an adjustable tripod stand that extends from 11 to 63 inches for broader coverage. It is the perfect choice for different types of indoor plants and suitable to use in different places. The places you can use the grow light include the greenhouse, balcony, living room, darkroom, and office. You can also use it for tall and large plants, as well as potted plants and flower shows.
Lastly, it is easy to set up, use, and it comes with a 12-month warranty and 30-day money-back and satisfaction guarantee.
Pros
Reliable 4-head full-spectrum light
Two controllers
Ten brightness levels
Three switch modes
Auto on/off timer
Adjustable tripod stand
It comes with an easy setup and ease of use
One-year warranty
30-day money-back guarantee
Long cord for flexibility
Cons
The Tripod stand is not too strong
Related Post:
Wrapping it up
Tomatoes need direct sunlight for at least six hours or more for them to flourish. People living in warm climates have no problems getting the natural direct sunlight just as long as they tend to their other needs. However, not everyone enjoys the type of natural environment that tomatoes need, so others opt to plant them indoors. Growing tomatoes indoors requires light, which is very similar to the natural one.
You can only get that kind of light from a reliable tomato grow light with enough LEDs to mimic the suns light. The above grow lights are some of the best on the market for growing tomatoes from the seedling stage to their fruiting phase efficiently. They are easy to set up and use, provide full-spectrum lighting, affordable and come with other features that make tomato growing both fun and easy.