For the effective marijuana growth, you need a lighting system that gives the plants enough coverage. While there are many different kinds of LED grow lights that provide full coverage to the grow space for effective cannabis growth, not all of them come with the most unique features.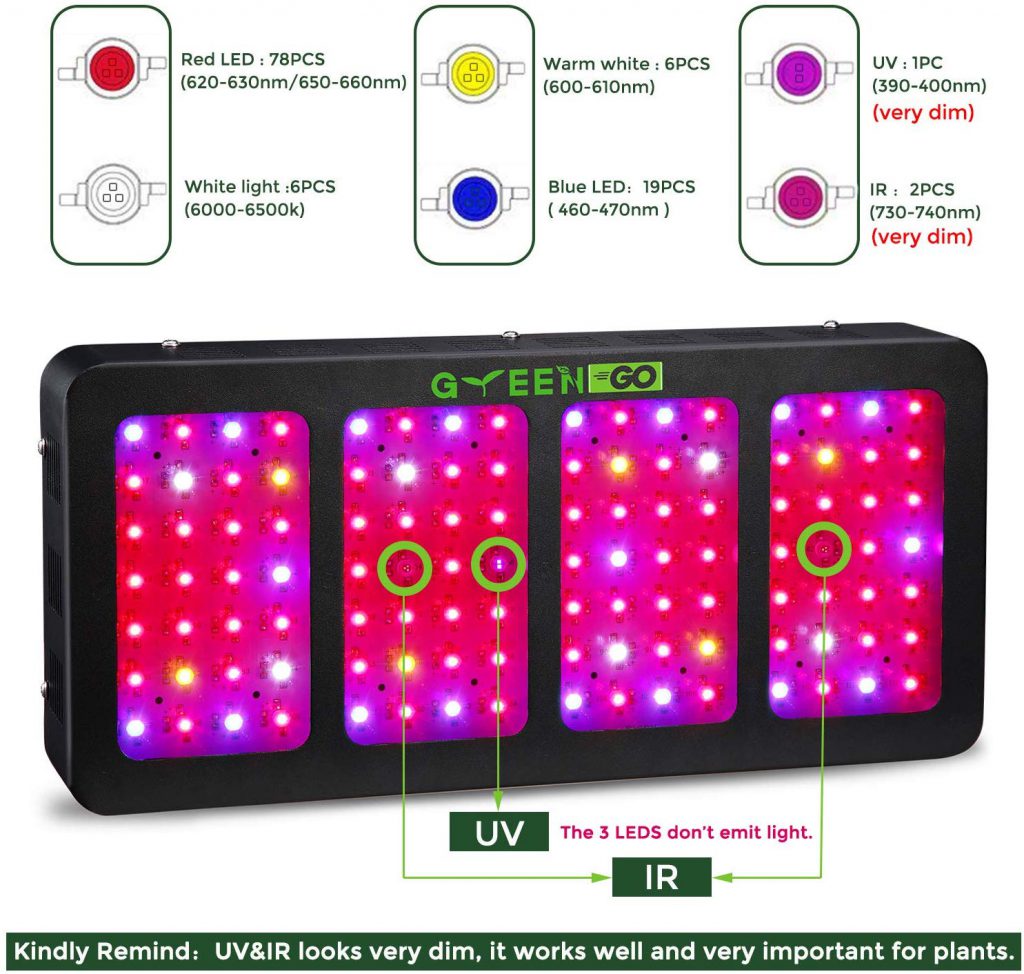 The GREENGO 1200w full spectrum LED grow light is one of the lights you can rely on for the best coverage. The large LED grow light comes with features that you will not find in many of the other LED grow lights that include its wide coverage and its durability. Below is an overview of the this LED grow light.
See also:
Summary of the features
Large grow lights
Heavy-duty construction
Daisy chain socket
Three fans
Heat sinks
Triple chip LEDs
Zen diode design
Cooling system
Full broad spectrum light
Overview
GREENGO 1200w LED grow light is by far one of the best led grow lights in the market today. The Turkish grow light has many amazing features that make it a favourite with many cannabis growers. One of the many attributes of the grow light that makes it popular is its affordable price. The grow light provides the crops with unmatched light coverage that leads to high quality and better yields. Below are the features that make the grow light stand out.
Size
GREENGO LED grow light boasts of some of one of the largest lights in the market today. The light, measuring 17x8x2.2 inches weighs six pounds making it a durable and strong light.
Construction
The LED grow light also boasts of one of the strongest constructions in the market. It comes with three base fans that provide the best cooling effects in the grow space. The light further comes with heat sinks and a daisy chain socket, which allows it to work well with other products and power socket.
Veg and bloom switches are also other parts that give you the ability to control the light to suit the differ stages of growth. The grow light is lightweight with a weight of only 6lbs.
LEDs
Majority of the LED grow lights in the market come with double chip LEDs but GREENGO comes with triple chip LEDs. Triple chip LEDs are far more superior than the double chip LEDs as they maintain a larger PAR output and light coverage.
The 112 LEDs also come with Azen diode design, which means that the LEDs continue to work effectively even when one of them stops working due to damage. The LEDs come in blue, white, red, warm white IR and UV pieces.
Heat dissipation
The high-speed three cooling fans offer remarkable cooling, heat dissipation abilities to the crops, and grow space. The fans have an in-built aluminum heat sink that works in conjunction with the fans to provide one of the best cooling systems you can find in a grow light.
The cooling fans also come with a noise control feature which makes it makes it comfortable to be in the grow space.
Daisy function
The dais chain feature is one of the most important functions of the grow light because it makes the light more compatible with other devices. Connecting the grow light to other devices helps to improve performance, save on energy and increase the yields.
Veg/bloom switches
The veg and bloom switches are also vital features that help in saving energy and better regulation of the crops growth. They help you to customize the amount of light the crops need during their different phases of growth. The veg switch, which is ideal for the seedling and vegetative phases, emits white and blue light at 430 nm to 660 nm.
The bloom switch, which is ideal for the flowering and blooming stages emits red and white light at 430 nm to 740 nm.
Warranty
GREENGO LED grow light comes with 90-day full money back guarantee and a three-year quality guarantee from the manufacturer.
Package
The full package includes one 1200W LED grow light, one hanging kit, one power cord, an instructions manual and one adjustable rope hanger.
Read Next: Best 300W LED grow Lights Reviews
Pros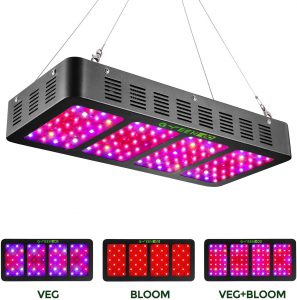 Affordable and provides value for its cost
Easy to install and maintain
Comes with a daisy chain feature that allows expansion by connecting it to other devices to increase production
Cost efficient
Comes with an efficient cooling system from three high speed fans
Advanced new triple chip design technology that gives the LEDs a larger par coverage
Comes with a three-way lighting option
Control option with the veg and bloom switches
Comes with an adjustable and sturdy hanger
Provides full spectrum light that reaches all parts of the crops
Comes with a 90-day full refund policy coupled with a 36-month quality guarantee
Weighs on 6lbs making it lightweight enough to move from place to place
Cons
The grow light is not waterproof
Comes with a short cord
Daisy chain feature can only accommodate three more LED lights
Customer reviews
GREENGO 1200W LED grow light has a high rating of 4.8 out of five stars. This is a high rating implying that many of the users are or were happy with their purchases. Many of the customers that gave the LED grow light five starts praised it for its efficiency noting that the light provided fast growth to their crops.
Others praised the light for its easy installation and affordability. The triple LED chip technology was also a hit with many customers praising the innovation. Other highlights and reasons why the LED grow light got many people giving it five stars include the daisy chain system, the bright lights, the great coverage and much more.
Overall, there are very few negative reviews on the grow light.
Wrapping it up
With everything that GREENGO 1200W LED grow light provides, it is no wonder that it is one of the fastest moving products in the marijuana growing industry. Features such as durability, affordability, energy saving abilities, full coverage and its energy saving aspects are what every grower would look forward to for the optimum harvest from their cannabis.
It is also one of the LED grow lights in the market using the newest technologies, making it more effective. Installing the LED light is easy even for first time growers.
Bestseller No. 1
Aidyu 1200W LED Grow Light with Reflective Surface,Full Spectrum Growing Lamps for Indoor Hydroponic Greenhouse Plants with Veg and Bloom Switch, Dual Chips, UV & IR, Adjustable Rope Hanger
HIGHEST PAR OUTPUT & ENERGY EFFICIENT-- Constructed with100 pcs dual-chip(10W) LEDs which is much brighter and more efficient than traditional 3W and 5W LEDs, scientifically engineered to keep the balance of the PAR/Lumen Output and Coverage. And the LED grow light is scientifically designed to keep the balance of the PAR/Lumen Output and Coverage, But consuming only 110-130 watts.
ADVANCED Full Spectrum LED Grow Light -- A lots of experimentation to ensure that this full spectrum design promotes plant growth. This LED grow light provides sun-like red, blue, white, IR and UV, bring the best wavelength, perfect for all kind of the indoor plants veg and flower at the growth stages.
DOUBLE POWERFUL COOLING FAN -- Two cooling fans and heat sink constitute a powerful cooling system, keep the environment cool and quiet. And every LED has a resistance to keep them work separately, extend the lifespan of the light.
VEG/ BLOOM SWITCH -- Veg and Bloom button have different function, Veg/Bloom double switches offers 3 light modes to control for full spectrum which provides veg and flower all stages everything they desire in the natural sunlight. You'll love that it uses double chips which can easily replace a 600watt HPS/MH grow light.
60 degree optical glass lens——It can amplify the light of the dual-chip LED, expand the light range, and make the light stronger and more uniform,penetrating ability improves 5 times.The ability to improve plant growth is stronger than ordinary plant lights.
Bestseller No. 2
EXLENVCE 1500W 1200W LED Grow Light Full Spectrum for Indoor Plants Veg and Flower,led Plant Growing Light Fixtures with Daisy Chain Function (Triple-Chips 15W LED)
【Triple-chips 15W LEDs】its triple-chip 15W LED design (three 5 watt chips per LED), makes this light both brighter and more efficient than what could be produced by one employing either double or single chip LEDs. This new step in LED technology has been scientifically engineered to optimize efficiency and light output by utilizing lower powered LED chips (more efficient) and more chips per LED (brighter). intensely bright light that requires minimal input power.Let your plants grow quickly.
【VEG & BLOOM Double Channel】The VEG channel utilizes a full spectrum of colors for germinating seedlings and young plants consuming 155W of power. The BLOOM channel implements more red wavelengths to simulate late summer and is most suited for plants in the flowering stage while consuming only 80W. VEG and BLOOM can be used together to encourage maximum growth performance from seedling to harvest. This light can replace a traditional 1200W HPS/MH lamp while consuming only 235W total !
【Daisy Chain Available】Daisy Chain multiple lights together in order to keep the grow space organized and avoid the need for excessive wiring. The included power cable serves a double purpose and can be either plugged into a standard outlet or into the Daisy Chain outlet of another grow light. If using the typical 110/120VAC supply, each light draws 2.0A. To ensure safety, not more than 3 lights together per chain. More lights can be implemented in other chains of up to 3 grow lights each.
【Coverage area & Height】The 1200W LED grow light core coverage area is 48"*48"(4*4ft). Maximum coverage area is 62"x 62"(5.2x5.2ft). We recommend running the lights 15-18 hours per day during the germination and early leaf stages at a height of between 18"-24" and 12-14 hours per day during the flowering and fruiting stages at a height of between 24-32." We suggest both the VEG and BLOOM switches be turned ON during the flowering and fruiting stages of the plants' growth.
【4 Years Warranty】We are so confident in our products' quality and plant growing abilities that we offer a 4 Year Warranty with friendly customer service and a 90 days unconditional money back guarantee. If you have any questions, please feel free to contact us. We will offer you professional guidance to help you help your plants grow better.
Bestseller No. 3
Phlizon 1200W LED Plant Grow Light Full Spectrum Daisy Chain Plants Light Double Switch Grow Led for Indoor Plants Veg and Flower-1200W
NO REFLECTOR NO DANGER- Many others' grow lights are used led spotlight reflector to make the light look beautiful, but we don't use it because the led reflector is not heat-resistant. If a short circuit occurs,reflector at 80℃ is easy to melt and fire. we do not use the reflector, we can not give up the safety beause of beauty.
COMPARE TO HPS/MH- Compared to MH / HPS lamps, it generates less heat, more energy saving and lower electricity bills and more comprehensive light spectrum . The 1200W LED grow light can replace 250watt HPS/MH. More effective coverage area than any reflector series lights. Perfect fit for a 3x3ft growing area at 24" height. The difference of us is that we use double cooling fans. which can most extend the light life.
DOUBLE SWITCH- Veg and Bloom button have different function. Veg switch: It's blue led and white led. For seedling or young vegetative growth,you can use Veg switch only. Bloom switch: It's red led and white led. For flowering/blooming,you can use both Veg and Bloom switches together. View Angle of LEDs: 90°and 120°
FULL SPECTRUM- We did lots of experiments to ensure that this full spectrum promotes plant growth. It includes universal blue red IR UV and white leds which can provide everything plant desired in the natural sunlight. The IR and UV leds can promote plants to defense mechanisms, blue and red led is essential light for plant growth.
BEST SERVICE- Phlizon is a professional LED light manufacturer with strong R&D team and many light tester. 2 years warranty plus 30 days money back guarantee. If you have any problems, please don't hesitate to contact us. We will provide you with a completely satisfing reply.
Bestseller No. 4
KOSCHEAL LED Grow Light 1200W Grow Lights for Indoor Plants with Samsung LM301B & UV LEDs Growing Lamp with Daisy Chain & Dual Switch Indoor Plant Light for Seedling Veg Bloom Coverage 3x3ft
👍HIGH EFFICIENCY LED GROW LIGHTS: KOSCHEAL LED plant grow light has adopted the newest LM301B diodes and the newest SMD LED technology provides the highest PAR/LUMEN output, high energy efficiency with 2.8umol/J while speeding up photosynthesis, designed to replace a single-ended 300watt HPS/CMH grow lights!
👍UPGRADED COMMERCIAL LED GROW LIGHT: Daisy chain compatible to make fewer cords, which can connect with other grow lights to extend the coverage. No more than 5pcs growing lamps can be connected and used together by power cords. Energy & money & time- saving. The power supply works on 90VAC to 277VAC, suit for large rooms and commercial Setups. Perfect for 3'x3' vegetative coverage and 2'x2' flowering coverage.
👍FULL SPECTRUM LED GROW LIGHT: According to the light compensation point and saturation point of the plant(MJ),the more suitable spectrum of the plant(MJ) was proportioned.Total 360 LEDs included 460nm,620nm,730nm(IR) and 396nm(UV) which can replace natural sunlight. UV diodes stimulate anthocyanins,which improve the quality of fruits and flowers.
👍SAFE&DURABLE LED GROW LIGHT: Without the design of the reflector because the led reflector is not heat-resistant. If a short circuit occurs, the reflector is easy to melt and fire. We adopted cooling fans design of high speed &super quiet & upgraded aluminum cooling heat sinks so that the heat dissipation efficiency is improved and the light decay is slowed down. Save the cost of changing lights frequently.
👍WORRY-FREE PURCHASE: We promise 30 days money-back guarantee and US local after service for 3 years. We will reply within 24 hour
Bestseller No. 5
THEBUDGROWER Complete All-in-One Home Grow Solution 48"x48"x80"- 1200W (X2 600W) LED Grow Light Dimmable Full Spectrum Quant-LED Light Unit-Indoor Grow Kit
PREMIUM Quant-LED GROW LIGHT - LED lights specialty manufactured by VIVOSUN with Samsung LM301 diodes for FULL spectrum light, ideal for ALL STAGES of growth. Energy efficient with a high reflective hood and adjustable dimmer to give plants optimal light intensity and spectrum. Silent functions mean that no fans cause noise pollution in your home. 600w output incentivizes low cost for the home and runs 50% less energy than "blurple" and other leading LEDs. UL, CE, ETL Certificated.
The Industry's MOST DURABLE GROW TENT – Heavy duty1680D Oxford cloth exterior makes this tent extremely durable; stitching for strength and light protection works to keep in 99% of all light and reduces smell. Our sturdy steel frame can hold up to a whopping 250 lbs! Plenty of openings for fans/ vents/ electrical cords; removable viewing mesh screen for viewing & removing humidity; bottom tray prevents water leakage on the floor and keep tent stay clean.
MONEY & ENERGY SAVING COMPLETE HOME GROW TENT KIT – Our all-in-one home grow kit provides more than what the competitors offer as well as save you time and money. The results come from years of research and development that is always expanding to be able to help first time and beginner growers through the growers' journey.
SUPERIOR CARBON FILTRATION SYSTEM – Eliminates 98.5% of all unwanted odors. Powerful fan moves air speeds up to 2550 RPM. Australian Virgin Charcoal for odorless indoor cultivation.
LIVING SOIL TECHNOLOGY! Our concentrate is fermented, allowing microbes to begin breaking down amendments into forms that can be absorbed by your plants. Multiple scientific studies have shown these microbes increase plant uptake of vital nutrients, such as phosphorus, and improve soil aggregation. This regulation also helps prevent any potential nutrient burn to your plant!