Indoor Grow lights are lifesavers to plants which for one reason or another are unable to obtain the benefits of natural light. The LED technology has stepped up to provide quality grow lights that will facilitate the growth of indoor plants. In this review, we discuss the top ten best LED grow lights bulb that are available in the market. Read to find out more.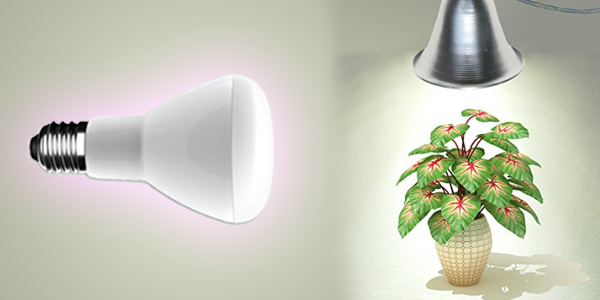 Read More:
Top Full Spectrum Led Grow Light Bulbs For Indoor Garden Reviews
Miya 50W LED Grow Light Bulb
Features
This is a full spectrum grow light that features 78 pieces of high- performance LED chips to deliver a full wavelength of light needed by plants for photosynthesis. With this competitive grow bulb, your plants will enjoy the benefits of light as if they are getting it from the natural light.
The high-efficient LED chips to include 42 pieces of red light, 18 pieces blue light, 6 pieces white, 6 pieces ultraviolet light and an additional 6 pieces infrared light. The IR and Blue LEDs are known to facilitate rapid growth in plants by improving the photosynthesis process. The blue LED also boosts the activities of the chloroplast to stimulate healthy leaves.
Besides, the Red wavelength which ranges at 660 NM offers all the necessary requirements for photosynthesis. It also stimulates the maturity of the plant and aids in blooming and fruiting.
UV light with a wavelength of 380NM is crucial in sterilizing the plant to reduce the occurrence of diseases. The ultraviolet light also improves the quality of the seed by lighting them.
Miya 50 W GROW bulb is efficient for all your indoor plants, but it is ideal for tropical plants. Whether it is during monsoon or heavy winter, this grow light will ensure that your plants get all the light they need for proper growth.
Quality
Miya 50 W is designed to last for long. It is built of metal aluminium, hailed for its durability. Aluminium also dissipates the heat, therefore, reducing overheating. Even if you use full spectrum for a prolonged time, the heat will remain consistent and will not damage your growing plants.
The grow bulb has a lifespan of 50,000 hours
Performance
This light is quite bright, especially when using a narrow lighting angle. The bright light is harmful to plants as well to the eyes. However, this unit offers a broader lighting angle which gives bright light but not harmful to plants or eyes. The broader setting also provides higher light intensity and efficiency.
Pros
78 LED chips which boost efficiency
Metal aluminium built for durability and distribution of heat
Broader lighting angle to reduce the damage of plants due to very bright light
Easy to set up and operate
Long-lasting lighting of over 50000 hours
Cons
UVs can hinder plant growth due to close heating
Direct Led illumination may be harmful to plant
Esbaybulbs Lighting Grow Bulbs
Features
Four-pack bulbs that are full-spectrum and contains all wavelengths required for plant growth. A perfect combination ratio of red: blue lights offers the most competitive wavelength of light to enhance photosynthesis and the overall growth of plants.
The small 28 Watts bulbs are small but very potent. They save energy by drawing only 6-9 watts, saving you up to 78% of the power.
Built
4-pack Grow lights have been scientifically designed using quality heat-sink metal aluminium. There is also a turbine type cooling feature that absorbs the heat generated when the bulb is on the operation. The aluminium construction and the cooling function ensure heat dissipation and guarantee the durability of the unit.
Performance
4 pack is a fantastic selection. As mentioned earlier, these bulbs are small but powerful. One bulb is enough to radiate one small potted plant effectively. Exposing a large plant or a couple of plants to four bulbs will ensure uniform distribution of light and heat intensity. As a result, the plants will grow faster and healthier. In a nutshell, these are well-performing bulbs
Pros
Full-spectrum wavelength with an excellent red: blue lights ratio
Four capable bulbs to provide maximum lux
Versatile Grow light as it can be used in greenhouses, grow tents, hydroponics, among others
Cons
Wattage is too high and can cause damage to the eyes or the user
Haus Bright 100W LED Grow Light Bulb
Features
This product is manufactured and owned by Haus Bright
This is a versatile LED light that emits incredibly bright lighting for the indoor grown plants. It is fitted with efficient 150 LED chips that can meet your plant's lighting requirements faster than other LED grow lights.
Out of these 150 radiating LED chips, 100 are red, 35 blue, 10 white along with 5 IR. The red LEDs induces flowering and fruition, while the blue and IR wavelengths trigger plant growth and maturation. The white chips are necessary in providing extra lux to boost the light intensity. They also meet the requirements of the missing spectrums.
Quality
This lighting bulb is made of metallic Aluminium which guarantees durability and serves to distribute the heat uniformly. Aluminium is an excellent heat conductor and therefore facilitates a consistent temperature level for proper growth of your plants and protection from excessive heat.
Choosing Haus Bright 100 W will not only save you money but will save on your power bills. This is because the LED technology ensures that the bulb produces just 20W but offer the same intensity as a 100W incandescent lamp.
It is advisable to keep this light at least 3 inches above the seedings and 1 inch above the common vegetables. This will ensure your plants do not get damaged by excess radiation.
Installation and use
This gadget comes with an E27 universal base socket making it easy to install. All you need is a universal AC85-265V input, and you are good to go! No additional equipment required to connect to the main power supply
Pros
150 LED chips which deliver quality and efficient light for your indoor plants
50000 hours lifespan which means you can grow all the flowers and vegetables you want
Full-spectrum LED Grow light
4000-5000 lumens to light your plant
Saves on money and electricity the LED light only uses 20W
Easy installation and use
Cons
It is a very bright light that can cause damage to eyes if stared directly.
HighydroLED 100W LED Plant To Grow Light Bulb
Features
This is a full spectrum light grow bulb that features 150 pieces of high-performance LED chips. It induces efficient light similar to the natural light facilitating photosynthesis, fruition and flowering in indoor grown plants.
Out of the 150 LED chips, 100 are red, 35 Blue, 10 are blue while 5 are 1R. The Red radiating LEDs boasts of a wavelength of 620-660nm and are responsible for the blooming and flowering in plants.
Blue LED chips have a wavelength of 440-460nm. They trigger the growth and maturation of houseplants. IR with a wavelength of 730nm influence the formation of chlorophyll, therefore, enhancing photosynthesis
White radiating LEDs have a wavelength of 3500k-600k. Their role is to meet the needs of the missing equipment. They also provide extra light intensity
Quality
Like most LED grow lights the (2 pack) 100w LED plant grow light is made of metal aluminium shell. This material ensures durability and also the uniform distribution of heat.
The lamp also has a long lifespan of 50000 hours.
Performance
This is a high-performance Led grow light bulb with the most competent wavelengths of light. It will also save on your power bill since it only draws about 30W but offers the same intensity of a 100W bulb.
Installation
It is easy to install this light with an E26/27 base. You can use this unit anywhere as long there is a light bulb socket.
This grow light is ideal for grow tents, hydroponic systems, green house plants as well as cultivation of fruits and vegetables
Pros
Full-spectrum light perfect for all kinds of indoor plants
Made of the high-quality metal aluminium shell for heat dissipation and durability
Provides 4000-5000 lumens for radiating your plants
Easy installation and usage
Cons
Very bright and can damage plants if placed too close
EDYELL Dual Head LED Grow Light Bulbs
Features
This upgraded grow light bulb is ideal for farmers during the cold winter months.
The lamp is ultra-bright but consumes much less power. This is because the 4 dimmable levels brightness allows you to customize brightness according to the plants' requirements.
The superior blue LED chip helps in photosynthesis and also inhibits excessive elongation of your plants. The highly-effective red LED chip plays a significant role in plants' photosynthesis, germination, flowering and fruition. It also promotes the formation of anthocyanidins, also plays a vital role in the creation of chlorophyll.
Another exciting feature found in this lamp is a 360-degree adjustable neck. This feature allows you to position the grow bulb in the most convenient position and ensure your plants enjoy the maximum benefits of the light.
The Dual Head LED Grow light also has a full illumination coverage thanks to its customizable gooseneck. The gooseneck is flexible and can be adjusted in any direction, making it to cover a wider area. Consequently, it provides quality light for more plants in homes, offices or in greenhouses.
Quality
The grow light is made of the sturdy stainless steel. The metal is flexible to allow a wide coverage area. The unit has a lifespan of 50000 hours which it will serve you for a long time without needing replacement.
Installation and use
This grows light is compatible with the standard E26/E27 sockets. All you have to do is plug it to a power source and watch as your plants blossom.
Pros
Blue-Red LED chips that contribute to the growth of healthy plants
Wide radiation range
360-degree flexible gooseneck with an adjustable click for customization
Lifespan of 50000 hours.
Affordable
Cons
Not as powerful as other grow lights in the market
Upgraded Four Heads Plant Grow Light Bulbs
Features
This advanced version comes with four flexible goose necks. This innovation is not only meant to provide a full coverage area but also to solve the chronic problem of inflexibility found in most traditional grow lights.
This grow light is inspired by natural light and comes in three colour modes that support photosynthesis. These modes are Red light, Blue light and Mixed light. It also features nine brightness settings that range from 20% to 100%. You can adjust the brightness according to the needs of your plants. The grow light has been carefully designed to supplement the lack of natural sunlight and promote the growth of your plants in a healthy manner.
The upgraded Four Heads Plant Grow light is fitted with an inbuilt timer that helps you to automatically operate your gadget even when at work or on vacation. The grow light is portable, and its clip-on feature enables you to attach it anywhere around the house or office. It is also very flexible, and you can conveniently adjust the height or distance between the lamp and plants.
Quality
The upgraded Four Heads Plant Grow light is made of Aluminium which is an excellent heat conductor. It promotes heat dissipation to ensure uniform distribution and minimize the risk of heating the plants
Performance
This plant growing light is the ultimate solution for plants grown during the winter season when natural light is insufficient. It will hasten the plants' growth by facilitating photosynthesis within a couple of days. The grow light will not only offer the benefits of natural lighting but will also protect your plants from dying off.
Installation and use
The grow light is powered by USB and includes a USB power adaptor. It can be plugged into a wall socket or a power bank. It is easy to set-up and use.
Pros
9 levels of dimmable brightness to supply light according to the needs of your plants
3 light modes; Red, Blue, Red & blue that provide full-spectrum light to serve your plant during the various stages of growth
In-built timer that free you from tiresome manual operation
Flexible goosenecks to allow you to adjust the distance between the plants and the lamp
A wide range coverage with each bulb covering an approximate length of 18 inches
The clip-in feature will enable you to attach the grow light anywhere, further enhancing convenience.
Cons
The grow light can be too bright and overwhelming to plants especially when kept at close range
The four heads consume more energy
Sansi 36W Daylight LED Plant Light Bulb
Features
This is an incredible full spectrum grow bulb designed for the growth of indoor plants during the different stages. The grow light combines four distinct colours, namely, white, red, blue and far-red. Unlike other grow lights which combine Red and Blue Chips only, Sansi 36W Daylight LED plant Bulb mixes all wavelength lights ranging from 400nm to 780nm. This ensures that your plants get a complete spectrum of light for active photosynthesis and other pertinent processes during growth. In a sense it offers a more natural application of light than other grow light bulbs.
Quality
Unlike other reviewed LED plant light bulbs, the Sansi 36W is designed using Ceramic. Note that most grow lights are made of Aluminium. While this metal is efficient in heat dissipation and conduction, Ceramic is more effective and works at a higher intensity. Ceramic is also long-lasting, thereby enhancing durability.
Performance
This light is generally a high performer. The ceramic construction makes the light to be more non-conducive compared to Aluminium and therefore sponsors a higher heat distribution. Also, it is easier to install the LED chip directly to Ceramic, making the chips free from adhesives, housing, and pc boards.
Installation and Use
The LED lighting bulb comes fitted with an E26 universal base socket which means it can be plugged in a wall outlet. It is easy to install and use as no additional tools are required to connect to the main power supply.
Pros
Ceramic construction enhances heat distribution
The white light which is aesthetically pleasing to your spaces
A mixture of 4 distinct lights that mimic the natural lighting
A large coverage area
Plants receive uniform light intensity no matter the distance from the lamp
The light has 5-year unlimited warranty
Cons
The bulb is a bit bulky for e26 sockets
A close-range may spoil the plants
Canagrow 35W LED Grow Light Bulbs
Features
This is a full spectrum sun like light which provides your indoor plants with everything they need from the natural sunlight, especially during the winter season. The exciting thing with this grows light is that each available chip is mixed with all wavelengths. This provides a perfect full-spectrum light for your flowers, vegetables and herbs.
The high-performance light will facilitate the growth of Rhizome, synthesis of protein, and promote blooming and fruition. The light may be small in size, but its heat dissipation feature is matchless. Moreover, a cooling fan is fitted to enhance further distribution of heating, therefore, reducing the risk of overheating the plants.
The light should be placed approximately 24-28 inches high for the seedlings and about 18-24 inches during the growing stage. The blooming stage can handle around 12-18 inches high.
Quality
Made of high-quality Aluminium material. This guarantees durability and uniform distribution of heat.
Installation and use
Canagrow 35W LED Grow light is compatible with standard E26 sockets. You need to plug it into a power source and give your plants that boost that they so desperately need.
Pros
Excellent heat dissipation despite its small size
24 pieces of powerful LED chips that can each emit a maximum lux of 5W
Supports most plant types
Easy to install and use
Cons
Does not offer a full coverage probably due to its small size
Can be harmful if applied in a poorly ventilated spacee
Yoyomax Grow Light Bulbs
Features
This light is designed to provide a full spectrum light to compensate what your indoor plants may be lacking. It offers the best Red and Blue Light combination, a mixture that is sure to keep your indoor plants thriving.
Also, the grow light comes with three switch modes and 6 dimmable options to allow for customization according to your plants needs.
Automatic on/off options will free you from manual operation, making your system to run even when you are not within. Additionally, the adjustable timer will allow you to keep the light on for 3,6,12 hours, making sure that your plant gets sufficient light for the different growth processes.
Another exciting feature of this grow light is the flexible goosenecks. You can rotate the necks at 360 degrees and ensure that your all your plants get uniform light intensity.
Pros
The best combination of Red and Blue Lights in the market
3 light modes, 3 switch modes and 6 dimmable light options. All these features enhance customization
Flexible goosenecks to ensure uniform heat intensity to your plants
Secure clamp to ensure the safety of your lamp
Cons
Not aesthetically appealing
GE Lighting 93101230 9-Watt BR30 LED Grow Light Bulb
This grow light is ideal for all plants as it provides a pleasing natural atmosphere needed for their success. GE's Grow light uses a perfect ratio of red: blue wavelengths to facilitate photosynthesis and other processes of growth.
This light is suitable for both high light plants such as cucumbers, tomatoes and peppers, as well as low light plants such as herbs.
It has a high output Photosynthesis Photo Flux (PPF) of 60 micromoles/second
The low energy use of only 9 Watts
Pros
A perfectly balanced spectrum for greens and seeds
High PPF output
Energy saving
Cons
May hinder the growth of plants that might require intense light
The above reviewed best full spectrum led grow light bulbs that your indoor plants grow effectively even without the natural sunlight. However, it is critical to choose a grow light that will serve your plants effectively depending on their needs. Here are a few considerations
Five factors to consider when buying a Grow Light Bulb
Type of plant you want to grow
This is probably the first thing you want to consider before embarking on a mission to acquire a grow light. Plants are unique and different species will require different light intensity
How much space would you like your LED light to occupy? This is a pertinent question and answering it will give you a rough idea on the type of light to buy. Also, consider the height above the surface of your preferred space.
Of course, all LED lights are not priced the same. The prices differ depending on the size, features and other quality. Determine how much you are willing to spend and stick to your budget
This is another critical consideration when choosing LED grow light bulbs. For example, during infancy, plants will most likely require red and blue ranges. It is advisable to avoid white LEDs because they contain green and yellow wavelengths which disrupt photosynthesis.
The sturdiness of a grow light is determined by its built. Aluminium and Ceramic constructions are known to last for long.
You should also be gentle with your device and handle it with care to ensure that it last long
Read Next: Gorilla Glue Weed Strain Review 
Conclusion
LED grow lights are popular among indoor growers due to their wide range of benefits. Majority of these lights can last up to 50000 hours which means that you can use them for 11 straight years with an application of 12 hours daily. It is also easy to customize the light to produce the desirable wavelength offering your plants all the benefits of natural lighting.
The above top ten best LED grow lights bulbs will guide you through buying a grow light that will inject life to your plants.
Best Selling Led Grow Lights Bulbs On Amazon