So, you are thinking of starting a small indoor garden. You probably saw your friend's cannabis plants bushy and thriving, and you want to get something similar. But how do you grow such plants or get yours to be even better?
You only need to invest in one thing: A 2ft T5 grow light.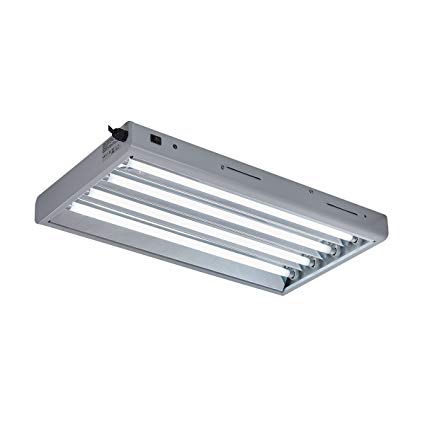 Why a T5 grow lights? You may ask. T5 grow lights enhance the vegetative growth of any cannabis that you plant. The lamp produces a light spectrum that is in close comparing to that of the sun. The light has elements that plants require for them to grow naturally.
Just exposing your cannabis plants to this light will make your plants bushy, strong, and healthy. But why should the T5 grow light be 2ft? When you are starting a small indoor garden, a 2ft grow lamp is able to offer your plants suitable light coverage.
It does not consume a lot of power, and you can expand the coverage by connecting more lights when needed. Does that not sound like an incredible light to help you begin your indoor garden journey? Here are the top 2ft T5 grow lights that you may choose to use today.
See also:
Durolux T5 Grow Light (2ft 4lamps) DL824 Ho Fluorescent
Durolux grow lights are one of the most popular fluorescent lamps due to the different options that they offer. The Durolux T5 DL824 Ho Fluorescent Grow Light is one of the most preferred choices. The lamp can provide your plants with a high light output of 10,000 lumens. The lamp comes with four lamps measuring 2 ft, each giving light of 6500k.
You can use more than one grow light in your indoor garden by connecting them with a daisy chain feature. You can connect up to 12 light fixtures to one wall outlet reducing the clutter and keeping your grow room more organized.
The grow light works best for plants that are in their vegetative phase. It comes with two switches, one for the two inner bulbs and another for the two outer bulbs. You cause the switch to run the lights, depending on the number of bulbs you want to be on at a time.
The lamp comes with a German hammer-tone reflector. It helps to even out the distribution of light falling on your plant canopy. To get the best results, you should set the light 3 to 4 inches above your plants. You can position the lamp vertically or horizontally, depending on your preference.
The lamp comes with all that you would need to set up your grow light successfully.
It can work successfully in a wet and damp environment since it has a water-resistant body. The grow lamp comes with a five-year warranty that guarantees you are purchasing a good grow light.
The Durolux DL824 Ho Fluorescent grow lights work well in small grow spaces since they run without emitting a lot of heat. You can increase the light footprint exponentially when you link up to five lighting fixtures creating a commercial growing environment.
Pros
It is easy to install and use
You can hang the grow light both vertically and horizontally
It provides a high light output that supports plant growth
It comes with a daisy chai feature
It can work in damp and wet environments
Cons
The bulbs may dim at some point
Its aluminum body can easily bend
Durolux T5 HO Grow Light – 2 FT 8 Lamps – DL828S Fluorescent
Another Durolux brand that is of interest to many indoor growers is the Durolux T5 DL828S Fluorescent HO Grow Light. The lamp, as well, is powerful with the ability to provide a light output of 20,000 lumens. The grow light contains eight bulbs, all measuring 2 ft.
It comes with two switches that you can use to control the bulbs. One switch controls the inner four tubes while another controls the outer four LED tubes. The grow lamp is water-resistant and can work in either wet or dry environments.
If you want to increase the area of coverage, you can use more than one grow light. The lamp comes with a daisy chain feature that allows you to connect up to 6 light fixtures together. It helps in reducing the clutter in your grow room as well as enabling you to use one wall output to power all the bulbs.
It comes with a highly reflective German hammer-tone reflector that helps to prevent light loss by focusing the light onto the plant canopy. The grow light comes with a five-year warranty. Upon purchase, you will receive the grow lamp in discrete packaging.
Pros
The grow light is lightweight and easy to install
It comes at a low price
Has a switch you can use to control the inner and outer lights
Comes with eight light tubes of 6500K
Cons
The fixture can get very hot when you are not careful
Some bulb sockets are tight while others are loose.
Oppolite T5 2FT 4-Lamp Grow Light Kit
The Oppolite T5 grow light is a top-quality fluorescent lamp that works with four fluorescent tubes, each giving light of 6500K at 24W per lamp. The fluorescent lamp has a unique design that allows a uniform spacing between the bulbs. The spacing helps with the efficient distribution of light.
The electronic ballast of the lamp comes with an aluminum reflector with a 95 percent reflectivity that helps to enhance the light intensity and ensure that every plant receives coverage. It comes with dual on and off switches that you can use to control the fluorescent tubes that are lighting.
The lamp has louvers that help in the cooling of the ballast and the light tubes. The lamp produces some heat due to the strong light output. The grow light is lightweight and easy to install. You can set the light up over your plants, horizontally or even vertically, depending on your grow room and plant needs.
Pros
The grow light does not consume a lot of power
You can hang it from any position that suits the grow room
It provides a very efficient light
You can control the amount of light in your grow room using the on and off switches
Cons
The grow light is not dimmable
Read next: Hydrofarm Grow Light Reviews
Summing up
One of the worst fears you can have when selecting a 2ft T5 grow light is watching it malfunction even before two weeks are over. Not only can it ruin your plant yields, but it can also lead to the death of your plants. To avoid such scenarios, you should check if the lights you get have ratings from regulatory bodies.
When choosing a 2ft T5 grow light, you should be aware of the number of bulbs in the fixture. You can get a light fixture with two, four, or even eight bulbs. The grow light you choose will have to depend on the size of your grow room.
A good grow light should provide your plants with total coverage. Therefore, the number of your cannabis plants will be the determining factor of how many bulbs your 2ft T5 grow light will have.
Depending on your plant needs, one of the lights in the list above will ideally suit you. If you want to get the best out of your cannabis plants, it is high time that you switch to the 2ft T5 grow lights.