What is a quantum board? A Quantum board is a lighting innovation devised by Horticulture Lighting Company (HLG) and adapted by other brands. It is also one of the newest concepts in the grow light industry, and its popularity is undeniably astounding, especially with indoor cannabis growers.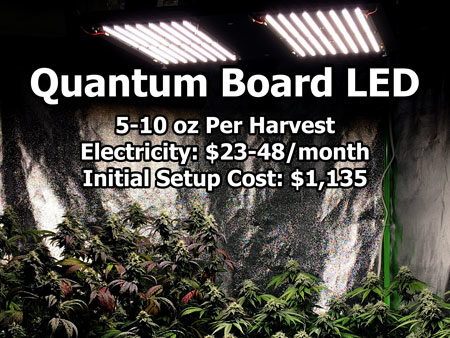 Quantum board LED grow lights differ from one brand to the next, with HLG quantum board models leading the pack with high-quality components. The grow lights mount on diode circuits in series containing powerful LEDs making a string of full-spectrum lights that mimic the sun's natural sunlight. Quantum boards come with several other advantages and a few disadvantages, which do not prevent them from performing exceptionally well.
One of the reasons for its popularity is the high cannabis yields, which is much higher, compared to the yields realized when using the standard LED grow lights. Another reason for the popularity of quantum boards is its low energy consumption making it one of the best high-energy efficient grow lights.
We checked out and reviewed some of the best quantum board led grow lights on the market, and here is our take.
Our Top Picks
SPIDER MARS SF-4000 LED Grow Light
Spider Farmer is a leading LED grow light contender and manufacturer in the industry of quantum board grow lights. It is famous for its reliable technology and effective products that offer unbeatable quality at fair prices. However, the costs of the majority of spider Farmer products are steep for first-time growers.
The SF-4000 led grow light is one of the best contenders in the quantum board technology LED light market and the largest on the SF line of grow lights.  One of its standout features is its efficiency and fantastic energy consumption, which is only 456 watts. Furthermore, it is also one of the most affordable quantum LED grow lights to operate irrespective of its high-quality features and efficiency.
During the vegetative phase, the grow light accommodates a footprint of 6 by 6 feet and 5 by 5 during the flowering stage, making a total coverage of 36 square feet. Samsung diodes LM301B, some of the grow light leading technology on the LED grow light market, are the primary light sources for the quantum board. The quantum board has a long lifespan of over 50,000 hours, which is the equivalent of five years.
Another feature that makes the quantum board an excellent asset for cannabis growers includes a protective coating on the chips board, making it waterproof. It has shockproof covers on its wires for added users' safety, a dimmable MEAN WELL driver, and a three-year warranty covering craft and material defects. Lastly, the light does not include cooling fans among its features, giving it a quiet performance. It has an aluminum heat sink for heat dissipation instead.
Pros
Quiet operation
Provides full-spectrum light
Energy efficient
Waterproof
High output
Cons
It is costly, especially for beginners
It does not come with fans, which leads to overheating
The brand is Chinese, which does not appeal to some people
King Plus UL Series 4000W LED Grow Light
King Plus is another famous brand among indoor growers. The UL Series 4000-watt LED grow light is the largest on the line of its products, with a coverage area of 10.4 x 9.8 feet. One of the main features that make the quantum board LED grow light stand out is its high quality and durable tear, and wear-resistant aluminum material construction.
The grow light provides full spectrum lighting through all the stages of crop growth. The intensity of light mimics the sun's natural glow with white, blue, and red lights. The VEG and BLOOM switch helps to provide the plants with the appropriate light during their different growth phases.
The quantum board LED grow light does not come with any in-built cooling fans making its performance silent. An aluminum-alloy heat plate controls the grow light's temperatures to prevent crops from burning or the unit from overheating. A waterproof panel allows you to use the grow light even in humid weather conditions. The lifespan of the quantum board LED grow lights is 100,000 hours. Lastly, the unit comes with a convenient manufacturer's warranty of three years.
Pros
Ease of installation and use
100,000 hours lifespan
Lightweight design
It comes with a three-year warranty
Quiet operation
Energy-efficient
Cons
It does not have in-built cooling fans, which may lead to overheating
It is slightly expensive
HLG Scorpion Rspec 600W 120-Volt Quantum Board LED Grow Light
HLG-Horticulture Light Company is one of the pioneers in manufacturing some of the best indoor quantum LED grow lights. The company has a wide range of HLG quantum board models that allow you to customize the lights following the plants' needs and grow space. The HLG Scorpion Rspec 600W is an HLG 550 V2 updated version with more advanced features and quality components for light control, such as the drivers.
The V2 kit is also plug-and-play, unlike the older models. It starts to work immediately after unpacking and plugging it in. It is also one of the best quantum board LED grow lights on the market today, and it helps that it is from a reputable manufacturer. The LED grow light uses four quantum boards simultaneously to provide plants with beautiful, full-spectrum light from their early stages to the fruiting phase.
The energy-saving HLG quantum board LED grow light uses 600 watts and saves you over 50 per cent of electricity over what you would use with HID lights. Like other quantum board grow lights, the kit is fanless and depends on its heat sink to keep the temperatures under control. Lack of cooling fans also means it has a quiet performance.
Moreover, using the light also allows you to save more energy because of the dimmable features that take the light down to 60-watt usage when you do not need its full light output. It has a PPF of 1522 umol/s, which is incredible output for a 600-watt grow light. Lastly, it comes with a three-year warranty.
Pros
Reputable company
Energy efficient-uses only 600W
An updated version of the older model with better features
Provides full-spectrum light
Quiet performance
Dims to 60W
Three-year warranty
Cons
It is expensive
Being fanless can sometimes lead to the light getting too hot.
MARS HYDRO TSW 2000W LED Grow Light
The MARS HYDRO TSW 2000W LED Grow Light is another powerful quantum board LED grow light popular with many indoor farmers across the world. The parent company is Chinese, but that does not lower the high quality of the grow light. Besides being Chinese, mars hydro, the parent company, has many other branches in significant states, including the USA, UK, Germany, and Australia. Moreover, mars hydro takes all its grow lights through intense testing before releasing them to the farmers.
MARS HYDRO TSW 2000W LED Grow Light provides broad-spectrum light coverage to a maximum of 4 by 4 feet through all the stages of plants growth. It has low power consumption making it a high-energy efficient quantum board. The broad-spectrum light provides the crops with a near natural light as it mimics the suns light much better than the HID or the individual red and blue lights. Instead, the light offers the best of IR, UV, and both blue and red lights.
The light uses a reflective aluminum material to provide an optimal light balance for efficient and even growth. It solely depends on its heat sinks for heat dissipation and does not have any cooling fans. Therefore, you should, not worry about any noises from the unit during its performance.
Furthermore, the light comes with dimmable features that allow you to control the level of brightness per the crops' needs. It has a long lifespan of 50,000 hours, a money-back guarantee of 30 days, and a three-year warranty.
Pros
It provides Broad-spectrum light for all the stages of growth
Reputable company
Reflective aluminum material for light balance
Fanless design that gives a noiseless performance
Dimmable features to meet the needs of the crops through different stages of growth
Three-year warranty and 320-day money-back guarantee
Lifespan of over 50,000 hours
Cons
It can get hot and too bright for the naked eye
Wrapping it up
Quantum board LED grow lights are all the fuss among many cannabis farmers now, and it looks like they are here to stay. They are much better than the traditional LED grow lights as they come with better features that include advanced components, better full-spectrum lighting, and energy-saving efficiency.
The only other lights that are a close competition to quantum boards are the COB Lights. They both utilize similar principles for providing the plants with full-spectrum light and they come with energy-saving benefits. However, quantum boards have a better ability to disperse their light across larger spaces compared to COB lights, and other LED grow lights.
The above quantum board LED grow lights come with unique features that make growing cannabis and other crops fun and high yielding. Overall, using quantum boards is the new thing in the indoor growing industry, and so far, they are winning hearts.