So you have just embarked on marijuana indoor growing and you are looking for the perfect LED grow lights. You are just starting so the best one for you has to be something affordable, probably light and a high quality product that will give you great service. Light is great and so is cheap and there are many products in the market with the same characteristics. This is good but it is also very confusing because you are spoilt for choice. however not all of them will give you great quality even though they are everything else you may be looking for in a LED grow light.
I am talking about AGLEX 2000 watt LED Grow Light. Read on to find out why people just love this LED grow light and why after you buy it you will wait anxiously for the harvest time to find out just how high your yield will be. Before giving you the full review, I will start with the favorite part. What benefits does the LED grow light come with? Here are the pros and cons of the grow light.
The good and the bad of AGLEX 2000 Watt LED Grow Light
Pros
AGLEX offers you the best deal for this LED grow light. It is cheap and not many other products with the same feature sell for this price.
Scientifically engineered
You can trust the grow light to deliver outstanding results all with the help of a scientifically engineered AGLEX patented modular reflector.
Comes with a high quality cord that makes the grow light safer and more reliable to use
The LED grow lights daisy chain feature makes your marijuana planting easier to carry out.
Expects high yields within shorter periods when you use the AGLEX 2000 Watt LED Grow Light
With the combination of different features, the LED grow light gives full spectrum, which is not only ideal for marijuana farming but other indoor plants as well.
You also get a 3-year manufacturer's warranty
Cons
The product is great but it lacks an adjustable rope
The grow light is extremely bright so do not look directly into it without protective eyeglasses.
AGLEX 2000 Watt LED Grow Light full review
Besides the need to attain high yields, every indoor grower also wants a product that is hustle free and one that will save them some money. AGLEX 2000 Watt LED Grow Light is all that and more. Made with advanced technology, the LED grow light comes with a high precision lens paired with reliable AGLEX COB Reflector tech, which gives your plants 98% light source. This like the manufacturer of the LED grow light says, will make your marijuana plants not only healthier but happier too. The grow light has a beautiful humanized veg and bloom design. The design gives you a timer and an easy switch on and off feature. You can use at different times during the growing stage of the plants. What is even better is that you do not have to unplug the LED grow light.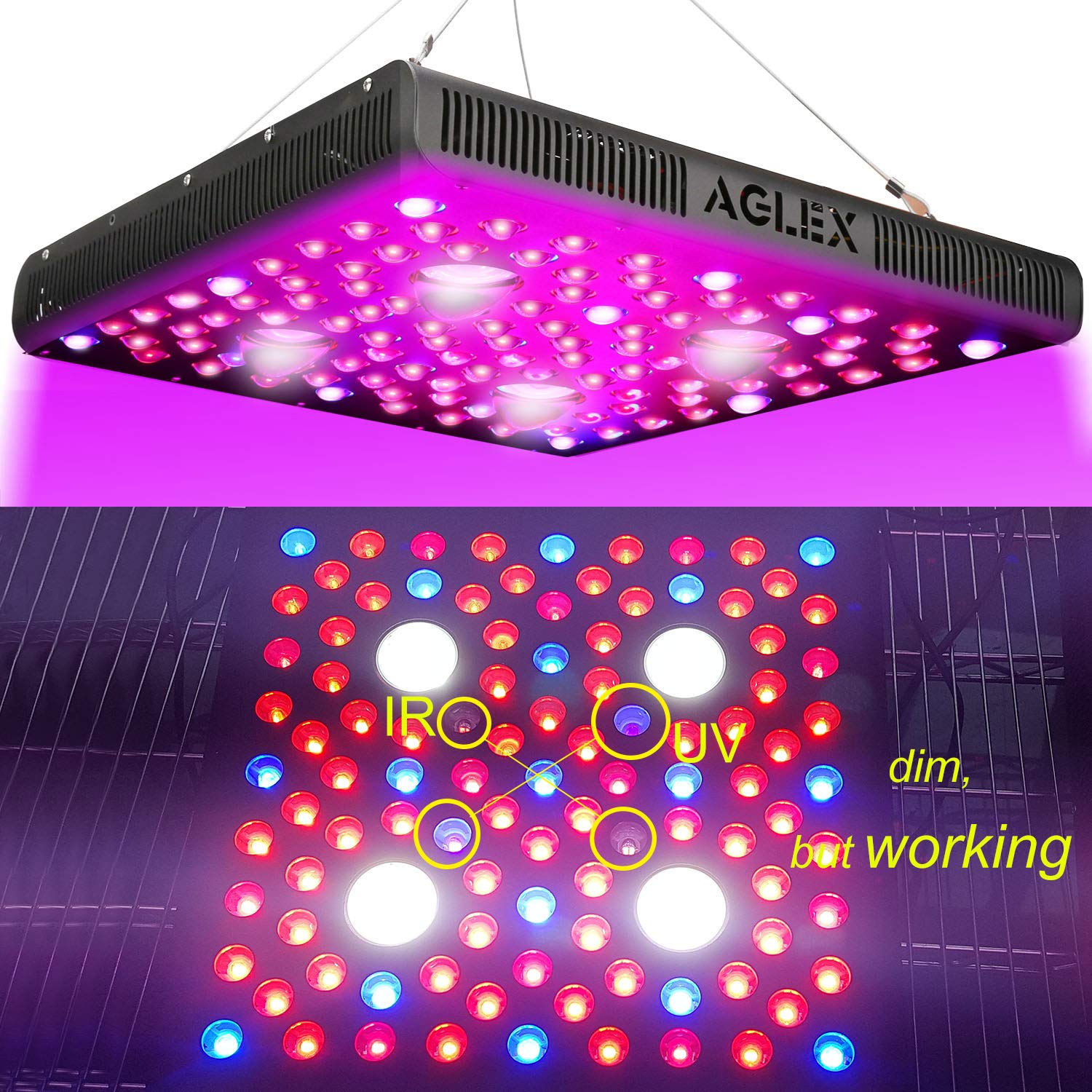 The daisy chain helps you to have a well-maintained neat lighting system. you can connect multiple lights without the worry of the wires getting tangles up to create a messy situation. The big fans and the large aluminum heat sink, give the LED grow light an efficient cooling system. This not only saves you cost on heating expenses but it also pro longs the LED grow light's lifespan.
The full spectrum AGLEX LED grow light applies double chip LED and high power COB, which mimic the natural sunlight thus delivering strong lighting to the plants, which in turn creates stronger healthier plants. This also reduces the growth time by a high margin, which in turn reduces the overall growing costs. The yields are also much higher than you would get in a planting session with no LED grow lights or with some other types of LED grow lights. So in short, you save on costs, get high quality and effective indoor lighting and harvest more. What more could you ask for?
What you get when you purchase AGLEX 2000 Watt LED Grow Light is a 2000-watt COB LED grow light, a hanging hook kit, a US power cable that does not tangle a user manual and a 3-year worry free warranty. Besides that if, you have any questions to ask about the product or want to make a complaint or an enquiry, you have yourself a friendly customer service to attend to you.
Conclusion
There you have it. One of the best powerful, highly potent yet cheap LED grow light. You can carry out your marijuana indoor growing luxuriously and with ease. All you have to remember is that the LED grow lights is very bright and as much as you would love to stare at its beautiful LED bulbs, wear protective glasses. Buy this affordable LED grow light from Amazon. We hope the above review was of help to you and you can now go out there with confidence to get yourself quality and style without spending too much of your money. If you want to find out more, let me know on the comment section.
Best 2000 Watt Led Grow Lights On Amazon: