LEDs have been around the market as early as the 1960s. They have slowly gained the popularity of indoor cannabis growers over the years. Back then, the lights were not able to produce the full spectrum color that they are known to create today. They were also very pricey, making them an unreasonable option compared to HID lamps.
Today that is not the case. With the demand for high energy-saving lighting options, many growers are turning to embrace LEDs since their prices did drop remarkably and increased in quality. A good LED lamp also provides you with an even coverage canopy avoiding any dead zones or hot spots.
Most of them produce full-spectrum lighting that contains the wavelength that is only beneficial to cultivation. One such lighting that you should know about is the BLOOMSPECT 1000W LED Grow Light. Here is a well-detailed description of why you should get the grow light for your cannabis farm.
Top Reasons you should get the BLOOMSPECT 1000W LED Grow Light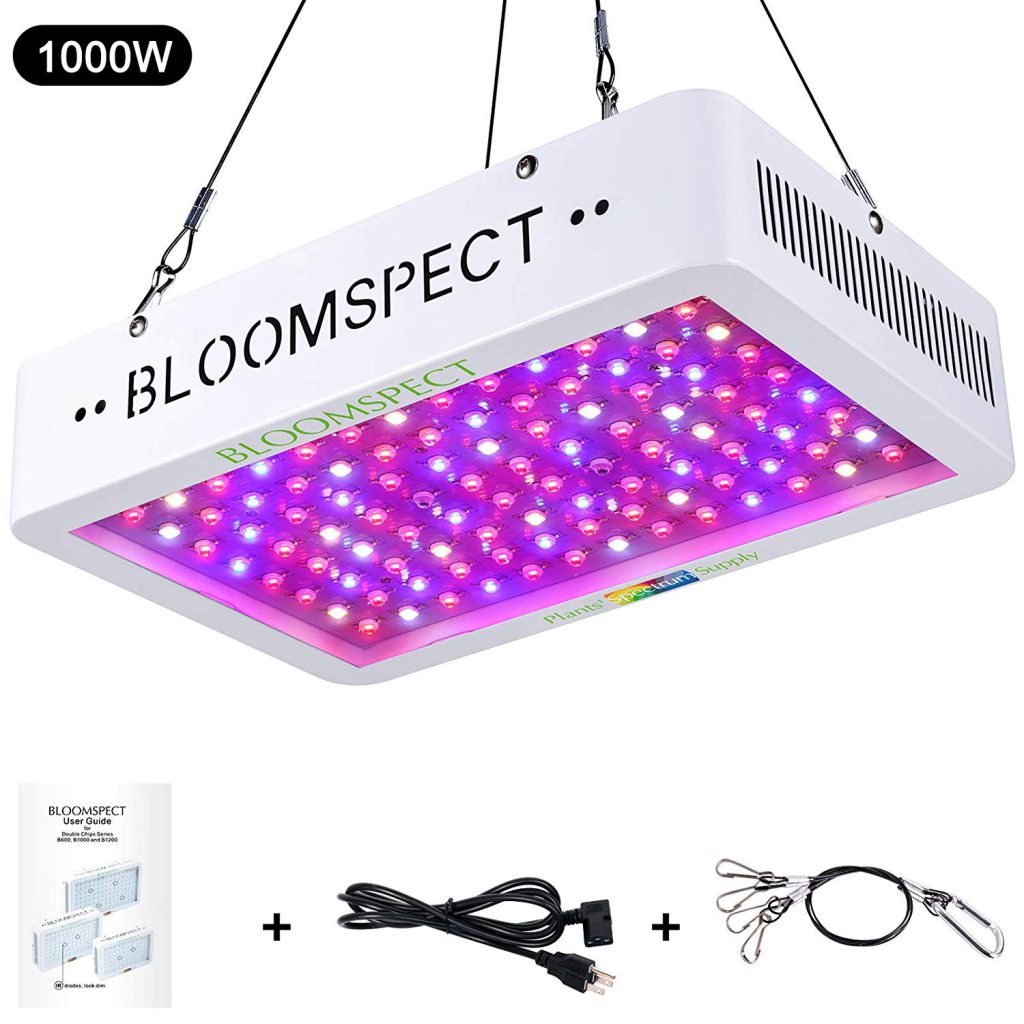 Excellent Coverage
The BLOOMSPECT 1000W LED Grow Light is an excellent option for small indoor gardens as it works perfectly for a growing area of 2.8 x 2.8 feet and 2.2 x 2.2 feet flower area.
Saves Tons of Energy
The grow light is engineered to save tones of energy as it only consumes 182W of electricity. You are also can save on cash more than when using an HPS/MH lamp.
Excellent for Use on all Growth Cycles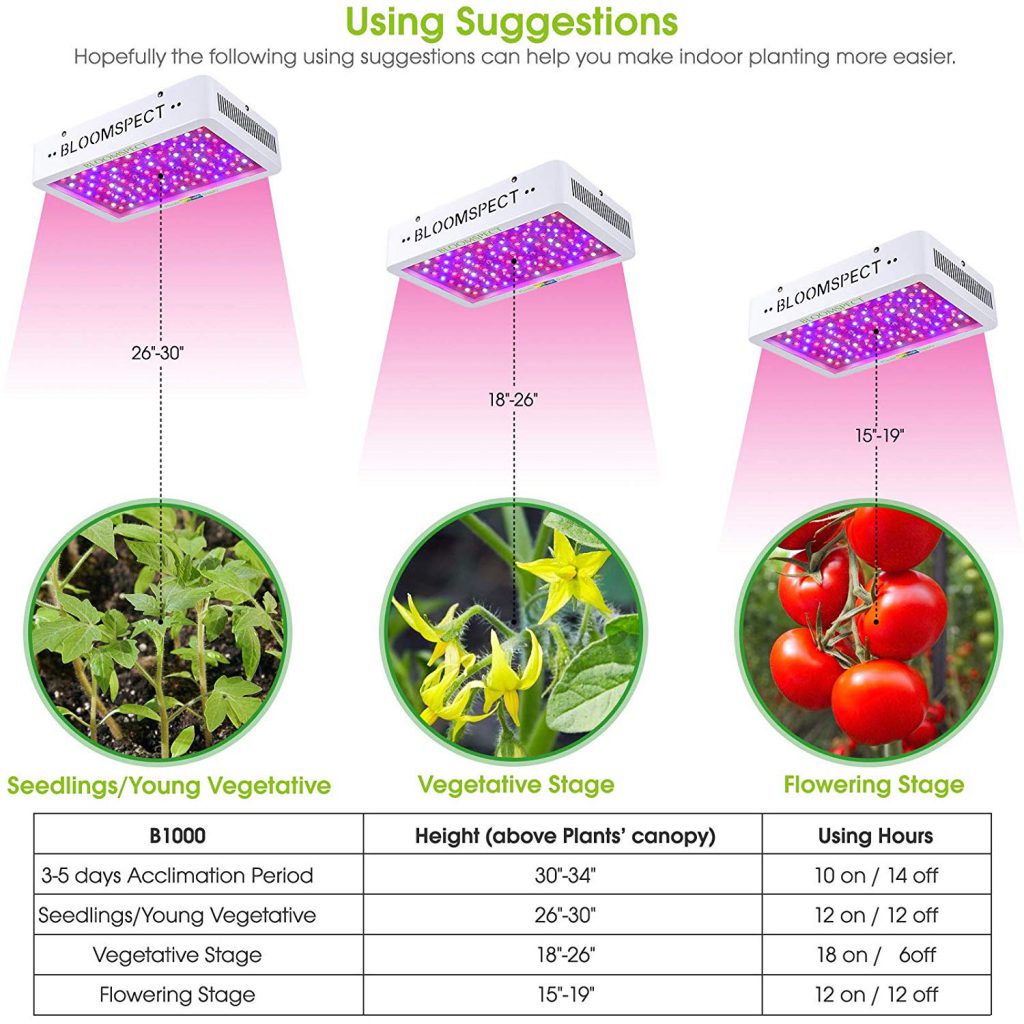 You can use the grow light for any stage. It is highly reliable and useful as it produces lighting that is well balanced between blue, red, and white from its 10 watts double-chips.
A good option for Weed
If you are looking to improve the overall size and quality of your weed buds, you will then love using the BLOOMSPECT 1000W LED Grow Light. It has a good record of delivering positive results with many cannabis growers backing the claims.
Great Durability
The grow light can last for many years without the need for making any changes. You can attribute this aspect to its well-refined cooling system.
Amazing Cooling System
Its cooling system does an excellent job of keeping the lamp cool without causing much noise.
Warranty
The BLOOMSPECT 1000W LED Grow Light has a two-year warranty and comes with a 30-day guarantee where you can return your light and get a full refund if the lamp does not meet your needs.
BLOOMSPECT 1000W LED Grow Light Full review
The BLOOMSPECT 1000W LED Grow Light is a lamp whose results openly speak for itself. The double-chip series is highly effective on all the stages of plant growth as it provides your plants with the needed of light for each step.
It leads to the development of bigger cannabis buds and more yields during harvesting. The 1000W grow light contains 100 pieces of 10W dual epiled or Bridgelux chips and consumes only 182W of electricity. It can, however, replace a 400W HPS/MH lamp. It does not produce much heat as it contains an aluminum heat sink whose design is made to help maximize the heat dissipation area.
It also has multiple vent holes together with a high speeding cooling fan. The lamp can maintain cooler temperatures even after using it for a continuous session of 24 hours. It is highly efficient and can last for 50,000 hours using low energy and emitting less heat. It is by far better than many fluorescent lamps in the market.
The coverage it produces is highly dependent on the height above the cannabis plants. Proper height for the growing area is 22 inches above the plants as it can then cover an area of 2.8 x 2.8 feet. You can set it at 17 inches high above the plants for the flowering grow area to achieve a covering of 2.2 x 2.2 feet.
To achieve great results for your cannabis garden, you can place the lam 26 or 30 inches high during the seedling stage of growth and light it on for 12 hours. During the vegetative phase, you can lower it down to between 18 and 26 inches above the plants while increasing the time of light exposure to 18 hours.
For the flowering stage, you can further lower the lamp to between 15 and 19 inches above the plants and reduce the light exposure back to 12 hours.
The lamp has a kit that contains hanging tools, one user manual, and a 6 feet power cord.
Summing up
Today, LED lights are revolutionizing how we grow indoor plants with minimum effort by high environmental efficiency. The lamps are simple to set up; all you need to do is plug and play. They do not run very hot as they have efficient cooling systems that organize the airflow and temperature throughout the grow room.
Even so, when setting them up, you should be more careful about the distance between the lamp and the plants to prevent any light burn. You can grab your light on Amazon at friendly prices.
Do you have any queries about the BLOOMSPECT 1000W LED Grow Light? If so, get back to us today.
Read more: