Marijuana smoking no longer depends on traditional consumption methods such as rolling joints or blunts. Other methods taking over from the traditional ones include topicals, brownies, edibles, capsules, pills, and vaporizers. People today also opt to make their weed recipes from the comfort of their homes, especially if they do not trust the effectiveness or potency of the products in the market.
Anyone taking the road of preparing recipes from the comfort of their home is in luck as there are many online recipes. Developing the recipes may seem like a simple thing to do, but it is not the same for some of them. It is essential to infuse and decarboxylate your cannabis. One of the most popular decarboxylation and infusion products in the market is the Nova decarboxylation.
In this article, we look at the Nova decarboxylator, but before then, let us understand what decarboxylation is.
What is decarboxylation?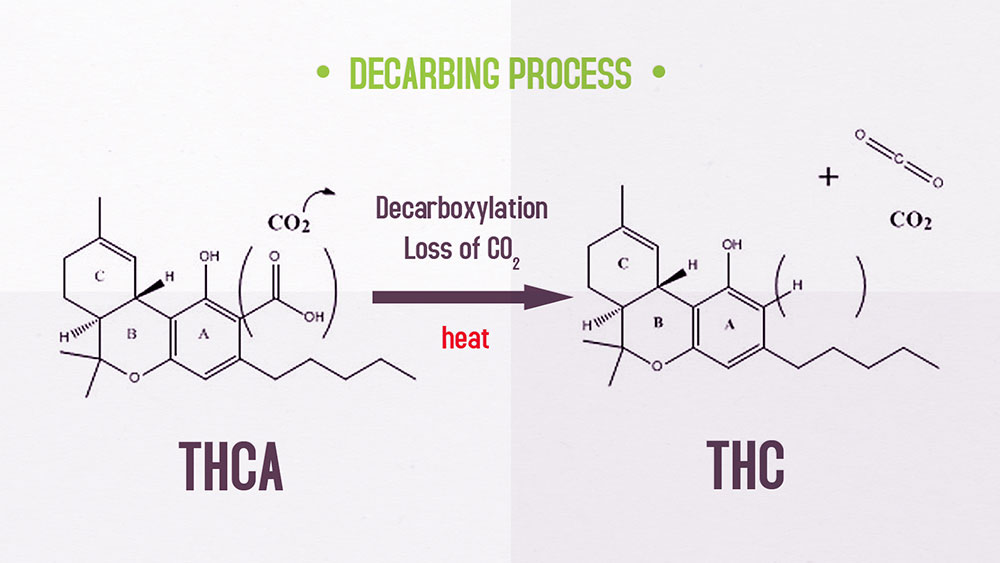 Decarboxylation is the process of making cannabis a potent ingredient before adding it to any recipe. The process involves a chemical reaction achieved by heating raw cannabis to a specific temperature that allows it to releases carboxyl and becomes psychoactive. Natural cannabis contains THCA, which decarboxylation converts to THC to make it more potent.
See also:
Nova Decarboxylator Review
Summary of features
Weighs 1000 grams
Width of 100 mm
Height of 190 mm
Decarbs and infuses kief and concentrates
Lab-tested
FDA approved
Bpa-free plastic
Mess-free and odorless
Provides full activation of cannabis
Infuses oil and butter
Low maintenance
Separate silicone sleeve bought separately
Overview
The Nova Decarboxylator is one of the most innovative devices that make cannabis decarboxylation easy. It is easy to use the product as all you do is just place your raw cannabis in the device, press start, and it does the rest. The device does not emit any smells or cause any messes around your work area at home.
The whole process is odorless and free from noise. Besides preparing the herb for the best THC potency, you can also use the same decarboxylation method to make your treatment regimens from cannabis. The device allows you to create recipes that come with unique tastes without using the traditional and tedious conventional methods.
It comes with an easy to understand and follow user manual that helps you to meet the specific needs and requirements with the right dosing. The construction of the Nova is durable and made from quality materials and components. The quality is excellent for both the inside and outside of the oven.
The interior of the oven consists of high-grade heating elements that activate the psychoactive and therapeutic properties of cannabis. The heating device also provides versatility as it activates both the THC potency and the medical benefits from raw cannabis. The complete package includes a user manual and the Nova decarboxylator. Nova is expensive, but it provides value for your money.
How to use
You can use the Nova decarboxylator in two different ways. The first method requires that you use the device with a baking paper, while the next process requires using a silicone lining that you buy separately. The Nova is simple to use, and it comes with easy and unambiguous instructions to follow.
It has a power button, which plays the most significant role in its application. You do need to set anything manually as the Nova does it all for you. Below are the steps to follow
Put your cannabis into the silver container
Place the container into the decarboxylator
Use the purple lid to cover up the container
Cover tightly with the black lid
Switch the power button on
Before switching on the power button, the light is green, which means that it is ready to start processing. After switching or pushing the power switch on, the light turns red, that means it is processing. The complete cycle of processing takes anything between one hour and two hours, during which time you can do something else that you deem fit by you.
After the declaring process is over, you can now move to the next step, which is infusion testing. For this process, you will need to have the silicone infusion sleeve, which comes separately. Using the infusion sleeve, follow the following steps for infusion.
Choose any oil that you prefer to use with your cannabis
Put the silicone infusion sleeve inside the Ardent Nova device
Put the oil in the inside the silicone sleeve
Add your declared cannabis
Use the purple lid to cover
Put on the black lid
Press the power button on
Once the process completes, the light will turn red, which is an indication that the process is complete. You can use the infused oil in any of your cannabis recipes, or add it to lotions or creams.
There are two popular Nova decarboxylators. The first is the Mighty Fast Herbal Infuser & Ardent Nova Decarboxylator Bundle, which comes with all the basic features of a decarboxylator. The only thing it lacks is the silicone infusion sleeve. The other product is the Ardent Nova Decarboxylator & Silicone Infusion Sleeve that comes with a silicone infusion sleeve. You can check the process for both products on Amazon. .
Pros
Saves money and time
Odorless
Noiseless
Comes with multiple purposes
Increase THC potency
Increases the potency of cannabinoids
Prevents terpenes from escaping
It has a large capacity
Easy to use
Consistent
Cons
Some users claimed it leaked out odors
Expensive
Silicone sleeve does not come with the Nova container
Customer reviews
The Nova decarboxylator was a hit with the customers that used it, and they showed their appreciation by giving the devices an average rating of 4.4 stars. Many of the users praised the device for its ease of use and the odorless process. A few though claimed that there was odor leakage, but the reason behind this is they may not have put the lid back on tightly enough.
The price was also another issue, but despite the high cost, they agree that the device provided value for money. Other positive reviews touched on its time and cost-saving abilities. A few of the customers wished that it came in a bigger size.
Read next: How to Make Pot Brownies
FAQs about the Nova Decarboxylator
Do you need the silicon infusion sleeve for cannabis decarboxylation?
A silicone infusion sleeve comes in handy if you want to add oils to your decarbed cannabis. It helps to infuse the liquids. Instead of the silicone infused sleeve, you can also use a glass container.
Can you use the decarboxylator for several batches or just one?
You can use the Nova decarboxylation to decarb two or three more batches. All you need to do before putting in the next bunch for processing is to allow the device to cool first. No cleaning is necessary.
What are the benefits of cannabis decarboxylation?
Decarboxylation of cannabis helps you to unlock many benefits from the herb that you would not get from just smoking or vaping. It is especially great for people that love the flower part of cannabis. The process helps you to infuse marijuana for the creation of your recipes for edibles, tinctures, sublingual, and even medicine.
By decarbing, you get the most THC out of every batch you use. It also gives you a chance to control your dosage, especially if you are decarbing for medical reasons. If you were vaping or smoking to manage some pain, you would have to do it all day to get the results you want.
Decarbing also allows you to use cannabis discretely from the comfort of your home. You can also trust products that you make for yourself than those you buy from marijuana dispensaries or other dealers. It also helps you to cut down on costs that you would otherwise use to purchase medical marijuana from other sources. Best of all, it is a fun thing to do, and before you know it, it becomes a great hobby.
Wrapping it up
Decarboxylation is not a very old practice, but it is catching up with many lovers of quality cannabis in their edibles and other recipes. Decarboxylation may look like a hard thing to do, yet the exercise requires little effort from you. Nova decarboxylation devices are some of the best in the market, and they practically do all the work while you wait for the final product. What is even better is that you get to control the amounts you want to decarb and infuse.
-$30.99 SALE OFF
Bestseller No. 1
ONGROK Decarboxylator Machine, Decarb Box Device, Minimal Odor, Sleek Design, Durable Body
Programed Based on Accredited Scientific Studies | Lab tests show that perfect activation occurs at 250F, with minimal to no degradation of active compounds for up to 60 minutes. The microprocessor of this decarb machine is programmed with heat and time settings, according to a study from the University of Waikato, New Zealand.
Worry-Free and Easy to Use! | The one button functionality simplifies the decarb process for you, with absolutely no guesswork! A full decarb cycle takes 90 minutes (including heat up and cool down).
Minimal Odor | The ¼ turn locking function of this machine makes it easy to seal shut. The oven grade silicone o'ring minimizes odors versus smelly decarboxylation in the oven.
Food Grade Aluminum Canister | The ONGROK Decarboxylator Machine is lntertek tested to meet North American food safety standards, so you can be confident in the purchase of this device!
Sleek, Discreet Design | Designed with discretion in mind, this infuser machine is sleek, compact, and looks great anywhere!
Bestseller No. 2
Ardent FX Mini 3 in-1 Decarboxylator Machine to Decarb, Bake, and Infuse-Works with Herbs, Butter, Tinctures, Oils, And Lotions - Portable, Odorless & Easy to Use
DECARB & INFUSE QUICKLY - Stop burning, over-heating and under-activating your herbs and flowers. Activate 97% of your plant with Ardent FX mini decarboxylator designed with high-grade material and the latest of kind patented technology. Decarb your herbs, and flowers and infuse with oil, butter, or MCT oil with just one click.
BAKE PRECISELY- DUAL TEMPERATURE SETTING: Adjust just the right temperature because the Ardent FX infuser machine gives you two settings A1 and A2 and pre-set timing cycles to produce consistent & premium-grade batches. Heat precisely down to a single degree and max out the terpene content. One infusion button adds further convenience, simplicity, and precision to your tincture or infusion-making process.
MAKE EDIBLES ON AUTO-PILOT: Put an end to hours taking in decarboxylation and infusion process and juggling with a complex menu of settings and continually watching your product, Ardent FX gets your job done with one click because FX mini requires no prep time or additional substances.
PREMIUM CONSTRUCTION AND ELEGANT DESIGN: If you are looking for an oil infuser for herbs, flowers, and tinctures that stores easily on your counter, functions seamlessly, and looks classy, look no further than the Ardent decarb box because it's a stylish design, simple operation and high-end construction make it highly sought after decarb machine right now.
ONE-YEAR WARRANTY: We strongly believe that our US-made FX mini if used with care will remain the best cooking companion in your kitchen. The sturdy design and fine grade material with durable construction make it a built-to-last device. However, one year warranty keeps your investment super-safe.
Bestseller No. 3
Bestseller No. 4
Ardent FX Handle To Hold and Control Ardent Decarboxylator| Pour Infusions and Oils with Ease
CONVENIENCE AT ITS BEST - Introducing our favorite new tool: The FX Handle. Now you can easily hold and control your Ardent FX device, making it easier to transport or pour from your device. Move your device from one place to another with ease with this Ardent FX handle.
POURING INFUSIONS & OILS MADE EASY: No need to strain your wrist and arm. The FX Handle allows you to pour infusions and oils with ease. Designed to fit the FX device, this sturdy handle is essential for any kitchen—and makes straining and pouring oils, butter, ghee, milk, and cream an absolute breeze.
THE EASY WAY TO LIFT YOUR DEVICE: We've engineered this convenient handle to make it easy to grab your device with one hand, leaving the other free to turn, stir, or flip food. During the decarboxylation or baking process, the device may heat up a bit so it's helpful to have this handle handy.
HOW TO USE:: Designed to make using the Ardent a breeze, the FX Handle is a must-have accessory. Start by sliding the handle up onto the device and locking it in place. Next, pour out your decarbed material or infused medium with ease. The FX Handle can remain on the device during decarb, infuse, or bake cycle.
WE'VE GOT YOU COVERED: We strongly believe that our US-made Ardent FX handle will be the best companion in your kitchen. The sturdy design, fine-grade material, and durable construction make it a built-to-last handle. However, one year warranty keeps your investment super-safe.
Bestseller No. 5
Herb Decarboxylator Infuser 2 in 1 - Decarb Machine for Butter and Oil
✅ EASY TO CLEAN | Dishwasher safe. Also easy to rinse off grease and other residue.
✅ ODORLESS | Food grade silicone and alunimnum controls decarboxylate smell at 100%.
✅ LARGE CAPACITY | Aluminum canisters activates up to 2 ounces of herb and products.
✅ SMART & SIMPLE | 4 preset modes for C and T decarboxylation to bring out max of herb potency.
✅ PRECISE HEATING | Apply heat cycle to your herb products to achieve best decarb and curing results.