Updated: (09- 2023)
I recently received a lot of feedback from readers that this company shows signs of fraud.
"Sent my payment in 12-11-20. Called last 2 weeks no answer, i should've done my homework so dissatisfied with the service. I will research more thoroughly from now on. Hopefully they fill my order been 2 weeks and 2 weekends smh."
" Grower's Choice Seeds are the worst seeds that I have ever grown. Poor germination rates, everything that did grow hermied big time, and craziest of all, two different strains of auto's didn't 'auto' at all. Had to flip the auto's to 12/12 at 90 days to get them to flower. And then the auto's hermied too. Huge waste of time and tent space."
"I also have bad luck with hermies from growers choice, I've grow some quality bud from them, but 75 percent of the beans I've grown from them either hermed, didnt germinate, or grew into fluffy larf, I'm completely done with that company, I'm about to start a grow with some banana daddy from ethos genetics"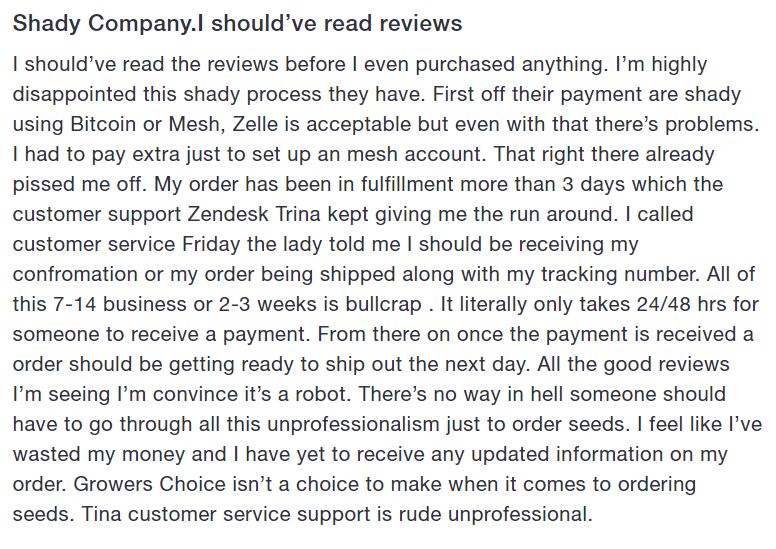 This article I have written on 2017 when this company still good. We hope everyone will sympathize with this delayed update
Best Seed Banks Article On 09- 2023
Finding the right kind of weed seeds can be a daunting task. You may be searching for a particular type of seed for weed for a nice Kush you need a platform where you can order with confidence. At Growers Choice Seeds, there is a wide variety of high potent weed seeds. Here, there is anything for any budget, and also, expect to find rarest and most expensive strains of weed seeds available. You will also discover strongest regular cannabis seeds as well as feminized weed seeds like seeds for colder climates, high CBD seed, seeds with high THC levels, top yielding seeds, those with various benefits and seeds of exotic flavors too.
Growers Choice Seeds Review

The best thing about Growers Choice Seeds is that they guarantee you seed germination, at a rate of 90%. This is the highest germination rate in the industry. If by any chance your seeds do not germinate, they will replace them for you, but this is only of you had ordered from them and you strictly followed their detailed germination method.
About Growers Choice
Offering lab-tested and fully feminized cannabis seeds, Growers Choice also boasts of being one of the most reliable seed banks around the globe. Their cannabis seeds are some of the best-selling and to top onto that, the customer experience is as simple and straight forward as possible. They stock over 50 strains of cannabis seeds to ensure that you are fully satisfied.
With available and friendly customer service, they have a goal of handling each individual in the best humane way possible. They are proud to hold your hand through whatever you are going through in the healthiest way possible. They've got the best seeds for chronic pain, multiple sclerosis, stress, cancer and the like.
One of the factors that make the Growers Choice your choice seed bank is that they not only sell you the seeds but also help you to grow them. They give you lots of top-notch information which can be accessed from their website, on how to choose, grow, and harvest your cannabis.
With hand-picked and freshly packed seeds, the seed genetics are guaranteed, and they are packed in medical-grade glass. Their seeds are of high-quality, that's why they stand by every seed they sell. Their medical cannabis has been proven to work and one of the healthiest choices around.
Growers Choice Products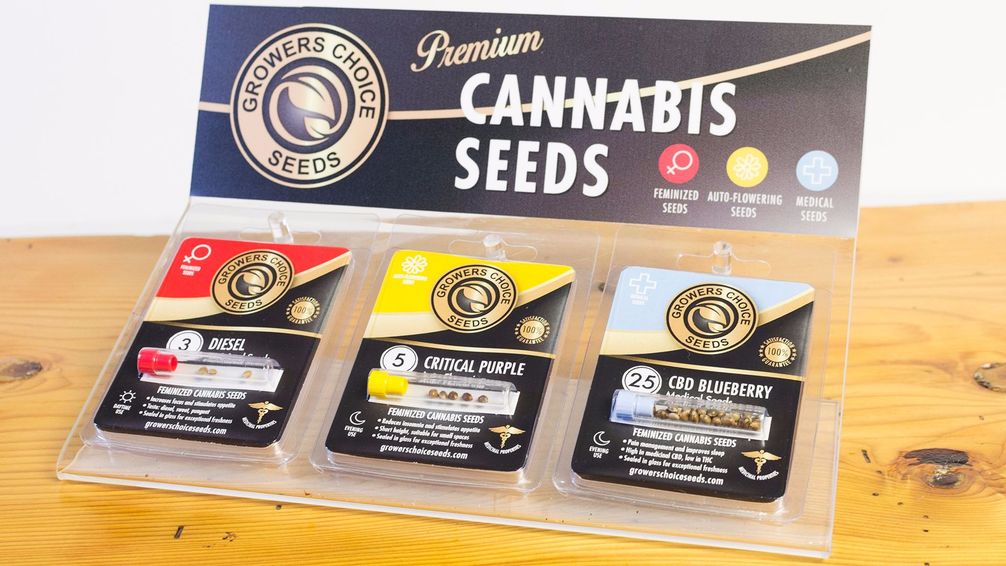 Growers choice stock Auto-flowering cannabis seeds, feminized seeds and high CBD medical seeds.
Auto-Flowering Seeds
Growers Choice transform existing feminized strains into auto-flowering ones by means of cross-breeding with Ruderalis. The seeds in this category include:
Afghan Auto-Flowering Feminized Cannabis Seeds
AK Auto-Flowering Feminized Cannabis Seeds
Blueberry Auto-Flowering Feminized Cannabis Seeds
Bubble Gum Auto-Flowering Feminized Cannabis Seeds
Candy Kush Auto-Flowering Feminized Cannabis Seeds
Cheese Auto-Flowering Feminized Cannabis Seeds
Cream Autoflowering Feminized Cannabis Seeds
Critical Purple Auto-Flowering Feminized Cannabis Seeds
Gorilla Glue Auto-Flowering Feminized Cannabis Seeds
Haze XL Auto-Flowering Feminized Cannabis Seeds
Hindu Kush Auto-Flowering Feminized Cannabis Seeds
Kush XL Auto-Flowering Feminized Cannabis Seeds
Northern Lights Auto-Flowering Feminized Cannabis Seeds
Pineapple Auto-Flowering Feminized Cannabis Seeds
Skunk Auto-Flowering Feminized Cannabis Seeds
Sour Kush Auto-Flowering Feminized Cannabis Seeds
Tangerine Dream Auto-Flowering Feminized Cannabis Seeds.
Feminized Seeds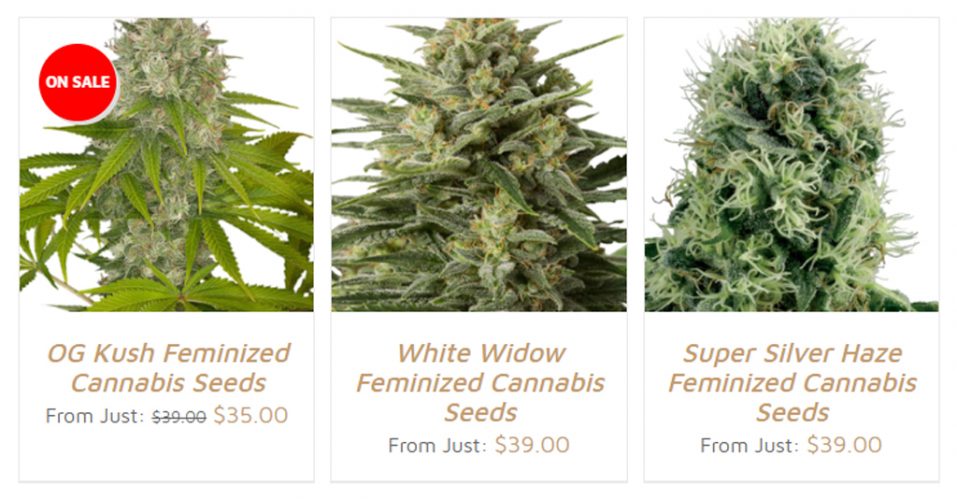 The company also sells feminized seeds in various stores across the country. However, it is advised that if you can't locate a store near you, or you need a unique strain, you can order online from your account. Purchasing online is easy-peasy as you will be required to make your selection then place your order.
For starters, the best the site can offer you include:
Durban Poison Mazar and Blueberry Kush
Amnesia Feminized Cannabis Seeds
Chemdog #4 Feminized Cannabis Seeds
Cinderella 99 Feminized Cannabis Seeds
Critical Kush Feminized Cannabis Seeds
Diesel Feminized Cannabis Seeds
Durban Poison Feminized Cannabis Seeds
Girl Scout Cookies Feminized Cannabis Seeds
Great White Shark Feminized Cannabis Seeds
Green Crack Feminized.
Jack Herer Feminized Cannabis Seeds
Mazar Feminized Cannabis Seeds
Mexican Haze Feminized Cannabis Seeds
OG Kush Feminized Cannabis Seeds
Power Plant Feminized Cannabis Seeds
Super Silver Haze Feminized Cannabis Seeds
White Widow Feminized Cannabis Seeds
American Haze Feminized Cannabis Seeds
Blueberry Kush Feminized Cannabis Seeds
Bubba Kush Feminized Cannabis Seeds
Purple Kush Feminized Cannabis Seeds
Skunk Kush Feminized Cannabis Seeds
High CBD medical seeds
This site also sells high CBD medical seeds. If you are a gardener, the seeds from Growers Choice Seeds will offer you the chance to cultivate a personal supply of high quality and natural supply. They include:
ACDC CBD Feminized Cannabis Seeds
CBD Blueberry Medical Feminized Cannabis Seeds
CBD Critical Mango Medical Feminized Cannabis Seeds
CBD Critical Mass Medical Feminized Cannabis Seeds
CBD Moby Dick Medical Feminized Cannabis Seeds
CBD Shark Medical Feminized Cannabis Seeds
Read Next: Best Cbd Oil For Pain
-$0.66 SALE OFF
Bestseller No. 1
Just Hemp Foods All Natural Hemp Seed Oil, Cold Pressed, Cold Filtered, 12g of Omega 3 & 6 Per Serving, 16.9 Fl Oz
PLANT-POWERED NUTRITION: Hemp Seed Oil has 12g of Omegas 3 and 6 per serving. Our hemp oil is an excellent source of ALA, Gamma-Linolenic Acid (GLA) and Stearidonic Acid (SDA). Omega 3s are an essential fatty acid
VERSATILE and DELICIOUS NUTTY FLAVOR: Use in a variety of recipes including pesto and sauces, or mix into salads and dressings. Enjoy daily for a nutritious boost
PREMIUM QUALITY: Non-GMO Project Verified, Cold Pressed, Unrefined, and Hexane-Free. No added preservatives or dyes. Free of CBD oil
A FIT FOR A VARIETY OF DIETS and LIFESTYLES: Gluten Free, Vegan, Kosher Certified, Keto, Paleo, and Dairy Free
STRONG VALUES: At Just Hemp Foods we believe in cultivating the world in which we want to live. As a Certified B-Corp with a net zero carbon footprint, sustainability is at the forefront of everything we do
-$3.40 SALE OFF
Bestseller No. 2
(2-Pack) High Potency Hemp Oil - Maximum Strength, Immune System Support, Focus Calm, Relaxation, Mood, Pure Extract, Organic, Vegan, Non-GMO
THE BEST CHOICE: Hemp oil is produced in Colorado, USA. Our Premium Hemp Oil is a carefully cultivated formula that balances a small amount of distillate to achieve an amazing flavor with maximum efficacy.
ETHANOL EXTRACTION: When ready for factory processing, we will use a very cold (-40°C) ethanol extraction method. The ethanol extraction method provides the highest purity in hemp oil and makes it rich in natural organic ingredients.
QUALITY SUPPLEMENT NUTRIENTS: Naturally full of Hemp Oil Extract, omega 3-6-9, Vitamin C, Vitamin E, trace minerals, amino acids, digestive enzymes and vitamins B - GORNVB's hemp oil extract drops will show amazing results fast. Relaxing, great night's sleep - all that and even more!
ORGANIC HEMP: GORNVB hemp oils do not contain any preservatives, artificial colorants, or major allergens including soy, gluten, milk, egg, wheat, GMOs, peanuts, and shellfish.
SAFE AND TRUSTWORTHY: Hemp Oil has always been committed to providing quality products to its customers. Tested by third-party labs for quality, safety and efficacy, you can use it with confidence!
Bestseller No. 3
Organic Verdana Virgin Hemp Seed Oil – Unrefined Canadian Cold Pressed Oil – Non-GMO, Kosher Food Grade and Organic – 32 Fl Oz
100% NATURAL: Made exclusively from cold-pressing organic hemp seeds without any harmful toxins or harsh chemicals being involved, ensuring that our hemp seed oil is as natural as it gets without losing any of its essential fatty acids, antioxidants, or chlorophyll. No refining, bleaching or de-odorizing.
NUTRIENT RICH: Verdana Organic Hemp Seed oil is packed with nutrients and a true superfood. It contains the perfect ratio of Omega-3 and Omega-6, as well as an abundance of essential fatty acids, antioxidants, and chlorophyll.
VERSATILE: Verdana Organic Hemp Oil is vegan and conforms to paleo, ketogenic, kosher and gluten-free lifestyles. Add to your favorite recipes. Use in smoothies, salads, and favorite dishes. Use in your skin and hair care routine, gently massage a few drops into skin or damp hair or simply add a few drops to your favorite lotion, shampoo, or other oils.
FRESH AND SAFE: Features an induction sealed cap to preserve freshness, prevent tampering and guarantee your peace of mind. BPA-free, Non-GMO, Certified Kosher and USDA Certified Organic so you know it´s the real deal.
HIGH QUALITY: Directly sourced in Canada in a responsible way as with all our products. 100% pure Hemp Seed oil with nothing added and nothing removed. Its mild aroma makes it great for enhancing your recipes. Do not fry with this oil to avoid diminishing it´s healthy properties.
Bestseller No. 4
Hemp Oil - 4 Pack - All Natural of Hemp Drops - Grown & Made in USA - Natural Hemp Drops by NewAge (1000 (Pack of 4))
NEW AGE Hemp Oil - Is always raw, unrefined, expeller cold-pressed and is light green in color, lighter in flavor, and has more GLA content compared to all other hemp oils!
Rich In Essential Nutrients - Made with natural hemp oil, contains a large range of valuable nutrients as well as essential fatty acids omega 3-6-9, and vitamin E in which help to boost overall health, can be enjoyed daily as part of your diet.
Quality Taste - Smooth all-natural mint flavor, can be taken directly or put in your favorite smoothies, coffee, juices, water, or other recipes.
Tested & Allergen Free - Each batch of NEW AGE hemp oils are third-party tested to guarantee the highest premium quality; NEW AGE hemp oils do not contain any preservatives, artificial colorants, or major allergens including soy, gluten, milk, egg, wheat, GMOs, peanuts, and shellfish.
Grown & Made in America - We are proud that our all-natural hemp oils are made in a certified and inspected lab, so you can trust in us and the product you are buying; NEW AGE has high professional quality standards - every single batch of NEW AGE product is third-party tested, and each bottle is manufactured here in the United States.
-$1.37 SALE OFF
Bestseller No. 5
Hemp Oil – Cold Pressed, Premium Quality – 12g of Omegas 3 & 6 Per Serving – Hydrate, Calm & Nourish Skin - Non GMO, Vegan, Gluten Free Hemp Seed Oil – Great for cooking, salad dressings - 12 Fl Oz
COMPREHENSIVE PLANT-BASED NUTRITON: Manitoba Harvest Hemp Seed Oil provides a plant-based, nutritious boost to everyday foods. With 12g of Omegas 3&6 per serving, use in a variety of recipes including pesto and sauces, or mix into salads and dressings.
NATURAL HYDRATION FOR SKIN, HAIR: Hemp Seed Oil contains benefits beyond dietary nutrition as it protects skin and hair by deeply nourishing, softening, & conditioning. Replenish lost hydration by applying Hemp Seed Oil throughout your skincare and haircare routine.
PROTECT & CALM SKIN: Hemp Seed Oil not only provides hydration but a natural protective barrier for various skin types – it lessens the appearance of occasional redness, has a calming effect, and helps protect skin from environmental stressors.
PREMIUM QUALITY: Manitoba Harvest Hemp Seed Oil is Cold Pressed, Unrefined, and Hexane-Free with no added preservatives or dyes. It is Non-GMO Project Verified, Keto Certified, Paleo Certified, Gluten Free, Vegan, Whole 30 Approved and Kosher.
QUALITY FROM SEED TO SHELF: Manitoba Harvest Hemp Hearts takes only the freshest, highest quality hemp seeds from field to table. Since 1998, we've grown our portfolio of hemp products with a dedication to quality, sustainability, and consumer wellness as a global leader in hemp foods.
How You Benefit From Growers Choice Seeds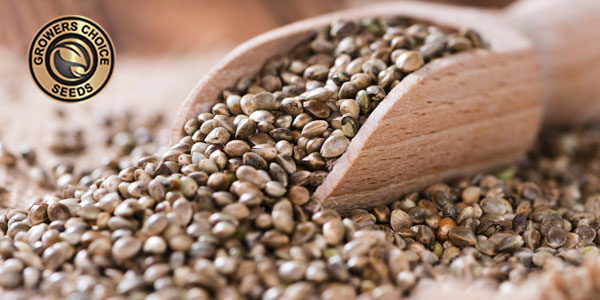 Diverse cannabis strains
Grower's choice seeds stock different seeds that are made up of particular genetic combinations. These strains are developed daily to fit the different grower's requirements. With an email newsletter, you get notified with new strains as soon they are developed. Also, you can benefit from all the necessary strain information when you visit their website and social media platform.
Fresh products
Fresh seeds go along way when you are looking for a quality product. Growers' choice seeds make sure that they have hand-picked the seeds and assorted them removing any unwanted or irregular seeds. When the assortment is done, the next step is selecting the best quality in terms of size and concentration. They obtain seeds that are likely to germinate and produce high-grade cannabis. The seeds are then assorted and sealed for freshness and ready to be transported.
High germination rate
It can be disappointing to spend your money on seeds that do not grow. At Growers Choice Seeds, they assure you a 90% germination rate. This means that in all the seeds that you purchase, there are two to three seeds that will not germinate. For the seeds that do not germinate Growers Choice Seeds is ready to replace them for free. This will, on the other hand, assure you have full value for your money.
Customer care
Grower's choice seeds prioritize their customers. When you visit their site for the first time, they ensure that you have an easy time when you are looking for seeds. In case you have any questions, their social media platforms are always active, and you can have a conversation with an agent. They are also available via email, phone, and on their website.
Seeds are not the only thing that grower's choice seeds offer. They make sure that their customers are up to date. They provide their customers with all the information that they may need, including industrial cannabis legislation, growth, and medical process. By providing this information, their customers will be enlightened.
Seed delivery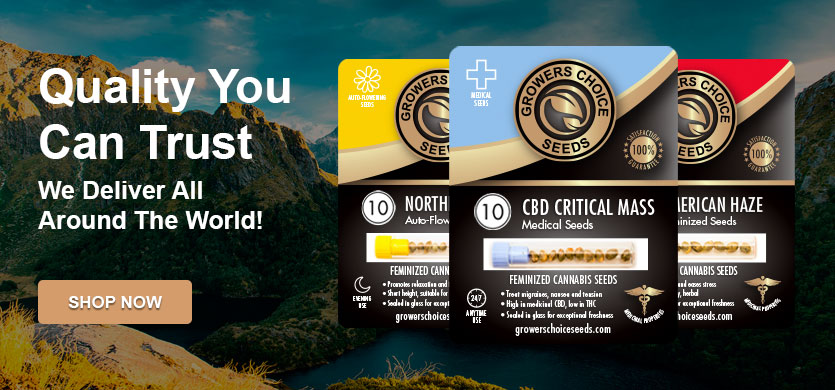 When you check out, you are provided with various options for delivery. This means that you can choose when and how you want your seeds to arrive. Growers' choice seeds offer a flat rate shipping payment. Therefore, you will have no extra charges no matter the weight and the number of seeds that you order. For orders that exceed 500$, you get free delivery.
In the United States, a flat rate of $9.95 takes seven to ten business days; this will include tracking. In Canada, for a priority mail, $14.95 is paid, and it takes seven to fourteen days to deliver depending on the area. If the area is rural, then you can receive the seeds in fourteen days.
For Australia residents, you can opt for the express registered, which costs $30. It will take 7 to 30 days to transport the seeds. No signature is required when ordering the seeds. In Europe and other countries, express registered is the most convenient way to receive the seeds. It will cost you $30 it will take 7 to 25 days to obtain your seeds.
Purchasing Online At Grower Choice Seeds
Buying from this website is very easy and takes less time than in most weed seed platforms. Before you can make any purchases, however, you need to register an account with the website. The process is straightforward, and your account will be ready for activation on your email. Next, go to the product and add it to the cart. Next, check out.
Packaging
Growers Seeds Choice packs their seeds depending on the location to be shipped. There is a regular airtight packaging offered. However, they can use the padded packaging method to ensure that your seeds do not get damaged. There is a stealth package in case you want privacy. In the stealth packaging, there is no company name or the content list. In the stealth package, there is no extra charge. The only thing that appears on the package is the tracking labels, the stamps, and the address.
How To Save On You Purchase With Grower Choice Seeds
The site offers you up to a 10% discount during your next order if you subscribe to a newsletter. One is also entered to win up to $100 worth of free seeds every month. Also, you can save a lot on your purchase when you make large orders. You can contact the site at https://www.growerschoiceseeds.com/contact and ask to speak with the Wholesale division. They will advise about wholesale pricing, and here, you can save a lot on your purchase.
Billing Options at Growers Choice Seeds
Also, you can choose your payment options. There is a couple of billing options that the site currently accepts. These include Payment by Mail, Zelle, for US citizens only, Interac eTransfer for Canadian citizens only, ACH Electronic Checks for US citizens only, and VISA & MasterCard. There might be some restrictions when using VISA & MasterCard, though.
Also, recently, the shop has started accepting Bitcoin as a billing channel. To use bitcoin, one has to sign up for an account with Coinbase, then purchase Ethereum, Bitcoin or Litecoin or any other cryptocurrency with your bank. Once the Coinbase account has funds, one can use the funds to buy on the platform.
Refunds and return policy
If you have received the wrong seeds, or you have an issue with the seeds, then you will need to return them. There are a few key policies that you will have to adhere to. These policies include contacting the company before you can return the seeds. When you return seeds without communicating, you will have zero refund. Grower's choice seeds only accept seeds that are seven days old after being delivered. You should wait for confirmation so that you can return the seeds.
When Growers Choice Seeds have confirmed your request to return the seeds, they will provide you with a specific mail. This mail is explicitly used for returning seeds. When you have the mail, you should include a tracking number and receipts to safeguard the product. When the items have been received in the warehouse, a refund is offered. This refund is provided the same way the money was paid; for example, if you paid via credit card, the same amount will be returned to your credit card within a set time frame.
Additional Information
The site needs to inform you that no orders will be prepared to be shipped until one has made payment in full. Also, it is advisable to know that all prices listed on the site are in US dollars. The site will not be responsible for any bank transfer charges for customers who wish to make bank transfers. In the same breath, any credit card fees, processing fees, exchange rates, or service fees charged by the customer credit card issuer will be the responsibility of the customer. Finally, in countries where import taxes and duty exists, the traditional charges will be the responsibility of the customer.
Working with growers choice seeds or becoming their partners
If you are interested in becoming a partner of Growers choice seeds, then you can be sure of getting quality seeds. Growers Choice Seeds ensure that horticultural experts have inspected the seeds that they provide you to sell. The seeds are packed in sealed medical vials, which ascertain freshness of the seeds for you to vend.
Growers' choice seeds are looking for seriously committed retailers that assure quality customer service. They ensure that they partner with the finest dispensary, and this means that you will have to be topnotch to be accepted as a partner. To kickoff, your venture, contact them at 1-855-811-GROW and ask for the retail department.
Can you Become an Affiliate of Grower Choice Seeds?
The business is allowing website owners and bloggers to earn by becoming affiliate marketers. At Grower Choice Seeds, you will be provided with a unique link to the site. You will be required to include the link in your webpage email newsletter or blog post. When one of your readers follows the link and goes on to purchase the product from Grower Choice Seeds, you receive a commission from the sale. When your balance hits $200, the company will send the total balance to your account. When it is less than $200, it will continue sitting in your affiliate account to be paid when it hits $200.
Availability and Contact Information
Growers Choice Seeds is available 24/7; you can communicate with them by calling 1.855.811.GROW or 1.855.811.4769. You also can visit their stores, which are open on weekdays, Monday through Friday from 9 am – 6 pm (PST). On Saturday and Sunday, they are usually closed.  You also can find them on their Facebook page, chat straight with them on their official business website , or shoot them an email on their contact form page,  [email protected]. Their headquarters is in Passeig de Gràcia, 21, First Floor Barcelona, Spain, 08007, however, this is not a retail place.
Conclusion
As seen above, this site is a genuine online outlet for selling high quality cannabis seeds where you can never go wrong when purchasing here. A pride themselves in having broad wealth of research and experience in their thing. In the same breath, their legitimacy can be read throughout their website which unlike a crafty online company for selling weed seeds would choose to hide some information and hit your hard earned cash really bad. You can order with confidence anytime you need some quality weed seeds.
Read Next:Northern Lights Weed Strain Review