Updated: (09- 2023)
I recently received a lot of feedback from readers that this company shows signs of fraud.
"I don't know why they are accepting orders. If you can not take care of your old orders, why are you taking new orders. I made an order seeds on April 18th 2020. The payment was done with e-transfer. They still have not shipped. Their phone number is not responsive. Do not buy from them. They have not taken care of their old orders yet."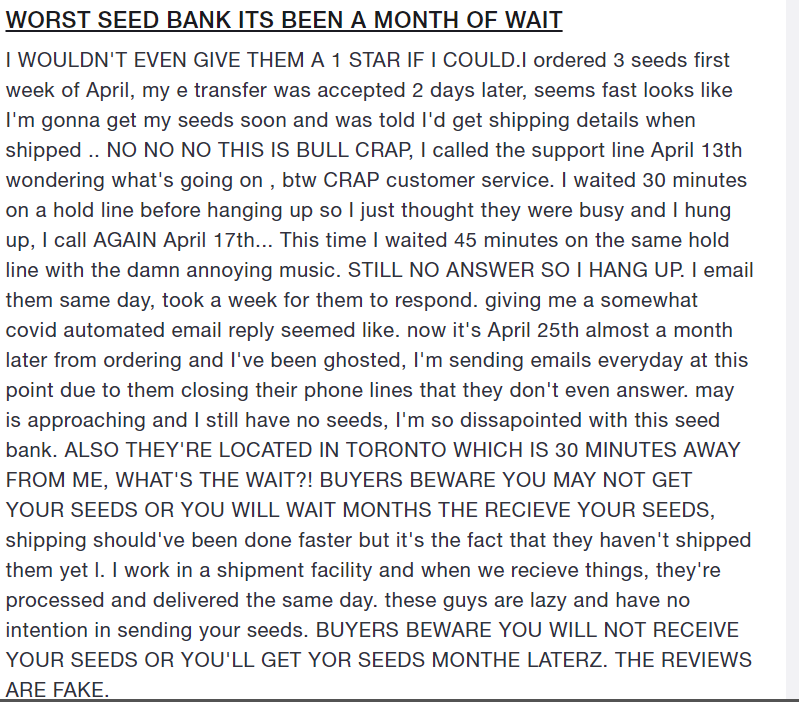 This article I have written on 2017 when this company still good. We hope everyone will sympathize with this delayed update
Best Seed Banks Article On 09- 2023
The rapid growth in technology has seen a significant shift from the traditional brick and motor business to online businesses. It has brought about a lot of convenience for both buyers and sellers. It has solved space constraints as a seller does not need to stock the goods physically.
On the other hand, a buyer conducts a good research before making a purchase decision.
Buying Online Cannabis seeds, just like any other online purchase, is not a walk in the park. You will need to determine which companies are legit and which ones sell the best quality seeds. There is also the risk of fraud, where you pay and never get your goods delivered. You may not get your goods on the expected time and you may not know the exact quality of the products you ordered.
Knowing who trust in the online business is the key to a successful online transaction. With the recent legalization of cannabis in many areas of the world, many seed banks are sprouting up. Therefore, it is good to know the best place to order your cannabis seeds.
In this review, we take an in-depth look at the True North Seed Bank and see how well they rank and what makes them one of the most trusted cannabis seed banks.
About True North Seed Bank

WIN FREE SEEDS WORTH $100 EVERY MONTH
True North Seed Bank is a cannabis seed bank based in Canada, and its main aim is to ensure that all their customers' needs are met. They supply top quality cannabis seeds sourced from the best companies around the world. They ensure the safety of their customers while selling cannabis seed 100% online. True North Seed Bank is a reseller of the cannabis seeds and does not produce its own. Instead, they source from top breeders to ensure that their products are of high quality.
True North Seed Bank Review Features
When it comes to the purchase of cannabis seeds online, True North Seed Bank is a very popular option. It is a distributor of high quality of both medical and non-medical cannabis seeds.
Seed Quality

When looking for a seed bank to purchase from, quality is perhaps the most important thing to consider. True North Seed Bank does not breed their own seeds but sells other brands' seeds, which means the quality of their seeds is highly depended on those brands.
However, True North assures its customers that it sources its seeds from the top and well-known brands, meaning their seeds are of very high quality. The fact that they come in as a middleman means that their prices are slightly higher and the freshness of the product is decreased.
What makes them an excellent choice is the fact that when your seed breeder does not ship to your country, they will step in and deliver to you. However, they do not offer any sort of seed germination, and they do not accept any product-liability or give any guarantees. This is according to their legal disclaimer.
True North Seed Bank does not keep seeds more than six months on the stock. They throw them away regardless of whether the customers like them or not. This ensures that they stock only the best quality with a high pop percentage. They offer the best variety of hybrid seeds with the best taste. They explain the details of their seeds on their packages to ensure that you know exactly what you are consuming.
Strain Selection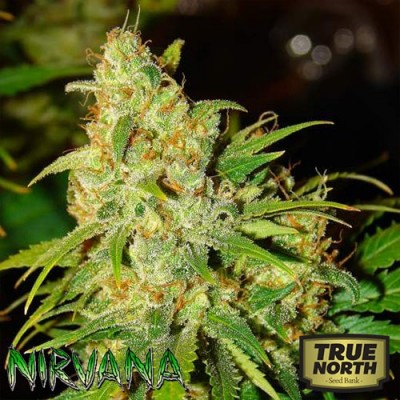 Sourced from around 45 breeders, True North's seeds come in a wide array of strains. They stock from breeders like Barney's farm, Royal Queen, Sensi and Nirvana. From their site, you can use the search feature to find your favorite strain before making an order. You can search by seed type like regular, feminized, auto-flowering, auto-regular and auto-feminized.
You can also search by their growing conditions such as indoor, outdoor, greenhouse-grown and the like. You can use the content of sativa, CBD, HTC, and indica to search as well. True North Seed Bank stocks more than 1,500 different seeds, which is quite a high number.
Read Next:  Best Marijuana Strains For Growing Cannabis
Customer Service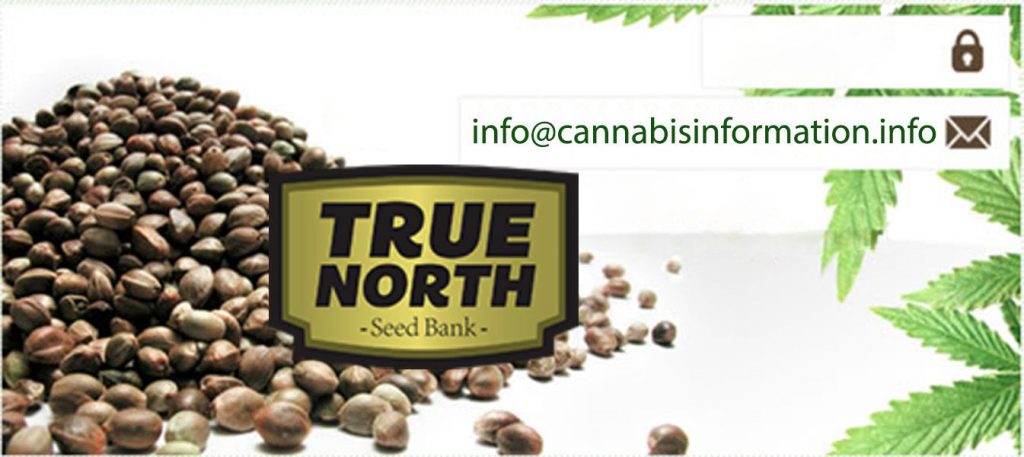 True North Seed Bank offers a reliable customer service support for seven days in a week, and you can also chat them on mail. On their website, they also have an option for chatting, and you can reach them easily. According to customer reviews on popular platforms, their customer service is quite professional, reachable and relatively adequate.
Most of the customer dissatisfaction stems from the fact that most of them do not read the legal disclaimer where they assume no liability for their products. This means that you are not going to get a specific answer for your question, other than a general response, politely saying that there is nothing they can do. Although some customers feel that the customer service response is not fast enough, the majority of them are satisfied, and this makes it fairly good.
Payment Methods
A big plus for True North Seed Bank is that it offers various payment methods. They accept international money orders, which are only acceptable in USC and CAD. They also accept cash, debit and credit cards, which must be either Visa or Mastercard, bank transfers and E-transfers from Canada. If you want to use Cryptocurrency, that is, Ethereum, Bitcoin and Litecoin, you will not be left out as they also accept these. However, note that all the debit and credit card payments are charged a processing fee of 7.5%. The other payment methods do not attract any fee.
They also give you options in placing your orders, and you can order online, over the phone, write them an email using a printed order foam or make international money order. However, all orders are charged in CAD and prices, which are in USD, EUR and GBP fluctuate depending on the current exchange rate, and they are approximated according to the CAD.
Shipping
True North Seed Bank is based in Canada and has and has distribution centers in Canada and the United Kingdom. This has enabled them to distribute their products to all parts of the world, and they advise buyers to be aware of their local laws concerning the consumption of marijuana.
The best thing about this bank is that they ship their goods with stealth. This makes it easier for customers from countries with strict regulations on marijuana to get the goods, as they await its legalization.
True North charges a flat fee for shipping each order, regardless of the number of seeds that you order and the delivery is free. What's more, they offer "delivery insurance" if you are ordering from the USA or Canada, meaning that if your order goes missing before reaching you, they will resend it. They also have an option called "Extra Safe," which comes at an extra charge.
Depending on your location, delivery time may be anywhere between 3-15 business days, which is relatively quick. True North Seed bank orders are trackable, and once your order is shipped, you get a tracking number. This way, you can know where exactly your order is at any given time.
Customer Reviews
Customer reviews are very important for any brand since they speak of the rate of satisfaction with the brand's products. True North's customer reviews vary greatly, with some giving it 3 stars while others are giving it 5 stars. This disparity is mainly brought about by the lack of reading of the product description and the legal clauses. Some have also stated that they ordered and never received their products.
Most of the reviews from satisfied customers state that they have not encountered any problems with the products and the company itself.
Discounts
Discounts and promotions are very rampant in True North Seed Bank. They offer free seeds with each placed order. They also provide good deals from time to time, which can be accessed from their promotions page. Some of the deals are based on the money spend while others depend on the seed breeder.
True North offers a loyalty program, which helps you earn lots of discounts. All you need is to register on their website then start getting points on every purchase. Upon registration, you get 1500 points, and if you sign up for their newsletter, you get another 2000 points, which amounts to 3500 free points.
If you review their products, you get 100 points for every product you review. Additionally, if you include your birthday on their website, you will get 5000 points on every birthday!
To redeem these points, you simply need to make an order, and for every 500 points, you get CA$ off your total amount. You can redeem these points on the cart page. However, the points earned expire after 180 days and are unusable.
Reliability
Most of True North Seed Bank's customers have reported not getting their orders. Others have reported that their orders were not discreet, and the content of their orders were exposed. The seed bank has not communicated clearly about what they take responsibility for and what they don't. Their reliability seems to be a bit on the offside, and they are getting lots of complaints from customers.
Discretion
The North Seed Bank sends most of its seed in its original breeder packaging unless the client requests otherwise. They do not disclose or give any any information about the company's name, or the content of the package and the only thing they print on the envelope is your address.
They offer multiple options for ensuring the safe shipping and delivery of your seeds. You can purchase a "Guaranteed Delivery Insurance" For an extra CA$15, to ensure that your order is resent to you in case it does not reach to you. They also offer the "Extra Safe Delivery" option, which includes the addition of another item like a T-shirt or a wallet to your package to avoid suspicion.
True North Seed Bank's products are wrapped in protective material, or bubble wraps, and they ship them in padded envelopes. Depending on the destination of the order, True North may remove the order contents from their original packaging for safe delivery.
Pros of True North Seed Bank
They offer a wide selection of seed strains to choose from
They ship their products worldwide
They offer various payment methods so that you are not restricted
Their seeds are discreetly delivered
They sell seeds from the biggest brands in the industry
They offer many discounts on their orders
Cons of True North Seed Bank
They do not guarantee seed germination or the quality of the product
They assume no liability of their products
You need to purchase a Guaranteed Delivery Insurance to have your order resend in case it gets lost while being shipped.
Final Thoughts
The True North Seed Bank is 100% legit, and although it does not offer any information about its formation or history, most of its customer reviews show that they deliver on their promise, and there have not been any fraud cases. They are one of the best seed banks we have and would naturally fall as the first choice for anyone buying cannabis seeds online.
All their seeds are of high quality as they are sourced from the best breeders. They also ensure that their products do not stay on the shelves beyond six months to preserve their freshness and value.
Their shipping service is quite safe and quick. Depending on your location, you can receive your order from 3 days to 15 days, which is quite fast compared to other companies. Their packaging is also safe and discreet, and you can receive your order without fear, especially if you are from a country with strict regulations. This makes it the best option for buyers in hard-to-ship areas.
They also offer huge discounts once you are registered with them, which makes it easier for you to make large orders. Since they are resellers, their prices tend to be slightly higher than that of the breeders. However, they give you the benefit of shipping in areas where other seed banks may not ship to.