The main reason why cannabis growers put too much effort when cultivating the crop is to derive high-potency levels. A first-time grower may not know much about the difference between high-level potency and low-level potency. However, since having strong weed is the most relevant reason for cannabis cultivation, you should always provide the crops with everything they need.
You should also check how high the potency levels could be, whether you are a first-time grower or a skilled one. Likewise, it would be best to take notes and good care of your cannabis plants to harvest the highest quality yields.
If your goal in cultivating weed is to maximize THC levels for the psychoactive effects, consider using all the right ingredients that provide you with maximum resins with high potent trichomes. Besides learning how to maximize THC levels in your yields, you should also determine what you should do if you get a yield with low potency THC.
In the case you do not get high potent weed as expected after harvesting, drying, and curing your weed, you do not need to fret because there are different factors to consider on "How to Make Your Weed Stronger."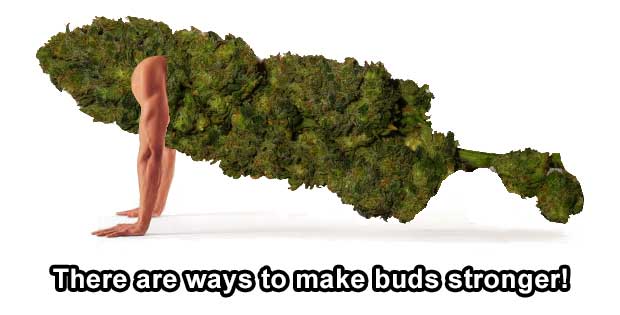 Factors That Influence Weed Potency
Several factors help in determining the potency of your cannabis. Some of the issues that lower cannabis potency happen during the growing cycle. You probably did something knowingly or unknowingly, which made a huge impact on the potency, which you can avoid during the next cycle to improve the potency.
The growing cycle can make or break the strength of your weed. The following are the factors you should consider if you want highly potent weed with a high that lasts longer.
1.  Strain
The largest contributor to weed potency is the cannabis strain you choose to grow. Some people believe that growing a strong strain results in highly potent weed. On the contrary, you can grow strong weed strain and still harvest low potent weed. The answer to strong weed is starting the cannabis grow cycle with strains that come with good genetics and good health.
You also have to bear in mind that there are thousands of strains, and many of them are good with unique effects. Fortunately, many professional weed breeders sell specific and stabilized strains that produce high potency weed for many growers. You can also check trusted stores both online and in your locality for high quality and healthy strains.
If you are a new cannabis grower, do not rush into buying strains from anyone just because they say they have the best products. Ask for advice, read reviews on reputable online seed banks, and use the best growing methods. Another factor to consider when looking for the best strain is that many of the cannabis plants offer a maximum of 15% THC content even with the best.
With healthy and good genetics strains and proper growth, you can get 15% or slightly lower than that. Still, it is impossible to surpass that THC potency level, making it important to check all the features of the strain you are using before deciding.

2. Light
Cannabis plants, just like any other crop, use light for energy, food, and proper development. If you do not provide enough light to the plants throughout their entire growth cycle, they will not grow well. The most critical stage where cannabis needs enough light for maximum bud growth is the flowering stage.
If the buds do not bloom well, they will appear much smaller, and with less potency. Therefore the more light you provide the crops, especially during the flowering phase, the higher and stronger the potency. Some cannabis growers combine best LED grow lights and HPS grow lights for better lighting effects and bigger, less airy buds with more potency.
When using the light systems, you should be careful not to cause light stress that leads to bleached buds with low potency. Ensure that you maintain the required distances between lights and the top of the plants for maximum high yielding and strong weed.
Bestseller No. 1
2022 Newest BESTVA Dimmable BP1000 LED Grow Light Samsung Diodes 3x3ft Coverage Full Spectrum Grow Lights for Hydroponic Indoor Plants Seedling Veg and Bloom Plant Grow Lamps 340PCS LEDs(Includes IR)
2022 Newest High Efficiency and Low Consumption.: BESTVA BP LED grow lights utilize the latest LEDs technology - Samsung LM281B+ diodes, delivers powerful light output and uniform canopy penetration to resulting maximum higher yields. Only consumes 105w, running 50% less power and 30% high yields than the HPS or other SMD LEDs or Blurple lamps. Veg footprint is 3 x 3 ft, Flowering footprint is 2.5 x 2.5 ft. Perfect for a 3x3 grow tent.
NEW DIODE LAYOUT & DIMMING DESIGN: Newest upgraded BP1000 growing lights, the diodes arrangement gathered at the edge makes the PPFD more uniform, and absorb light better, produce higher yields. The dimming knob be adjusted the light intensity at liberty. Multi-light Connection with unified dimming especially beneficial for large area of indoor growing and commercial planting.
IDEAL FOR ALL GROWTH STAGES: Excellent full spectrum- sunlike warm white,cool white and red(4000K, 660nm). 4000K providing more reddish light and more blueish. The 660nm red is especially useful during bloom, where it speeds up flowering time and boost yields. Uniformly across the surface and deep into the roots and bottom of canopy for consistent, highest quality flowers.
WELL MADE & SOLID CONSTRUCTION: No Fan Noise Free. High Efficient, reliable and detachable Driver have great dissipate heat. Aluminum heat sink is thick and sturdy, protective covers for cables; User-Friendly Packaging. Quality components mean the light lasts longer, BESTVA Light takes good cares of you with more considerate design, you can easily save money without purchasing lights frequently.
VALUE FOR THE MONEY: BESTVA BP LED Plant Lights are often copied but will never have our quality or commitment, we provides 3 years of after-service of local maintenance center. Make sure you purchase authentic BESTVA grow lights, really can give you need from a high-quality grow lights – at a price that is affordable. For any questions, feel free to e-mail us and we will help you resolve it. Quality backed by our ironclad!!!
Bestseller No. 2
Phlizon FD6500 650W Plant Led Grow Light for Indoor Plants Daisy Chain Dimmable Grow Light with Samsung LM281B & Brand Driver Grow for 6x6ft Coverage Full Spectrum Growing Lamps
NO NEED CONTROLLER DAISY CHAIN- Innovative easy daisy chain dimming function, no need to buy controllers, just use the daisy chain to link all the lights, then dimmable one light , all lights follow. Up to 50pcs lights can be connected together. Unfold to use, no installation need.
MAXIMIZE YIELD - The FD6500 series grow light use with Samsung Chips 2592pcs high efficient SMD leds,boast the market-leading efficiency to 2.9 µmol/J and 2.5g yield per wattage with 30% higher Average PPFD, the actual power is 650 watt, it can cover 6.5x6.5ft growing area in Veg stage and 5x5ft for flower stage
DIMMABLE AND FULL SPECTRUM- The intensity of light can be adjusted according to the needs of plants. The leds are all new technology SMD leds, It contains 2592pcs SMD led beads , including 1584pcs 3000K leds , 576pcs 6000K leds, 396pcs 660nm red leds,36pcs IR leds.
INNOVATIVE HEAT DISSIPATION DESIGN- No fans no noise, the light case is a whole aluminum radiator , Low energy consumption FD6500 growing light with 6 passive-cooled bars,aluminum heat-sink ,excellent performance in heat dispersing & lifespan, dropping 50% in electricity bill than HID lights
BEST SERVICE- We are a professional LED light manufacturer with strong R&D team. 3 years warranty plus 30 days money back guarantee. If you have any problems, please feel free to contact us. We will provide you with completely satisfying reply.
Bestseller No. 3
VIVOSUN Patented Design VS6450 LED Grow Light 120-270V Foldable Dimmable Plant Grow Light with Samsung & OSRAM Diodes and 5 Dimming Option - Full Spectrum Light for Indoor Plants
Stable & Efficient: With Samsung 3030 & OSRAM 3535 LED bars, this LED light is more than 50% higher in PPFD compared to HID lamps, as well as having 37% lower power consumption regarding energy saving; This high quality LED light is able to support your plants' photosynthesis in an optimal, efficient way
Slim Design: The fixture can fold up to 180 degrees, making it compact and easy to install; It won't take up much space, thus keeping your storage room tidy
Dimmable & Convenient: With dimming options ranging from 40% to 100%, this LED grow light can satisfy a range of needs; Moreover, this fixture is compatible with a master controller, so you can adjust this LED light to accurate parameters in a convenient, quick way
Full Spectrum: This light offers great help for all stages of plant growth; It offers more than enough warm white light, which boosts plants' blooms, making flowers bigger and more vivid; Blue light promotes plants' germination, and red light leads to higher yields when combined with blue light
VIVOSUN's Quality Assurance: Equipped with 240V power cord, 120V power cord will be sent separately; If you need a 240V-120V conversion plug, we can also provide it for free; For this LED grow light, we offer a 5-year warranty; We pride ourselves on outstanding product quality, always striving to provide the best customer service
-$104.00 SALE OFF
Bestseller No. 4
LED Grow Light 6x6 Full Spectrum Dimmable Growing Plant Lights Grow Lamp for Indoor Plants Seeding Veg and Bloom Greenhouse Tent Footprint…
Higher Harvest & Low Costs: Lux640 quantum board grow lights use the latest LED technological didoes to provide high PAR output and high efficiency with 2.36umol/J but only consume 640 watts. Improved design for more even light coverage and better canopy light penetration with diffused light
Full Spectrum LED: The sunlike full spectrum plant lights provide 3500K warm white, 6000K more blueish and 660nm red light, infinitely close to natural light, which offers desired needs for plants seedling to harvest growth with rich spectrum lighting and help plants grow better and healthier, maximum higher yields
Dimmable Design & Excellent Heat Dissipation: Dimmer knob allows you to control the light intensity at liberty according to indoor plants' growing stages, which can save you electricity bills and obtain perfect growth performance. Full-spectrum led grow light adopts large areas of the solid aluminum heat sink, faster heat dissipation than other thin and flat light board panel
Real Watts & Wide Coverage: Lux 640 series led grow lights real consume 640 watts, unlike other brand led grow panels advertise 1000w grow lights but the real watts only about 600w. Our 640 watts grow lights measures 23.2" x 7.5", perfect for 4' x 2' vegetative coverage at 18" and 3x2ft flowing coverage at 14"
Buying Worry-Free: Plug and play, no installation required. No fan zero noise operation. Luxvoko grows light offers a quality guarantee within 24-Month, professional guidance, and friendly customer service. If you have any questions and please do not hesitate to contact us
Bestseller No. 5
3. Nutrients and fertilizers
Some cannabis plant growers, especially new ones, assume that feeding their young plants with too many nutrients and fertilizers help grow weed with more potency. On the contrary, too many nutrients and fertilizers affect the crops negatively. The best way to start growing your cannabis is by starting with no nutrients until the crops are about a month old.
Adding fertilizers to the soil affects the pH levels, so it is crucial to maintain regular tests to ensure that the pH levels are at the required levels. If the pH levels are not right, nutrient absorption will be poor, leading to weak buds with low potency. Before harvesting, you should reduce nutrient and fertilizer intake to allow the buds to attain the weed's natural scents and taste.
Too many nutrients and fertilizers during the last days of the flowering stage dilute the weed's real taste, scent, and potency. The essential nutrients that you should ensure your cannabis gets, especially during the flowering phase, are nitrogen, phosphorous, and potassium. Other important nutrients are-
Calcium
Iron
Magnesium
Manganese
Sulfur
Zinc
Bestseller No. 1
Bestseller No. 2
Bestseller No. 3
Bestseller No. 4
Growth Science Nutrients - Starter Pack
This starter pack is intended to get you off the ground with your garden. It contains four of our tried-and-true fertilizer products that successful growers, on all scales, have come to depend on.
Made from the highest quality ingredients, specifically formulated to save you time and money. For use in soil, coco and all hydroponic mediums.
It's essential to provide the right nutrients at the right stages of growth. Growth Science will walk you through those steps with this, cost-effective starter pack.
Each pack contains 5 bottles. 1 pint of Base A, 2 pints of Base B, 1 pint of Solid start, and 1 pint of rock solid
Base A and B form the foundation of the Growth Science system. Together they provide your plants with essential macro and micro nutrients essential for growth.
Bestseller No. 5
Advanced Nutrients Bloom, Micro & Grow, Pack of 3, 1 L Each
Lush, sturdy growth from 3-part nutrients designed specifically for high value
3 Part solution in 1 package: You get advanced nutrients bloom, micro and grow in 1 liter size each
State-of-the-art carrier molecules to ensure their plants get the maximum amount of nutrients
You will never have to worry about your PH again
4. Harvesting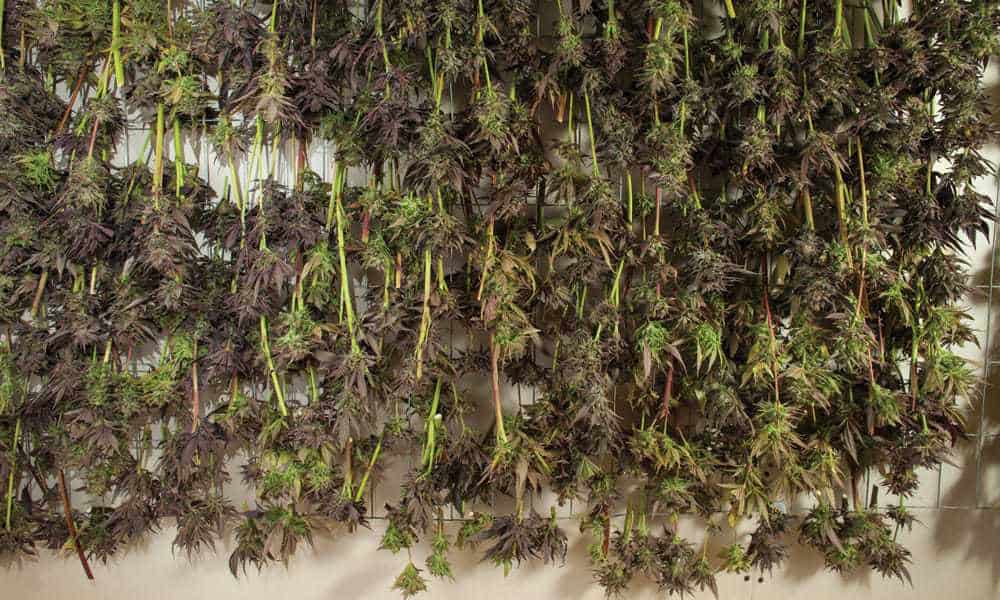 Some cannabis growers harvest their crops too early, maybe because they are excited to reap their hard labor benefits too fast. Unfortunately, with cannabis plants, everyday matters, and harvesting earlier than usual will give you buds without their full development and potency levels. It would be best if you allowed your cannabis plants to mature.
Buds harvested early also come with other problems that include racing thoughts and headaches. It would help if you harvested the Sativa strains when they are about 10 weeks after flowering, while the Indica are best when they are 8 weeks after flowering. Some of the telltale signs that it is time to harvest your weed are a strong smell, sticky flowers, and yellowing of leaves.
Read next: When and How to Harvest Marijuana
5. Drying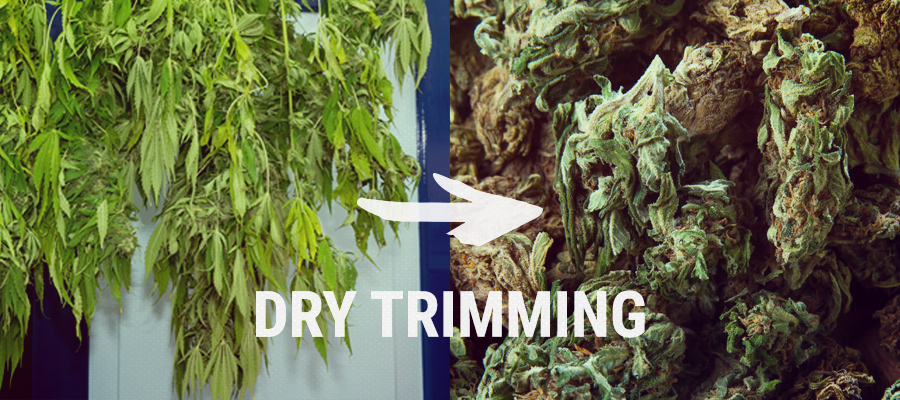 Excitement can also make some cannabis growers dry their weed too quickly for the same reasons they want to harvest earlier than the maturity date. If you want your buds to attain high potency, slow dry them for two to three days. In some cases, drying should go for even up to 10 days.
Drying should also take place immediately after harvesting. Before drying your buds, you should make sure you know all the proper drying methods to eliminate the possibility of ending up with bad buds with mold and low potency.
6. Curing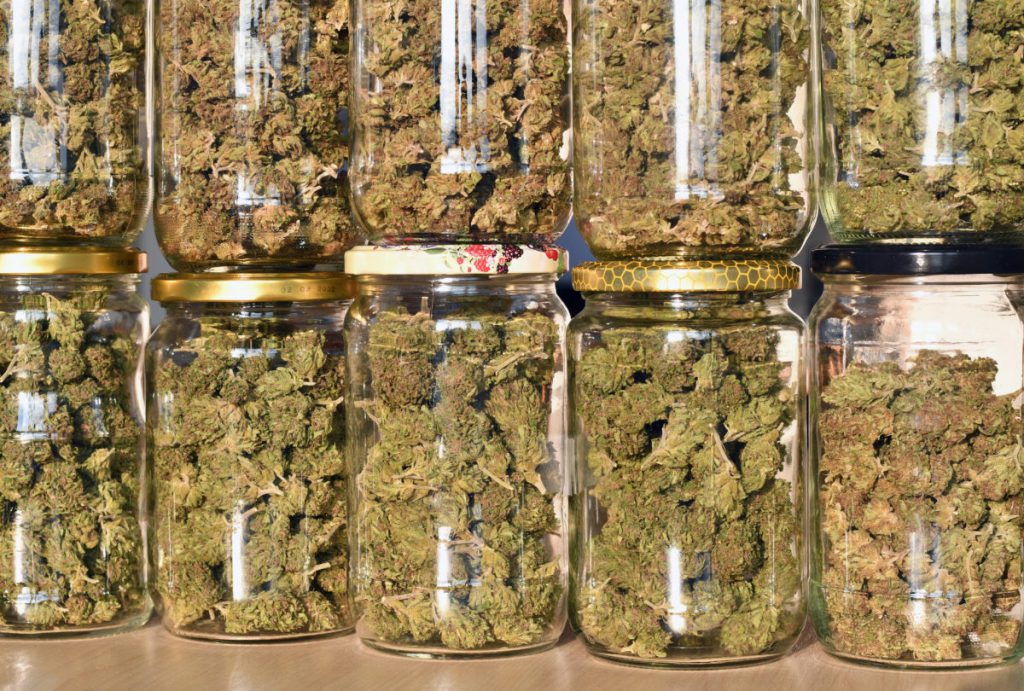 After you are sure your buds are dry after the slow drying processing, they are now ready for the next step, curing. During the curing process, buds process their taste and smell naturally. Curing involves putting the buds in airtight mason jars and burping them daily for the next two weeks.
The burping provides the buds with fresh bursts of air, which plays an important part in the process and increases potency. Curing also helps the buds regain their cannabis smell lost during the drying process and reduce the harsh and green taste. For the best result, cure the buds for at least two weeks.
7. Exposure to pollen
Exposure of the buds to pollen from a hermie plant or male cannabis leads to the buds' development of seeds. If the seeds are few, they will not have a huge effect on the bud potency.
However, if the buds contain many seeds or are very seedy, it means that the pollination was heavy, which leads to weak buds because the plants put more effort into producing seeds than it did in making trichomes.
8. The incorrect ratio of THC to CBD
Cannabis contains compounds that produce hundreds and individually change the effects of the buds. The most common are terpenes and cannabinoids. Different cannabis strains have varying effects depending on the type of compounds they carry.
If you have a cannabis strain with high CBD levels, it will not allow the buds to have any psychedelic effects irrespective of the THC levels on the bud. If you want weed with potent mental effects, you should choose strains with low CBD levels. If you are looking for strains with medicinal values, choose buds with high CBD levels.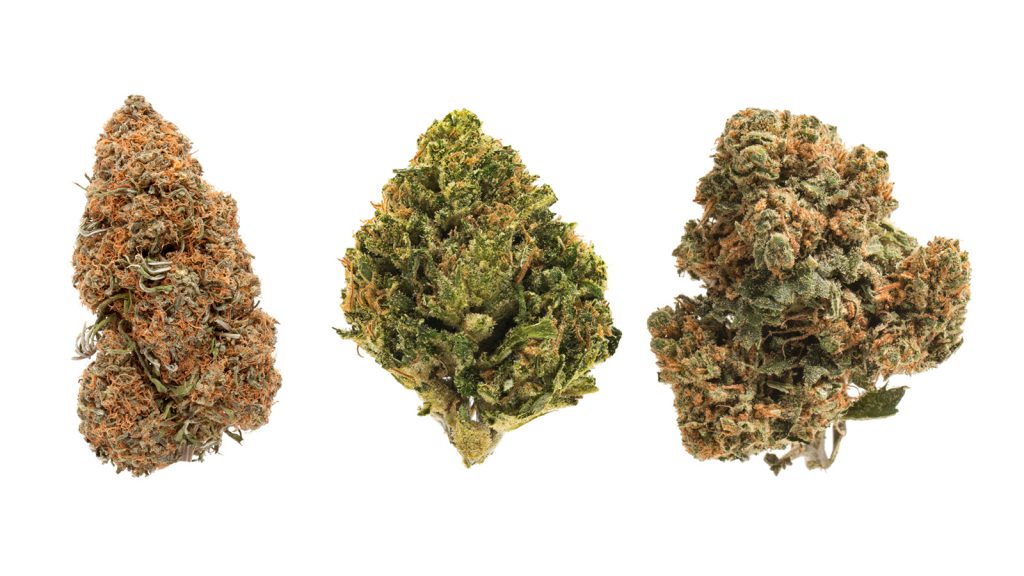 9. Using the same strain repeatedly
Getting used to using the same strain, especially from the same harvest, could sometimes put you in a comfort zone. It could also lead to a feeling of low potency from the strain over time because the effects are one with your system.
If you want to maximize your weed potency and strength, you should change your strains regularly. However, if you do not want to feel messed up from using a stronger strain, you can continue using what your system adheres to with ease.
How to Increase Weed Strength after Harvesting, Drying, and Curing
If your weed is weak, do not panic because you can do several things to make it stronger. However, you have to note that the methods do not come with a complete guarantee that they will work to your satisfaction. If the buds are fresh, you have a better chance of strengthening the potency of your weed.
1. Turn your buds into hash.
One of the best solutions for increasing your weed strength is by turning some of the buds into hash, especially if you have a large harvest of buds with less potent buds. It would help if you worked on a large harvest to separate the buds for hash and other uses. The best way to get hash out of the buds is by using the dry ice method because it has less wastage than other methods.
The dry ice method involves placing buds in a bag containing dry ice that freezes the buds' trichomes. Shake the bag to allow all the hash and trichomes to settle at the bottom of the bag. Mix or sprinkle the hash over the remaining buds to increase their potency.
Read next: How To Make Bubble Hash
2. Smoke or vape ground whole buds
Grinding buds makes a huge difference from breaking the same with your fingers, especially if you using whole nugs. Grinding comes in handy if you are smoking or vaping the buds. Smoking or vaping strengthens weed potency, but only if you use ground buds.
The difference between ground buds and broken buds is 10% potency, with the high going to the latter. Another advantage of vaporizing is that you can use the vaped buds to make other hard-hitting potent weed, such as edibles. Edibles have a metabolization that makes the high stronger and longer lasting.
3. Eat a mango
As strange as this seems, eating a mango really does help strengthen your weed potency. The mango is one of the essential miracle fruits loaded with antioxidants. They help in fighting several diseases, and they contain enzymes that help with the digestive system and smooth the skin.
If you want to strengthen the potency of your weed, you should accompany it with mango. When you eat a mango an hour before or after smoking weed, the terpenes trigger the THC in the buds, providing you with a better high.
4. Drink some tea
Another way of increasing your weed strength is by drinking black or green tea before using weed. Tea contains flavonoids, antioxidants that help the body to relax. The antioxidants also reduce inflammations and provide a way for weed to produce stronger and longer-lasting effects.
5.  Boost the circulation by exercising
Exercising is another way of increasing the strength of your weed. Vigorous exercises before or after smoking weed boost your circulation, which in turn allows cannabis to work more effectively.
6. Take a much-needed break.
Taking a break from using weed cleans up the system for a while, which also levels your tolerance. When you start using weed again after the break, weed will feel stronger. You can restart with a different strain from the one you were using before the break for a better high.
7.    Use weed in moderation
One of the best ways to increase the strength of your weed is by using it in moderation. If you are a chronic and heavy user, the effects, flavor, and aroma become dull with time. Some people prefer to drink beer using a toke for relaxation and reduction of anxiety.
Moderating by drinking beer or something else with the same relaxation effects paves the way for THC to take effect. You have to remember, though, that beer is an inebriant.
8. Keep a journal
Keeping a journal of all your cannabis experiences helps you to analyze what each strain made you feel. In the journal, record the method used to consume your weed, the strain, time of day you used, and the social situation under which you used your weed.
Describe the duration, high, and effect. Keeping a journal will allow you to change into another strain different from your regular high that may lead to a better feeling. It will also help you to change the methods you use when taking your weed.
Wrapping it up
If you want to get more strength and potency from your weed, you should follow the above techniques. The majority of the techniques are the usual traditional methods of growing healthy cannabis plants. Maintain a healthy practice that includes proper lighting, watering, and keeping proper temperature and humidity levels are important for big buds' growth with high potency.
After the flowering phase, you should also harvest weed at the right time, dry, and cure to release cannabis scent, potency, and aroma. Vigilance throughout the process guarantees you high yields with stronger potency. If you still want to make your weed strong after the growth process, you can still do so using several methods that include turning buds into hash, exercising, taking tea, eating a mango, and taking a break.