What happens when you do not have enough space in your grow room to fit in that sizeable fluorescent tube? Or that HID grow lamp?
Here is where LED strip lights come in. Space is not the only factor to consider when choosing to use a strip light. Other factors make it a better solution than other grow lights in the market. Such include its lifespan and energy consumption, among others.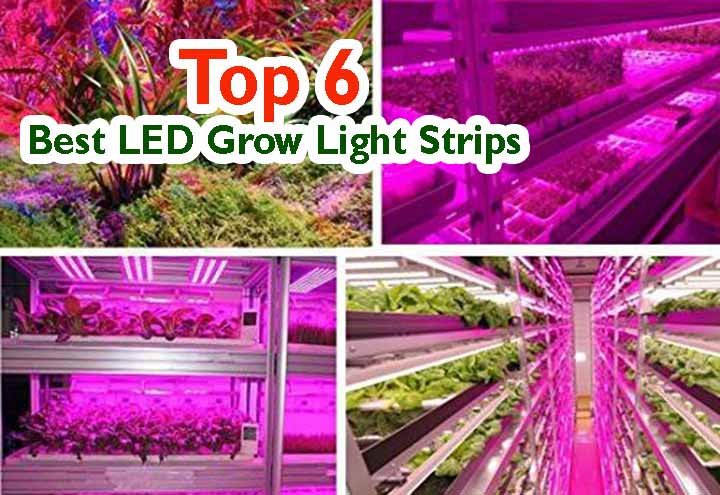 Here are some of the best LED Grow light strips that you can find in the market today.
See also:
Monios-L LED Grow Light Strips for Plants (6 pack)
The Monios-L LED Grow Light Strips comes in a pack of 6 and can measure either 2ft or 4ft. You can connect all the strips to make one long light, or you can choose to use them independently.
The light strips come with an individual on and off switches that you can use to control the amount of light you are giving your plants. Each strip provides a high output light of 10 watts. It can produce better light than a T5 fluorescent tube of the same length. It also can last longer and emit less heat than the fluorescent tube.
The grow light strips come with 5ft power cords and 20-inch connecting cords that you can use to connect the lights. You will also get zip ties, screw-in clips, and adhesive pads in the package. Installation is, therefore, not a problem.
The LED strips emit a spectrum that that is good for seeding, cloning and vegging. You can as well use it for flowering as it gives light with a higher percentage of red wavelengths than blue wavelengths. The LED strips come in an aluminum housing that helps in the dissipation of heat that the LEDs produce.
When you want to use the LED strips as a supplemental light, you should install them from below or on the sides of your plants to get the best results. However, when you use them for vegging, seeding, or cloning, install them parallel to each other to increase the light intensity and coverage.
The light comes with a two-year unlimited warranty giving you a guarantee that the LED strip provides value for money.
Pros
The strip lights are easy to install
They help your plants grow and thrive
They do not take up much space compared to the standard LED lights
They are handy in an indoor environment
They come with a two-year warranty
They do not emit a lot of heat ensuring that they remain cool to touch
Cons
The price is slightly higher than other similar grow lights
AveyLum Plant Grow strip Light
The AveyLum Plant Grow strip Light is a top flexible LED strip light that comes in a roll measuring 5 meters. The strip light contains red and blue LEDs that are in the ratio of 4:1. The blue LEDs emit a wavelength of 445nm while the red one gives a wavelength of 660nm.
The strip light comes with a 12V UL listed adapter. It ensures the LED strip receives enough energy to power up. The LED strip is not a good primary light for your plants. You can, however, use it as a supplementary light to the various growing stages of your plants. The reason is that your plants require a full-spectrum light, while the LED strip only offers two colors.
The LED strip is very flexible and soft. You can cut it into any length you may require without damaging or affecting the remaining LED strip. When you slice it, you can use it separately. You may as well choose to connect the cut strips using pin connectors and run them from the same adaptor.
You would have to get for yourself the pin connectors as they are not part of the package. The grow light is waterproof and splash-proof. It is safe for use since it does not produce UV and IR rays that may damage your eyes.
The LED grow light strip provides you with a 60 days full back money guarantee. You can get your money if you find the LED strip is defective and satisfactory within the 60 days.
Pros
It is waterproof
You can cut it and use it without damaging the LED strip
It acts as an excellent supplementary light
You can install the LED strip anywhere you want
Cons
The LED strip does not come with connectors you can use to join together after you cut the strips to pieces.
It does not provide a light spectrum good enough for it to become a primary light.
Lehou LED Plant Grow Strip Light
The Lehou LED Plant Grow Strip Light comes in a roll that measures 5 meters. The strip light contains red and blue light diodes in a ratio of 4:1. The majority being the red light producing diodes. The grow light uses top quality SMD 5050 LEDs to provide your plants with a super bright light.
It produces a blue wavelength of between 445 to 465nm. The light is good enough to enhance the process of photosynthesis. It also gives a red wavelength of 625 to 660nm, which promotes germination and flowering.
The grow light comes with a UL approved adaptor that helps to ensure your LEDs are under a safe voltage and that they receive enough energy to power the light. It produces a very high-intensity light that is of good quality. You can use it on your plants through all the stages of growth as a supplementary light.
The strip light is quite natural to install and use. It comes with six pieces of mounting clips and a 3-meter tape that you can use to install it on any surface. You only need to plug it on and start using and unplug when you want to stop using it.
The light delivers excellent results when you expose your plants for 8 to 12 hours continuously every day. You can use the strip lights even in very humid conditions. The LEDs are IP65 waterproof. The grow light has a one year warranty and 90-day money-back guarantee.
Pros
It produces a full spectrum light that can work on any stage of plant growth
It is waterproof
It is easy to install and use
It uses quality LED chips that provide a high-intensity light
It has a one year warranty and 90 days to claim your money back
You can stick it on any surface as it comes with an adhesive tape
Cons
The warranty period is too small compared to other similar grow lights
Mosthink LED Grow Light
Mosthink LED Grow Light is a strip light that comes as a pack of two measuring 13.2 inches. It contains 48 LED chips made up of red and blue diodes. The red diodes are 36 producing a light spectrum ranging between 610 to 720nm, which is suitable for flowering and budding.
The blue ones, on the other hand, are 12 and produce a wavelength between 400 to 520nm, which promotes vegetative growth.
The LED strip lights are of top quality and produce just the right amount of luminosity for your plants. It generates a small amount of heat and can last for a long time when in use. The LED chips are highly efficient and have an hourly lifetime of 50,000 hours.
It comes with double-sided tape and screws that help with the installation of the light. When installing the light bars, ensure that they stay 33 inches apart to provide your plants with good light coverage. Position your plants in the middle of the two LED strips to receive an even light from both sides.
The LED strip light comes with a dimmable feature. It allows you to adjust the brightness level of the grow light in 4 levels. There is a 100%, 75%, 50% and 25%. It also comes with a timer that you can automatically set to turn off after 2, 4, or 8 hours.
Pros
It is easy to install and use
It is very cheap
It comes with a dimmable feature
You can control it both manually and automatically
It produces a highly effective light
It can last for a very long time
Cons
It does not have a warranty
Sondiko LED Grow Light Strip
It is one of the most affordable LED strip lights in the market today. The grow light measure 13.3 inches long and contains 48 high quality LEDs. The chips promise to deliver a full spectrum light that ranges between 420 to 800nm. The LED chips consist of 36 that produce red light, while 12 produce blue light. The red and blue light helps to promote healthy growth.
The strip light has an inbuilt timer that helps you to set the light to operate on its own automatically. You can install the LED and go for a holiday without worrying if your plants are receiving a good amount of light.
It also has a dimming feature that allows you to regulate the brightness of your LED strip lights by 25, 50, 70, and 100 percent. It helps you save on energy costs since you will not always need your light at 100 percent.
The strip light has a lifetime of approximately 50,000 hours. You can use it to support all the different stages of growth. The grow light is easy to install. It comes with four pieces of circular adhesive pads measuring 3 meters and two strong magnets for mounting.
Pros
The light has a 50,000-hour lifespan
It comes with an auto on and off feature
You can regulate the amount of light falling on your plants with the dimmable feature
It does not consume a lot of power
It is very cost-friendly
It produces a highly efficient light that you can use as a supplement to your leading grow light
Cons
The adhesive may lose strength when you connect it directly to the lamp due to the heat
Summing up
With LED strip lights, you can choose to use strips that provide a specific light for your plants or a full spectrum. Even though they provide a highly effective light, they work best as supplementary lights boosting the grow light you already have in use.
You can install them anywhere and in any position that best suits your plants. Since they do not emit a lot of heat, you can position them next to your plants. They are better than fluorescent lamps since they can last longer, emit less heat, use less space, and consume less power saving you on cost.
Led Grow Light Strips Amazon