Growing your cannabis crops using the best LED grow lights provides them with enough energy to thrive by executing their due processes. Using a grow light does not matter whether you are a novice or an established grower in the industry. First-time growers start their cannabis-growing journey with low wattage grow lights.
The more established ones that have larger growing spaces use higher wattage lights that can give a full broad spectrum to all their crops. One of the most preferred grow lights in marijuana growing is the PARFACTWORKS LED grow lights. The grow lights come in different wattages, all with quality features. In this article, we review The PARFACTWORKS 1000w LED Grow Light.
See also:
PARFACTWORKS 1000W Review
Summary of key features
Ideal for 4 x 4-foot vegetative stage coverage
Ideal for 3 x 3-foot flowering stage coverage
Measures 12.6 x 12.6 x 2.4 inches
Four cooling fans
Adjustable height
Consumes only 230W equivalent to 1000w HPS/MH
Three-year manufacturer's warranty
30-day satisfaction and money-back guarantee
Lifespan of 700,000 hours
Daisy chain feature
Overview
PARFACTWORKS is not a very old company in the LED grow light industry. Even with its late entry into the market, the brand is a major competitor with the other older models for excellence. Proficient weed growers like the brand for its great and unmatched quality features.
The LED grow light comes with a well-designed sturdy build and fixtures at a reasonable price. The grow light provides a full spectrum of natural-looking glow that gives comprehensive coverage to a four by four foot grow room with ease. During the flowering phase, the lights offer full coverage to a 3 by 3-foot growing area.
The grow light uses the new LED technology with SMD chips that efficiently provide 200% improved heat dissipation. The new technology of the SMD chips makes the PARFACTWORKS one of the brightest lights in the market. The lifespan of the LED grow light is 700,000 hours.
The unit also provides the full range light spectrum: blue, red, white, yellow, IR, and UV diodes. It is ideal for all the cannabis stages of growth. Another feature that makes the LED grow light stand out includes the scientifically engineered unique optic lens module that provides the best PAR readings.
The LED grow light also comes with the daisy chain feature that allows weed growers to connect it with other lights using fewer outlets. The daisy-chained lights provide a total wattage of less than 600 watts, making it safe to use. Using the daisy chain also means that growers do not need any extra cables for connection as it comes with a universal power cord.
The LED grow light has four cooling fans to protect the crops, and the grow room from high temperatures. It comes with a three-year manufacturer's warranty and a 30-day satisfaction and money-back guarantee. With each purchase, you also get a 24-hour client benefit accessibility. The complete package includes the 1000w LED grow light, one 6-foot power cord, 2 hanging kits, and two rope hangers.
Pros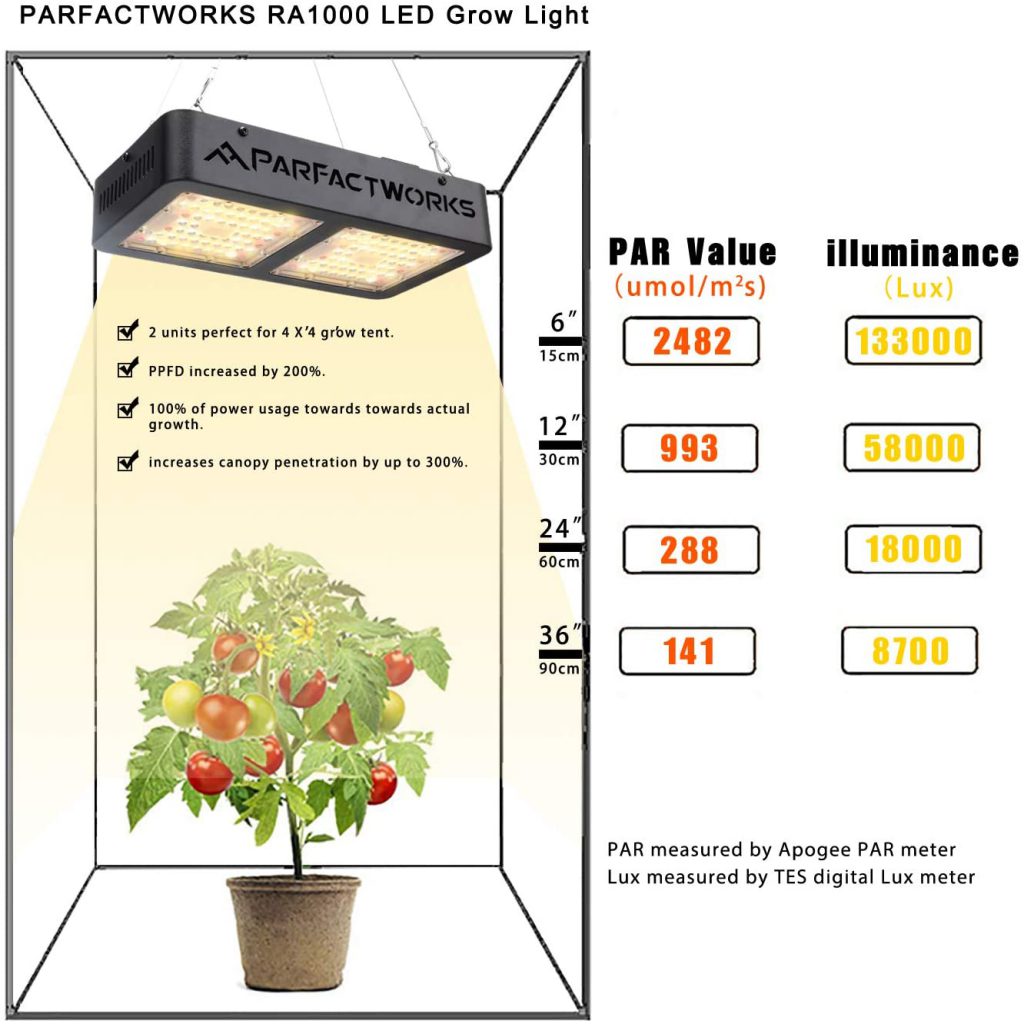 A long lifespan of 700,000 hours
Provides full-spectrum lighting
Emits different light ranges that include blue, white, red, yellow, IR and UV combination
Comes with a daisy chain features that allows the connection of other lights
Scientifically engineered optic lens for perfect PAR readings
Energy-efficient features
Affordable
Comes with a 6-foot power cord
Convenient hanging kits and rope hangers included in the package
Three-year manufacturer's warranty
30-day money-back guarantee
24-hour client benefit accessibility
Comes with four cooling fans for heat dissipation
Cons
Customer reviews
With a rating of 4.6 stars, customers like the LED grow light because of its sturdiness, value for money, lightweight, full-spectrum, and daisy chain feature, among others. Users that gave their reviews say that the light grew bigger crops than the other lights they had used in the past. The excellent price of the grow light took many by surprise, considering the incredible quality features. Below are two reviews from happy customers.
Cayson's Mom wrote
"I have had it going for about a month and wanted to wait to review. It puts the same watts as advertised, and the buds love it. I like the white output because it is so much easier to monitor your growth and see any deficiencies. I got the light the second week of flower and n week nine now, and I know it helped my final product."
Noemad Z wrote
"This light is built very well and is super bright. It has the newer generation of SMD diodes/lights, and should be very efficient. I have had the light over my plants for several days now, and they are responding very well. I may buy another soon."
FAQ
How far above the plants should the light be?
The PARFACTWORKS 1000w can be extremely hot, and you do not want the plants burning up from the brightness. It is, therefore, safe to have the light 40 inches above the plants. For the seedling stage, you can have it hanging 32 to 38 inches above, while during the vegetative stage, you should have it at 20 to 24 inches above to allow the perfect bloom.
Wrapping it up
The best lighting system for any plant comes from the sun. Indoor weed growers cannot get direct natural light from the sun, so use the next best thing: LED grow light. PARFACTWORKS 1000w does an exceptional job at mimicking the natural light, which makes it a favorite with many cannabis growers.
Besides the full spectrum light that gives comprehensive coverage, the grow light also comes with other quality features that make using it a plus for both the grower and the crops. What is even great about the LED grow light is that it comes at an affordable rate despite the fantastic features. It is also energy efficient, and if you want to extend your growing space, the LED grow light provides you with the daisy chain feature to add other lights.
Other grow lights comparable to the PARFACTWORKS 1000w include BESTVA 1000W LED Grow Light, and Spider Farmer SF-1000 LED Grow Light
Bestseller No. 1
-$100.00 SALE OFF
Bestseller No. 2
VIVOSUN VS4000 LED Grow Light with Samsung LM301 Diodes &Brand Driver Dimmable Lights Sunlike Full Spectrum with Grow Room Glasses for Seedling Veg & Bloom Plant Grow Lamp for 4x4/5x5 Grow Tent
Low Costs & High Efficiency: VIVOSUN VS4000 LED grow light uses Samsung LM301 diodes & brand driver for high energy efficiency with 2.9 μmol/J; Extremely high output but consumes only 400W of electricity
Convenient Dimmable Lights: This LED grow light has a dimming knob & ballast, so it adapts to different plant growth stages by adjusting its output from 40% to 100%
Sunlike Full-Spectrum Light: These VS4000 LEDs deliver the optimal full-spectrum coverage and power needed by your plants at all growth stages, supporting efficient photosynthesis for plants
Low Noise & Low Heat: VS4000 LED grow lights have power supply and ventilation holes; No fans needed means low noise; Ambient heat around this light is very low, so there is no burns or damage to your plants
Warranty: Super durable and reusable; Comes with grow glasses, a pair of VIVOSUN US-patented rope hangers & 5-year after-sales service
Bestseller No. 3
Philips Hue Go White and Color Portable Dimmable LED Smart Light Table Lamp (Requires Hue Hub, Works with Alexa, HomeKit and Google Assistant), White
VOICE CONTROL: The Philips Hue Go White and Color Portable Smart Light Table Lamp works with Alexa smart home devices for voice control (hue hub required, Alexa smart device and hub sold separately). For the full Hue experience and to take advantage of voice activation purchase the Philips Hue Hub (Model: 458471). Search "Philips Hue Hub" or "B016H0QZ7I" to find this product on Amazon.
LIMITLESS POSSIBILITIES: The wireless, portable and rechargeable Hue Go lasts up to 3 hours without needing a charge. Control through the Hue home automation system or via the on-product button. Customize your own personal light show on the go, capable of 16 million colors and shades of white light.
EASY AND CONVENIENT: Control your Philips Hue Go even without your smart device at hand. Activate smart light settings directly by pressing the button on the product. Or connect with the Hue Hub (sold separately) to control with the Philips Hue App.
EXPAND YOUR ECOSYSTEM: Expand your smart lighting system with Hue accessories (sold separately) such as a Hue Dimmer switch, Hue Tap, or Hue Motion Sensor.
SMART HOME DEVICE COMPATIBILIITY: Control your Philips Hue lights with your voice using smart home devices like Alexa, Apple HomeKit, or Google Assistant. Pair it for home automation with your existing Nest or Samsung SmartThings system.80 CRI from 2000-4000K
Bestseller No. 4
Solid Lite G7200 720w Led Grow Lights 0-10V Dimmable Waterproof Hydroponic Plant Lamp with Full Spectrum Commercial 8 Bars for Indoor Tent Rack Medical Plants Cultivation Cover 4x4 5x5ft 2.9umol/J
💡【High Efficiency】The PPE of 720w commercial LED grow lights is 2.9umol/J and the PPF is 2080umol/s, providing high yield for light-prefer plants. Energy saving and low heat than other kind of grow lights
💡【8 bars and180 uniform distribution】G7200 is a LED growing lamps with 8 bars designed and the light size extended to 4*4 feet. This will confirm a even and uniform distribution coverage for the full canopy, including the plants edge. The light large coverage could reach 4*4~5*5 feet
💡【Full spectrum, IP65 waterproof】SLG full spectrum grow light is perfect for the whole growing stages of most light-prefer plants seedling, vegetation and flowering. IP65 rated waterproof horticultural lighting system, which could be used in wet or water vapor environment, easy of use, plug and play
💡【0-10V Dimming】Dimmer knob could dimmer the single light in the range of 40%-60%-80%-100%-OFF and RJ14 ports could be worked together with controller. 25pcs lights could be dimming daisy chained for every channel
💡【5-year-warranty】We provide a 5-year-warranty. That covers the defects of mechanical and electronic components of the lighting fixture. if any defects discovered, a replacement light or parts will be provided
Bestseller No. 5
VIPARSPECTRA 2023 KS5000 LED Grow Light 500W with Samsung LM301H Osram Diodes 6 Bars Grow Light, 4x4ft Coverage Full Spectrum Uniform PPFD Dimmable Daisy Chain Commercial Grow Lamp for Indoor Plants
LOWER OPERATION COST & MAXIMUM YIELDS:VIPARSPECTRA KS5000 LED grow light adopts the market-leading Samsung LM301H Diodes(3.10 μmol/J) & OSRAM 660nm Diodes, higher energy efficiency LEDs increase yield of crops and save operation cost. The top end components give the KS5000 an incredible performance. KS Series was designed for personal or commercial growers who want to optimize their grow space for the maximum crop yield while producing the highest quality crops.
FLEXIBLE DIMMING DAISY CHAIN: Dimming daisy chain feature is designed to connect up to 20pcs KS5000 grow lights for your commercial growing, horizontal, vertical farming, greenhouse planting pipeline cultivation, and hydroponics, etc. The dimmer allows you to dial in perfect PPFD for your plants at all stages of growth. For veg growth, we recommend 75% on the dimmer at a height of 26". Finally, for flowering, we recommend 100% on the dimmer at a height of 13".
OPTIMAL FULL-CYCLE SPECTRUM & EVEN PAR DISTRIBUTION: Consists of 3000K, 5000K and 660nm, which providing your plants with excellent spectrum, tailored for growing plants from germination, vegetative and flowering applications in indoor environments. KS5000 delivers the perfect PPFD for the best photosynthesis and growth, only consumes 500w perfect light for 4'x4′ coverage. Even intensity across your plants and larger than the competitive fixtures, which result in healthier, more balanced growth.
SUPERIOR HEAT DISSIPATION & EASY INSTALLATION: KS5000 features a detachable power supply that can be mounted remotely on the side of a rack or on an adjacent wall to remove heat from your grow space. Large areas of solid aluminum heat sinks help you to achieve the ideal cooling system. Plug-and-play mounting system allows you to easily use.
TRULY BEST BACK FOR THE BUCK: We provide 36-Month US Local warranty and 30-day money-back guarantee. Professional guidance, friendly customer service and US local after-sales service provides you with a pleasant shopping experience and helps your plants grow better. Make sure you purchase authentic VIPARSPECTRA grow lights. If you have any questions, please contact us at any time.