Growing your cannabis crops using the best LED grow lights provides them with enough energy to thrive by executing their due processes. Using a grow light does not matter whether you are a novice or an established grower in the industry. First-time growers start their cannabis-growing journey with low wattage grow lights.
The more established ones that have larger growing spaces use higher wattage lights that can give a full broad spectrum to all their crops. One of the most preferred grow lights in marijuana growing is the PARFACTWORKS LED grow lights. The grow lights come in different wattages, all with quality features. In this article, we review The PARFACTWORKS 1000w LED Grow Light.
See also:
PARFACTWORKS 1000W Review
Summary of key features
Ideal for 4 x 4-foot vegetative stage coverage
Ideal for 3 x 3-foot flowering stage coverage
Measures 12.6 x 12.6 x 2.4 inches
Four cooling fans
Adjustable height
Consumes only 230W equivalent to 1000w HPS/MH
Three-year manufacturer's warranty
30-day satisfaction and money-back guarantee
Lifespan of 700,000 hours
Daisy chain feature
Overview
PARFACTWORKS is not a very old company in the LED grow light industry. Even with its late entry into the market, the brand is a major competitor with the other older models for excellence. Proficient weed growers like the brand for its great and unmatched quality features.
The LED grow light comes with a well-designed sturdy build and fixtures at a reasonable price. The grow light provides a full spectrum of natural-looking glow that gives comprehensive coverage to a four by four foot grow room with ease. During the flowering phase, the lights offer full coverage to a 3 by 3-foot growing area.
The grow light uses the new LED technology with SMD chips that efficiently provide 200% improved heat dissipation. The new technology of the SMD chips makes the PARFACTWORKS one of the brightest lights in the market. The lifespan of the LED grow light is 700,000 hours.
The unit also provides the full range light spectrum: blue, red, white, yellow, IR, and UV diodes. It is ideal for all the cannabis stages of growth. Another feature that makes the LED grow light stand out includes the scientifically engineered unique optic lens module that provides the best PAR readings.
The LED grow light also comes with the daisy chain feature that allows weed growers to connect it with other lights using fewer outlets. The daisy-chained lights provide a total wattage of less than 600 watts, making it safe to use. Using the daisy chain also means that growers do not need any extra cables for connection as it comes with a universal power cord.
The LED grow light has four cooling fans to protect the crops, and the grow room from high temperatures. It comes with a three-year manufacturer's warranty and a 30-day satisfaction and money-back guarantee. With each purchase, you also get a 24-hour client benefit accessibility. The complete package includes the 1000w LED grow light, one 6-foot power cord, 2 hanging kits, and two rope hangers.
Pros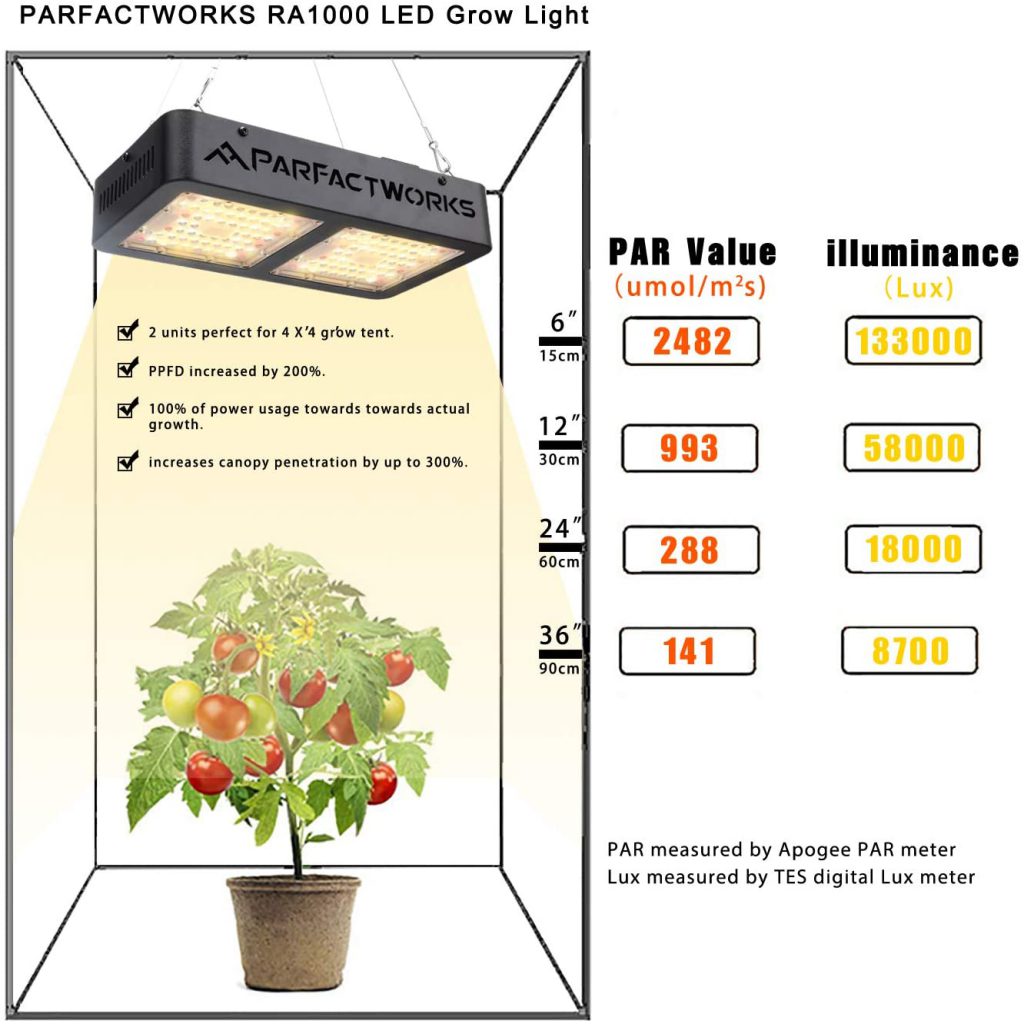 A long lifespan of 700,000 hours
Provides full-spectrum lighting
Emits different light ranges that include blue, white, red, yellow, IR and UV combination
Comes with a daisy chain features that allows the connection of other lights
Scientifically engineered optic lens for perfect PAR readings
Energy-efficient features
Affordable
Comes with a 6-foot power cord
Convenient hanging kits and rope hangers included in the package
Three-year manufacturer's warranty
30-day money-back guarantee
24-hour client benefit accessibility
Comes with four cooling fans for heat dissipation
Cons
Customer reviews
With a rating of 4.6 stars, customers like the LED grow light because of its sturdiness, value for money, lightweight, full-spectrum, and daisy chain feature, among others. Users that gave their reviews say that the light grew bigger crops than the other lights they had used in the past. The excellent price of the grow light took many by surprise, considering the incredible quality features. Below are two reviews from happy customers.
Cayson's Mom wrote
"I have had it going for about a month and wanted to wait to review. It puts the same watts as advertised, and the buds love it. I like the white output because it is so much easier to monitor your growth and see any deficiencies. I got the light the second week of flower and n week nine now, and I know it helped my final product."
Noemad Z wrote
"This light is built very well and is super bright. It has the newer generation of SMD diodes/lights, and should be very efficient. I have had the light over my plants for several days now, and they are responding very well. I may buy another soon."
FAQ
How far above the plants should the light be?
The PARFACTWORKS 1000w can be extremely hot, and you do not want the plants burning up from the brightness. It is, therefore, safe to have the light 40 inches above the plants. For the seedling stage, you can have it hanging 32 to 38 inches above, while during the vegetative stage, you should have it at 20 to 24 inches above to allow the perfect bloom.
Wrapping it up
The best lighting system for any plant comes from the sun. Indoor weed growers cannot get direct natural light from the sun, so use the next best thing: LED grow light. PARFACTWORKS 1000w does an exceptional job at mimicking the natural light, which makes it a favorite with many cannabis growers.
Besides the full spectrum light that gives comprehensive coverage, the grow light also comes with other quality features that make using it a plus for both the grower and the crops. What is even great about the LED grow light is that it comes at an affordable rate despite the fantastic features. It is also energy efficient, and if you want to extend your growing space, the LED grow light provides you with the daisy chain feature to add other lights.
Other grow lights comparable to the PARFACTWORKS 1000w include BESTVA 1000W LED Grow Light, and Spider Farmer SF-1000 LED Grow Light
Bestseller No. 1
Bestseller No. 2
Barrina Grow Lights for Indoor Plants, Full Spectrum Sunlight, 2ft 40W (4 x 10W, 250W Equivalent), LED Grow Light Bulbs, T5 Grow Lights, Plug and Play, 4-Pack
Full Spectrum (Pinkish White Color) - Barrina T5 grow lights 2ft provide indoor plants with full-spectrum sunlight replacement. We provide the most reasonable grow light wave based on the ratio of the absorption of the plant
Super Bright and High PPFD- Consuming only 40W with 200 LEDS totally, replace 250w general plant lights. Over 95% light energy can be absorbed by plants. It is a great option for plants that in seedling, vegetative and flowering cycle
Easy Install - With included double-sided tapes, clips and cable ties, you could install the led grow light strips by yourself in minutes. Plug and play, and you could link up to 16 lights in a series, saving your installation cost and time
Separately Controllable - Each grow lights has on/off switch on the surface of housing, controlling the lights separately or together according PPFD that plants need
What You Get - 2 years warranty. 4 x Barrina T5 Grow lights, 2 x Power cords with ON/OFF switch, 3x Connecting Cords(20''), 4 x Small Connectors, 4 x Installation Clips, 12 x Double-sided Tapes, 12 x cable ties
Bestseller No. 3
Fyheart LED Plant Grow Lights for Indoor Plants Full Spectrum with Adjustable Stand and Timer, 5 Light Tube, 3 Light Modes, 10 Dimmable Brightness, 4/8/12 H Timer, 360° Gooseneck, Remote Control
【Full Spectrum Light & 3 Light Modes】Full spectrum LED grow light offers a 380nm~780nm wavelength range to effectively supplement the lack of natural sunlight for indoor plants growing. 3 light modes and 10 brightness settings to switch at will, the LED plant grow lights meet any light conditions in different growth stages, promotes photosynthesis, and increases growth rate.
【1 to 5 Led Tubes to Turn On/Off】The indoor plant grow lights features with 5 light tubes at all. You can turn on 1 to 5 light tubes according to your need. The plant grows lamp tubes are backed by a high-quality aluminum shell, keep the lamp tubes at a lower temperature, quickly dissipate heat and extend bead life up to 50,000 hours.
【Adjustable Stand & Strong Clamp】Stable, adjustable tripod stand (extendable from 25" to 67" in height) and flexible gooseneck(360° adjustable lighting angle and distance) effectively enlarge the illumination area, make sure to provide the best lighting angle for about 6-10 plants. What's more, a strong clamp allows the lamp to be clip on your desk.
【Auto On/Off Timer & RC Control】Featured with auto circular memory timing function, the plant light will turn on and off automatically every day after being set. There are 4/8/12 lighting hours modes to choose from. Equipped with line-in controller and RF controller. The remote control is more convenient to operate.
【Widely Used】This LED plant to grow lights are ideal for indoor plants, balconies, gardens, bedrooms, culture plants, etc, especially when raining, snowing. Fyheart is committed to providing the best products and services. If you have any questions, please contact us and we will reply within 12 hours.
Bestseller No. 4
Grow Lights for Indoor Plants, LED Full Spectrum Plant Light with Stand (Adjustable Tripod 15-60inch for Floor Plants, Red/Blue/White, 4/8/12H Timer with Remote Control) (Red)
🌻🌱🌵Upgrade Grow Light with Stand--Stable tripod (extendable from 15in to 60in) with functional lights and 360-degree flexible gooseneck, solved the trouble of setup and inflexibility of traditional hanging grow light, and also provide a much wider coverage area than clip grow light.
🌻🌱🌵Great Efficiency Full Spectrum--FEEL SHOW 4-head plant lights provide 3 supplemental light modes: 1--Red(660nm)+Blue(460nm): promote photosynthesis, rooting, germination, blooming, fruiting. 2--Warm White, 3000k high uniform light, similar to natural sunlight. 3--Red+Blue+White (380nm-780nm), universal full spectrum grow light for plant indoor grow, succulents, rose, hibiscus, petunia, clematis, strawberry, lettuce, butterfly orchid, lemon tree, etc.
🌻🌱🌵Dual Control & Multi-Functional--Both line-in controller and RF controller (protect your eyes from looking at the lamps directly). Support 3 light modes, 10 dimmable levels, 4 lights independent control, auto on/off every day after setting the 4H/8H/12H timer. 80 effective LED Beads, provide brightness of 80W fluorescent lamp, consumes only 15W of electricity.
🌻🌱🌵Scientific Heat Dissipation Design--Our indoor plant growing lamps are backed by an aviation-grade heat sink and excellent aluminum shell. This improved design will protect the grow lamp bulbs not very hot, which is important to reduce light loss and extend bead life to more than 50,000 hours, and aslo without burning plants.
🌻🌱🌵✅Buy with Confidence--12 months warranty, 90 days return/refund guarantee with FCC, CE, RoHS certified support. Our Plant Grow Light Kit is perfect for flowers and vegs especially when raining, snowing, cloudy days and dark indoor. You'll also get a detailed User Manual with Operation Approach and advice on how to grow plants, useful product for planting enthusiasts!
Bestseller No. 5
Lutron Caseta Wireless Single-Pole/3-Way Smart Lighting Lamp Dimmer and Remote Kit | P-PKG1P-WH | White
PEACE OF MIND: Set lights to automatically adjust with changing seasons so your family always comes back to a well-lit home; Use Smart Away to randomly turn your lights on/off to look like you're home when you're away (smart bridge, L-BDG2-WH, required)
MOST CONNECTED: Caseta connects with more leading smart home devices – including Alexa, Apple HomeKit, the Google Assistant, Serena shades and Sonos – than any other smart lighting control brand (smart bridge required)
CONTROL YOUR WAY: Caseta puts the smarts in the switch so you can control your lights your way – the free app, your voice, or from the wall. Schedule lights to change at set times, or activate lighting scenes with the touch of a button (bridge required)
GET MORE, SPEND LESS: 1 Caseta smart switch can control many bulbs at once; Make many bulbs smart, even your existing bulbs; Get smart control of multiple styles of dimmable LED, incandescent and halogen bulbs
SMART CONTROL OF PLUGIN LAMPS: Simply plugs into a standard outlet and can be used with up to 2 floor or table lamps