In as much as people want fresh produce from the garden, not everyone has the gift of gardening. Some people may actually like gardening, but no matter how hard they try, they do not seem to get the yields they want. Cannabis growers, especially those starting to grow the plant for the first time, have it rougher than the more experienced growers because they do not know much about weed growing.
Cannabis farming, irrespective of the number of plants you want to grow, is challenging, time-consuming, and it does not always go the way you want it to go. Using the self-help gardening system saves the day for people with gardening difficulties. One of the best self-help gardening systems in the market is Aerogarden. Aerogarden is not just one type, but also several options you can choose from for the perfect gardening experiences.
What is Aerogarden?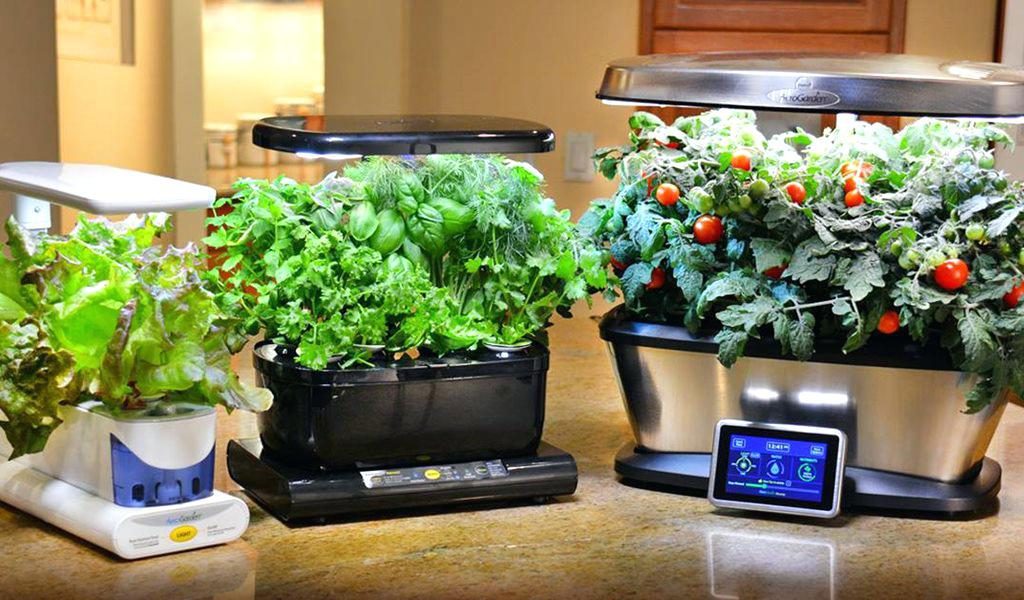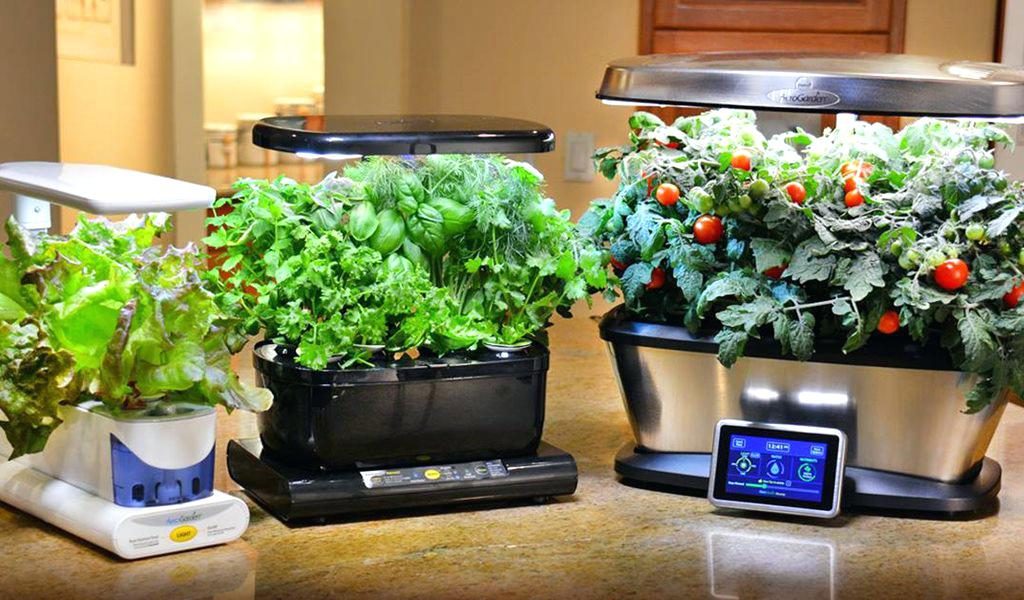 You may have seen Aerogarden commercials pop up on your screens occasionally if you are a keen follower of TV adverts. If you have not, do not worry as you can read all about the fantastic self-help gardening system here. Aerogarden is a gardening appliance that allows you to plant your herbs without much individual effort.
The hydroponic growing system uses pods for seeds, led grow light, and a water chamber. The pods get their water from the bottom of the appliance or water circulating above the seeds. The system also comes with reminders that alert you when your plants need nutrients. The stress-free device comes with unique calibration that provides the plants with the appropriate amount of light when needed and alerts that warn you when the water levels at the chamber need adding.
Aerogarden uses fluorescent light bulbs as their source of light. The lights are bright enough to simulate natural sunlight. With this simulation, you can place the appliance anywhere you deem fit with you irrespective of the side your window faces. The bulb uses less energy than an ordinary 60-watt light bulb making it energy efficient.
Another reason why the system is a favorite with many herb growers is that it is reusable. You can plant your crops as many times, as you wish without the fear of any damage coming to the appliance and without compromising its quality features.
Types of Aerogarden systems
Aerogarden has at least twelve models, all with varying growing spaces and sizes. Some models are better with flowers, while others do well with herbs. For this reason, there is a need to be sure of the plants you want to grow before choosing an Aerogarden model. Below are the most popular models among many herb and flower growers.
Aerogarden Harvest Elite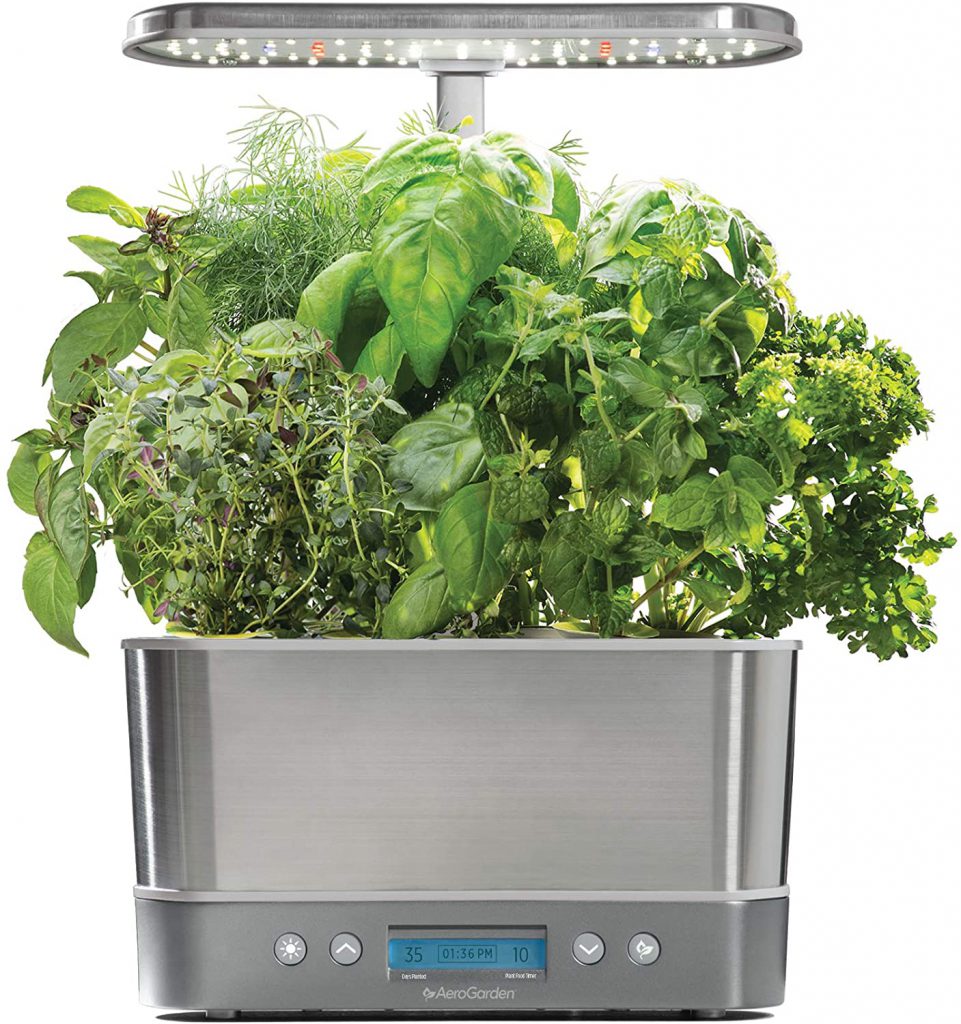 Key features
Space for 6 pods
Uses LED grow light
20 watt-wattage
Comes with an adjustable 12-inch lamp arm
It has a control panel with an LCD and buttons
Measures 10.75×7.5×10.5-17 inches
Comes with a one-year warranty
The Aerogarden Harvest Elite is one of the most popular indoor models for growing herbs. It is small, compact, and easy to use. The unit occupies little space, making it ideal for indoor gardening. The Aerogarden model holds six pods for seeds, which is suitable for crops that do not grow too tall. It uses the hydroponic growing system and automated LED lights that mimic the natural sunlight.
The seedlings sprout in just a few days, and within a month, you could harvest your herbs. It comes with an LCD that has reminders of when to add water and nutrients. The display counter also shows you when you planted the seeds to make it easier to monitor their growth.
The stainless steel build of the unit is plastic, sturdy, durable, lightweight, and stylish. You can place the garden in any room with ease and not worry about noise because the pump is quiet. The model comes with a one-year warranty.
Pros
Comes with a stylish and sleek design that goes well with your home décor
Small, compact, and lightweight
Consumes low electricity making it energy efficient
Comes with a display with reminders for when to add water or nutrients
Comes with a one-year warranty
Easy to use, clean, and maintain
Automated lighting system
Cons
It can hold only six plants
Aerogarden Sprout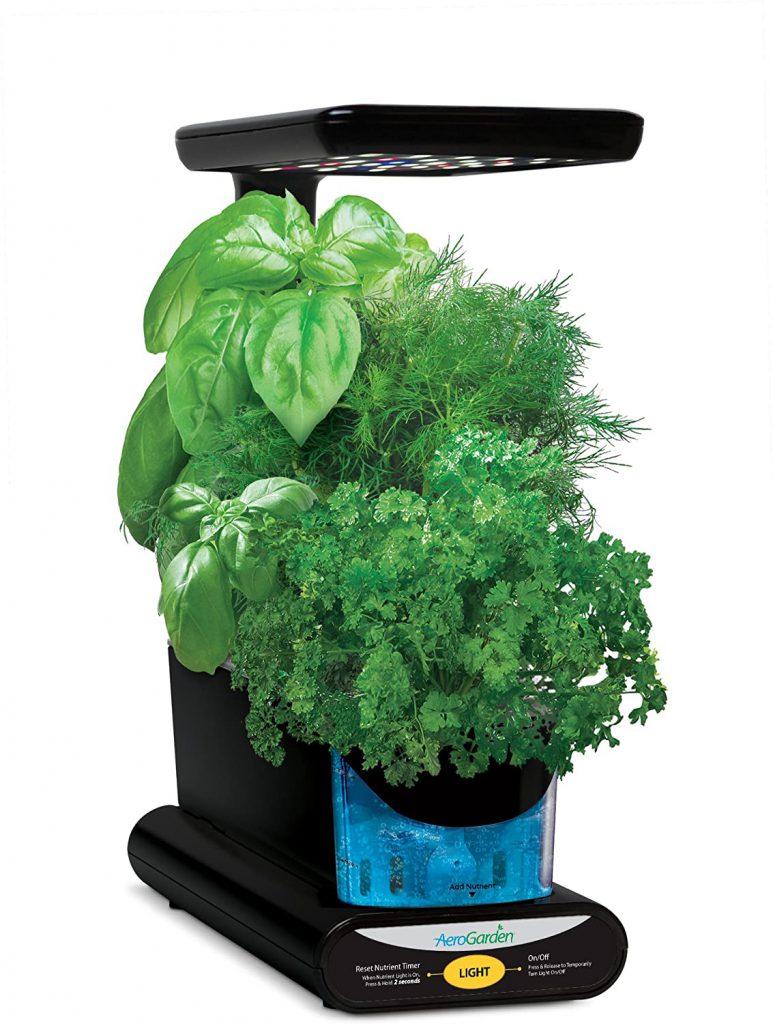 Key features
Space for three seedpods
Measures 5x11x10,5-15,5 inches
Adjustable 10-inch lamp arm
Wattage of 10 watts
Control panel with a push button
Comes with a one-year warranty
The Aerogarden Sprout is the smallest model of all the Aerogarden indoor gardening units. It offers space for three plants at any given time. It is also the most affordable of all the models, and it comes with a stylish design that goes well with your home décor. The model's LED lights have the lowest wattage, but they provide enough lighting for the three plants.
With every purchase, you get a starter kit of a gourmet herb seedpod. The control panel has a reminder of when to add nutrients to the system. The reservoir window allows you to monitor the water levels enabling you to know when the plants need an addition. The automated lights relieve you of the agony of adjusting the lighting system. It comes with a one-year warranty.
Pros
Affordable
Small footprint allowing it to save space
Uses automated LEDs
Control panel with a reminder of when to adds nutrients
Visible reservoir that allows you to monitor the water levels
Comes with a one-year warranty
Cons
Can only grow three plants
You need to clean it frequently because of occasional clogging
Plants cannot grow too tall, as the light arm is only a foot tall
Aerogarden Bounty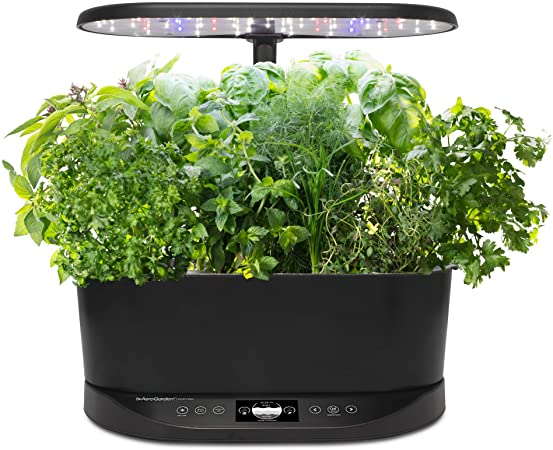 Key features
Pod space for 9 plants
Wattage of 45 watts
LED grow light
Adjustable 24-inch lamp arm
Control panel with an LCD, and a touch screen
Measures 17.25×11.25×15-34 inches
One-year warranty
The Aerogarden Bounty provides you space for 9 seeds. Just like other Aerogarden models, it is stress-free and easy to use. The indoor garden system gives fast growth to your plants, and in only five weeks, you could have your first harvest. The control panel of the unit comes with a touch screen LCD, which you do not get with other models, making it one of the most convenient to use.
The easy setup enables you to customize the gardening settings to your most convenient preference. The LED lights are automatic, and they provide the crops with enough lighting for dynamic growth. They are also more energy-efficient as compared to fluorescent or incandescent bulbs. You can grow anything in this unit without the need to learn any gardening skills. The model comes with a one-year warranty.
Pros
One-year warranty
Comes with nine pod spots
Easy to use LCD with touchscreen
Comes with a starter seed kit
Fast growth of crops
Automated LEDs
Cons
Pricey
Does not have a water window
Water alarm not too accurate
Aerogarden Ultra
Key features
Pod space for 7 plants
LED lights
Wattage of 30 watts
Adjustable 24-inch lamp arm
Control panel with LCD screen and push buttons
Measures 17.25×11.2515-34 inches
One-year warranty
The Aerogarden Ultra comes with 7 pod spaces and a stress-free gardening experience. The model grows the crops fast, allowing you to enjoy your first harvest in just a couple of weeks. It is also one of the largest models, and it will enable the crops to grow full and tall. Unlike other models, the Ultra LEDs consume more energy.
All the information you need concerning the plants shows on the LCD. It also alerts you on when to add water, nutrients, and when to harvest your plans. It comes with a stylish design that looks good on any countertop. On purchase of the unit, you get an herb seed pod kit and one bottle of nutrients. It also comes with a one-year warranty.
Pros
Stylish design that goes well with your home décor
Noise-free pump
Provides fast growth of plants
One-year warranty
Provides space for 7 plants
Has an ample space allowing crops to grow wide and tall
Cons
Expensive
Bright LCD screen
Not the best in energy saving
Aerogarden Classic
Key features
Space for 6 pods
Automated LED grow light
20 watts wattage
Adjustable 12-inch lamp arm
Comes with a control panel with a push button
Measures 16x11x15-21 inches
One-year warranty
Just like the Aerogarden Harvest Elite, the Aerogarden Classic is also another popular model that comes with a place for holding six pods. You can try out different herbs in the six pods, which makes the model ideal for those that want to plant a little of everything but have limited space. The small footprint of the unit allows it to save space in your home.
Like other Aerogarden models, the classic also enables you to enjoy stress-free gardening. The control panel comes with options that allow you to select the best program for what you are growing with the push of a button. The lights turn on and off automatically, depending on the plants and stage of growth.
You also get a reminder for when to add water and nutrients to your plants. It has a water window that shows you the levels, making it easier to know when to top up. The hydroponic system of growth does not allow you to grow very tall plants because of the light topper that is only a foot tall.
The model comes with a bottle of nutrients and an herb seed kit to start your gardening process. You also get a one-year warranty with the purchase of the indoor garden,
Pros
Easy to use, clean, and maintain
Affordable
Automated LED lights
Comes with a starter herb kit and bottle of nutrients
Small, compact and occupies little space
A convenient water window that allows you to monitor the water levels
Cons
LED light is very bright
Noisy pump
Seeds sometimes fail to sprout
Who is Aerogarden best for?
Aerogarden is best for people with no yard space, lawns, grow rooms, or gardens, but need to develop their own herbs. It is also great for weed growers that have no space to grow their cannabis but need privacy. The invention of the indoor garden is highly advanced, making it one of the most stress-free modes of gardening.
It is also ideal for growing crops throughout different seasons. You do not have to worry whether the climate outside your home is conducive to grow your plants or not because the unit takes care of all that.
Pros of Aerogarden
It is the best gardening solution for those that lack space to grow their crops
It does everything for you, and you do not have to worry about seasons, watering, lighting schedule, type of soil to use, or monitoring sprouting of the seeds and much more
The Aerogarden alerts you on when to water and add nutrients to your plants
The growth period of the herbs is fast
The models come in different sizes for varying number of plants
Automated lighting systems
Stylish designs that go well with home decors
They are small, compact, and space-saving
All the Aerogarden models come with a one-year warranty
Hydroponic growing system that reduces the likelihood of attacks by bugs and pests
You can enjoy continuous harvesting
Easy to use
Few overhead costs
Easy portability of the models
Cons
Some of the models come with noisy pumps
Shape of the plants lacks the same beauty as those growing on larger spaces
Lack of a growing app makes the system less attractive than others such as Click & Grow Smart Herb Garden
Some of the models are expensive
Best Article About Marijuana Grow Kits On 03- 2023
Wrapping it up
Despite the few drawbacks of the Aerogarden indoor gardening system, it is unique and saves people lots of time and costs. The system also provides you with more options than other indoor gardening systems in that you can choose from a variety of models. You can also select the location you want for your gardening because the units are easily portable, and they come with stylish designs that look good on any countertop.
Even though some of the models are pricy, you have to admit that they provide you with value for money. No better indoor gardening system provides you with functionality and value than Aerogarden does.
Some Best Germination Kits On Amazon:
-$8.00 SALE OFF
Bestseller No. 1
Seed Starter Tray Kit with Grow Light | 12 Large Flexible Pop-Out Cells Silicone Bottoms | Reusable Seedling Starter Trays with Humidity Dome,Garden Tools,Labels | for Starting Vegetable Flower Seeds
Seed Starter Tray with Grow Light: Our GRJYLS seed starter kit comes with detachable full-spectrum plant led grow lights, Using advanced bio-lamp technology to promote photosynthesis of plants, so that plants are always in the best growth environment.
Simpler Transplanting Seed Starter: Our GRJYLS Seed Starter Tray with 12 large flexible pop-out cells is designed to simplify indoor seed starting and reduce stress on your seedlings. Soft food-grade silicone cells cradle seedlings and gently flex to pop out when it's time to transplant into your outdoor garden, so you don't damage their roots!
Thermal & Moisturizing Design: The design of the transparent cover makes it easy to observe and record the germination of the seeds. The transparent domes have a adjustable circular vents, easily adjust the inner humidity and temperature by rotates the regulator to accommodate different stages of seed to seedling growth, promote air circulation and help seed growth.
Perfect Seed Starter kit: This seed starting kit come with not only the grow light, but also gardening tools. 3 pcs mini garden tools and 10 pcs labels design to perform in small cells, helping you to take care of the mini greenhouse in a more handy way.
Smart Watering System: Each cell of seed tray has several leak holes to prevent overwatering, simultaneously improve soil aeration, set your seeds up for germination success. Deep channels in the watering tray draw excess away from the cells, while the raised perimeter edge keeps water contained in the tray - no spills! The layered design of seed tray make it easy to lift and pour off excess water or check seedlings daily.
Bestseller No. 2
Delxo 10-Pack Seed Starter Kit Seedling Starter Tray (12 Cells per Tray) Humidity Adjustable Plant Germination Kit Garden Seed Starting Tray with Dome and Green Base Plus Plant Tags Hand Tool Kit
【PACKAGE INCLUDE】 - 10 x Seed Tray, 10 x Watertight Base Tray, 10 x Humidity Dome, 20 x Plant Labels, 2 x Plant Tools.
【Pretium Material】Compare the cheap PVC material, Our seed trays use PP material for vents to regulate inner seedling trays temperature and humidity, Never broken hatred!
【Good Observe for Each Palnts Growth】: The only design in the market- High quality clear plastic trays of this seed grow kit make it easy to observe your plants without interrupting the process.
【Perfect Size for Seed Starter】: 1.5"in Length and 1.5"in Wide/ each trays, these seed trays are suitable for small seeds, such as flowers, vegetables, fruits, tomato and other plants.
【PROFESSIONAL】- When the Pot Trays Begin to Degrade,The Roots are Also Strong Enough to Penetrate Them. It Overcomes the Common Problems of Crooked Roots and Rotten Roots in the Cultivation of Seedlings with Plastic Pots. Finally, Becoming Organic Fertilizer.
Bestseller No. 3
-$6.90 SALE OFF
Bestseller No. 4
Seed Starter Tray, 40 Cells Seed Starter Kit with Seedling Heat Mat, Germination Tray with Humidity Control Domes, Cloning Kit, Propagation and Germination Station, Heat Mat for Plants Starter Kit
[Valuable Seed Starter Kit]: Whether you're starting from seeds or cuttings, the seedling heat mat improves germination and rooting by warming the root area 10°F–20°F above room temperature. Includes base tray, 40-cell seed starter tray, humidity dome, and 1* heat mat for seedlings.
[Speeds Up Germination and Improves Propagation]: Using the waterproof seedling heat mat growing environment to promote seedling germination and improve seedling rooting without overheating your plants. The maximum temperature when stable is about 90-100 degressa Fahreheit. Instructions and growing tips are printed right on the mat. At 21 watts, it uses very little power.
[Well Built Construction]: High-quality plastic of seedling starter trays is reusable, recyclable. (BPA-FREE)The cell tray is divided into equal 1.46" squares in 2.17" depth for your small or large seeds for flowers, vegetables, fruits, succulents and other plants. It is designed with the proper size holes to allow drainage, while the bottom seedling tray retains overflow water to prevent leaking.
[Adjustable Humidity Design]: Our Humidity domes have a adjustable circular vents, Adjustable ineer humidity from 50-100%. You can easily adjust the inner humidity and temperature by rotates the regulator to accommodate different stages of seed to seedling growth, promote air circulation and help seed growth.
[After-sale Support] : Before using the seed warming mat, the chassis needs some water to prevent deformation. Please contact us if you have any questions, we will provide solutions within 24 hours.
Bestseller No. 5