The Rastafarian lifestyle is like a cult that many that adhere to it follow with everything they have. Some of the most common things with Rastafarians are reggae music, their love for dreads and MARIJUANA, and their undying love for their reggae maestro, the late iconic reggae singer Bob Marley. They wear products with Bob Marley's picture with pride. This ranges from t-shirts, hats, other pieces of clothing, key holders and more.
For weed lovers, now here is the Bob Marley rolling papers to complete their Rastafarian look. Unlike many other rolling papers, BOB MARLEY ROLLING PAPERS are not only a sign of the pride Rastafarians have for their lifestyle, but it is also a mark of excellence and quality. In this article, we look at the reasons the rolling papers are a hit with many joint rollers from across the globe.
See also:
A summary of Bob Marley rolling papers
Pros
The papers are easy to roll even for first time users
Very affordable
They pay homage to one of the greatest music icon the legend Rasta Bob Marley
All natural hemp material
Comes in booklets containing 25 to 50 rolling papers depending on the size
Burns evenly
Classic and beautiful package design
Bob Marley rolling papers full review
One of the main reasons why Bob Marley rolling papers stand out is because they pay homage to one of the biggest reggae stars that ever lived. Bob Marley's name grows with strength every passing year. Anyone carrying his name around feels some kind of pride, using the rolling papers makes people that follow his music, and life brings some kind of respect to the icon. Bob Marley acknowledged the use of marijuana publicly, a thing that was not too common during his time. He said that smoking weed was a way of revealing one to their true selves and this is another reason why some people choose this brand of rolling papers.
The papers made in Spain from 100% natural hemp and natural gum offer smokers with the perfect even burn that is both clean and smooth. What makes the papers stand out more is that each individual booklet comes with a Bob Marley quote. The rolling papers come in different sizes with the regular one being 1 ¼ inches.
This is the same size as the regular cigarette size. For people that want to escape from the norm and enjoy large joints, there is the option of larger rolling papers that measure 110 mm in length. These king size hemp-rolling papers contain 33 rolling papers in each box and their length allows you to smoke more weed like a true legend. The packing looks stylish too.
Cons
Like with every product, Bob Marley rolling papers also comes with some negative reviews from some of the users. Some of the most notable cons from a few users are
Some user's feel that compared to other products such as ZIG ZAG ROLLING PAPERS, these papers are more on the heavy and thick side
Though the rolling papers are meant to give an even burn, some users complained that they do not burn evenly. This is more on those that use the larger sizes of the branded rolling papers.
Others felt that the strength of the glue diminishes faster than that of other brands
The packaging says that the boxes contain 50 papers but some of the boxes come with less number of papers
My verdict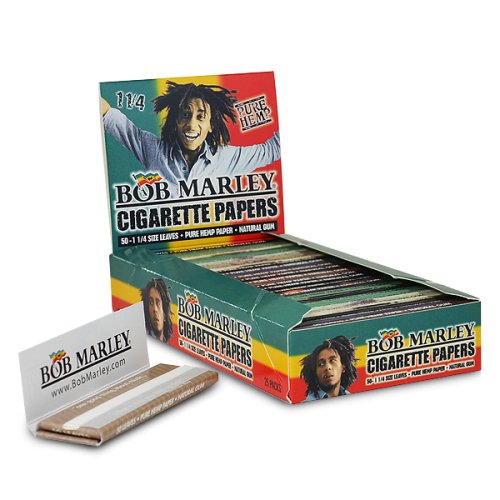 Smoking weed with a Bob Marley rolling paper is something anyone would enjoy doing. Besides the papers being all-natural, there is a certain feeling of importance that comes with using a paper with the picture of one of the most popular legends in the world. You will want to show it off to anyone near you depending on how flexible the smoking regulations are in your state.
In spite of the few drawbacks from a few users of the rolling papers, I would recommend this product for anyone that wants to rediscover their self-worth.
User's reviews
With a star rating of 4.5 stars out of 5, this is what some users had to say about Bob Marley rolling papers.
Sau1itud3 said this about the Bob Marley rolling papers;
"Love these papers! They burn nice and even and have that extra length smoking like a Marley requires mon! You can get a rolling machine that matches the length of these papers to roll some perfect, tight spiffs! The price is the cherry on the sundae, for like 6 bucks, you are rolling paper supply worries will be well taken care of!"
Hm1 gave the rolling papers a five star rating and had this to say
"These are great papers and make a great gift seeing as they come in packs of 4 and look really cool. Sweet graphics on the outside and then famous Bob Marley quotes when you open them up. Overall great product."
Wrapping it up
Sometimes rolling that joint is not only about the ease of rolling but also about the beauty that comes with the product. Bob Marley rolling papers will give you the ease of rolling, the pride of using a brand with a face that everyone knows, the famous quotes by the legend and a smooth even burn. What more can you ask for in a rolling paper?
Read Next:How to Clean a Bong For Beginners [Complete Guide]
Best Selling Bob Marley rolling papers On Amazon:
-$0.90 SALE OFF
Bestseller No. 2
Bestseller No. 3
Bestseller No. 4